Ethiopia has a long and eventful history stretching back thousands of years, so the country and its people have had plenty of time to perfect their cuisine.  There are some pretty distinct elements to Ethiopia's food, like eating with your hands, using injera – the country's signature fermented spongy bread – to scoop everything up; or using berbere, a chili pepper spice, on almost everything; or making a lot of dishes, called wot, that have the consistency of a stew.  But one very interesting aspect of Ethiopia's culture is that those who follow the local Orthodox Christian religion are required to skip eating meat, dairy, and eggs every Wednesday and Friday and during the many feast days.  What this means is that Ethiopian food has a ton of delicious vegan options that exist alongside meat-based dishes.
All of this is to say that we recently decided to check out two Ethiopian restaurants here in New York:  one totally meat-free, and one catering to both meat eaters and vegans alike.  Here's where we went and what we had at each place – just be warned that there is one picture of meat-based food here.
First up was Bunna Cafe, a restaurant not too far from us in Bushwick that has a completely vegan menu.  We started our meal there with an order of kedija selata, which is a mix of kale, avocado, peppers, onions and tomatoes that's meant to be folded into some injera.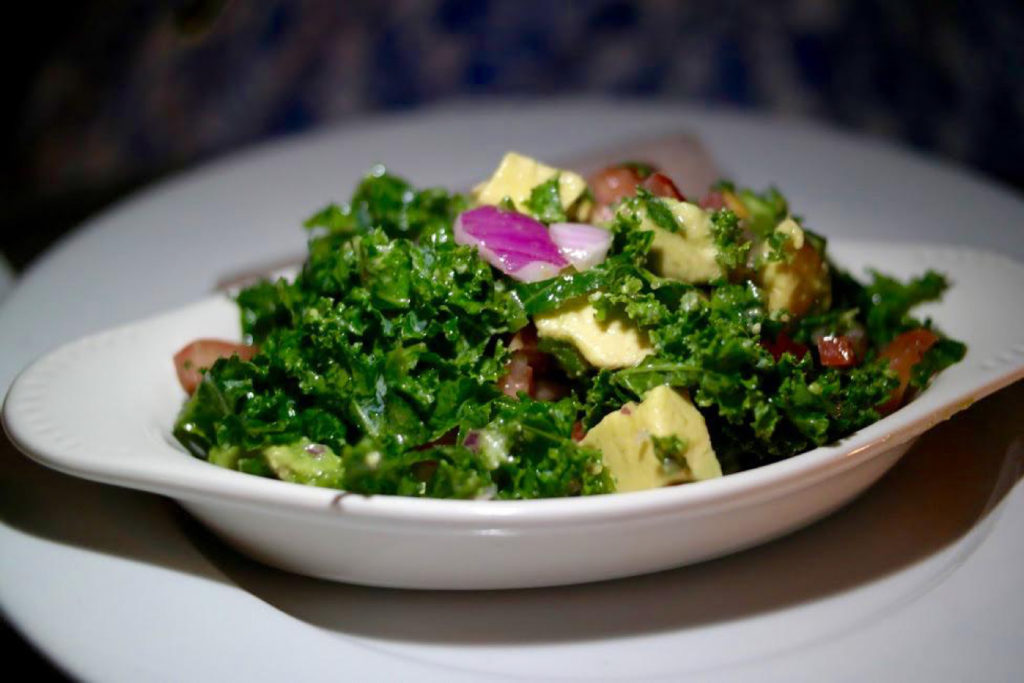 We also tried the sambusa:  little pastries stuffed with lentils and accompanied by a cilantro dipping sauce.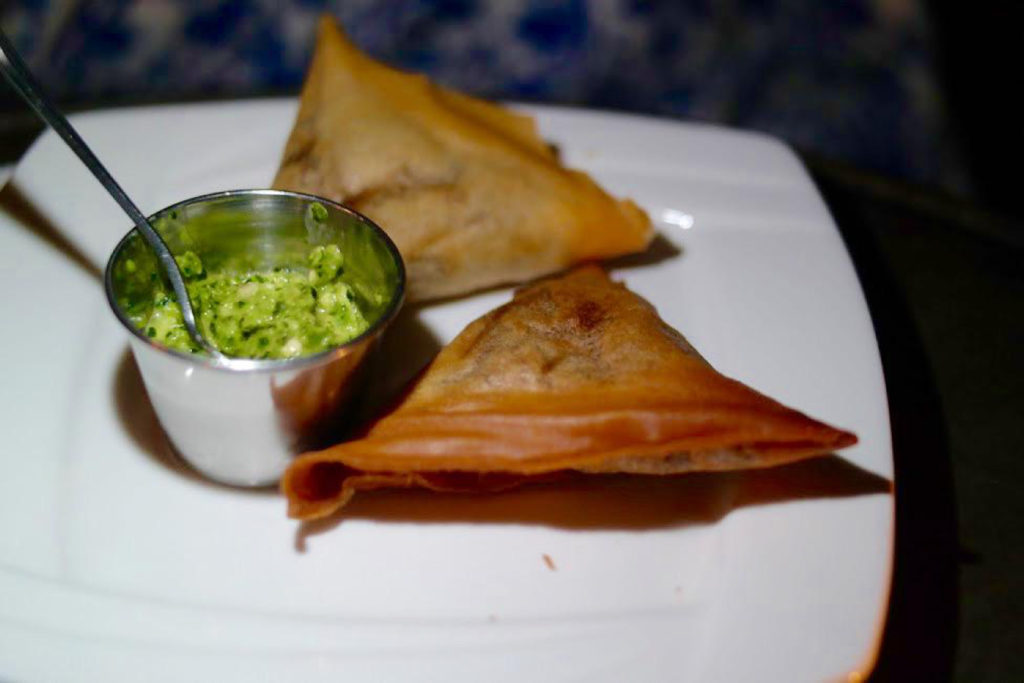 But what you should really come to Bunna Cafe for is the feast, which is a combination of all of their entrees served on top of a huge piece of injera, in potions for 1-3 people.  Here our two person meal:  you've got some gomen (steamed spiced collard greens), yater kik alicha (turmeric split peas), misir wot (lentils in a berbere sauce), enguday tibs (mushrooms with spices and herbs), yatakilt alicha (cabbage and potatoes in turmeric), keysir selata (chilled beets, potatoes, and carrots), shiro wot (mashed split peas), and more kedija selata.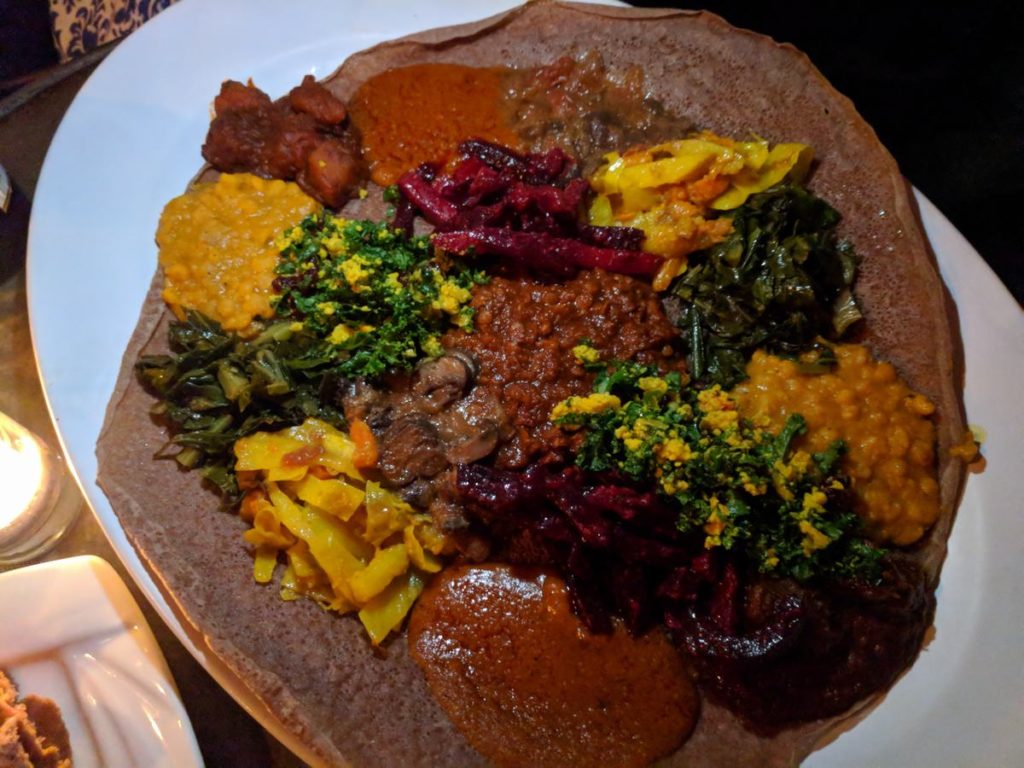 That was a lot of food, but it only made us want to try more of what Ethiopia has to offer.  So a few weeks later, we headed up to Harlem to check out Benyam, which serves up some meat dishes alongside plentiful vegan options.  As a starter there, we had the timatim fitfit, made with tomatoes, onion, and jalapeños which you can scoop on top of injera.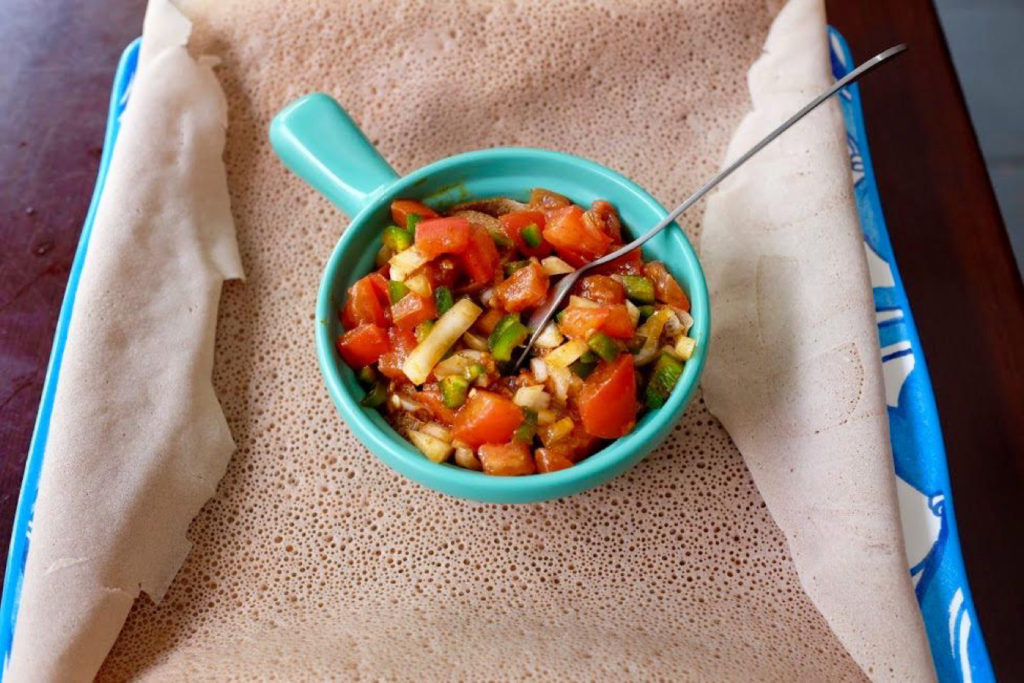 Miriam decided to try a little bit of everything and got the veggie combo, which comes with Benyam's own version of shiro wot, misir wot, and gomen, plus tikil gomen (turmeric cabbage and carrots) and atilt wot (turmeric potatoes).
And Cyril got the meat and veggie combo, which serves up gomen and misir wot alongside tibs wot (beef in a tomato and jalapeño sauce), yesiga wot (lamb in a tomato and jalapeño sauce), and yedoro wet (a piece of chicken in a spicy berbere sauce).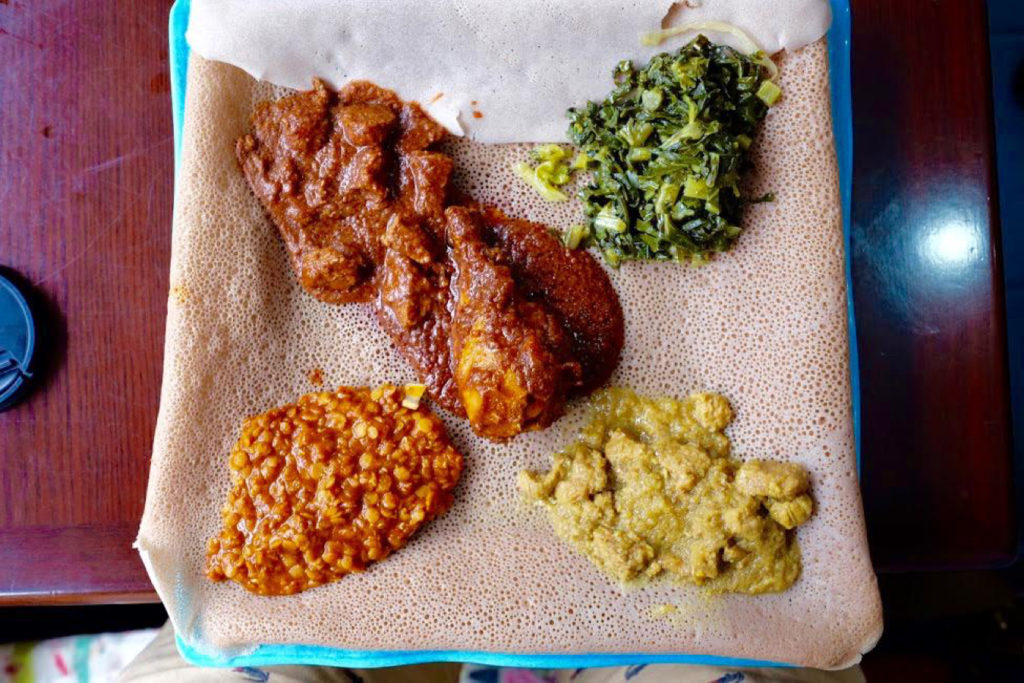 We'd never really had Ethiopian food before going to these two different restaurants, but we're glad we tried them.  All of the vegetable dishes were incredible delicious and flavorful, what with the many difference spices and herbs they're made with, and the cooking methods make the veggies come out nice and tender.  Ethiopian is great for vegans, but as Benyam shows there's also something for meat eaters too.  Though these two places are pretty far apart from each other, we hope you're inspired to check one of both of them out – and check back with us to see some other New York restaurants we recommend!