We here at Actually Tasty don't usually post recipes for salad.  For one, it's a huge cliché that vegetarians only eat salads, and we're here to bust that myth and demonstrate that there's a whole wide world of food that's meat-free and delicious.  Also, quite frankly, many meatless salads are kind of boring, and not very filling, and just all around unsatisfying.  However, we'll make an exception for wedge salad because it's really kind of an excuse to eat cheese and creamy dressing and bacon, which are all pretty tasty.  We were inspired by this recipe from the New York Times, which we made vegetarian for ourselves, but we also decided to try this because it's been ridiculously hot lately and this is a cool, refreshing side that you can make without having to touch your oven.
So, if you'd like to make this salad, you'll need:
Half a pint of cherry tomatoes
Vinegar
8 ounces of blue cheese
Buttermilk
Mayonnaise
Olive oil
Hot sauce
Lemon juice
Worcestershire sauce
A large head of iceberg lettuce
First, prepare your tomatoes by slicing them all in half and mixing them in a bowl with 2 tablespoons of vinegar.  Set them aside to marinate while you work on the other parts of the salad.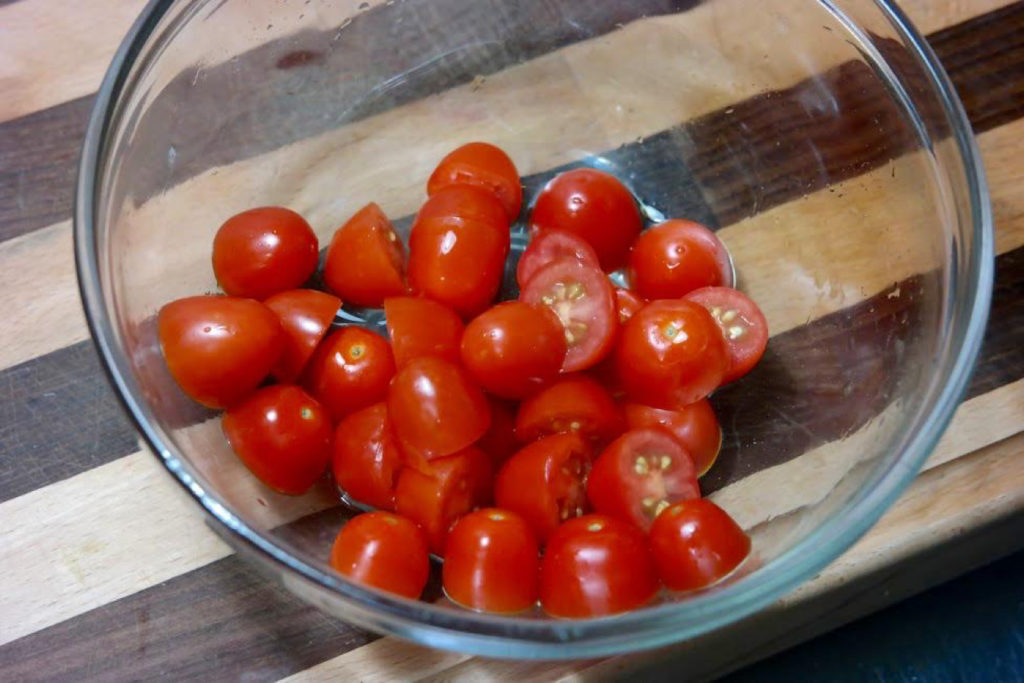 Now you can make the dressing:  crumble half of your cheese and mash it in a bowl with a whisk.  Measure out 1/4 cup buttermilk, 2 tablespoons of mayo, a tablespoon of olive oil, a teaspoon of hot sauce, a teaspoon of lemon juice, and a tiny bit of Worcestershire sauce and add these to the cheese.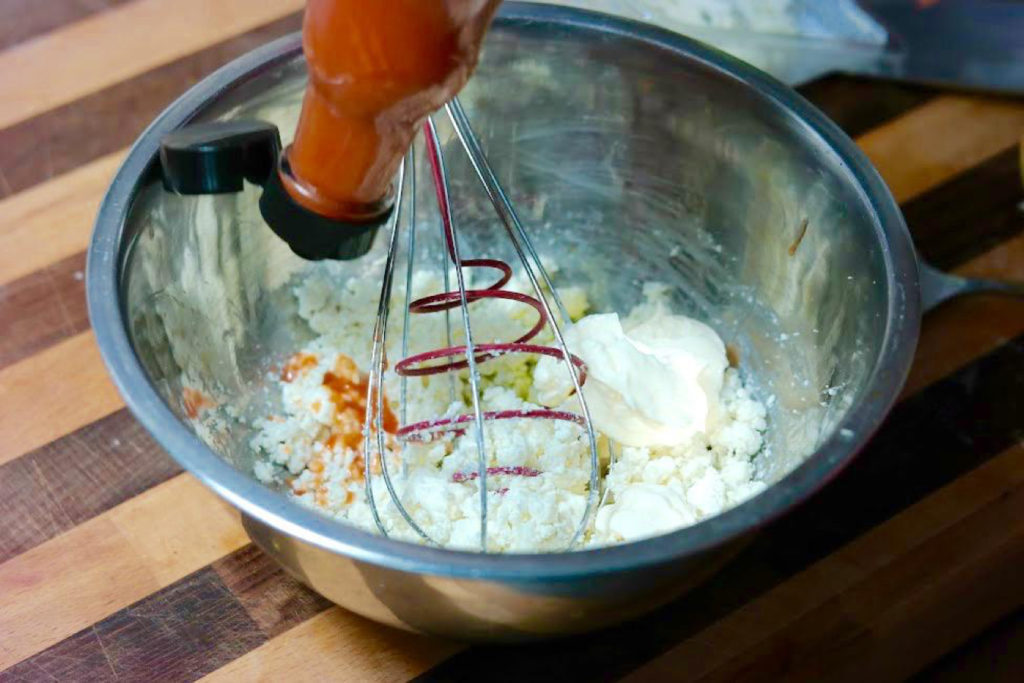 Then whisk everything together until you have a mostly smooth dressing.  Put this in your fridge while you assemble the rest of the salad.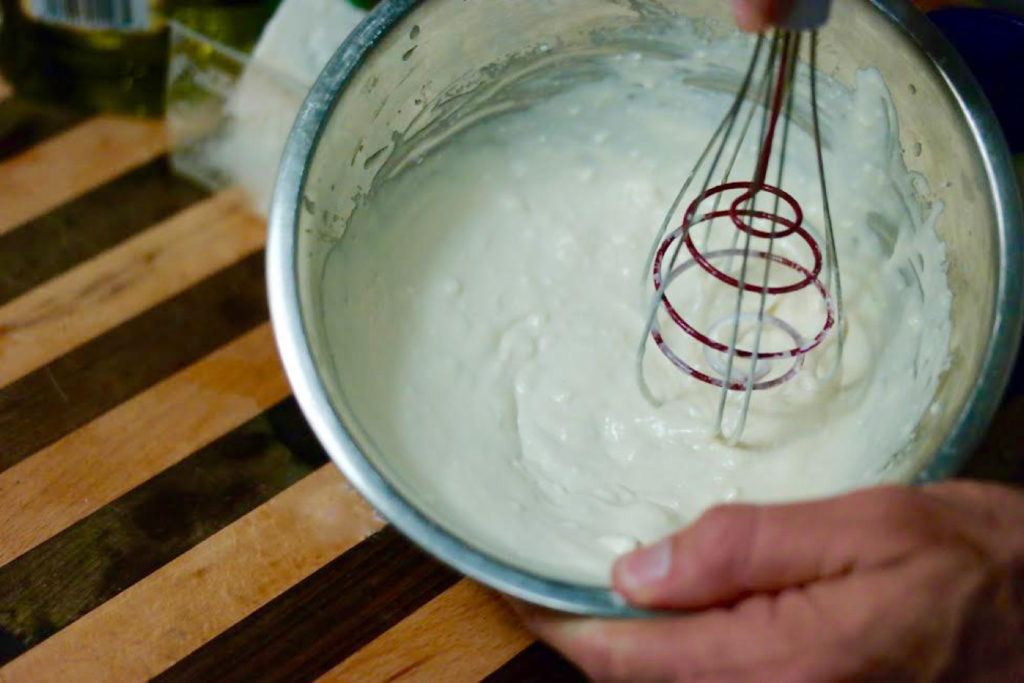 Now take your iceberg lettuce and slice off the core, then carefully cut the whole thing into equal quarters.  In a cast iron pan, cook four bacon strips over medium heat for 8-10 minutes, flipping them over once and watching them to make sure they don't burn, then set them aside to cool.  Crumble up the rest of your cheese and sprinkle it over your wedges, along with your tomatoes.  Then break the bacon up into pieces as well and scatter it over the lettuce.
Finally, drizzle on some dressing and your salad is complete!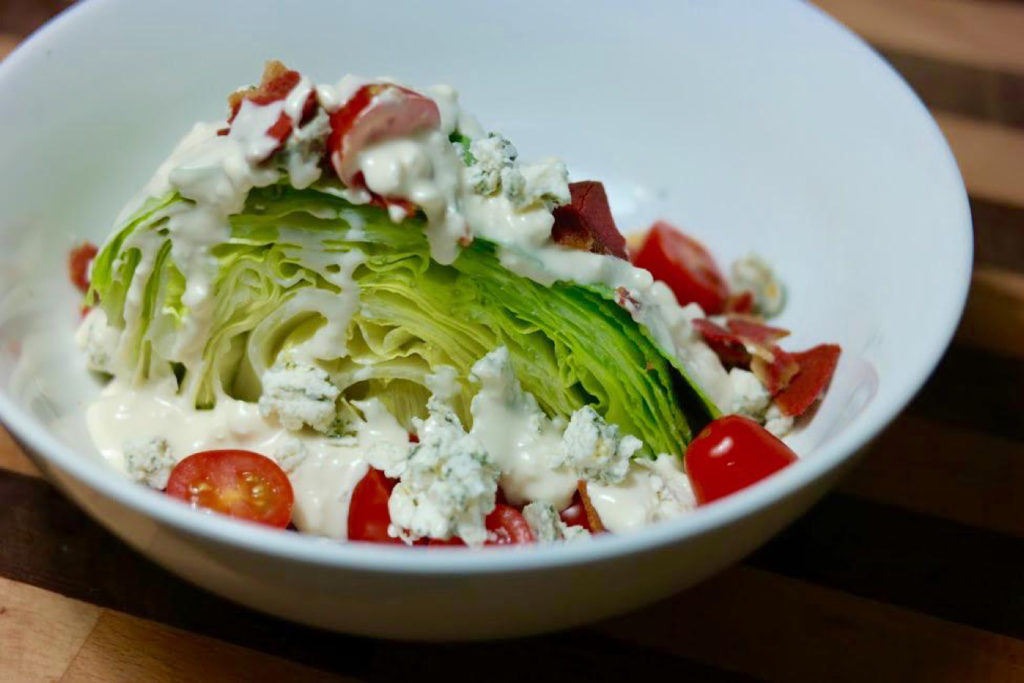 See – easy to make, no heat required, and 100% vegetarian.  Using iceberg lettuce, plus veggie bacon, makes this salad nice and crisp in contrast to the soft cheese.  And making the dressing yourself is pretty simple but adds in a nice homemade touch.  If you've ever been jealous of your friends' bacon-y wedge salads, envy no more.  This meatless version will satisfy your need for a creamy, savory side dish disguised as a vegetable.