OK, this might not technically be a salsa, since it's not tomato-based and it's probably not native to Mexican cuisine (in fact, some believe corn salsa was invented by Chipotle).  But we're going to call this a salsa anyway, since it's a nice dip to serve with tortilla chips.  It's great for summer because it uses fresh corn and tomatoes along with some peppers that are in season right now – plus it's a recipe that uses only your stove top, not your oven, so if you've been sweating half to death lately this is something you can cook up while trying to beat the heat.  We also think this salsa (which we based off of a recipe in Bon Appétit) would make for a great dip to bring to a barbecue or maybe an upcoming Labor Day party, or any other gathering you're trying to squeeze in before the summer ends.  And best of all:  it's vegan!
To make the salsa, you'll need:
2 ears of corn
A poblano pepper
A jalapeño
A small red onion
A large tomato
Cilantro
A lime
Some good tortilla chips – we like the Xochitl brand
Start by husking your corn and putting it in a dry cast iron pan along with your whole poblano.  Roast the corn and the pepper over high heat, turning them every so often, for at least 10 minutes until they're visibly blackened.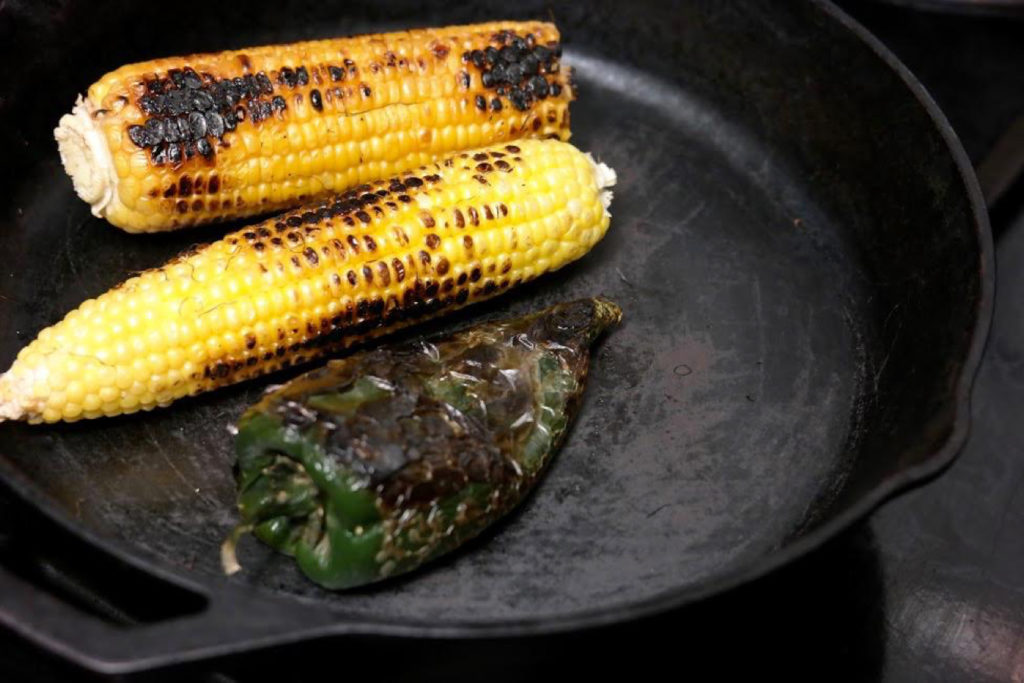 Let the corn cool for a bit, then use a knife to carefully slice off all the kernels, like so:
Put the corn in a large bowl and use a potato masher to break up the kernels until they're crushed and they release some of their flavor.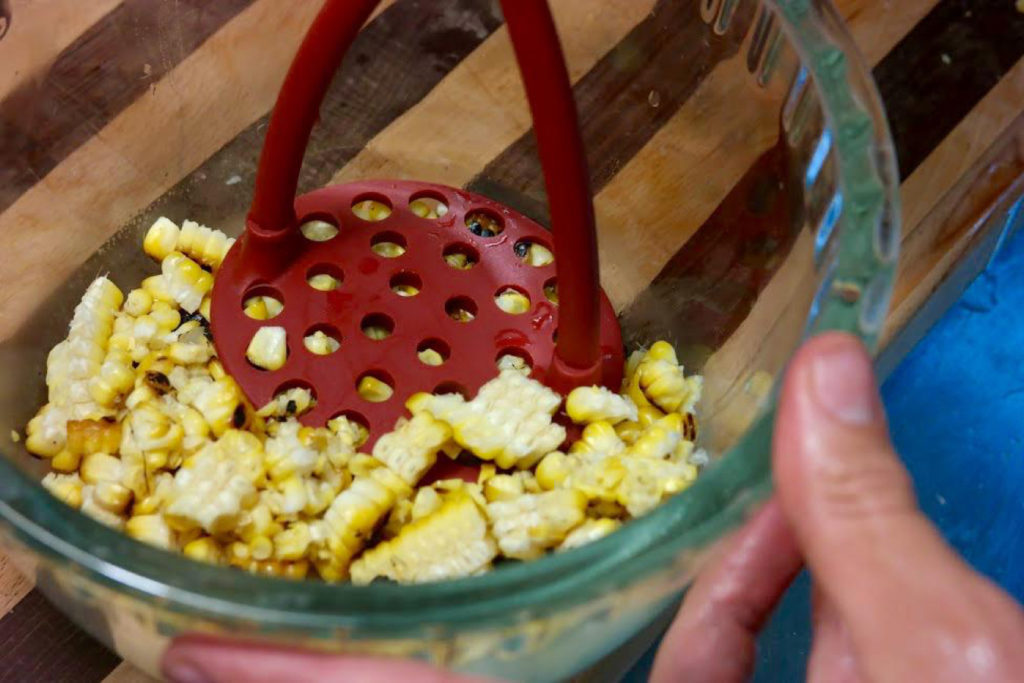 Next, peel the skin off your poblano, pull the seeds out, and chop it up.  Dice up your de-seeded jalapeño and your onion (your should have about 1/4 cup of onion) and mix all these veggies in with the corn.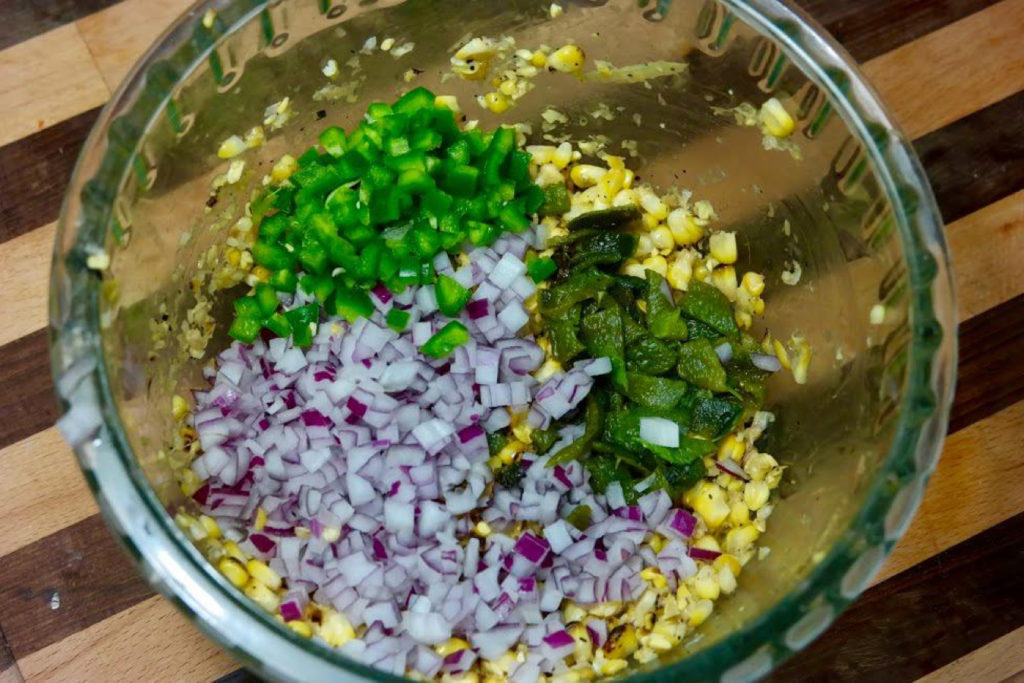 Then take your tomato, core it, and squeeze it to get out all the pulp and watery bits.  Cut up the remaining outside of the tomato and add that in too, along with 1/4 cup of chopped cilantro leaves.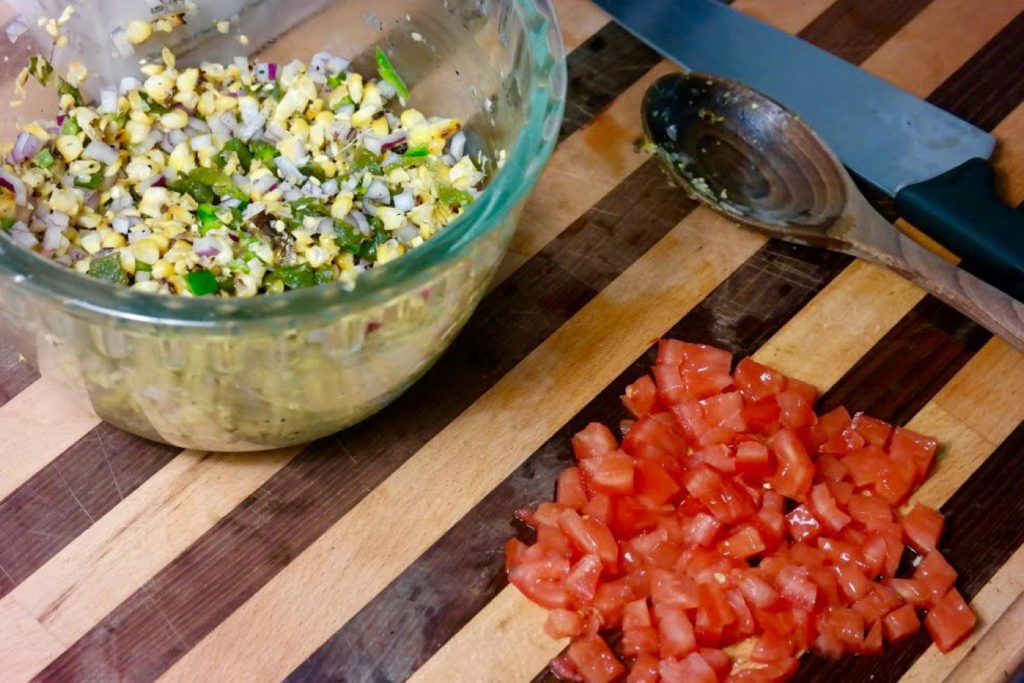 Finally, squeeze the juice of a lime into your salsa.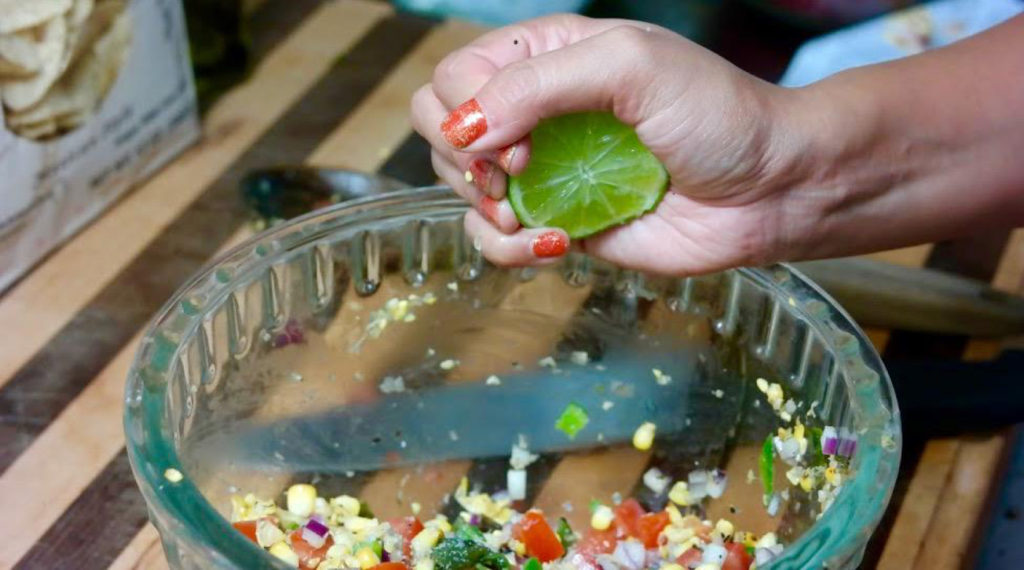 And now you can serve it alongside some tortilla chips.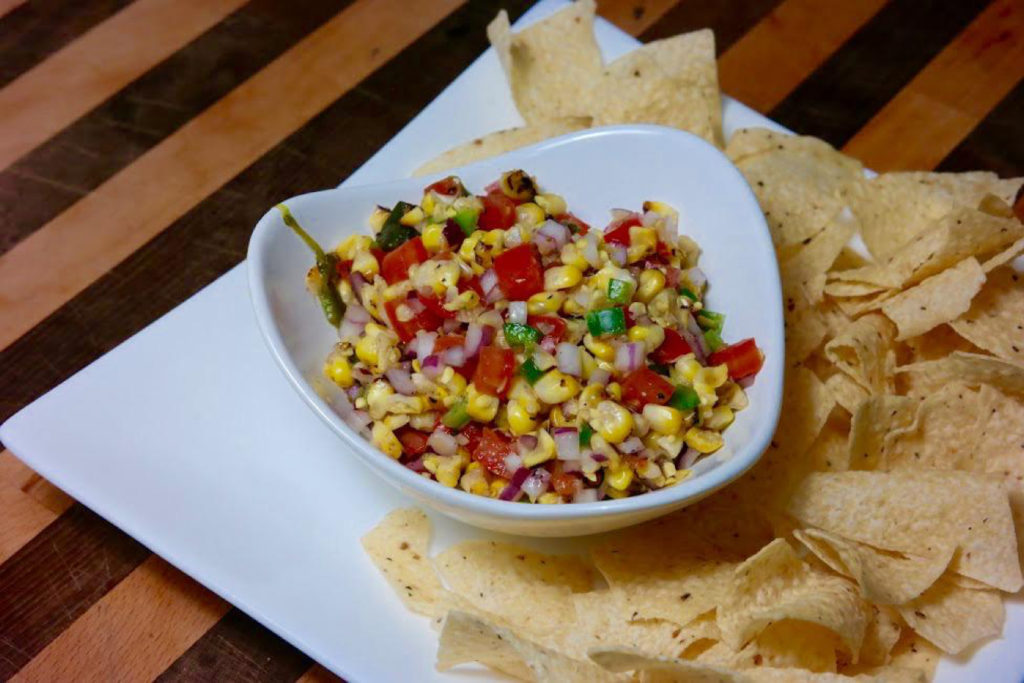 As you can see, it's a very colorful salsa, and really flavorful too.  The corn is fresh and sweet – especially after you mash it up – while the peppers give it a mild spice and the tomatoes, onion, and cilantro add in some contrasting tastes.  On tortilla chips, it's a delicious medley and a cool dip.  This salsa doesn't require too many ingredients, and it's fairly simple to make, so it's an easy and unique contribution you can bring to any get-together that will satisfy vegetarians, vegans, and omnivores alike.  Try it out while it's still summer and all these veggies are at their peak.