We've previously shown you a few great restaurants in New York where you can have some delicious Indian food, and today we're going to focus solely on two places where you can get your fill of that country's cuisine.  These restaurants are vastly different:  in location, in price point, and in atmosphere.  But both serve up some great dishes, and it's worth it to check out these spots for the Indian food you can get at both ends of the restaurant spectrum.  As a word of caution, we do feature one meat-based image here.
First there's Tamarind, in Tribeca.  As the neighborhood might suggest, this is a pretty fancy place, and they serve elevated (and somewhat expensive) examples of Indian food – such as this bhel poori appetizer, which is a type of dip made from crispy noodles held together by several different chutneys.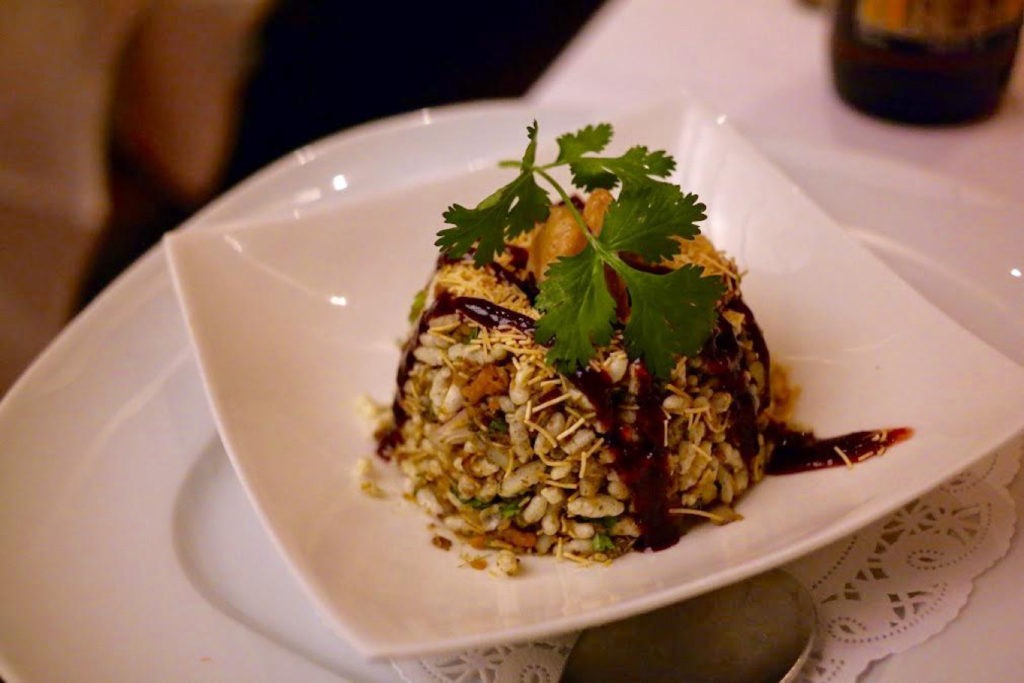 As an entree, it was recommended that Miriam try the chana pindi, a pleasantly spicy dish of chickpeas in a tomato, onion, and pomegranate sauce.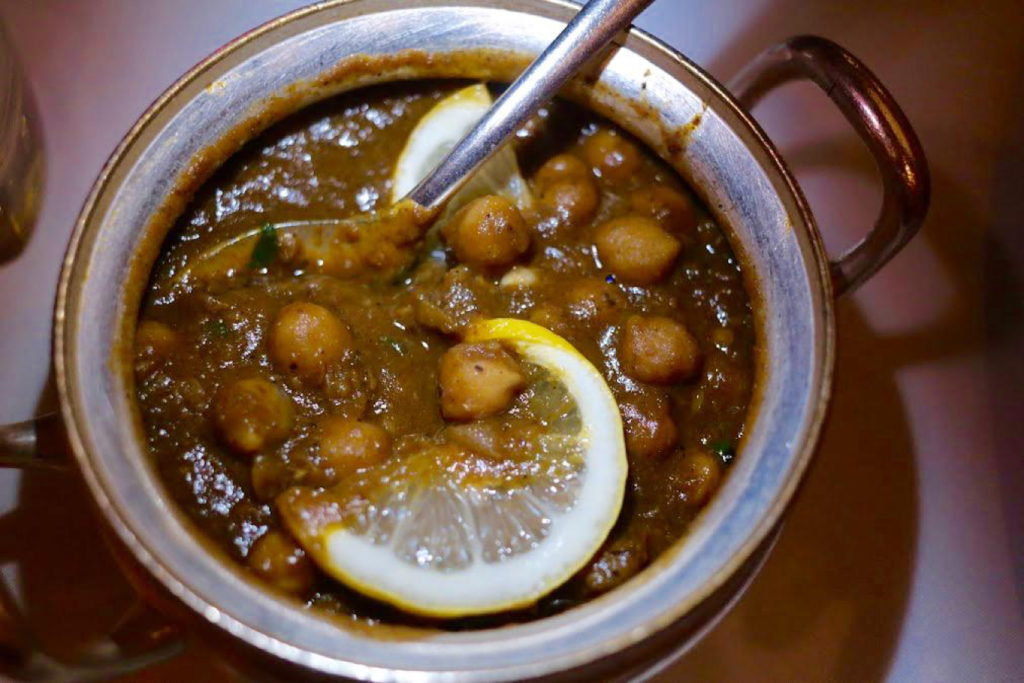 And Cyril has the tenakay murgh – a tandoori dish of chicken marinated in coconut, ginger, and other spices.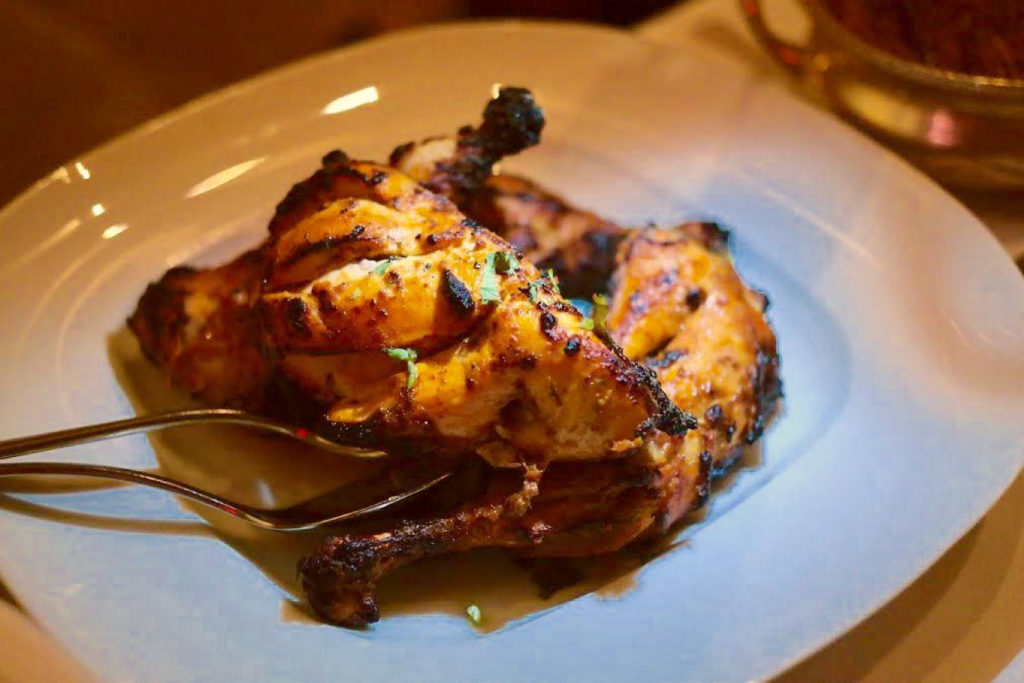 And of course, we had to get some naan.  Tamarind has a wide and interesting number of naan varieties, so we went with the wild mushroom and truffle oil version.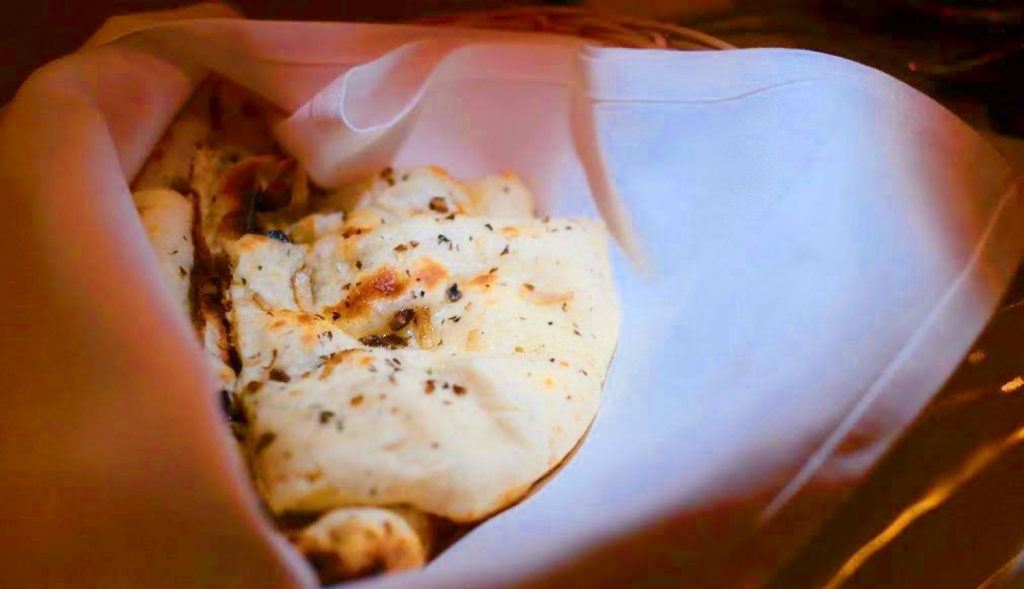 Now for a totally opposite experience, you can head all the way out to Flushing, in Queens, to visit the Temple Canteen.  The name comes from the fact that this cafeteria is housed in the basement of a Hindu temple, and it was originally founded as a place to prepare food for offering during religious ceremonies.  Soon it evolved into a spot where worshippers could eat before or after services, but it's also open to the general public so anyone can get some quick, reasonably priced, and pretty tasty food there.  Best of all, everything is completely vegetarian because the menu adheres to Hindu beliefs and customs.
We decided to sample a variety of things there, so we started off with idli jumbo, a plate of two idlis (spongy bread cakes), some vadas (fried lentil donuts), and red and green chutneys.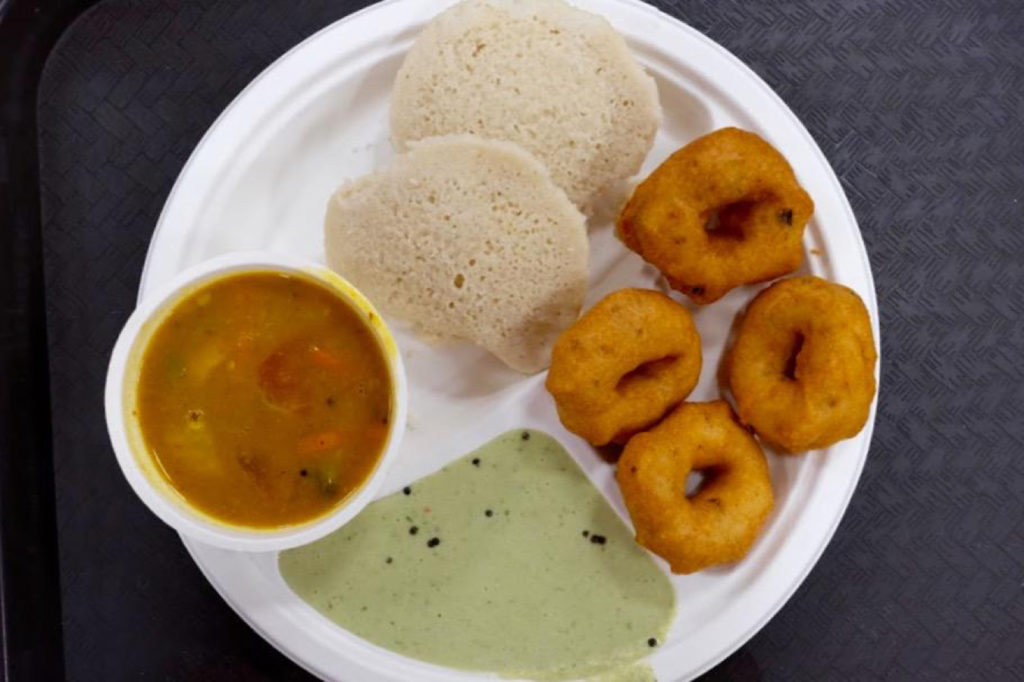 Then we tried the chili and onion uttapam, which is like a thick, savory pancake.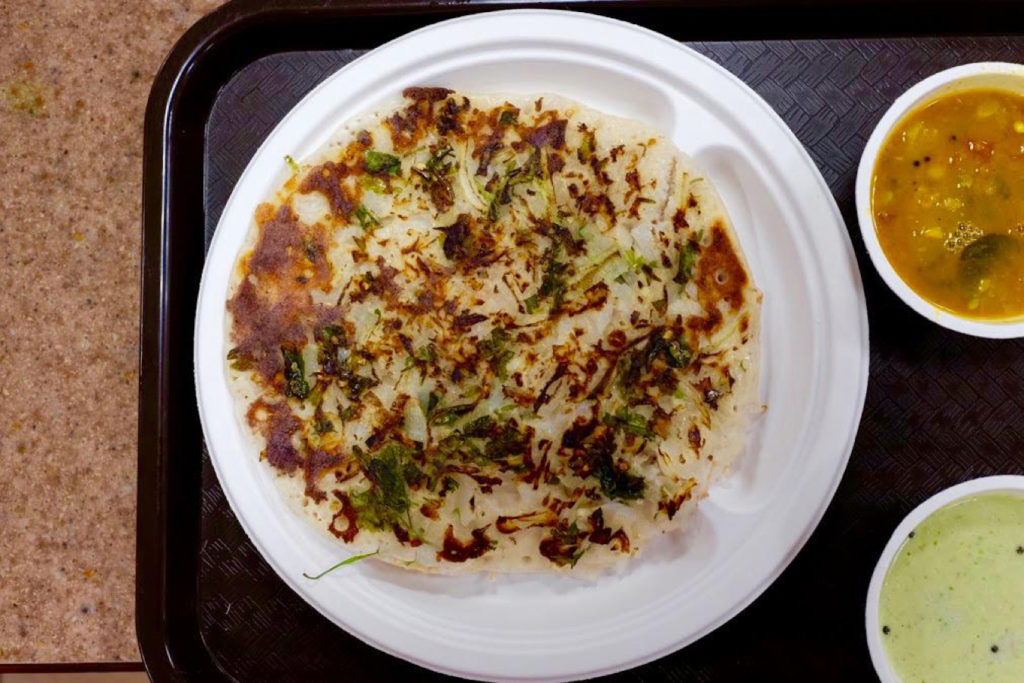 And we also had a masala dosa, filled with a spicy mixture of potatoes and onions.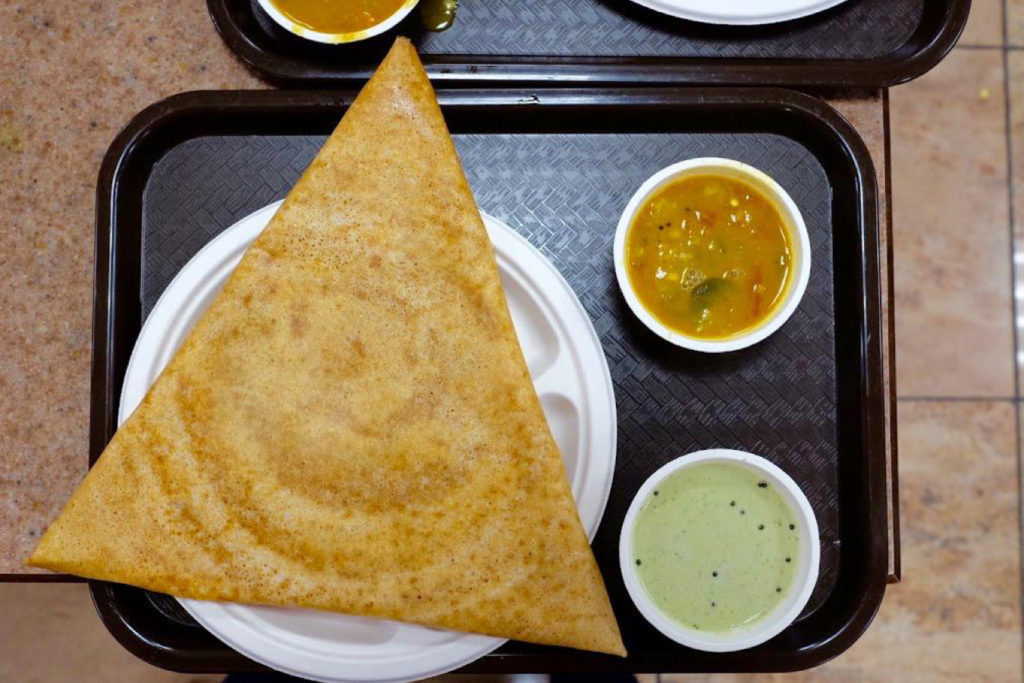 And finally, we tried the besibele bhath: rice cooked with vegetables and spices, with crispy lentils and a yogurt chutney on the side.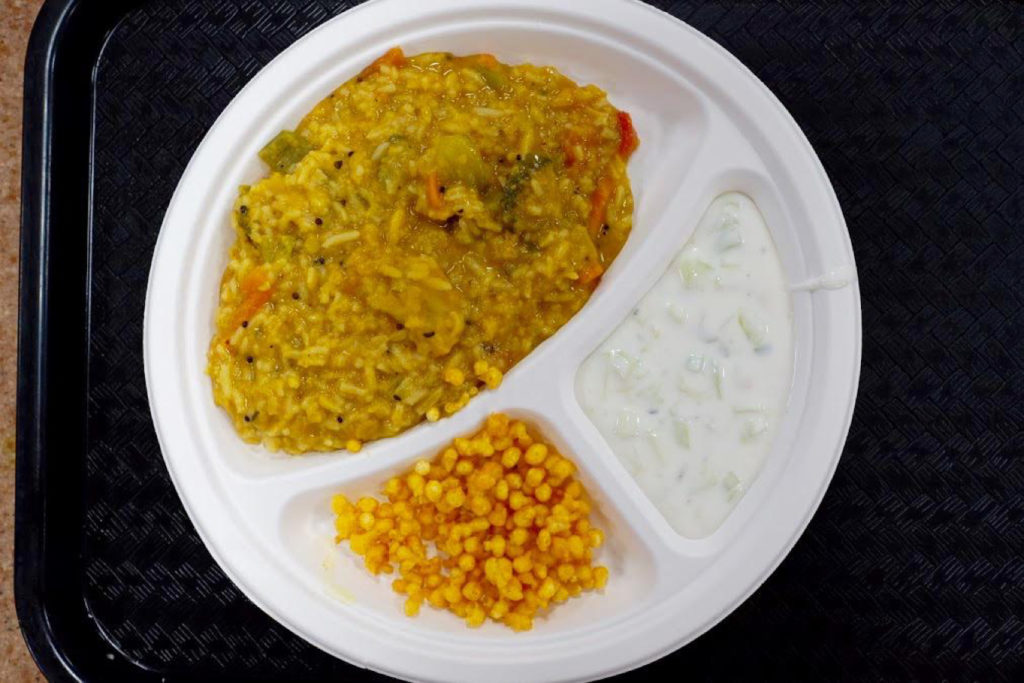 So, depending on what mood you're in and how much money you've got to spend, you can check out either of these places and have some great Indian dishes in an interesting setting.  Tamarind serves you food in a more upscale environment, while Temple Canteen gives you a no-frills but pretty authentic experience of what the people in one local Indian community actually eat.  If you're up for it, we suggest you try both places out – and check back for more recommendations from us on where to eat around New York (and beyond!).