We decided to make our own vegetarian version of these noodles – based on a recipe we saw in Bon Appétit – not only because it sounded delicious, but also because it was listed in a section of the magazine about what to make when it's too hot to cook.  Considering how oppressively warm it's been for so many days this summer, anything we could whip that wouldn't add to the temperature in our apartment sounded like a great idea.  We also liked that this was a pretty easy dish to make, because we cooked it after coming home from a 35-mile bike ride and it was something we could throw together quickly and without too much fuss.  Plus, if it matters to you, this recipe is vegan.  So here's how we made these coconut noodles for ourselves.
You'll need:
5 ounces of rice noodles
A small red onion
Garlic
Ginger
Turmeric
A 13.5 ounce can of coconut milk
Honey
Vegetarian stir-fry sauce
Tarragon
To start, slice up your onion and four garlic cloves thinly and place them in a Dutch oven with 2 tablespoons of vegetable oil.  Cook these veggies over medium heat for around 3 minutes, until they soften and just lightly brown.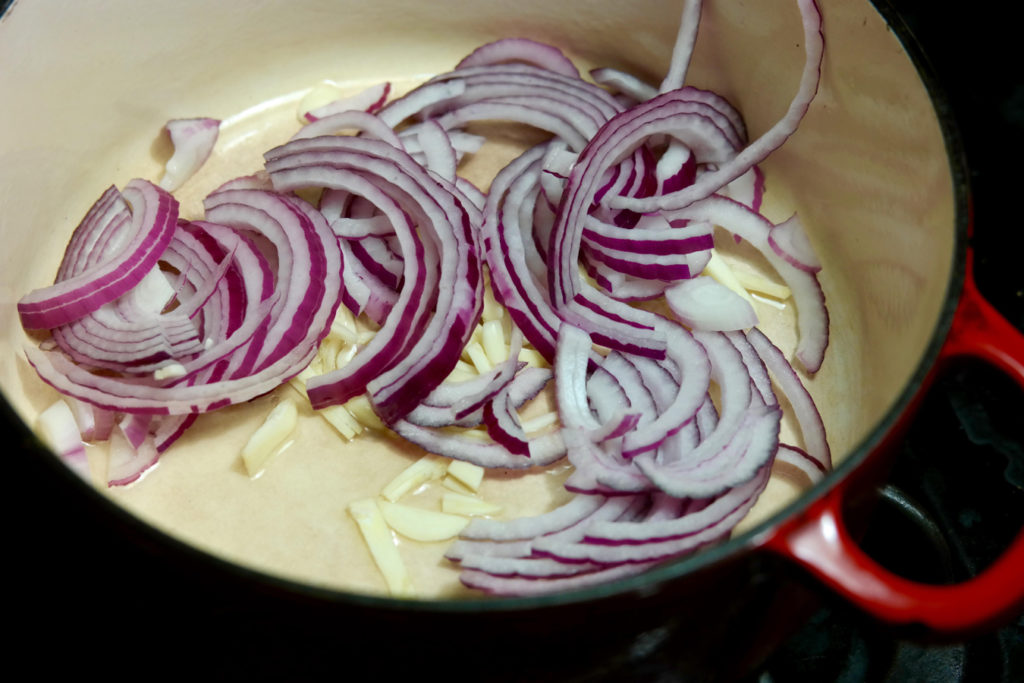 Then cut off a 1-inch piece of ginger and grate that in.  Add in a teaspoon of turmeric and some black pepper as well and cook everything for one minute more.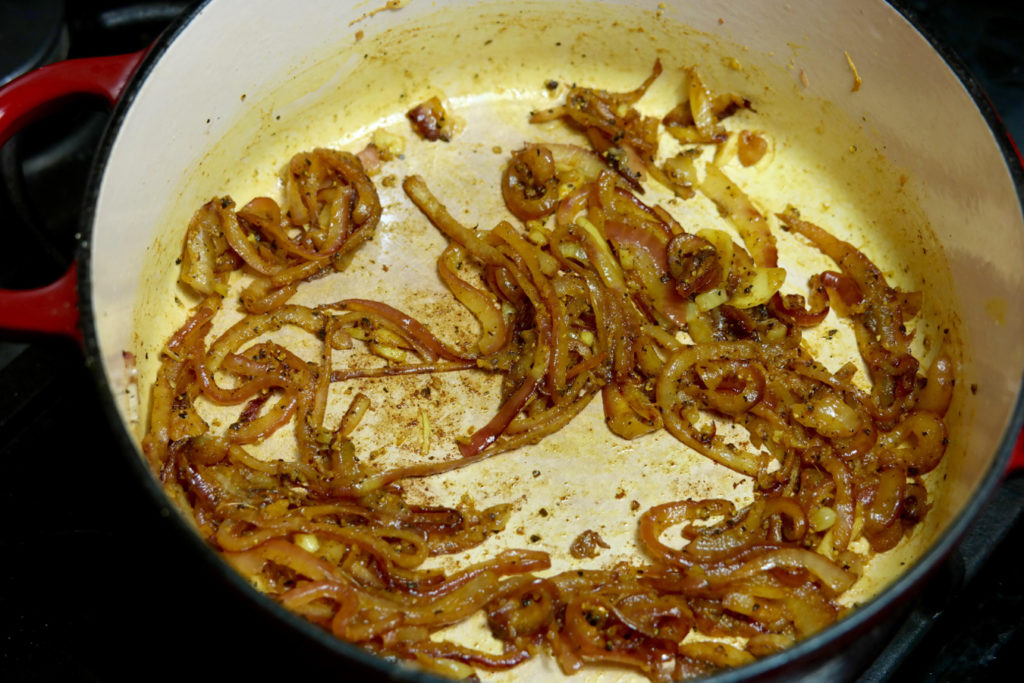 Meanwhile, bring a large pot of water to a boil and then take the water off the stove.  Place the noodles in the water and let them soak for 5 minutes, then drain them, rinse them with cold water, and set them aside.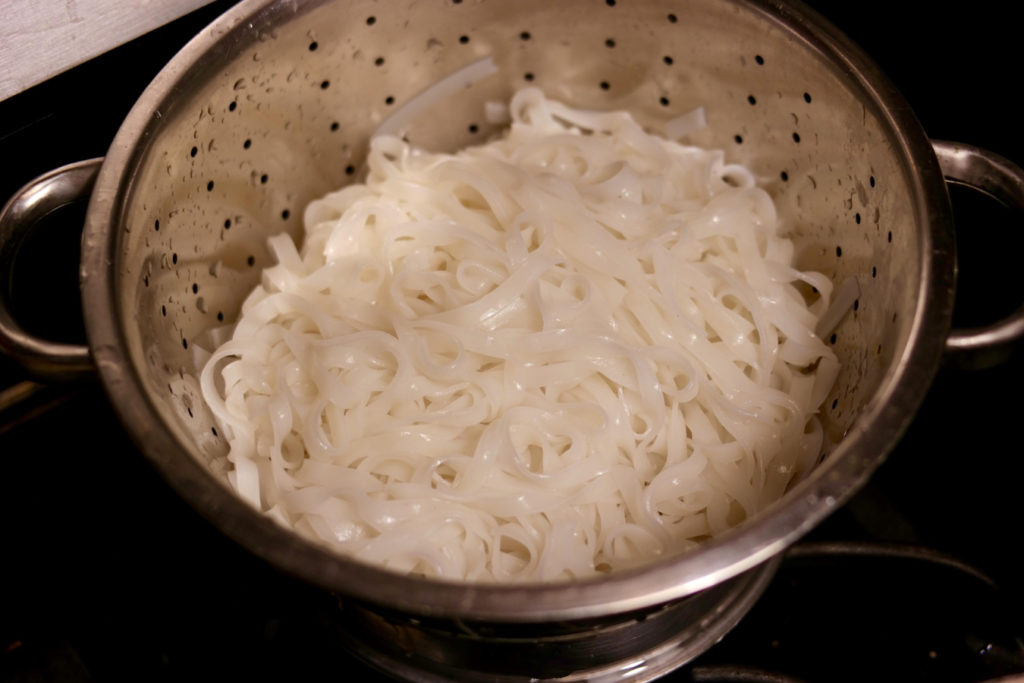 Now pour your can of coconut milk into your vegetables and spices, along with 1 1/2 teaspoons of honey and 1/4 cup water.  Let everything heat until the mixture reaches a simmer and then cook the sauce for 5 minutes.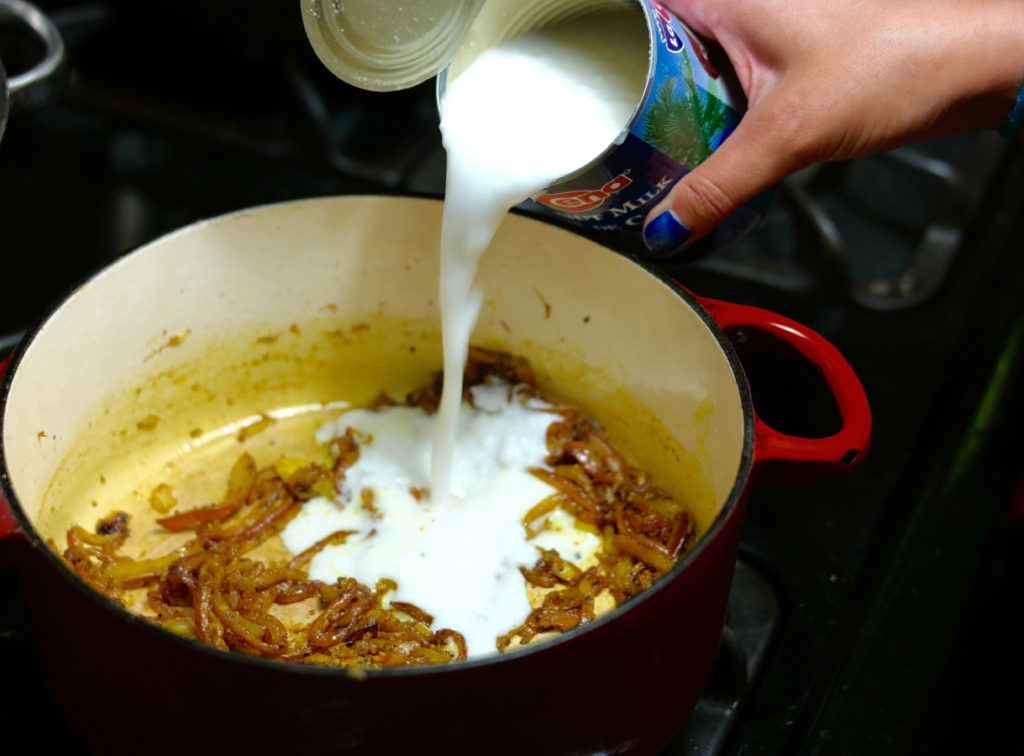 Chop up a small handful of tarragon leaves …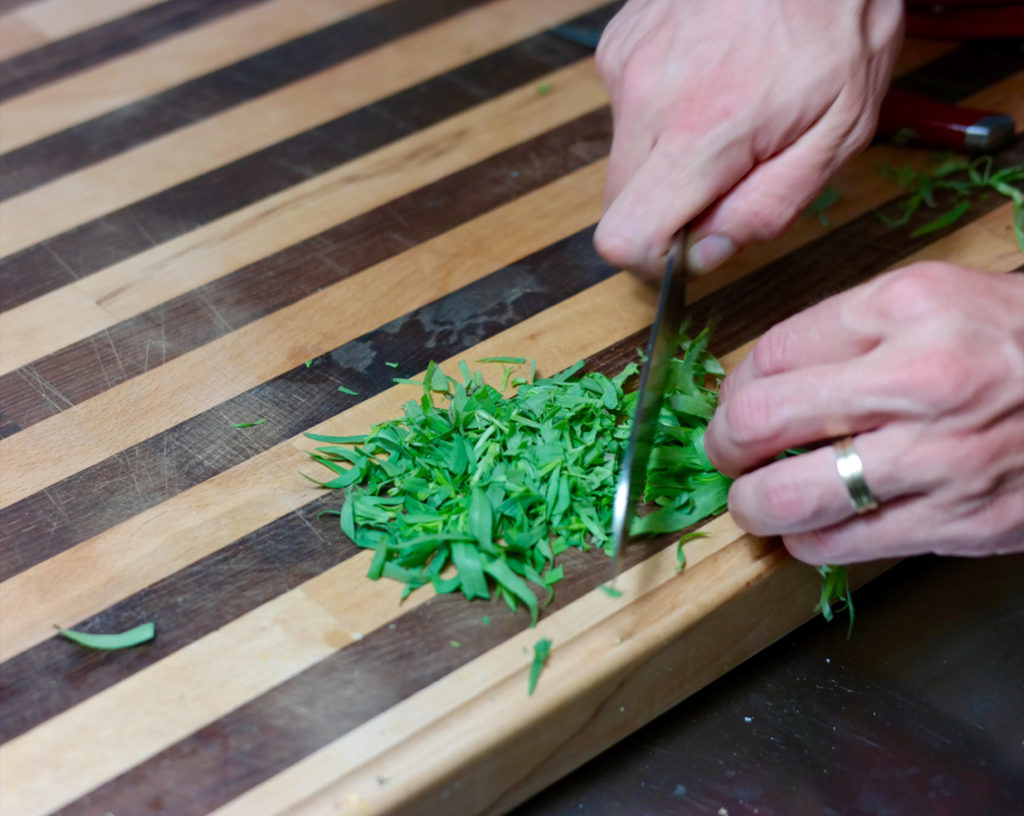 … and stir that into the sauce as well.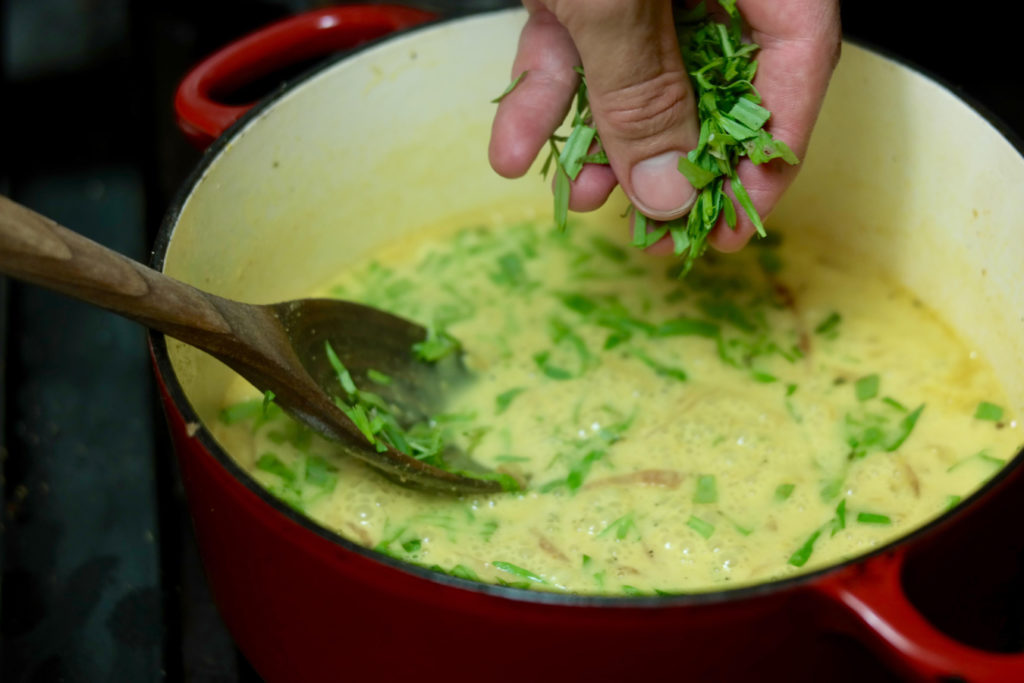 Now add in the noodles and a tablespoon of vegetarian stir-fry sauce and mix everything together.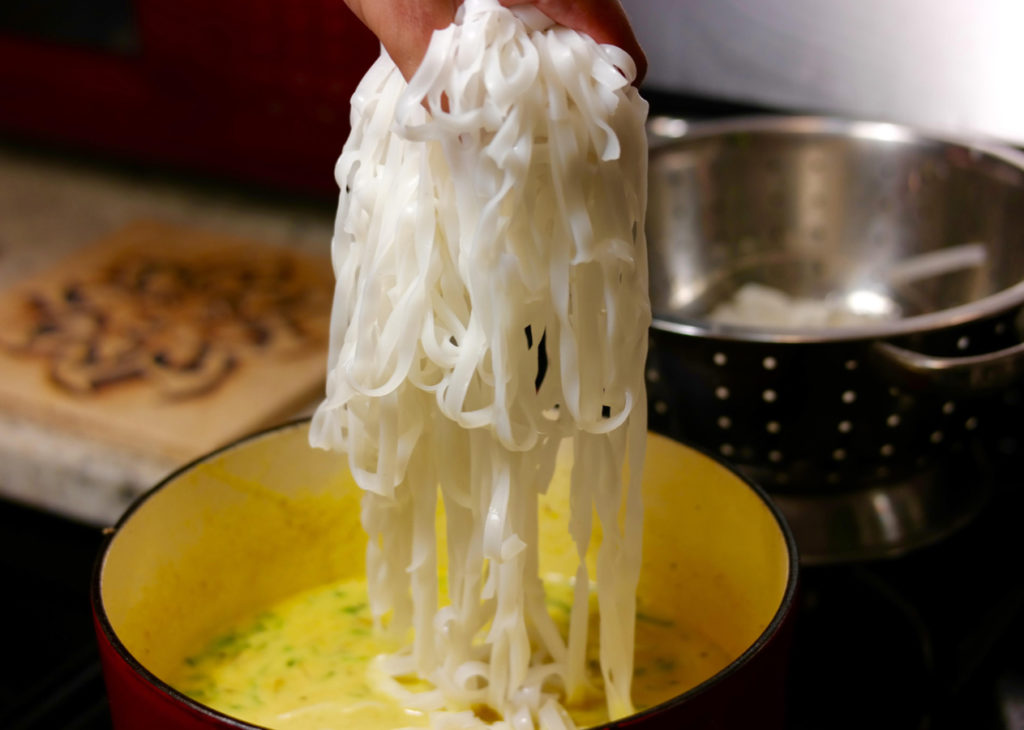 And then serve your noodles with some extra chopped tarragon.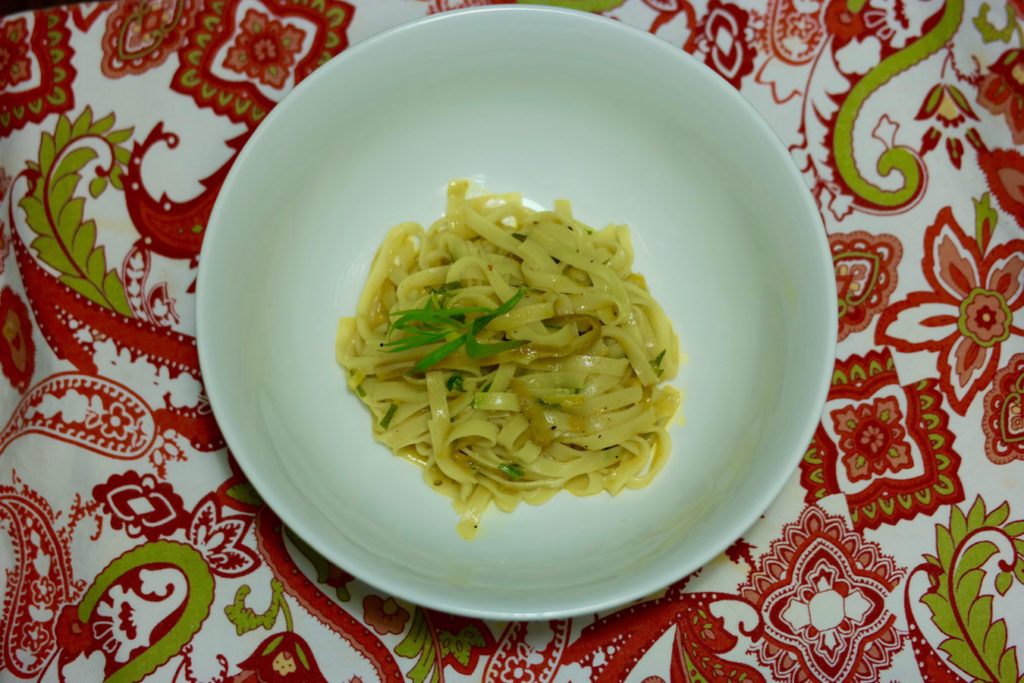 These noodles are so simple to make:  they cook quickly, and the sauce comes together in just a few minutes.  There's a lot of different flavors going on here – onion, garlic, turmeric, coconut, tarragon, plus some sweetness from the honey and stir-fry sauce – and they all come together well to make a great vegan dish.  You can either divide this up as two small dinners or one larger meal for a hungry person, but either way you'll come out with some tasty, quick and easy, meat-free, dairy-free noodles.