We've recently discovered two places – each unique, each a little different – that serve up some good vegan food in Brooklyn.  One is a proper restaurant, while the other is a small and periodic pop-up festival, but they're pretty close to each other and together they give you some excellent options for meat-free, diary-free food.  And even if you're not vegan, they've still got some interesting and creative fare you should think about trying.  So here they are:
First, in Williamsburg you can find the latest outpost of Avant Garden, a plant-based restaurant that has also has a location in the East Village.  Here food is prepared as you order it, not prepped ahead of time, so it takes a little longer to get each of your dishes but everything comes out incredibly fresh.  You're meant to order food tapas-style, to share, so you should plan to get a bunch of different things.  We decided to start with an order of the corn toast, which is topped with a black bean puree, corn kernels, and baby greens.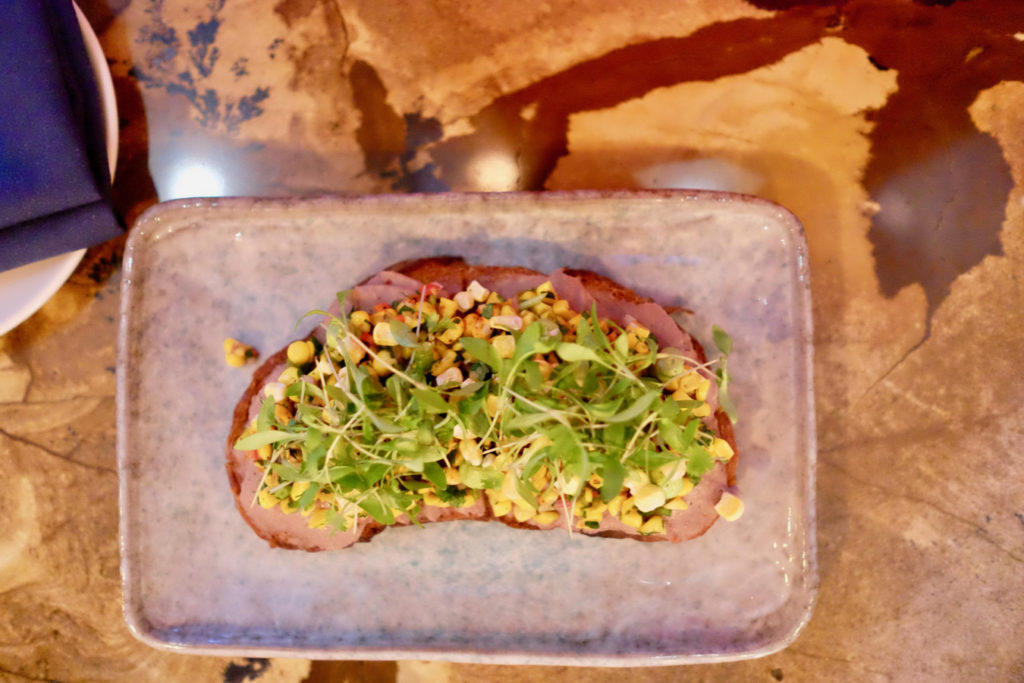 Then we had the pineapple tartare, which is a salad of charred pineapple, watermelon, avocado, yuzu, and macadamia nuts.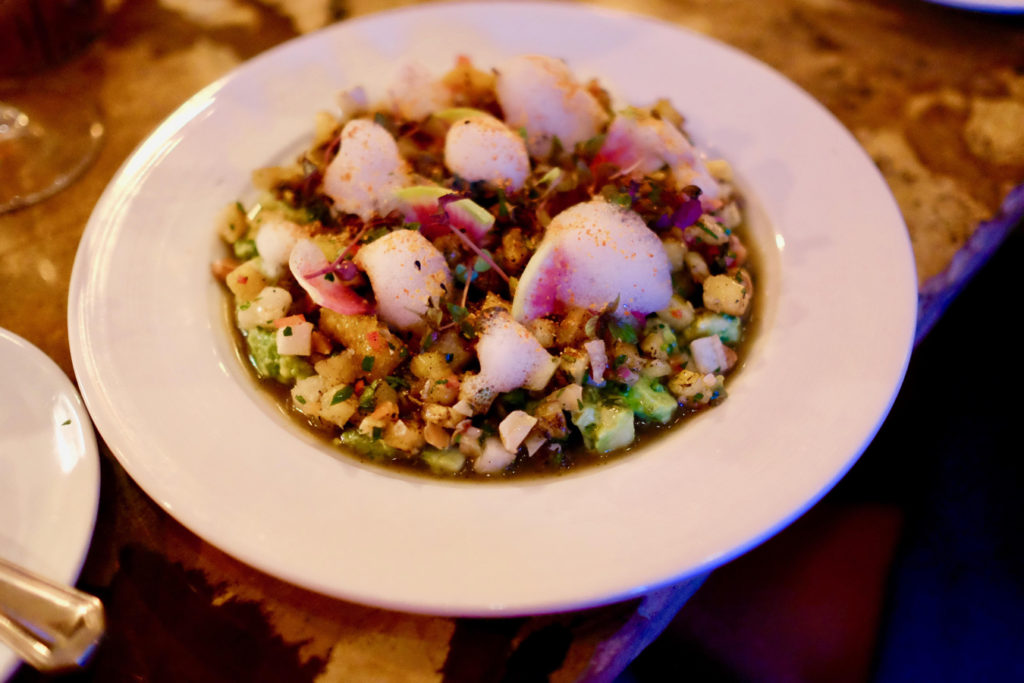 And we finished up with the scorched cauliflower, topped with garlic, fried capers, and a cauliflower puree.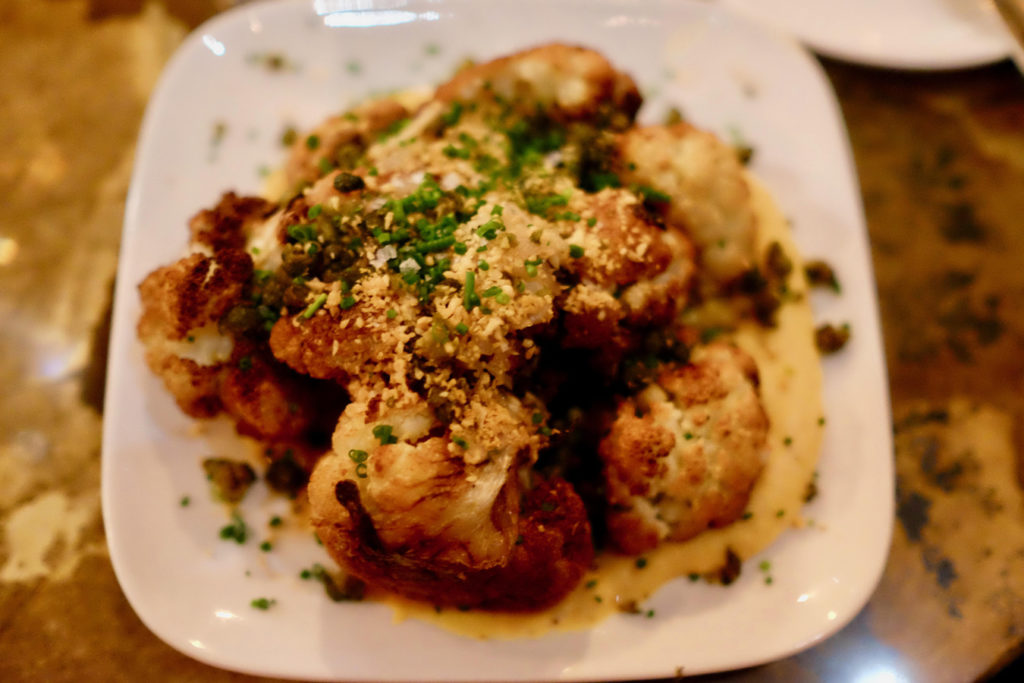 Then, if you head over to Bushwick you can check out Vegan Shop-Up, but only on select weekends.    This small market comes to the Pine Box Rock Shop one Saturday a month and features vendors selling vegan food from their own stands.  The setting is much more casual than Avant Garden, and the food leans more towards vegan versions of quick foods and desserts, so it's an interesting contrast.  We went in July and sampled all different kinds of things, like this sandwich, called the La Chona, made from tomato- and chipotle-braised jackfruit served on a bun with avocado and a vegan cotija cheese aioli.  It was made by the vegan Mexican chef behind Vegicano.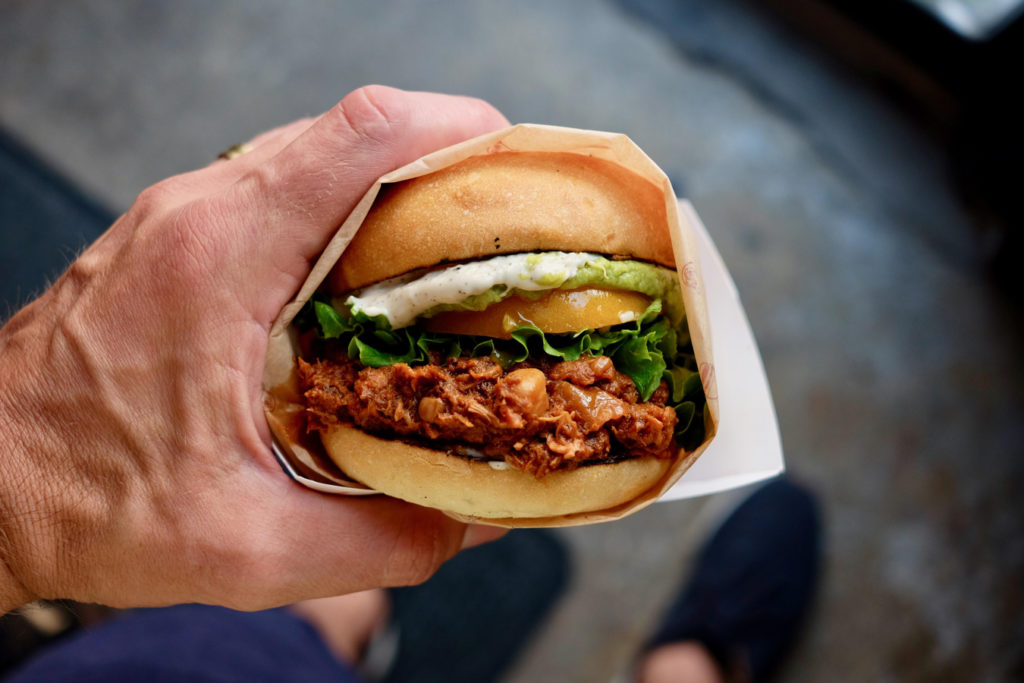 Pisces Rising brought in some delicious baked goods, including this bun filled with jalapeños and served with a honey mustard sauce.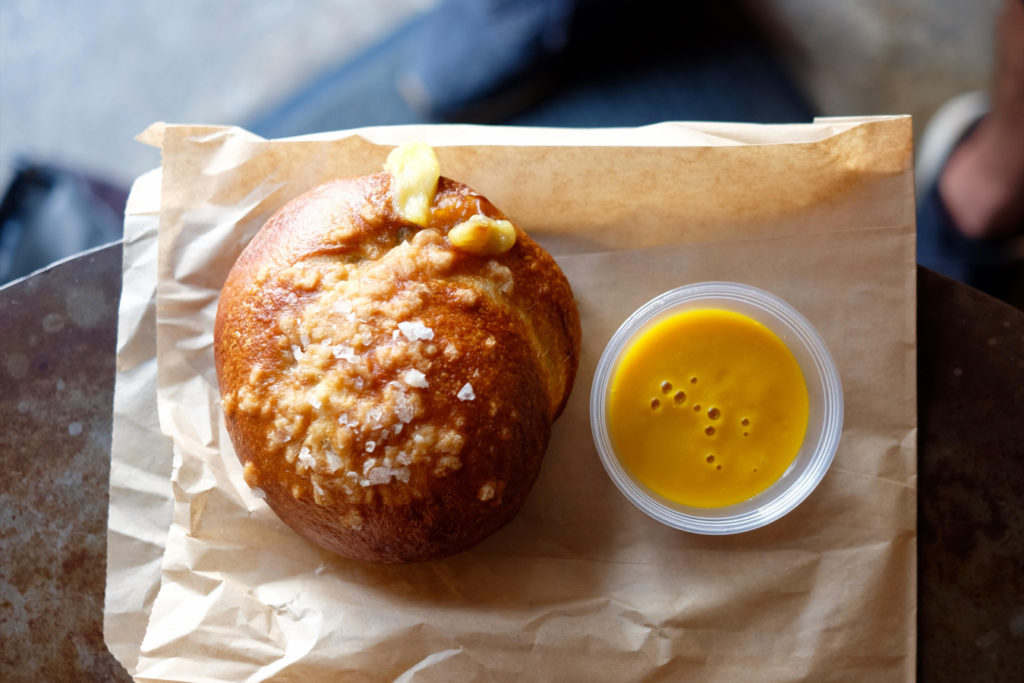 Of course we had to sample a bunch of desserts, including this cannoli from Cannoli Cafe.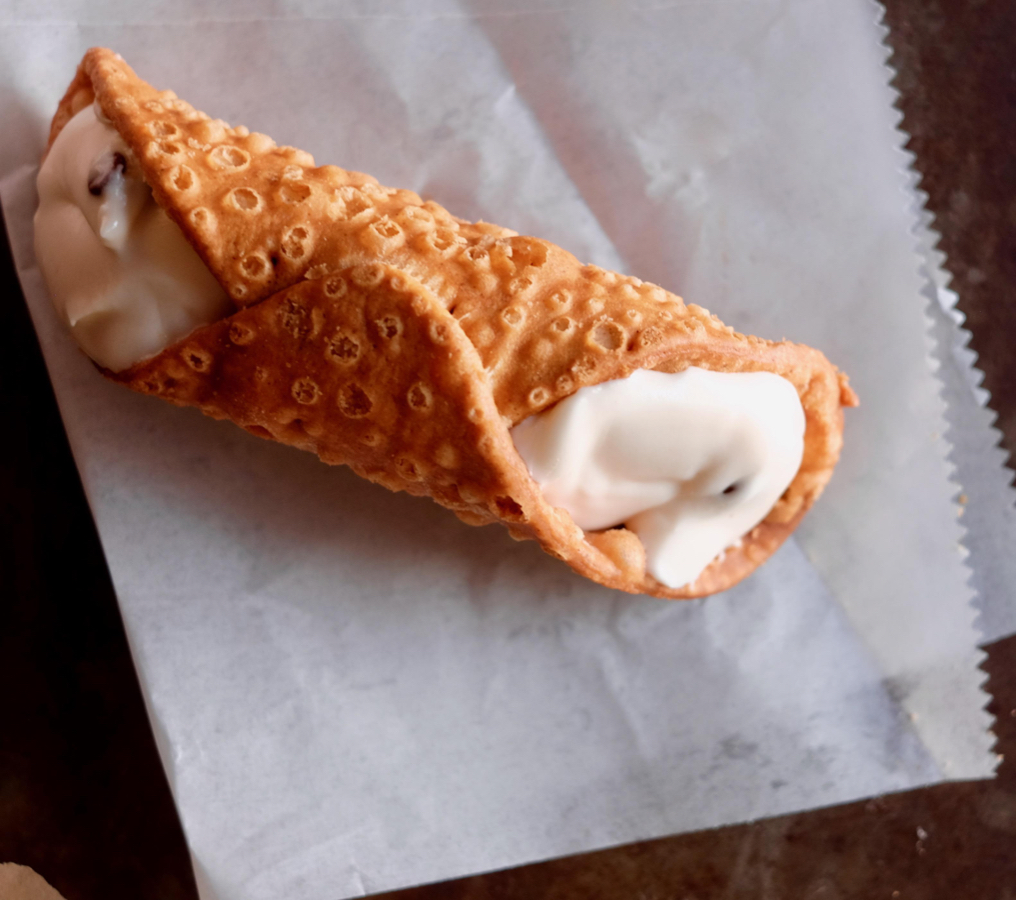 And from Maple and Oat we had some truffles …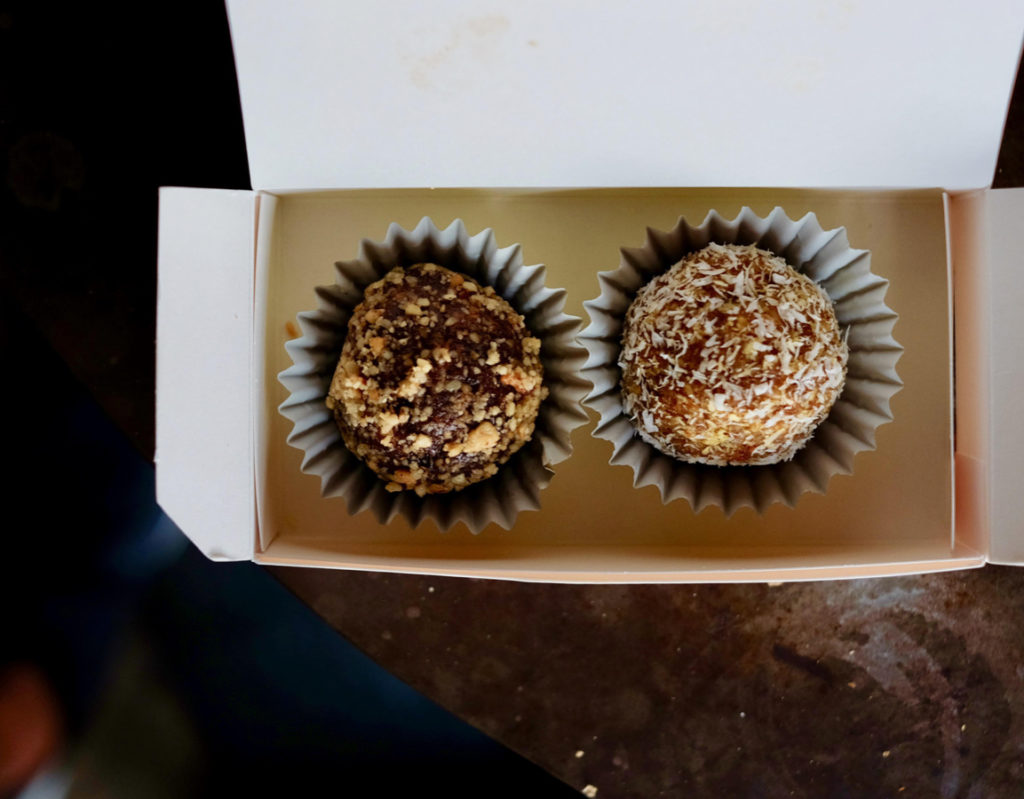 … from Eat Chic Chocolates there were peanut butter cups …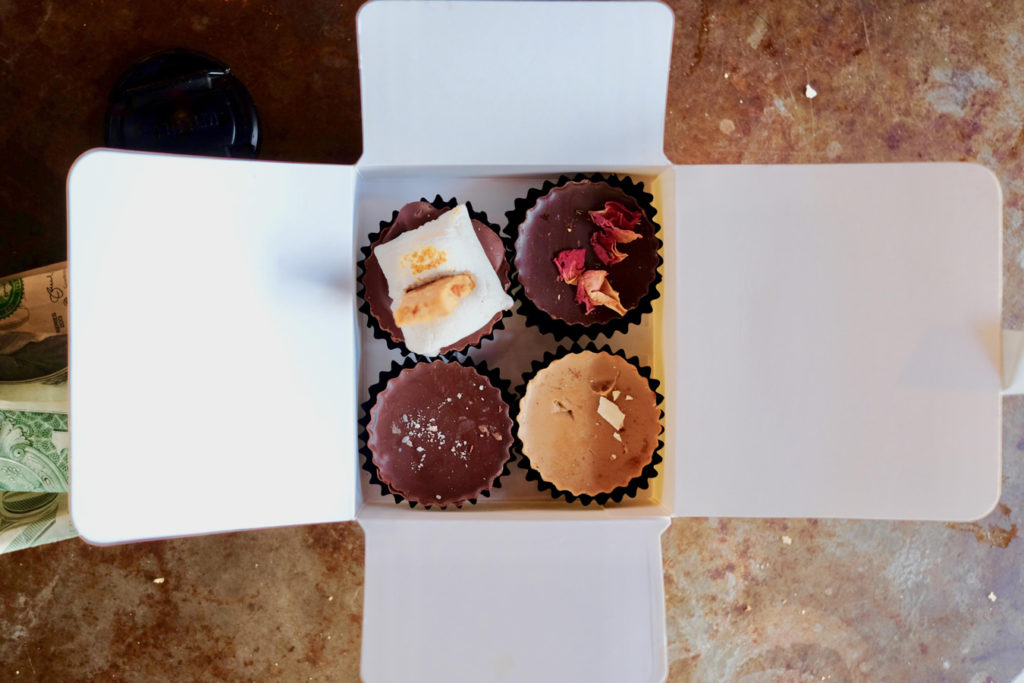 … and from Sweet Maresa's we had a vegan gelato sundae with cherries, pie crumble, and dairy-free whipped cream.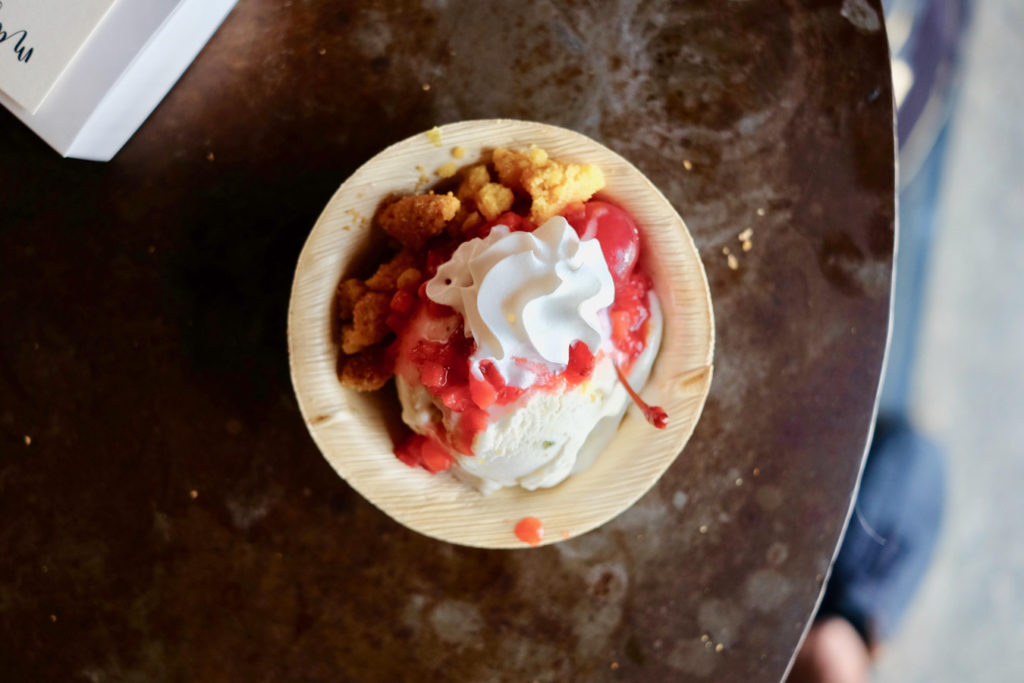 These vegan dishes were all pretty delicious.  Avant Garden focuses on crafting interesting meals that are naturally vegan, while the vendors at Vegan Shop-Up find creative ways to turn foods that are normally meat- and dairy-focused vegan.  Both represent interesting cooking in the vegan world, and you can try both within just a few miles of each other.  Check these places out (though you should visit Vegan Shop-Up's website to see what Saturdays it's taking place) – and check back soon to see some of our other exciting food adventures.