This summer we've been traveling to lots of fun and interesting places, and we're going to dedicate some posts over the next several weeks to the great food we've had at these destinations.  To kick things off, here's our guide to some good, meat-free offerings that we discovered at Disney World.  It was Cyril's first time there, and Miriam's first time in a while, so we were excited check out what was on offer at three different parks and share our findings with you!
First of all, we learned that Disney World really likes making food in the shape of Mickey's head – for example, here's a Mickey pretzel, which you can find at carts around Hollywood Studios and Magic Kingdom.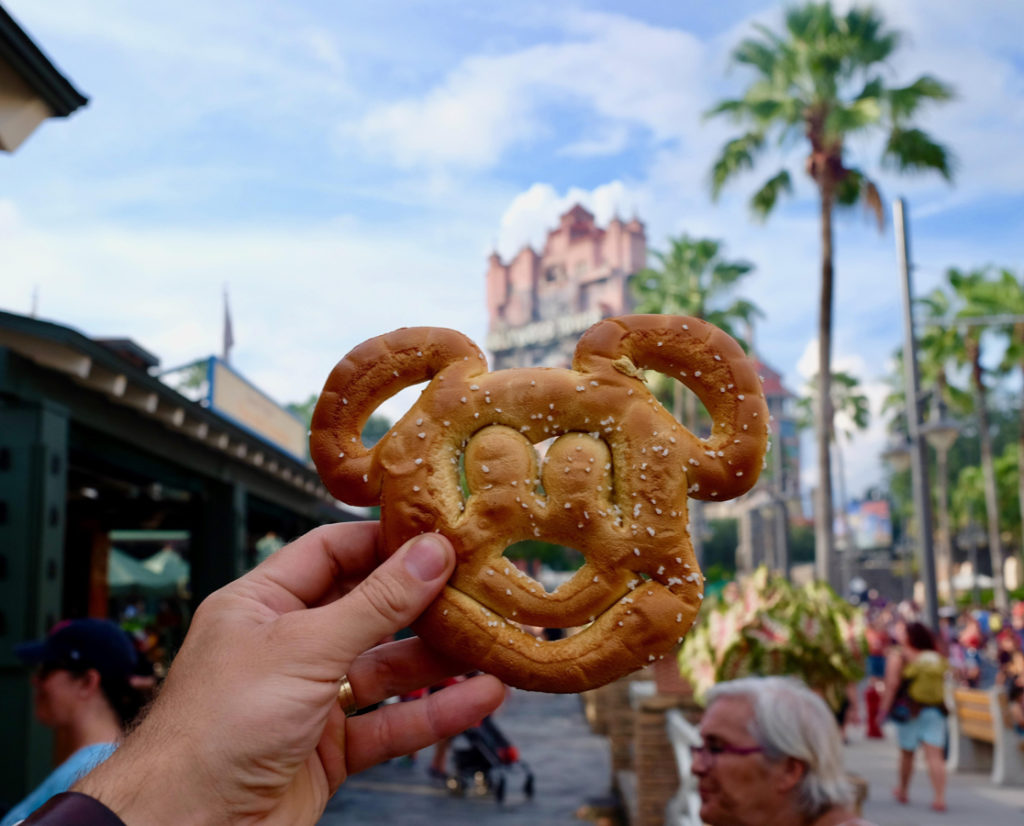 This is a Mickey ice cream pop, also sold by vendors across the parks.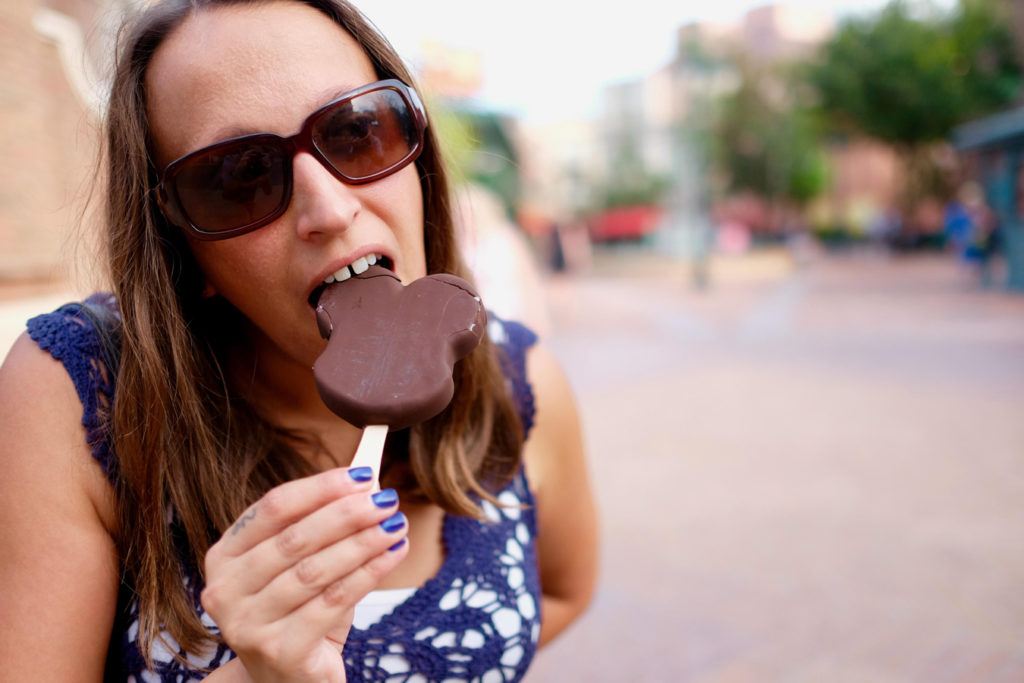 We also found this cake pop – it's chocolate cake dipped in vanilla icing and covered in sprinkles – at the Main Street Confectionery in Magic Kingdom …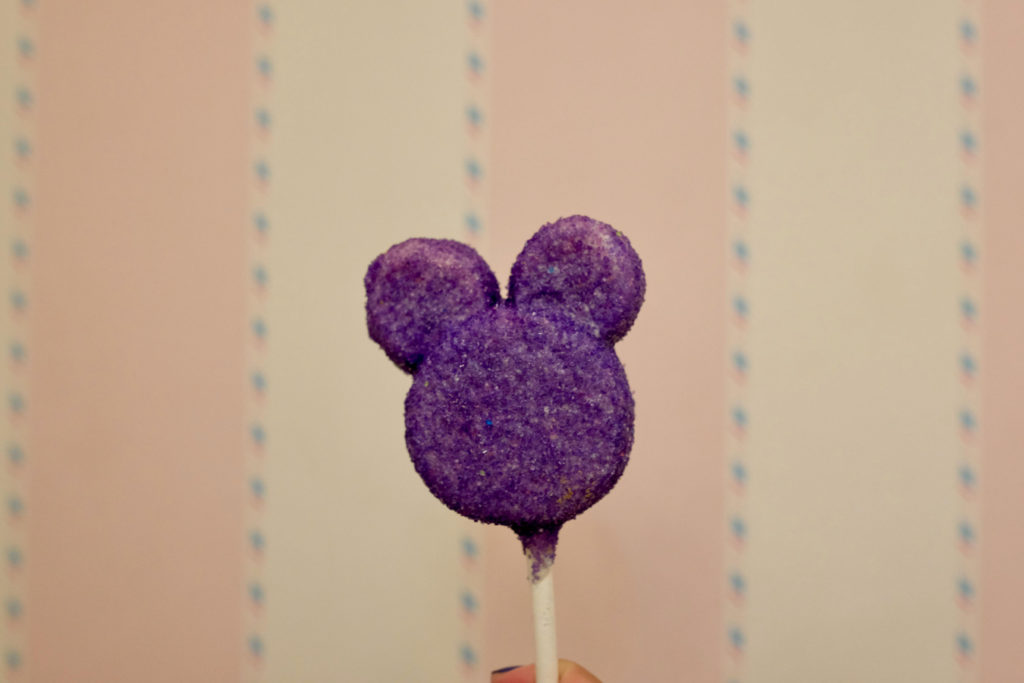 … as well as this chocolate-dipped chocolate chip cookie.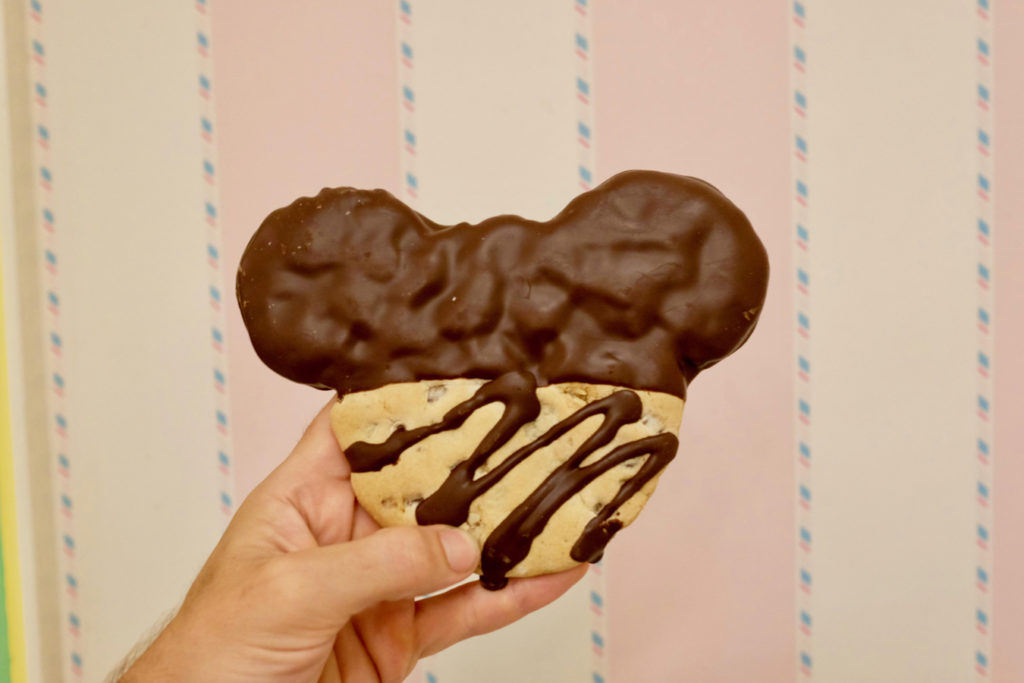 Another interesting and delicious dessert at Magic Kingdom is a Dole Whip.  On the right is the traditional version, made from vanilla and pineapple soft serve swirled together, and on the left is a Dole Whip float, which has ice cream soaked in some pineapple juice.  You can get both of these at Aloha Isle.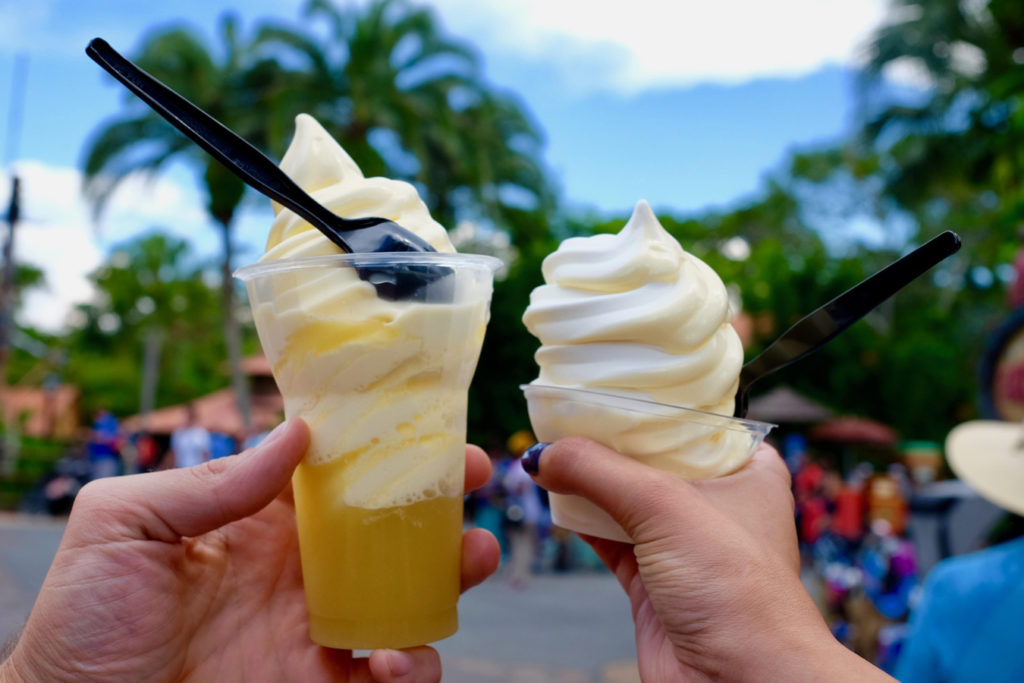 And if you want some more ice cream, we also liked the churro ice cream sandwich at Sleepy Hollow Refreshments in Magic Kingdom, right next to Cinderella's Castle.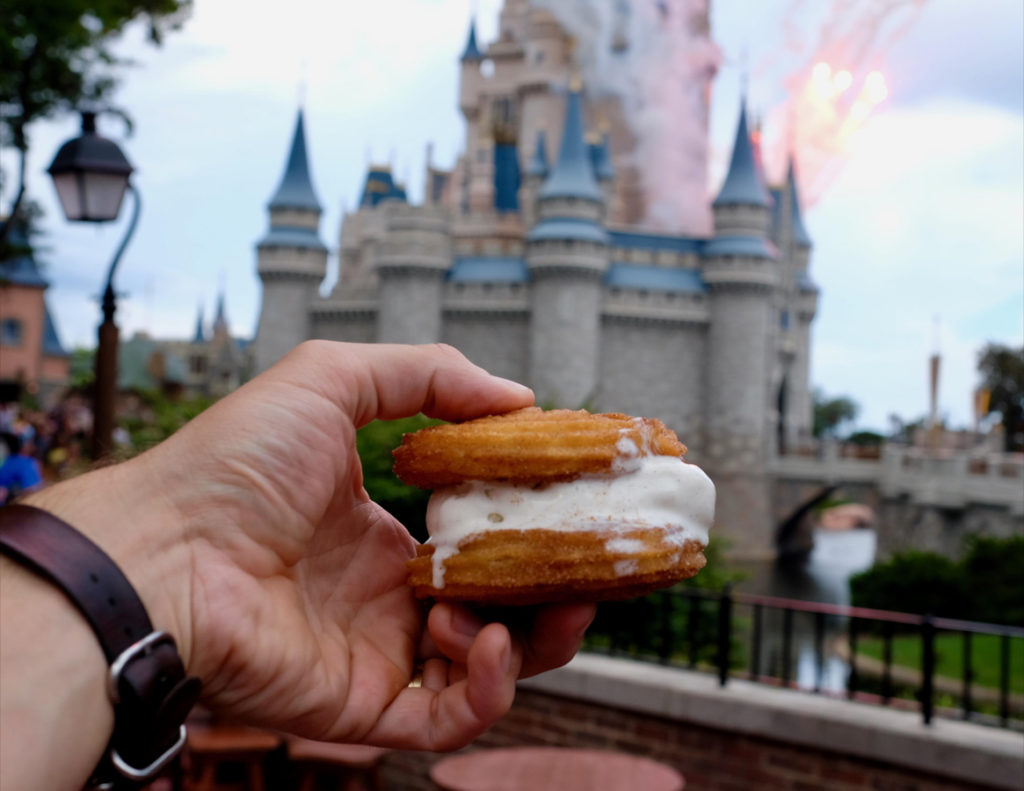 Epcot has some great sweets too, and we particularly liked what was on offer at Les Halles Boulangerie-Patisserie in the French section.  There we sampled this duo de chocolat, which is a chocolate-dipped cake made from vanilla and chocolate mousse …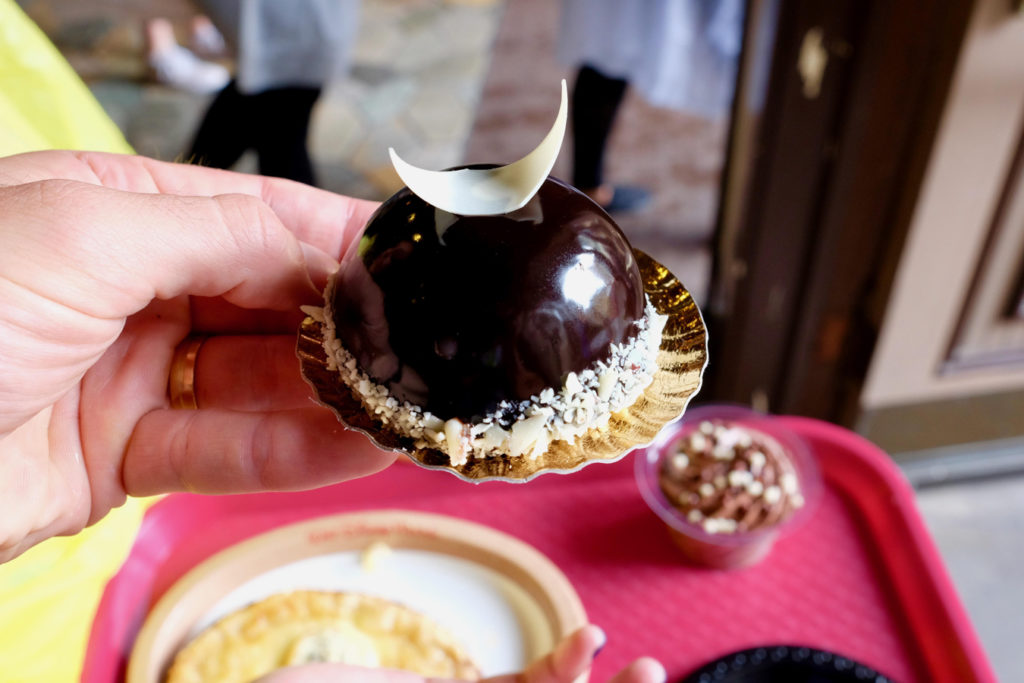 … as well as a cup of their signature mousse.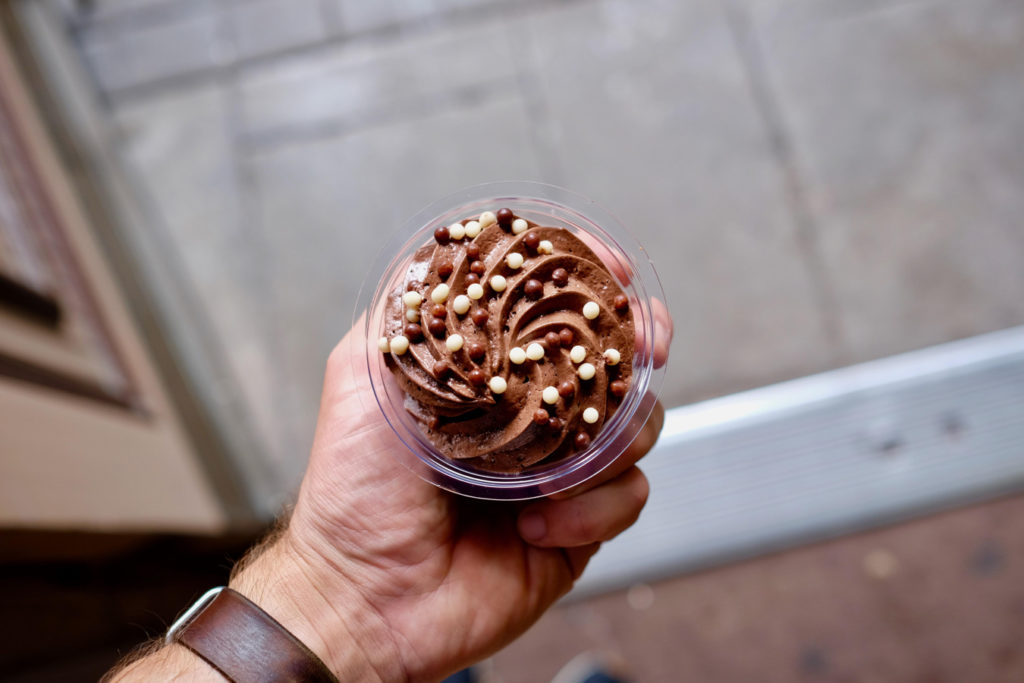 If you're going into sugar overload by this point, you can nosh on some real food in Epcot's Mexican area, where La Cantina de San Angel serves up some casual bites.  On the right is Miriam's empanadas de queso, served with a corn slaw.  Cyril's meal, on the left, was the taco trio:  one beef, one chicken, and one fish taco with black beans and rice on the side.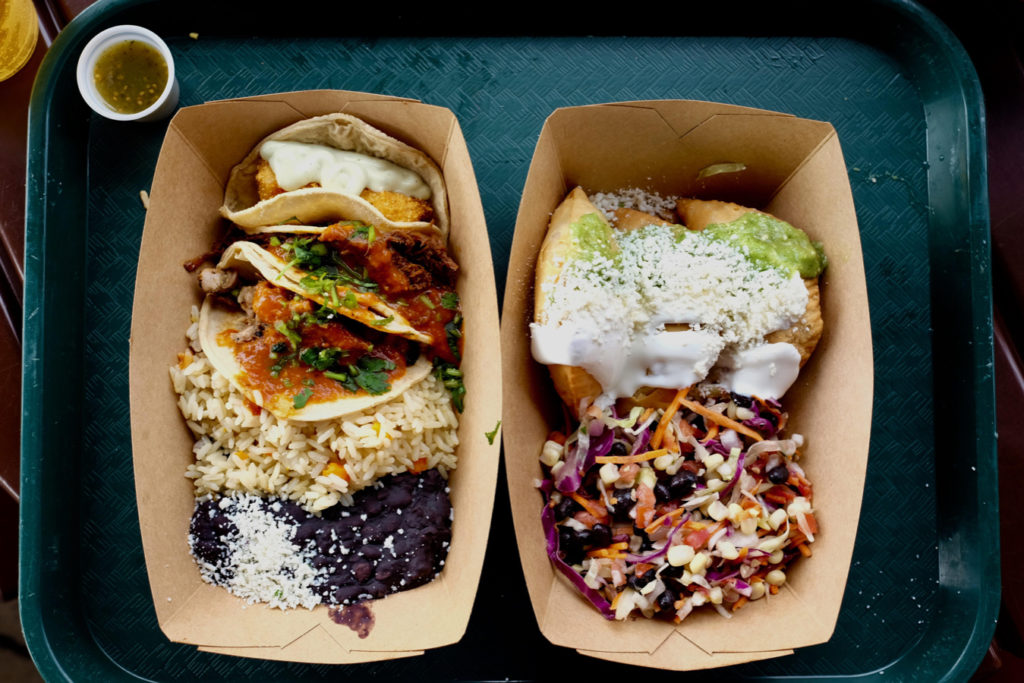 You can get some tasty drinks all around Epcot too, like these frozen margaritas (wild strawberry on the right and a combination of strawberry and mango on the left) at Choza de Margarita, also in the Mexican pavilion.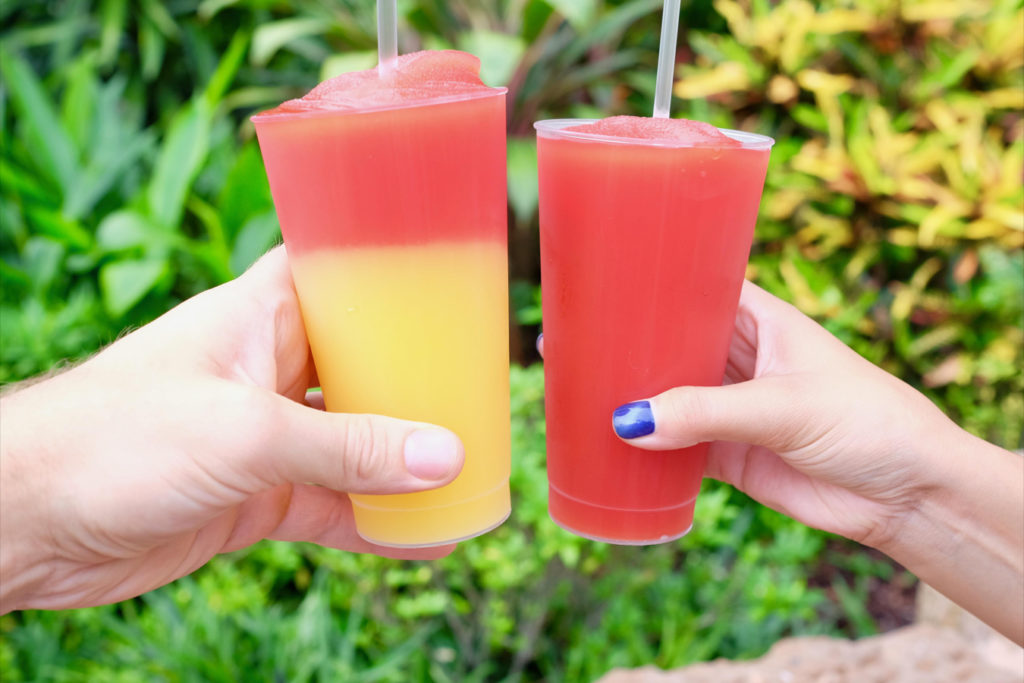 At a kiosk in the French area they serve up boozy slushies, including this one made with orange slush mix and Grand Marnier.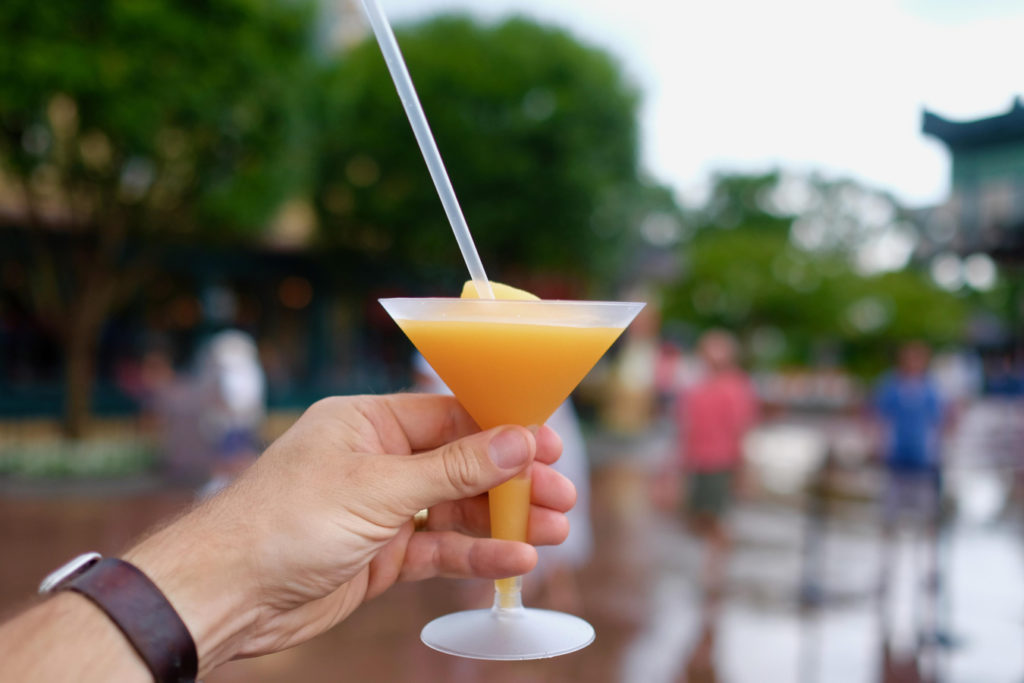 At a stand in the Italy pavilion you can get an Italian daiquiri – rum, lime juice, strawberry puree, and Midori blended together – plus you can sample some great international beers.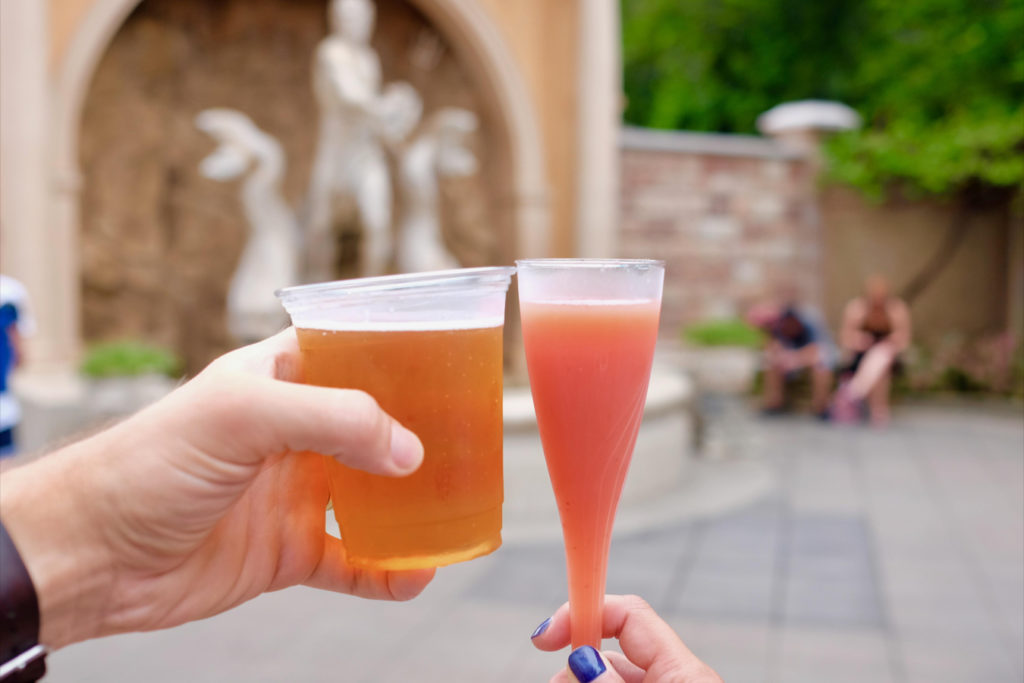 OK, one last drink:  this one's called Orbiting Oreos, and it's a cookies and cream milkshake spiked with Godiva chocolate liqueur and served with a glowing ice cube.  We got it at the Sci-Fi Dine-In Theater Restaurant in Hollywood Studios.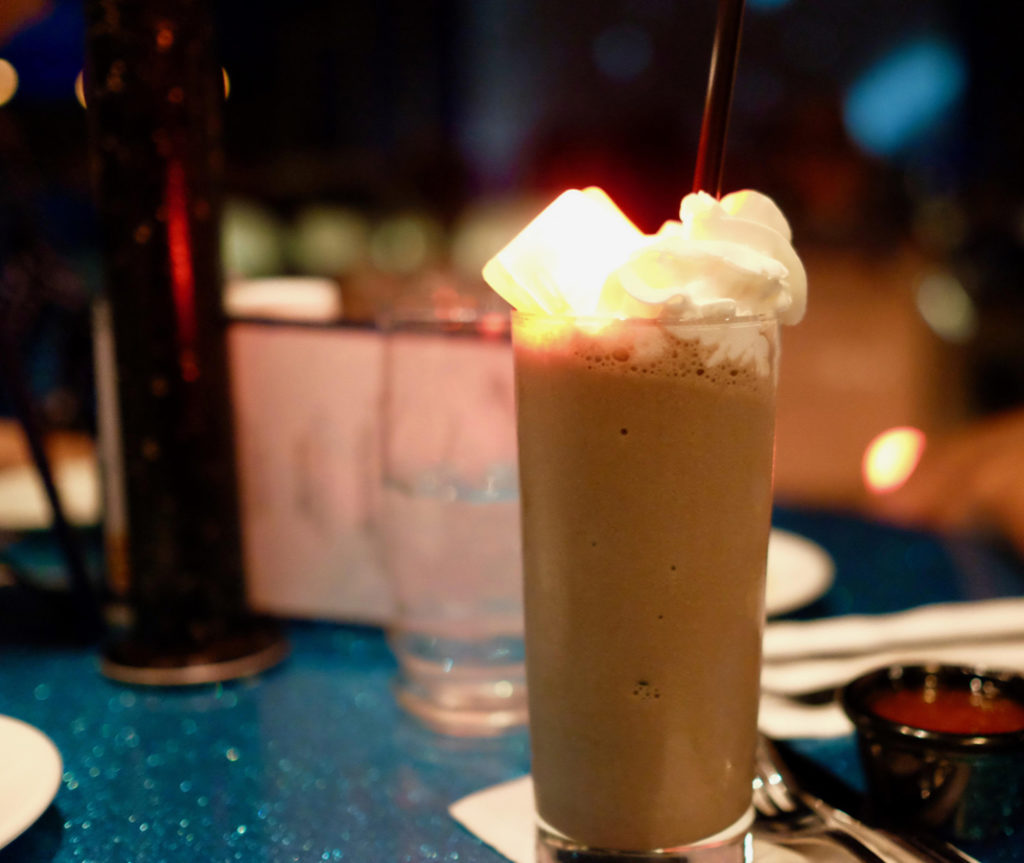 Somewhere in the midst of all this snacking we did make time for a sit-down meal, and we decided to go to Jungle Navigation Co. Skipper Canteen in Magic Kingdom, which serves up an interesting mix of international foods.  We started our meal there with the soup of the day, which happened to be vegan coconut curry.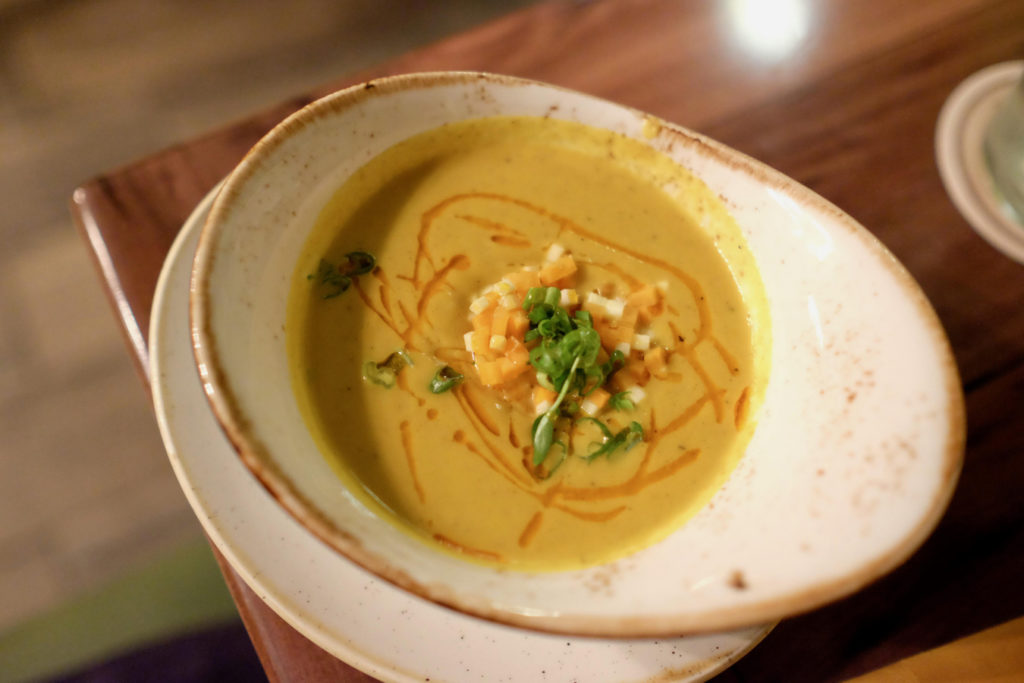 We also got an order of the falafel and hummus: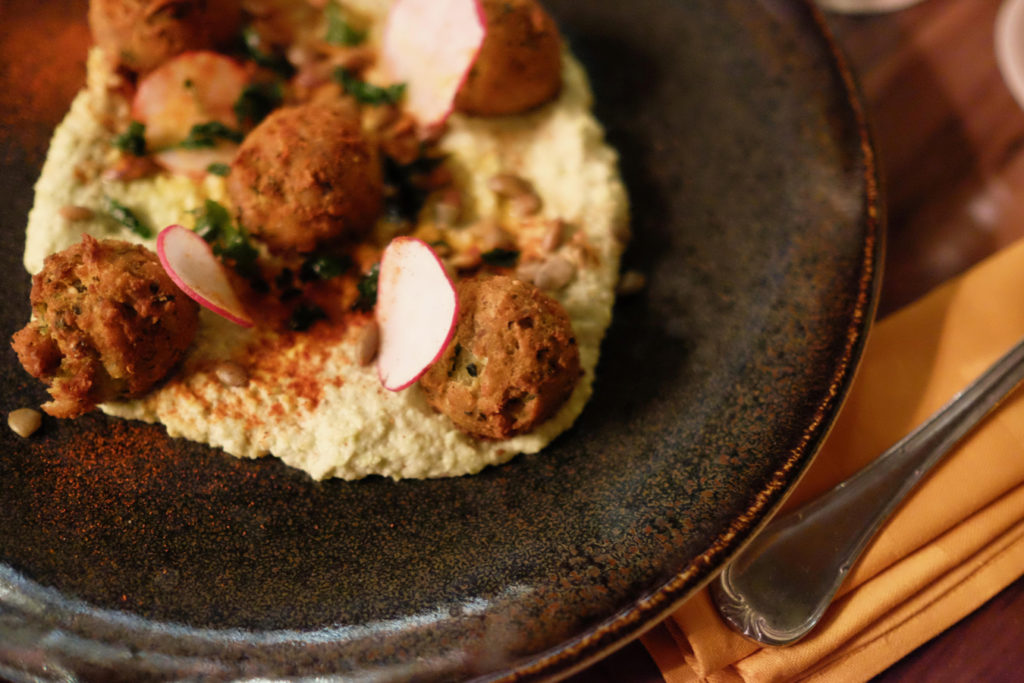 For entrees, Cyril has the vegan curried vegetable stew, made with veggies, pineapple, tofu, and coconut rice in a curry sauce with some pitas on the side.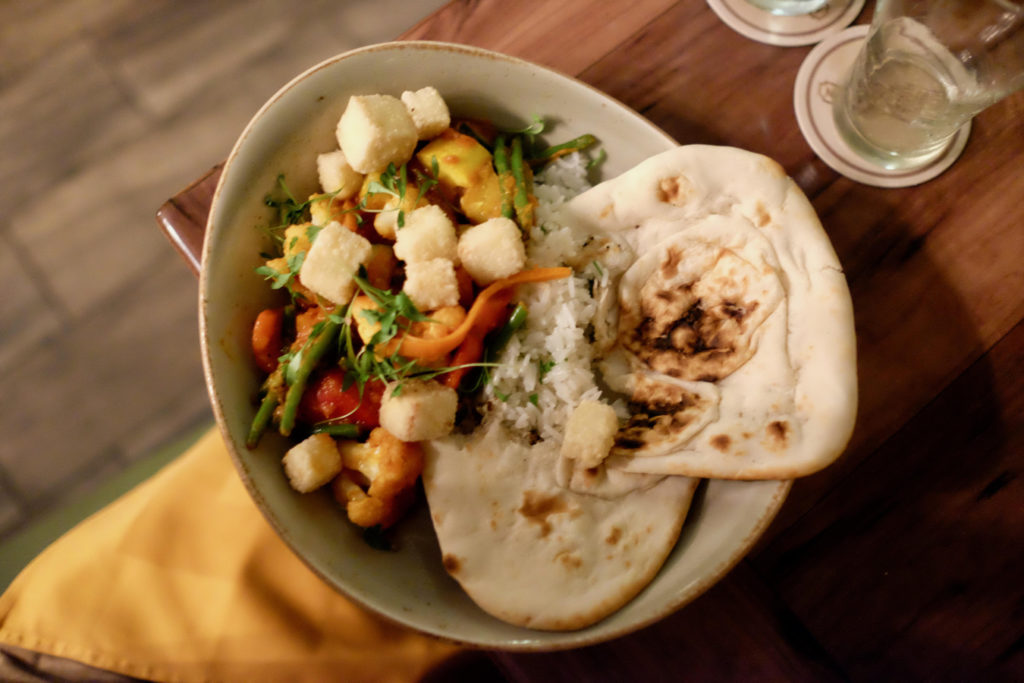 And Miriam had the Thai noodles – they're typically made with chicken, plus tofu, vegetables, and rice noodles in a surprisingly spicy sauce, but the restaurant kindly left the meat out to make this a vegan dish.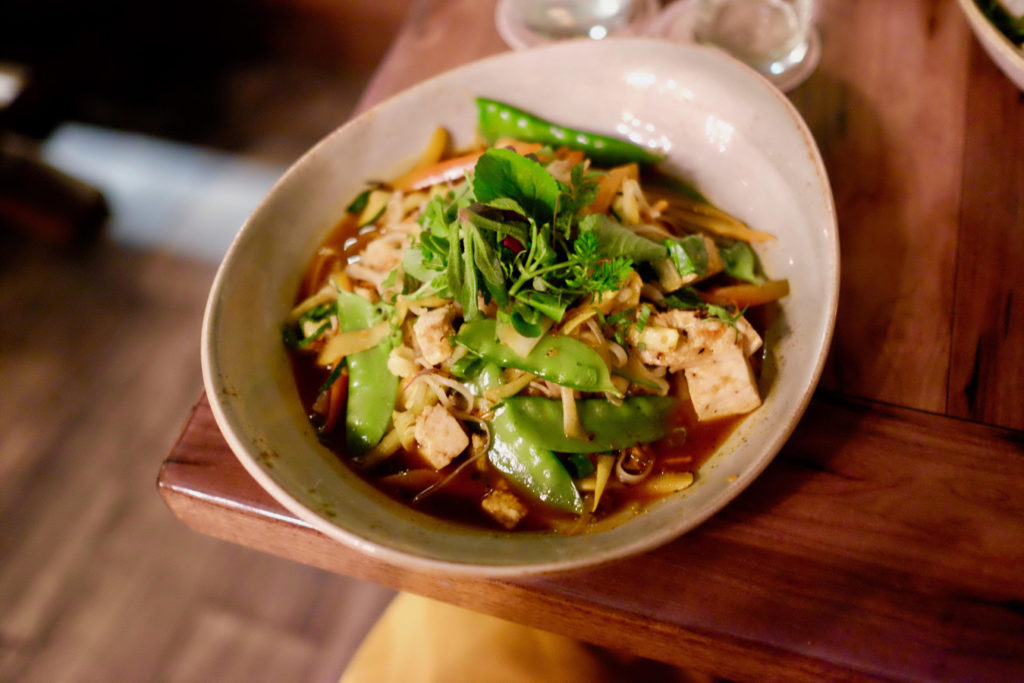 Whew – that was a lot of food, as you might imagine, but we enjoyed noshing our way around the parks and discovering all the tasty and creative food and drinks Disney has concocted to part you with your money.  We're glad we were able to discover all these vegetarian treats, and we hope you try these out or discover your own delicious food.  Make sure you check back next week to see where else we've gone!