Last week we showed you how to make some great, traditional breakfast pancakes, and now we're going to show you different, more savory version.  You could eat these for breakfast too, but because they're packed with potatoes and seasoned with all kinds of different spices, they make for an excellent meal at any time of the day.  These pancakes were Cyril's idea, inspired from a Gordon Ramsey video, and we adapted the recipe into our own tasty, hearty dinner.
If you'd like to make these pancakes, you'll need:
Cumin seeds
A jalapeño
Garlic
Ginger
Flour
An egg
Milk
Mustard seeds
An onion
Turmeric
5 potatoes
Plain yogurt
Cilantro
To start, take your potatoes and boil them whole in plenty of water for about 25 minutes, then drain them and set them aside to fully cool.
Meanwhile, measure out 2 teaspoons of cumin seeds and toast them, along with a generous pinch of salt, in a dry pan over medium-high heat for about a minute, until they release some of their scent.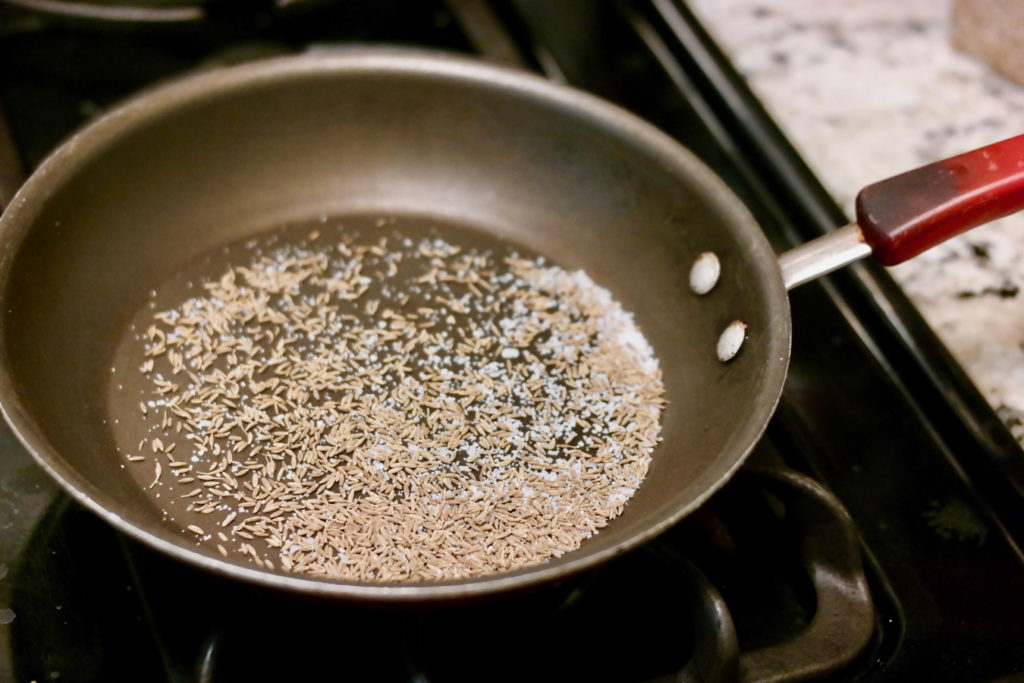 Take your jalapeño, cut out the seeds and the stem, and dice it up.  Finely chop up 2 cloves of garlic as well, then cut off a 1-inch piece of ginger and peel and grate it.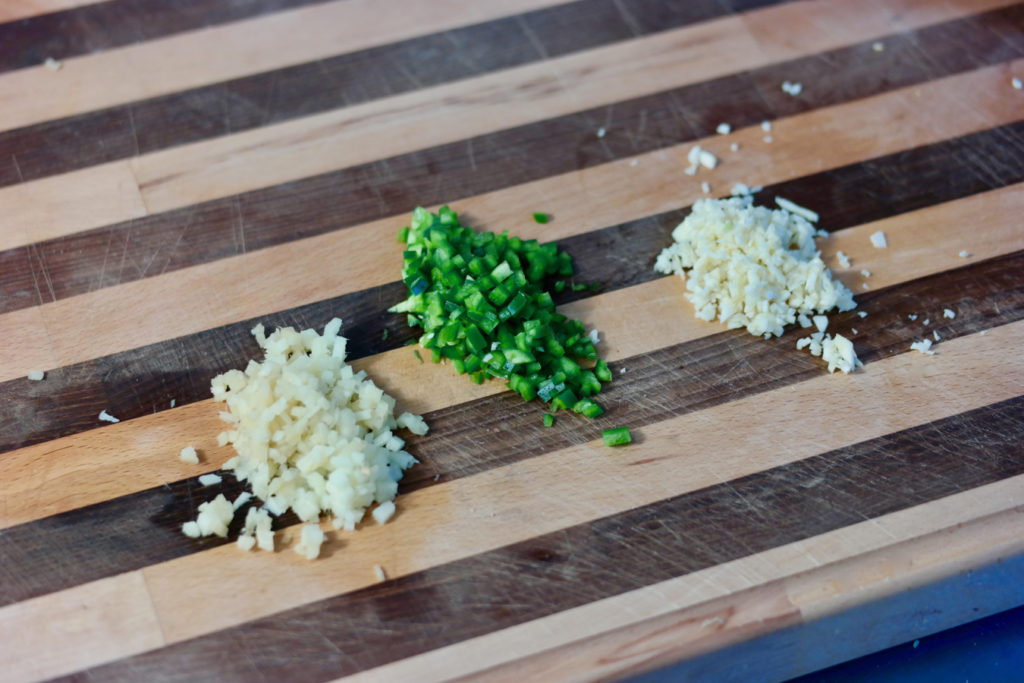 Add the garlic, ginger, and jalapeño to the pan with the cumin seeds, plus a bit of olive oil, and cook everything for another 2 minutes or so until the veggies are softened.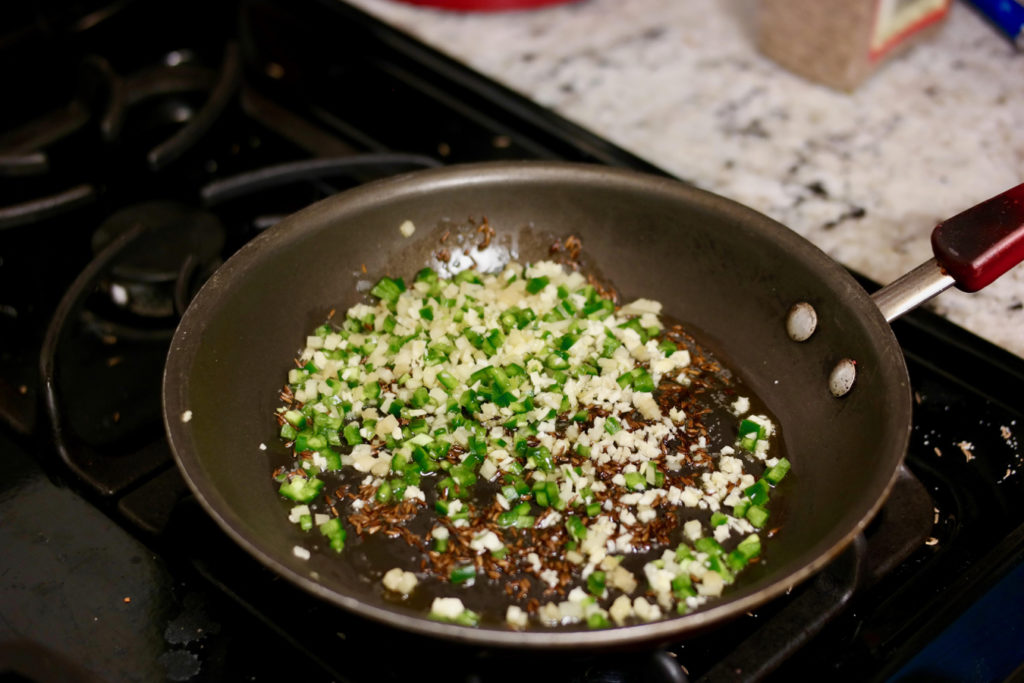 Take this mixture off of the heat, and once it has cooled down  bit put it in a large bowl along with a cup of flour and your egg.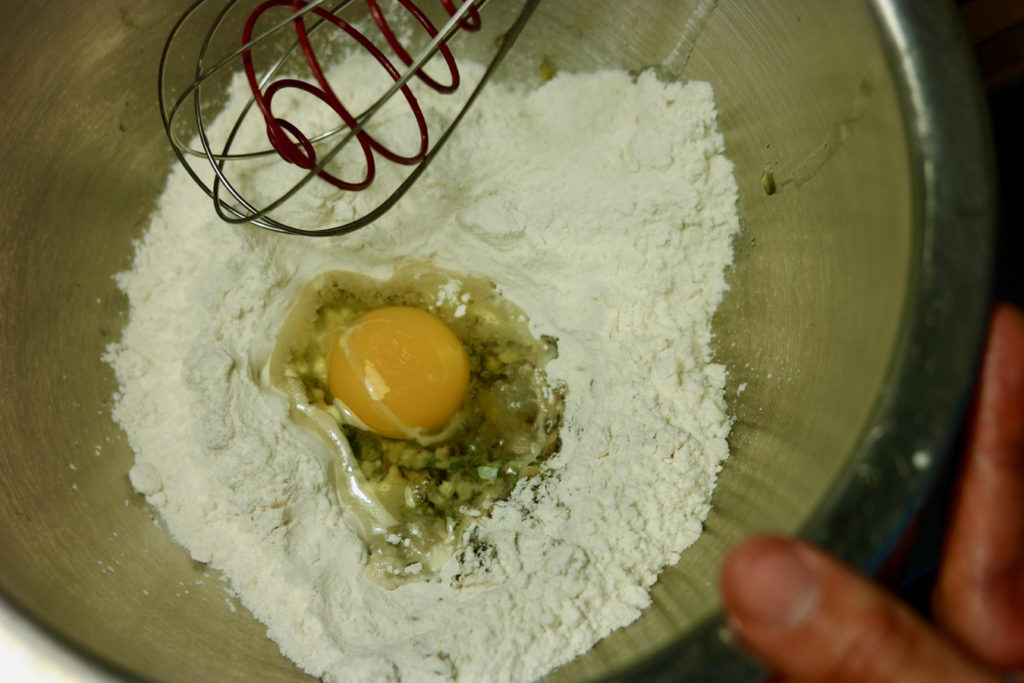 Begin whisking this mixture together, then gradually add in 1 1/4 cups of milk and a teaspoon of olive oil.  Whisk everything constantly, until you have a smooth batter.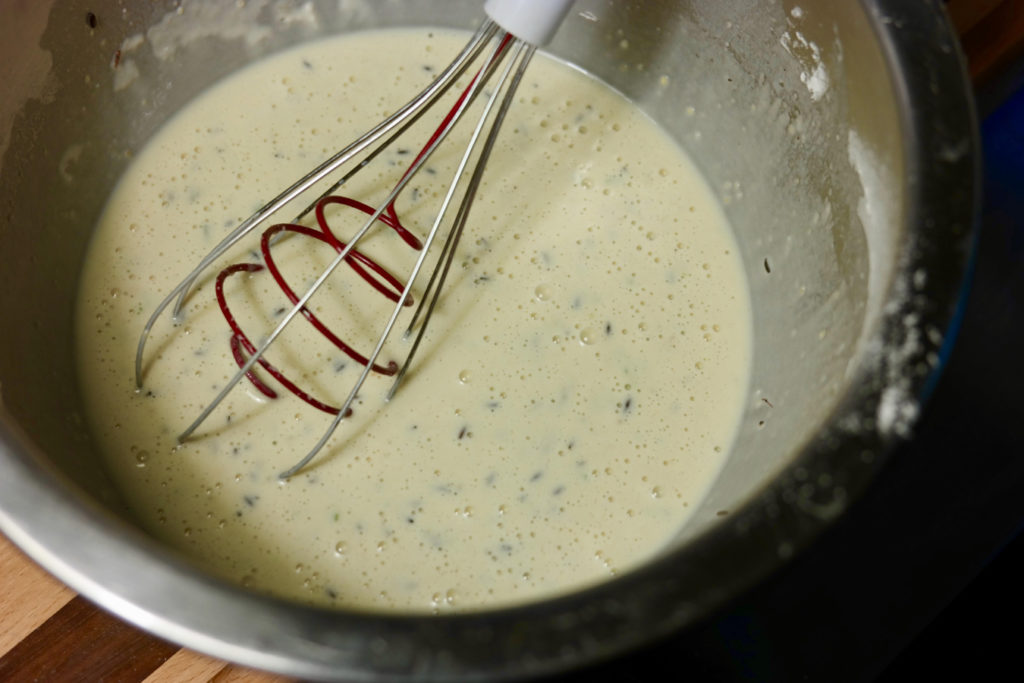 Set this bowl aside while you make the pancake filling:  place a teaspoon of mustard seeds in a large cast iron pan and heat them, with a splash of olive oil, over medium heat until they begin jumping around in the pan.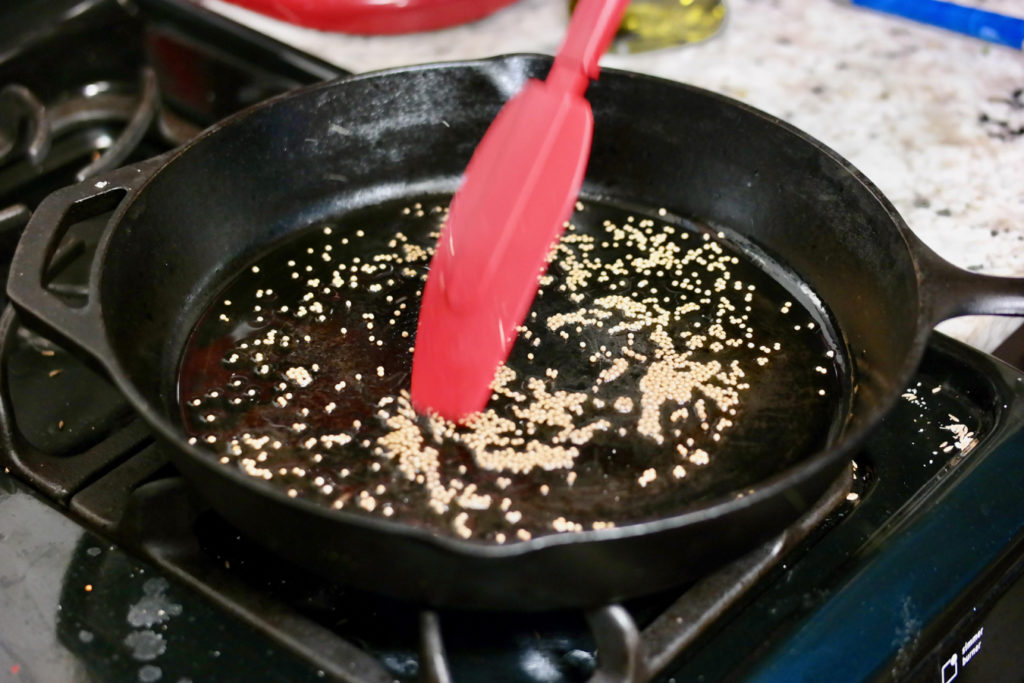 Thinly slice half of your onion and add that in, plus a teaspoon of turmeric, and cook for about 5 minutes until the onion is softened.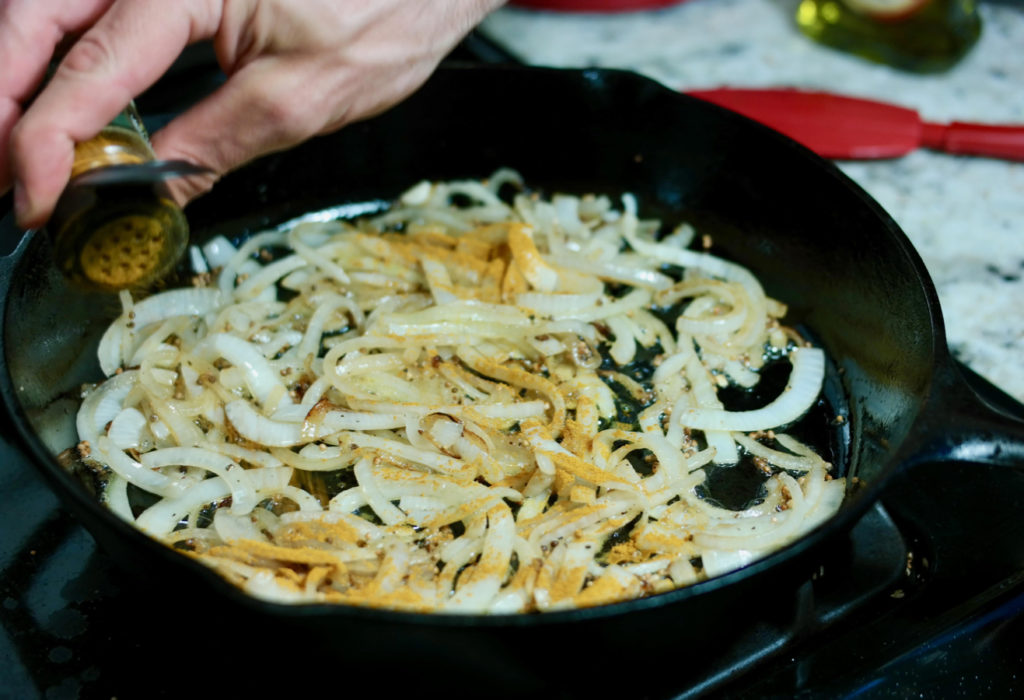 Cube your potatoes, then pour a little more olive oil into the pan and cook the potatoes with the onions and mustard seeds for another 5 minutes or so, until they potatoes are lightly fried.  Take your pan off the heat once the potatoes are done.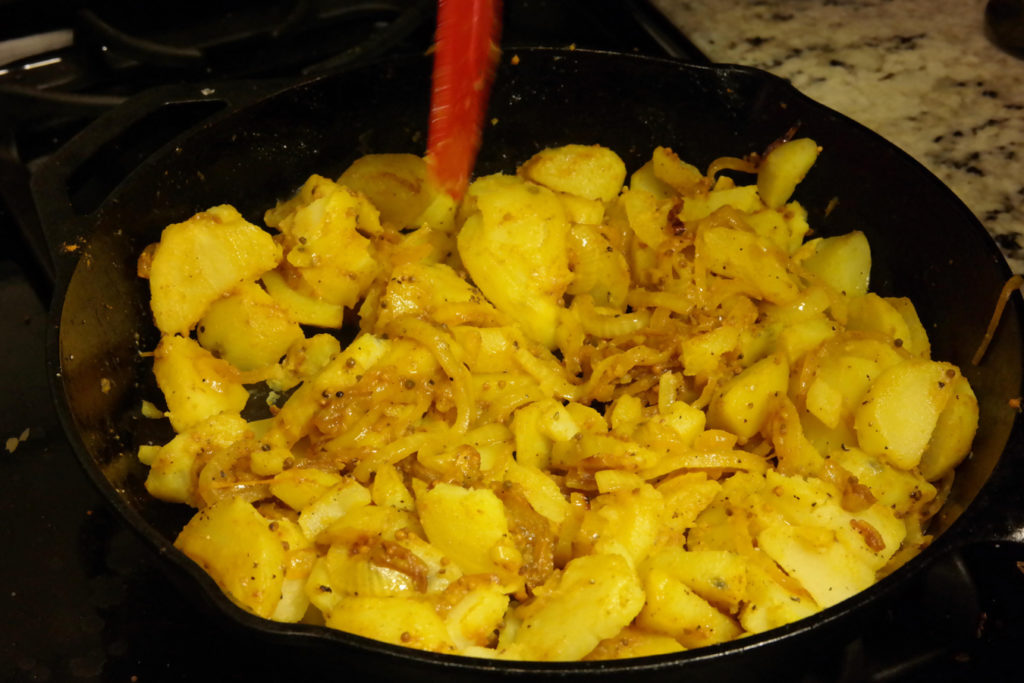 Now find a wide frying pan and pour out just enough olive oil to lightly coat the bottom.  Ladle in pancake batter and tilt the pan around until you've covered the entire pan.  Cook the pancake on one side until the batter begins to bubble …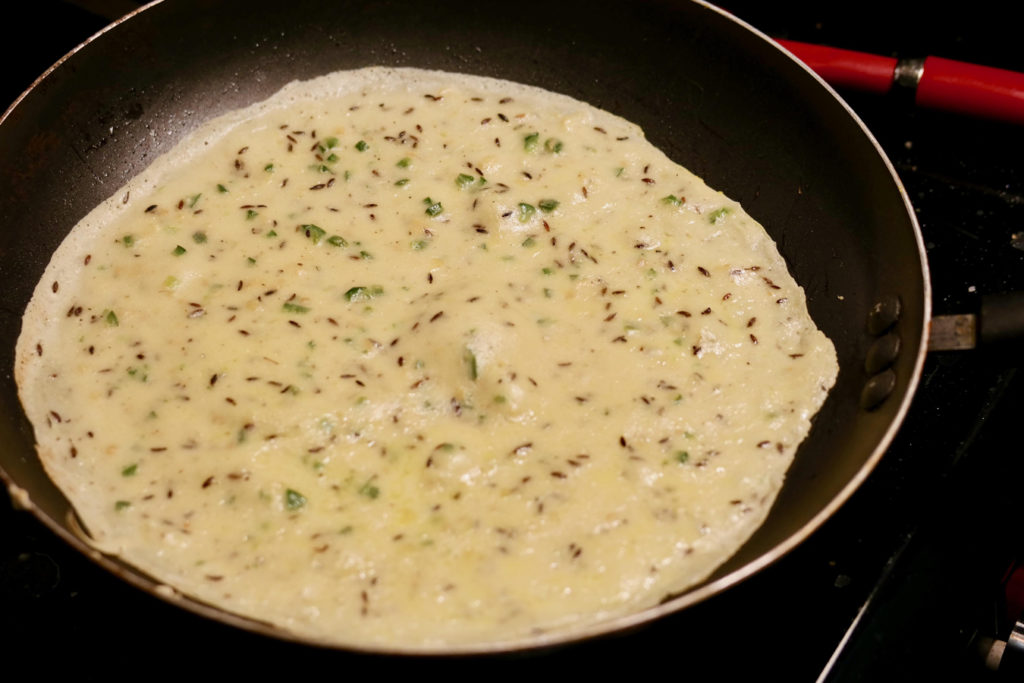 … then when it's slightly browned and crisp on the bottom flip it over and cook on the other side.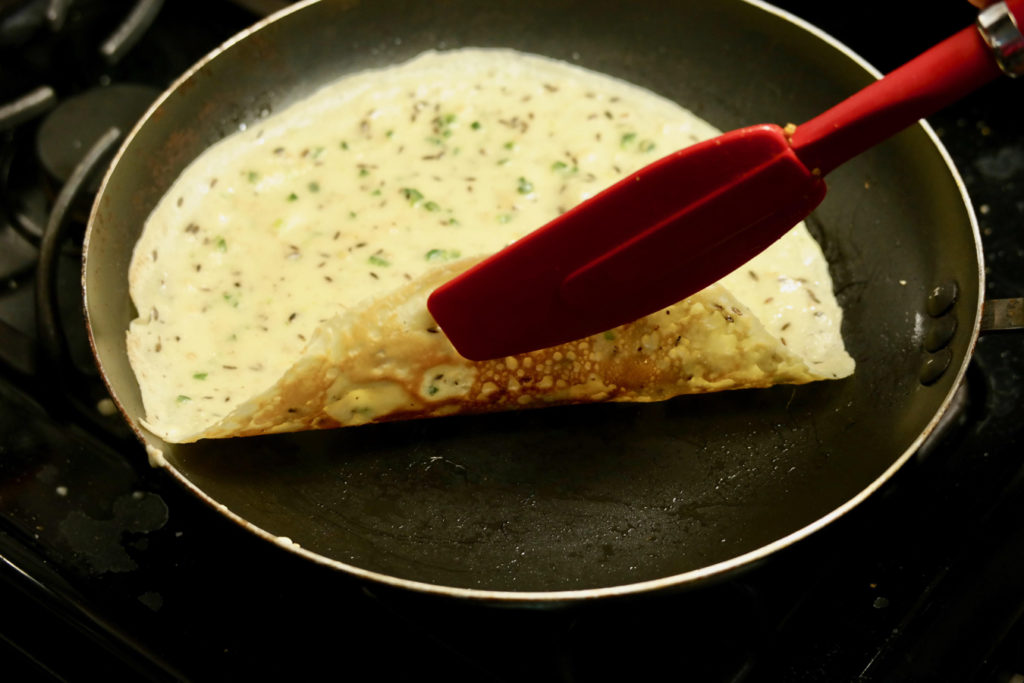 This recipe should make 5 pancakes – when they're done, lay them out so you can fill them.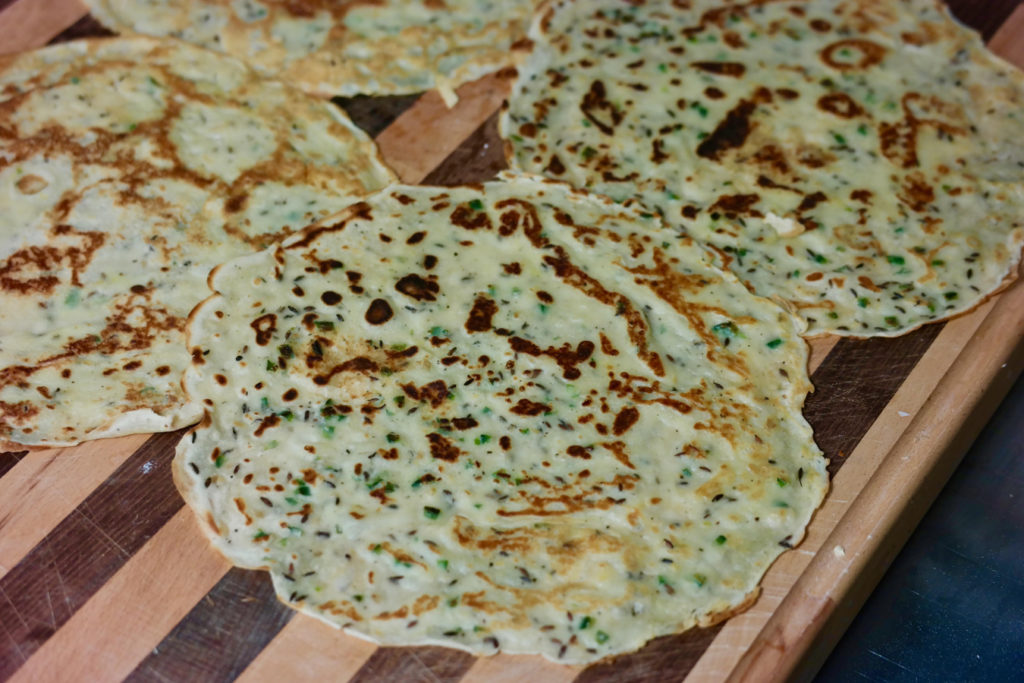 Spoon the potato mixture into the pancakes …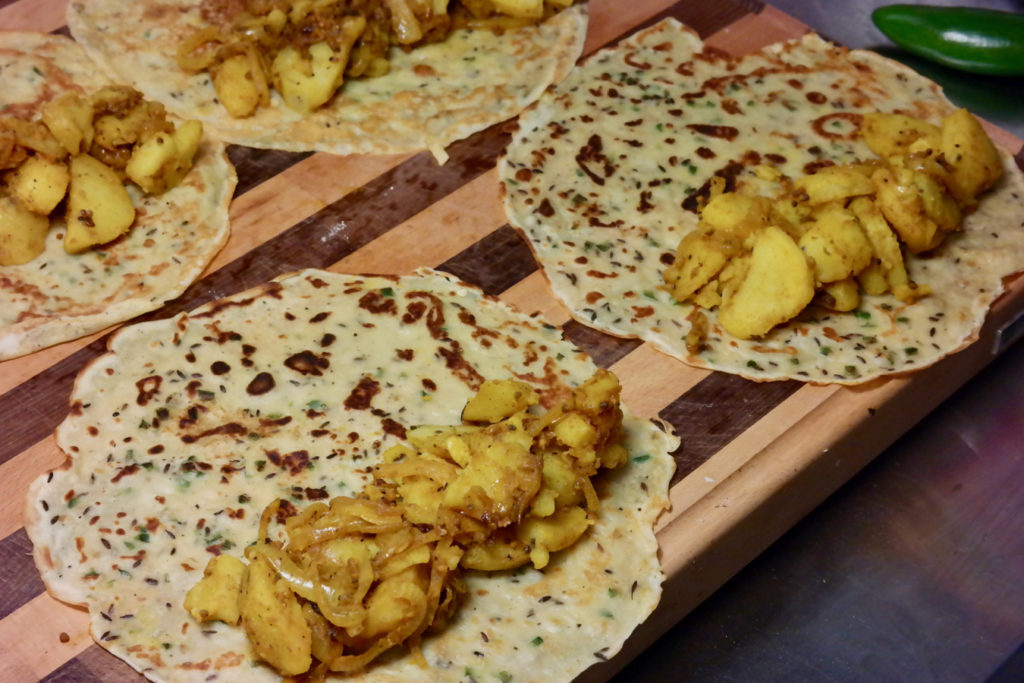 … then roll them up tightly.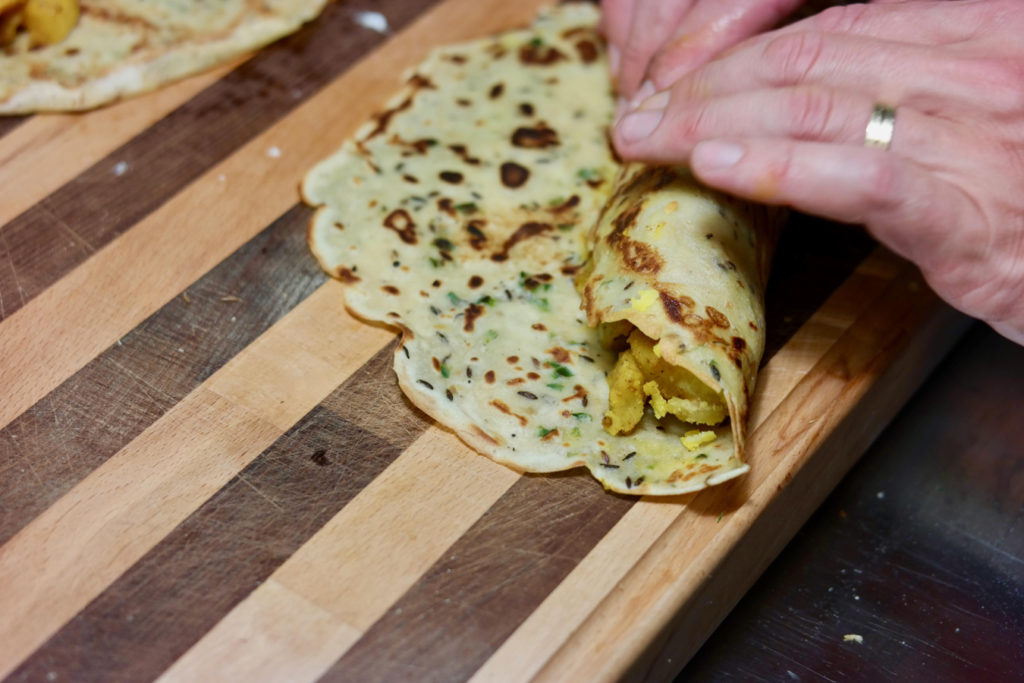 For a sauce, mix 6 tablespoons of yogurt with some chopped cilantro.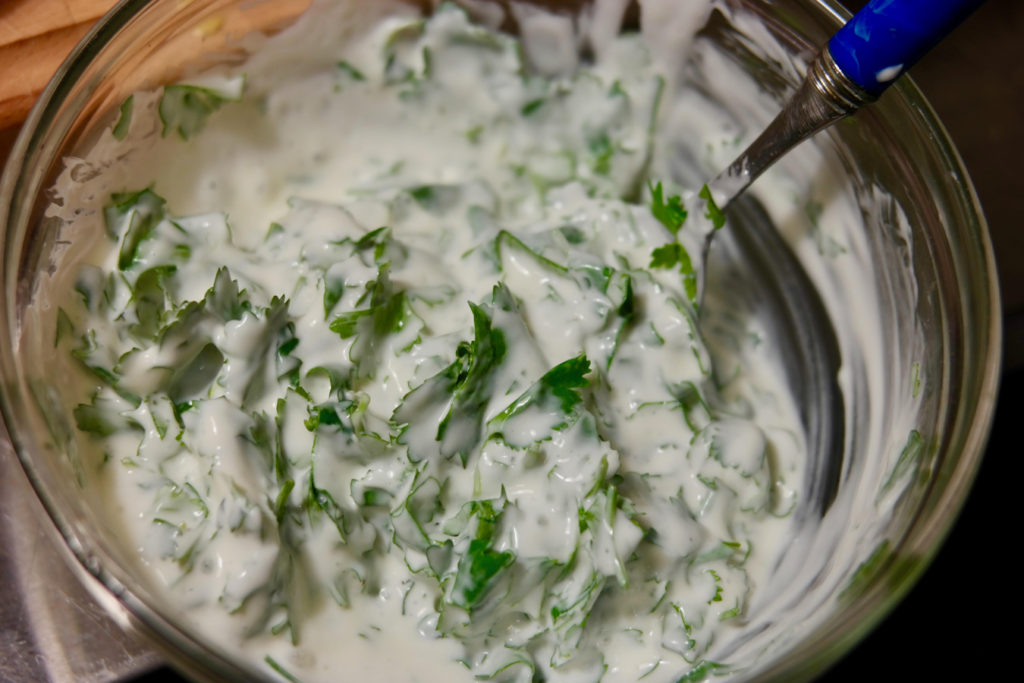 Spoon the sauce on top of your filled pancakes and enjoy!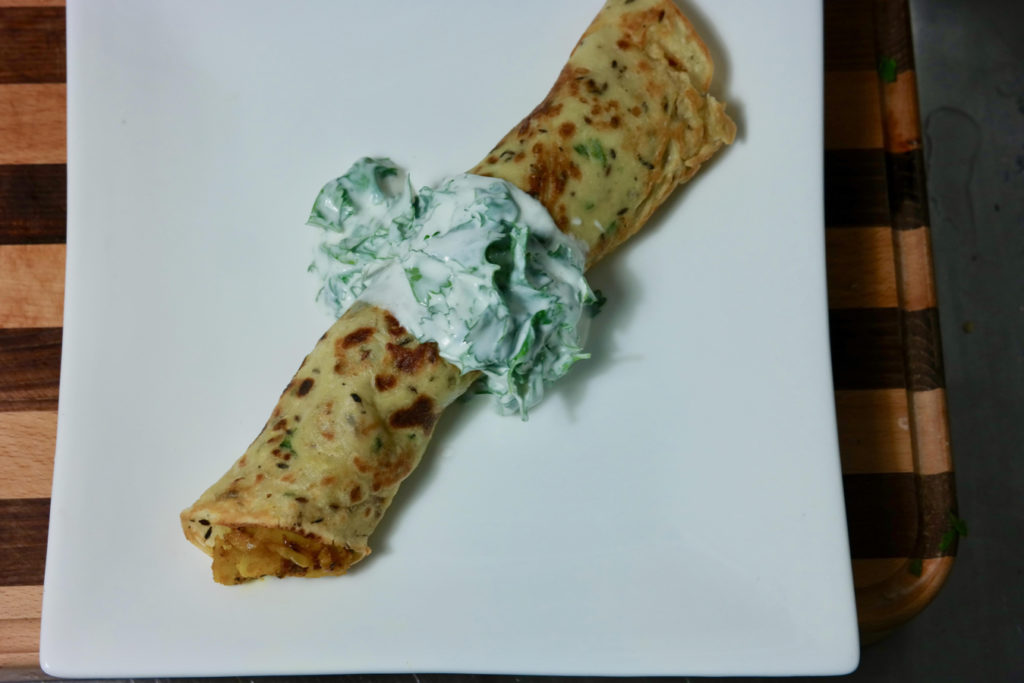 As you can see, this is not your typical pancake – but it's still totally delicious.  You've got cumin, mustard seeds, ginger, garlic, turmeric, cilantro, and some spiciness from a jalapeño all melding together into a intensely flavorful dish.  The potatoes give these pancakes something you can sink your teeth into, and the cool yogurt sauce on top is a nice, creamy contrast to the savory pancake and its filling.  So go on, raid your spice rack, and try out this unique potato dish.