Since it's been so ridiculously hot this summer, we've been taking every chance we can get to head out to the beach.  Miriam grew up in New Jersey and has cultivated a fondness for the state's shoreline, so we've been trying to visit a bunch of famous beach areas this season – and in the course of our travels, we discovered some great places to eat in each town.  Here are our picks for some good food to eat along the shore – just be warned that we feature meat here alongside some excellent vegetarian dishes.
In June we visited Asbury Park, which is famous for being the place where New Jersey's beloved Bruce Springsteen got his start.  We were also told that it's "the Williamsburg of the Jersey shore" because it's gaining a reputation for being hip and popular.  Just a few blocks from both the train station and the beach, we were excited to check out the Speakeatery, which serves up some creative and over-the-top sandwiches.  For example, here is the Haight & Ashbury Park Boomer that Miriam got:  it's a cheesesteak sandwich made with portobello mushrooms instead of meat, plus provolone, avocado, lettuce, tomato, onions, and a red pepper aioli, with a side of mac and cheese.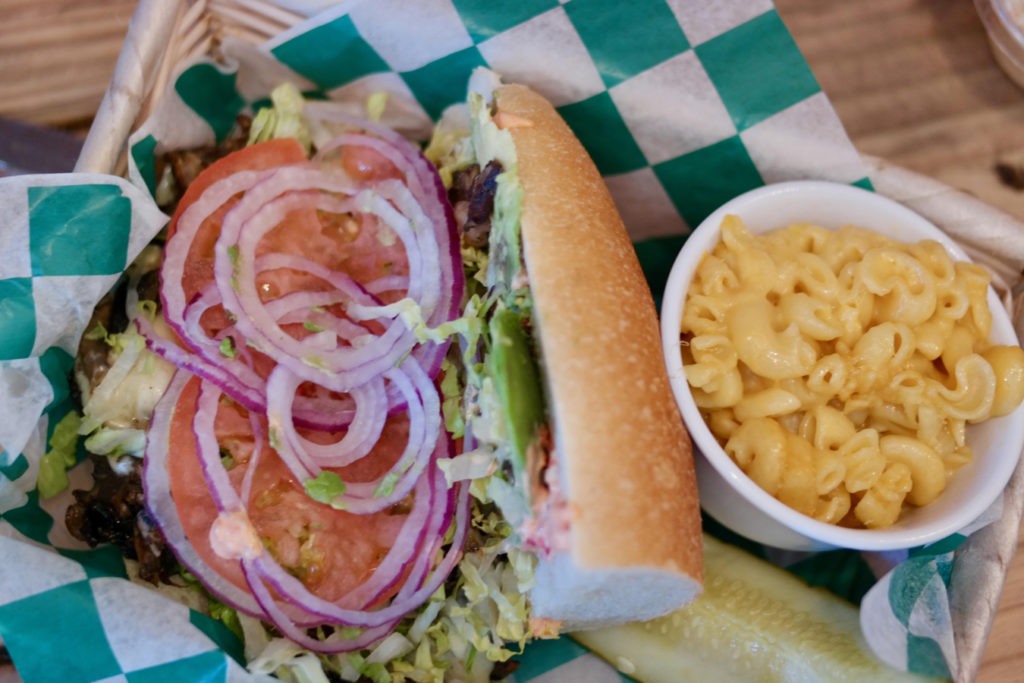 And Cyril got the St. Valentine's Day Massacre, which is piled with ham, prosciutto, capicola, pepperoni, sopressata, and salami (can you see where this sandwich gets its name?) along with provolone cheese, lettuce, tomato, and red peppers and fries as a side.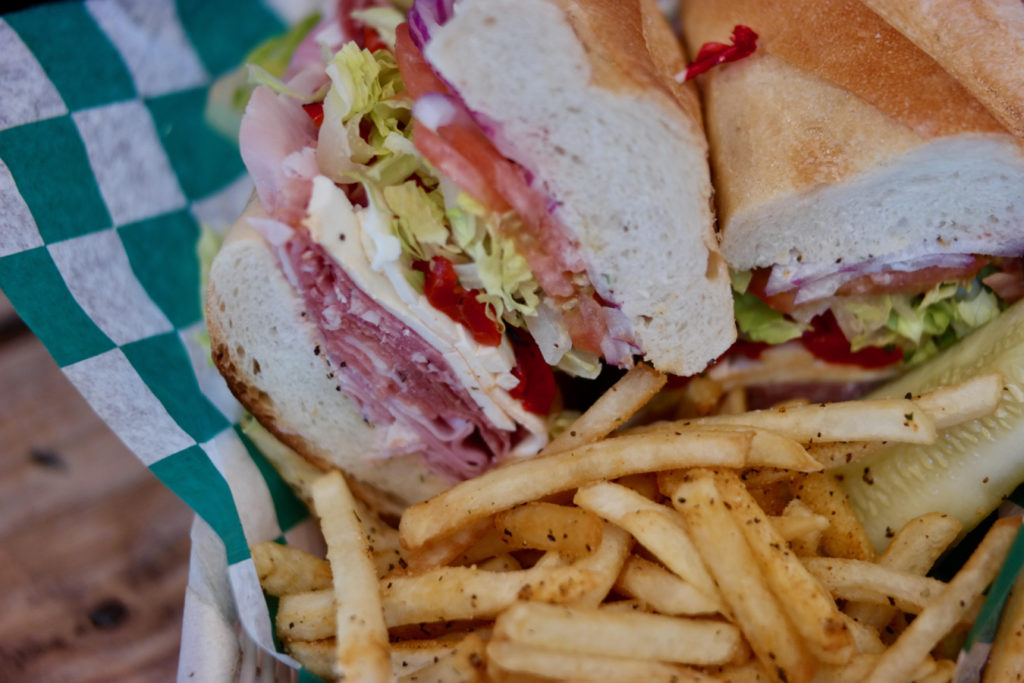 Another weekend, we decided to head a little further south and ended up getting brunch in Manasquan, which is about halfway between the ritzy beach in Spring Lake and the fun, boardwalk-centered beach in Point Pleasant.  We decided to go to the Committed Pig – if you're curious, the name comes from a fable about how in a dish of ham and eggs, a pig gives much more of himself than a chicken (it's not about a super-dedicated pig, as Miriam thought, or Cyril's idea about a pig undergoing an involuntary psychiatric hold).
Anyway, the Committed Pig serves up some great sandwiches for breakfast and lunch, like this garlic avocado grilled cheese with made muenster, sun-dried tomato pesto, and garlic butter, served with the restaurant's signature sweet potato waffle fries.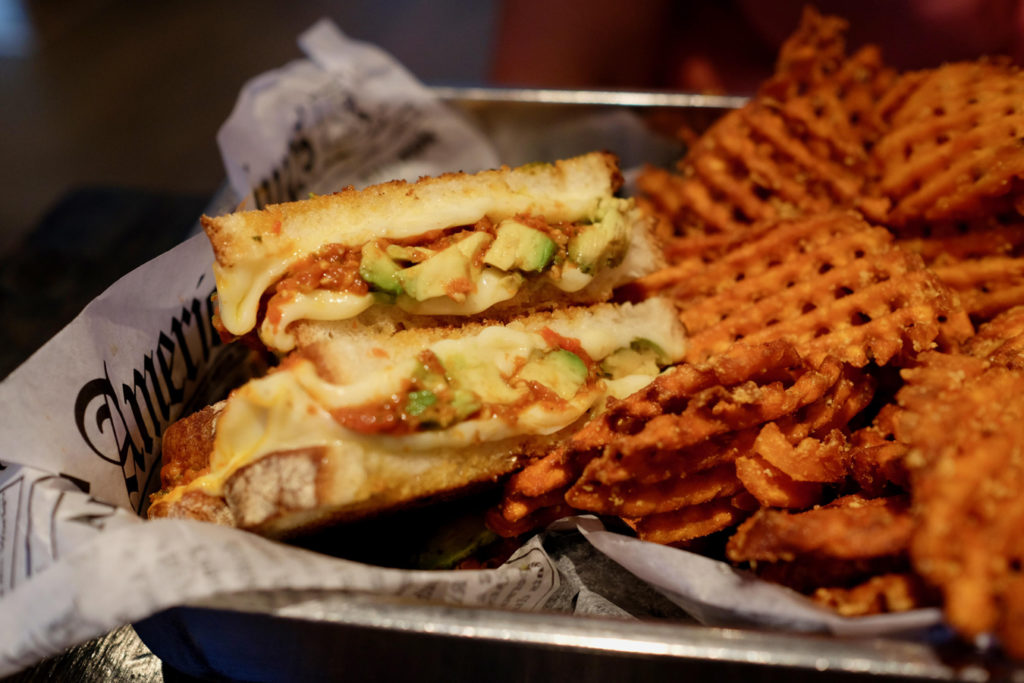 Cyril went with one of the specials that day:  the disco burger, a riff on New Jersey's famous disco fries, that's topped with bacon, a hash brown, mozzarella cheese, and gravy.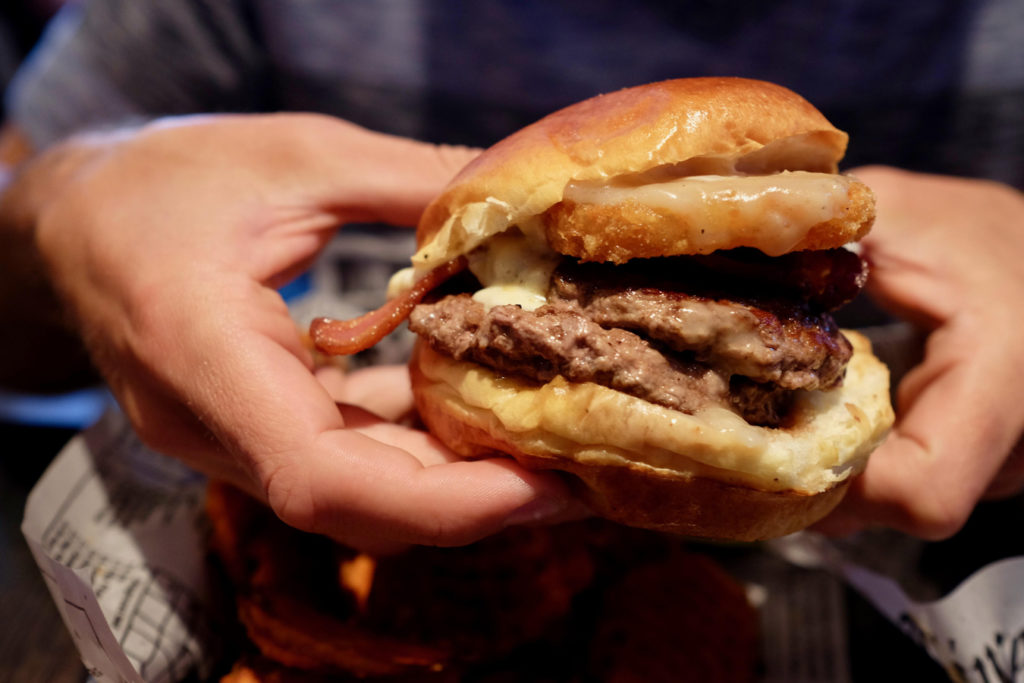 Finally, at the end of summer we headed to Sea Bright, a quaint little shore town near Sandy Hook, our favorite beach spot.  Right along the town's beach is Tommy's Tavern and Tap (which also has a location in Staten Island).  The restaurant has a huge bar and a menu full of classic pub fare, but we zeroed in on the vegetarian offerings and ordered a few things to share – like this rosemary focaccia bread.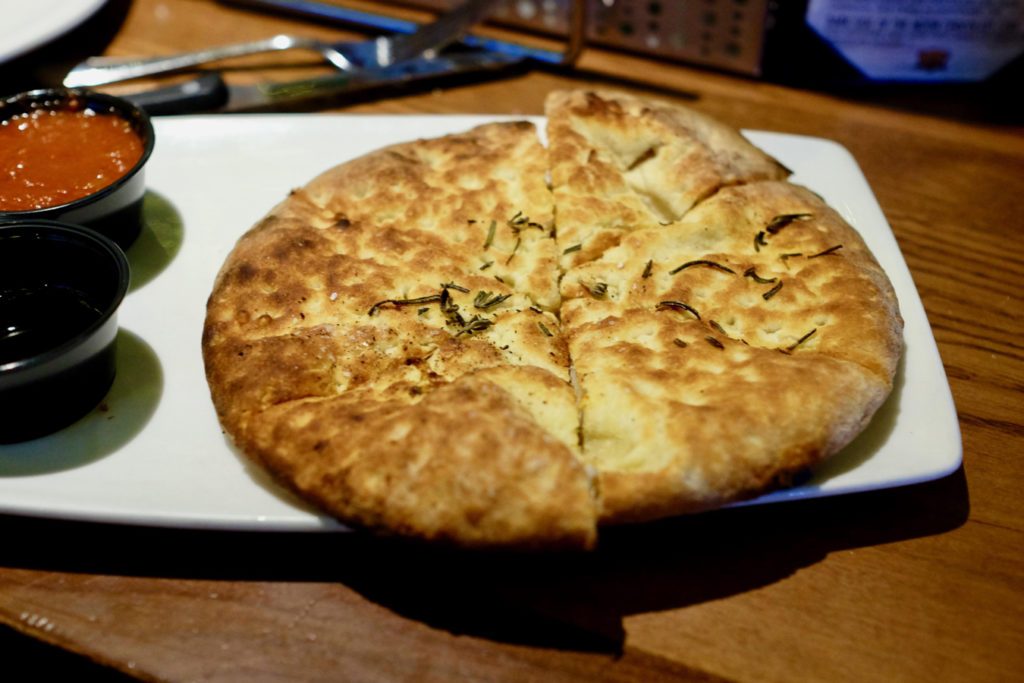 And the corn and jalapeño nuggets, served with an avocado ranch sauce.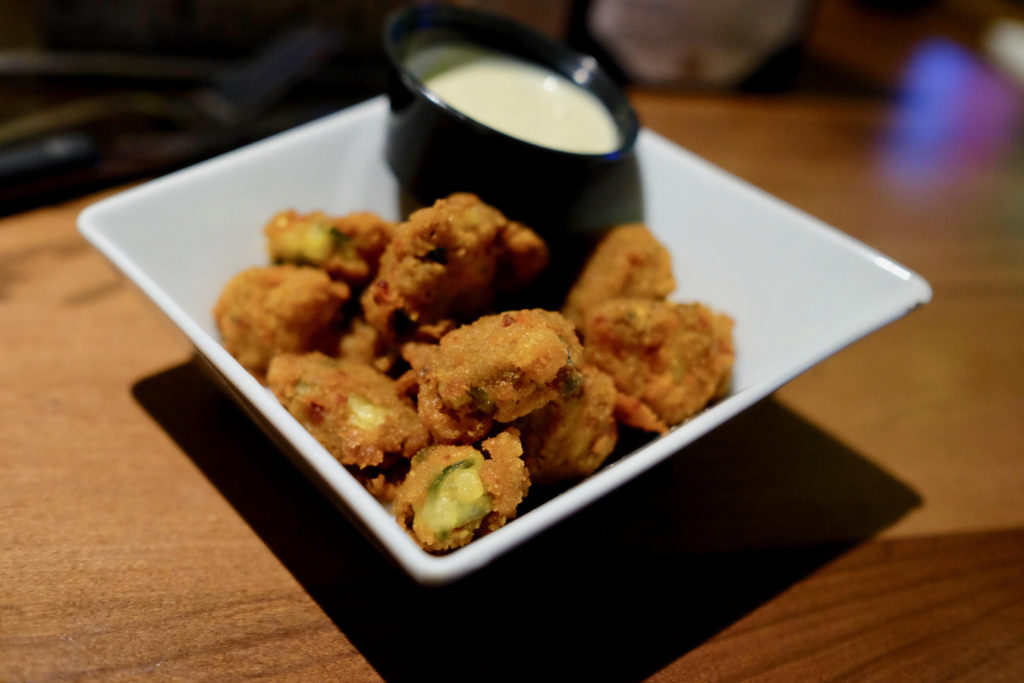 And we split a ricotta and mozzarella-stuffed calzone.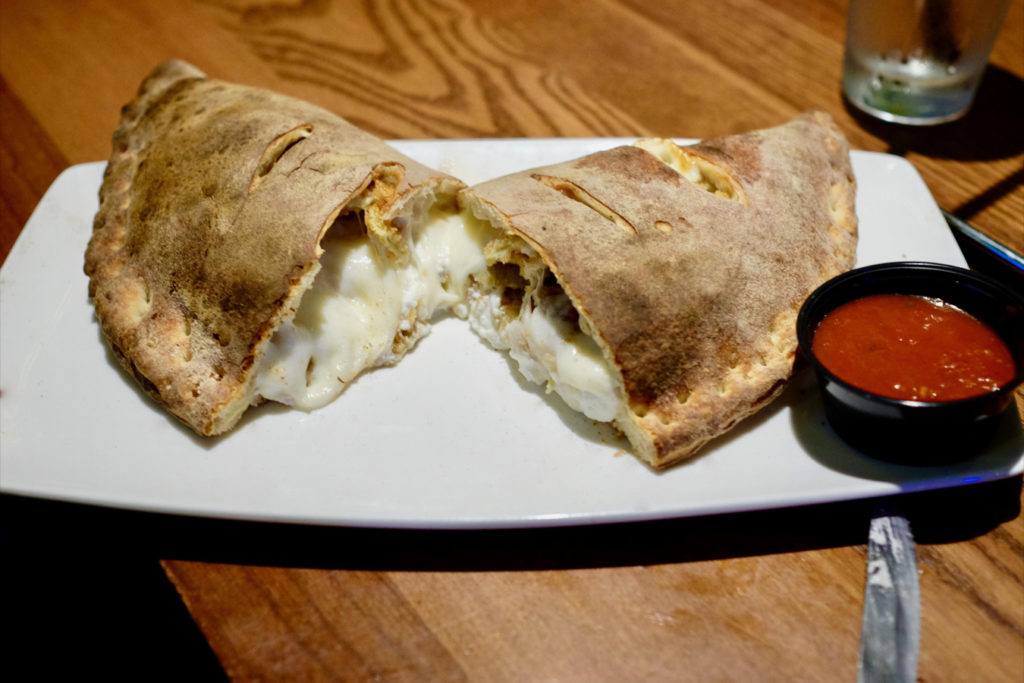 Cyril also had an order of the coal oven roasted wings, which come topped with onions and an Italian long hot pepper.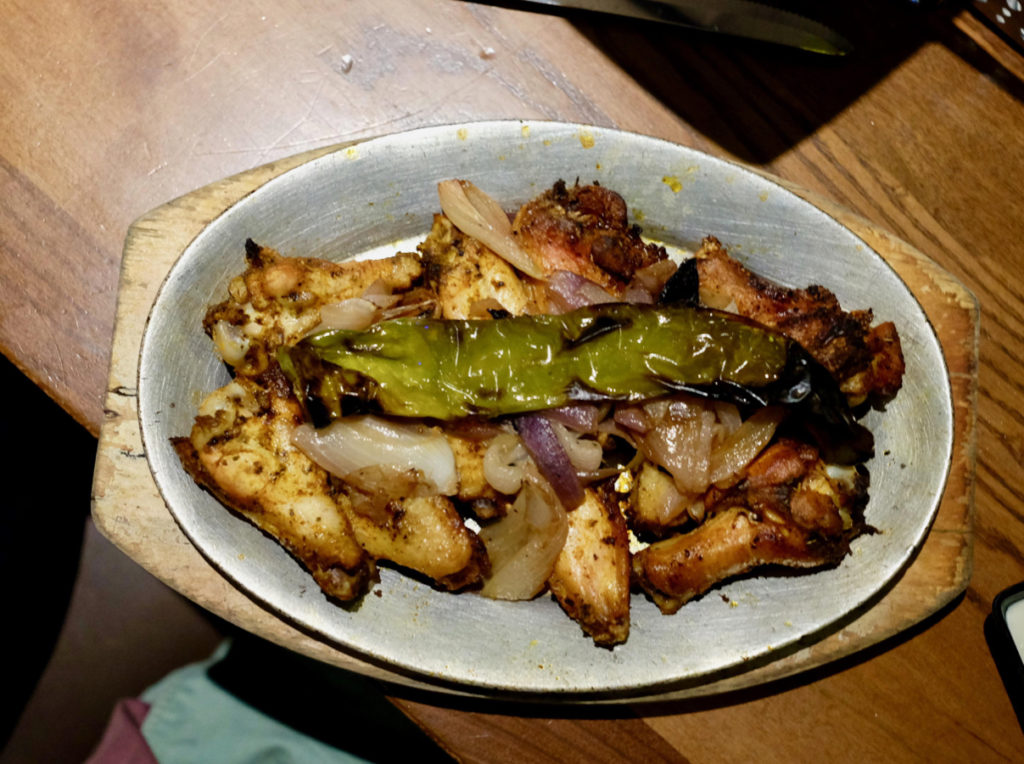 We know none of this is the traditional seafood you would usually expect to eat when visiting the Jersey shore, but we think we found some delicious, mostly vegetarian food.  We liked visiting the beach in each of these towns, and we enjoyed chowing down on all of this great food at the end of our days.  Check back next week to see more beach town food that we recommend!