OK, yeah, we really do like pizza.  In our defense, it's a great vegetarian food if you select some delicious vegetables to go on it, or just by itself.  We've made pizzas before with arugula and spicy peppers, with potatoes, with pears and honey, with mix and match veggie toppings, and even a stuffed version.  Here now is a variety we recently cooked up with eggplant on it, inspired by a recipe we found in the New York Times.  While we put our own spin on it, what we really liked about this one was not just the eggplant but also the cheese in this pie, which is added to the pizza a little differently than you're probably used to.  You can make an easy, simplified form of this pizza as we did, with pre-made dough, or you can mix the dough from scratch – but either way you get one amazing pizza.
To make this, you'll need:
2 medium eggplants
A can of plum tomatoes
Olive oil
Semolina flour
Garlic
Red pepper flakes
8 ounces of fresh mozzarella
Basil
One pound of pre-made pizza dough, or if you'd like to make the dough from scratch we recommend you follow this recipe (for which you'll also need yeast and flour)
To begin, cut your eggplant into one-inch cubes, like so: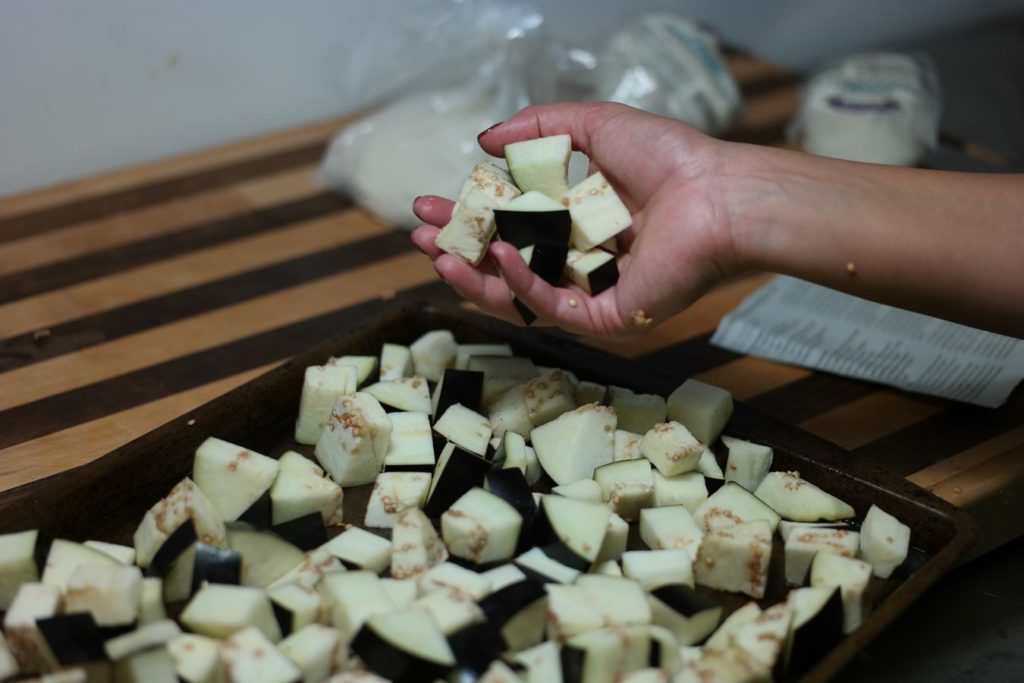 Lay the cubes out on baking sheet and drizzle them with olive oil, then sprinkle on a generous amount of salt and pepper.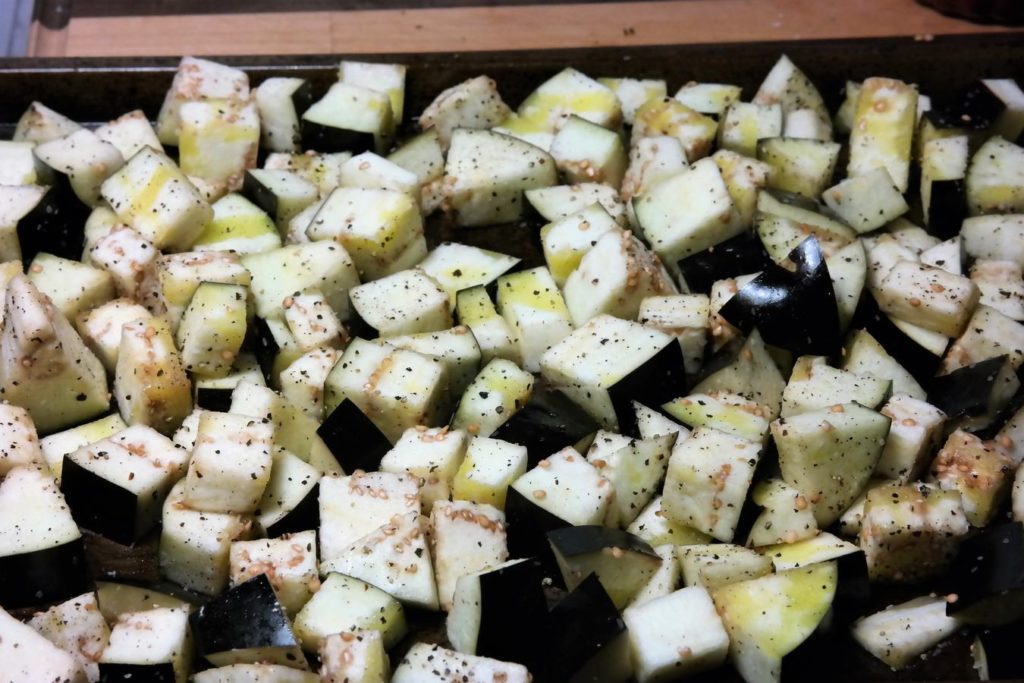 Roast your eggplant at 450°F for 20 minutes, then use a spatula to flip all the pieces over and bake for another 20-25 minutes, until they're browned and tender.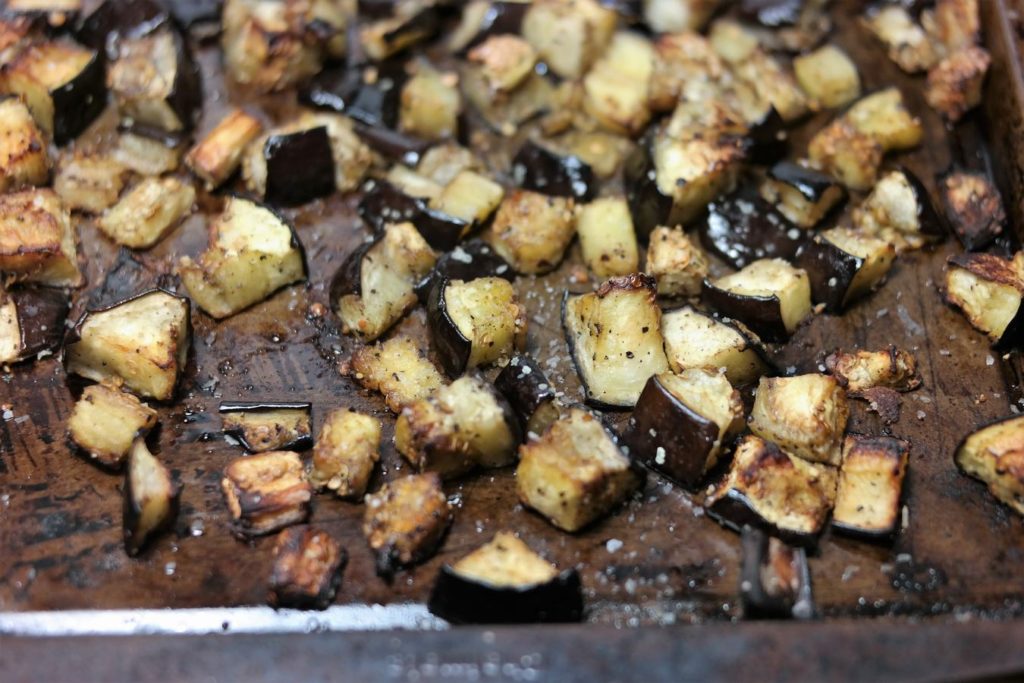 While your eggplant is cooking, you can make the sauce by emptying your tomatoes into a food processor and pureeing them until they're a smooth consistency.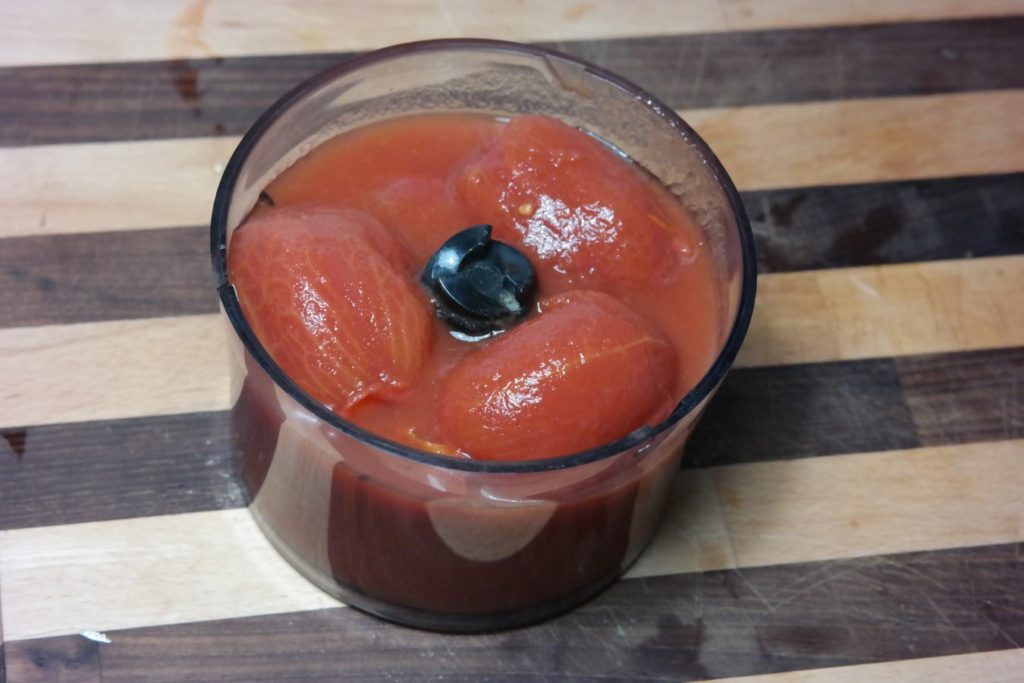 Also thinly slice 8 garlic cloves (yep, this is going to be a fragrant pizza).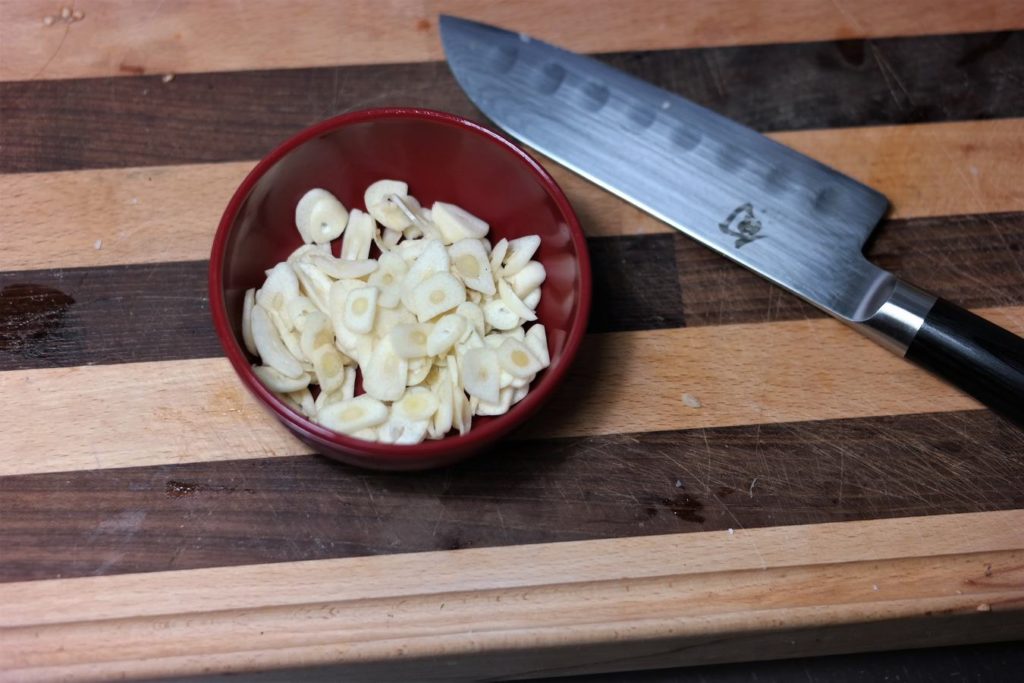 Sprinkle some semolina flour on a large, clean surface and begin stretching your dough out into two pies, each with a 12-inch circumference, using the semolina to keep the dough pliable and not too sticky.  Spoon the sauce on top, then layer on some sliced garlic and sprinkle red pepper flakes all over.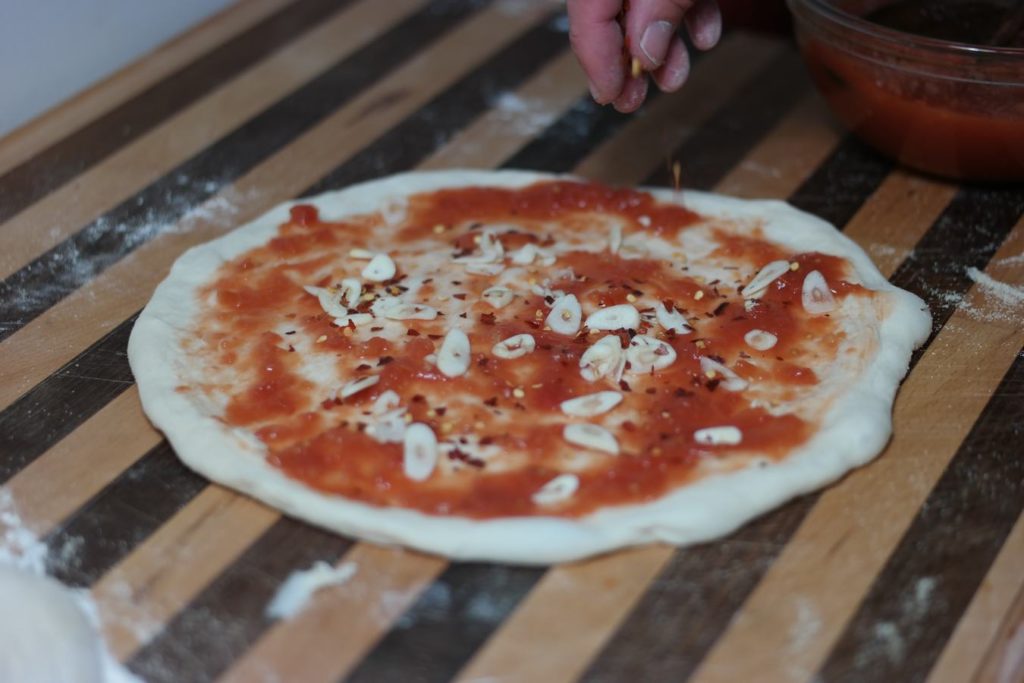 Once the eggplant comes out of the oven, place that on top of everything.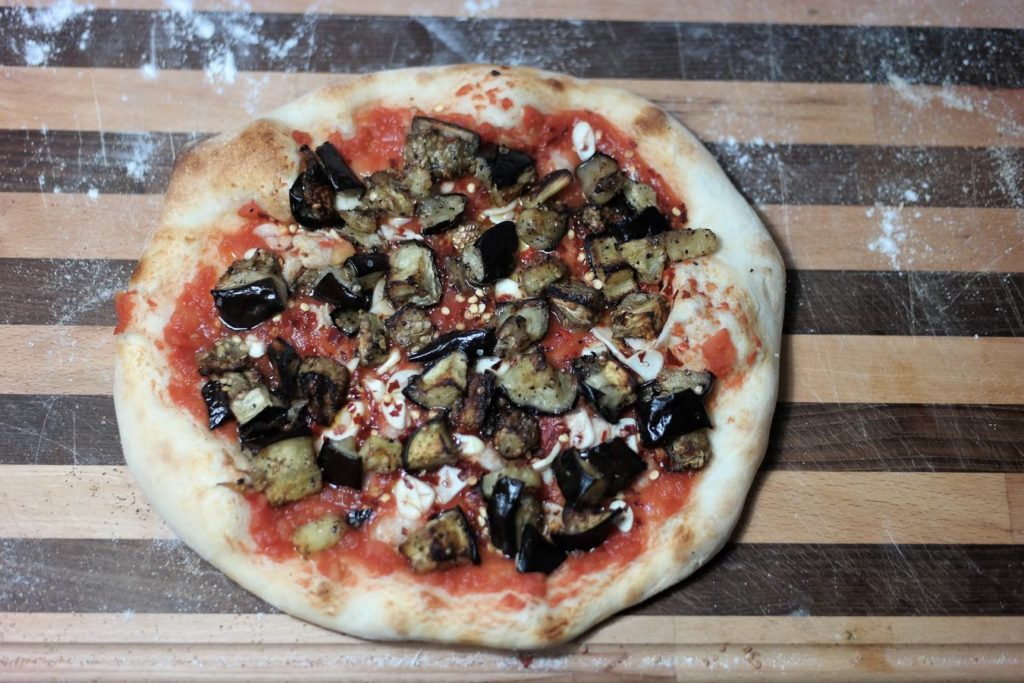 Now you're going to bake the pizza at 500°F on a pizza stone for 7-10 minutes, until it's crispy and lightly browned on the bottom.
But wait, you're probably asking, what about the cheese??  Never fear, we're going to put that on last.  While the pizza is in the oven, tear your mozzarella into pieces.  As soon as your pie comes out, place these slices on top and they'll begin to melt a little from the heat.  Then place some torn basil leaves on top of everything.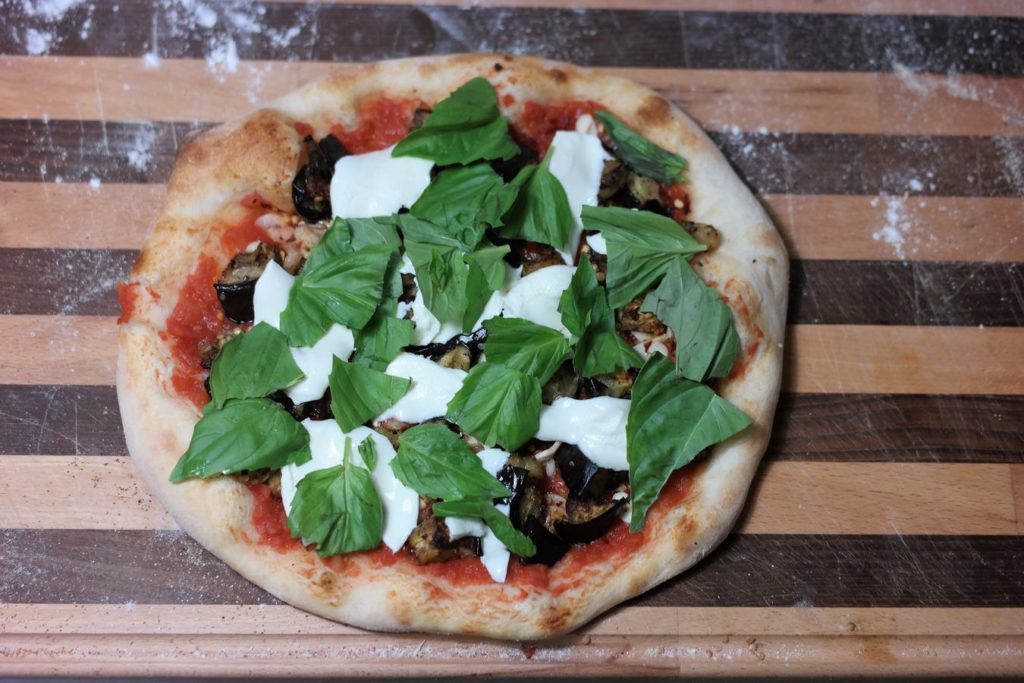 Now slice up your pizza and enjoy!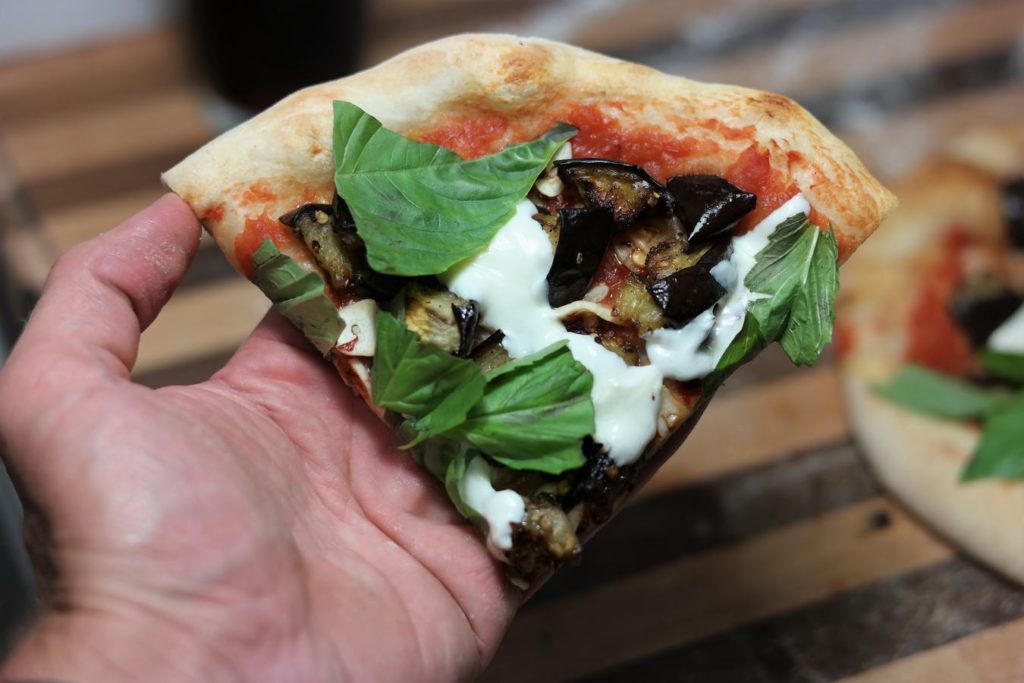 We – but especially Cyril – really like eggplant and its role in vegetarian cooking, so roasting it and putting it on top of a pizza was a good choice – it melds well with the garlic, red peppers flakes, and basil.  The sauce was also rich and simple:  the flavors of the tomatoes come out nicely when you don't add anything to them but instead just puree them into a liquid.  What we liked most, however, was the cheese.  We're all used to baked shredded mozzarella on top of pizzas, but using chunks of fresh mozzarella placed on top only after the pie has come out of the oven adds a great texture and taste to tie everything together.  We hope you enjoy our latest version of pizza – we sure did!