Peaches are a summer staple in New Jersey, where Miriam grew up.  In the warmer months you can go to any grocery store and get fresh, hand-picked local peaches, plus roadside stands pop up all over the state.  Summer is officially over now, but we've got some lingering warm weather so we decided to take this last opportunity to cook with peaches.  We found this recipe in the New York Times, which calls for pairing some grilled peaches with homemade pimento cheese – not something we'd done before, although while living in the South we did encounter this regional staple many times.  The original recipe calls for bacon, but we made our own vege-fied version, which is what we're serving up to you here.
To make this, you'll need:
A 6.5-ounce jar of pimentos
A can (any size) of chipotle peppers in adobo sauce
Mayonnaise
Vinegar
Hot sauce
Ground mustard
Garlic
Cream cheese
8 ounces of cheddar cheese
Fresh or dried chives
2 large peaches
A loaf of wide, round bread
First, take out 5 strips of the Morningstar Farms bacon and lay them out in a large cast iron skillet without overlapping.  Cook the bacon for about 3 minutes on each side, until each strip is crisp and lightly browned – and keep a close eye on them so they don't burn.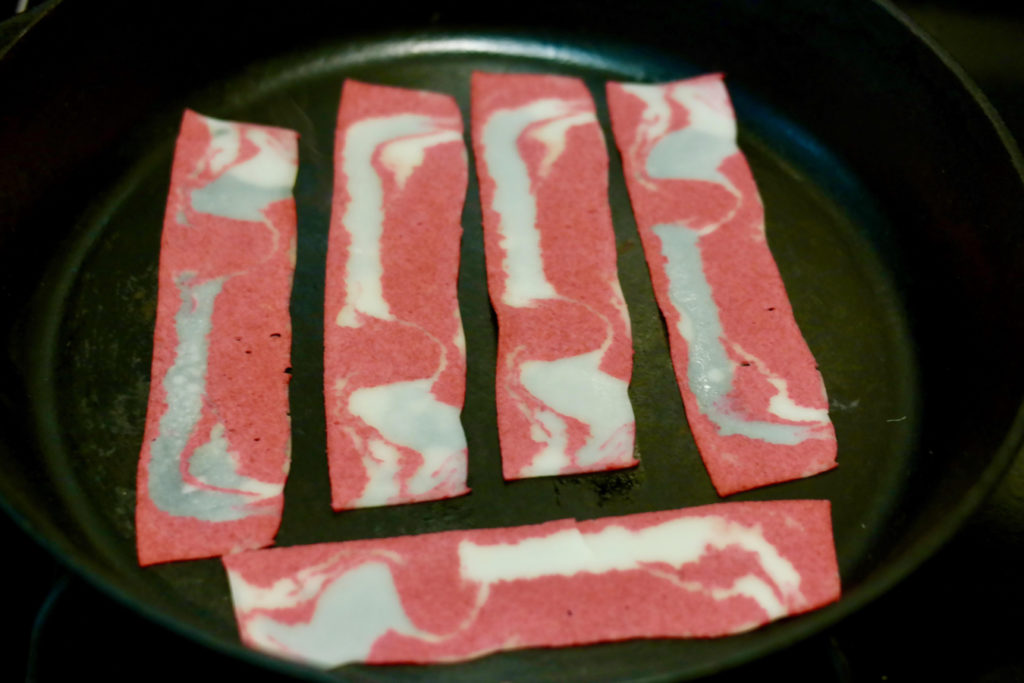 While your bacon is in the pan, you can take all of the pimentos out of the jar and dice them up.
Also, scoop out 2 tablespoons of the adobo sauce from your can of chipotle peppers.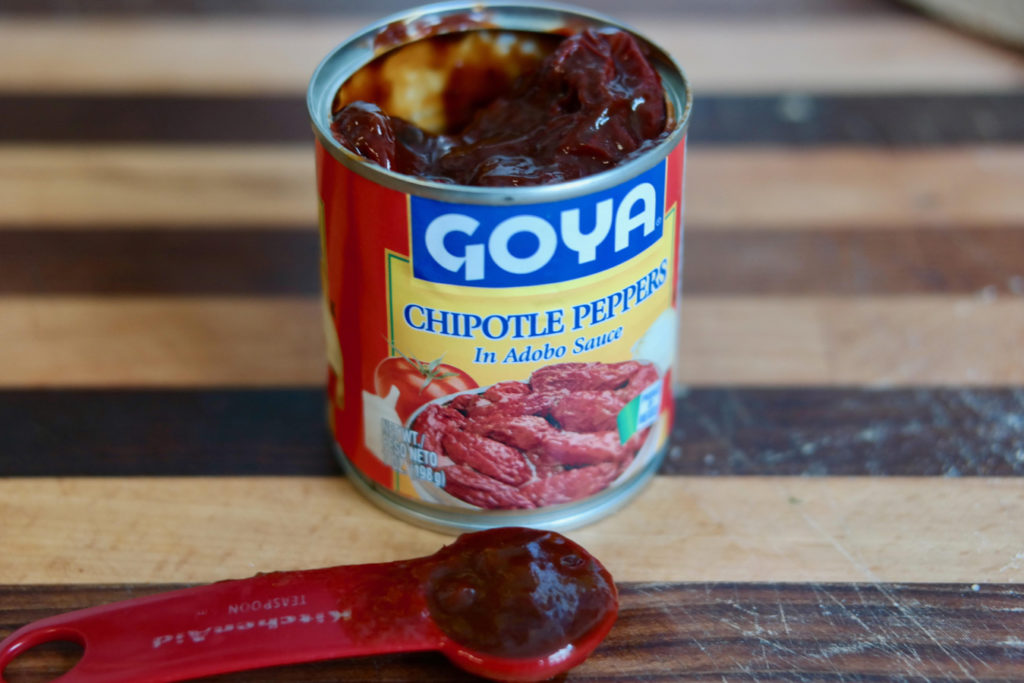 Once the bacon is done, set the strips aside on a plate and put your pimentos and adobo sauce in the same pan.  Mix the sauce into the pimentos and cook this mixture for 2 minutes over medium heat.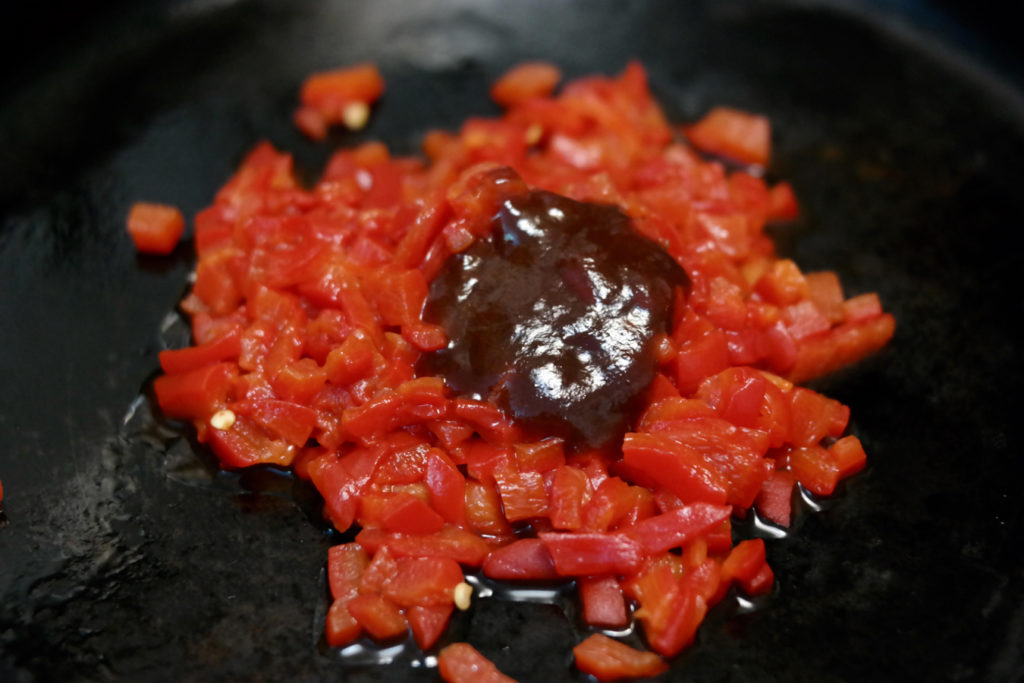 Then turn off the heat and stir in 1/4 cup of mayo, a tablespoon of vinegar, 2 teaspoons of hot sauce, 1/2 teaspoon of ground mustard, and a grated garlic clove.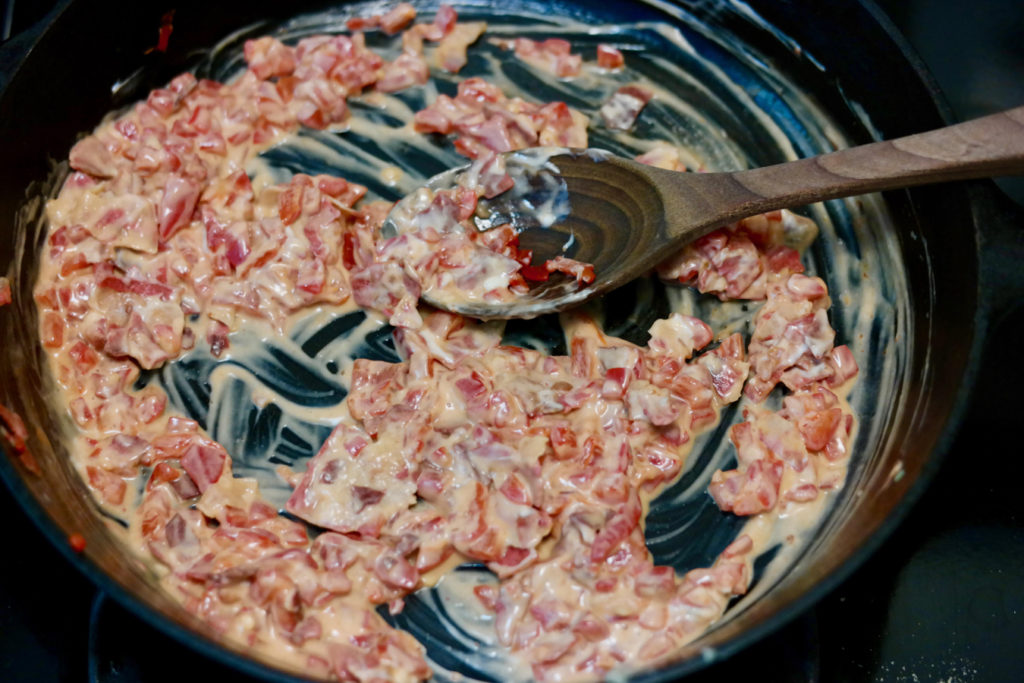 Now, using a stand mixer with a paddle attachment, measure out 4 ounces of cream cheese and beat it on a low speed until it becomes light and fluffy.  Grate all of your cheddar cheese and mix it into the cream cheese.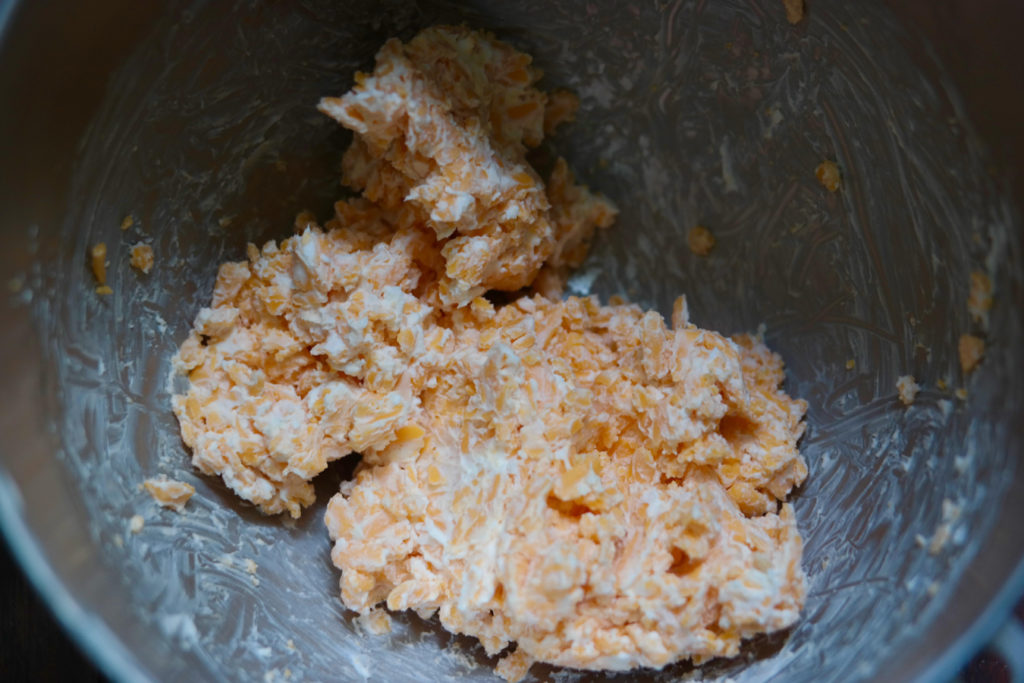 Add in the pimento mixture and 2 tablespoons of chives and stir everything together – now you have some homemade pimento cheese!  You can put this in the fridge for now.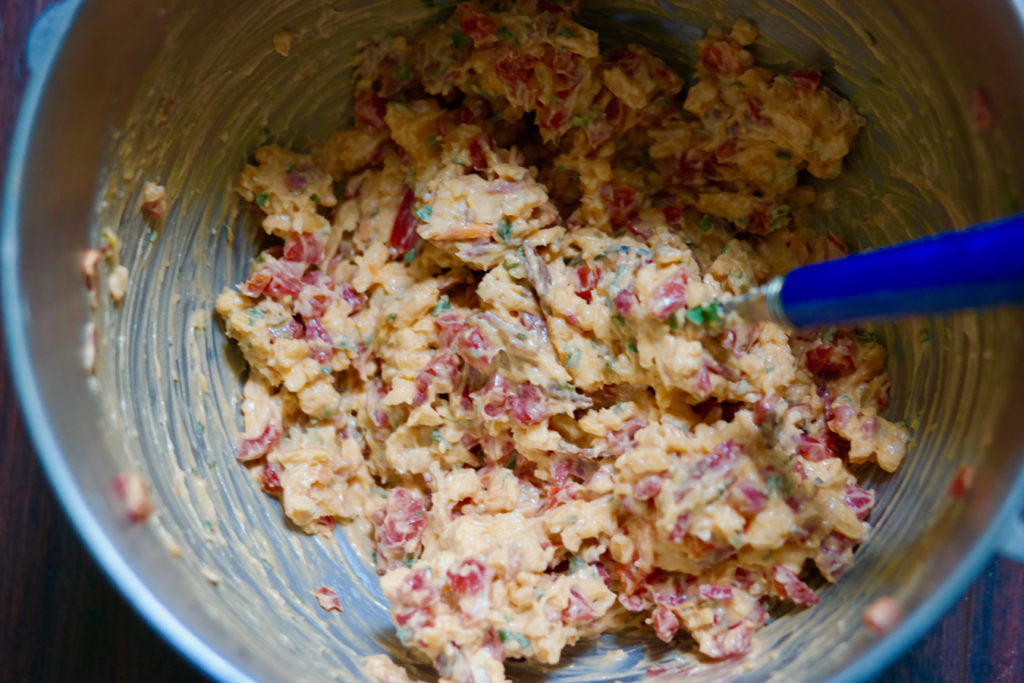 Next, take your peaches and slice them in half, then pull out the pits.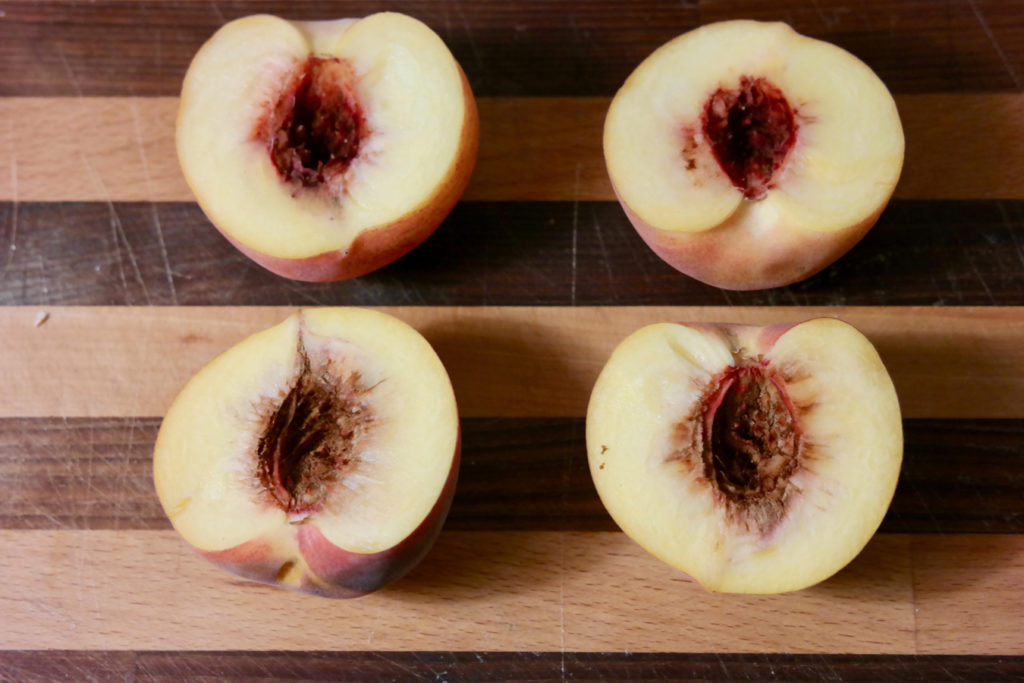 Place a griddle on your stove top and warm it up to medium-high heat.  Brush the peach halves lightly with vegetable oil and grill them, cut side down, until you can see grill marks on them.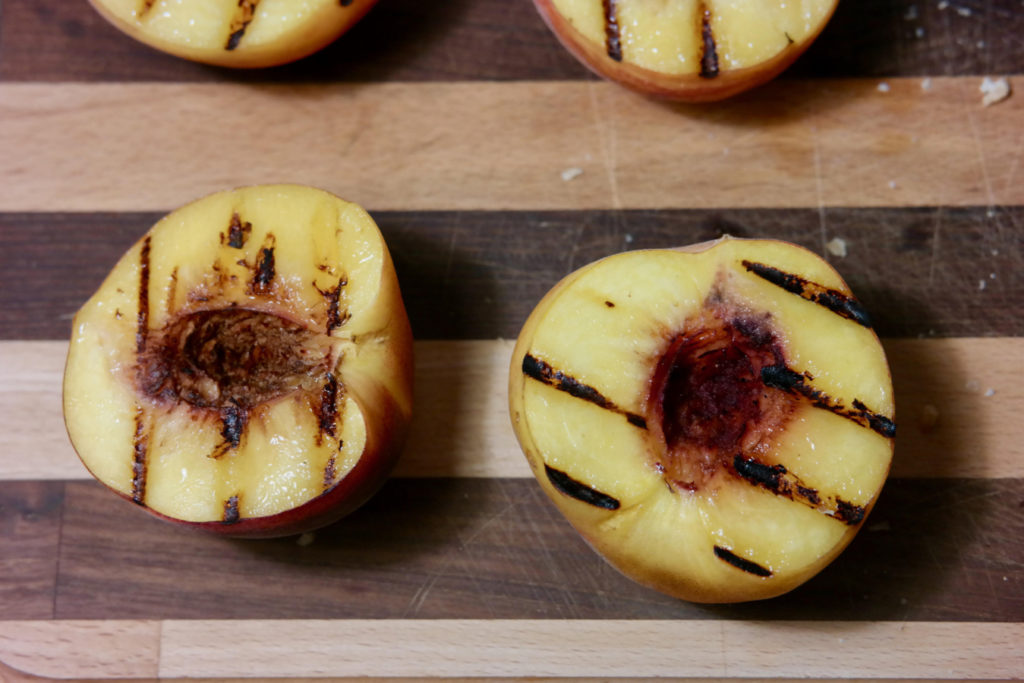 Take your loaf of bread and cut some sturdy slices, then brush both sides of each slice with oil and grill them as well.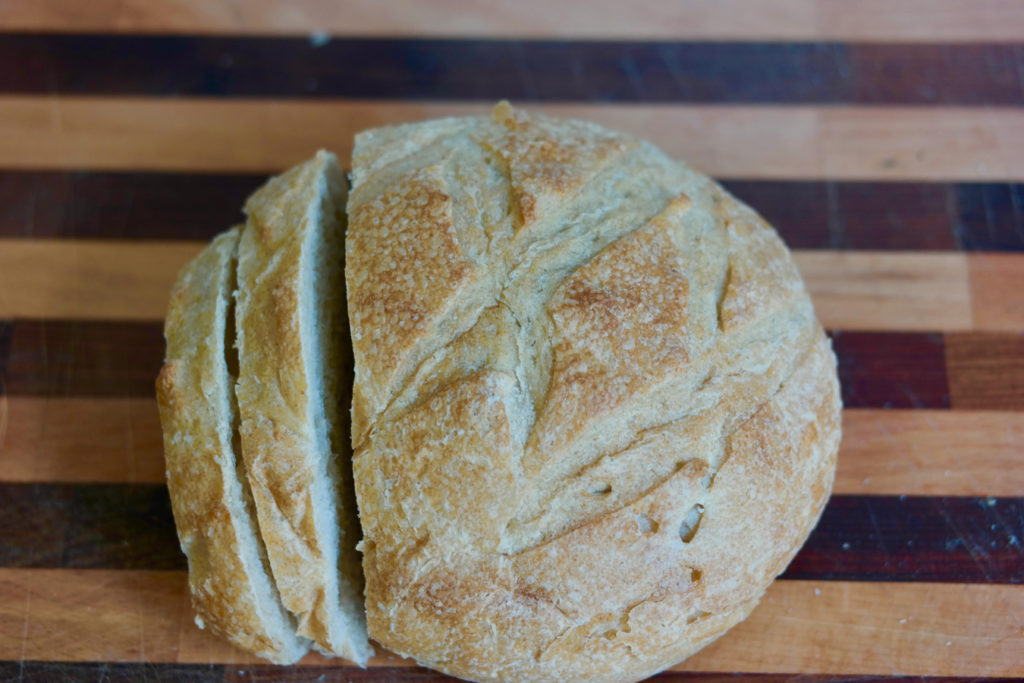 Cut your peach halves into several slices each …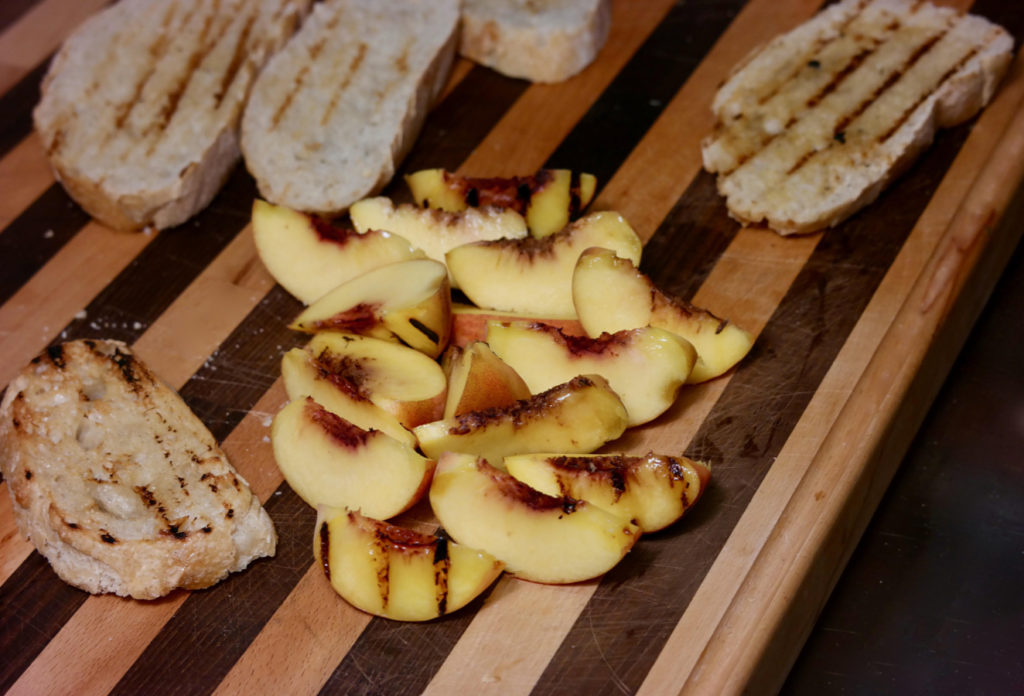 … then spread each piece of bread with a generous layer of pimento cheese and top with the peaches, plus a drizzle of olive oil and some black pepper.  Voilà!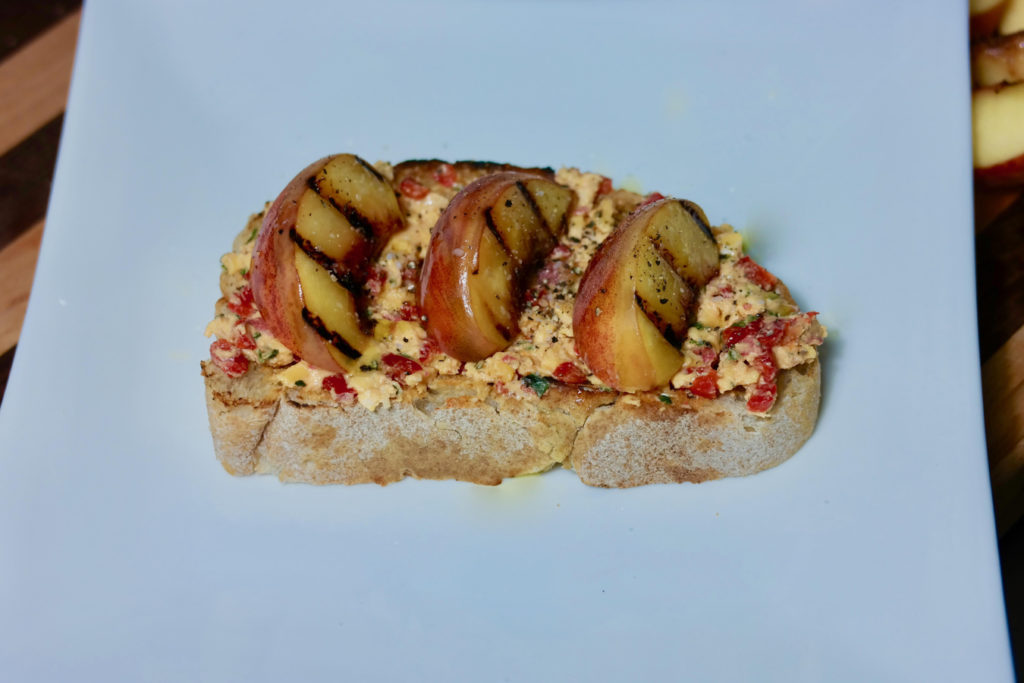 You might not have thought about grilling peaches before, but this turned out surprisingly delicious.  If you let them cool just a little before serving, the peach flesh is nicely warm and tender and goes great on top of bread.  And while pimento cheese has, perhaps, a bit of a reputation for being trashy, you're elevating it a little bit my making it from scratch:  the two cheeses come together well with the creamy, slightly hot pimento mixture.  Overall, it's a great blend of fruit, cheese, and spiciness, all on top of some crusty bread.  If you can still find some fresh peaches, try our vegetarian take on this recipe out – or save it for next summer!