As you probably know, New York is a hotbed for Italian food.  After all, tons of Italians immigrated to the city in the 20th century, and at one point one out of every six New Yorkers was an Italian-American.  That legacy lives on in the many Italian restaurants you can see all around the city – and today we're going to highlight two that we visited recently.  Both, as it happens, are within two miles of each other in the middle of Manhattan, and both offer some unique food that we'll highlight here.
First up is Decimo Ristobar, a hip new spot for pasta and small bites on the corner of 52nd Street and 10th Avenue .  Here's the delicious bread they started us out with: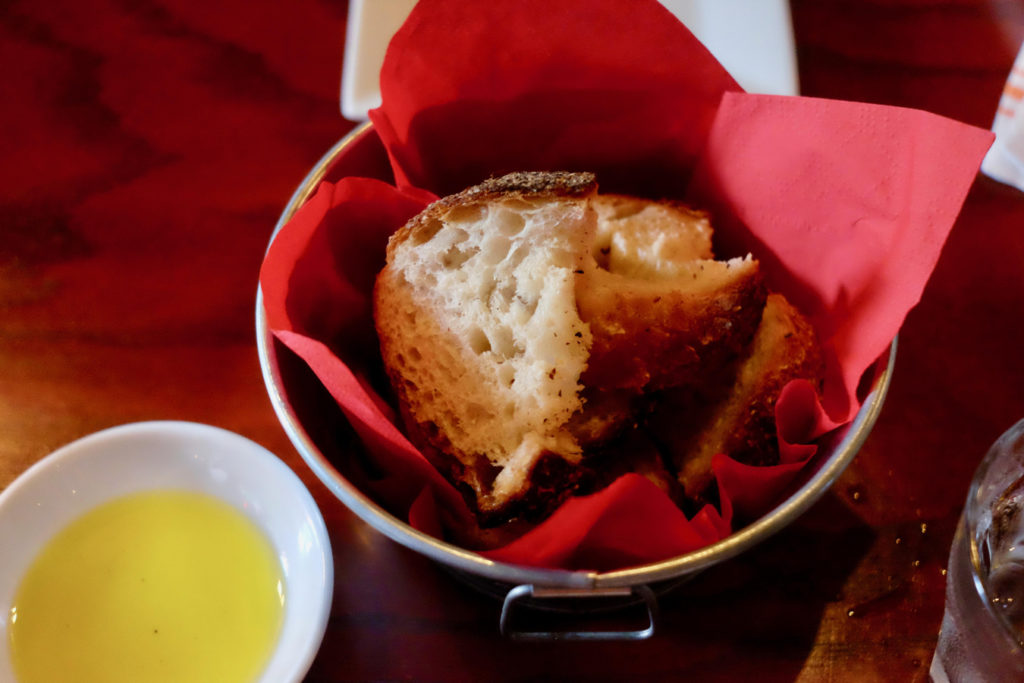 Then we shared two appetizers here – the eggplant parm …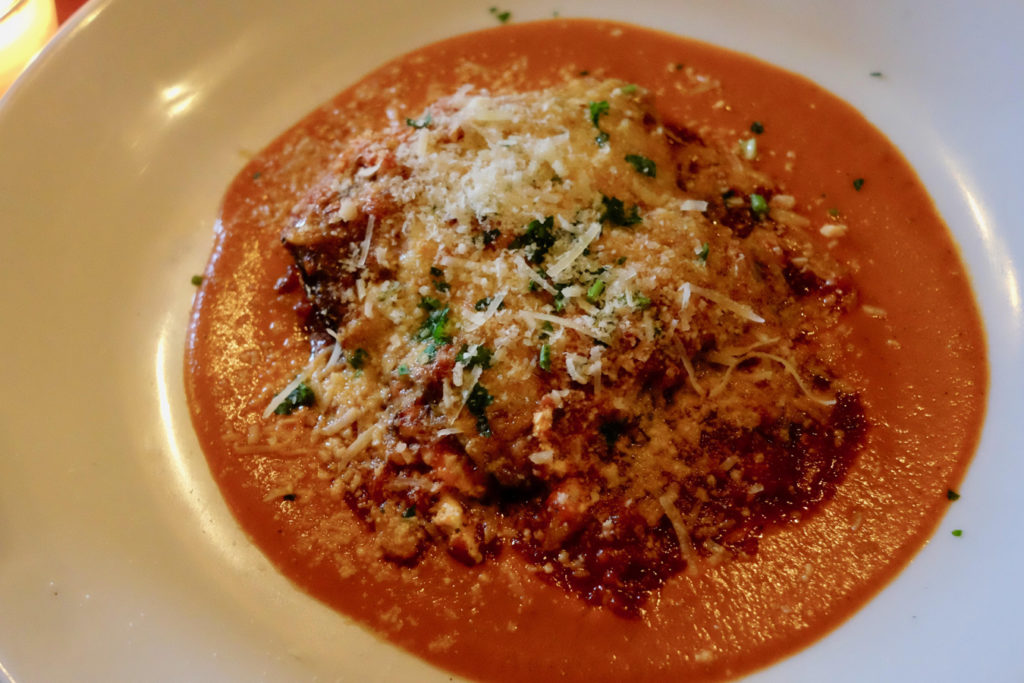 …  and the wild mushroom bruschetta, topped with pecorino cheese, truffle oil, herbs, and a variety of mushrooms.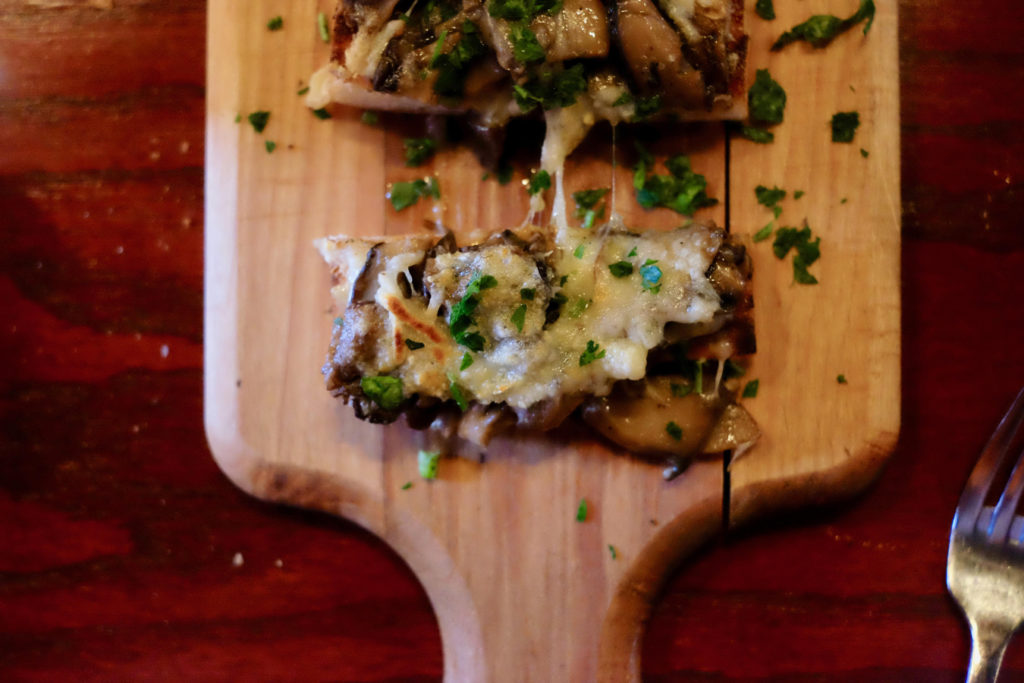 As an entree, Miriam got the gnocchi, which comes in a tomato, basil, and buffalo mozzarella sauce.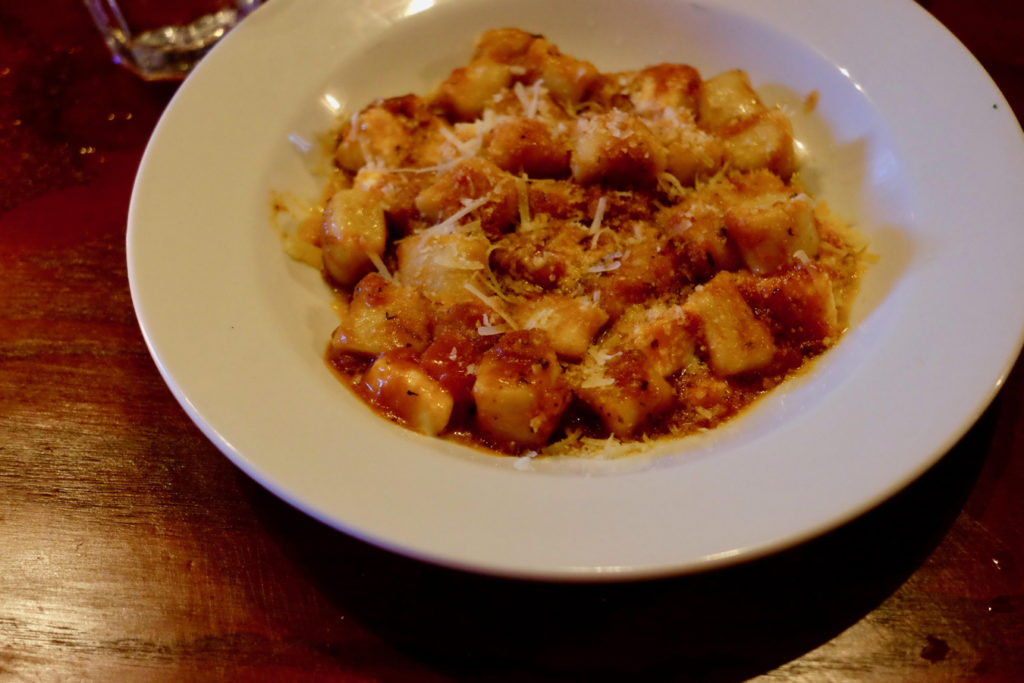 And Cyril went with the casa lasagna, made with mozzarella, ricotta, and Parmesan cheese and smothered in a bolognese sauce.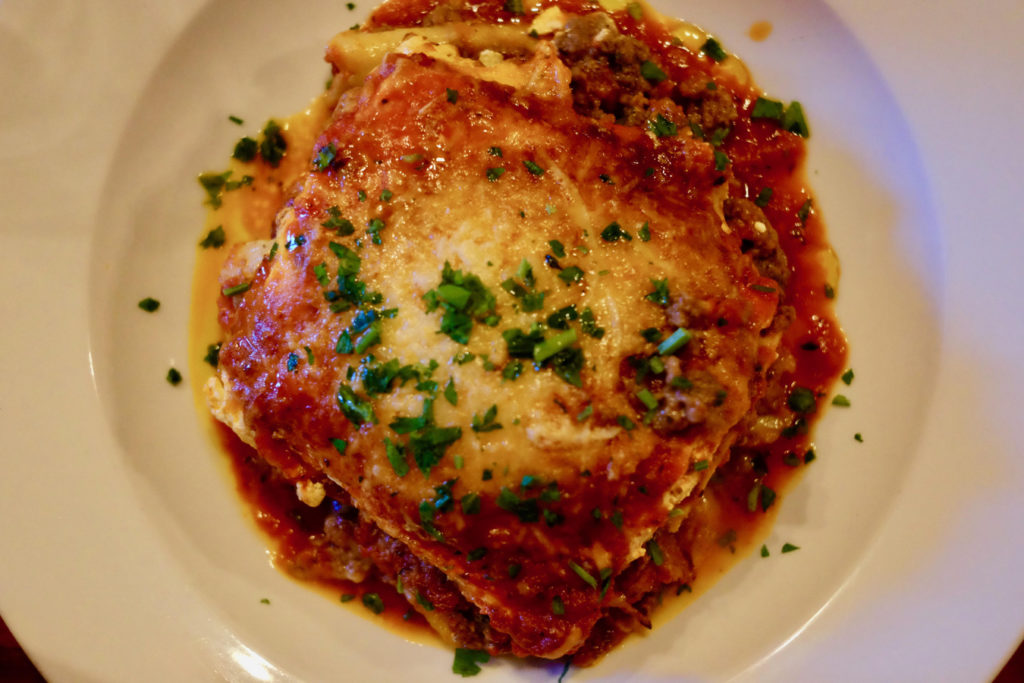 A few weeks later, we headed to Cardoncello Divino, another recently-opened Italian spot that's at 26th Street and 6th Avenue.  This place has an interesting angle to its food:  they center their cuisine around the cardoncello mushroom, which grows in southern Italy but is pretty rare here in the U.S.  Naturally, we had to try the cardoncelli appetizer, which serves up this signature mushroom in a truffle sauce with potato slices and cheese.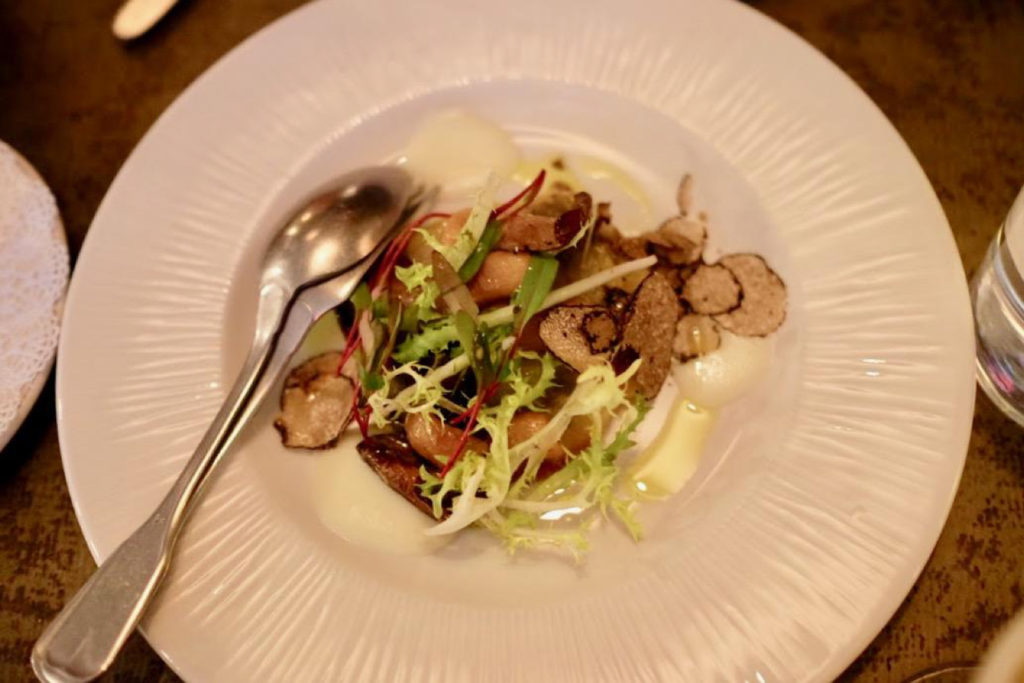 Miriam sampled more of the cardoncello mushroom in the turmeric fettuccine, which comes in a sauce of tomatoes, cheese, and cardoncelli.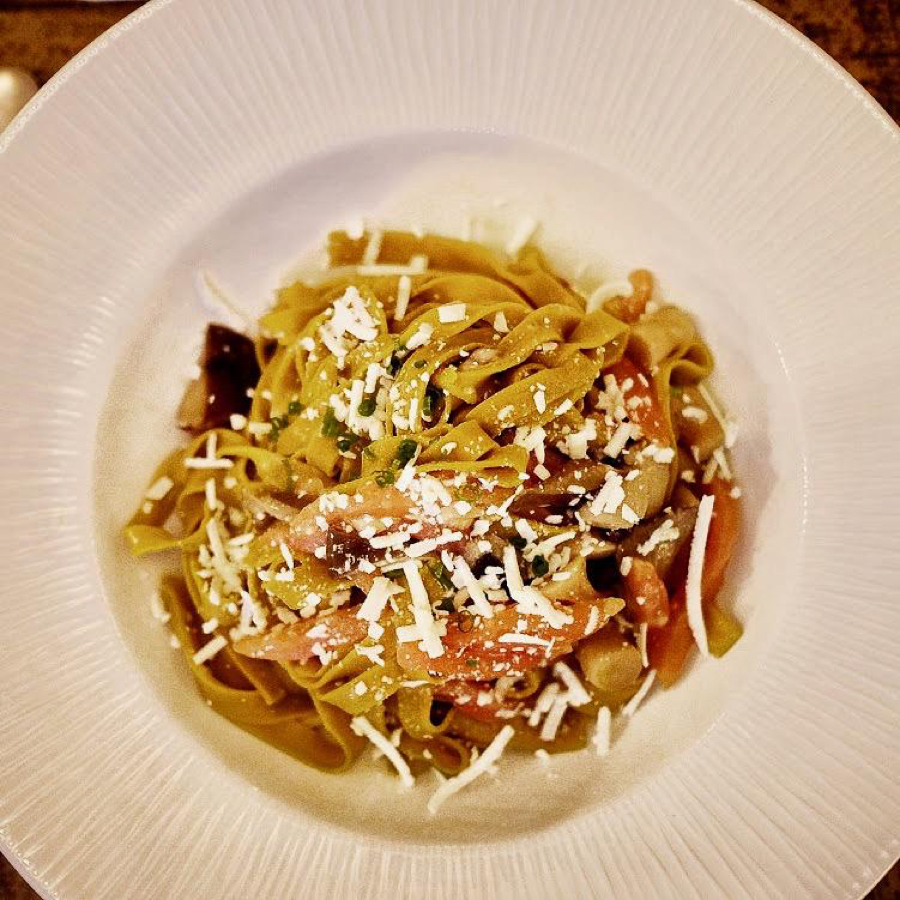 And Cyril had a seasonal pasta dish of pumpkin gnocchi in a tomato and sausage sauce.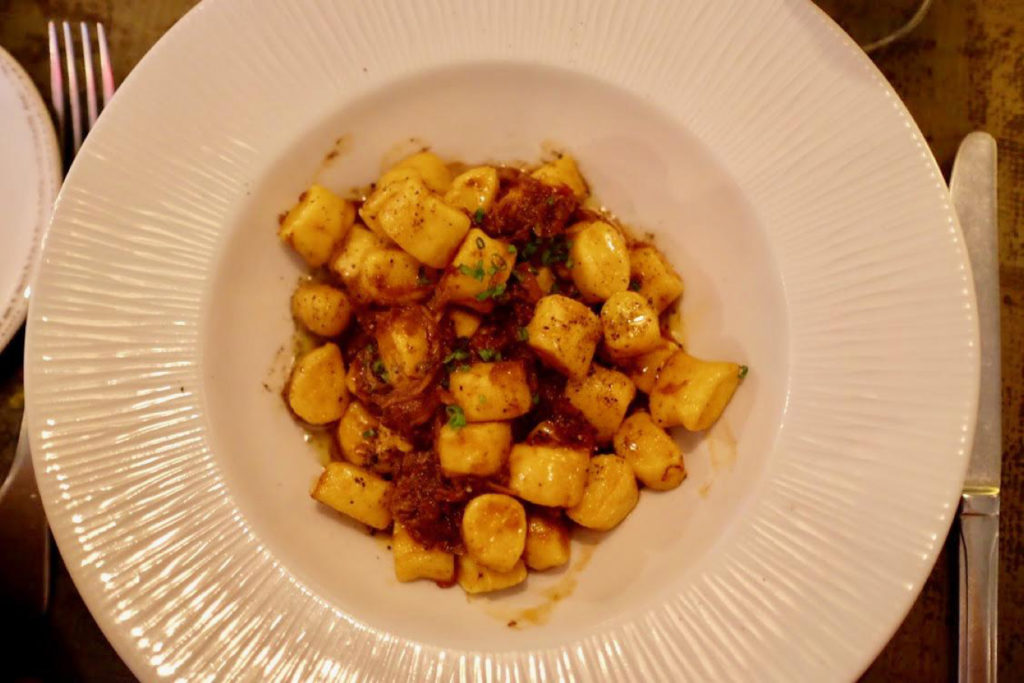 You've probably noticed from our other blog posts that we love pasta, and as such we're always up for some great new Italian food.  We enjoyed both of these places and the pasta dishes we got to eat as well as the other appetizers we were able to sample.  Since these places are in Midtown, they're pretty accessible and easy to get to – and while we know that there's hundreds of places in New York where you can get some good pasta and other Italian bites, we'd encourage you to try these two cool, unique places.