Lots of people reach their adult years still having a dislike – and sometimes a downright hatred – for vegetables.  And can you blame them, when so many veggies are served  boiled to death or steamed with no sauce or seasoning?  Luckily, there are other, tastier ways to prepare vegetables, like this recipe here.  We found it in the New York Times and decided to adapt it for ourselves, and the result was amazing:  you've got veggies roasted with spices and citrus and then topped with a cool, creamy, herb-y sauce.  Plus if you don't want to share, the chickpeas and potatoes in this dish make it hearty enough to eat as a meal. Best of all, with just one ingredient swap you can make this vegan!
If you'd like to try these vegetables, you'll need:
A lemon
A head of cauliflower
A container of cherry tomatoes
2 jalapeños
Olive oil
Cumin seeds
Tomato paste
Hot sauce
Turmeric
Cumin
Coriander
A 15.5-ounce can of chickpeas
A pound of baby potatoes
Rosemary
Plain yogurt, or use a dairy-free yogurt if you want to make this vegan
Basil
Parsley
Garlic
First, cut your lemon in half and pull out the seeds, then slice it thinly.  Boil the lemon pieces for 5 minutes in salted water in a small pot, then drain them and place them inside a towel to dry.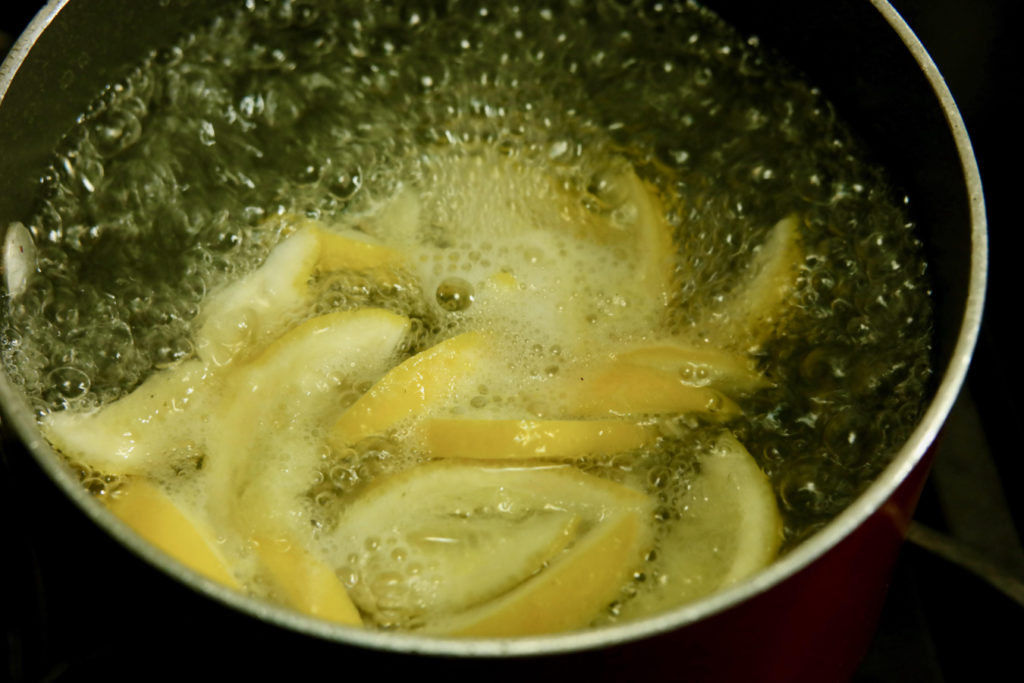 Now dice your cauliflower into florets, cut your cherry tomatoes in half, and slice the jalapeños into thin strips.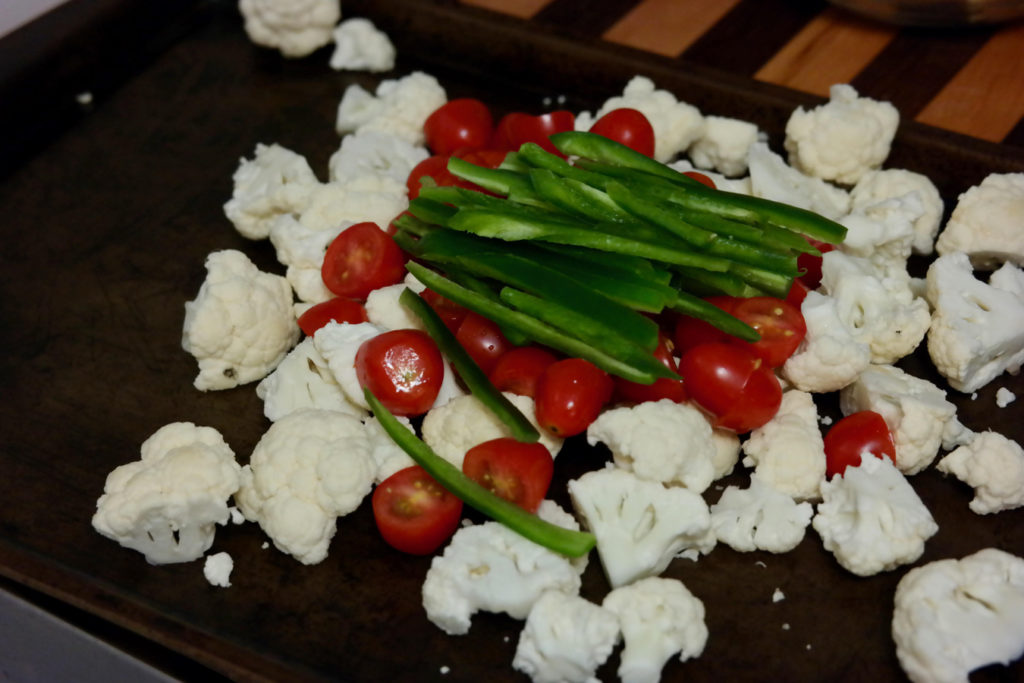 Spread these out on a baking sheet and toss the vegetables with 1/4 cup of olive oil and some salt.  Take the lemon slices out and place them on top.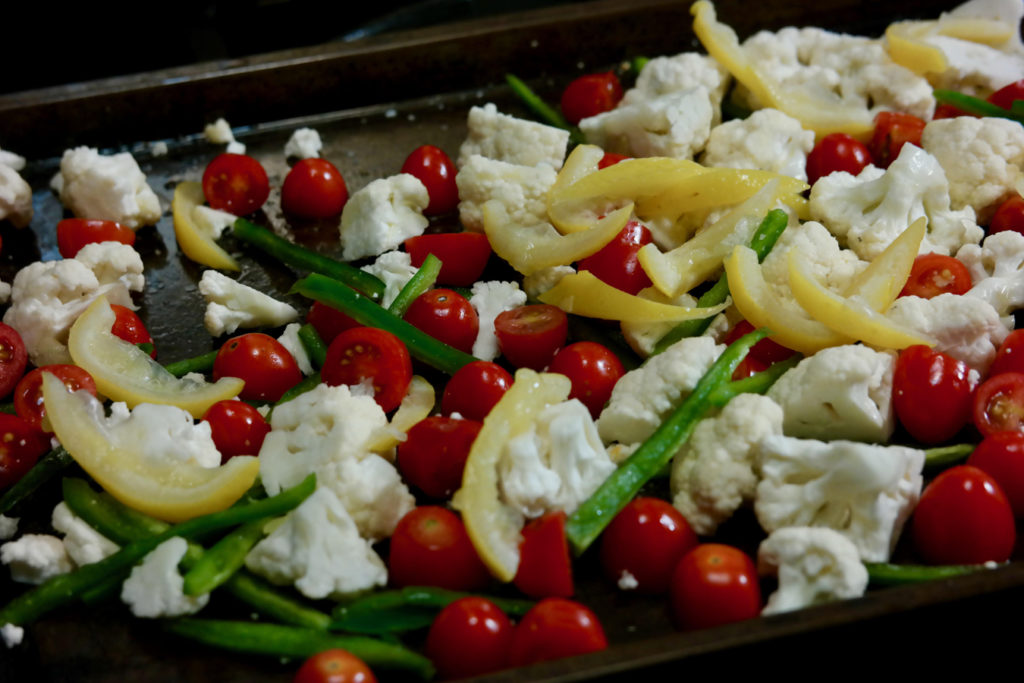 Next, cut your potatoes in fourths and mix them with your drained chickpeas.  In a bowl, combine another 1/4 cup of olive oil, a teaspoon of tomato paste, 1/2 teaspoon of hot sauce, a teaspoon of turmeric, 1/2 teaspoon of cumin, and 1/4 teaspoon of coriander.  Stir this into the potatoes and chickpeas, then spread these vegetables out on a second baking sheet.  Top everything with two sprigs of rosemary.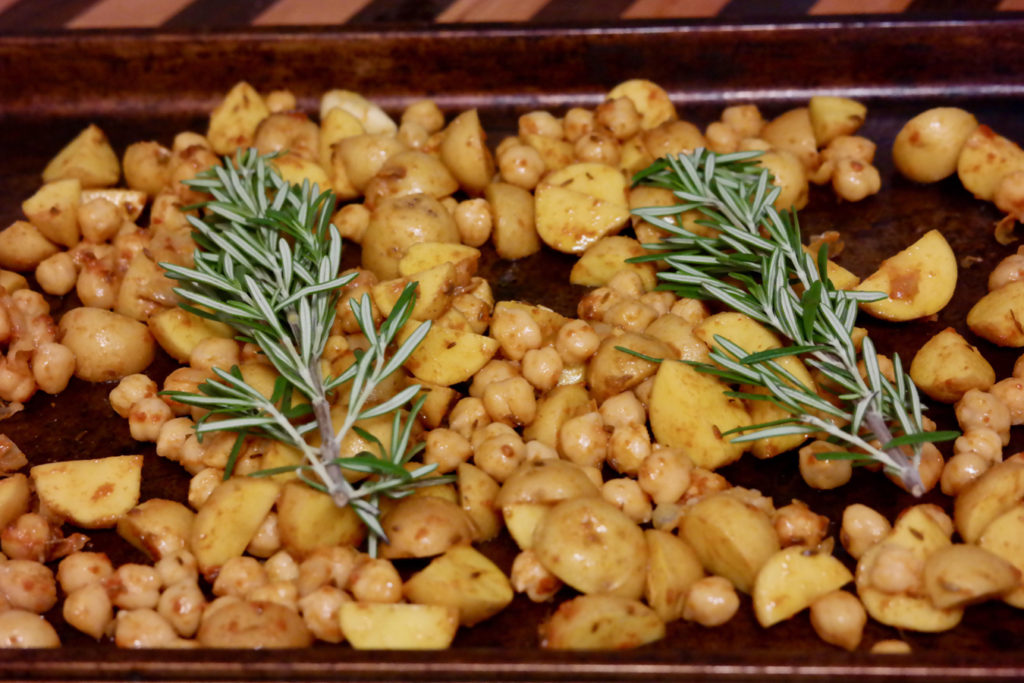 Bake both sheets at 425°F for 35 minutes, but keep an eye on your oven.  You'll want to toss the cauliflower-tomato-jalapeño mix every 10 minutes, and the potatoes and chickpeas every 15 minutes.
While these veggies are roasting, you can make the sauce:  chop up 1/3 cup of basil and 1/3 cup of parsley and mix these with a grated garlic clove and 3/4 cup of yogurt.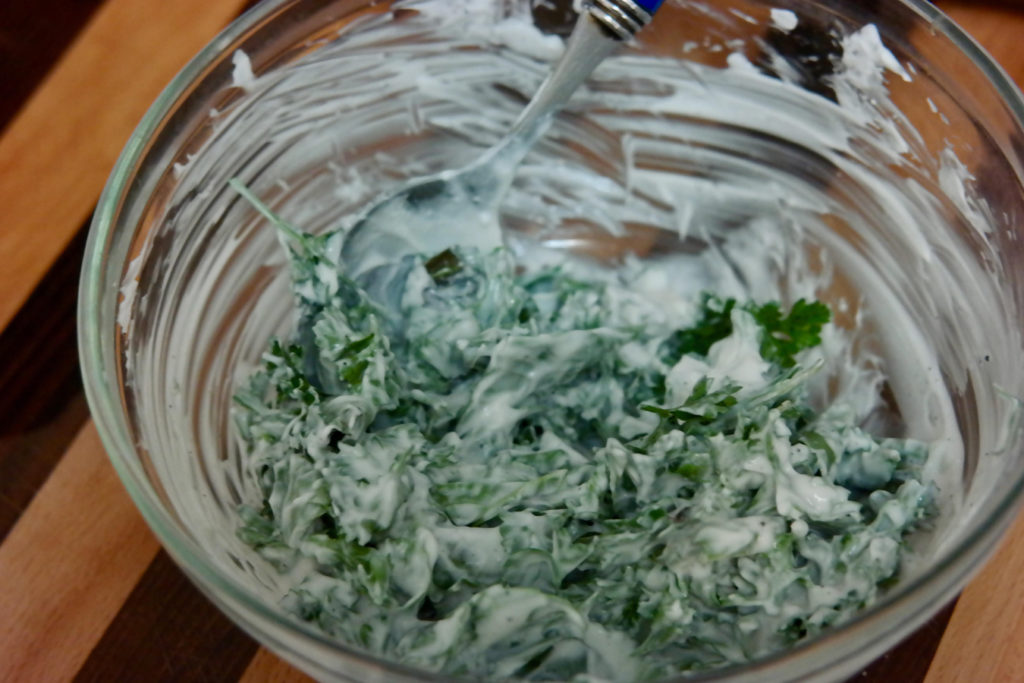 Now when the vegetables come out of the oven, they should look like this: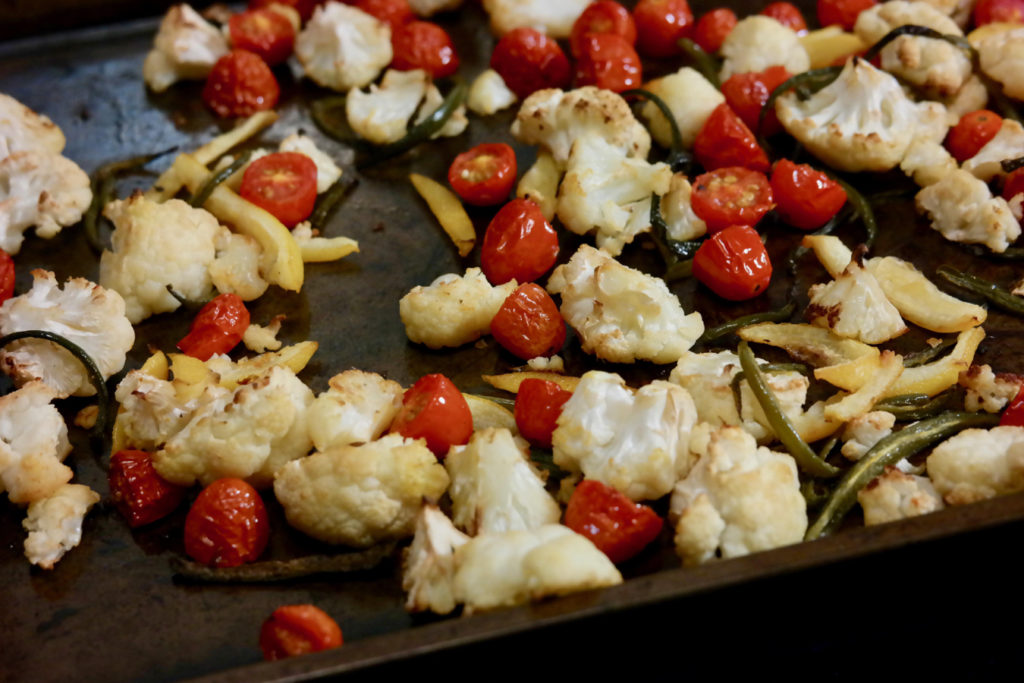 And this: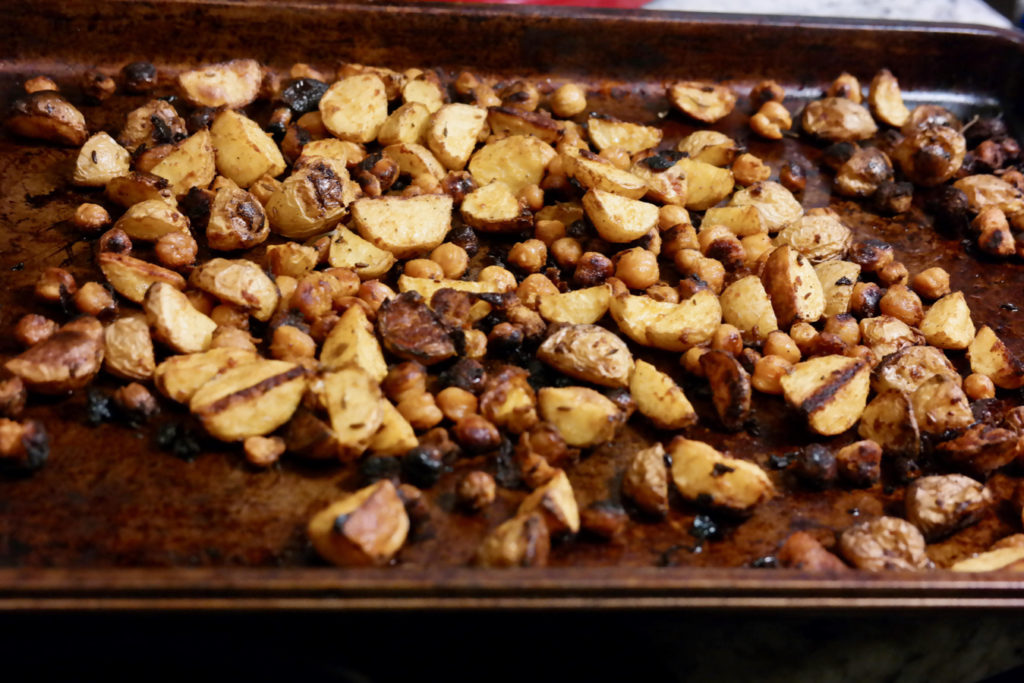 Stir them all together, and serve with the yogurt sauce on top.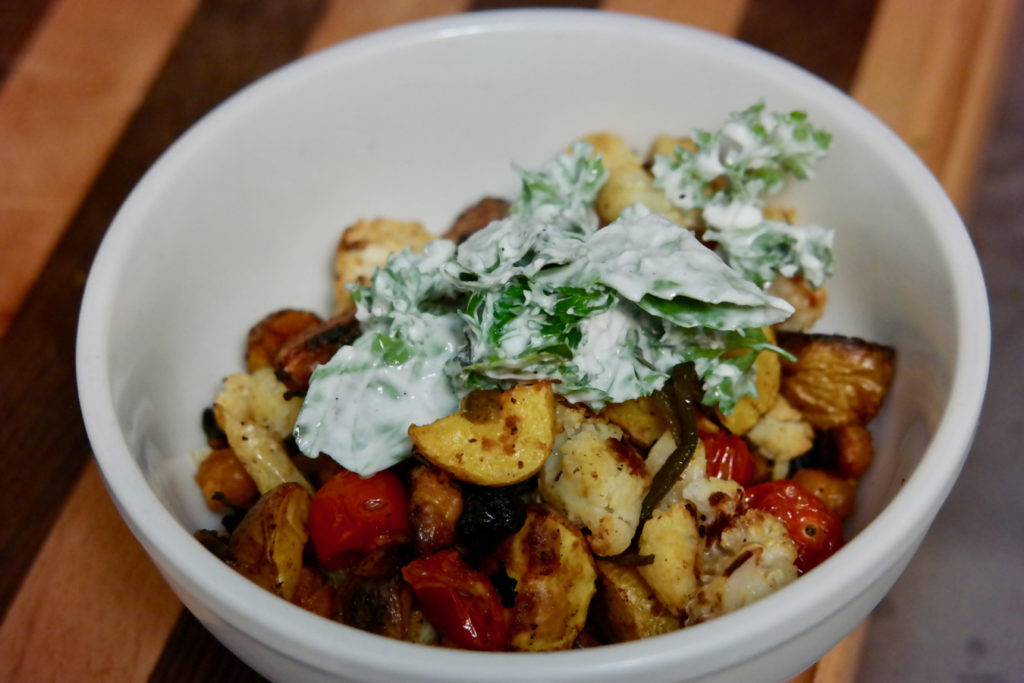 There's so many different things going on here:  cumin, coriander, and turmeric bring in some spice flavors, the herbs nicely add to the sauce, and lemon and tomato are a good complement to the vegetables.  There is a fair bit of chopping involved, and you do need to make sure that nothing burns while it's roasting, but when all is said and done you've got a huge plate of crispy roasted vegetables set off with a creamy sauce.  These ain't your mama's veggies – try them out!