In a recent issue of New York magazine, there was a list of splurges from around the city that people though were worth spending extra money for.  The one that really intrigued us was the miche from She Wolf Bakery – because bread is delicious, and surely a loaf that costs $20 was guaranteed to be even more delicious, right?
So we went out and bought it.  Here's the miche – which is a type of French country bread – in all its glory: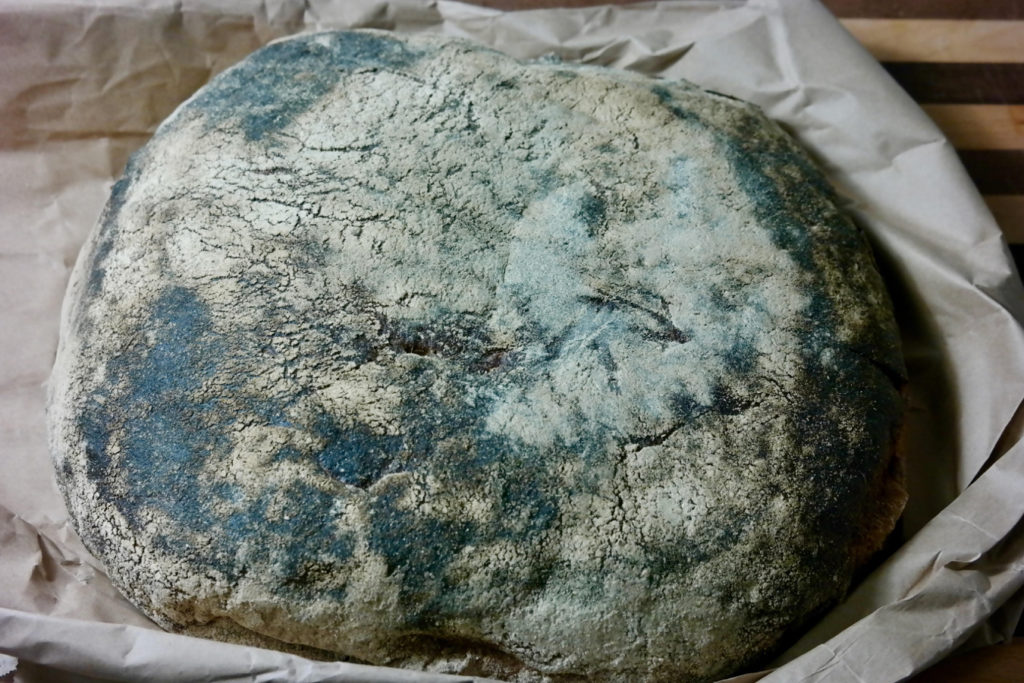 If you can't tell from this first picture, the miche is enormous:  it weighs 4 pounds and is roughly the size of a steering wheel, because traditional miches were made to feed an entire family for days.  If you're not ready to commit to the entire thing, you can buy a half-loaf for $10 or a quarter-loaf for $5, but taking home a whole miche is pretty impressive. Here's a picture with Cyril's head for scale: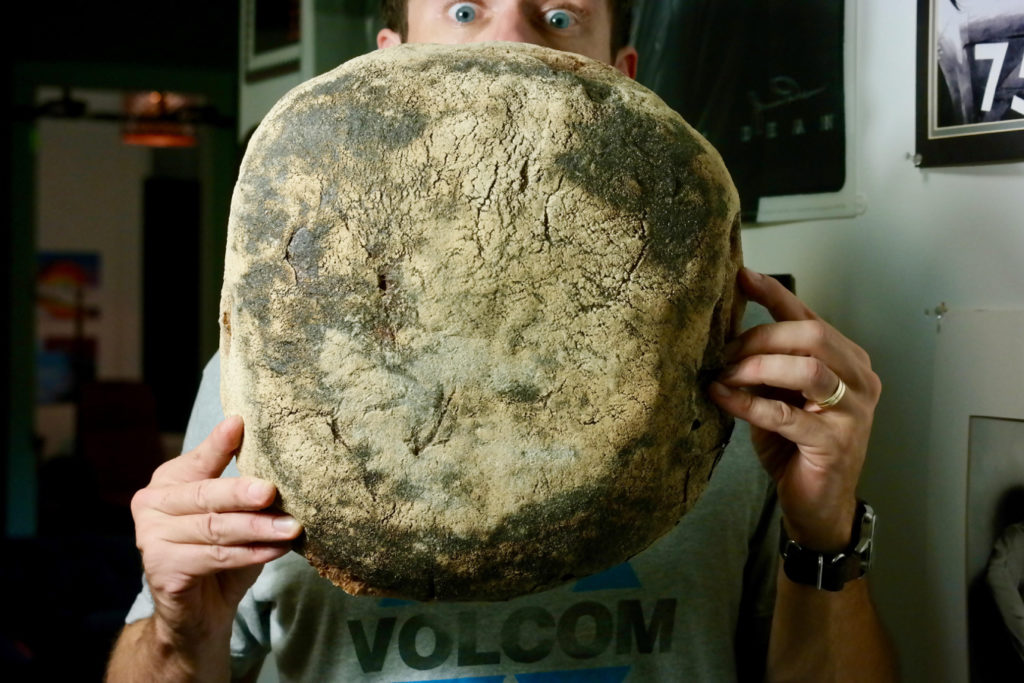 The miche is dark on the outside because is takes so long to bake such a large loaf.  Inside, the bread is light and chewy and has a sourdough taste thanks to being made with a combination of white and wheat flours.  When you cut into it, here's what it looks like: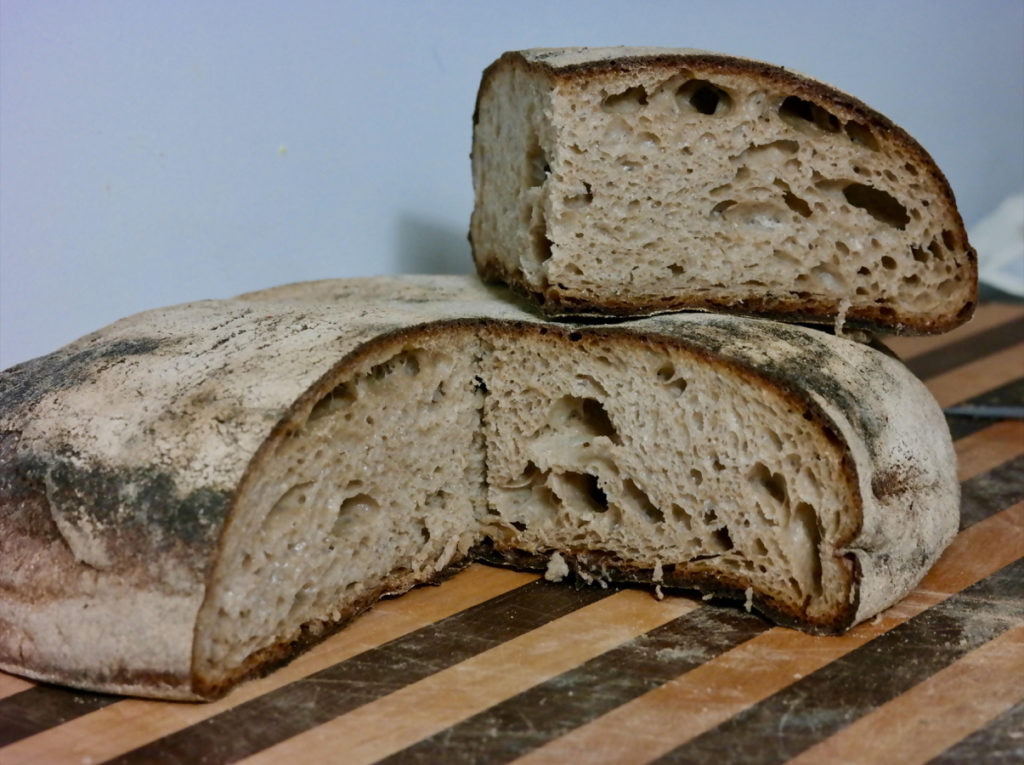 We tried this bread two different ways – first, by just slicing it into big pieces and eating it with butter, which was of course pretty tasty.  But we also toasted some slices and spread them with cinnamon honey, which Miriam got from Littlefield Bee Farm on a trip to Block Island, Rhode Island.  We thought the sweet, flavorful honey blended well with the crisp taste of the toasted sourdough.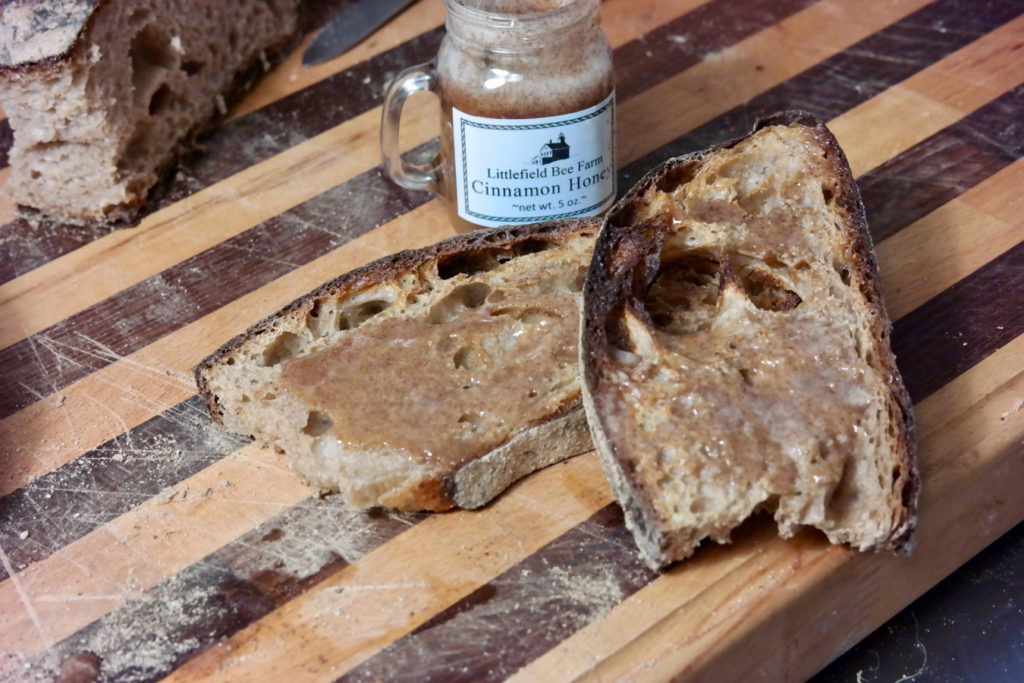 If you're interested in eating this miche for yourself, you're going to have to track it down, since She Wolf Bakery doesn't have a store front.  They sell their breads at a couple different farmer's markets in Brooklyn, Queens, and Manhattan on the weekends, but since they only make a limited number of miche loaves each day your best bet is to try to snag one early on a weekday morning so you can be sure they haven't sold out yet.  We went to Union Square Greenmarket, since it's pretty centrally located and right on top of several subway lines, and when we arrived at 8:30 on a Wednesday morning they still had quite a few miches left.
So was this $20 well spent?  We think so – She Wolf Bakery's miche is uniquely delicious in its taste and really impressive in size.  For a long time miche was seen as an unsophisticated type of bread, because it was associated with rural peasants, but its now gotten a reputation as an interesting artisanal treat.  We're not going to make it a habit of buying expensive bread all the time, but it was fun to try this once.