As you've probably noticed from all the pasta recipes we post, we love noodles in all forms.  We're particularly fond of slurping on noodles when we venture out to restaurants around the city – in fact, we've previously written about some noodles shops we visited in Manhattan, one of which was recently awarded a Michelin star.  Now we've got two new noodle places to recommend in the city, which happen to be just two blocks away from each other.  Here's what we got!
First is Momofuku Noodle Bar, which is part of the Momofuku empire that also includes four other restaurants, a bunch of food stands, and the dessert-centric Milk Bar in New York, plus outposts in DC, LA, Las Vegas, Toronto, and Sydney.  Although all the Momofuku locations are pretty popular, we visited the Noodle Bar on a Saturday night without a reservation and had to wait less than half an hour, so it's worth swinging by to see if you can get a seat.
We started our meal there with the bing bread, with a side of chickpea and eggplant spread blended with Momofuku's signature hozon seasoning.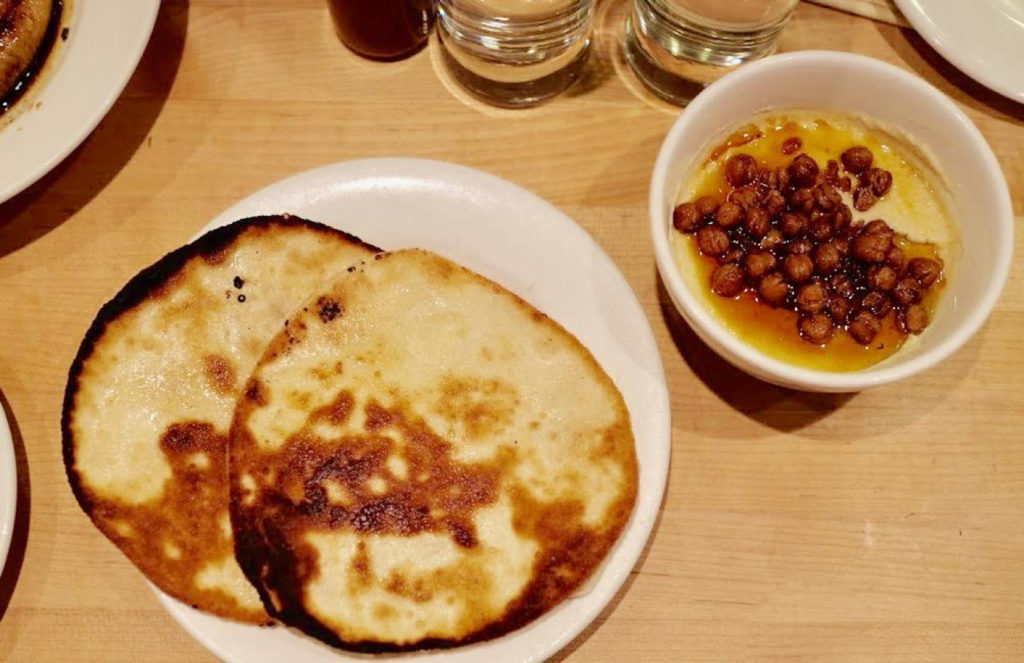 Cyril also had an order of the smoked wings, rubbed with scallions, garlic, and Thai chiles.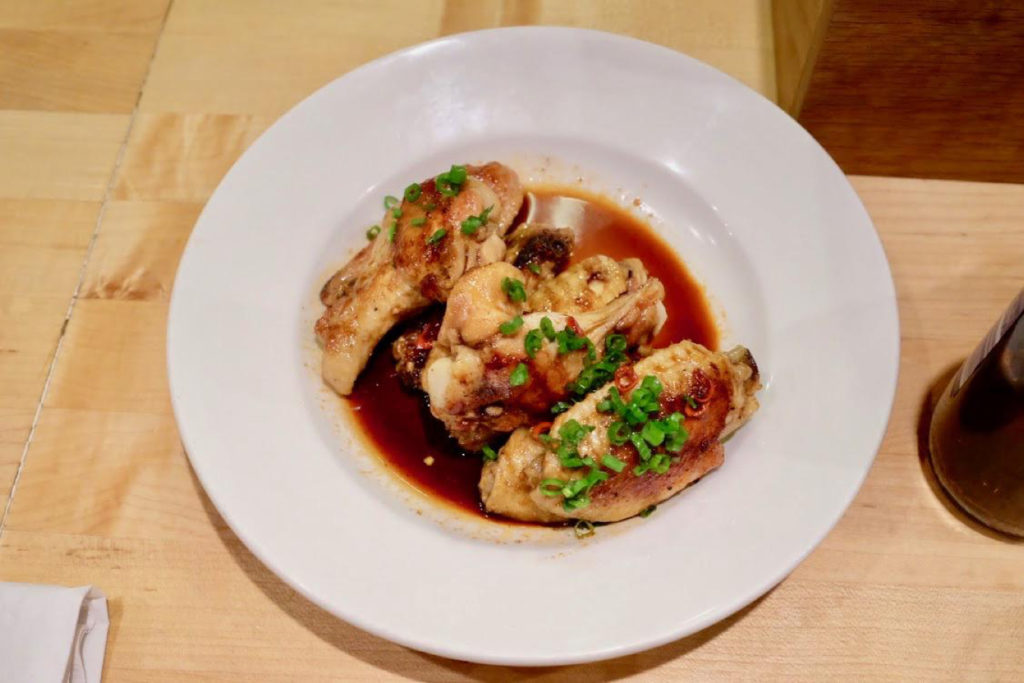 For our noodles, Miriam went with the spicy hozon ramen, which has chickpeas, scallions, and bok choy, plus the noodles.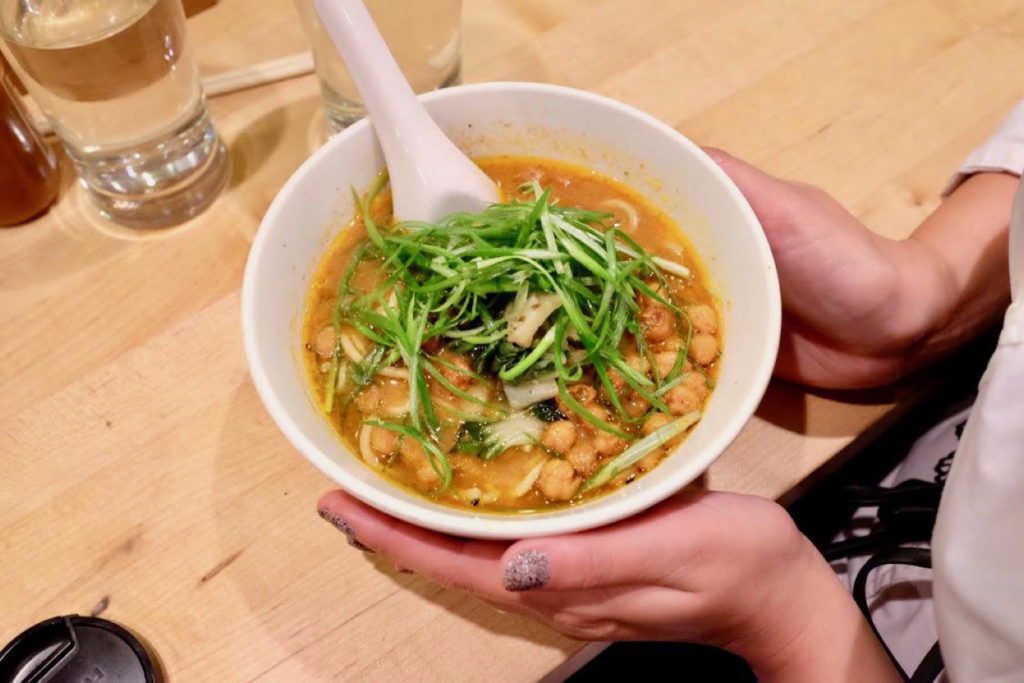 And Cyril tried the pork ramen, with pork belly and an egg floating alongside his noodles.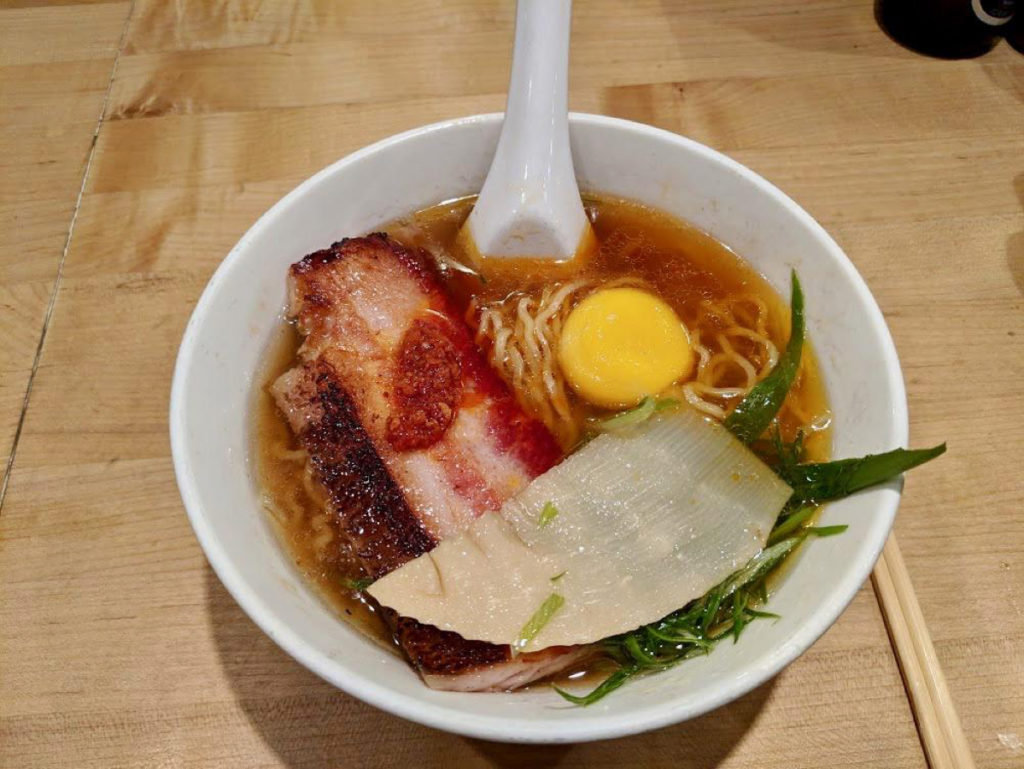 Now if you go one block up and one block over from Momofuku Noodle Bar, you'll reach the East Village location of Dun Huang (which also has spots in Flushing, Clinton Hill, on the Upper West Side, and in Edison, New Jersey).  Dun Hunag's cuisine comes from Lanzhou, in northwestern China, and features a lot of hand-pulled noodles.  We tried the vegetarian spicy mala noodles, which get their heat from Sichuan peppercorn (you also get to choose what kind of noodles you want in your meal – we went with the wide ones).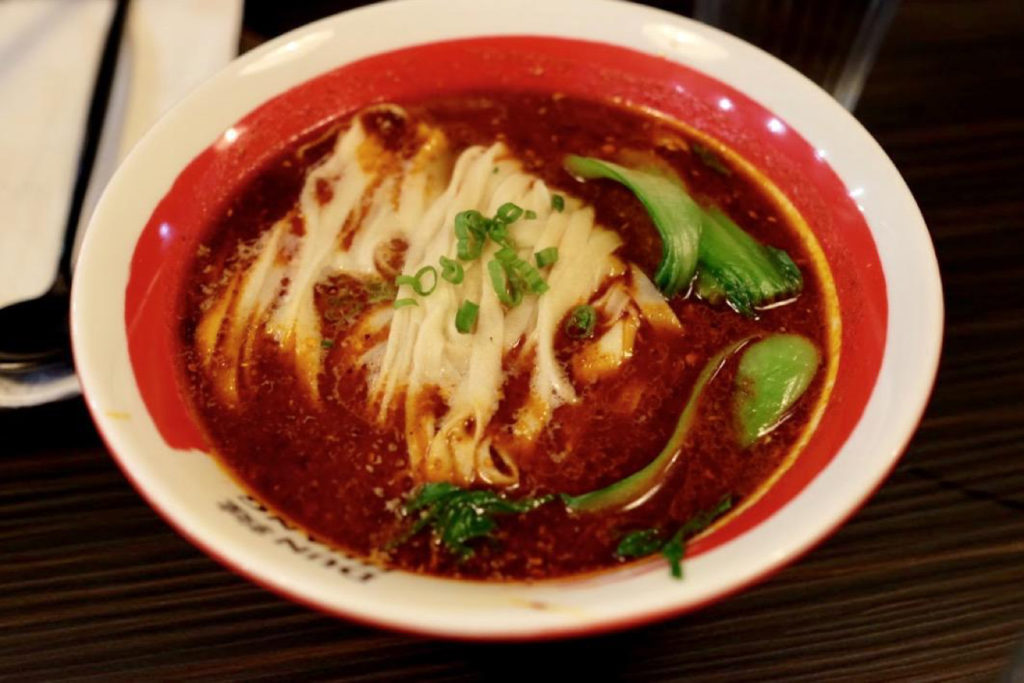 Cyril also tried the big plate chicken, which is braised and served with peppers and potatoes.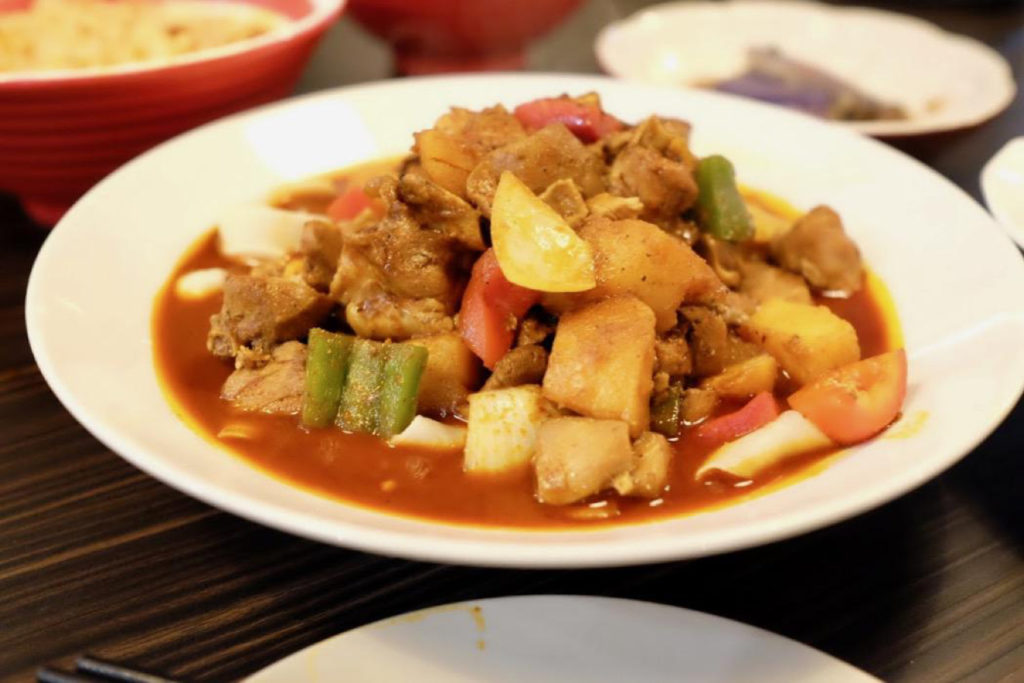 And we got sides of the spicy potato chips …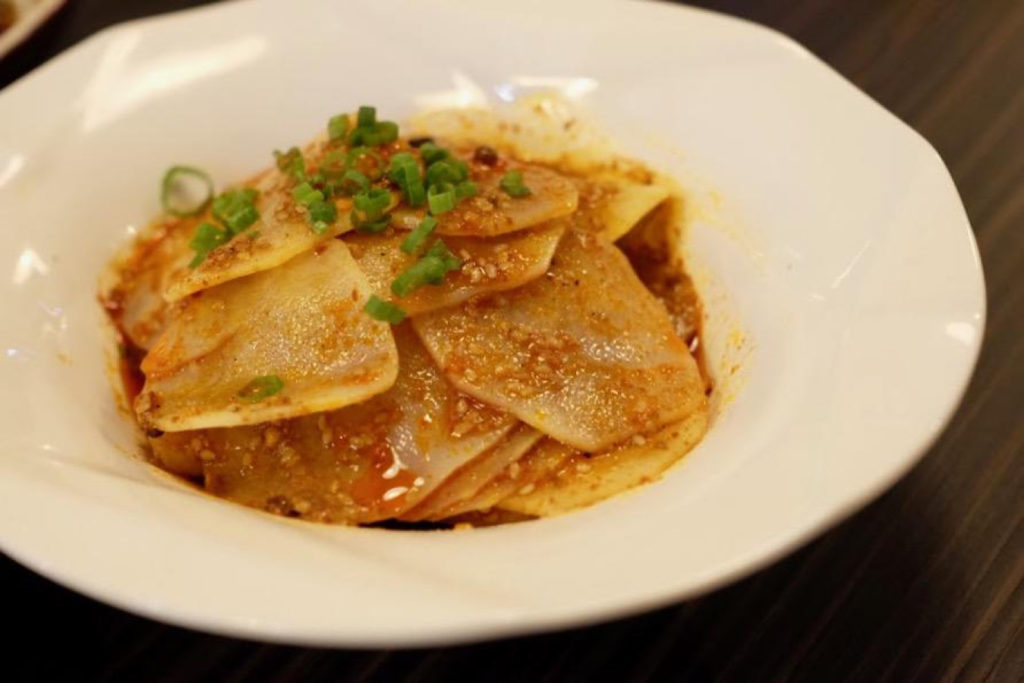 … and the eggplant salad, marinated in garlic and soy sauce.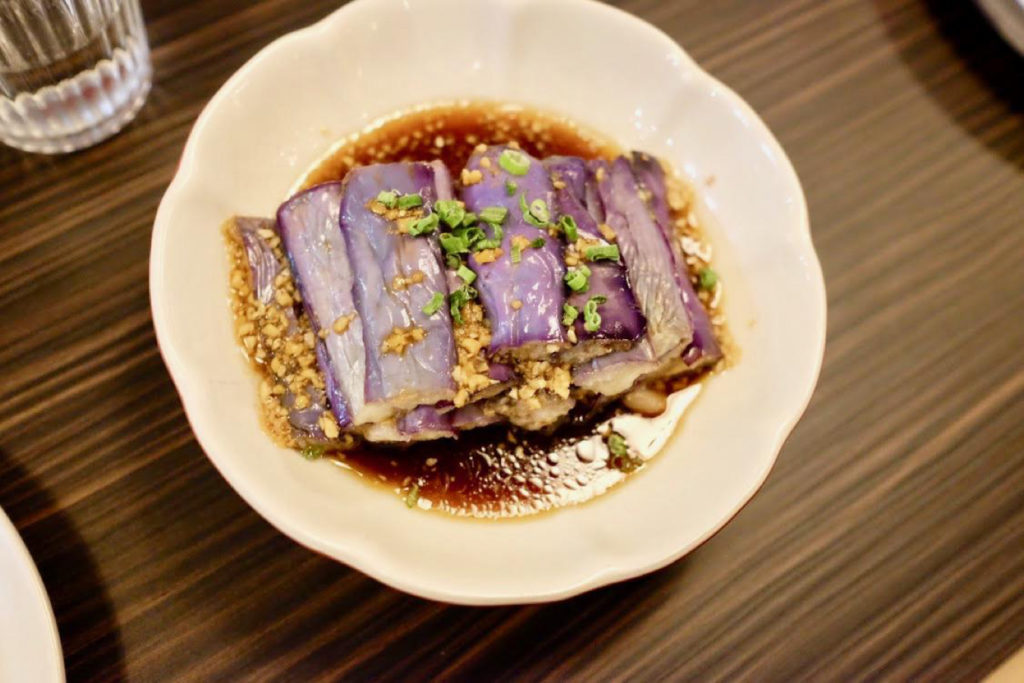 We were really glad we got to try both of these places:  we enjoyed seeing what all the hype around Momofuku is about, and we were introduced to the unique spiciness that comes from the Sichuan mala sauce.  And of course, we got our fill of noodles!  If you're looking for somewhere to slurp, definitely try one of these restaurants.