Burgers are one of the things that people say they miss the most when they give up meat, but we're lucky to live in a time when veggie burgers abound at restaurants and on grocery store shelves.  We've gotten try the Impossible Burger, which was phenomenal, and we've made some burger variations of our own, including our very own cheese-stuffed patties.  Now this time around, we made a new version of homemade burgers, topped with peppers and cheese (based on this recipe from the New York Times), and we're really happy with how they came out.
To make these burgers for yourself, you'll need:
4 portobello mushrooms
Breadcrumbs
2 eggs
Manchego cheese
2 onions
6 plum tomatoes
6 spicy chiles (we got 2 Hungarian wax peppers, 3 cayenne peppers, and one serrano chile, all from the Queens County Farm Museum's produce stand)
Cilantro
Sliced Muenster cheese
4 hamburger buns
An avocado
** You'll also need a food grinder attachment hooked up to a stand mixer. **
To make the burger patties, take all of your mushrooms and slice them up.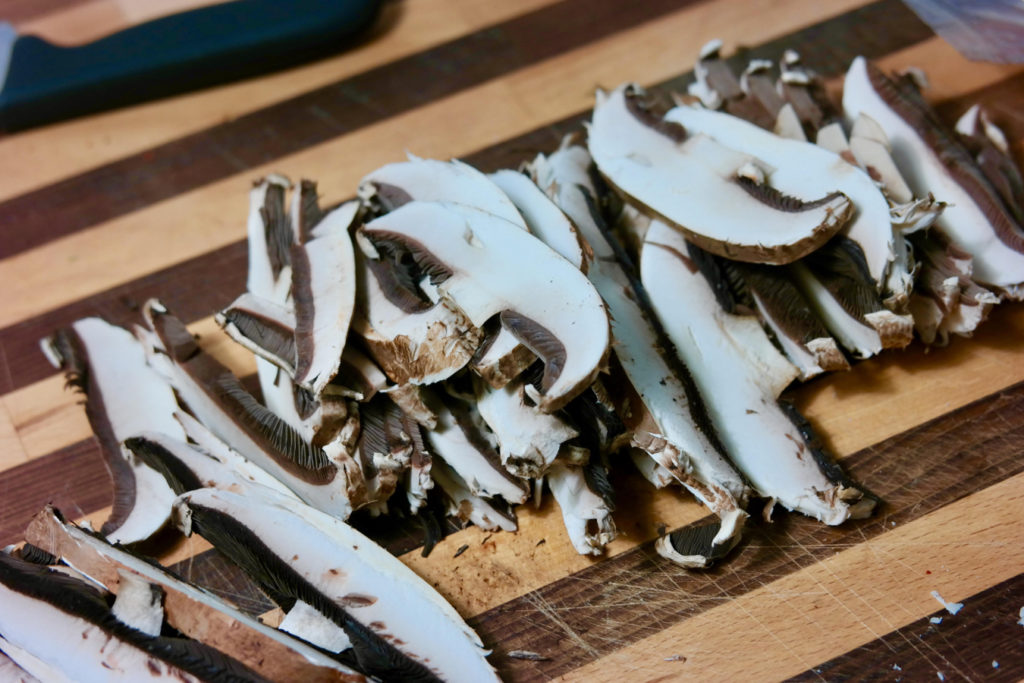 Dice up one onion as well and cook it with a few tablespoons of olive oil in a large cast iron pan over medium-high heat, until it starts to soften.  Mix in the mushrooms and cook these veggies until the mushrooms are completely darkened, tender, and reduced by half.  Transfer the vegetables to a bowl and let them cool slightly.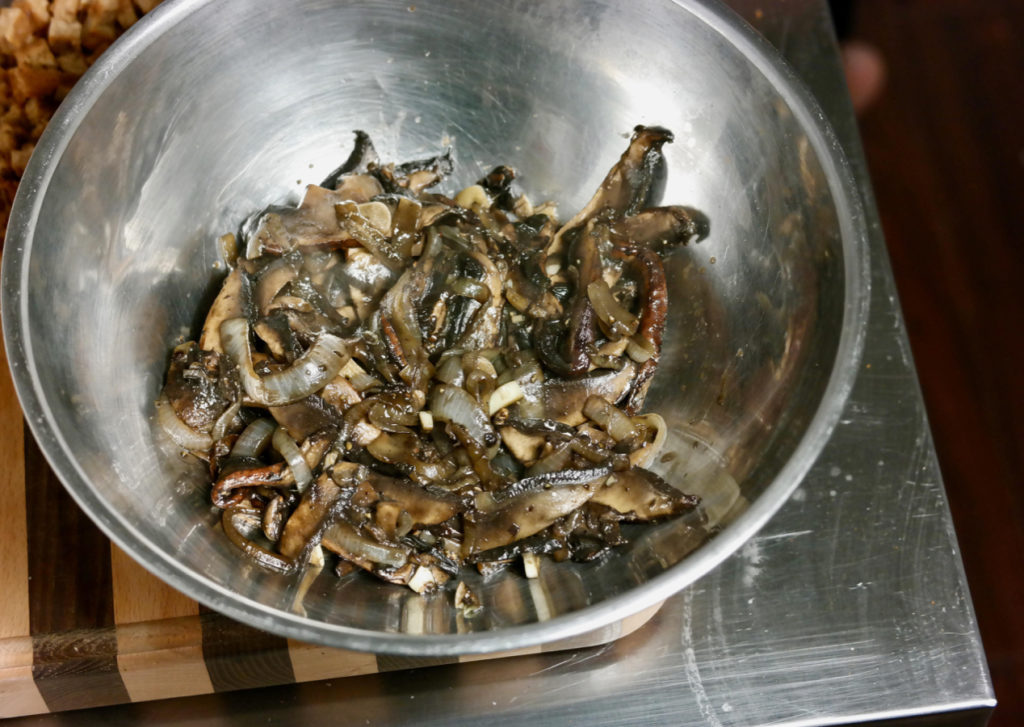 Take your Morningstar Farms patties out of the freezer and let them defrost a little, then chop them into pieces and place them in the bowl.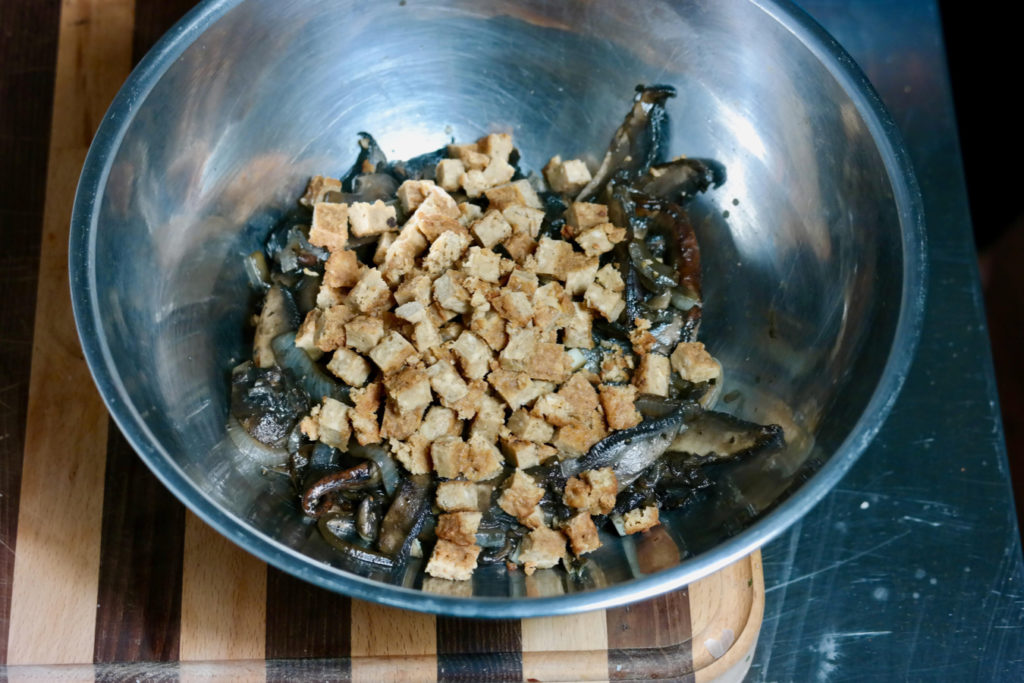 Grate about 4 ounces of Manchego cheese in, then crack the 2 eggs in and add 1/3 cup of breadcrumbs.  Stir everything together, adding more breadcrumbs as needed so you have a mixture that holds together but is still slightly moist (as you can see, it's not going to look very pretty).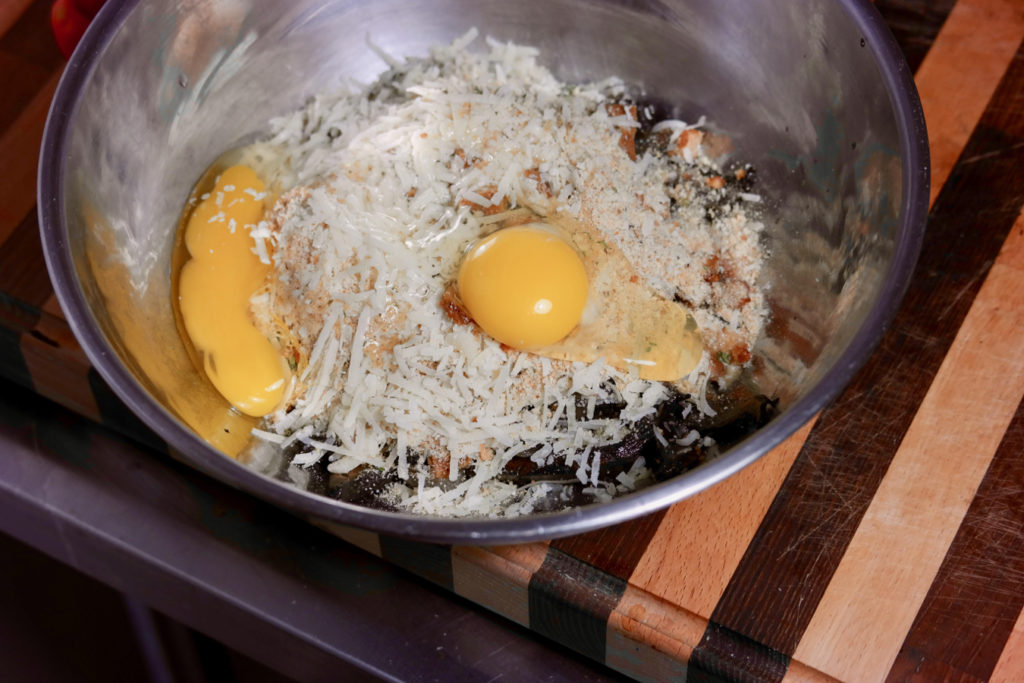 Send this mixture through a food grinder twice, then take what comes out and shape it into patties.  Pour a little more olive oil into the same cast iron pan and start cooking your burgers.
You'll want to keep them in the pan until they're browned on each side.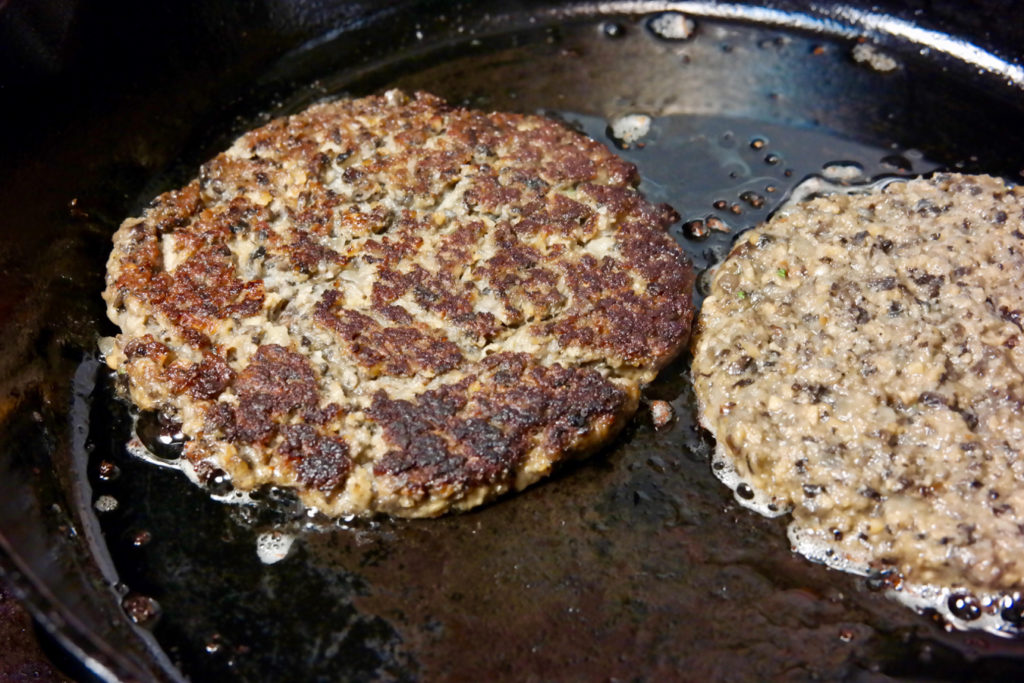 Meanwhile, make the burger toppings:  take 5 of your chiles and char them on a small rack set directly over a stovetop burner, until the skins are mostly blackened.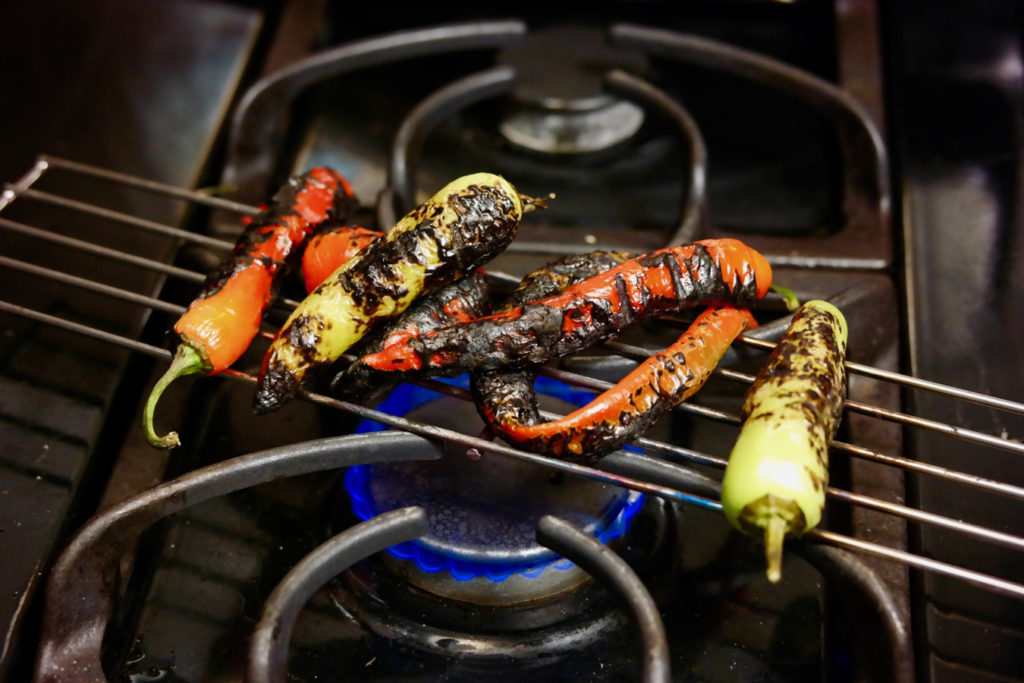 Set them aside to cool for about 10 minutes, then use a knife to scrape off all the flesh …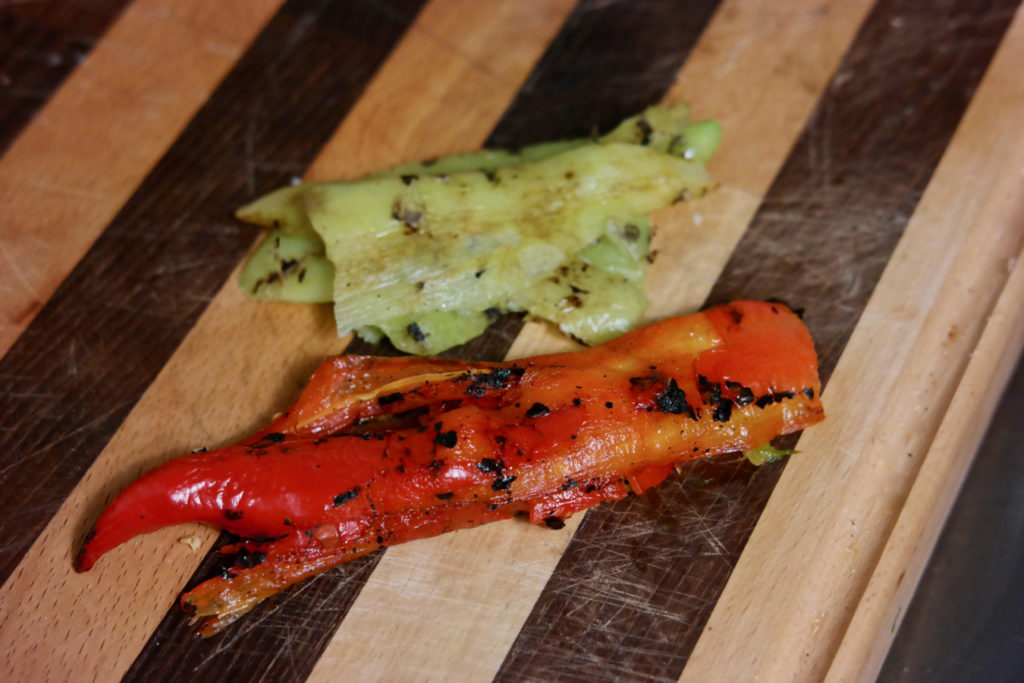 … and slice them up.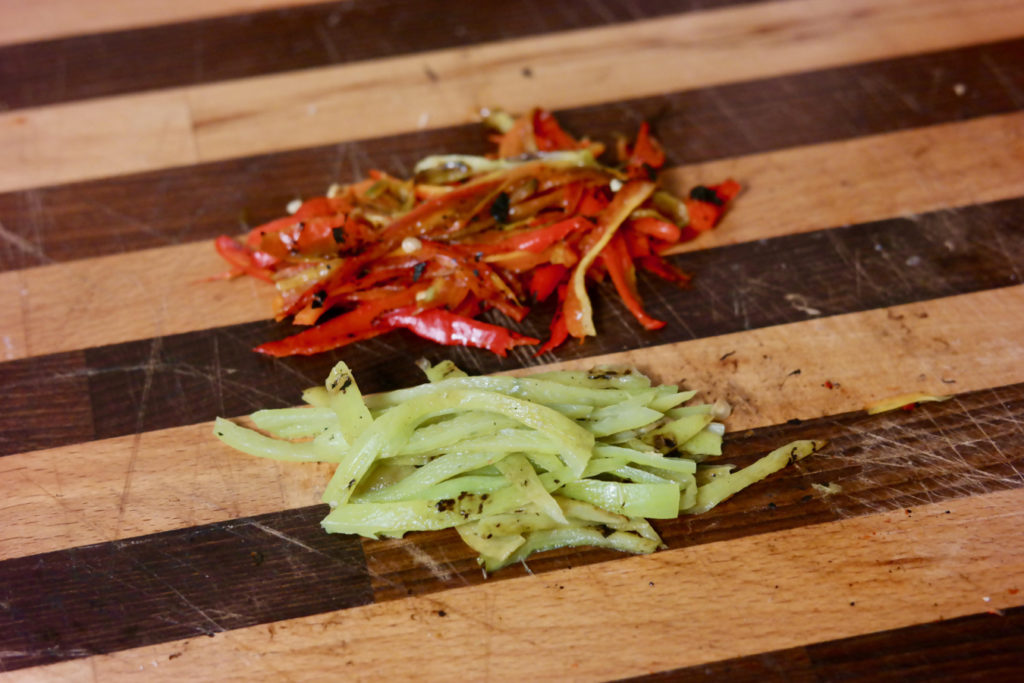 Next, to make a salsa for the burgers, dice up your other onion and your tomatoes and thinly slice your last chile.  Mix all of these veggies together along with some cilantro leaves.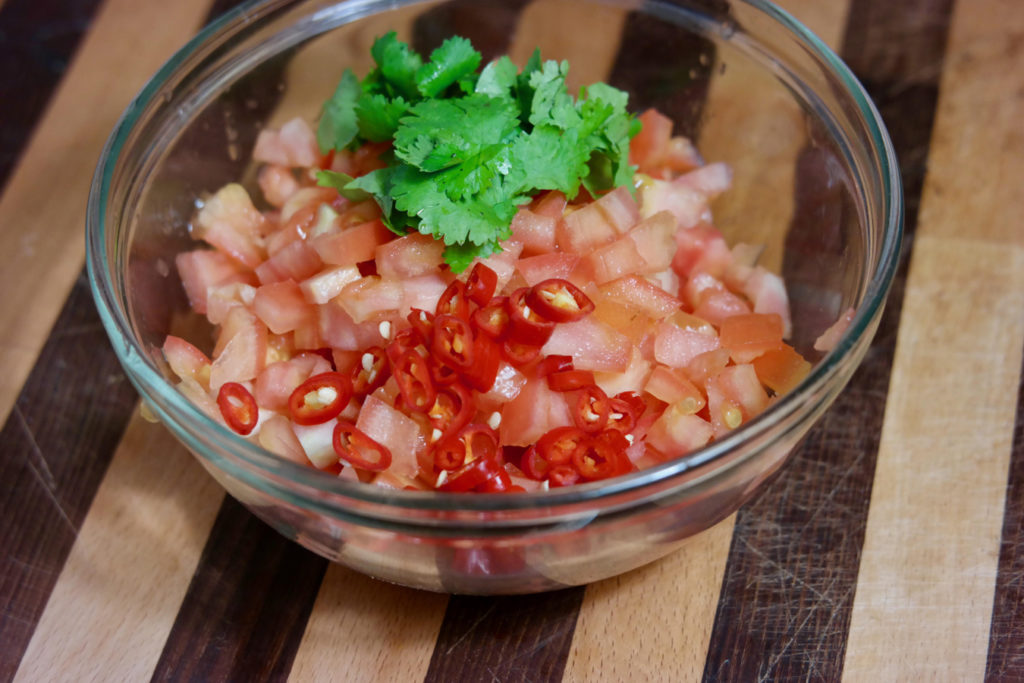 Now it's time to assemble the burgers:  take a patty and place it on a bun, then layer on 2 slices of Muenster cheese.  Top with some charred chiles, then a few spoonfuls of salsa.  Cut your avocado into slices and serve those on top or on the side.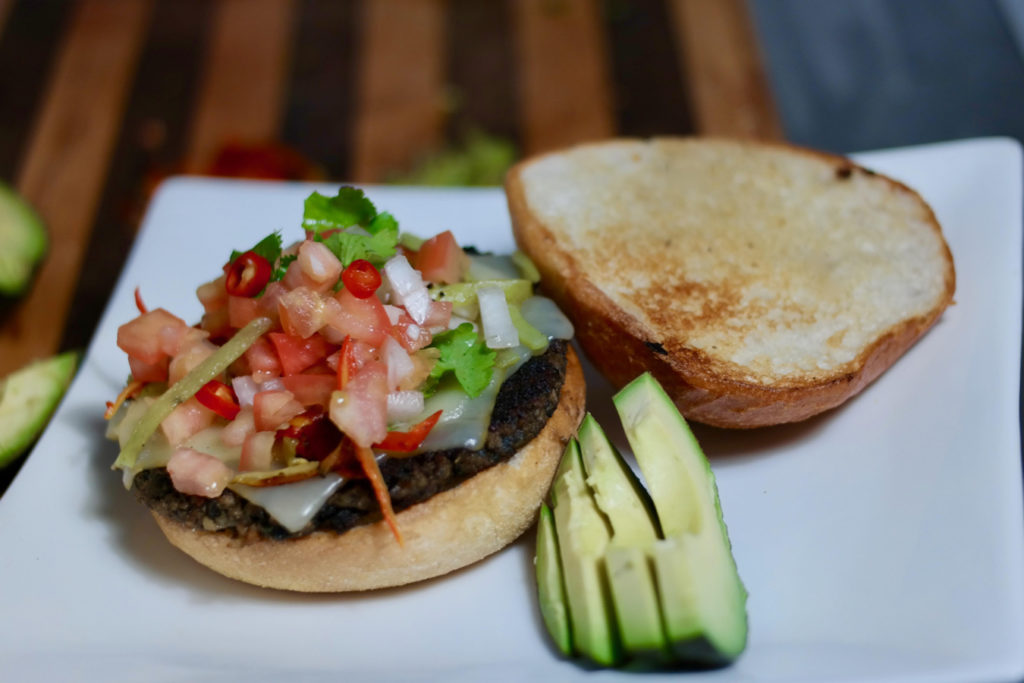 And there you have a spicy and unique veggie cheeseburger!  We enjoyed making our own patties from this mixture of mushrooms, cheese, and other veggie burgers, and they had a great, meaty yet firm texture.  Adding on a variety of hot peppers that we found at a farm stand plus some avocado and homemade salsa made these really interesting and gave them some heat.  If you're craving a burger and you're willing to put in the work to make something a little more fresh than just your average frozen patties, we hope you give this recipe a try.