We've been doing a lot of weekend traveling these past few months, and most recently we decided to visit Nashville.  We went to the Grand Ole Opry, of course, and we checked out the nightlife on Broadway, which is also known as the city's Honky Tonk Highway.  But we also tried a lot of different food, and thanks to Cyril's diligent research we found some excellent spots that we'd definitely recommend.  So without further ado, here are some of the places we went – just be warned that there's a lot of meat featured here, because this is the South we're talking about.
The very first place we went was Puckett's Grocery and Restaurant, which has several locations around Tennessee, including one in downtown Nashville.  There we started our meal with an order of queso, made with smoked bell peppers and jalapeños and served with homemade tortilla chips.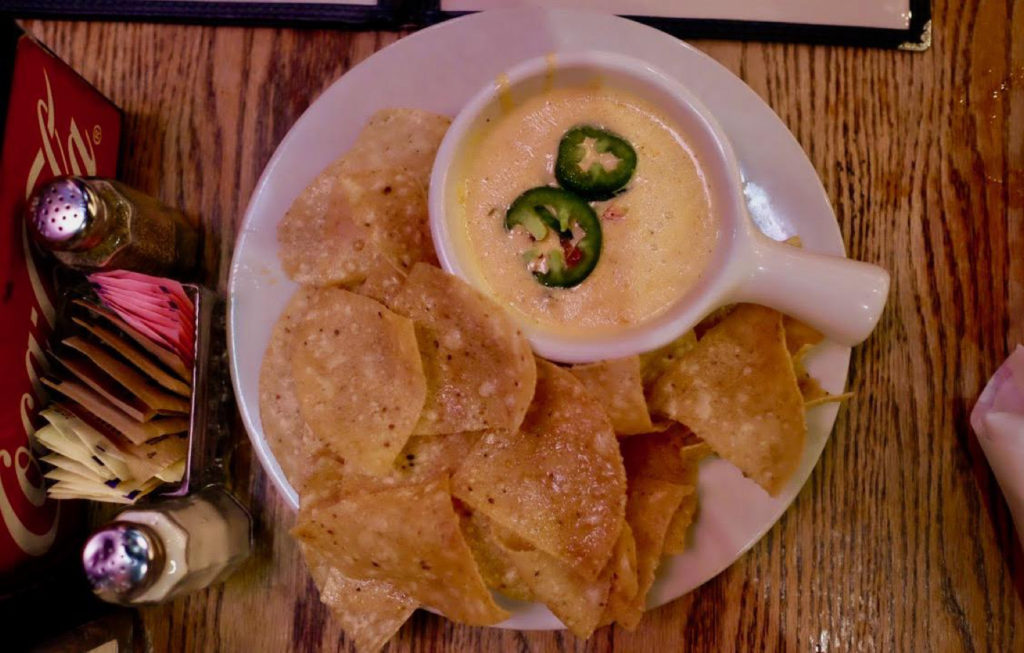 Cyril then indulged in some meat in the form of Puckett's "Whole Farm" platter, which comes with beef brisket, pulled pork, ribs, and a fried chicken leg.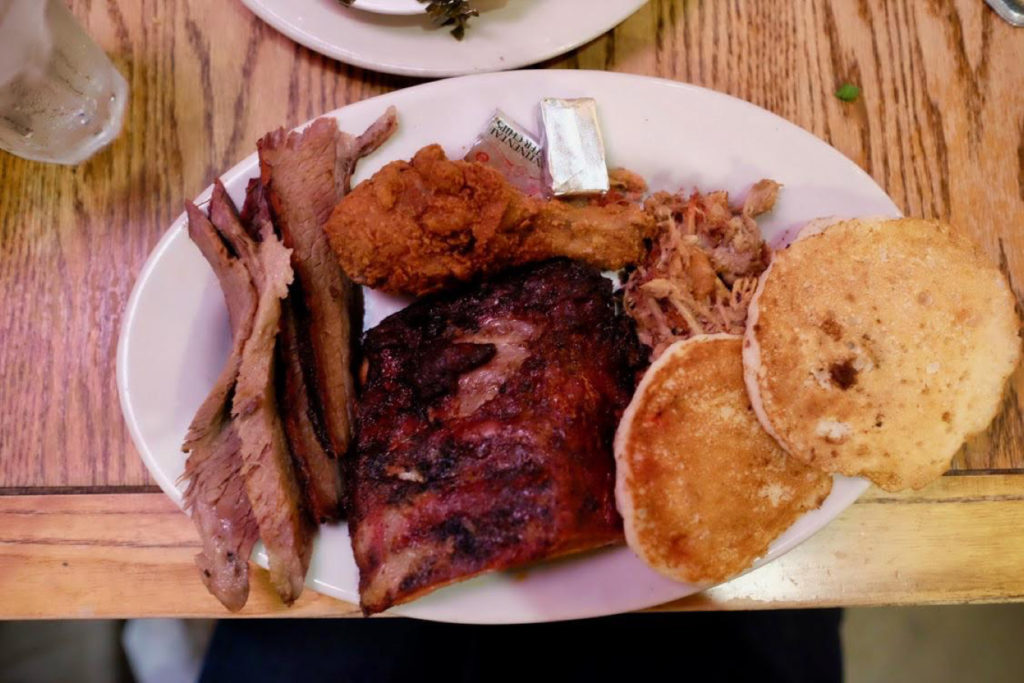 And for sides he got coleslaw, baked beans, and collard greens.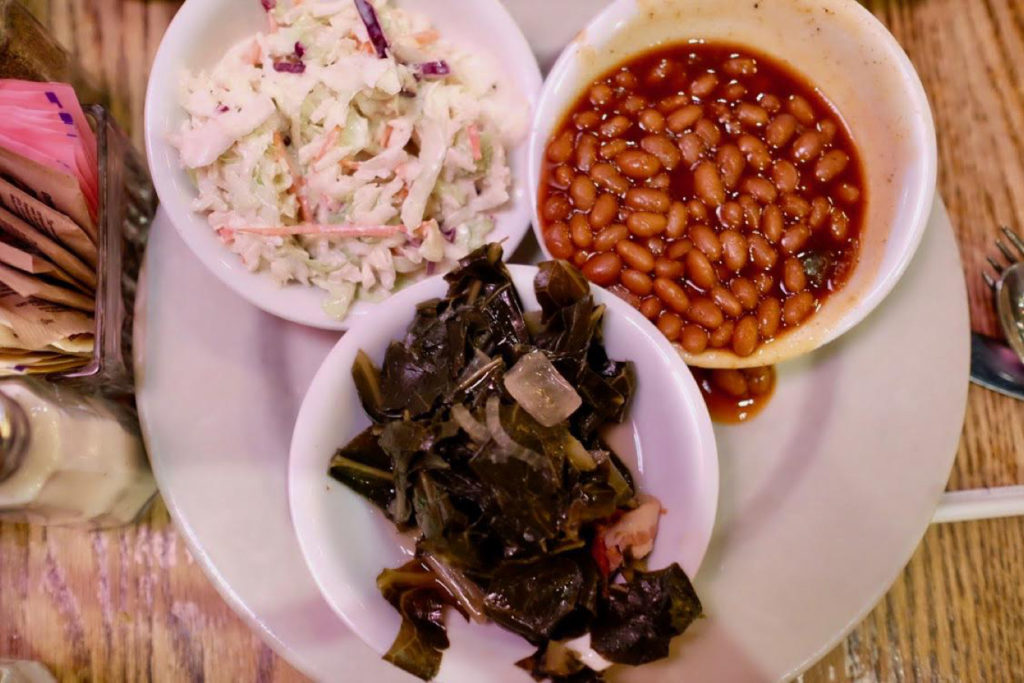 Miriam, meanwhile, made a plate from vegetarian sides:  here is the smashed sweet potatoes, the Southern green beans, and some corn cakes …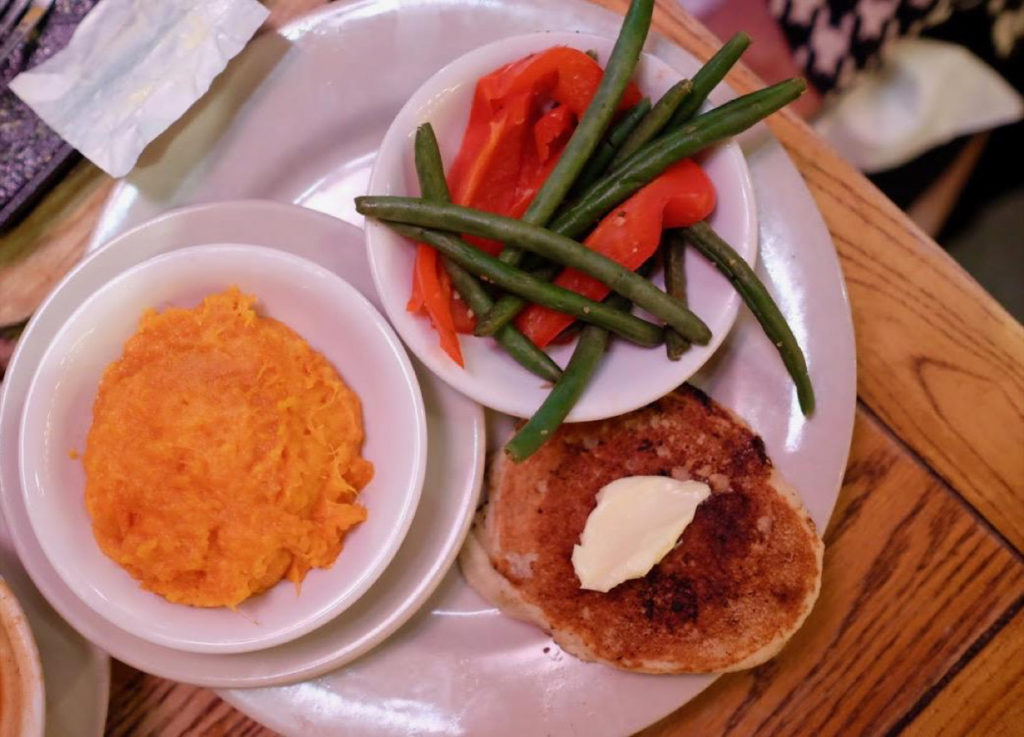 … and here's Puckett's mac and cheese.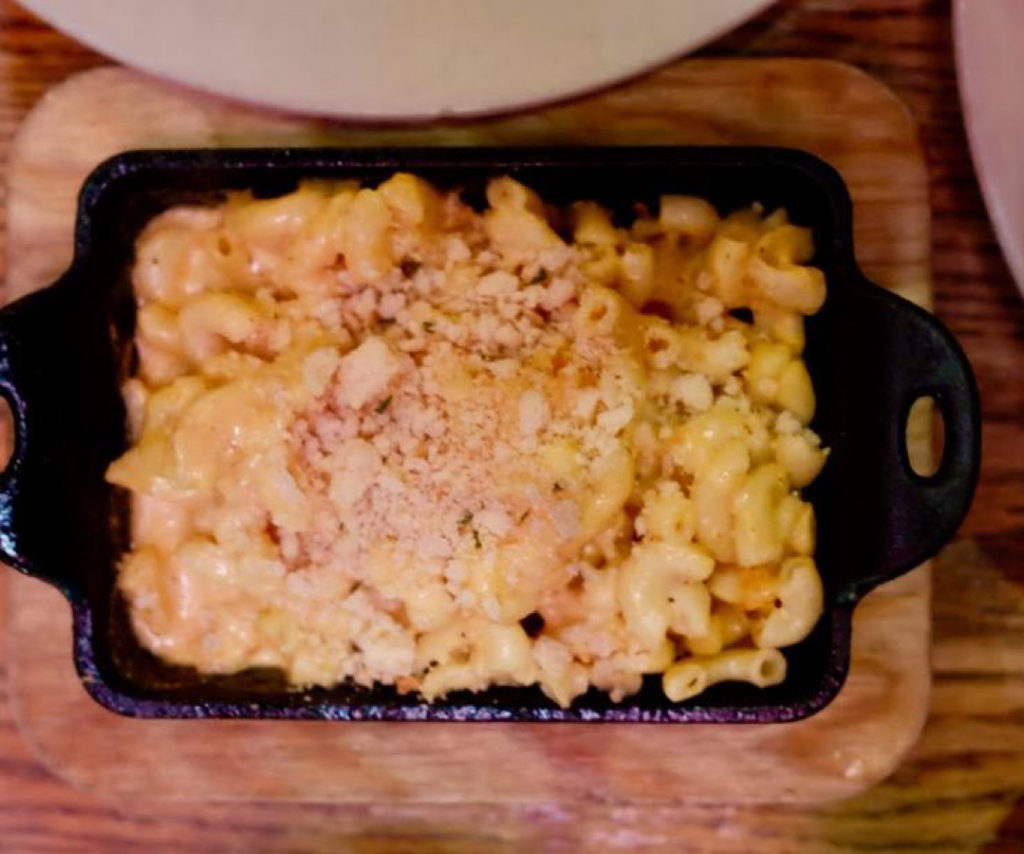 And we ended our meal there with the deep fried brownie sundae, made with cookie dough and a fried brownie topped with vanilla ice cream, toasted pecans, and chocolate and caramel sauces (it also typically comes with candied bacon, but they kindly removed that for us).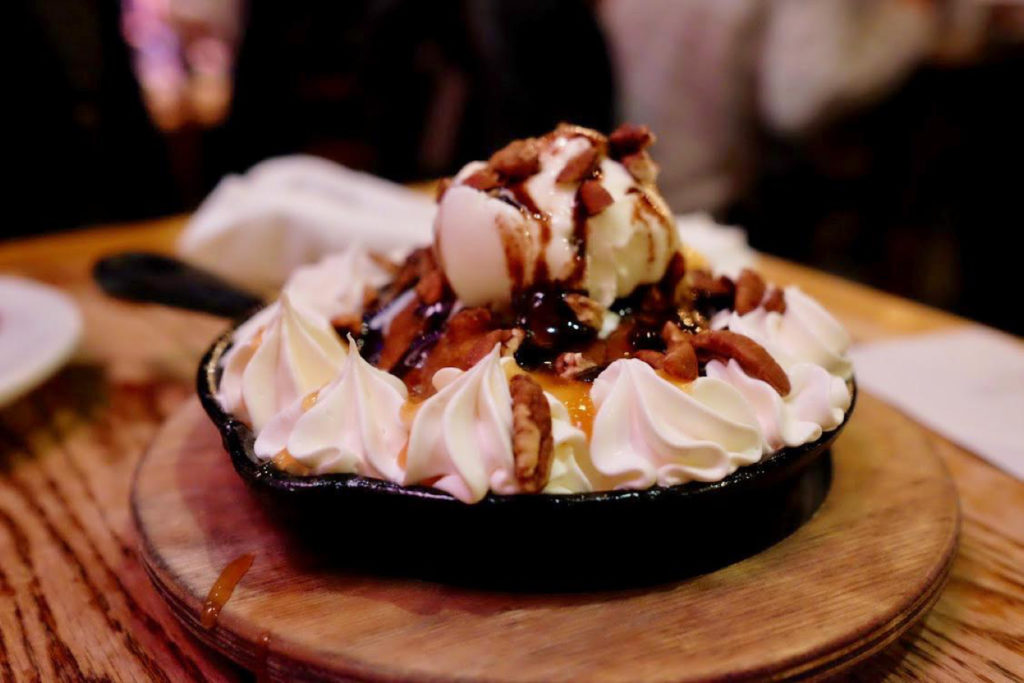 Another great restaurant we discovered downtown is Jack's Bar-B-Que, which is a simple, popular place right near all the bars.  We tried a variety of things there – for Cyril, a combo plate of smoked chicken, smoked Texas sausage, and Texas beef brisket, plus coleslaw, mac and cheese, and mashed potatoes and gravy; and for Miriam, a veggie plate of corn, mashed potatoes, and mac and cheese.  We also each got some of Jack's homemade bread, plus slices of chocolate fudge and chess pie.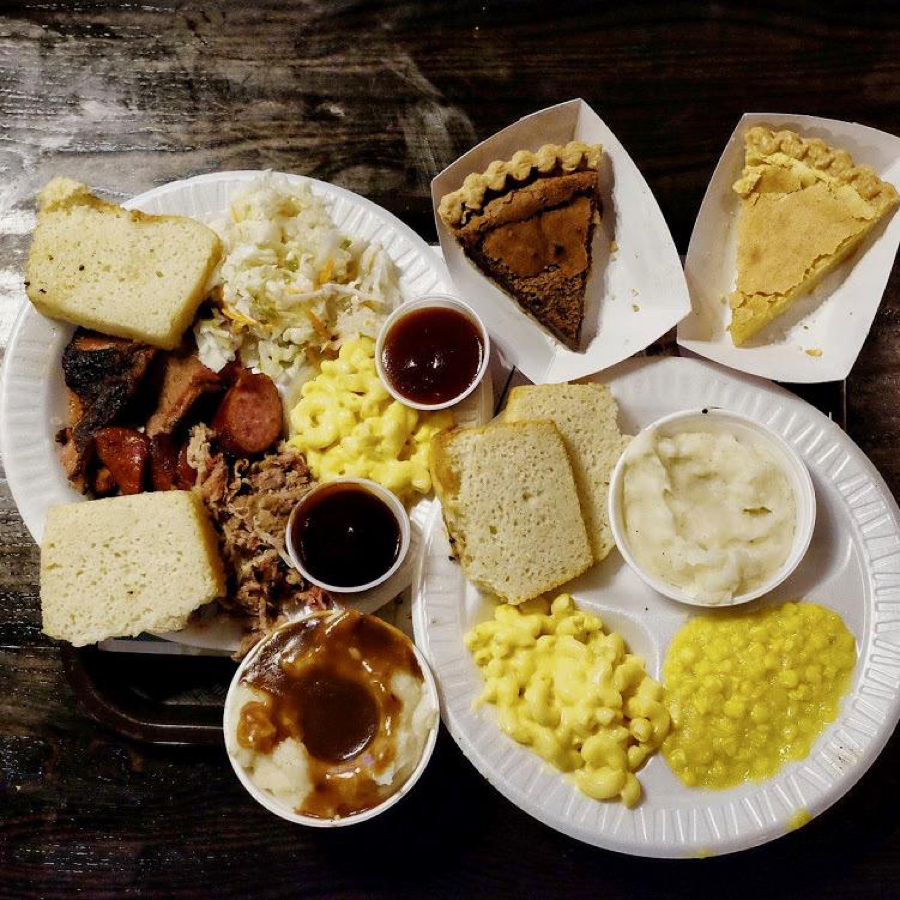 Nashville also has some great breakfast spots that people (like us) will spend hours on line for.  One such place is Biscuit Love, which has one restaurant in Nashville's Gulch neighborhood and two others around the state.  There Cyril had the egg plate with one scrambled egg, one fried egg, grits, and bacon, while Miriam got the vegetarian grits, topped with kale and tomato gravy, plus a biscuit on the side.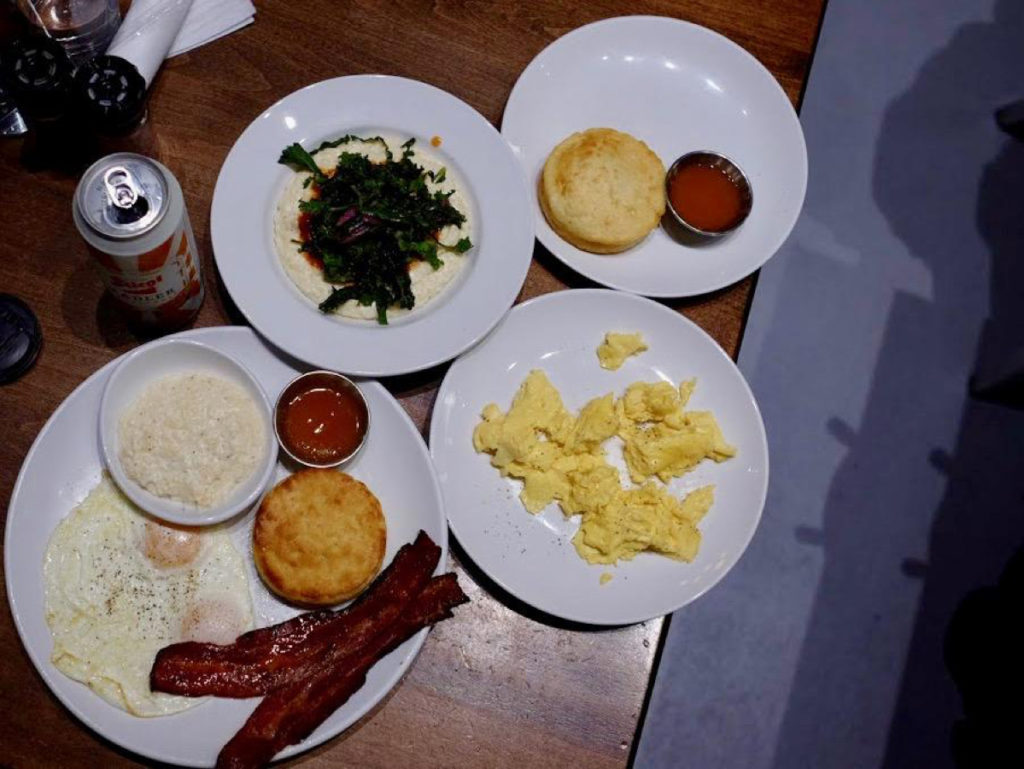 We also enjoyed Pancake Pantry, which is right near Vanderbilt's campus and, as you might imagine, serves some great and imaginative pancake variations.  There Miriam had the Santa Fe cornmeal pancakes (in the top right corner here), which are cooked with cheddar cheese and green chiles in the batter (they left out the bacon that's also usually in the pancakes) and which you're supposed to eat topped with salsa, sour cream, and syrup – and if you think that sounds weird, trust us that it's actually pretty good.  Cyril's breakfast was a half order of the sweet potato pancakes (in front) and a half order of the pecan pancakes (in the middle), plus some fried eggs and hashbrowns.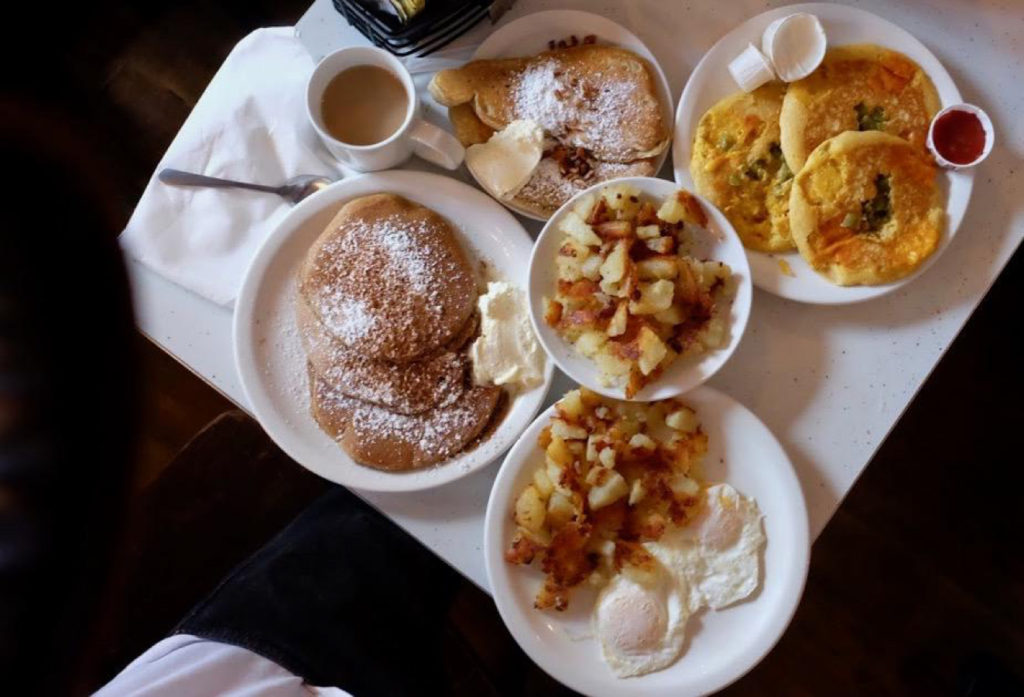 One of the foods Nashville is most known for is its hot chicken, which is fried chicken that's been coated in a cayenne pepper sauce.  The city's most famous place for hot chicken is Hattie B's, which is so popular that it usually has a line out the door.  Cyril tried two versions of the hot chicken there:  here's the sandwich, in the "Damn Hot!!" heat level …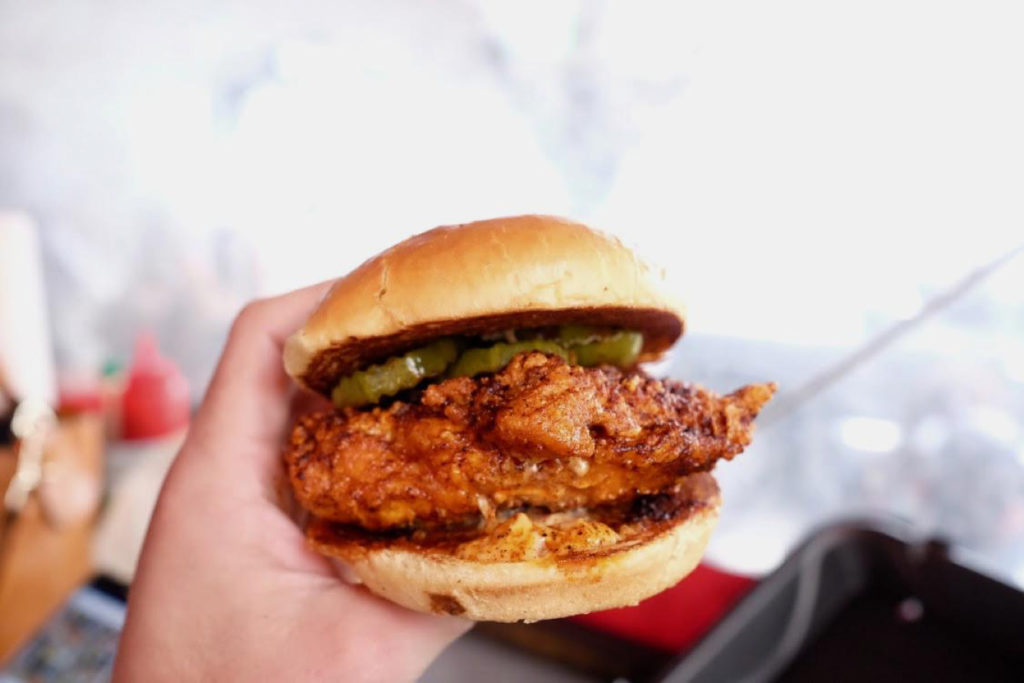 … and here's a wing in "Shut the Cluck Up!!!", the hottest level that Hattie B's will serve its chicken.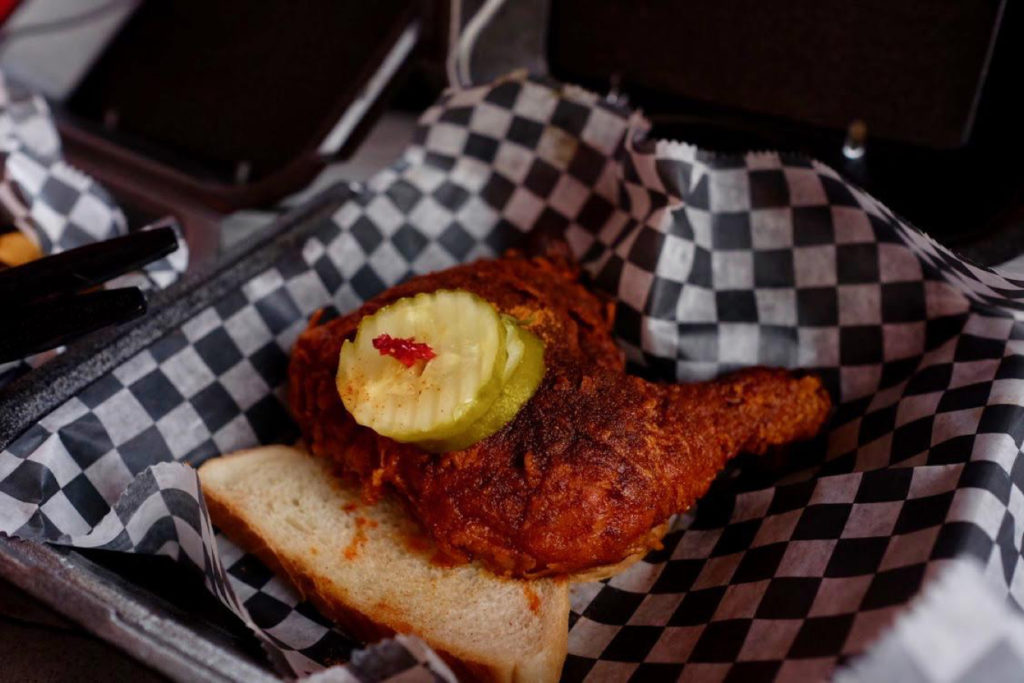 Miriam, meanwhile, chowed down on two sides:  the pimento mac and cheese and the black eyed pea salad.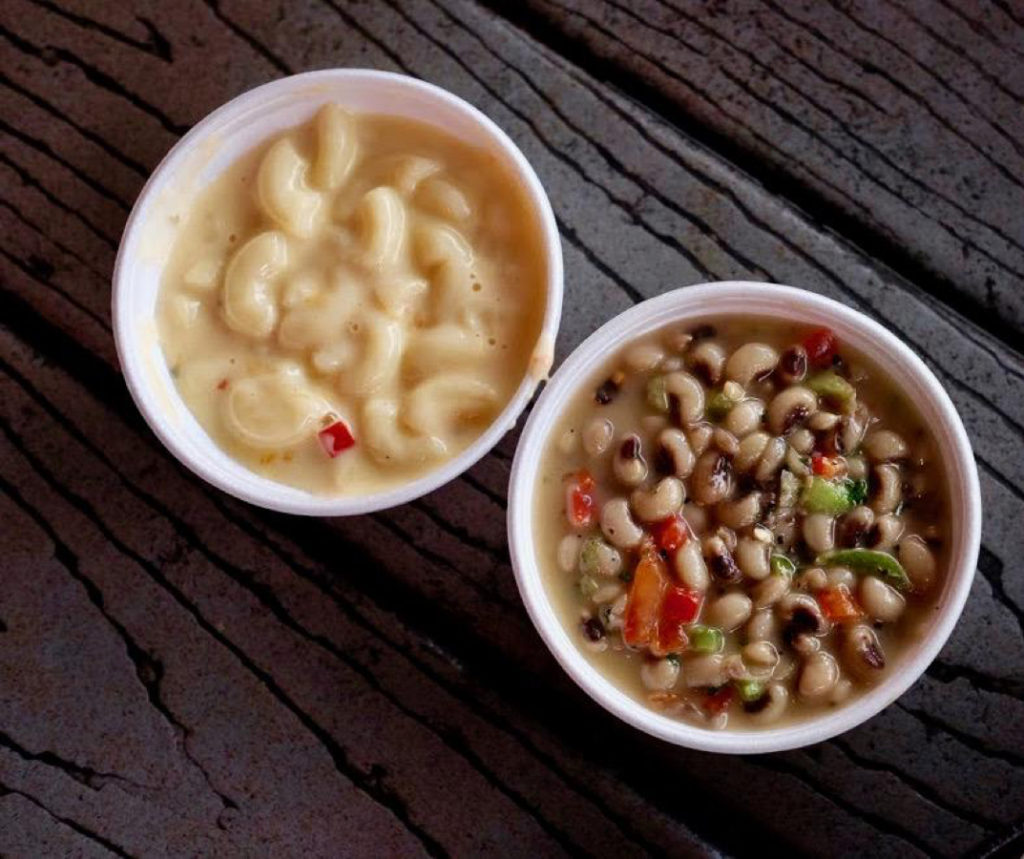 Finally, if you're starting to feel disappointed that Nashville doesn't seem to have a lot of vegetarian-friendly food, never fear – we hunted down a great vegan restaurant called The Southern V in the city's Buchanan neighborhood.  Miriam was over the moon to discover that they serve up their own meatless hot chicken, which was absolutely delicious and nicely spicy.  We split it with sides of baked beans, turnip greens, and vegan mac and cheese.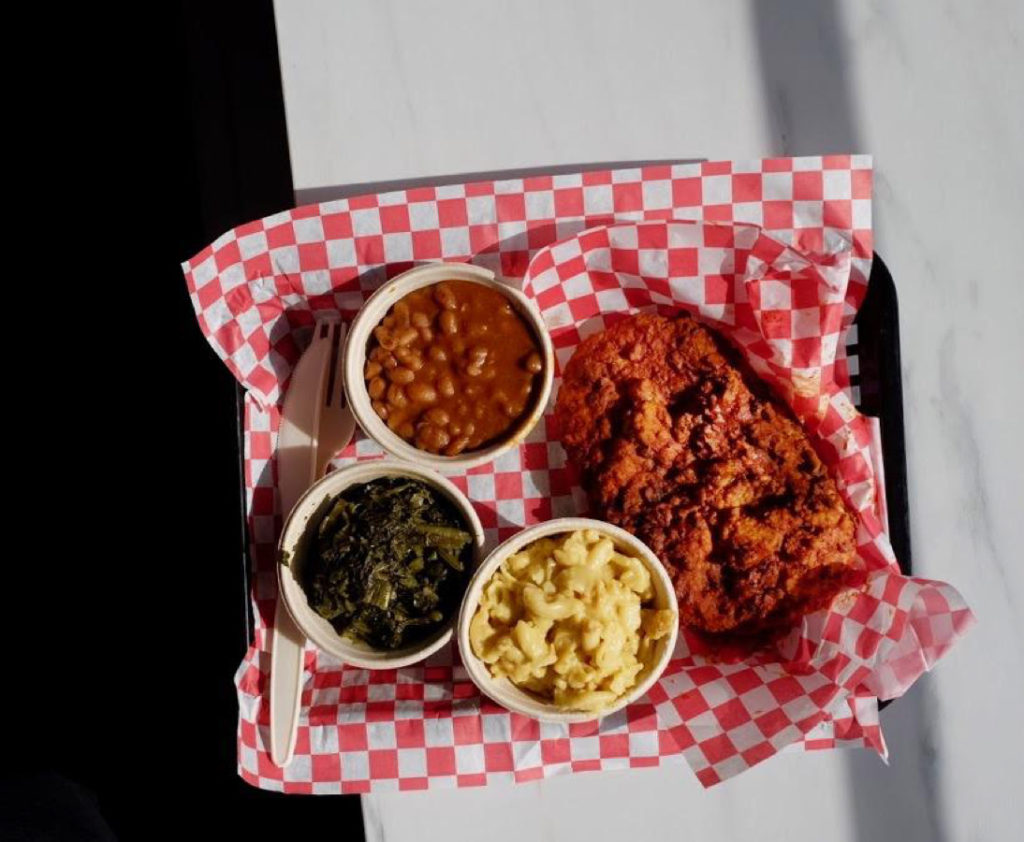 As you might imagine, this was a weekend of a lot of food.  There's plenty of meat to go around in Nashville, but we were also really glad to find a vegan spot that had a tasty vegetarian version of the hot chicken that Miriam so desperately wanted to try.  Nashville's breakfast scene was also pretty great, even if you do have to spend a lot of time in line for some pancakes and biscuits.  Overall, if you're headed to the city and you're vegetarian, be prepared to eat off the sides menu at a lot of places, but also know that there's some spots that will cater to your meatless ways.