This year for Thanksgiving we went to Cyril's sisters house, so we got to relax and not cook.  However, Cyril's birthday was just a few days before the holiday, so we decided to make a seasonal cake to celebrate.  We had found this recipe from the New York Times a few days before and decided to try it out – and it was a feat, believe us.  It took several hours, plus lots of ingredients and equipment to make this cake, but just take a look at it.  It was awesome!  The pumpkin, the spices, the rich frosting, and the caramel all came together as a delicious and decadent dessert.  If you're feeling up for a challenge and you've got a free day, let us walk you through how we made this.
You'll need:
Flour
Baking powder
Baking soda
Sugar
7 sticks of butter
Cinnamon
Ground cardamom
Nutmeg
Allspice
7 eggs
A 29-ounce can of pumpkin puree
Heavy cream
Vanilla extract
First you can get started making the cake:  place 2 sticks of butter, 1 3/4 cup of sugar, a tablespoon of cinnamon, 1 1/2 teaspoons of cardamom, 1/4 teaspoon of nutmeg, and 1/4 teaspoon of allspice in the bowl of a stand mixer.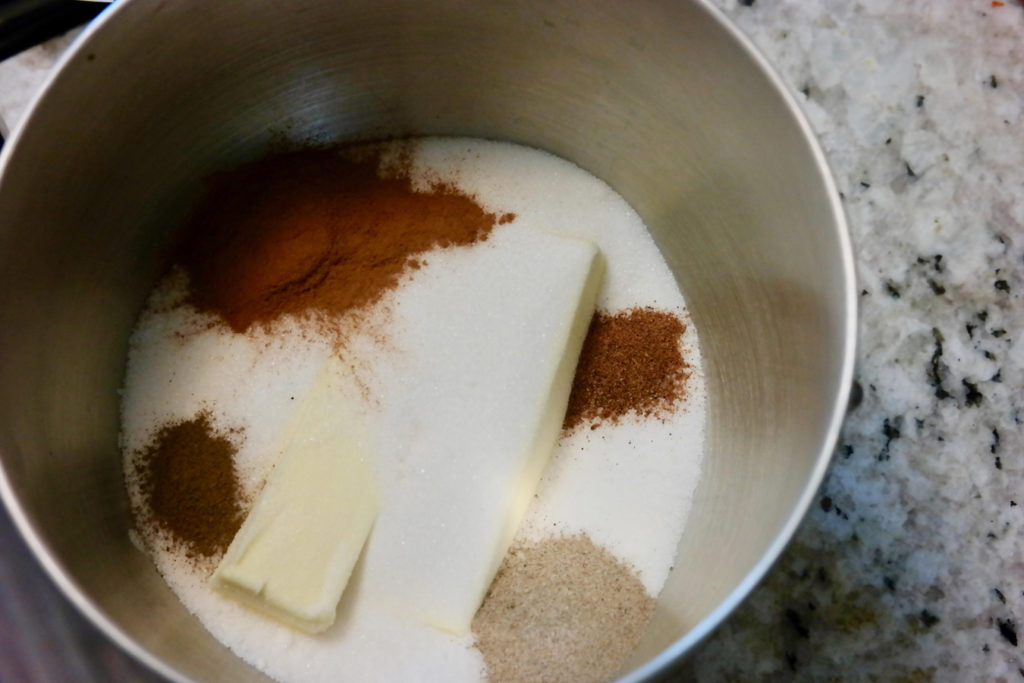 Use a paddle attachment to beat everything together at a medium-high speed until you've got a fluffy mixture.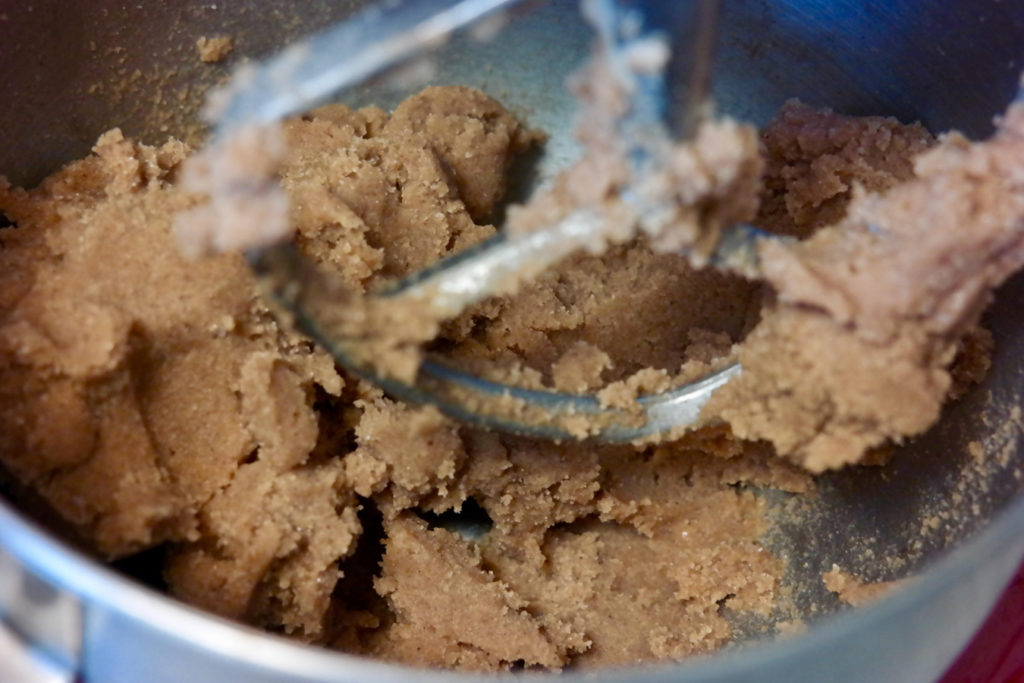 Then add in 3 eggs, one at a time, plus 2 teaspoons of vanilla and 2 1/2 cups of pumpkin puree (which should be most, but not all, of your can).  Mix everything together well.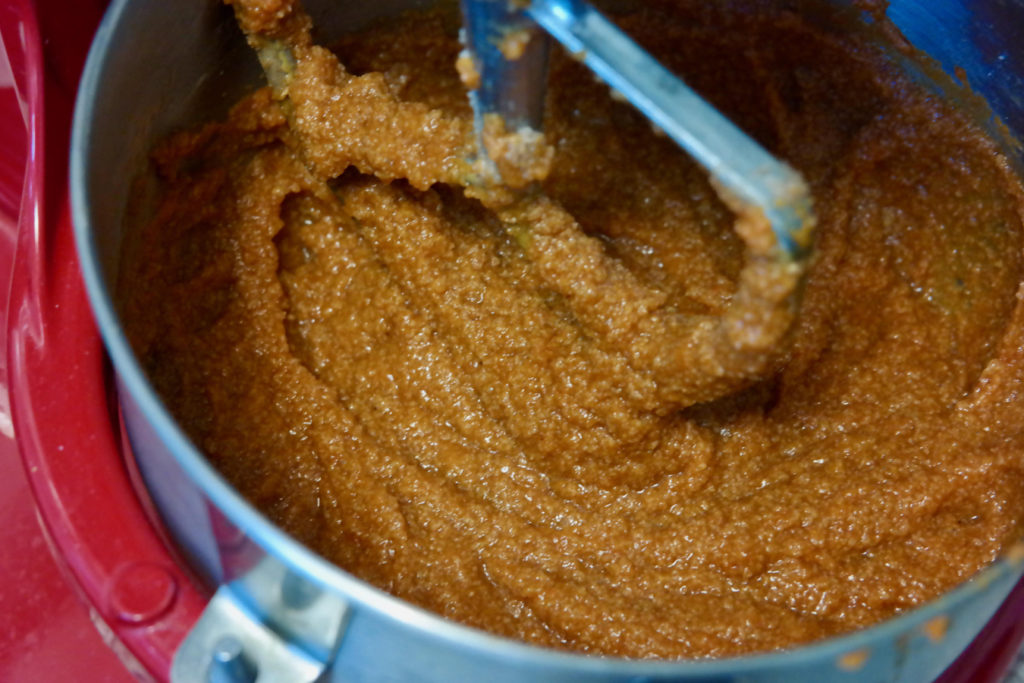 In a separate bowl, stir together 2 1/2 cups of flour, 1 1/2 teaspoons of baking soda, and 1 1/2 teaspoons of baking powder, then pour these ingredients into your pumpkin mix and beat at a low speed until everything is mostly combined.  Take the bowl off the mixer and use a spatula to finish stirring the batter.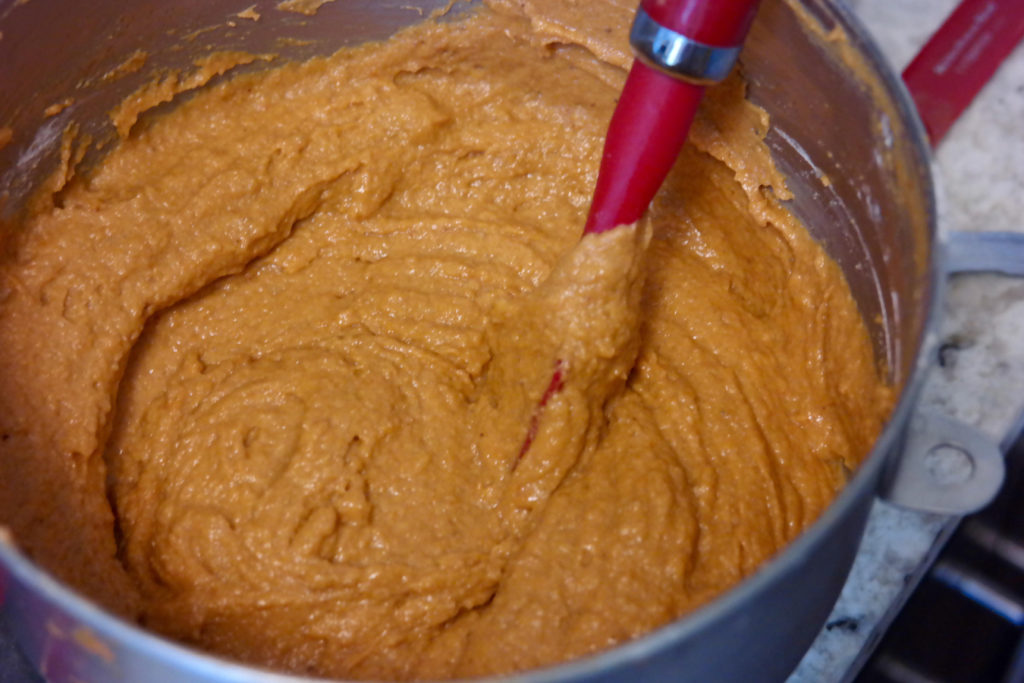 Now take 3 cake pans and line them with parchment paper, then spray them with cooking spray.  Divide the batter between the pans and bake at 350°F for 25 minutes, until you can insert a toothpick into the center of each and it comes out clean.  Set the pans aside to cool once they comes out of the oven.
While the cakes are cooking, you can make your caramel sauce:  pour 3 tablespoons of water and a cup of sugar into a wide, deep saucepan set over medium-high heat.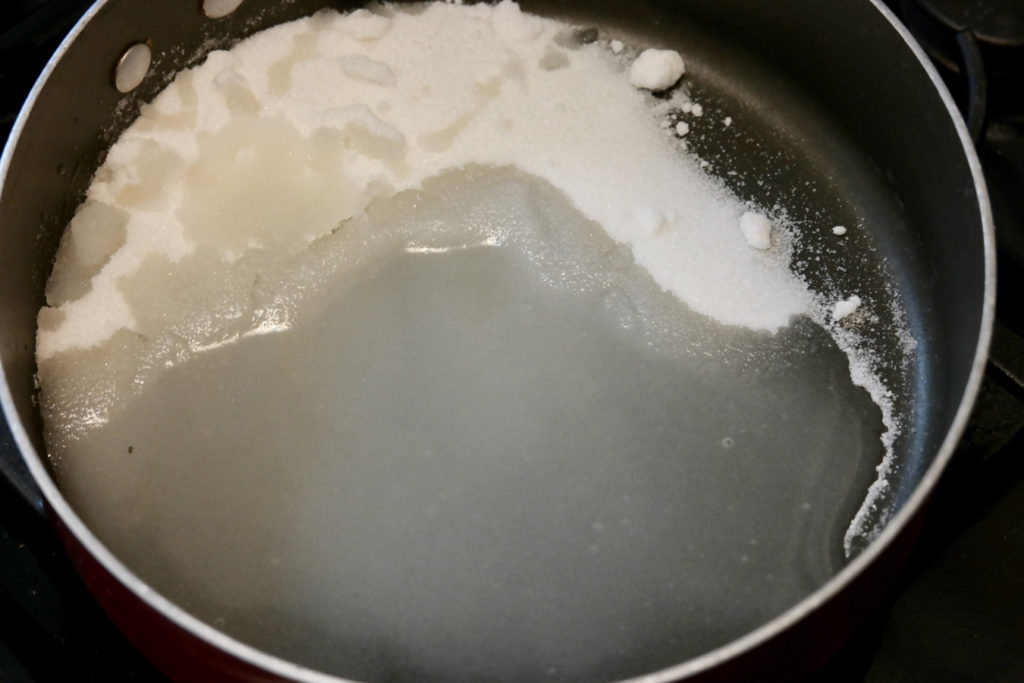 Swirl the pan to combine the water and sugar, and keep swirling it every so often as this mixture cooks.  It will begin to bubble …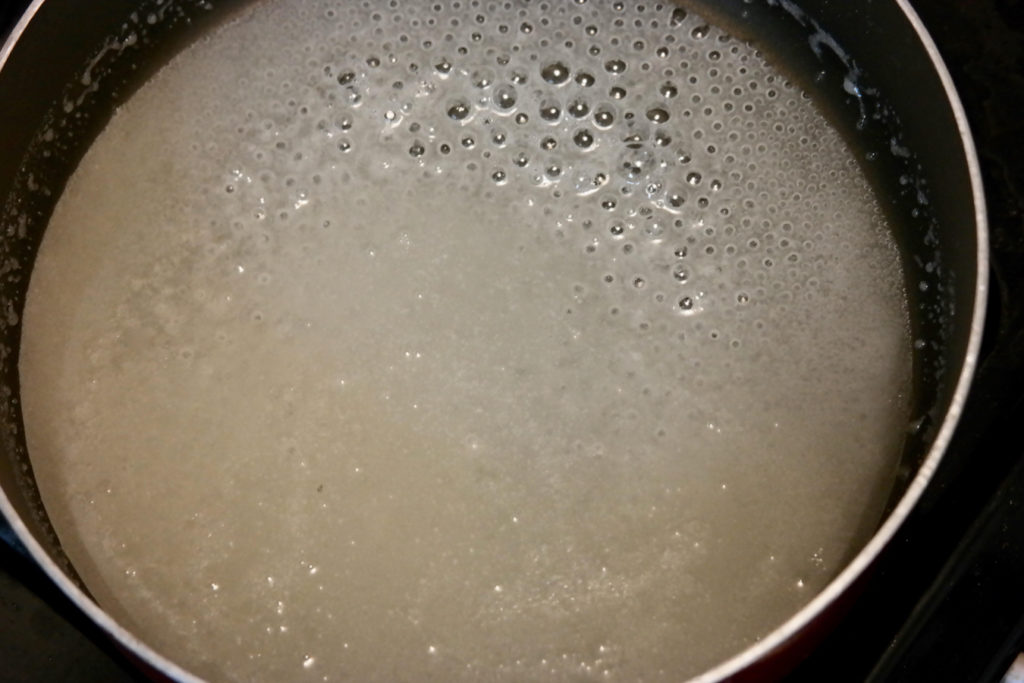 … then boil …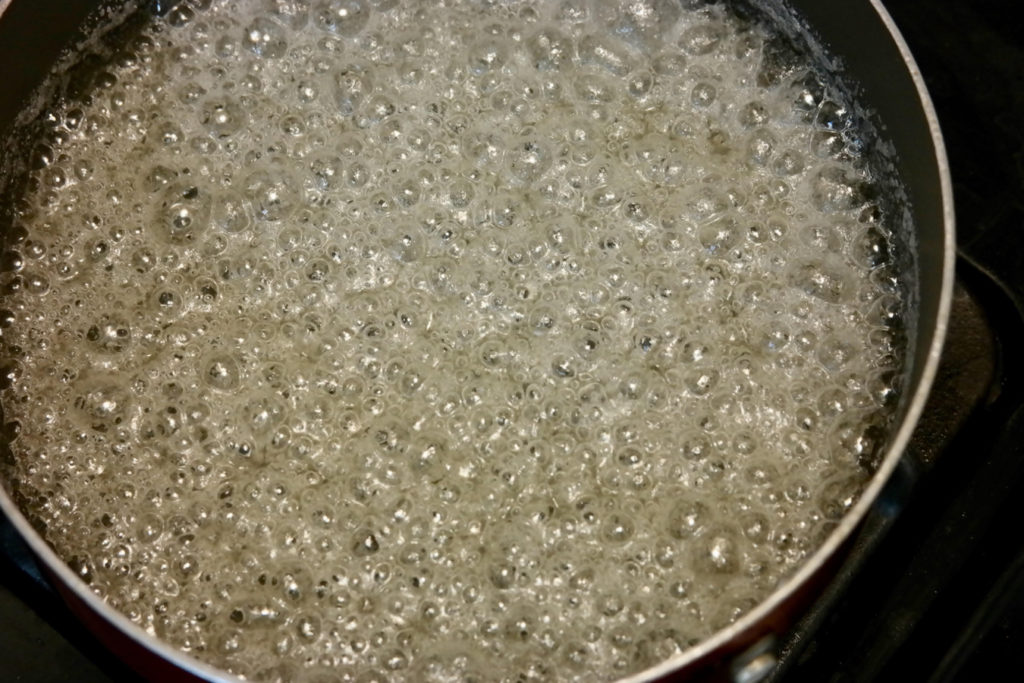 … then you'll need to watch it carefully, because once it turns a deep yellow/light brown, you'll need to take it off the heat immediately.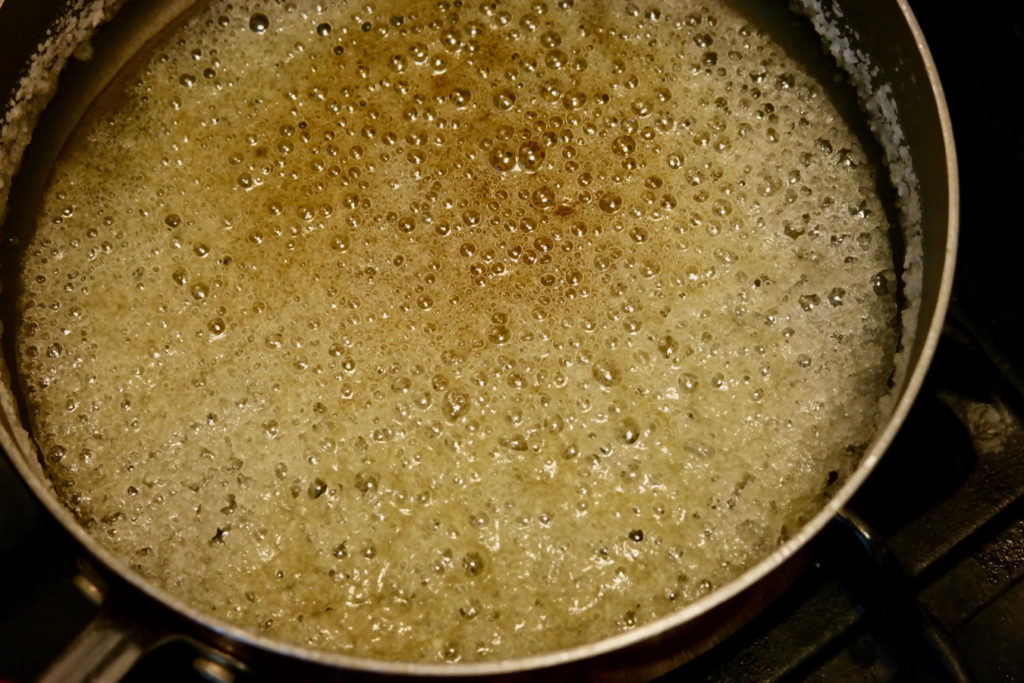 Then whisk in 3/4 cup heavy cream, 2 teaspoons of vanilla, 2 tablespoons of butter, and a pinch of salt.  Mix everything together until you have a smooth sauce, then set that aside.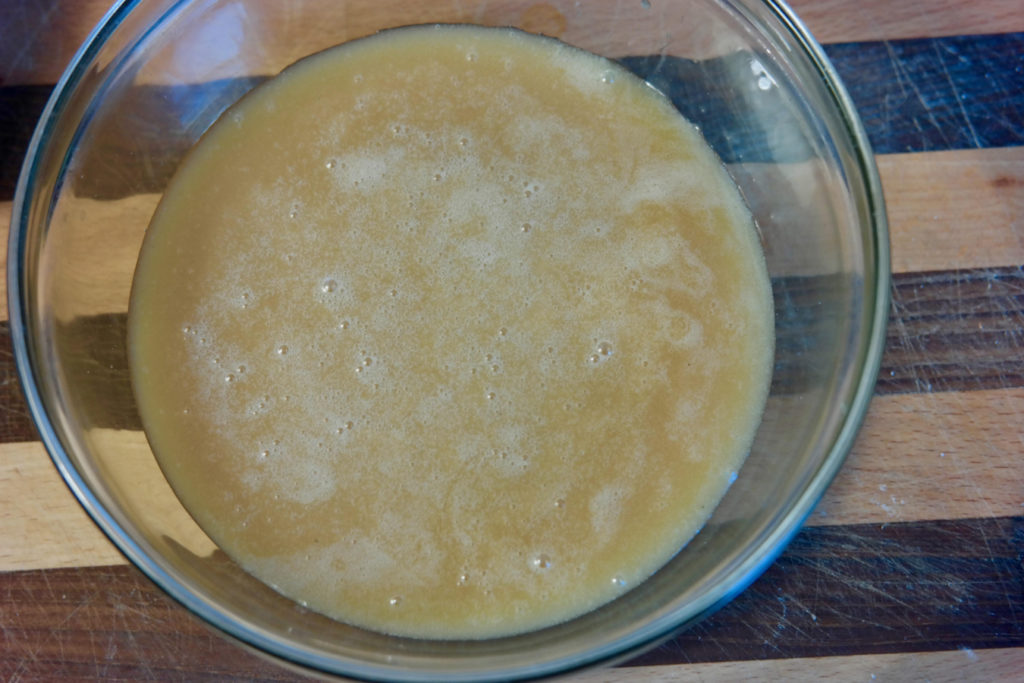 Now it's time to make the frosting:  pour 4 egg whites and a cup of sugar into the (now cleaned) bowl of your stand mixer, and set this bowl over a small pot of boiling water.  Whisk the egg whites and sugar together until you have a smooth mixture, then put the bowl back on the stand mixer with a whisk attached.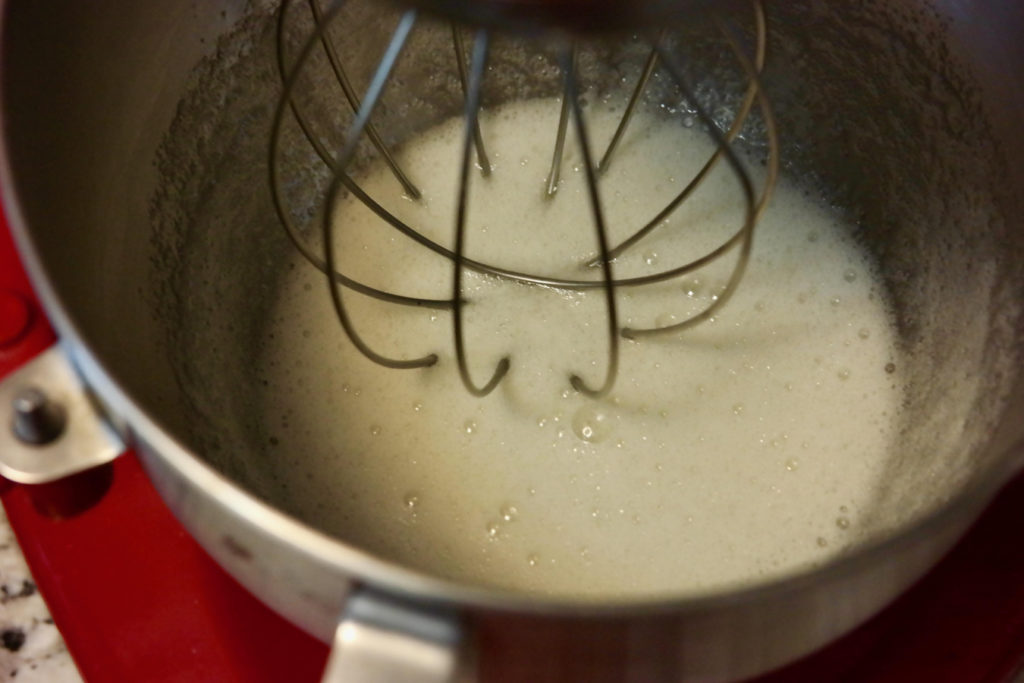 Beat this for about 10 minutes until you have a smooth mixture that can stand up on its own.  Meanwhile, take 4 sticks of butter and cut them into tablespoon-sized pieces.  Hook the paddle attachment to your mixer, then add each butter piece one by one and beat everything together until you have a light, whipped concoction.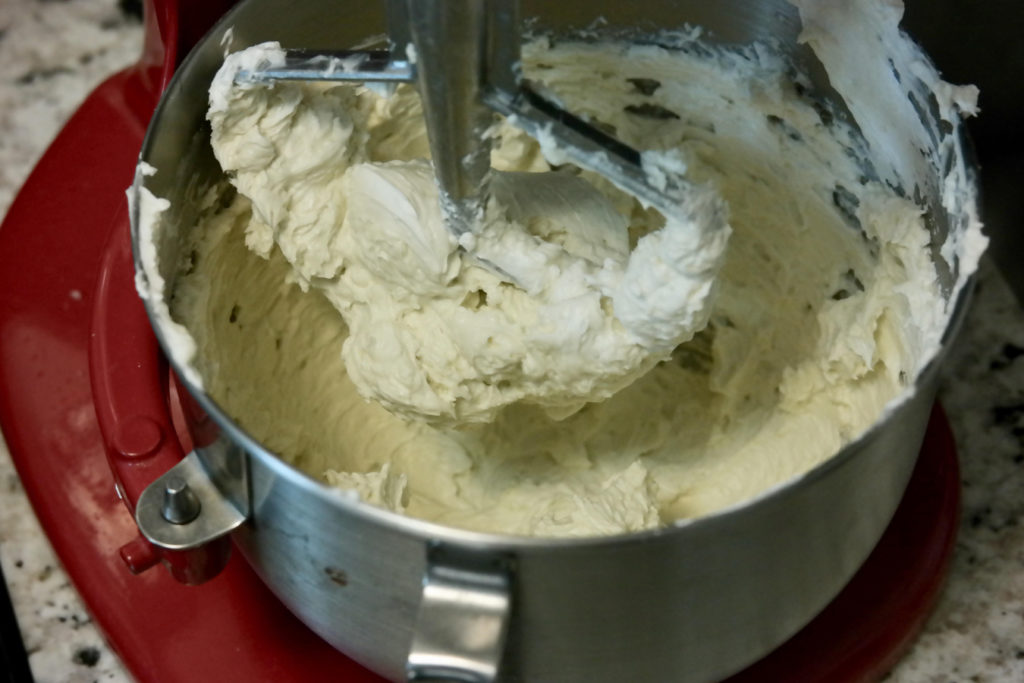 Pour in 1/2 cup of the caramel and use a spoon to stir it in until you have an even, fluffy frosting.
Now to put it all together, take one layer of cake and spread some frosting on top.  Smooth some of the remaining caramel on top of that, but don't push it all the way to the edges or else it will smush out of the sides.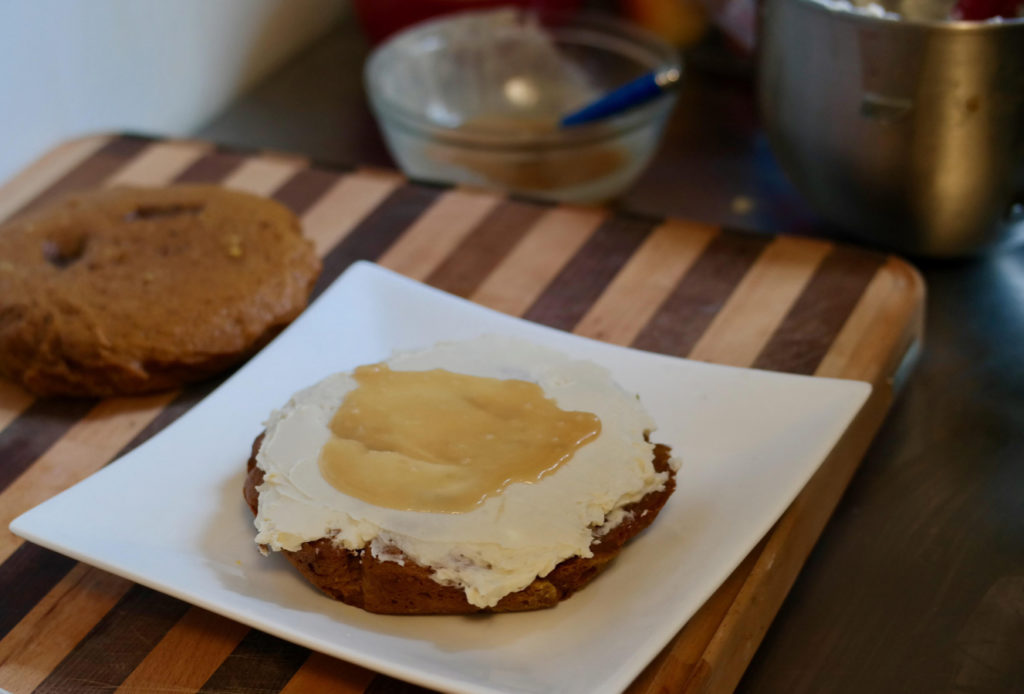 Add another layer of cake on top, then more frosting and caramel.  Place the last layer of cake on the top of that and add frosting, but no caramel.  Use a serrated knife to trim the cakes so they're even and smooth all the way around.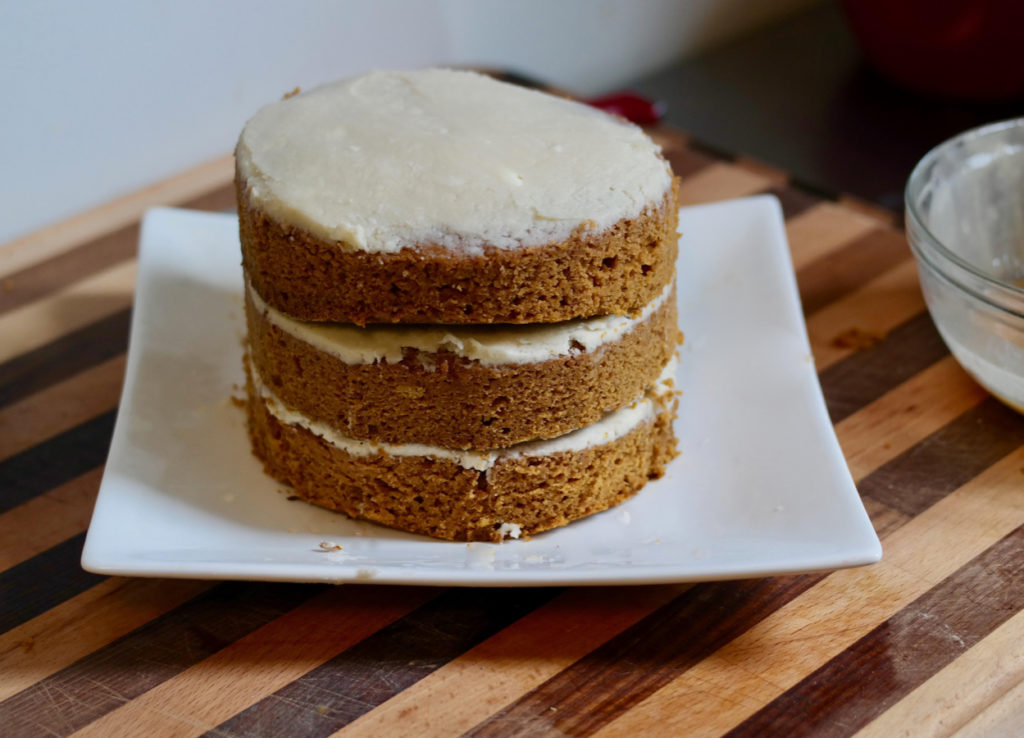 Then gently frost the entire outside of the cake.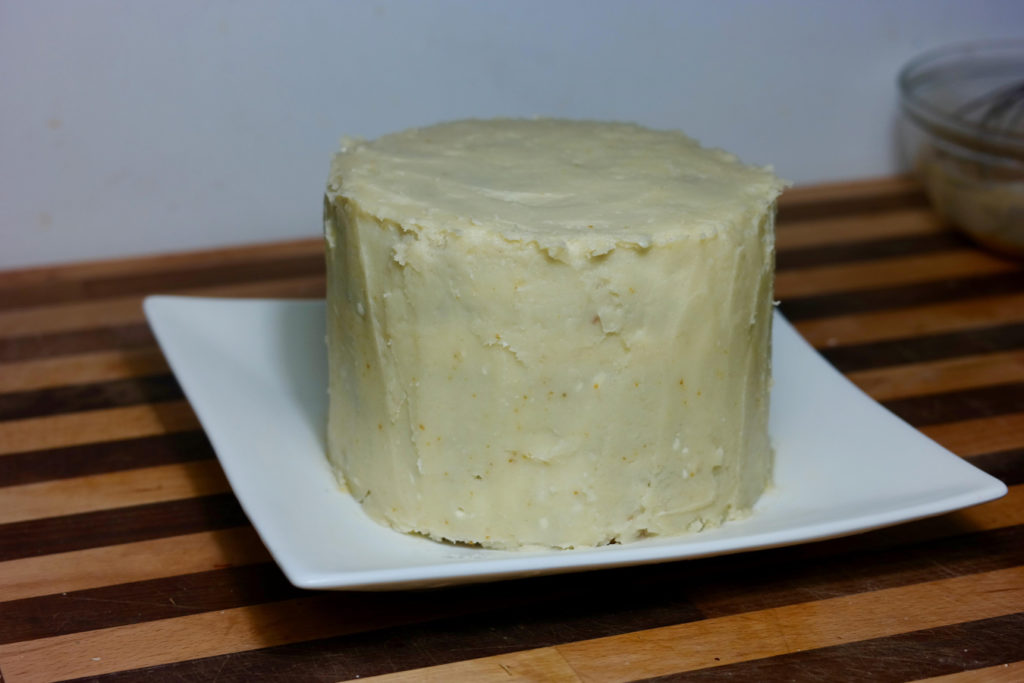 Now you can cut slice of your cake and serve it with extra caramel on top.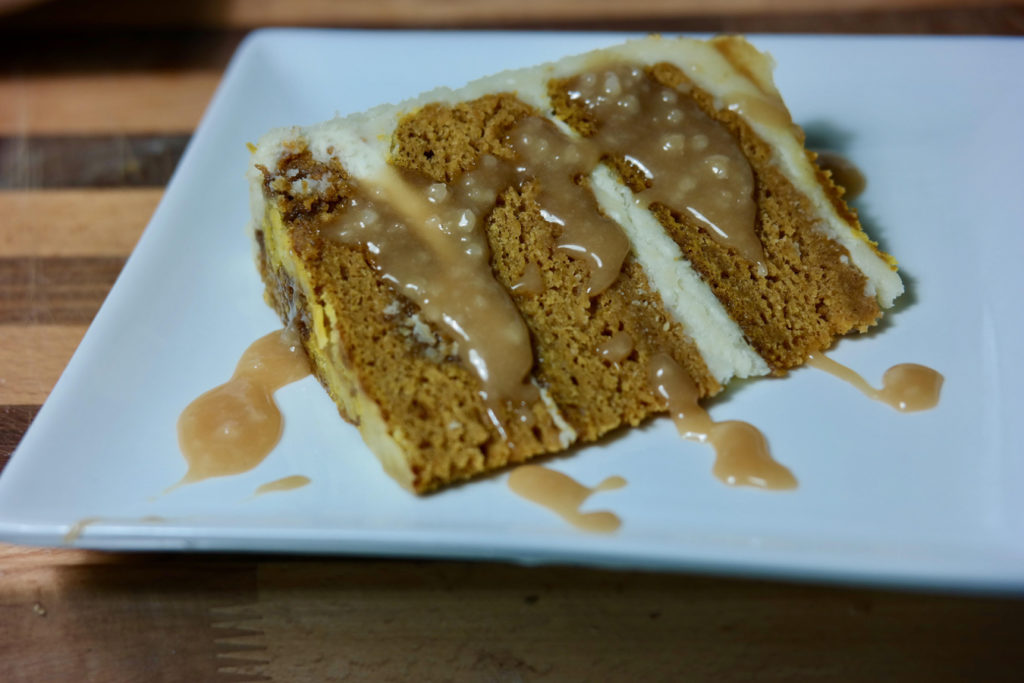 As you can see, this took a TON of work and resulted in a sink full of dishes.  But also – it was delicious!  The cake itself had some great pumpkin and spice flavors, the frosting was incredibly rich (what with all that butter), and the caramel brought it together nicely.  Plus, that cake looks pretty darn impressive, and you can brag that you made it all from scratch.  To paraphrase Cookie Monster, this is a "sometimes recipe" – not something you would make every day, but definitely a fun and tasty dessert to whip up for a special occasion this time of year.