It's a weird time of year right now, food-wise – we've just got done with Thanksgiving and all the cooking that holiday entails and now we're rapidly approaching Christmas, which means baking cookies and planning for another family meal.  If you and your waistline need a break from all that extravagant food, have we got a recipe for you!  This pasta (based on something we found in the New York Times) is quick, simple, veggie-filled, and most importantly very tasty.  It's something you can whip up easily and feel good about having – and if you're looking to eat vegan, you can just leave out one ingredient and you've got yourself a meatless, dairy-free meal.
To make this, you'll need:
Garlic
Vinegar
Olive oil
Red pepper flakes
2 or 3 bell peppers of different colors
A package of cherry tomatoes
A pound of pasta
Feta cheese (leave this off for vegan pasta)
Bread crumbs
Basil
Start by boiling water for your pasta, and while it's cooking you can prep your vegetables:  slice all of your cherry tomatoes in half, dice up your peppers, and use a garlic press to crush 2 garlic cloves.  Mix all of this together in a large bowl with 2 tablespoons of vinegar, 3 tablespoons of olive oil, and some red pepper flakes.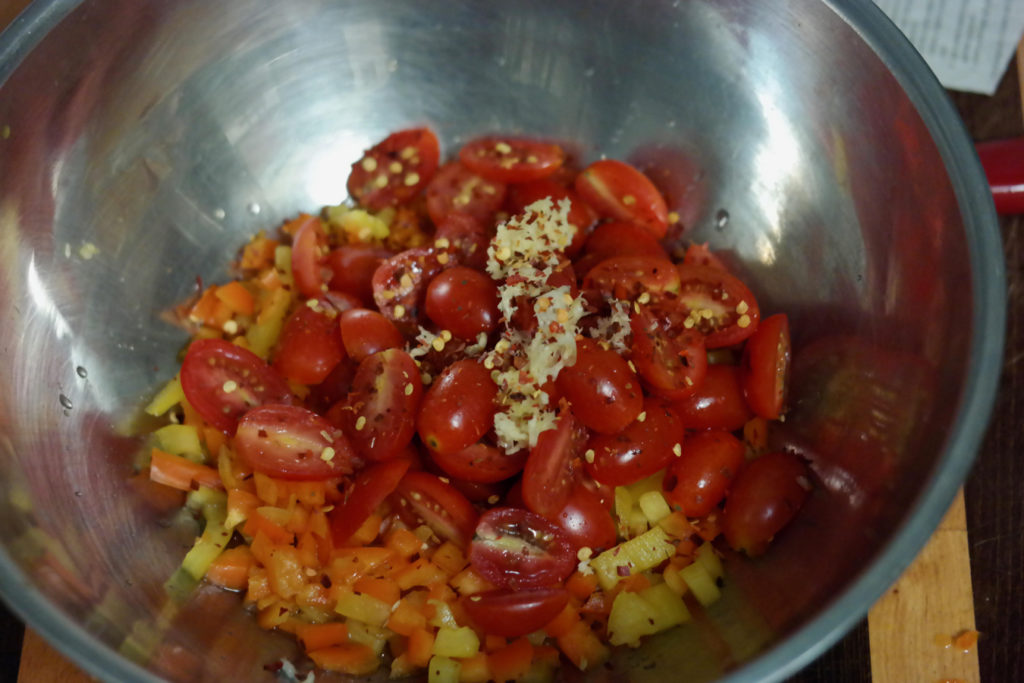 Once the pasta is done, add it to the bowl as well and stir to combine it with the veggies.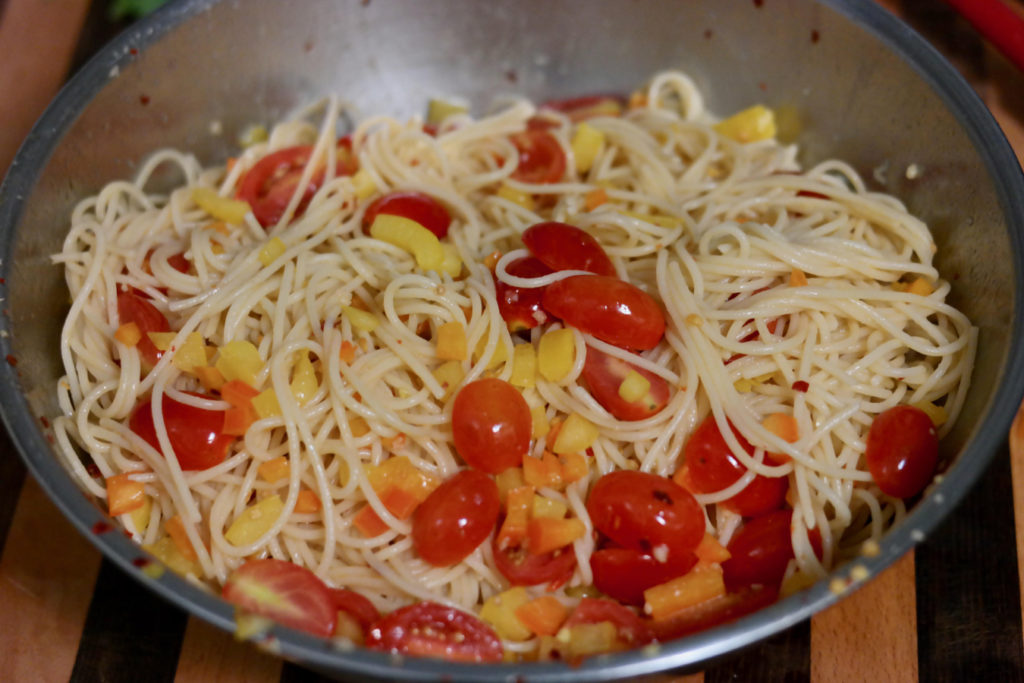 Then add in 1/4 cup of bread crumbs, some crumbled feta (if you're using it), and basil leaves and mix these ingredients in as well.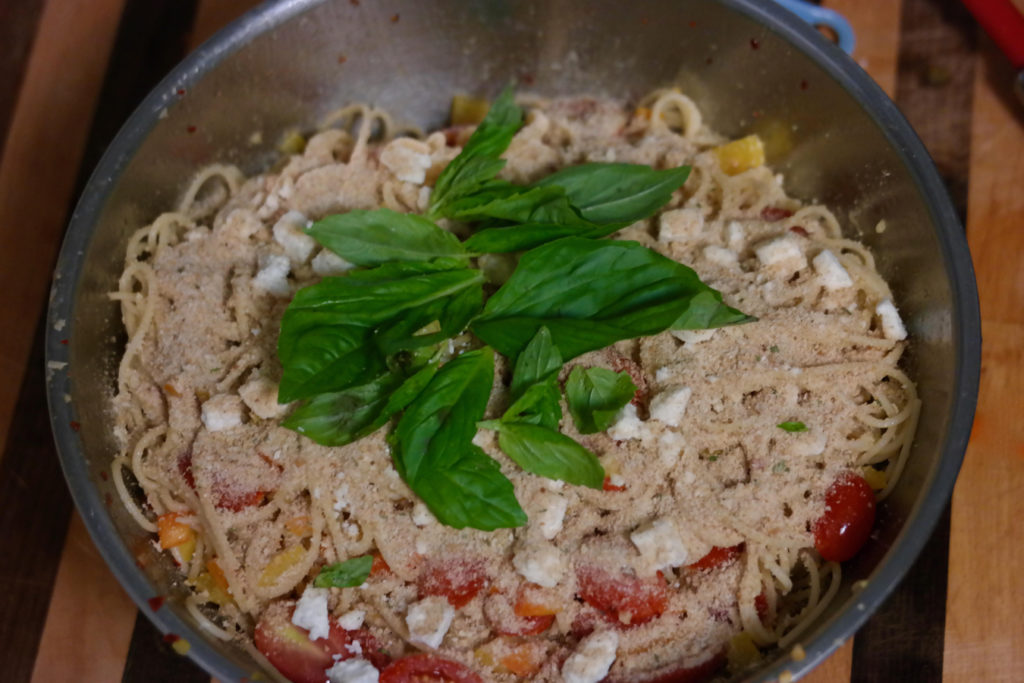 And that's it – now your pasta is ready to serve!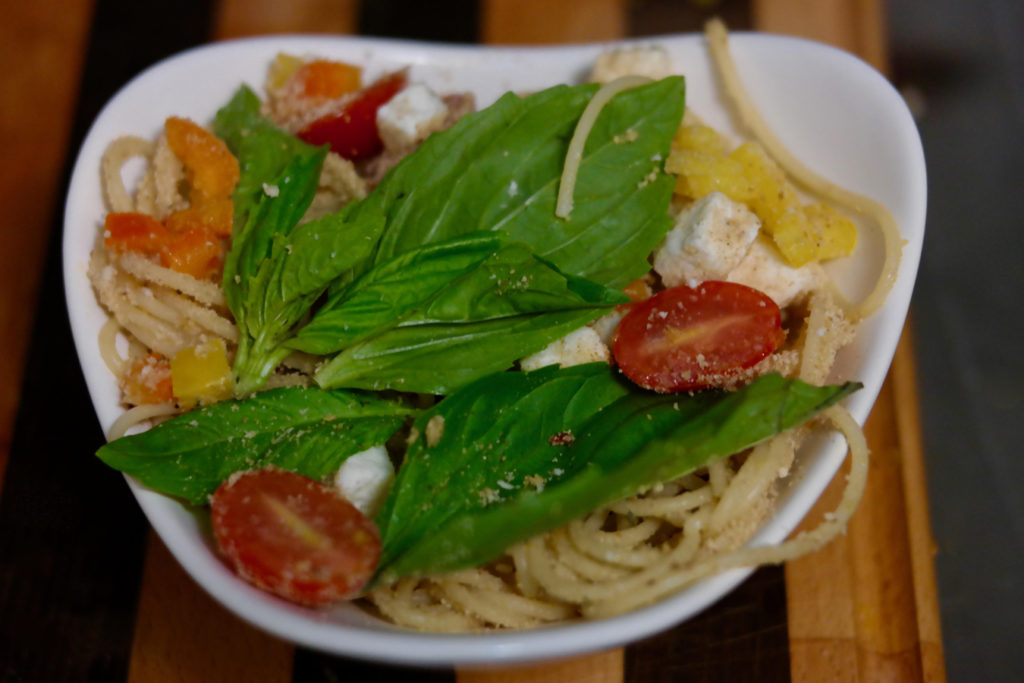 This was super simple to throw together:  it took less than 20 minutes from start to finish, and the result was a great comfort food with lots of flavors.  Letting the vegetables marinate in olive oil and vinegar really brings out their flavors, and the feta and breadcrumbs add some creaminess and texture that pairs nicely with everything.  If you're craving pasta and you want to try something new but you're having a day where you just don't have a ton of energy to cook, this meal is just for you.