Although it's not winter yet, at least according to the calendar, we've already had some bitterly cold days so it's officially soup weather!  As such, we've been keeping our eyes peeled for some great vegetarian soups, and we found one in this recipe from the New York Times.  What makes it unique is that it uses chuños, a variety of freeze-dried potato that's grown in the mountains of South America.  You'll probably have to order chuños online, plus this soup does take some time to make because there's a lot of vegetables to be chopped and diced, but we thought it was worth it to make this interesting take on your classic vegetable soup.  So if you need to warm up and you don't mind putting in a little bit of work, let us show you how to make this delicious and veggie packed meal.
You'll need:
Chuños (we ordered some from Amazon)
An onion
Garlic
Celery
Carrots
Ginger
3 large potatoes
A butternut squash
Mint
Oregano
Tarragon
Parsley
Cilantro
Basil
A 5-ounce piece of feta cheese
Spinach
A lime
3 hot chiles
Peanut butter
Start the day before you plan to eat your soup by taking 8 chuños and soaking them in a bowl full of water overnight.  The next day, drain them, place them in a small pot filled with boiling water, and let them simmer for 20-30 minutes.  Drain them once they're softened and set them aside.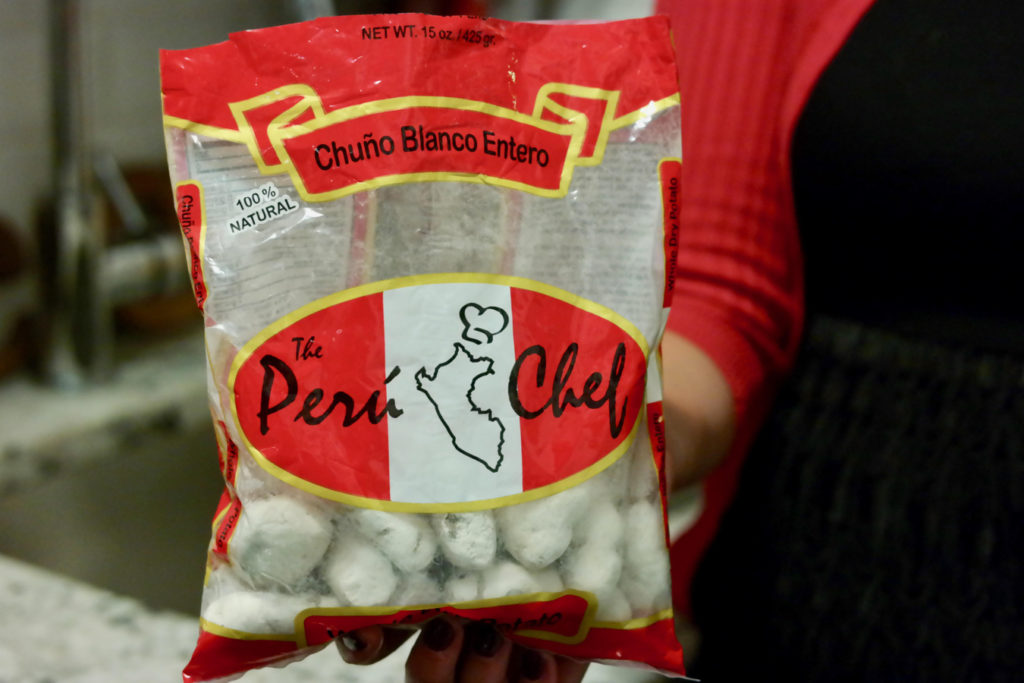 While the chuños are cooking you can do all the veggie prep work:  chop your onion; chop 7 cloves of garlic; dice up a stalk of celery; dice 2 carrots; peel and chop a small piece of ginger; peel and cut up your potatoes; peel and cut up about half of your butternut squash; and chop up your chiles.  Now move on to the herbs and tear off 1 1/4 cup of mint leaves, 1/2 cup of oregano leaves, 1/2 cup of tarragon leaves, 1 1/4 cup of parsley leaves, 2 1/4 cup of cilantro leaves, and 1/4 cup of basil leaves.  Finally, boil 9 cups of water and dissolve in 9 Massel 7's bouillon cubes to make a broth.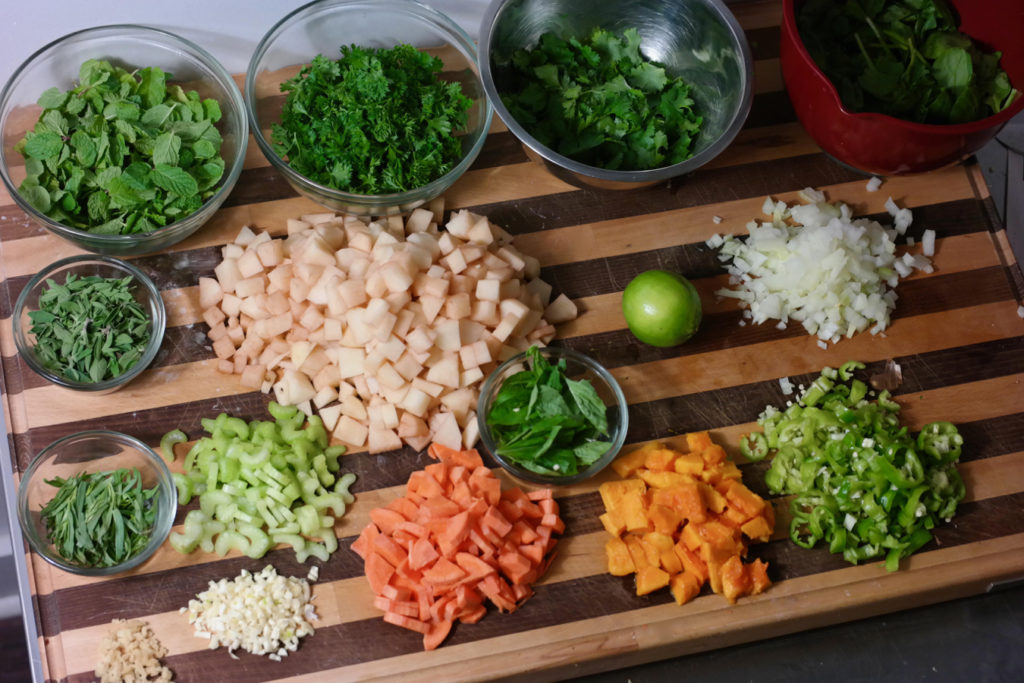 Now measure out a few tablespoons of olive oil into a large stock pot set over medium-high heat.  Place your onion and garlic in and cook for about 3 minutes.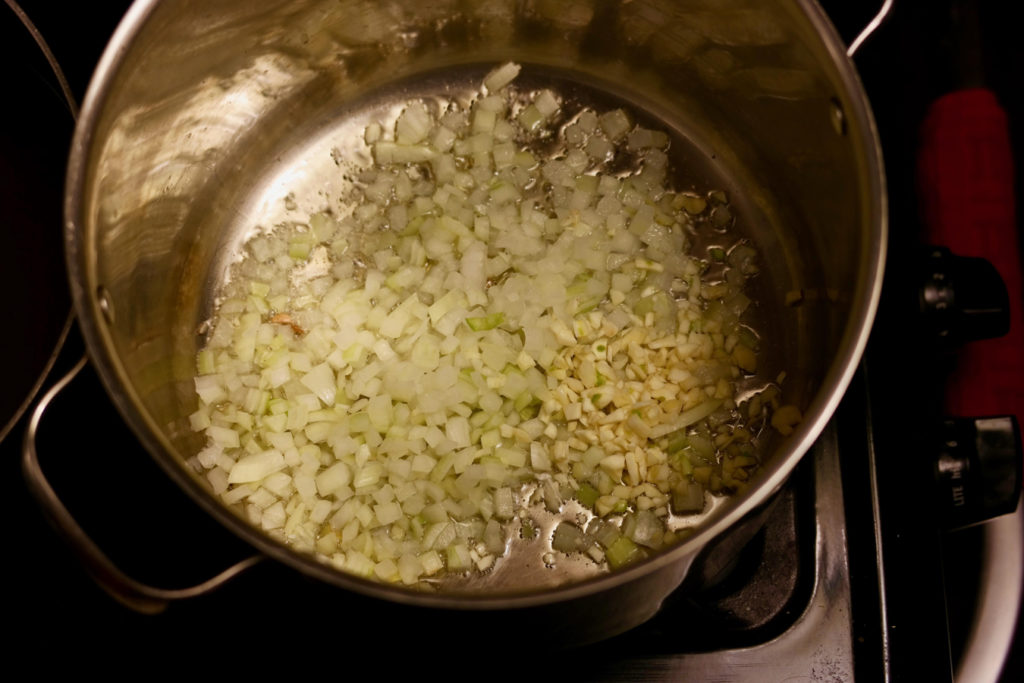 Add the celery and carrots and cook for 3 more minutes.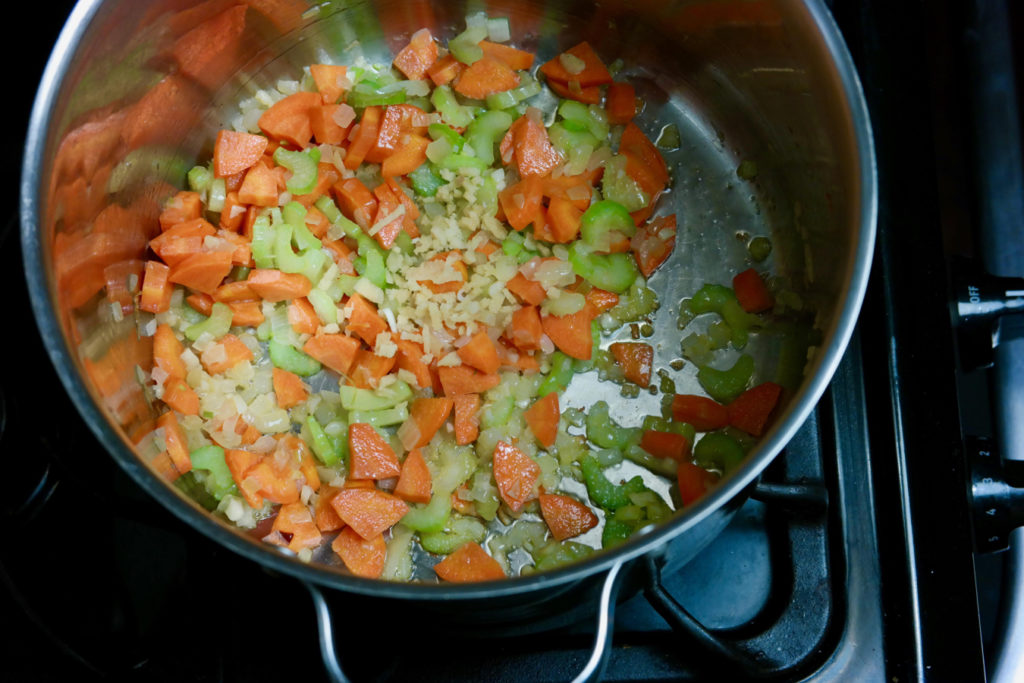 Next pour in your broth and then mix in your ginger, potatoes, and squash, along with your basil and 1/4 cup each of mint, oregano, tarragon, parsley, and cilantro.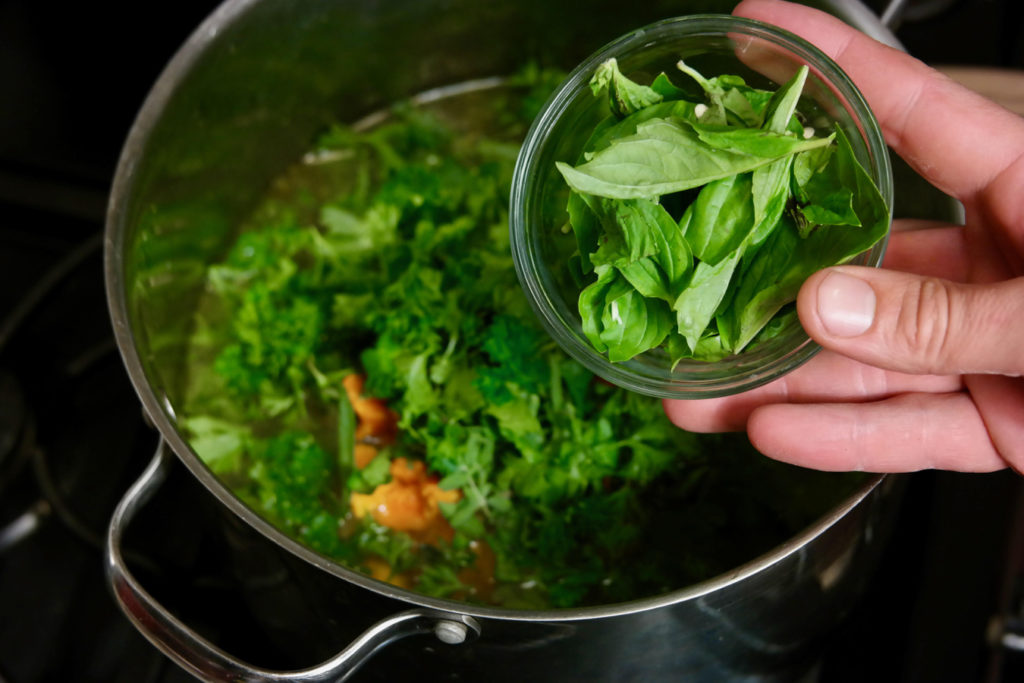 Then chop up your chuños and pour those in as well …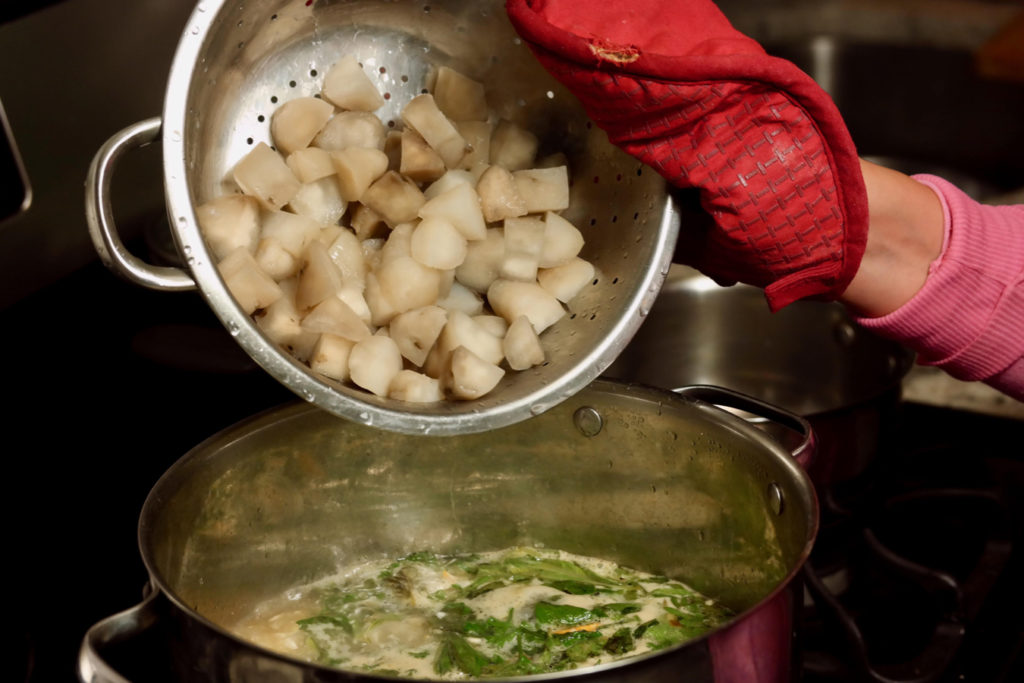 … and crumble up about half of your feta and place that in the pot.  Bring everything to a boil and then turn the heat to low and let the soup simmer for 30-40 minutes.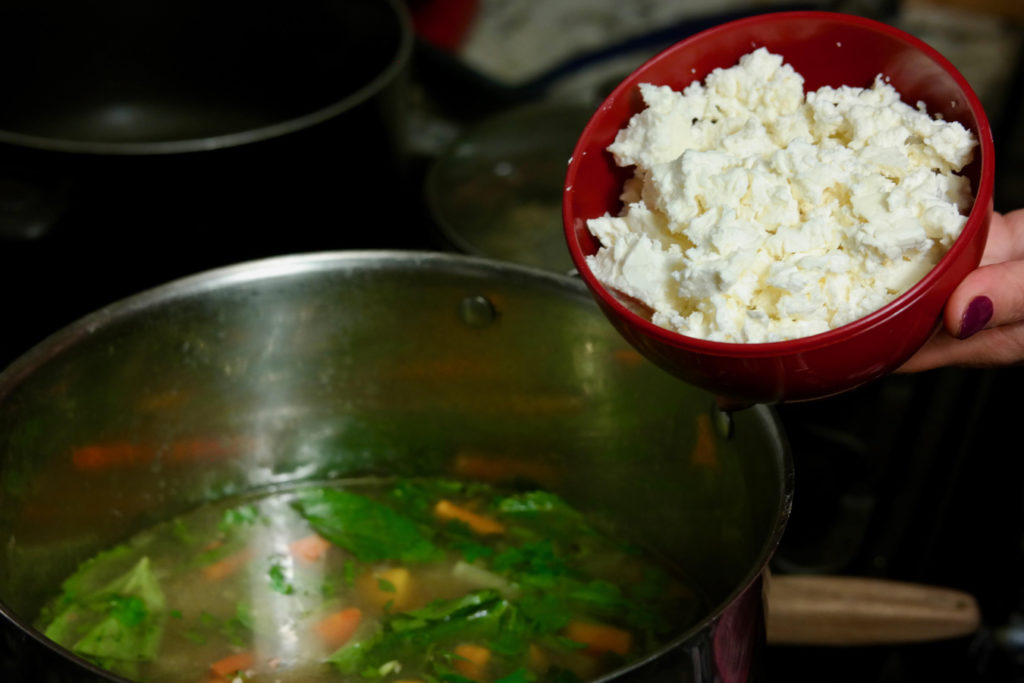 Meanwhile, make the sauce for the soup by placing your remaining parsley, cilantro, oregano, mint, and tarragon in a blender along with your chiles, the rest of your crumbled feta, and 4 tablespoons of water.  Squeeze the juice from your lime in as well and blend everything together into a nice herb-y paste, then add 2 tablespoons of peanut butter and blend again to make a smooth sauce.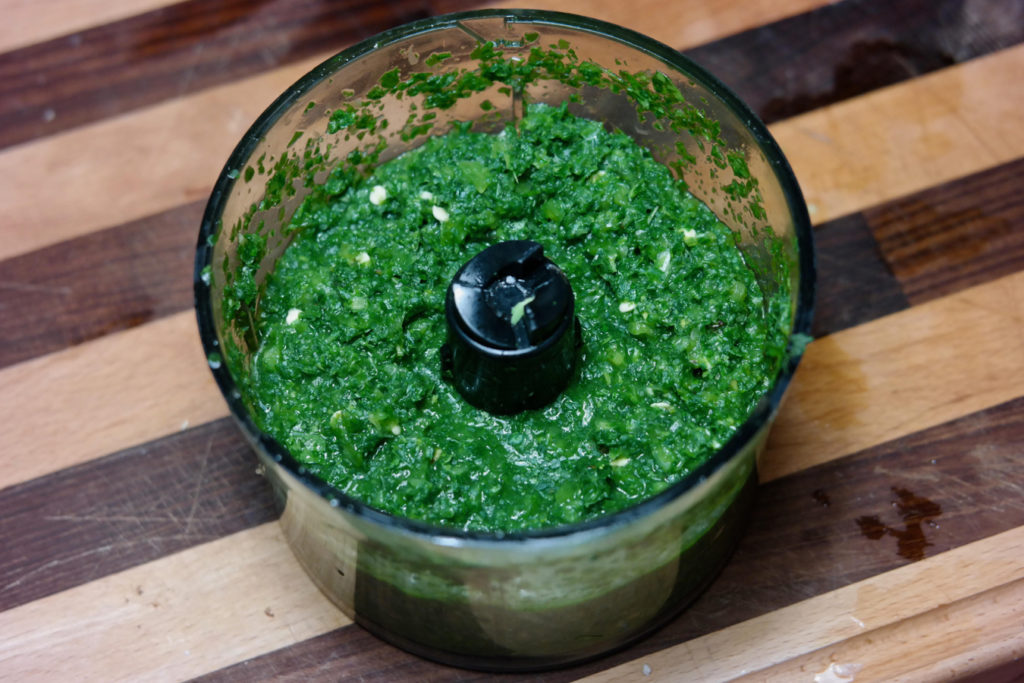 When your soup has simmered, add in about half a small bag of spinach leaves and let it cook for another 10-15 minutes, until all your veggies are tender.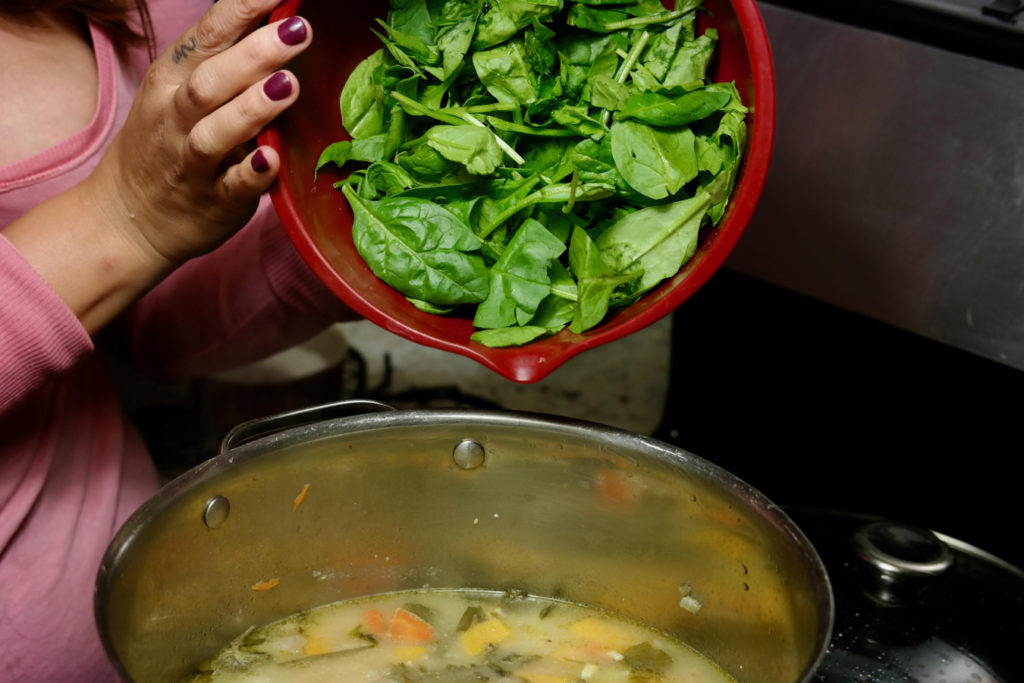 Now ladle out the soup and serve it with a few spoonfuls of sauce on top of each bowl.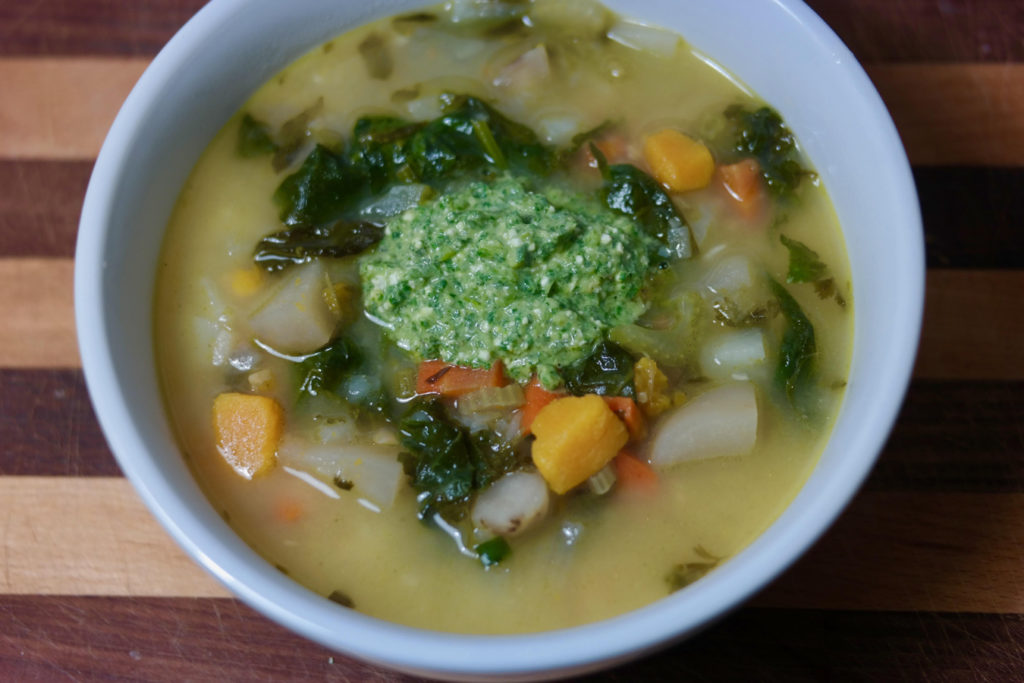 We'll be honest:  it took some effort to prepare all these vegetables and herbs.  This is not a soup you can throw together at a moment's notice, but the result is really delicious.  The chuños are an interesting ingredient – they're like a starchy cousin of regular potatoes – and they pair nicely with all the other veggies.  The many different herbs bring in some nice flavors, and it was an interesting twist to add cheese directly into the soup and cook it with everything else.  And then the sauce, with its herb-y and peanut-y flavors, added a nice touch on top.  We'd recommend taking a cold day, when you're going to be inside anyway, and trying out this unique soup – we think you'll be impressed by how good it is!