Before this year comes to a close, we decided we wanted to squeeze in one last weekend trip, and so we ended up in Atlanta.  Why there?  Because takes less than 2 hours to get to by plane, the airfare is cheap, and it's a fun city with a lot going on – including a great food scene.  We enjoyed checking out all kinds of things to eat there (even if most places aren't incredibly vegetarian-friendly), and so without further ado here's some of the food we had.  Just be warned:  there's a lot of meat going on here.
The very first place we went was J.R. Crickets, which is well-known for the wings it serves and was made very famous after being featured in the show Atlanta.  They've got a bunch of locations across Georgia and Virginia but we visited the original one downtown, which stays open until 3am on the weekends, so it was the perfect place to head to after our evening flight landed.  Cyril was in chicken heaven and chowed down on triple order – that's 30 wings – split into 3 different flavors:  the dirty bird, the lemon pepper, and the lemon pepper wet (which J.R. Crickets started serving after the flavor was dreamed up in this scene by the writers of Atlanta).  Here are wings – Miriam had to content herself with munching on the fries.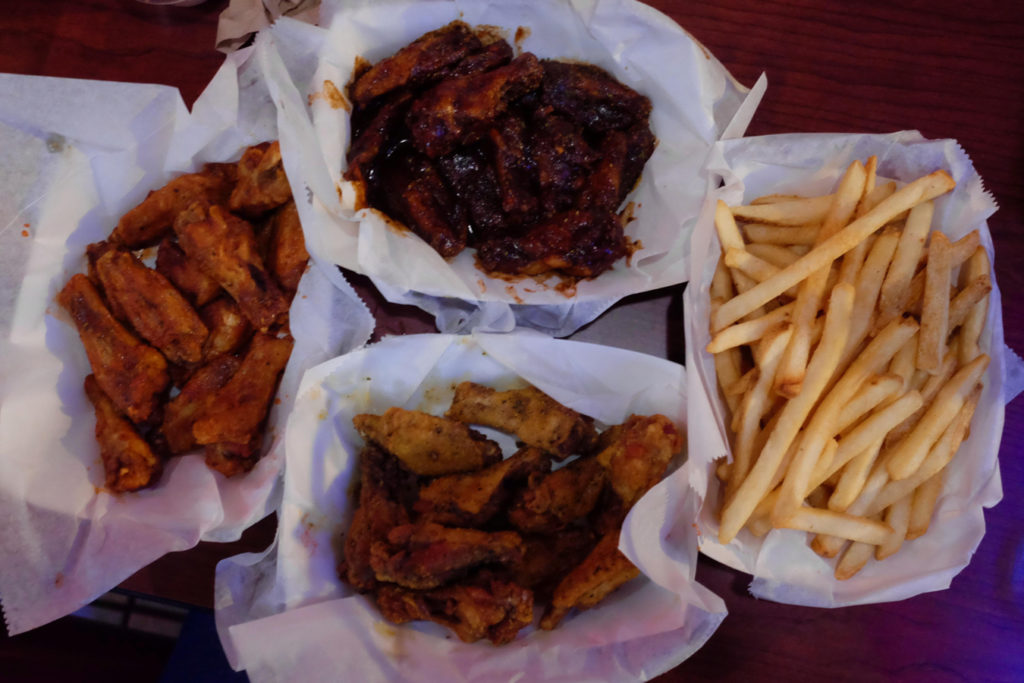 But, because the restaurant is a late-night spot, they also have some great drinks:  here's one of their fishbowls.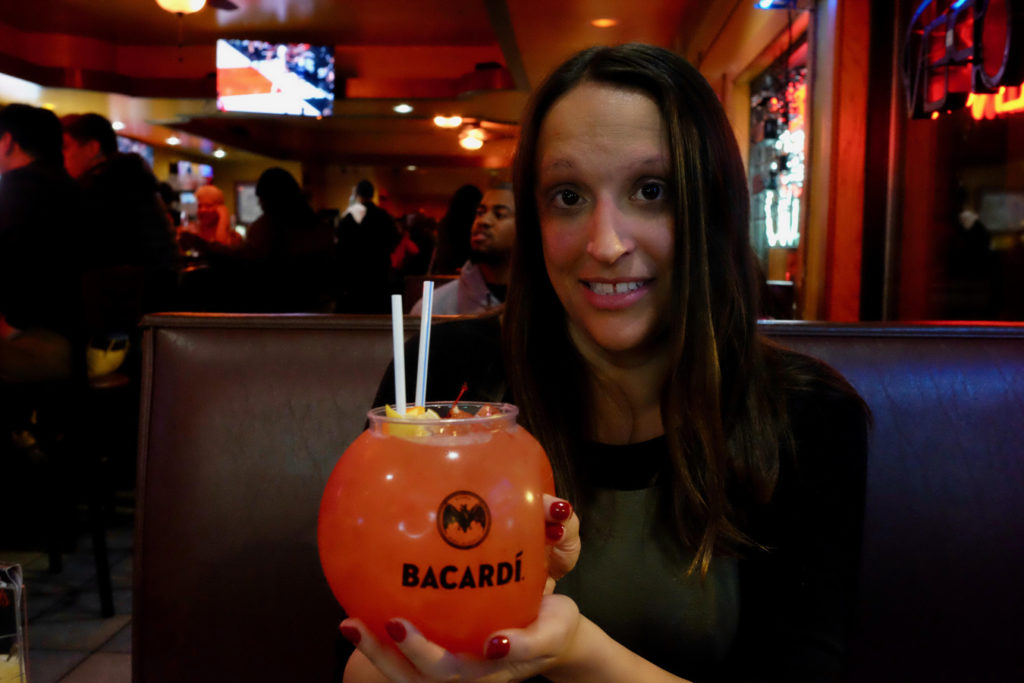 If instead you're in search of a breakfast/brunch place, we really enjoyed the Atlanta Breakfast Club, which is nicely located next to some of the biggest attractions in the city (like the Georgia Aquarium, the World of Coca-Cola, and CNN Studio Tours).  They've got some great Southern-style breakfast items you can chow down on, like these crispy chicken biscuits that Cyril got.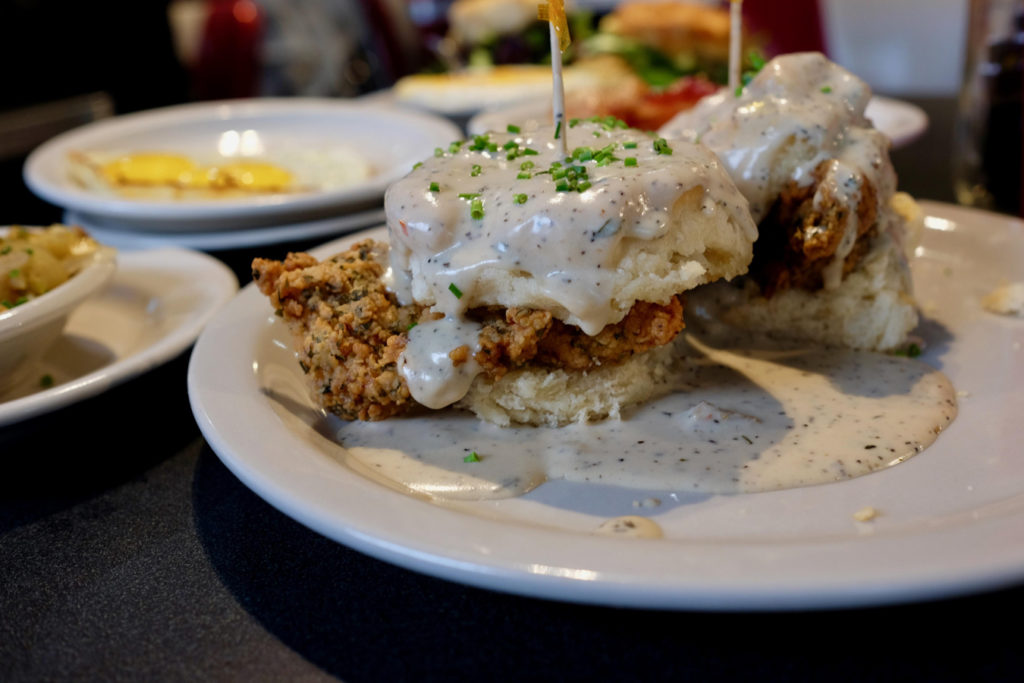 Miriam went for the fried green tomato BLT, minus the bacon, which also comes topped with avocado and a corn salsa.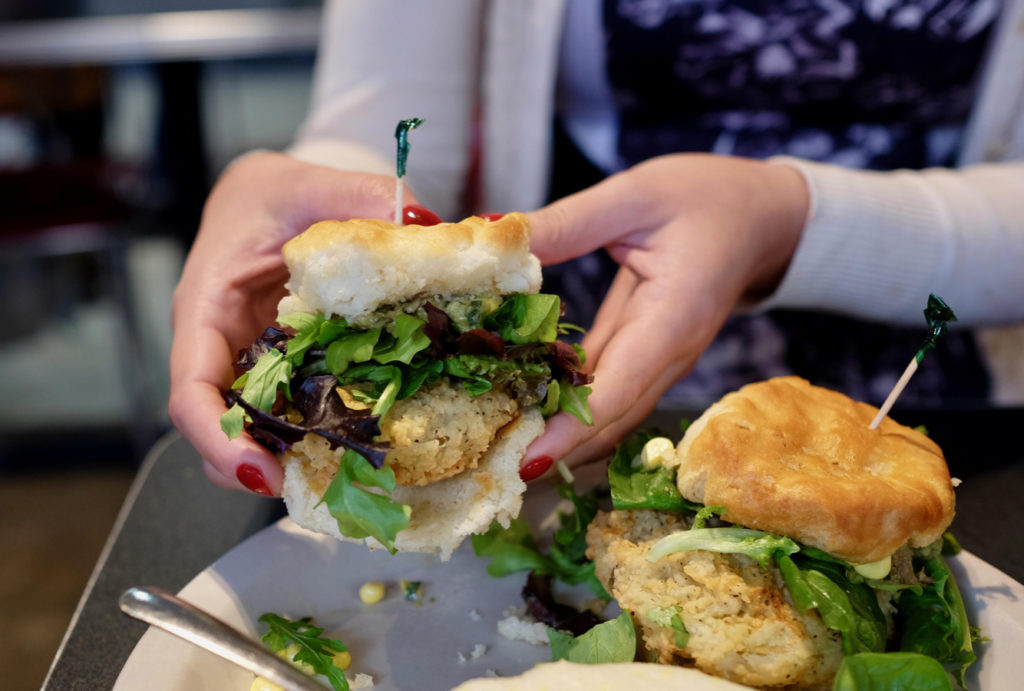 If you're looking for some classic Southern food, you can check out Mary Mac's Tea Room, so called because when it opened in 1945 women weren't supposed to operate restaurants but could get away with running a "tea room".  You can get a full meal there, starting with a bread basket combo of yeast rolls, cornbread, and cinnamon rolls.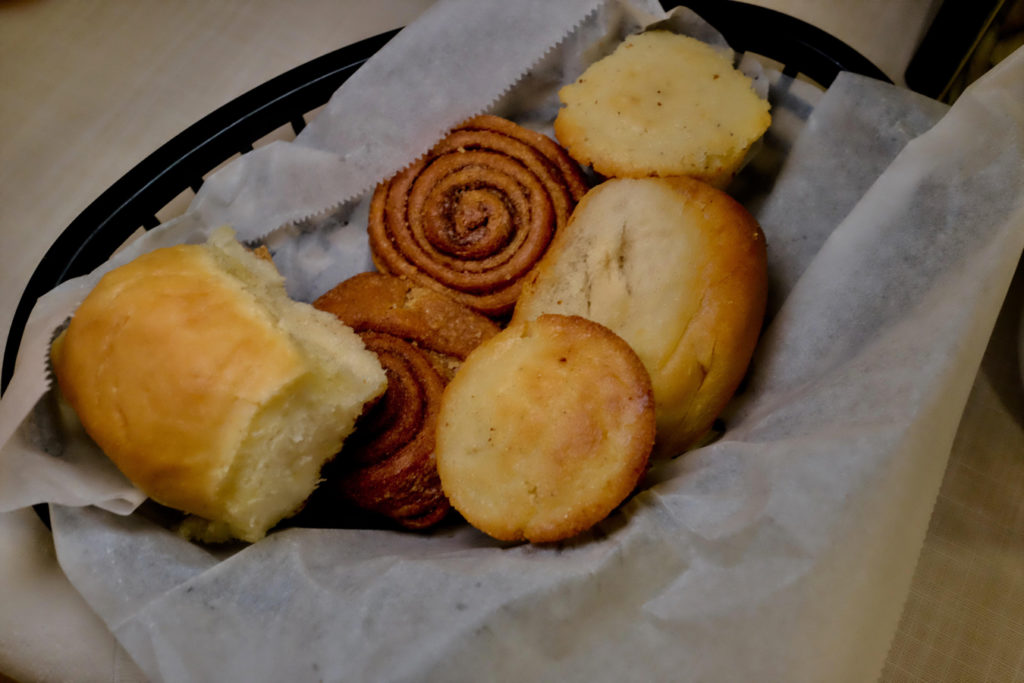 Then we moved on to an appetizer – here's the fried okra.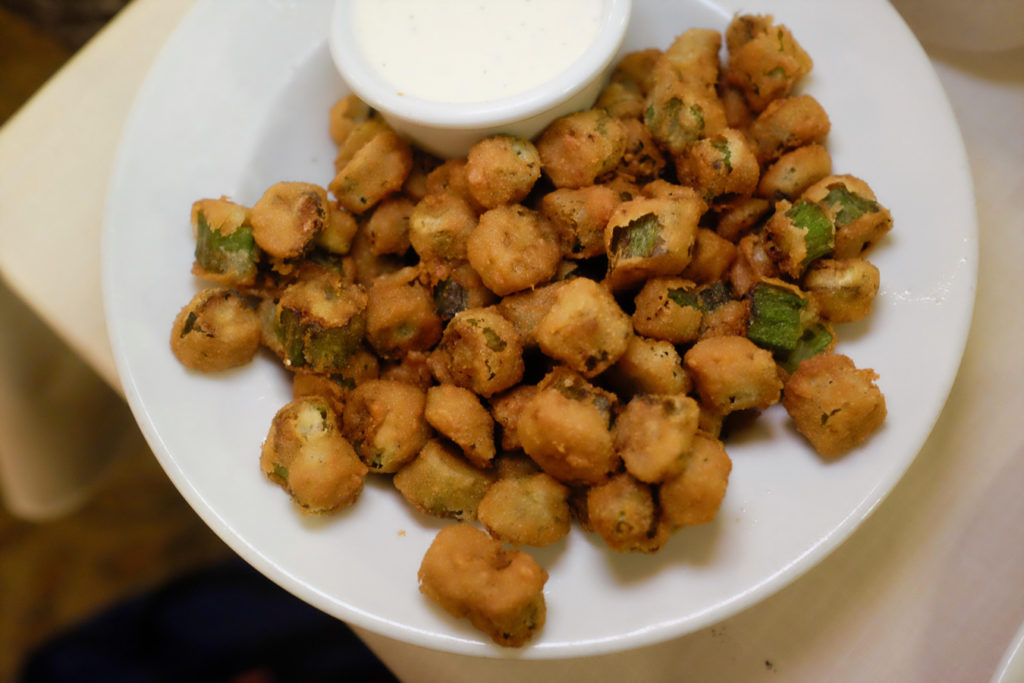 From there, Cyril got the shrimp and cheese grits with sides of mac and cheese, collard greens, and sweet potato souffle.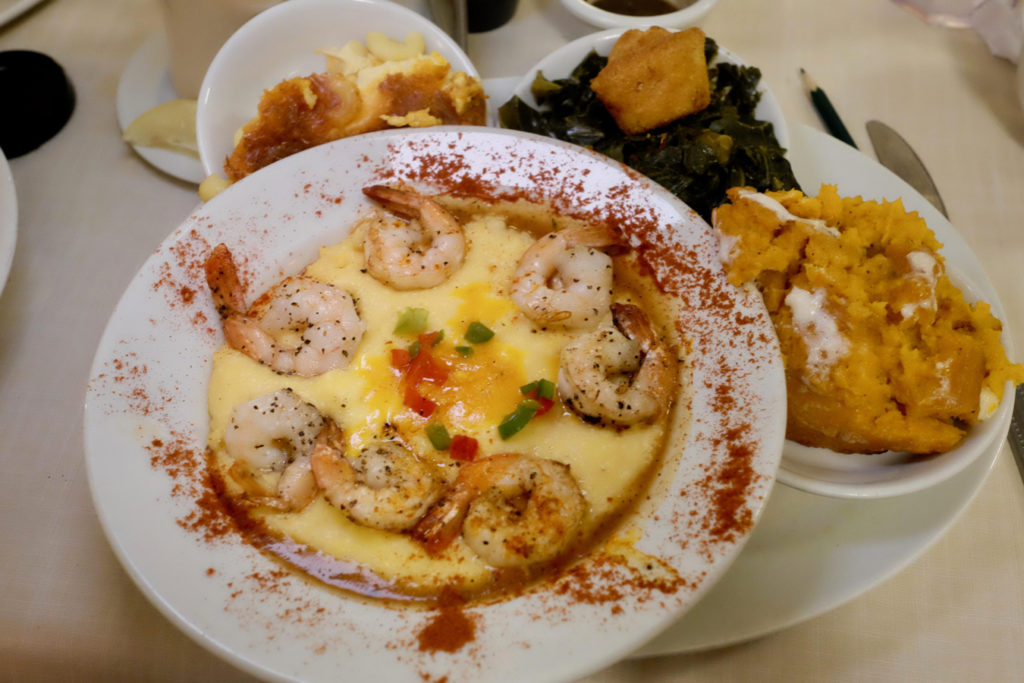 Miriam did a vegetable plate, which comes with 4 sides:  she chose mac and cheese, cream corn, broccoli souffle, and cheese and vegetable souffle.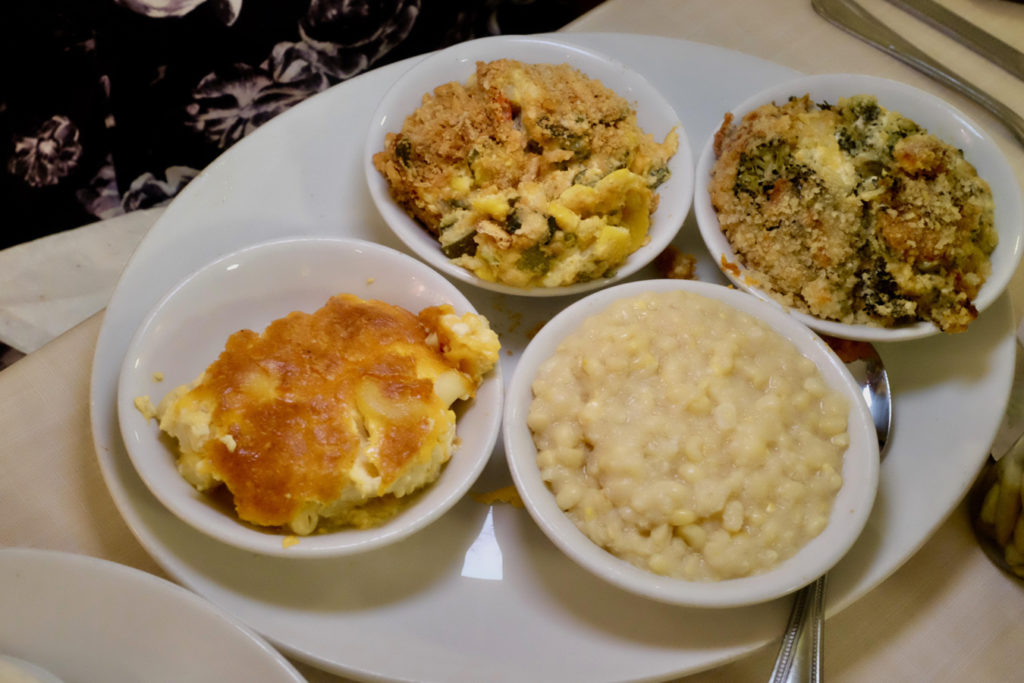 And then we split two desserts:  the peanut butter pie, with an Oreo crust …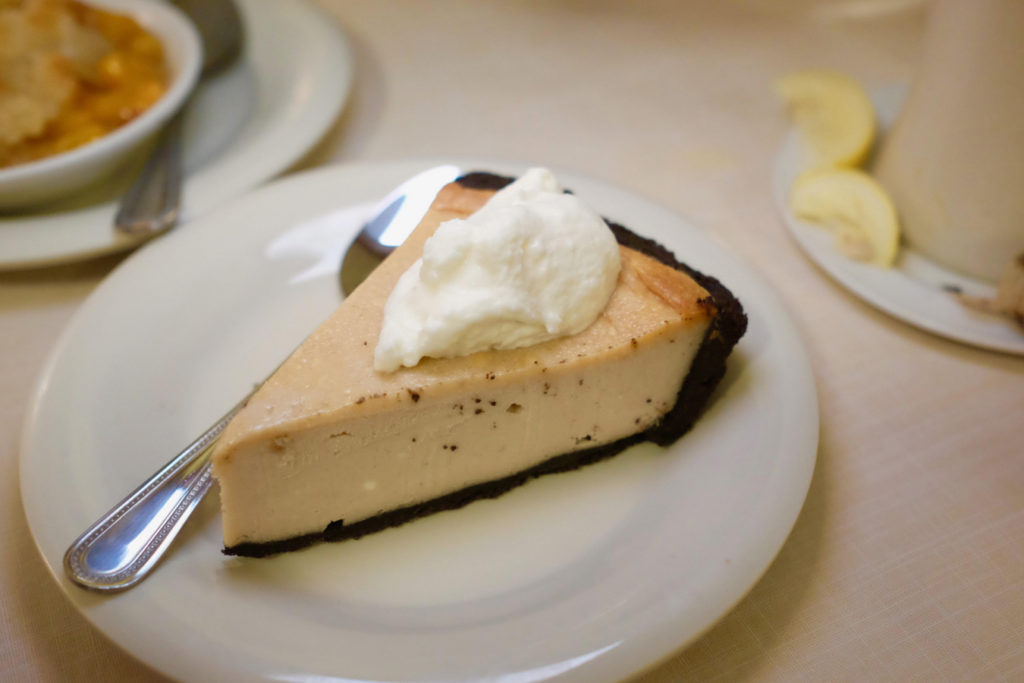 … and the Georgia peach cobbler.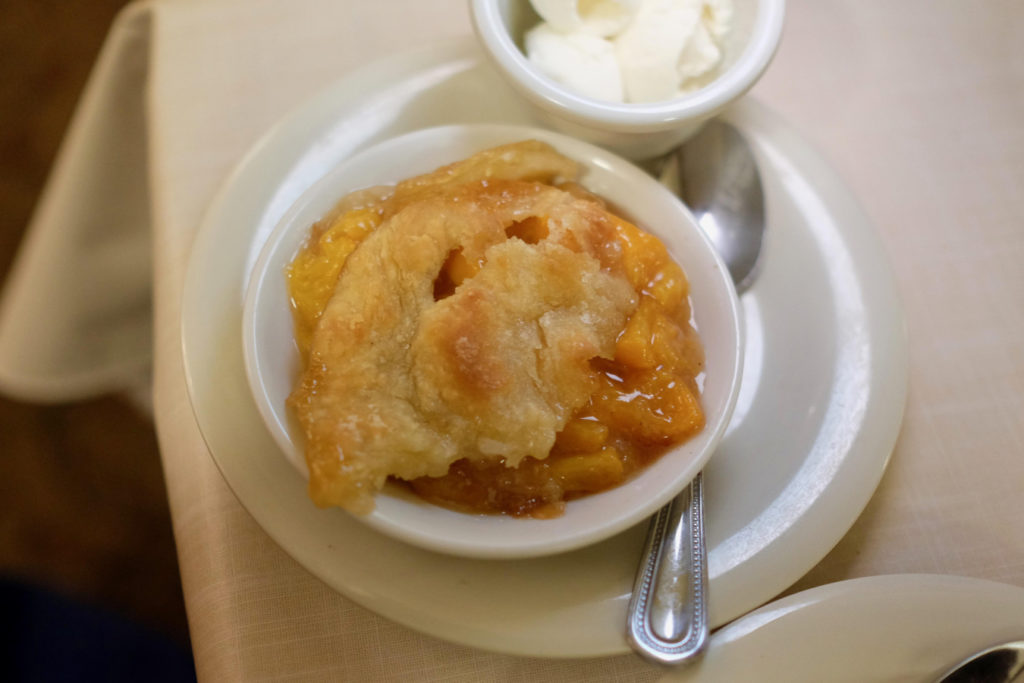 Another great Southern food place is Busy Bee Cafe, which had lines out the door when we visited on a Sunday afternoon.  They claim to have Atlanta's best fried chicken, so of course Cyril had to try it.  Here's the Sunday fried chicken special, with sides of broccoli cheese casserole and mac and cheese.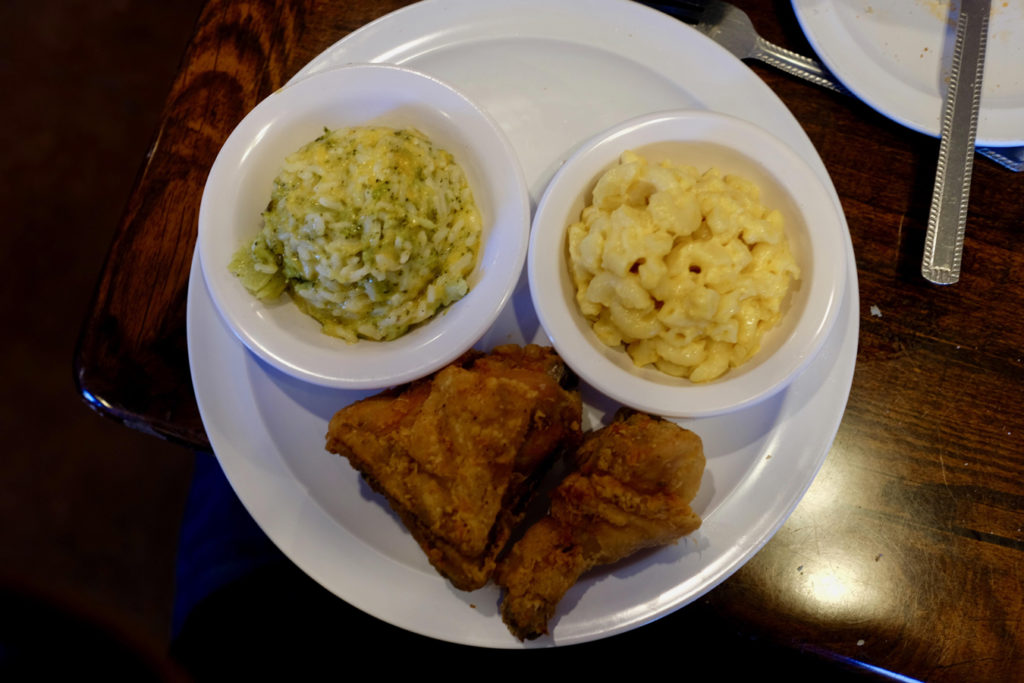 And Miriam got another veggie plate, this one with mashed potatoes, broccoli cheese casserole, mac and cheese, and buttered okra.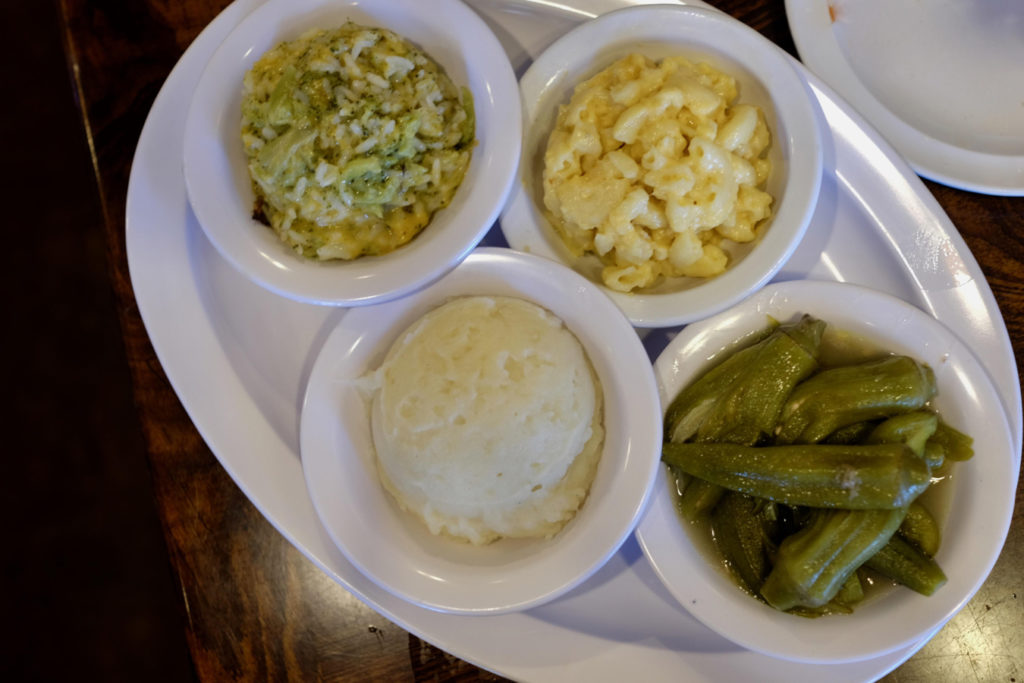 Finally, this being the South, we had to try a local barbecue spot before we left.  We chose Fox Bros. Bar-B-Q, where we started with the "half-and-half":  a basket of fried pickles and jalapeño slices.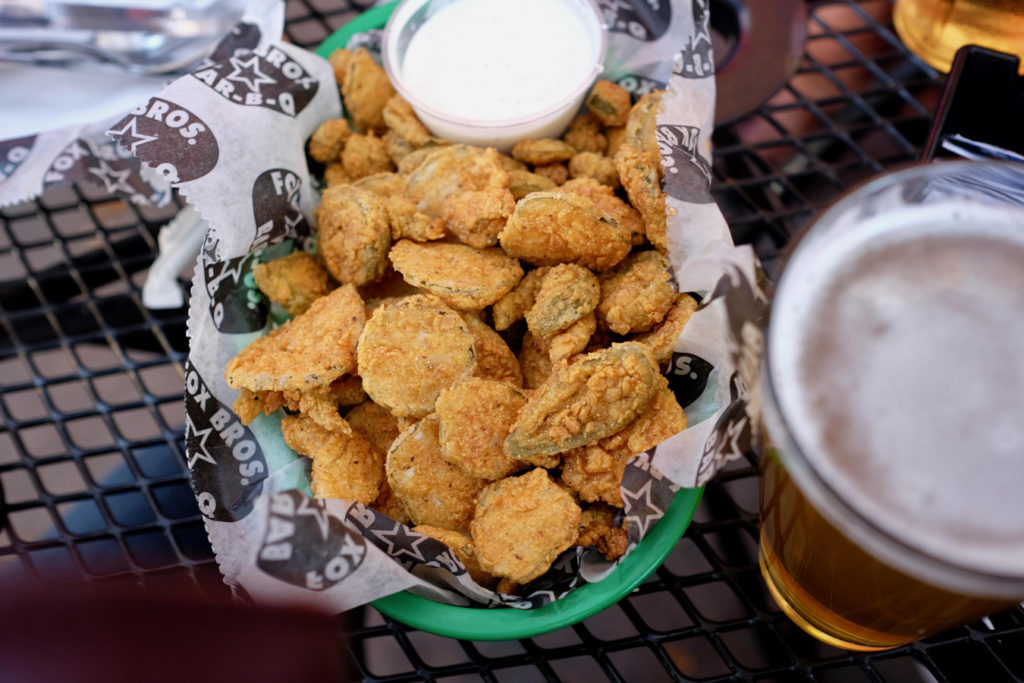 Then Cyril had the Everything Plate, which comes with 4 meats.  He chose the ribs, chicken wings, pulled pork, and beef brisket, plus sides of collard greens and mac and cheese.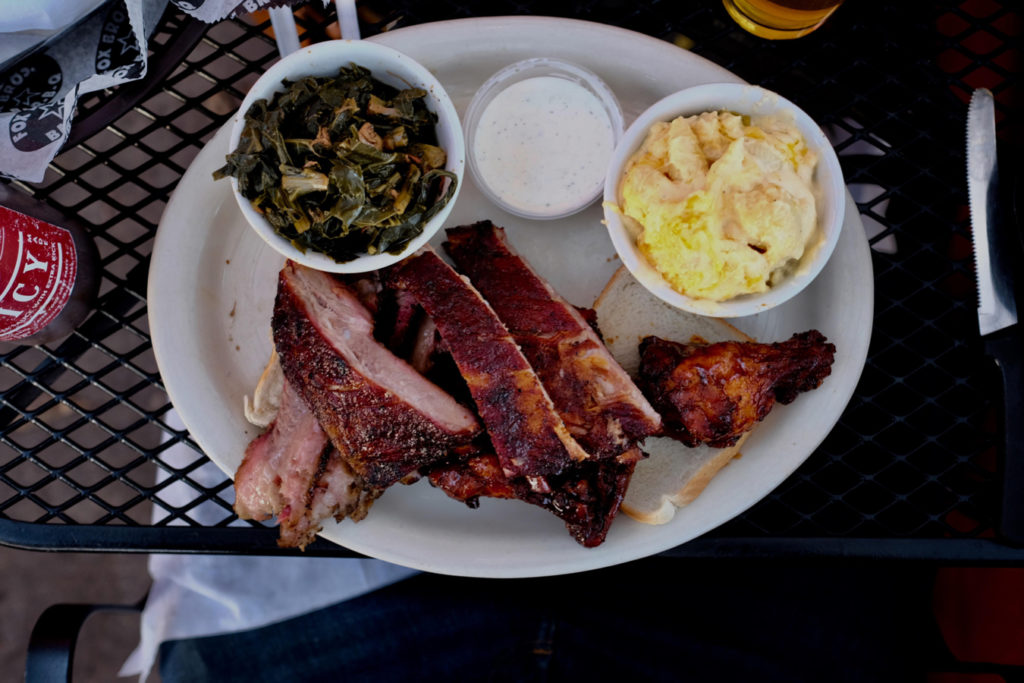 Miriam went with the smoked portabello sandwich, smothered in pimento cheese and jalapeño mayo.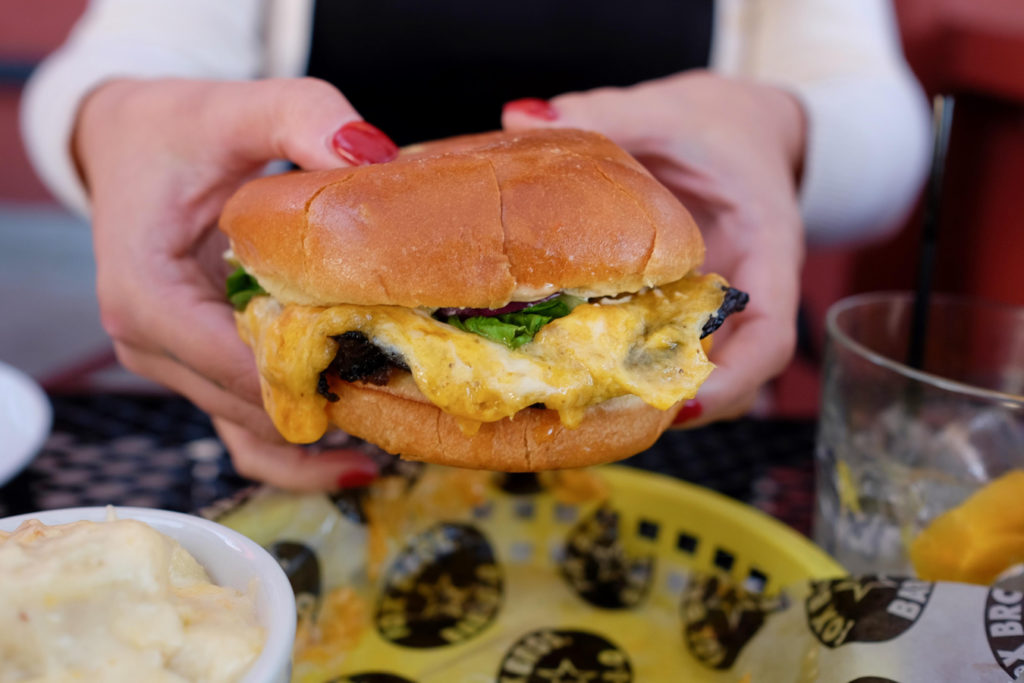 And for dessert, we shared a slice of the Dr. Pepper chocolate cake.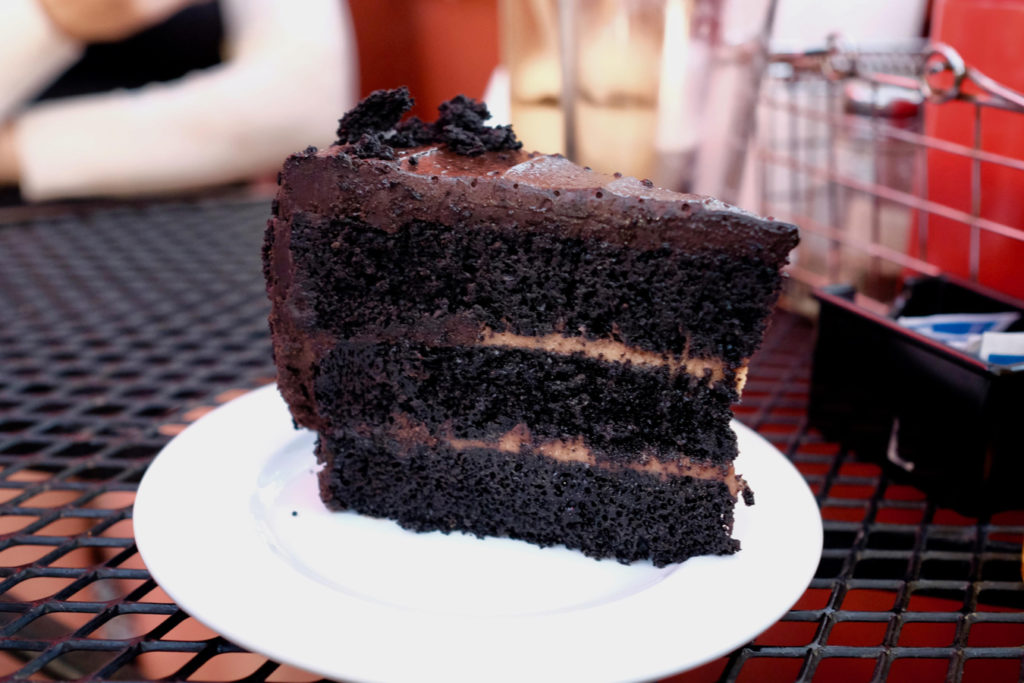 Our arteries are still unclogging from all this delicious fried, cheesy food, but while we recover we'd like to recommend all of these places.  We trekked all over the city to try different kinds of food, in all different types of atmospheres, and we enjoyed each place.  There's a lot to do in Atlanta, but if you go there make sure you set aside time for food.