Happy 2019!  In order to help facilitate some of your New Year resolutions and get you on a path towards a better you, we're going to feature some healthy, vegetable-centered recipes for the next few weeks.  First up is this spicy eggplant, which we based on a recipe from the New York Times.  It's 100% vegan and packed with enough protein, veggies, and flavor to make it a meal in itself.  And as a bonus, it's pretty quick and easy to make – so you have no excuse to not try it!
To make this eggplant, you'll need:
2 large eggplants
Roasted peanuts
Cumin
Garlic
Red Thai chile paste (we used the Huy Fong version)
Ginger
Scallions
Cilantro
Start by cutting your eggplants into slices that are about 3/4-inch thick.  Sprinkle the slices with salt and lay them on paper towels – this will help them release some of their water.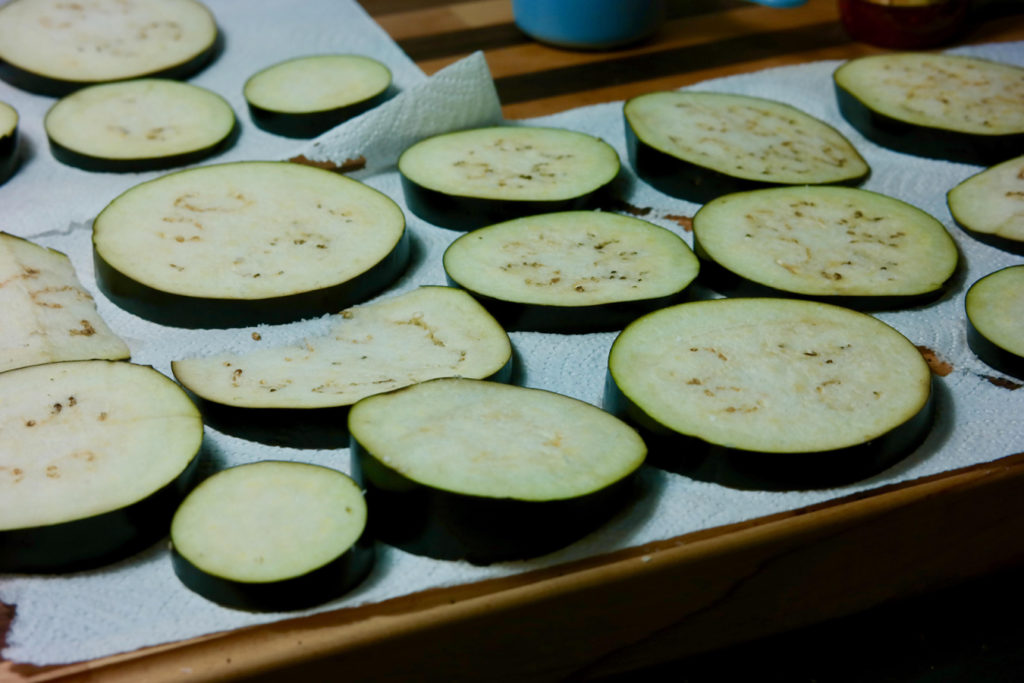 While the eggplants are sitting out like this, you can make your spicy sauce:  first pour out 1/2 cup of peanuts into a food processor and blend them until they're lightly chopped, but not too finely.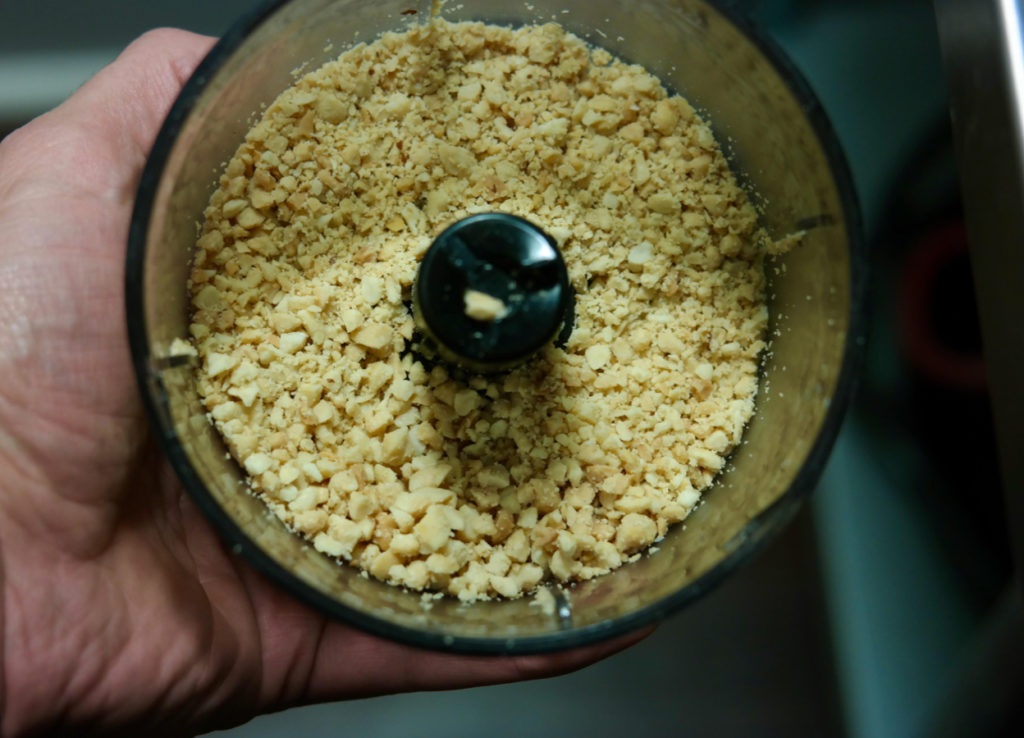 Then measure out 1/4 teaspoon of cumin, 3 tablespoons of chili paste, and 3 tablespoons of olive oil into a bowl with the peanuts.  Pound 2 or 3 garlic cloves into a paste and add those in as well.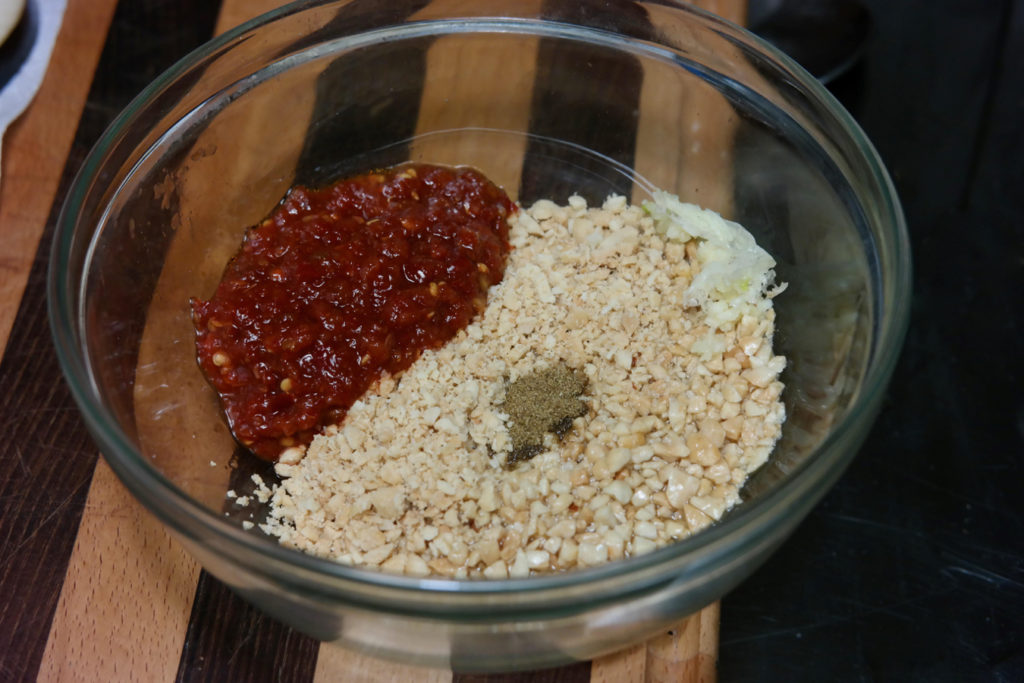 Mix everything together, then set your sauce aside for now.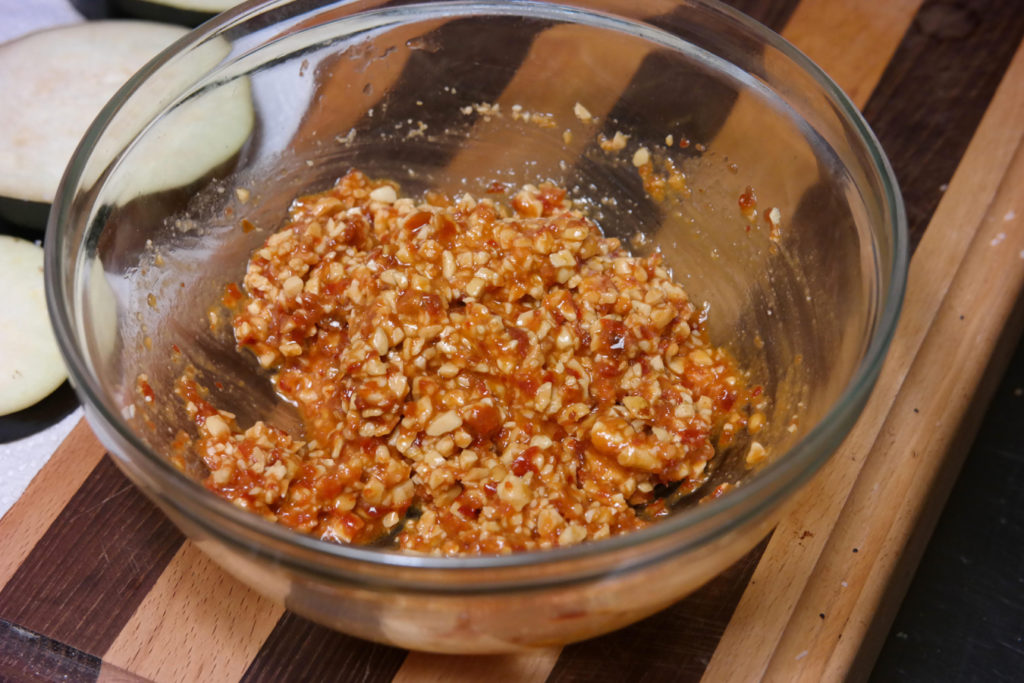 Now you can work on your eggplant:  heat another 3 tablespoons of olive oil in a large cast iron skillet and work in batches to cook the eggplant in a single layer on the bottom of the pan.  To make sure the slices roast evenly and stay flat, take a second, smaller skillet and wrap the bottom in foil, then place it on top of the slices.  Add a lid from another pot to really press into the eggplant.  Cook the slices until they're browned, but not burnt, which should take about 5 minutes on each side, and use extra olive oil as necessary.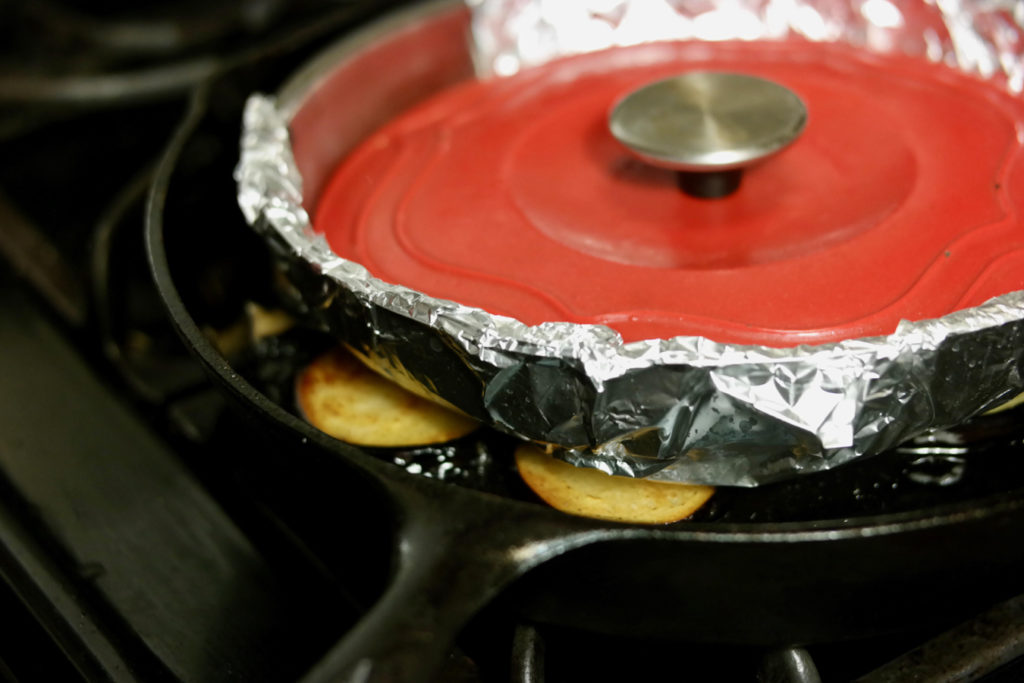 Once the slices are done, place them on a baking sheet and put them in your oven, heated to 200°F, to keep warm until all of the eggplant is done.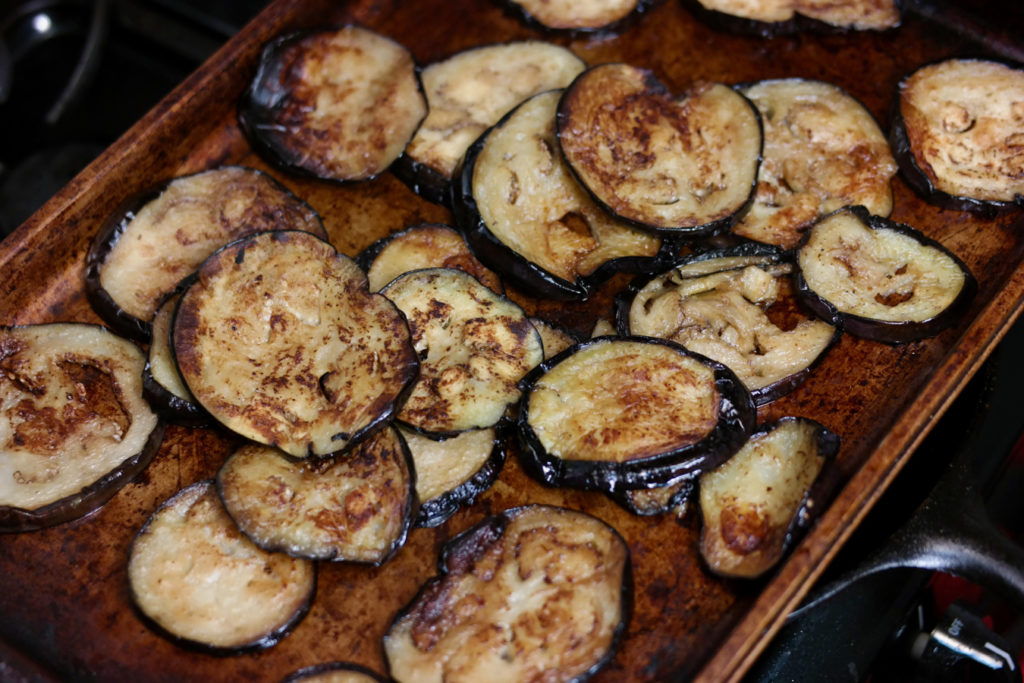 Then when the eggplant is ready, arrange the slices on a platter and spoon the spicy sauce on top.  Sprinkle everything with chopped scallions and cilantro leaves.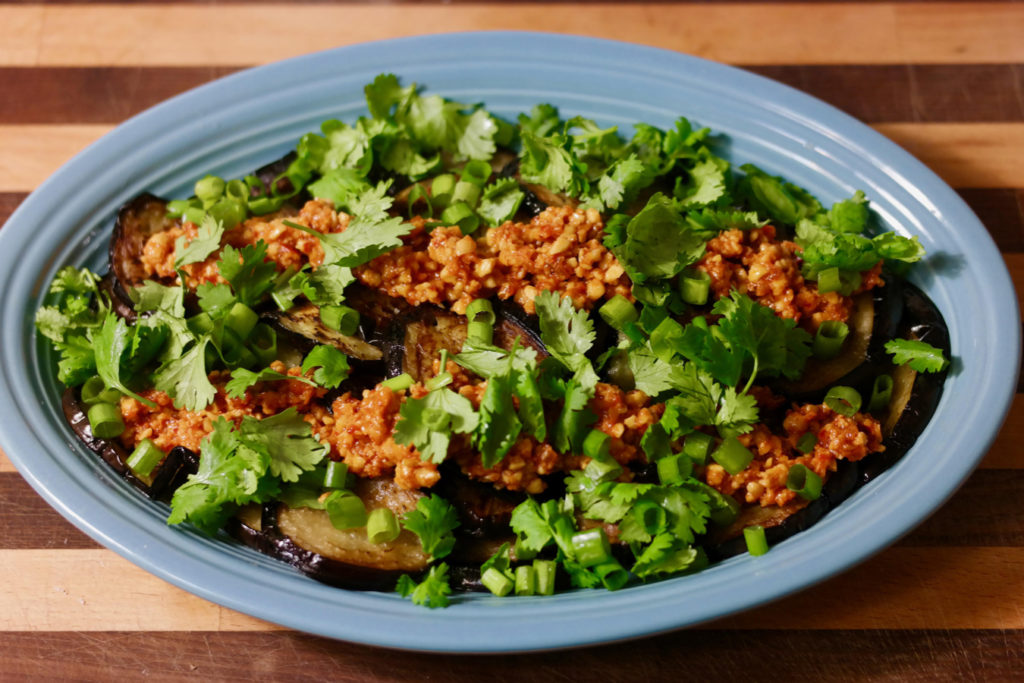 And serve up your eggplant!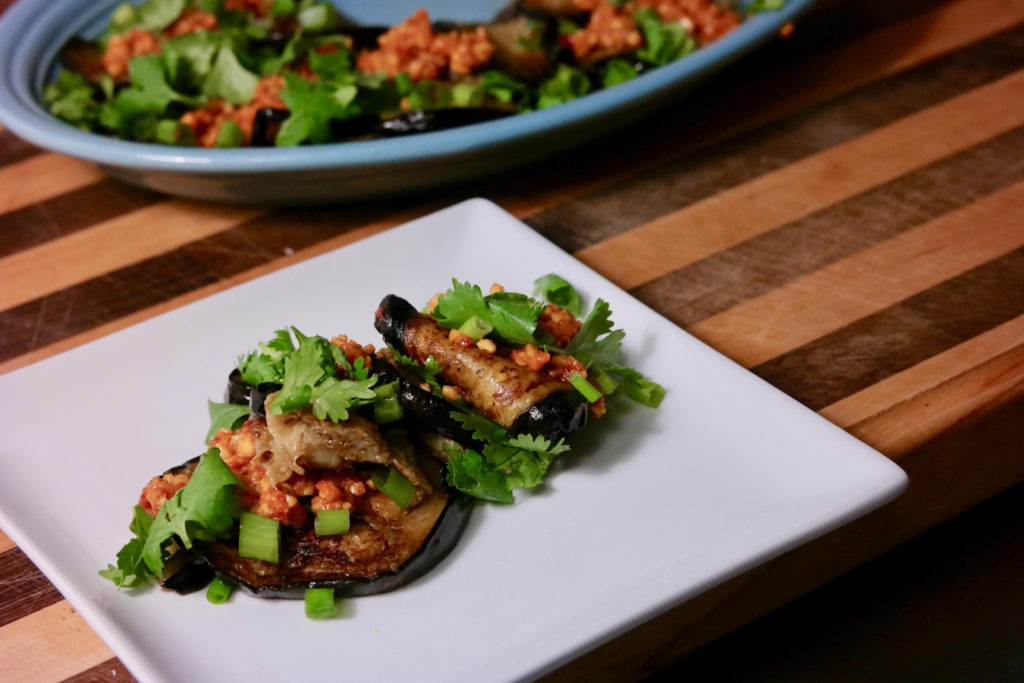 We're spicy food lovers, and we also really enjoy eggplant, so this recipe combined the best of both these worlds.  The peanuts pair nicely with the spiciness of the chili paste, and together they really complement the well-roasted eggplant – plus the herbs on top help bring a cool green taste to the whole dish.  You can also see that there's not a ton of effort involved with this recipe:  the vegetable prep is minimal, and the eggplant cooks up pretty quickly when you weigh it down in the pan.  And best of all, this delicious dish is vegan!  So if you want to try something different in the new year, might we suggest this spicy eggplant?