Continuing on our trend of trying to eat healthier in this new year, here's a warm, nourishing vegan soup recipe for you to try out in these cold months.  We've previously made dal – which is an Indian legume-based stew – but we decided to try making one again because of a unique ingredient this version uses:  apples.  We happened to have a bunch of apples on hand from a trip to an orchard we took at the end of autumn and we needed to use them up, so when we came across this recipe in Bon Appétit we thought it was the perfect dish to adapt.  We know it might sound weird to throw some fruit into a soup, but trust us on this.
To make the dal, you'll need:
Cayenne pepper
Cumin
Turmeric
Half an onion
Garlic
Ginger
An apple
Lentils
A 13.5-ounce can of coconut milk
Lime juice
Coconut flakes
Cilantro
First, in a Dutch oven heat 2 tablespoons of vegetable oil over medium-high heat and measure out 1/4 teaspoon each of cayenne, cumin, and turmeric.  Cook these spices for just a minute or so.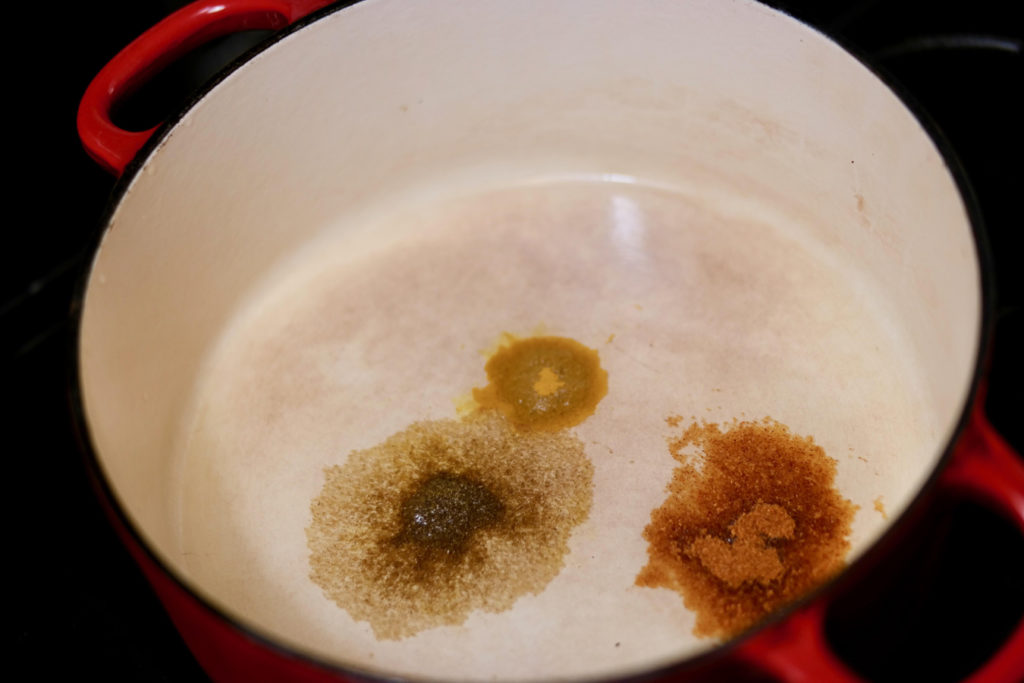 Then chop your half onion, plus two garlic cloves and a 3-inch piece of peeled ginger, and add those in.  Cook these vegetables for about 3 minutes, until everything has started to soften.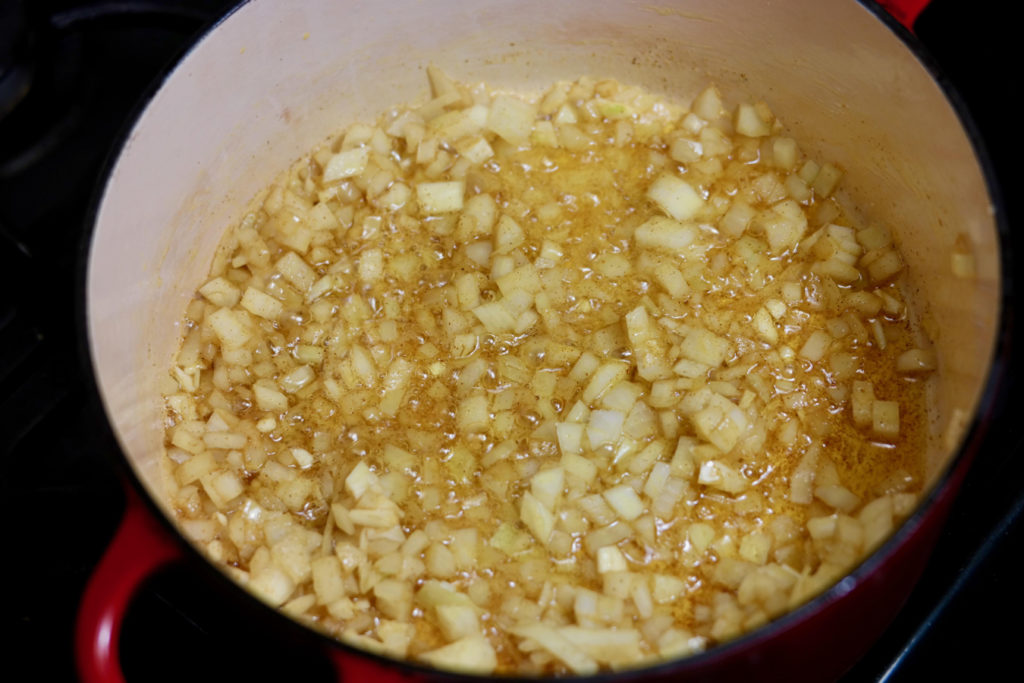 Now use a cheese grater to grate your apple into shreds.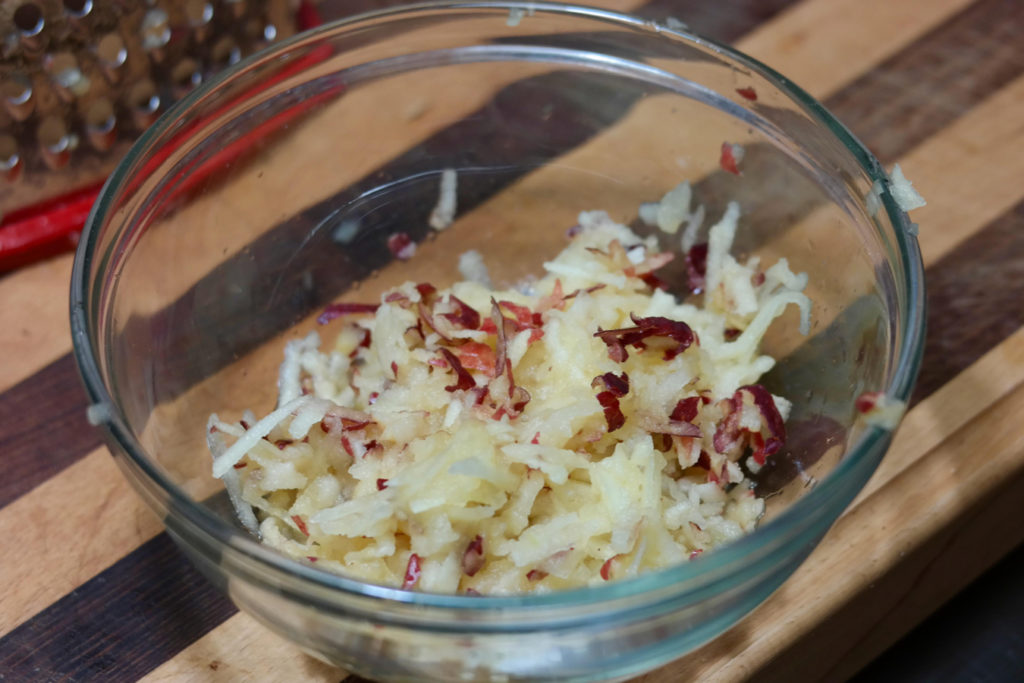 Place these in the Dutch oven, along with 1 1/2 cups of dry lentils.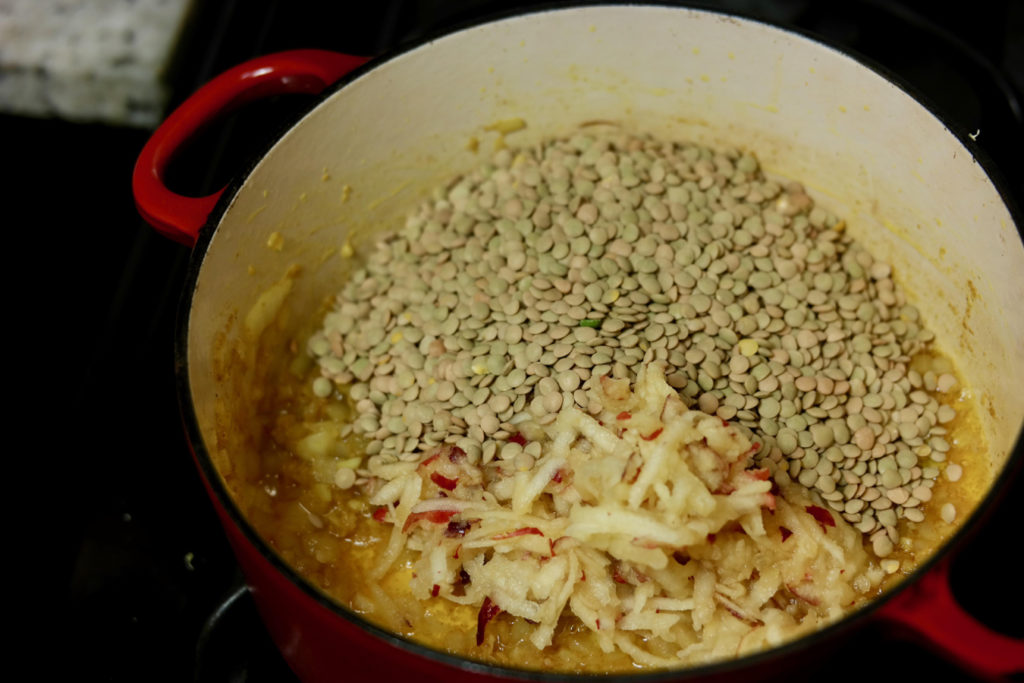 Stir everything together and add in the entire can of coconut milk and 2 1/2 cups of water and bring it all to a boil, then turn the heat down so that your soup is simmering and let it cook for at least 20 minutes, until the lentils have plumped up and you have a good, thick consistency to your dal.
Meanwhile, you can make a nice toasted coconut topping:  spread a cup of coconut flakes all over a baking sheet and place them in the oven at 350°F for 7-8 minutes.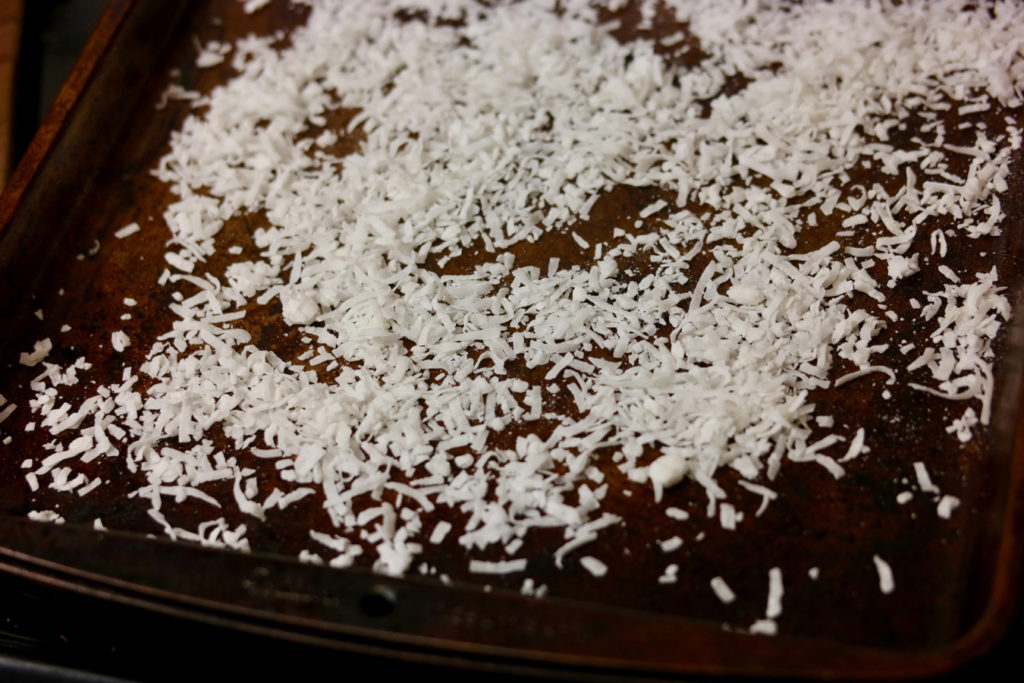 They'll be nice and toasty when you take them out – just watch them carefully to make sure they don't burn.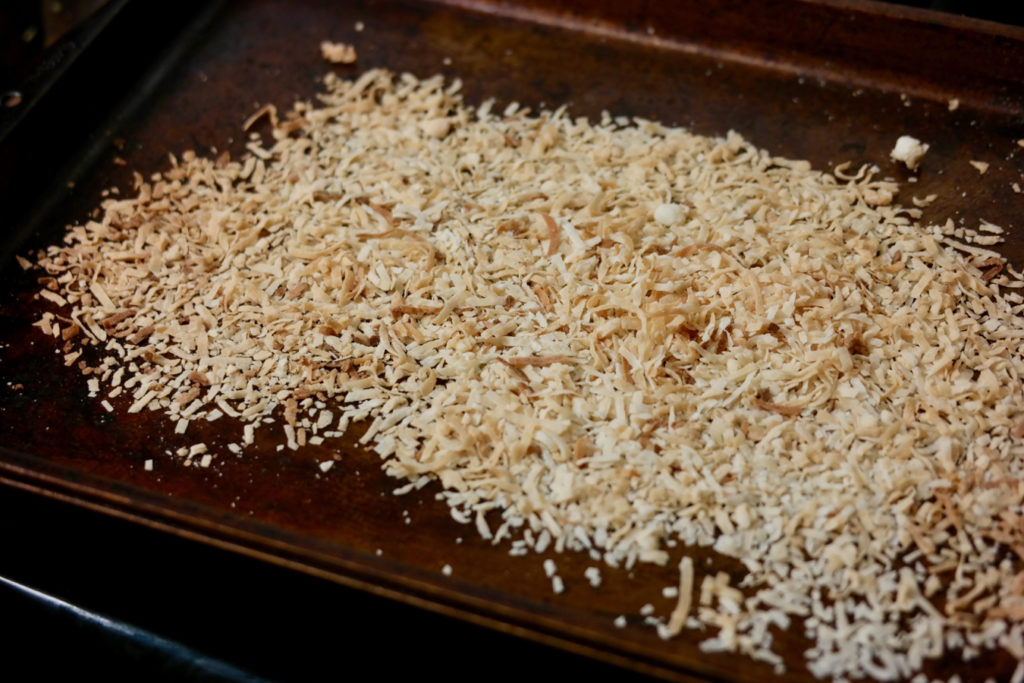 When your dal is ready, stir in 2 tablespoons of lime juice and a generous amount of salt and pepper, and it should look something like this: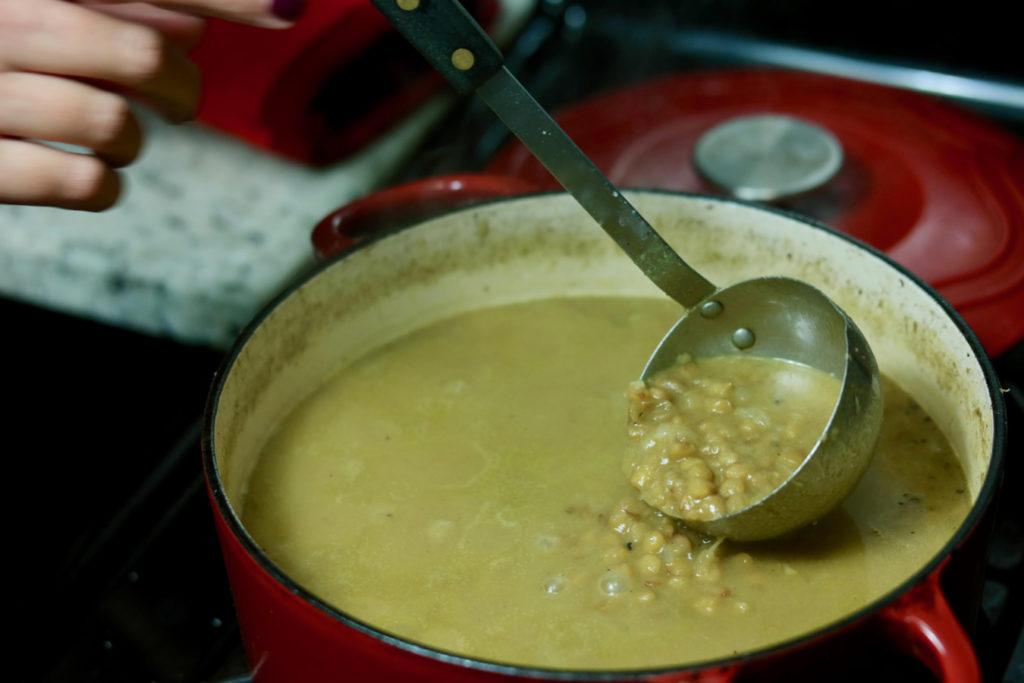 Now you can dish it out, sprinkle some toasted coconut and torn cilantro leaves on top, and enjoy!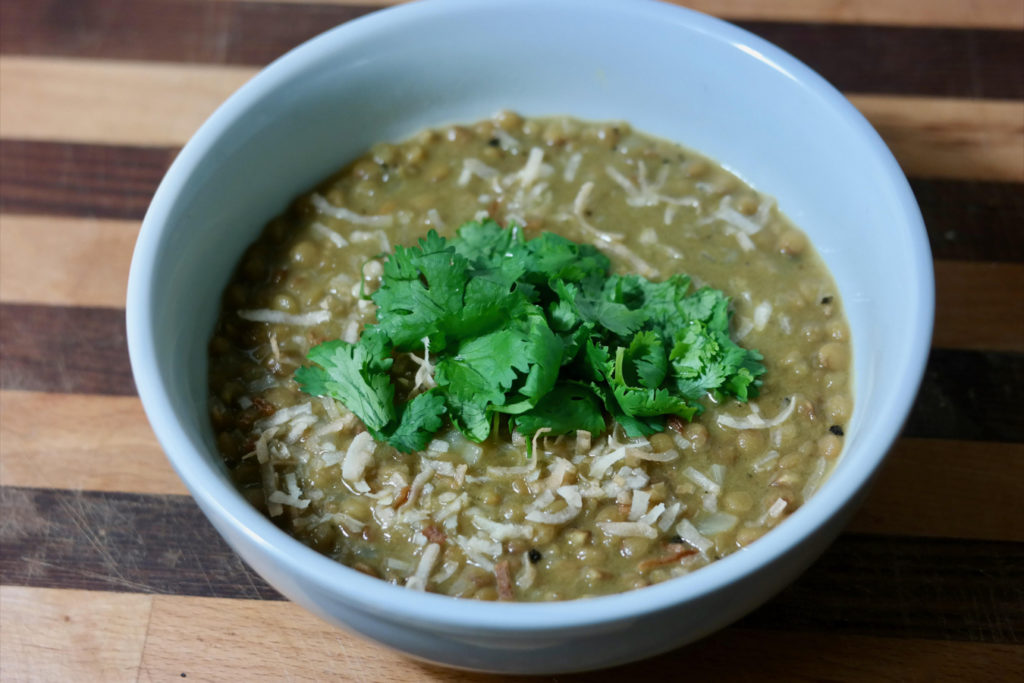 What we really liked about this dal is that it's super healthy – what with the lentils and fruit and no dairy in sight – but also really, really tasty.  The three spices ensure that this soup isn't bland, the apple pairs surprisingly well with the rest of the ingredients, and the homemade toasted coconut adds a nice finish.  Plus, this is a pretty simple dish to make:  the ingredient prep is minimal, and once everything is in the pot you can just set it and wait for it to cook.  All in all, you've got a nice warm, filling light meal for these winter days when you want to eat right but not sacrifice any flavor.