All around the eastern Mediterranean region it's traditional to make some variation of a flaky stuffed dumpling.  In Albania these are known as byrek; in Saudi Arabia they're called börek; to Armenians they're byorek; and Bulgarians know them as byurek.  This particular variation, burekas, comes from the Jewish community of Turkey, and we were inspired to make these based on this recipe from the New York Times.  We liked that they were warm, buttery, savory pastries, and though these aren't traditional burekas (which would be made with olive oil, not butter), we thought they were some great little treats.
To make these, you'll need:
Flour
A stick of butter
3 eggs
An eggplant
An onion
A small can of diced tomatoes
Parmesan cheese
A package of frozen spinach
Feta cheese
First you're going to need to prepare the vegetables to fill the burekas:  take an eggplant and stab it all over with a knife, then place it on a baking sheet lined with foil.  Stick it in the oven for 45 minutes at 425°F until it becomes all wrinkly and pruned on the outside, then set it aside to cool.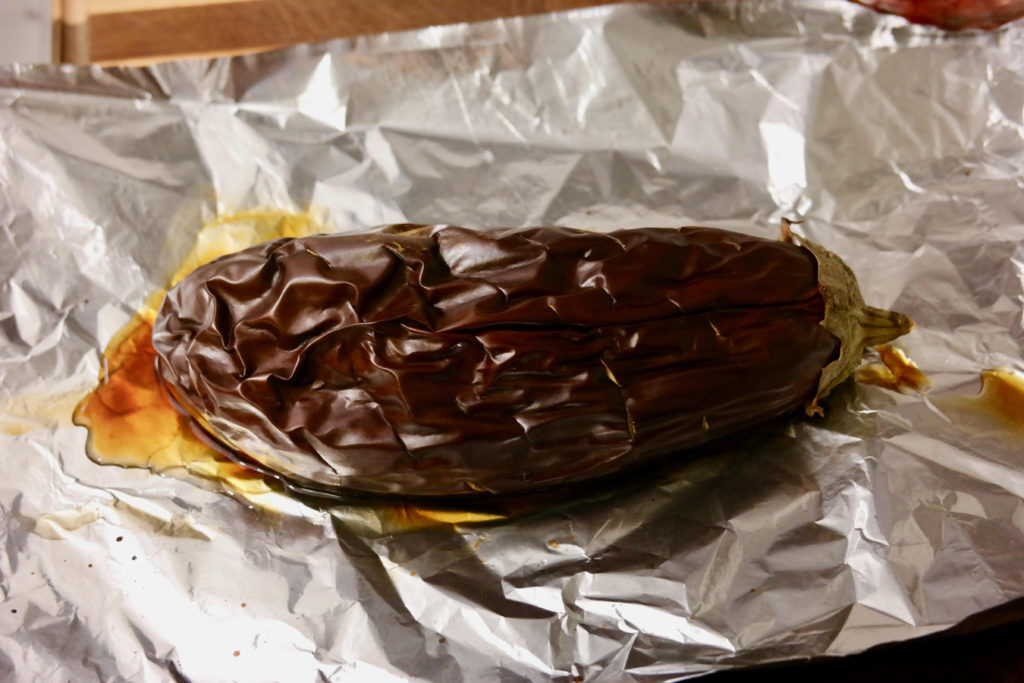 You'll also want to microwave your frozen spinach until it's defrosted and then place it in a strainer so that it releases most of its water.
While you're waiting on the vegetables you can make the bureka dough:  place 2 1/2 cups of flour and a pinch of salt into a stand mixer fitted with a paddle attachment, then cut your stick of butter into cubes while it's still cold and add that in.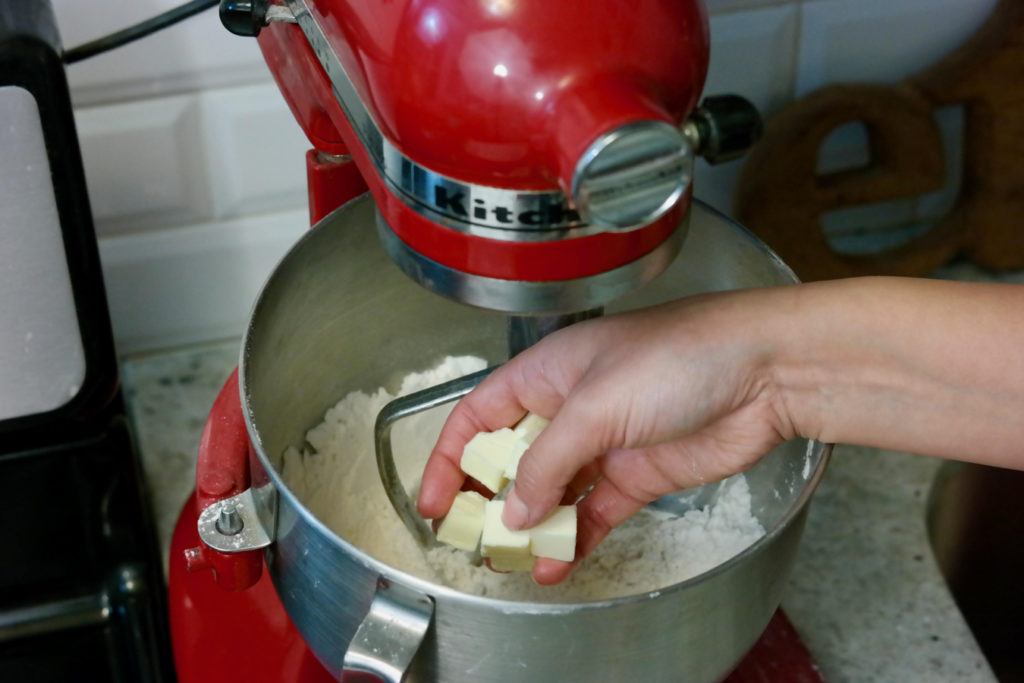 Combine everything together until you have mixture that looks like coarse, wet sand, then slowly drizzle in 1/2 cup of ice water and mix everything until you have a smooth dough.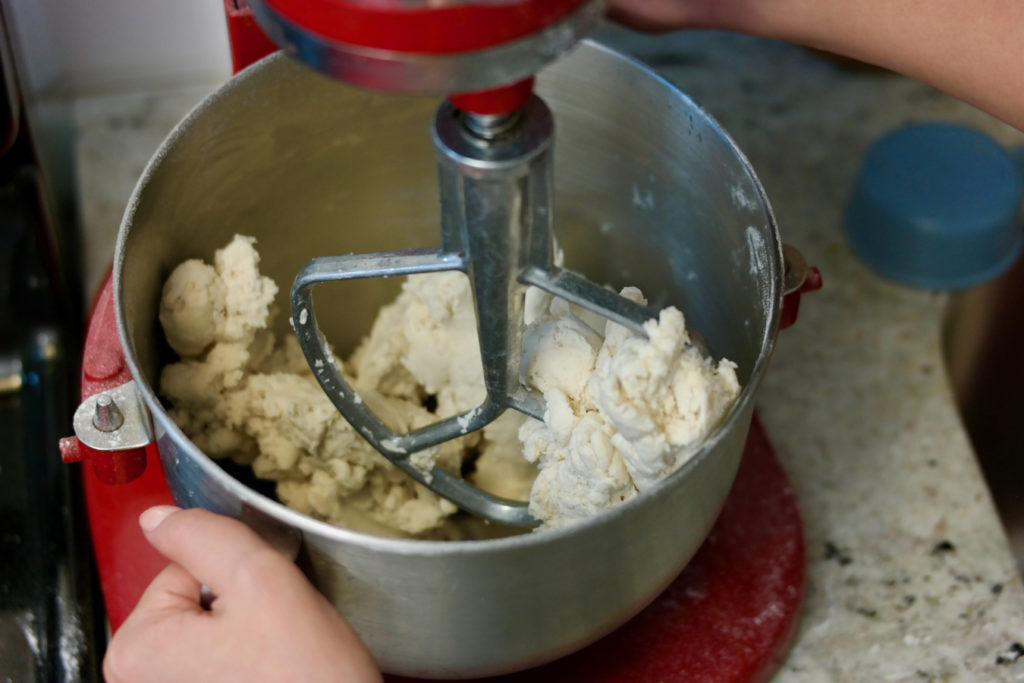 Divide the dough in half and form it into two circles that are each about an inch thick.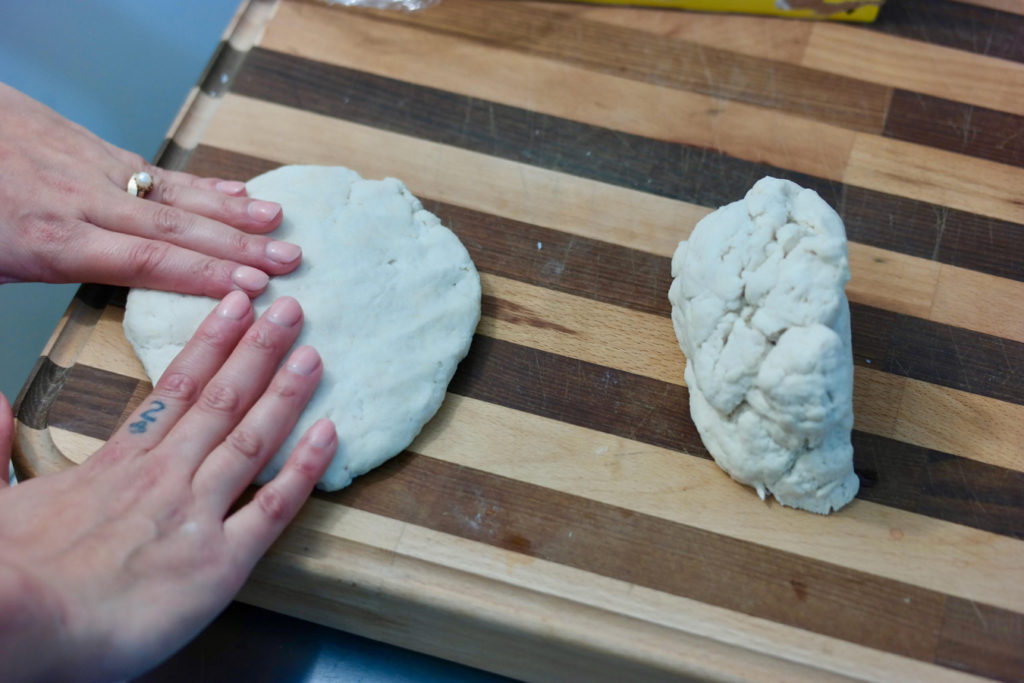 Cover these in plastic wrap and stick them in the fridge for half an hour.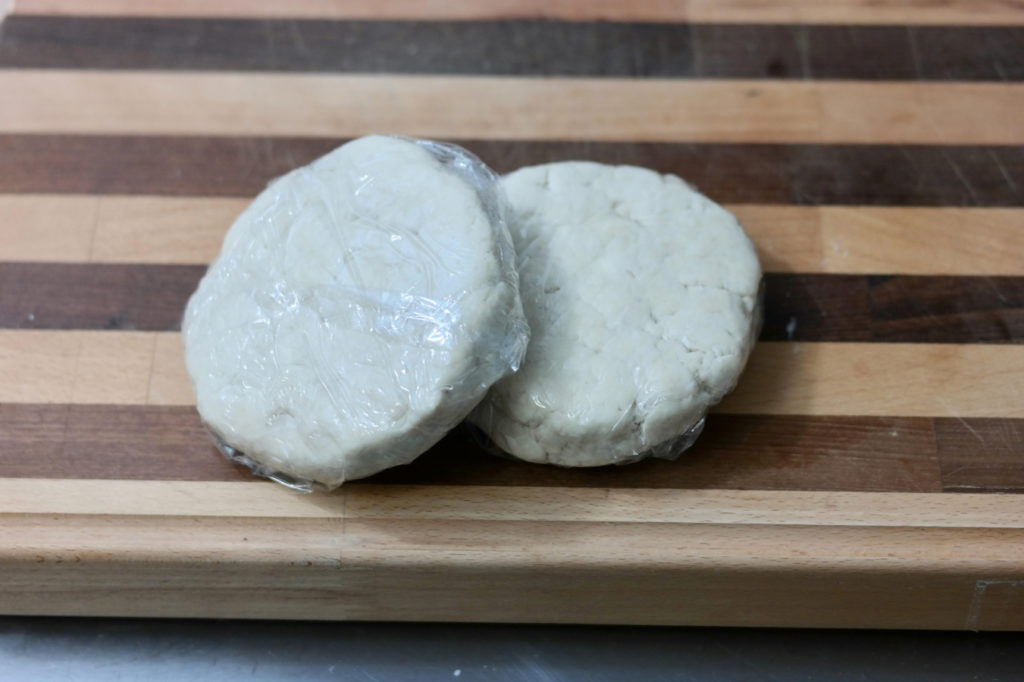 Now take your spinach and press it with paper towels to try and get out as much water as you can.  Then place the spinach in a bowl and mix it with about 3/4 cup of feta and 1/2 cup of grated Parmesan.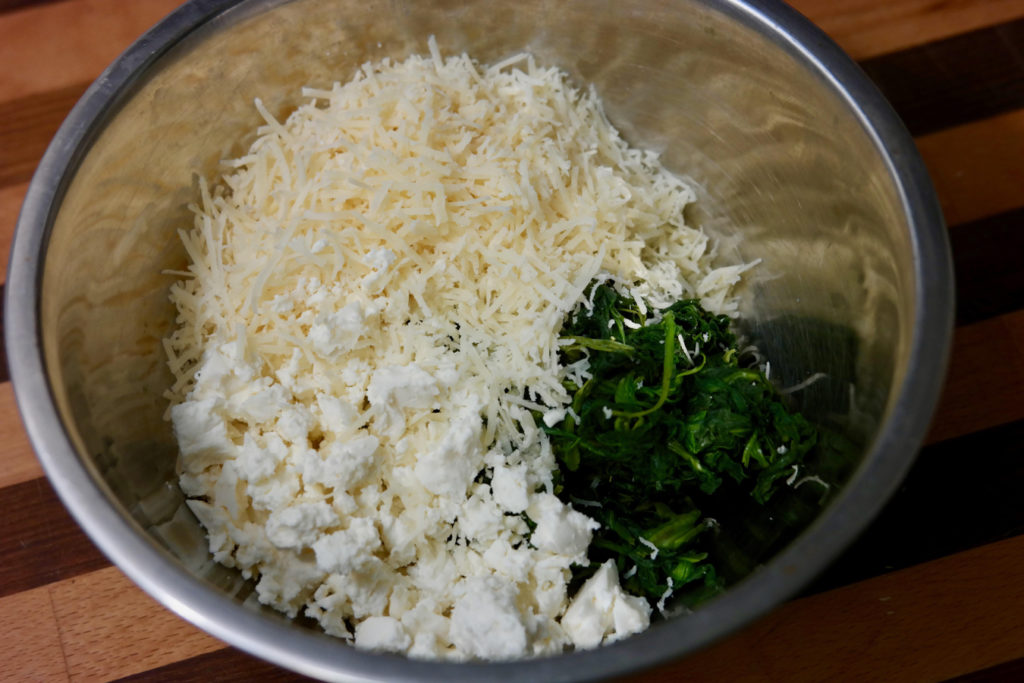 Mix everything together with a tablespoon of flour and one beaten egg, and now you're spinach filling is ready.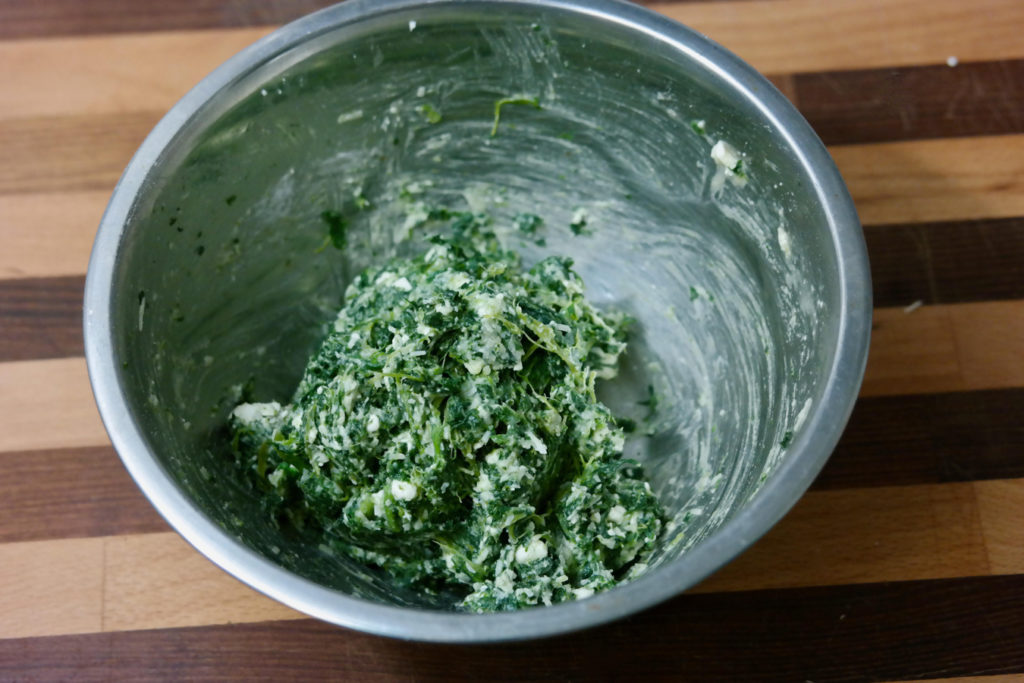 When your eggplant is cooked and cooled down, peel away all the skin (it's going to look pretty weird and a little gross, but don't worry).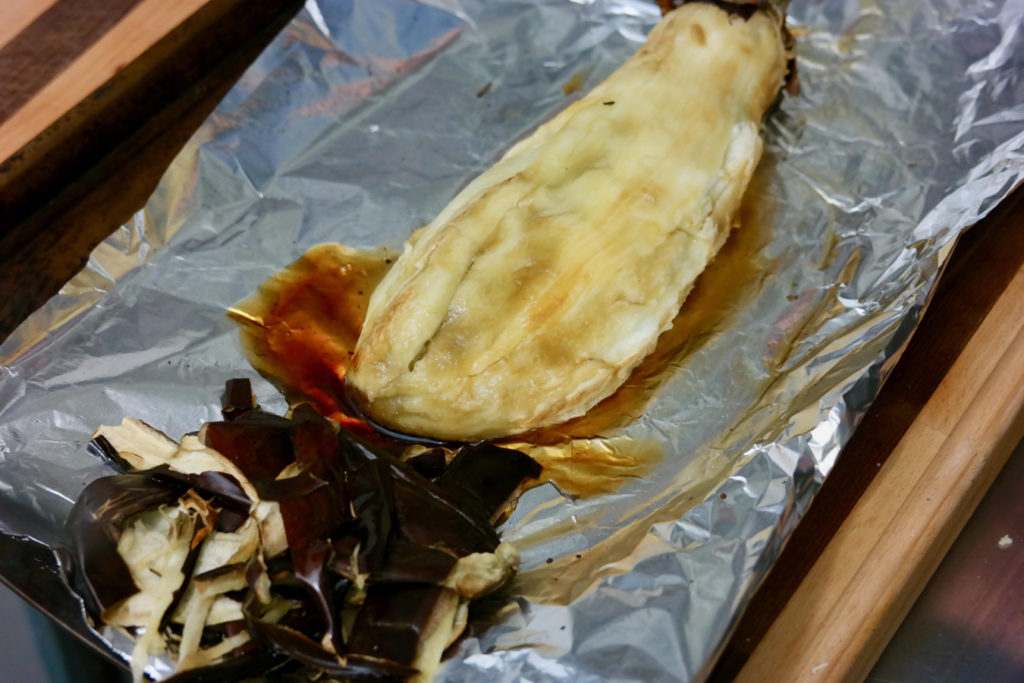 Chop up your onion and place it in a pan, along with 2 tablespoons of olive oil, over medium heat.  Cook the onion for 3-5 minutes until it softens, then add in 1/2 cup of the diced tomatoes.  Shred the eggplant by hand, place it in a strainer to squeeze out any excess water, and put that in the pan as well.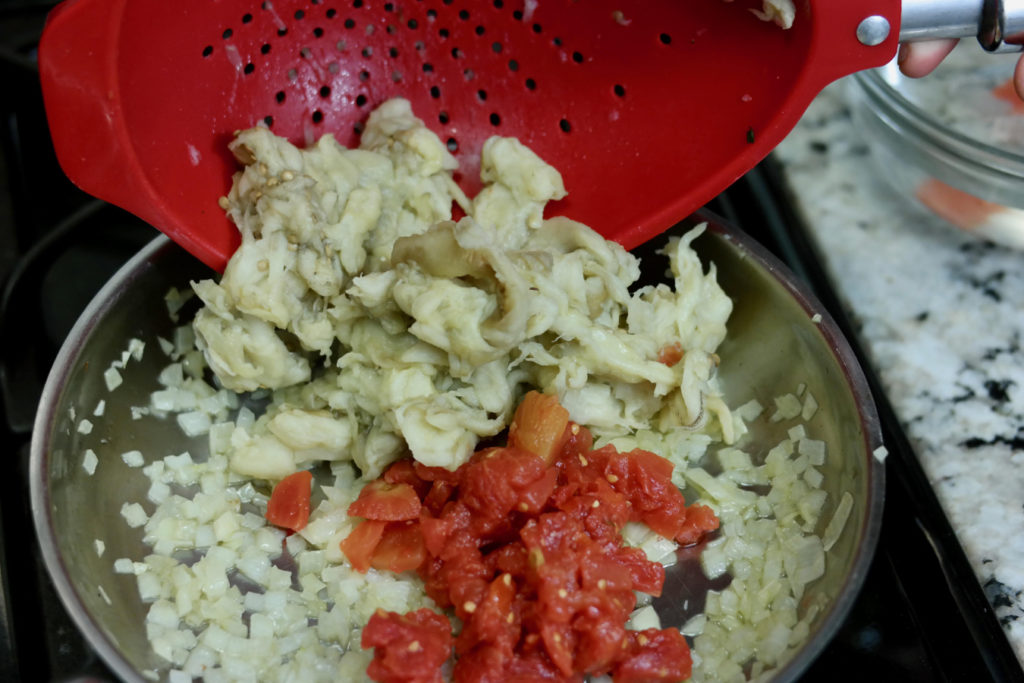 Cook all of this for about 5 minutes, until most of the vegetables' water has evaporated, then take this mixture off the heat and stir in 1/4 cup of grated Parmesan cheese, a beaten egg, and 2 teaspoons of flour, plus some salt and pepper.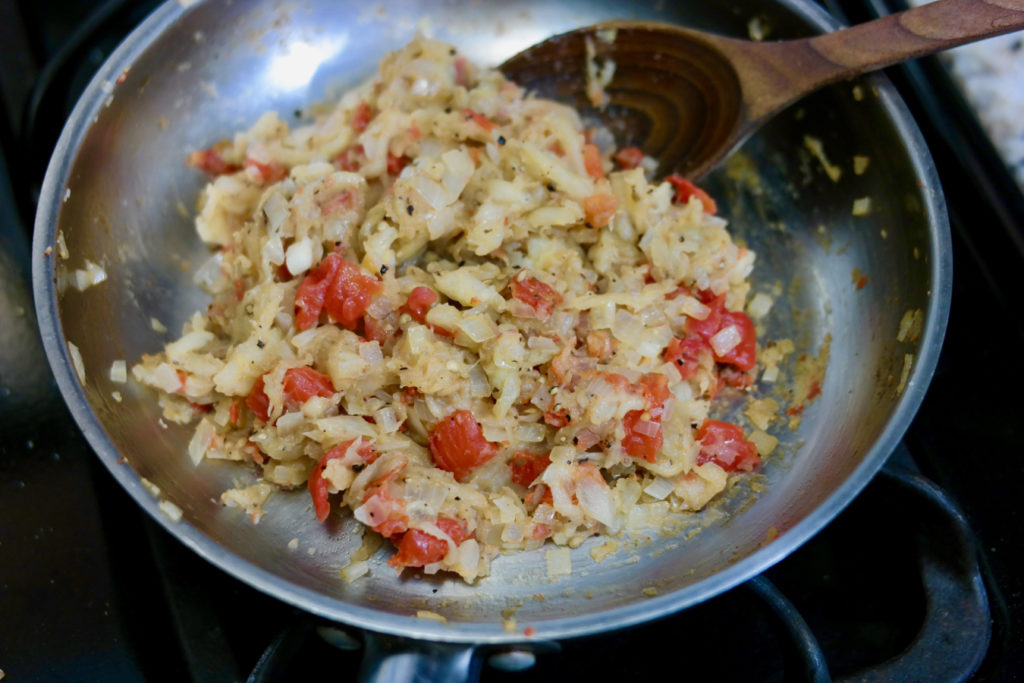 Now when your dough is ready to come out of the fridge, roll it out on a floured surface to about 1/8-inch thickness.  Cut it out into circles with a 3 1/2-inch diameter – we used a small bowl to do this.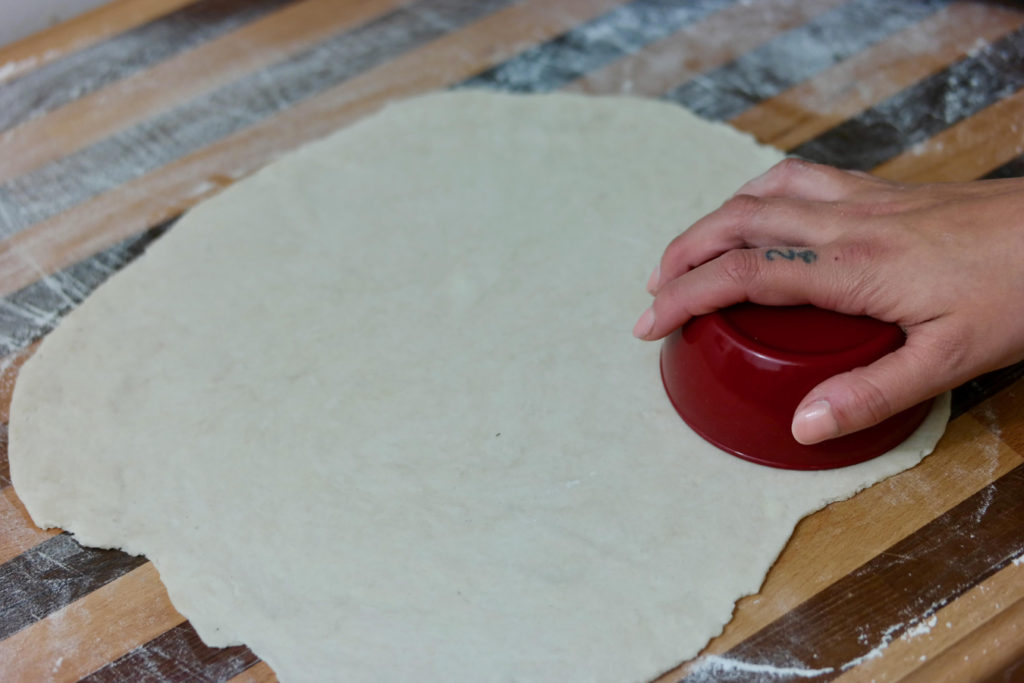 You should be able to get about 20 circles out of the dough.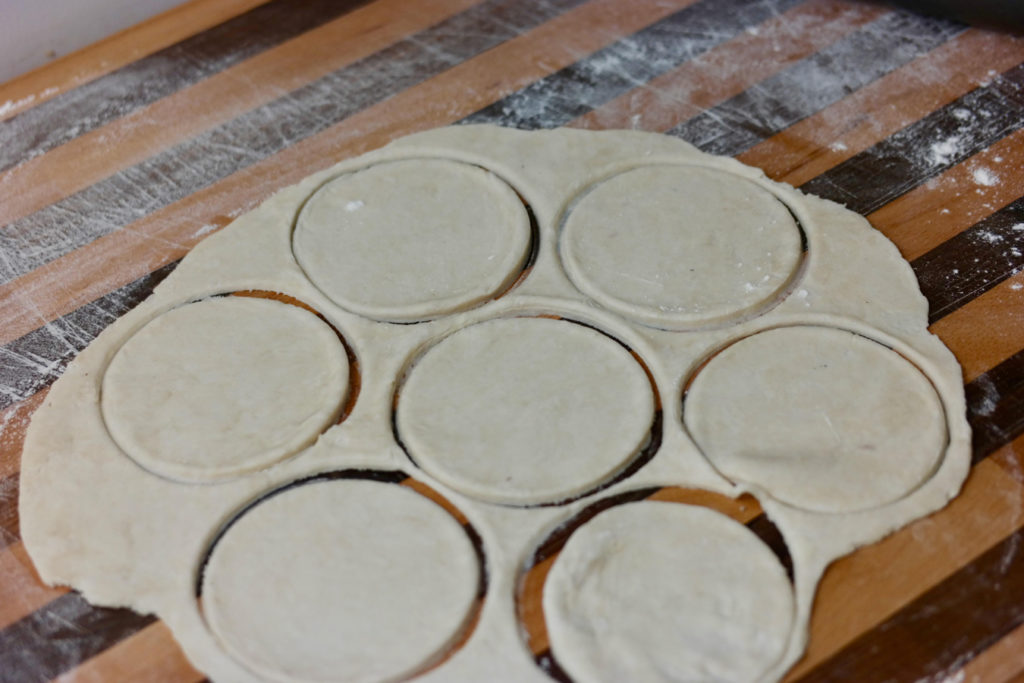 Pick up individual circles in your hand and place a spoonful of filling into each one.  Make half of your burekas with spinach and half with eggplant.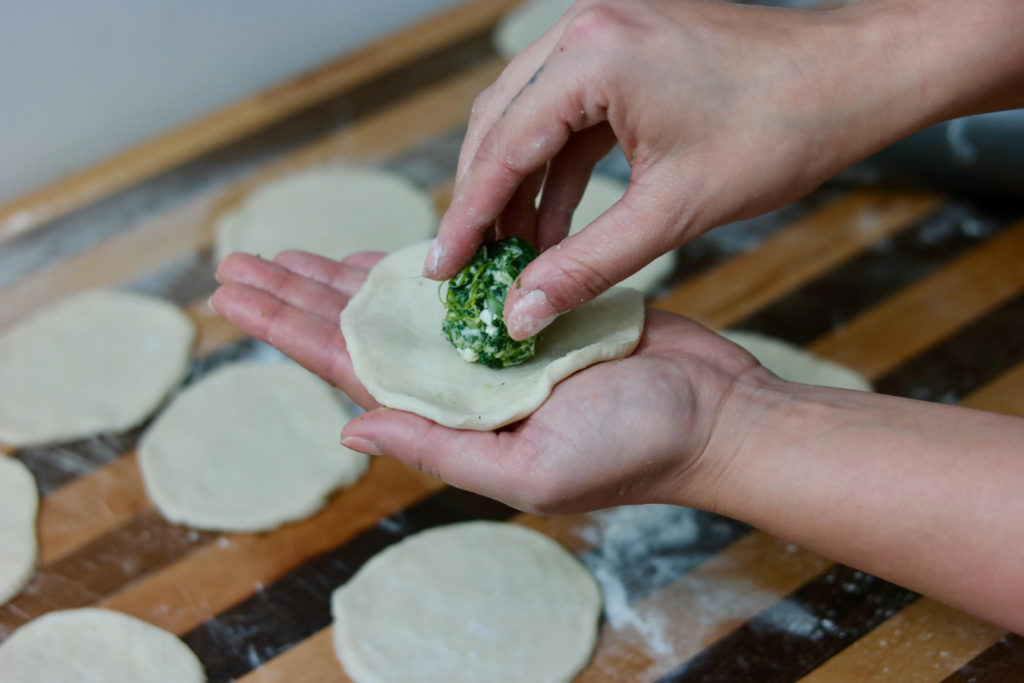 Carefully fold them in half and pinch them shut to seal the fillings inside, then crimp the edges with a fork and place the burekas on parchment-lined baking sheets.  Beat an egg with one tablespoon of water and brush this mixture over each one.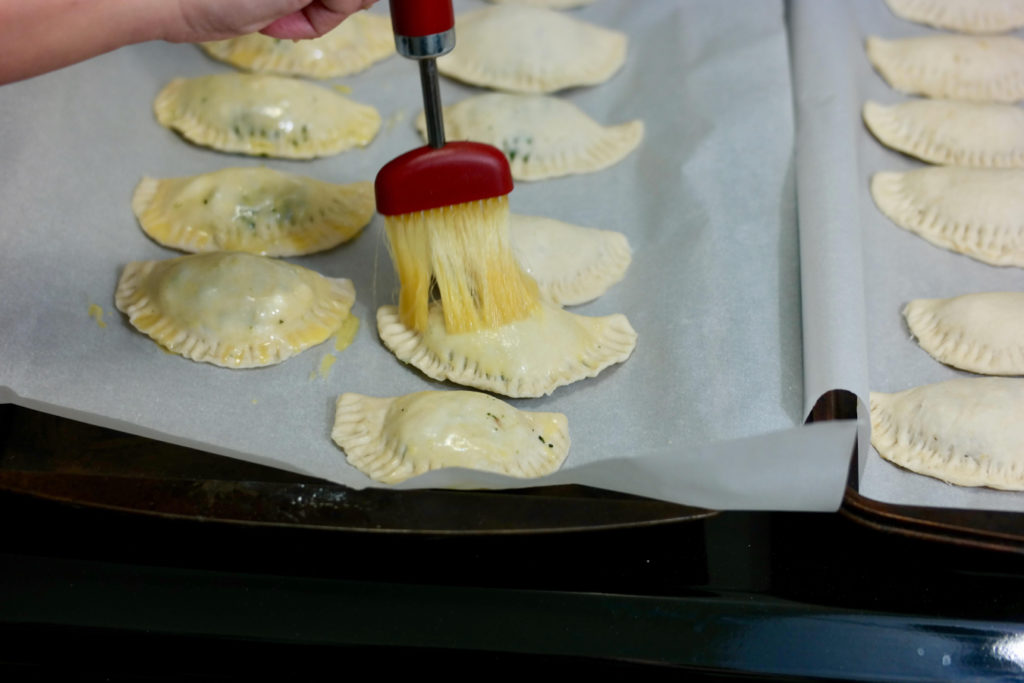 Finally, grate up a large handful of Parmesan cheese and sprinkle some over the top of each bureka.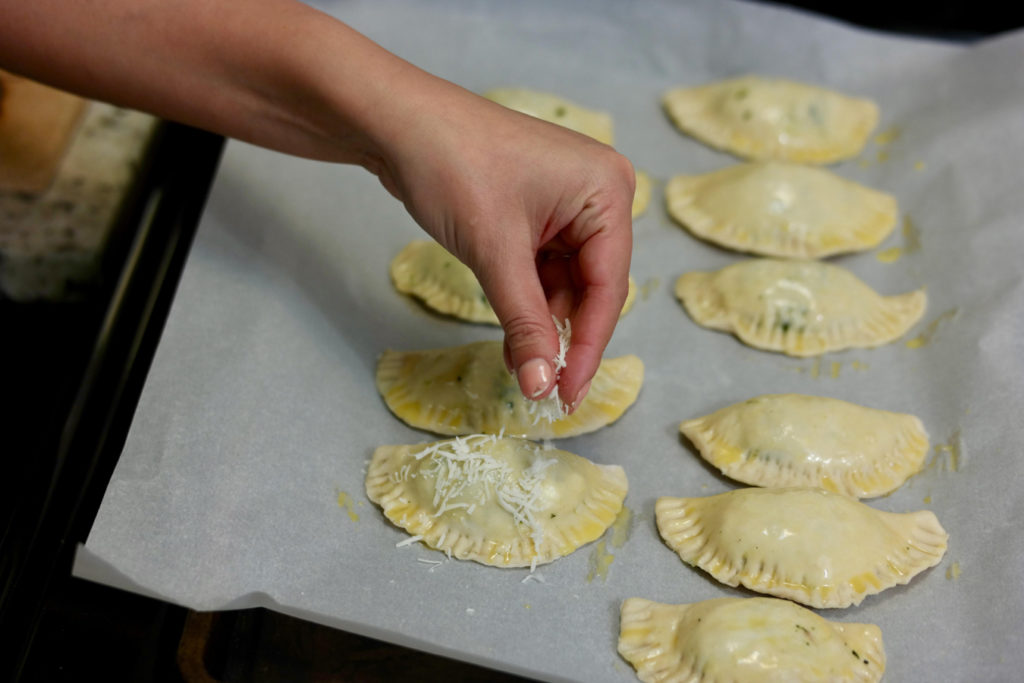 Bake at 350°F for 30-35 minutes, until each bureka browns on top.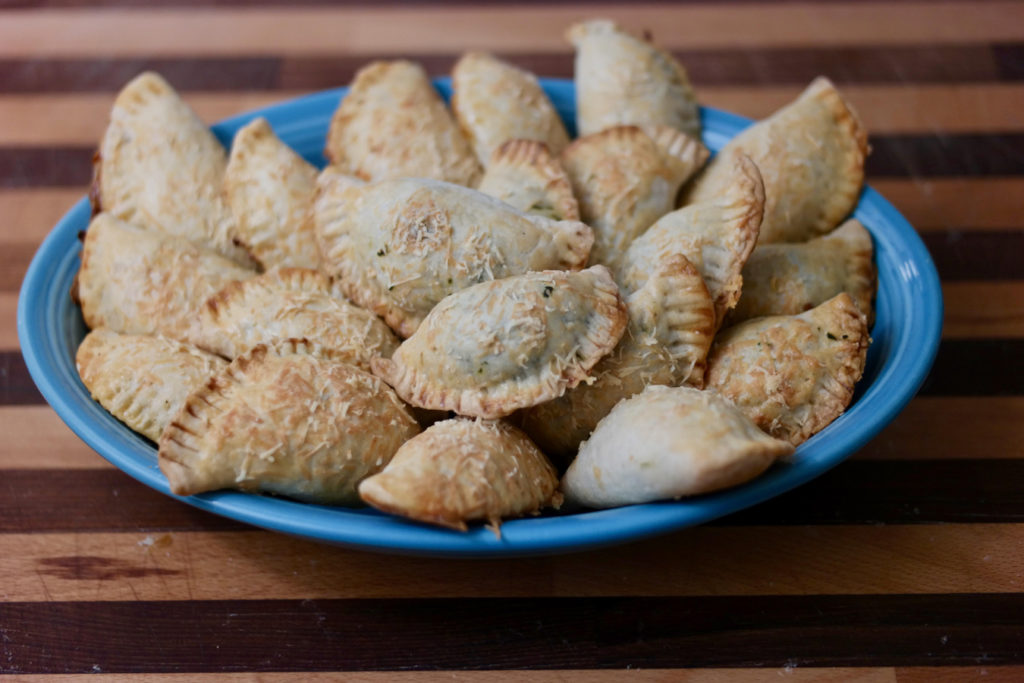 Here's what the eggplant one should look like once it's done: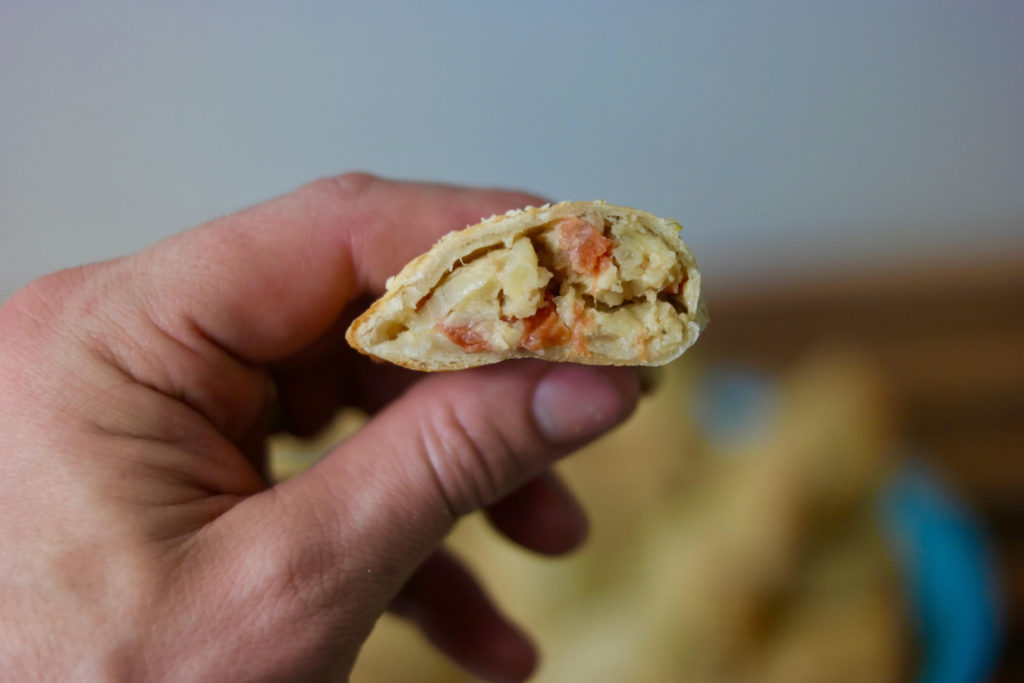 And here's the spinach-stuffed one: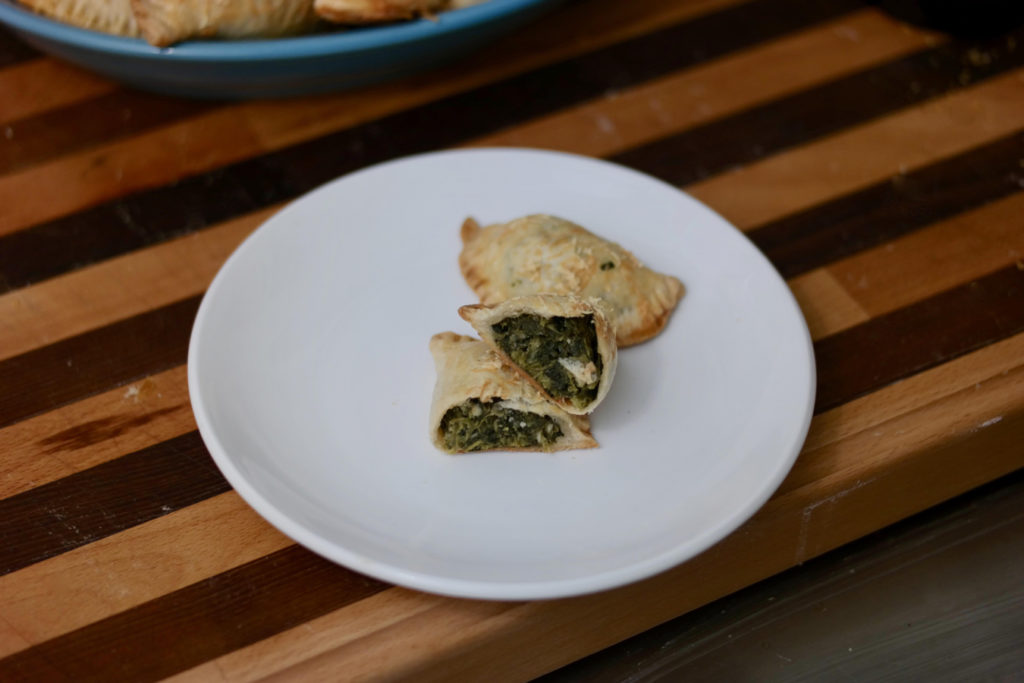 These turned out to be super delicious!  The dough is pretty simple but rich and flaky, and the fillings were nice vegetable variations: spinach and feta is a classic combination, and the strained eggplant pairs well with tomatoes and Parmesan cheese.  Baked up, these are great handheld, veggie-filled finger foods.  It does take some time to prepare the eggplant and the dough, but if you time everything right you won't be standing around waiting for things to be ready.  It was also a little tricky filling the burekas and making sure the filling didn't squish out when we were folding up each piece of dough, but if you work carefully you'll succeed in making these look nice.  Overall, we think these are a new and interesting way to make some baked vegetable-and-cheese dumplings, and we're sure you'll like them.