Earlier this week we showed you some spicy cheese dip we made for the Super Bowl this year, and now here's a second recipe we cooked up for the game this past Sunday.  Cyril decided that he wanted to make something spicy, cheesy (are you seeing a pattern here?), and fried – because is it really a Super Bowl if you're not eating fried food? Anyway, this is what he came up with:  little doughy nuggets filled with corn and cheese, plus some jalapeños baked right in the batter.  We really liked the way these turned out, and we think you'll enjoy our original recipe.
To make these, you'll need:
Flour
Baking powder
Butter
Frozen corn
Milk
3 jalapeños
A block of cheddar cheese
Vegetable oil
Start by mixing your dough:  stir together 1 1/4 cups of flour, 2 teaspoons of baking powder, 1/3 cup of milk, and a pinch of salt until your have a wet batter (add a little more milk if the mixture is too dry).  Measure out 1 1/2 cups of frozen corn kernels and microwave them just until they're thawed, then stir half of them into the batter.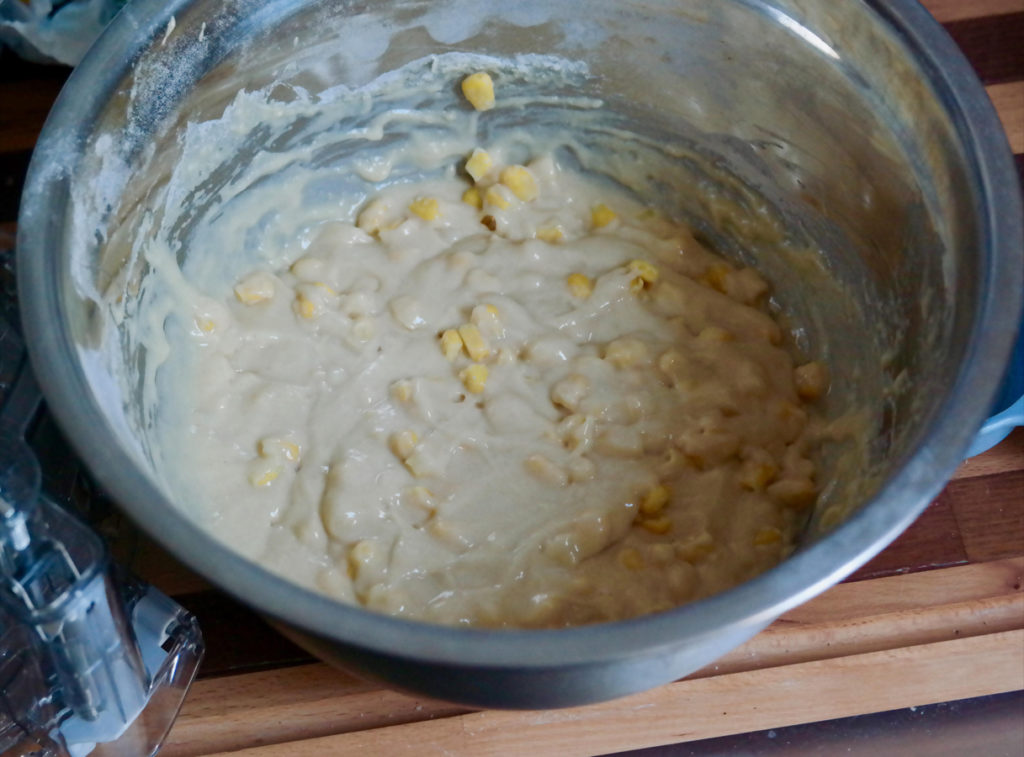 Take the rest of the corn and chop it up in a food processor until it's finely and evenly diced but not mushy.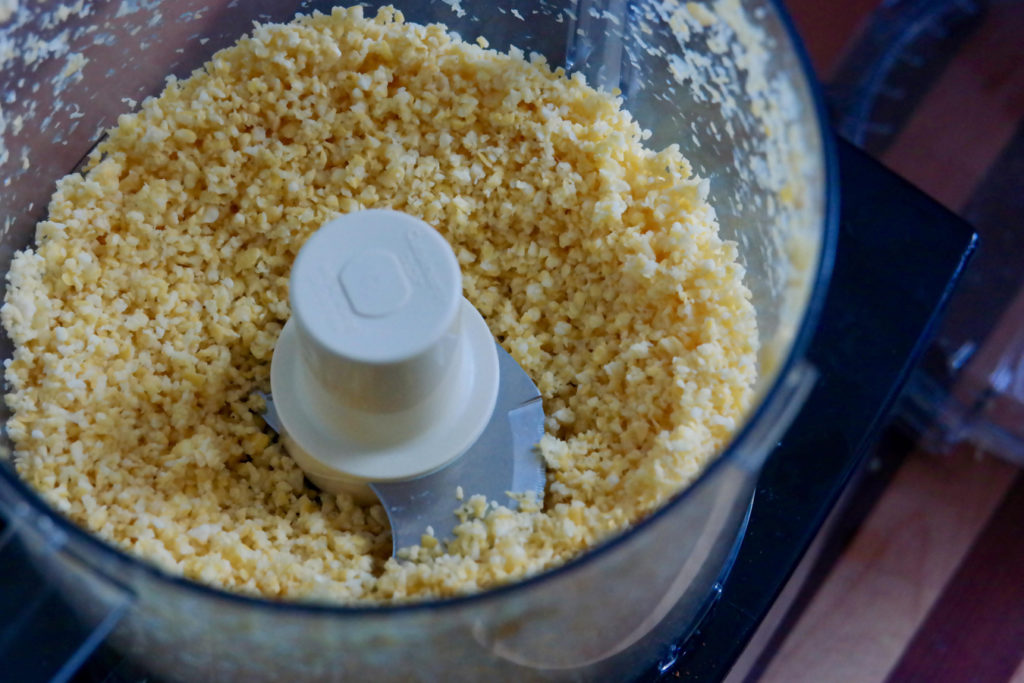 Then slice and deseed your jalapeños and chop them up in the food processor as well.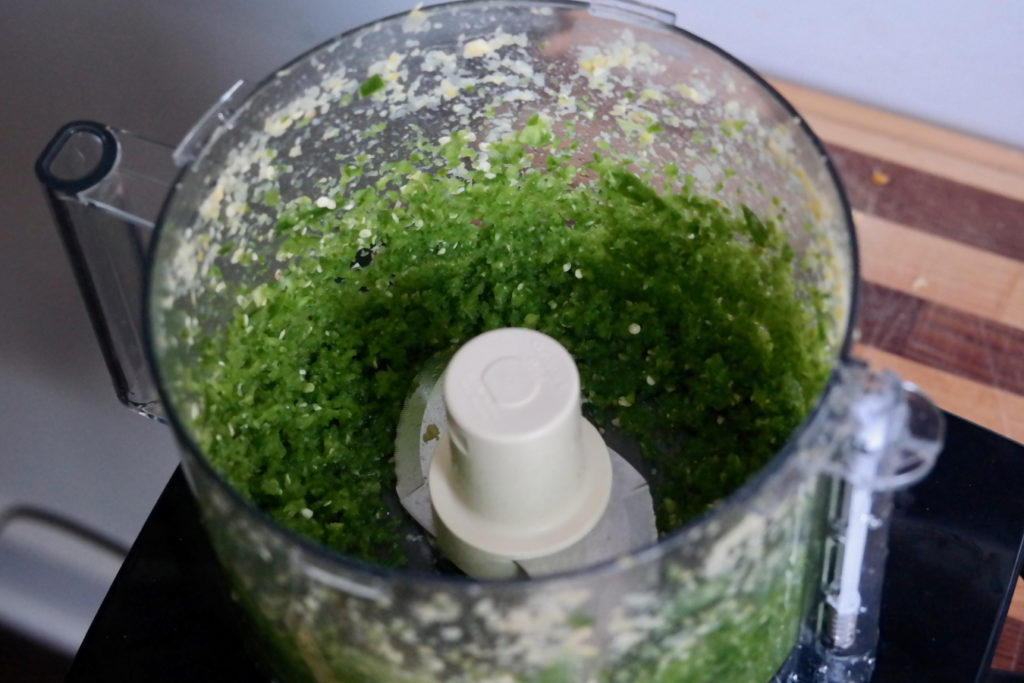 Now stir the remaining corn and the jalapeños into your batter.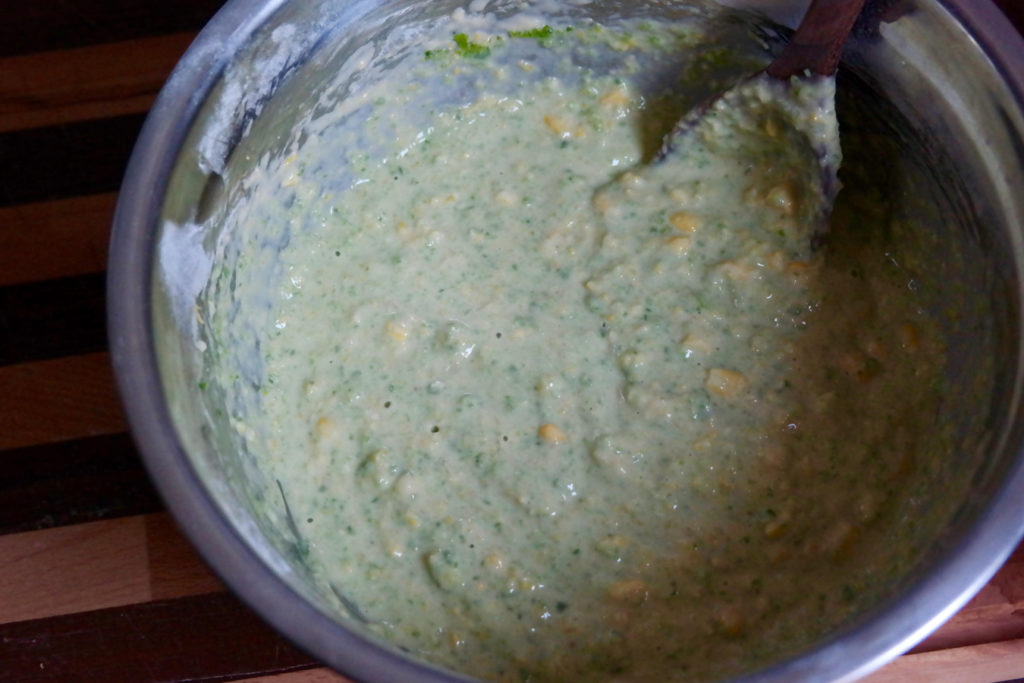 Next, take your cheddar cheese and cut it into cubes.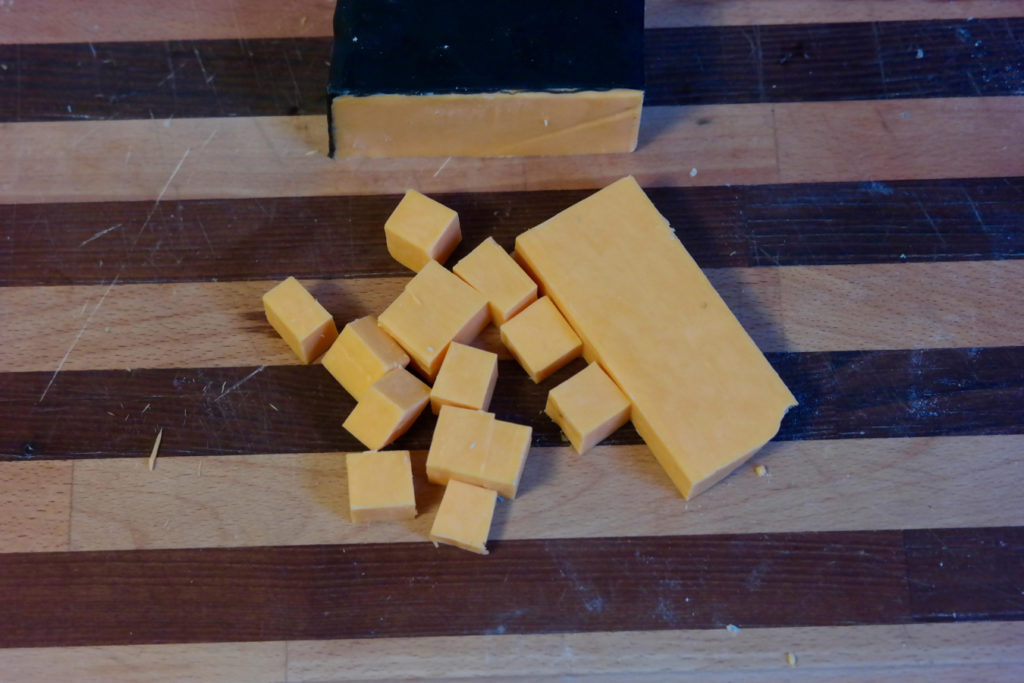 On a baking sheet lined with parchment paper, dollop your batter into small biscuit-sized pieces and place a cheese cube into the center of each one.  Place more batter over the cubes, so that they're completely covered, and shape each one into a ball.  Place the baking sheet in your freezer for at least 20 minutes so that the dough sets.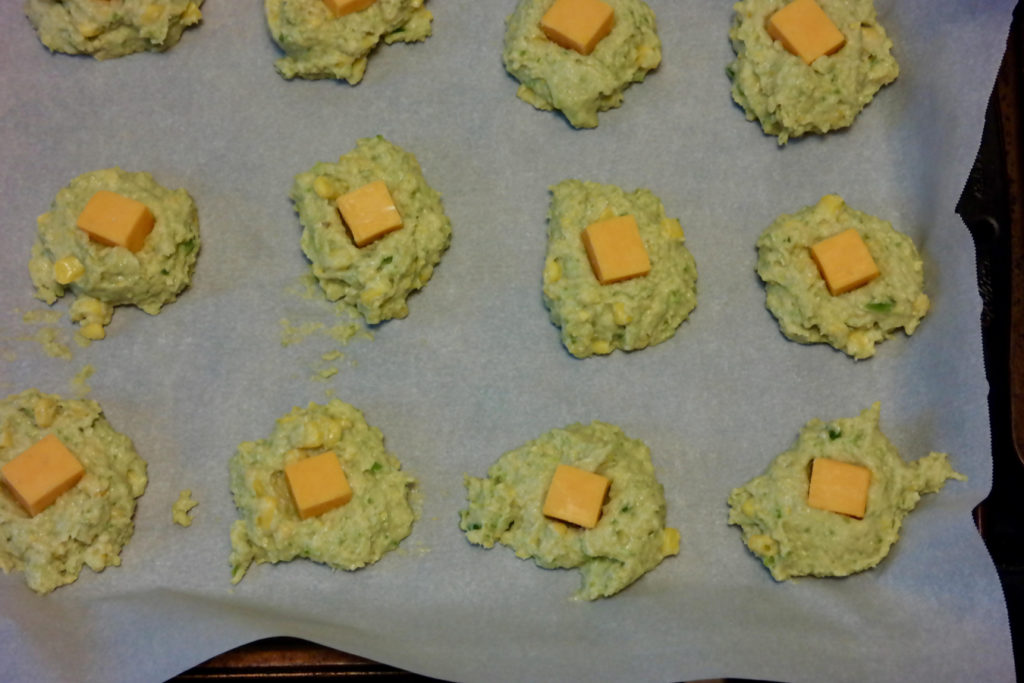 Then you can fry these bites:  pour about 3 inches of vegetable oil into a Dutch oven and warm it over medium heat until it reaches a temperature of 325°F (use a candy thermometer to check how hot your oil is getting).  Gently place two bites at a time in the oil and cook them just until they brown on the outside, then take them out with tongs and lay them on paper towels to drain.  Once the bites have cooled, you can eat them!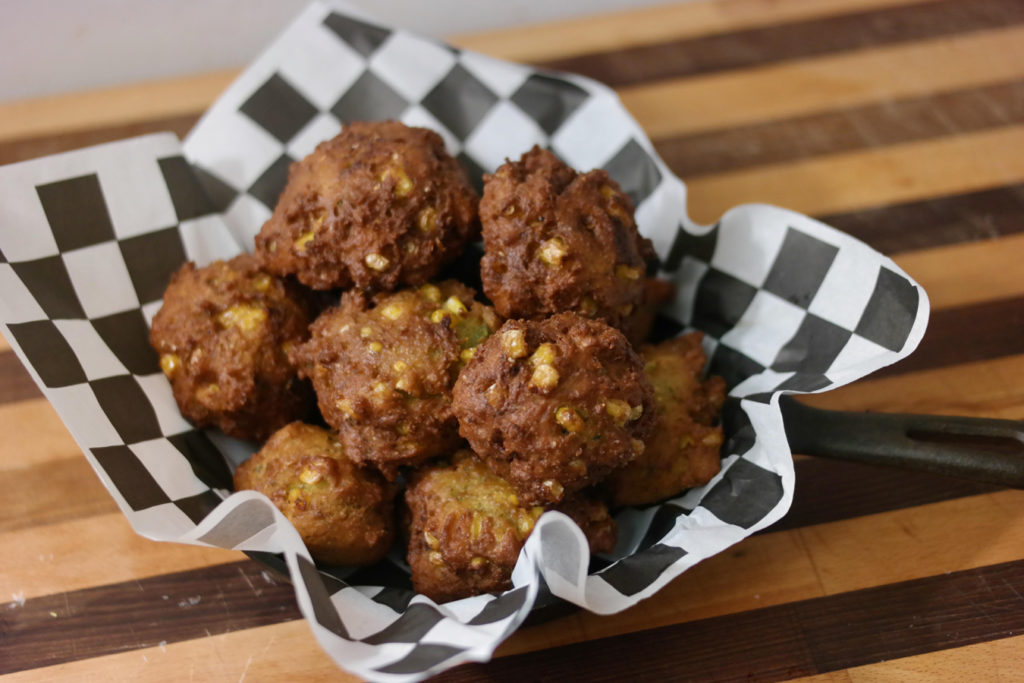 Here's what they're like inside with those cheese cubes hidden in the middle: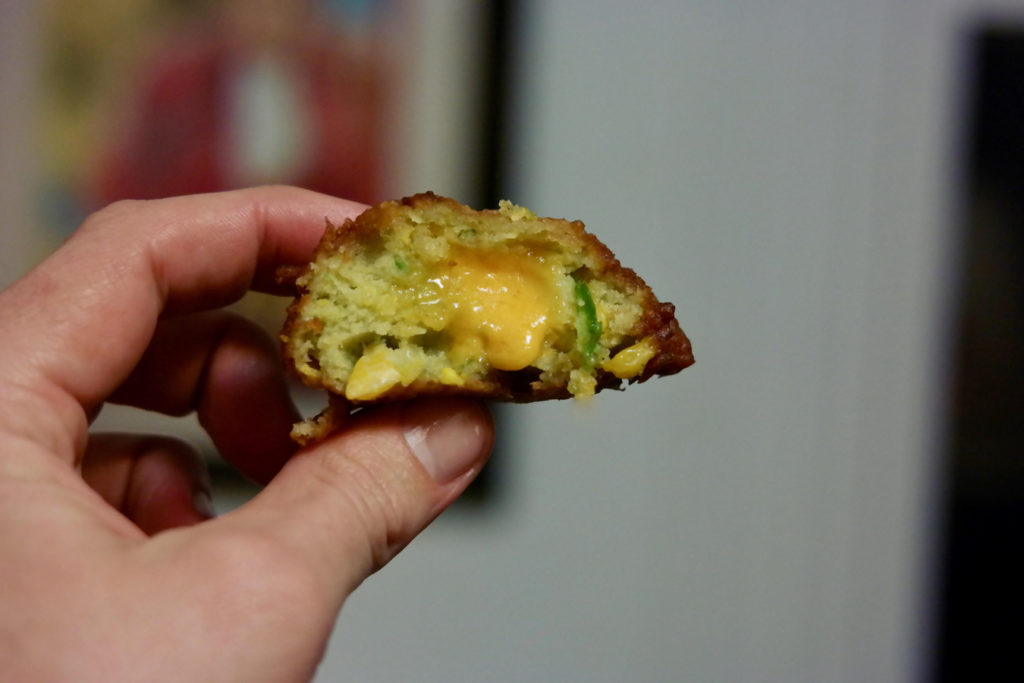 These were a great, new, inventive Super Bowl treat:  the batter is nicely spicy with the jalapeños, the corn adds a nice flavor, and the gooey, cheesy center is amazing.  Then deep frying each one, of course, makes everything delicious.  These bites hit all the right notes of what you're looking for in a Super Bowl food without containing any meat – so when the game rolls around next year, try these out!