Looking for a sweet treat to make your Valentine?  How about brownies?  We know that there's tons of brownie recipes out there, but we think this version (based on a recipe from the New York Times) is stellar.  First, it uses olive oil in the batter, instead of vegetable oil or butter, which might sound strange but actually gives the brownies a really interesting and rich flavor.  Second, there's some really great ingredients – like mini chocolate chips and sea salt – that go into the recipe to make it even better.  And best of all these are completely homemade, not store-bought or from a Betty Crocker box mix, and they're also pretty simple to make so they're a great way to show someone you care.  Now without further ado, here's the recipe!
You'll need:
Olive oil
Flour
Baking powder
Cocoa powder
Unsweetened or semi-sweet baking chocolate
An egg
Vanilla extract
Brown sugar
Sugar
Mini chocolate chips
Sea salt
Start by breaking off 3 ounces of chocolate (that should be 3/8 of a standard bar) and heating it in your microwave for 10-15 second intervals until it's melted enough that you can stir it into a smooth liquid.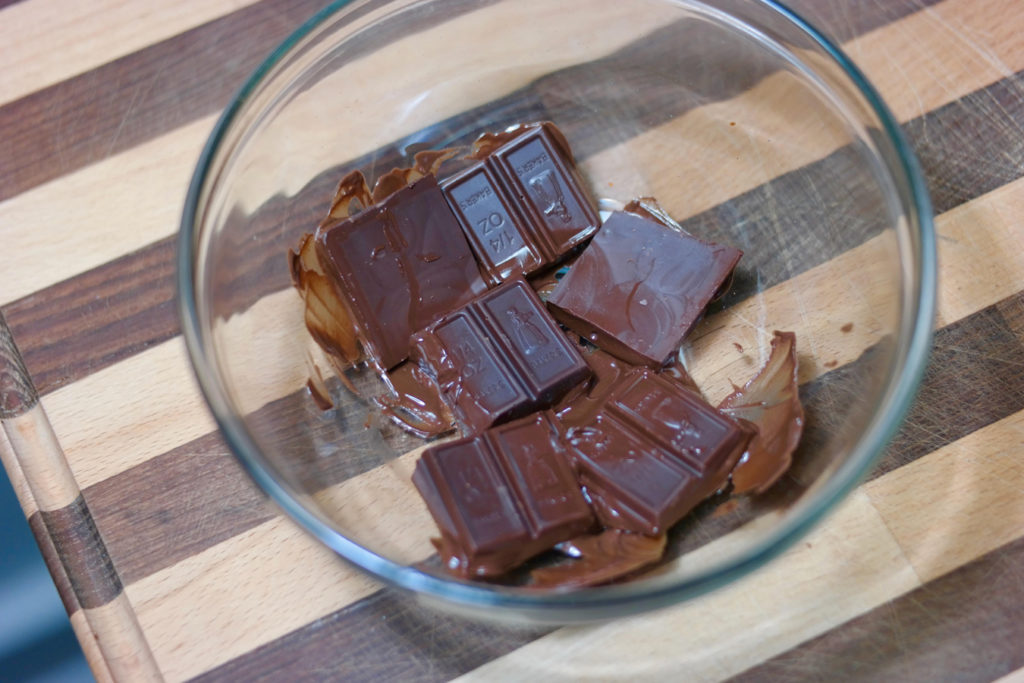 Then in a bowl, mix 1/4 cup of cocoa powder with 1/4 cup of boiling water, then whisk in the melted chocolate, 6 tablespoons of olive oil, a tablespoon of vanilla, and your egg.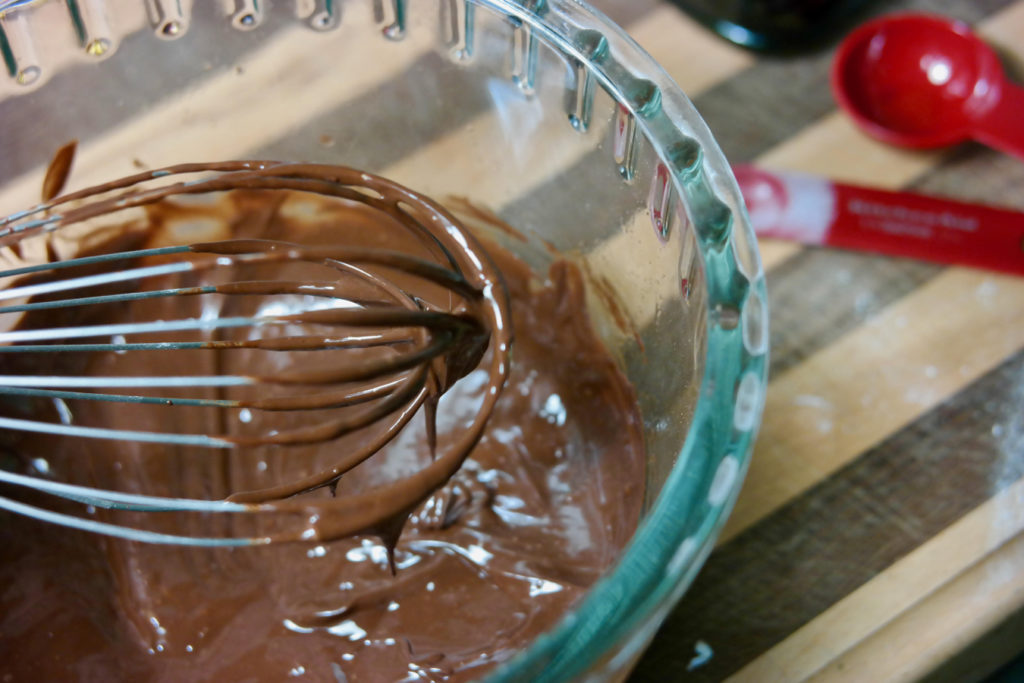 In a separate bowl, stir together a cup of flour, 1/4 teaspoon of baking powder, and a pinch of salt, then pout that into the cocoa mix.  Add in 1/3 cup sugar and 3/4 cup brown sugar and stir everything together with a spatula.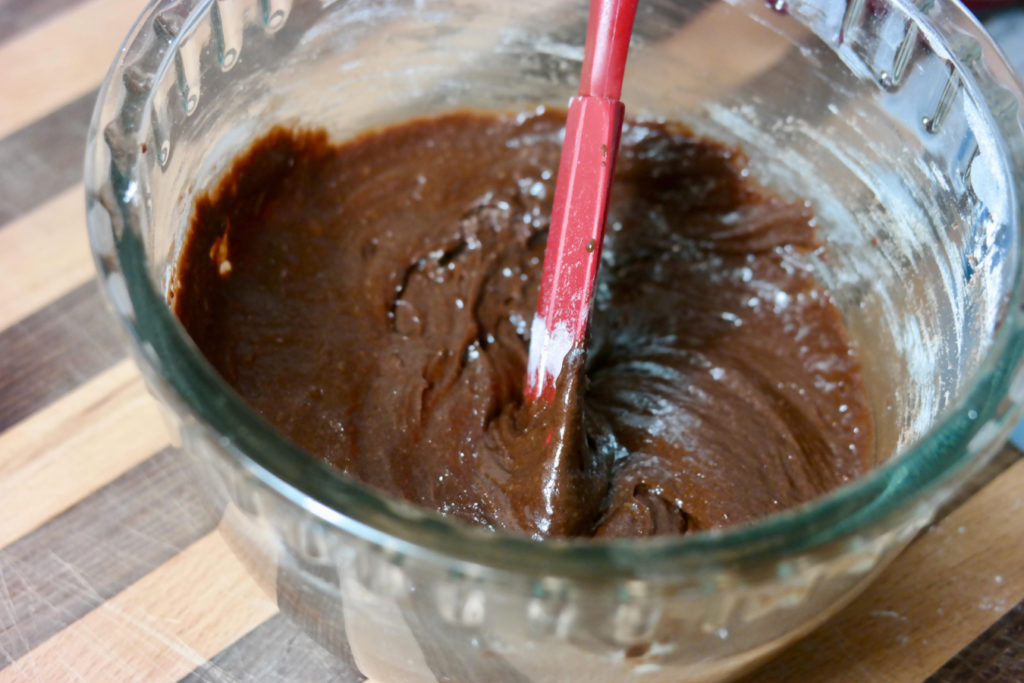 Lastly, mix in 1/2 cup of your chocolate chips.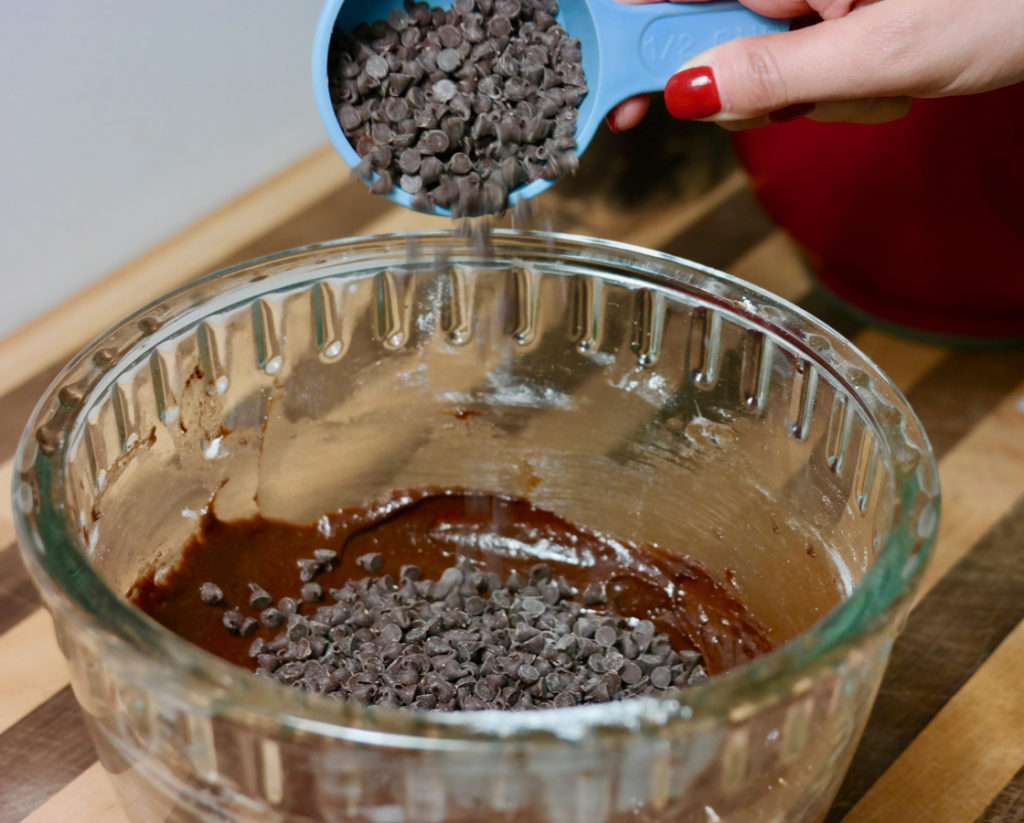 Once everything is mixed together, grease a square baking pan and line it with parchment paper, then pour your batter in.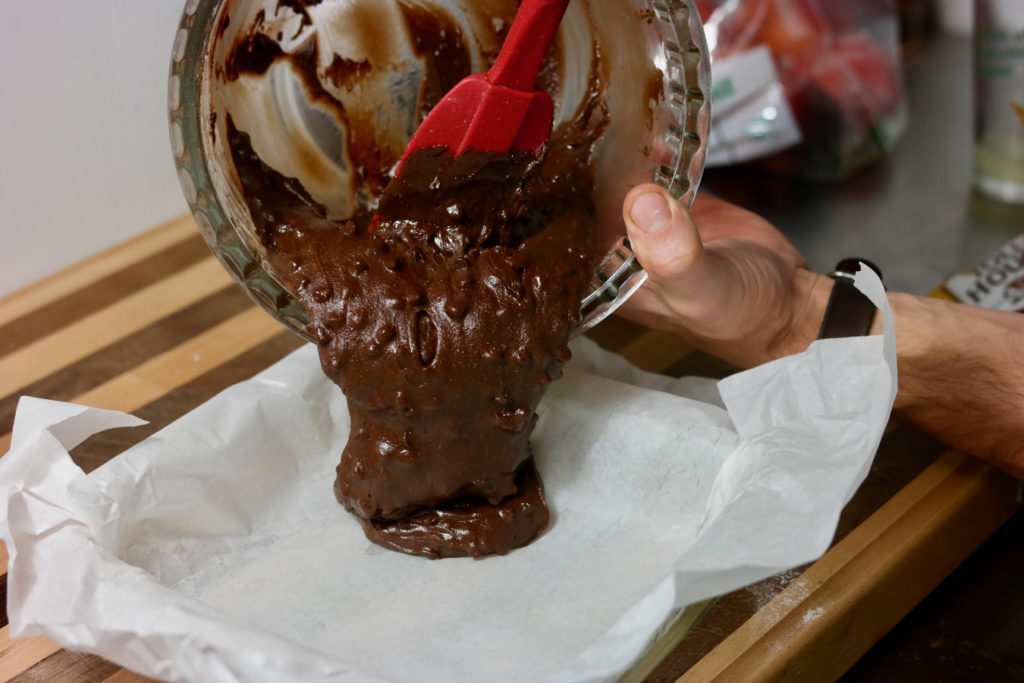 Smooth it out evenly with your spatula and bake it at 350° for 20-25 minutes, until you can insert a toothpick in the middle and it comes up clean.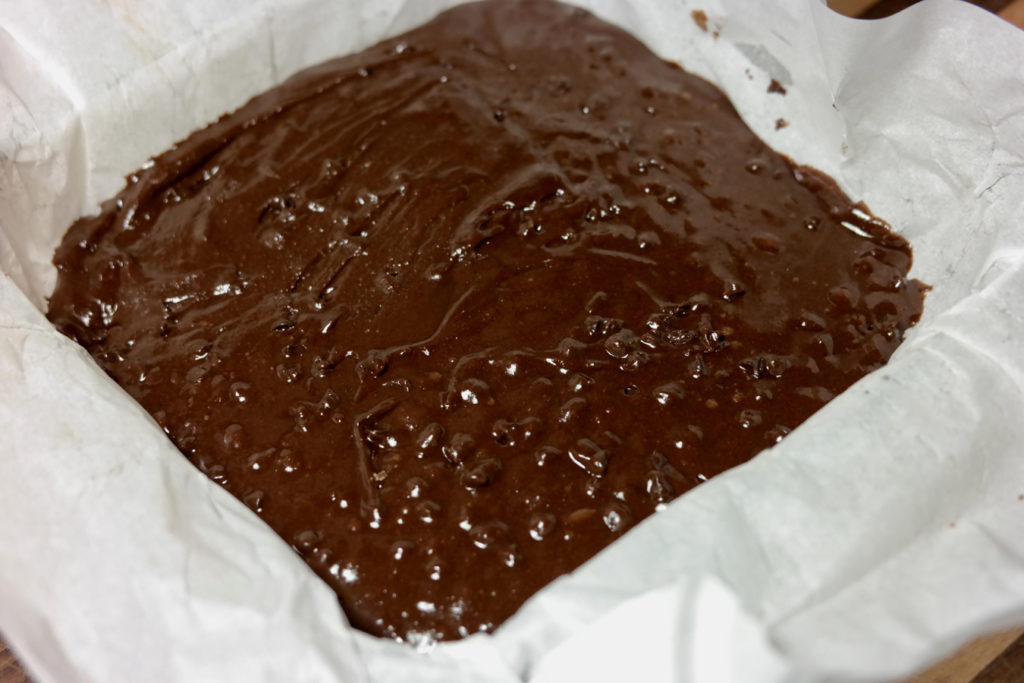 Right when the brownies come out of the oven, sprinkle them with a generous amount of sea salt.  Let them cool and then you can slice them up.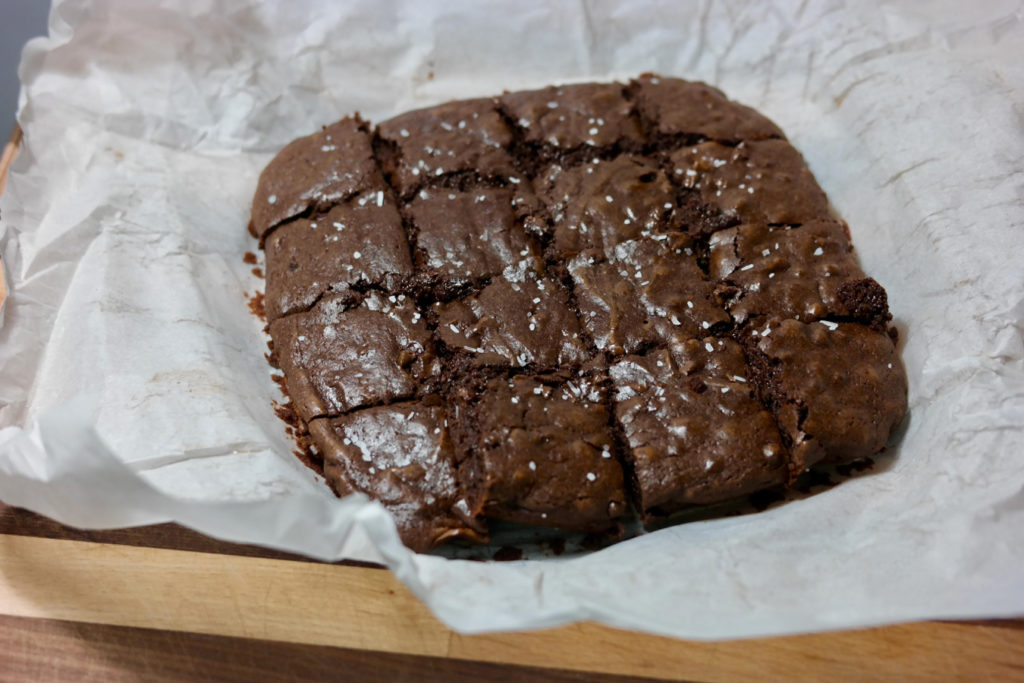 Here they are, all nice and fudgy!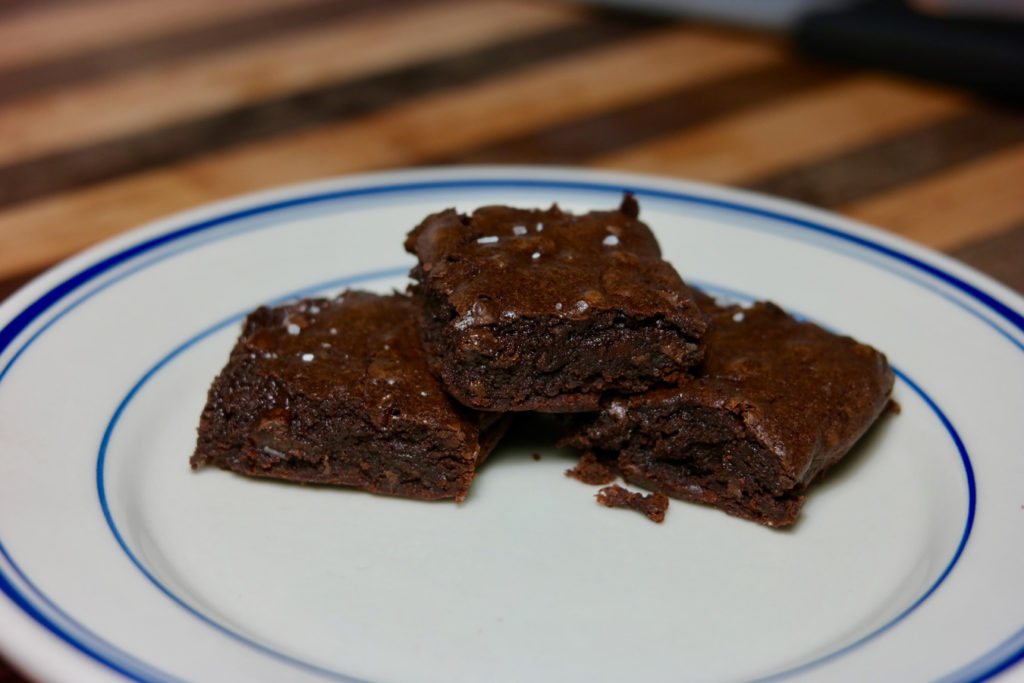 As you can tell from this picture, these brownies came out incredibly moist from the olive oil.  They were rich but not too dense, with the mini chocolate chips adding in extra pockets of chocolate, and the sea salt on top gave a nice, interesting and contrasting flavor to everything.  This was a great, easy recipe to make and something you can definitely keep in your back pocket as a good chocolatey snack to make anytime you want to celebrate something – or if you're just craving brownies!