For Valentine's Day this past week we wanted to make ourselves a cute, unique, and holiday-centered treat.  Luckily for us, the New York Times had posted a recipe the previous day for Valentine-themed cookies, so we decided to try them out.  These are our results!  They took some time to make, between chilling the dough several times and decorating them once they came out of the oven, but we really enjoyed making something special and topical for the holiday.  Really though, you can bake these at any time of the year, so without further ado here's how we made our cookies.
You'll need:
Flour
Cocoa powder
2 sticks of butter
Sugar
An egg
Vanilla extract
White chocolate chips
Milk chocolate chips
A small bag of frozen raspberries
First, measure out 2 cups of flour, 1/2 cup of cocoa powder, and a tiny pinch of salt and whisk that all together.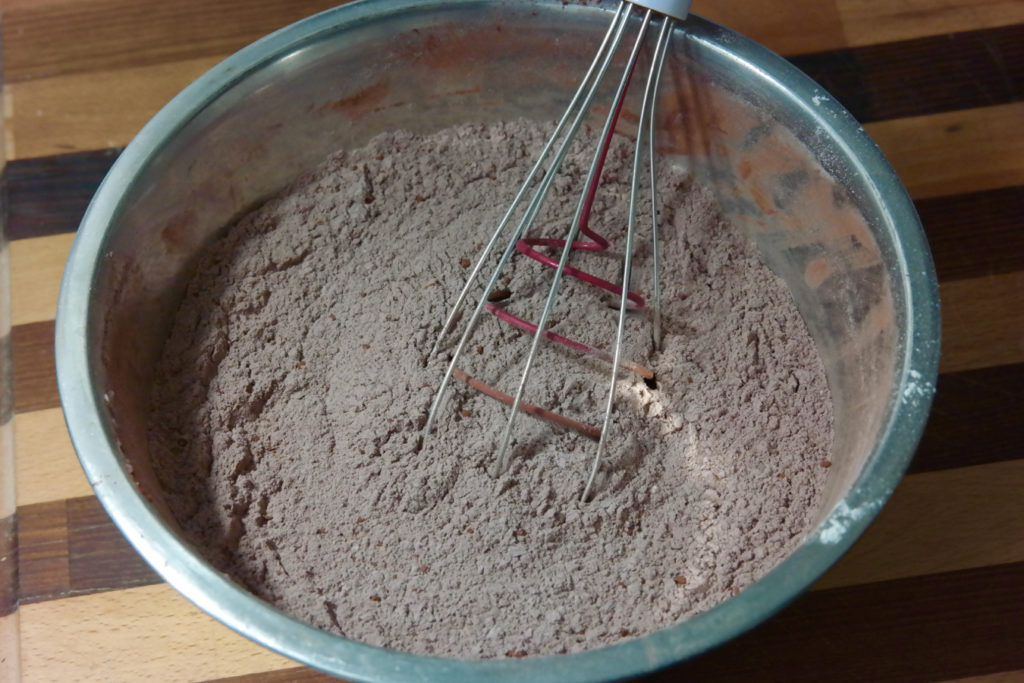 Then place both sticks of butter, slightly softened, in the bowl of an electric mixer along with 2/3 cup of sugar.  Cream them together until they're light and fluffy, then add in the yolk of your egg and 1/2 teaspoon of vanilla extract and combine until everything is a smooth consistency.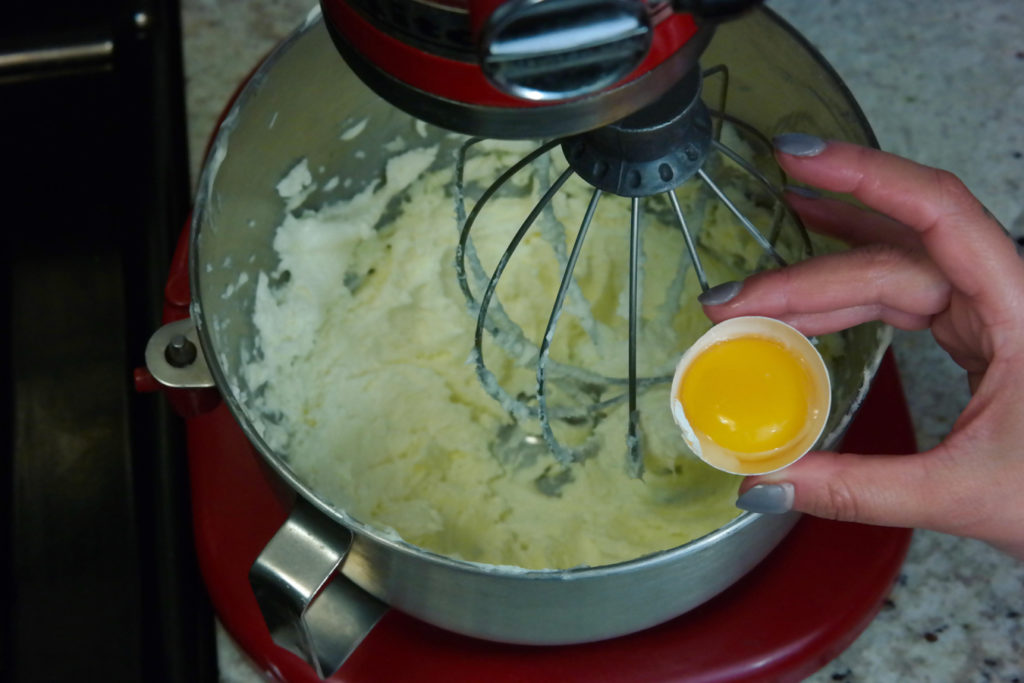 Pour in your cocoa mixture and mix everything together into a dough.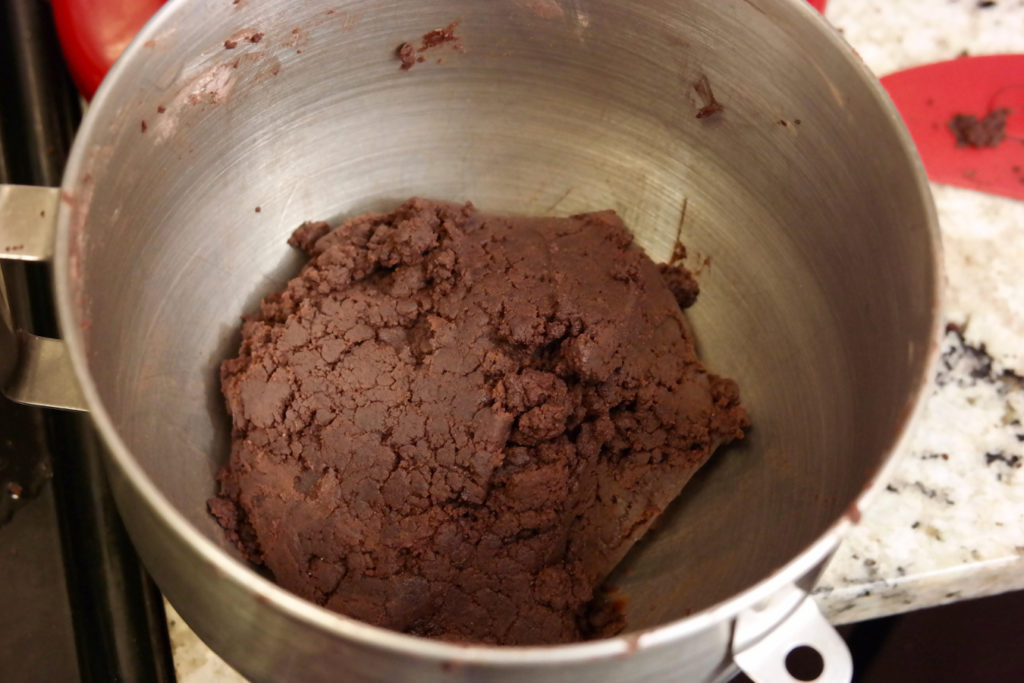 Shape the dough into a disk, wrap it up, and stick it in the fridge for at least an hour.  When it's ready, take it out and roll it to 1/2-inch thickness between two sheets of parchment paper, then chill it again for another half an hour.  Take it out again, remove the top layer of parchment paper, and use a heart-shaped cookie cutter to cut out your dough.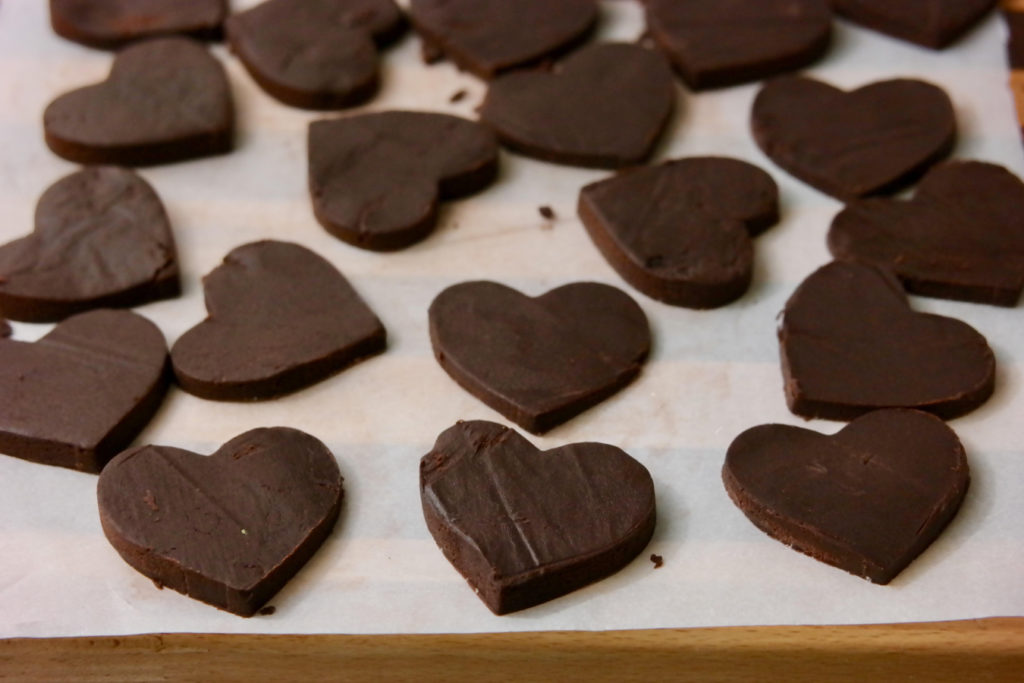 Bake these cookies on the parchment paper at 325°F for about 20 minutes until they're firm but not burned, and then set them aside to cool completely.
Meanwhile, take your bag of frozen raspberries and open it to squeeze all the air out, then reseal it and run a rolling pin over the top to crush the berries.  Pour these out into a bowl.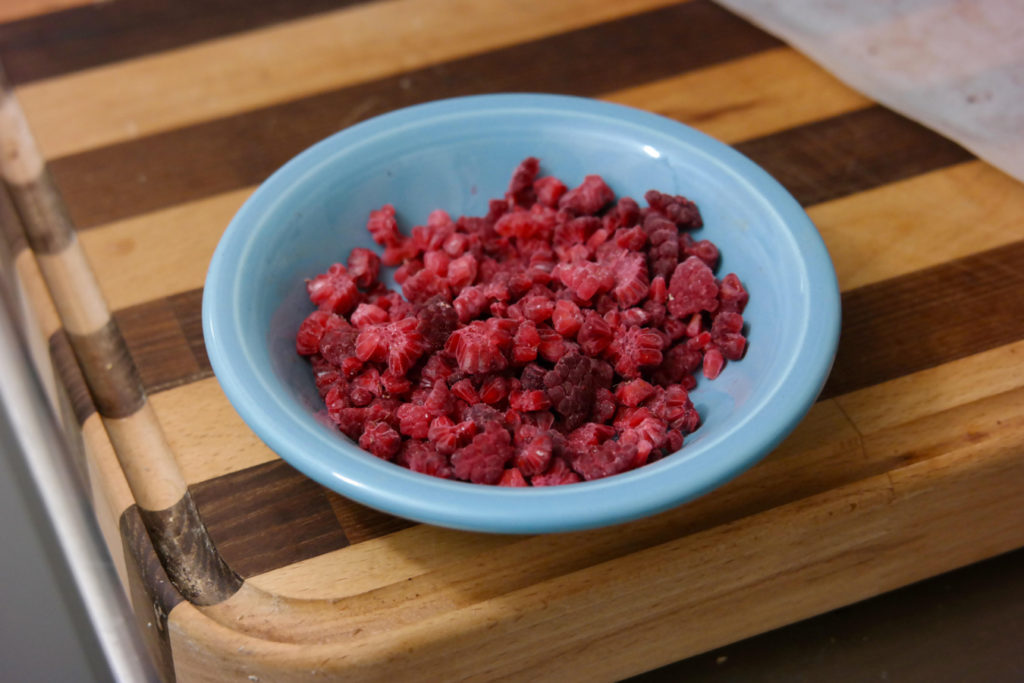 Measure out a cup each of the milk chocolate and white chocolate chips into separate bowls.  Take one bowl and microwave it in 20-second increments until the chips are melted and you can stir them together into a smooth chocolate liquid.  Dip half of a cookie into the chocolate …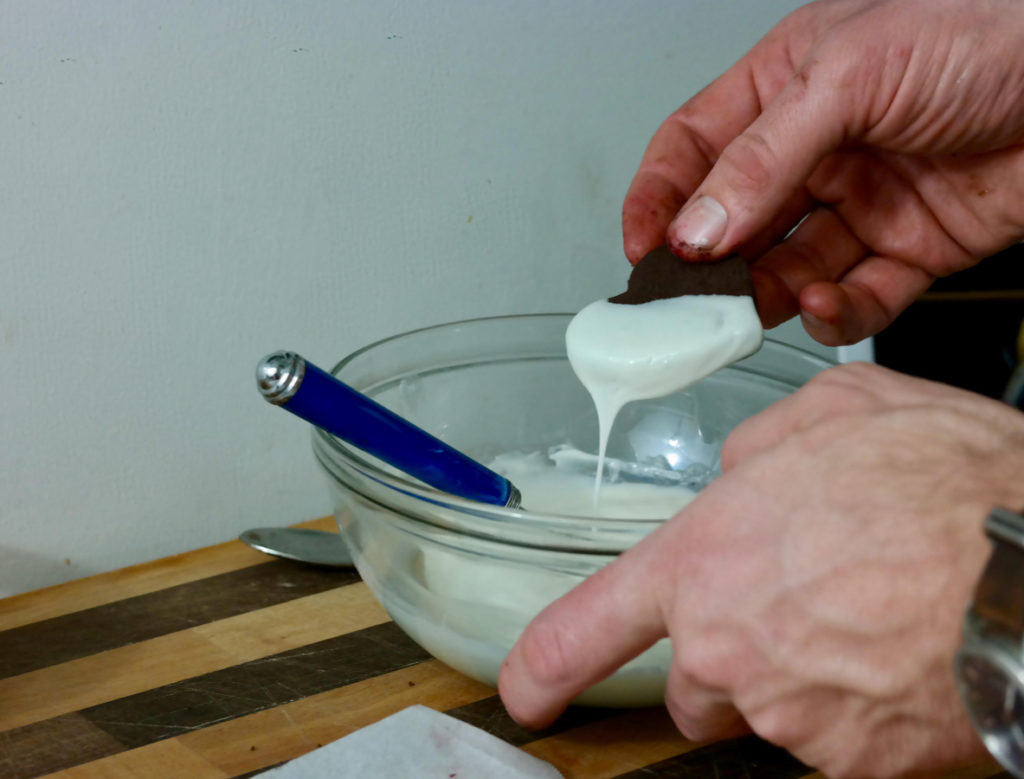 … then sprinkle it with the raspberries.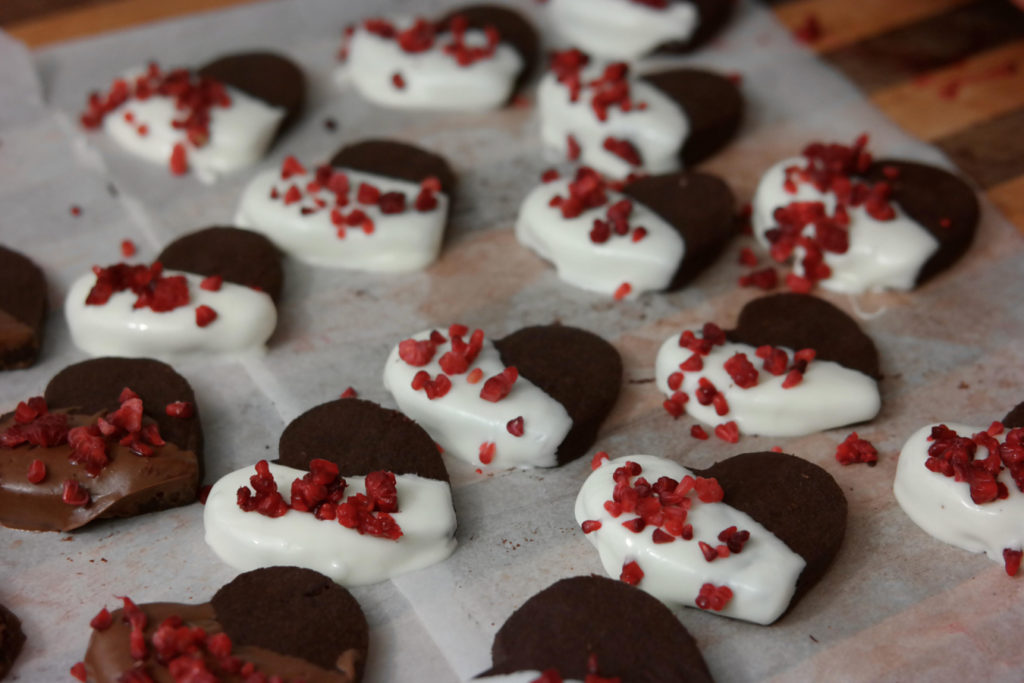 Do the same with the other chocolate.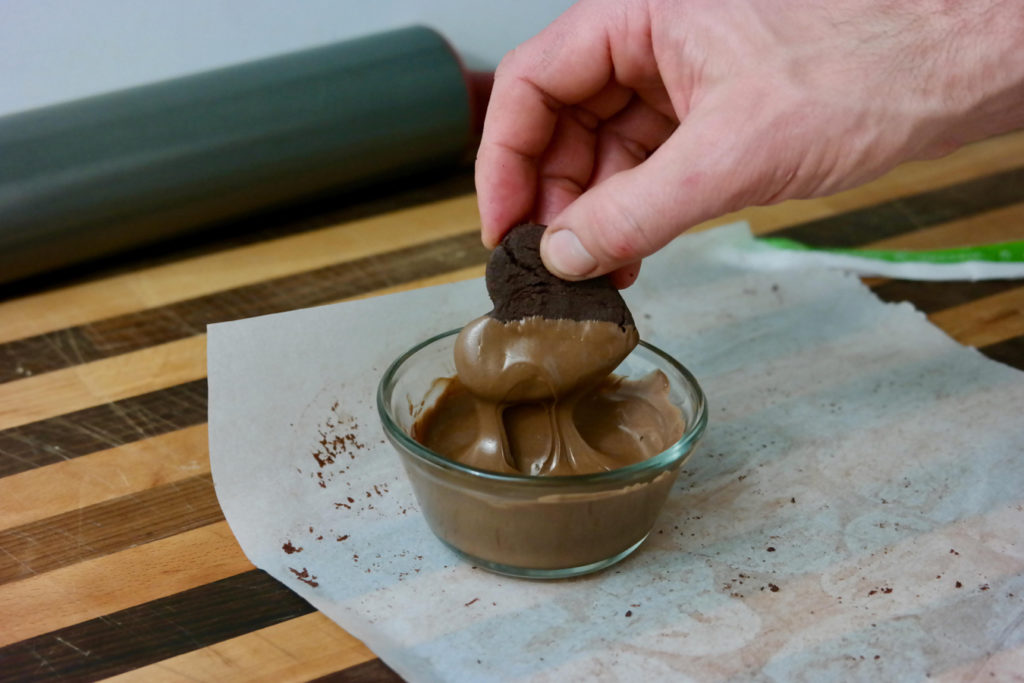 Let the chocolate fully cool and harden, and then you can enjoy your cookies!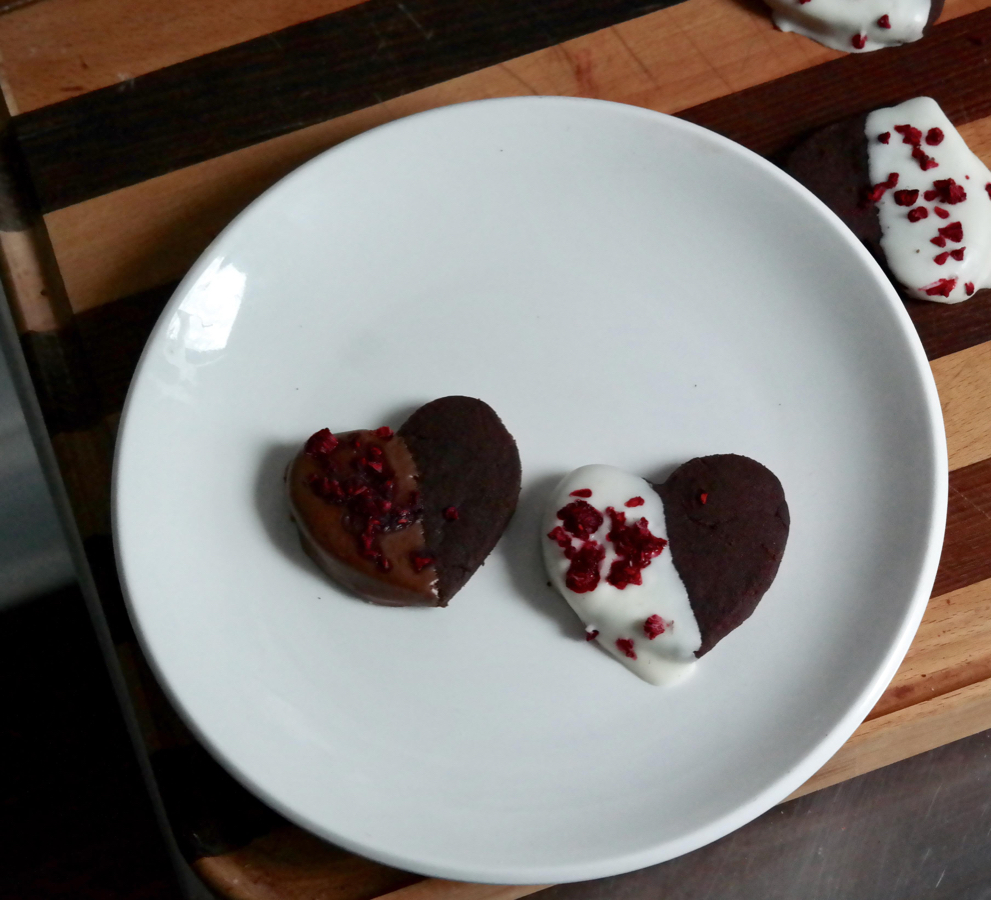 These are super cute, and really tasty!  The dough is rich and not too sugary – one person we shared these cookies with thought they tasted like brownies – and the melted chocolate on top adds a little extra sweetness.  The raspberries on top are a colorful addition and also add a unique flavor to bring everything together.  These were a fun, festive treat, so if you've got some time to spend on baking we think these are a really cool way to celebrate love.