Over the long Presidents Day weekend we decided to go all the way across the country and visit San Diego.  Although it took forever to get there, we were really excited to hang out in a warmer environment, check out all the sea life on the area's beaches, and of course eat our hearts out!  Here's a sampling of what we got to try while we were there – it was a lot of Mexican food, but it was such good Mexican food that we never really got tired of it.  Just be warned, there is some meat featured in this post.
The first Mexican place we tried was La Puerta in downtown San Diego.  We heard the street tacos there were good so Miriam got come with grilled veggies and sides of creamed corn and poblanos, plus rice and refried beans (just make sure to specifically ask for these to be vegetarian).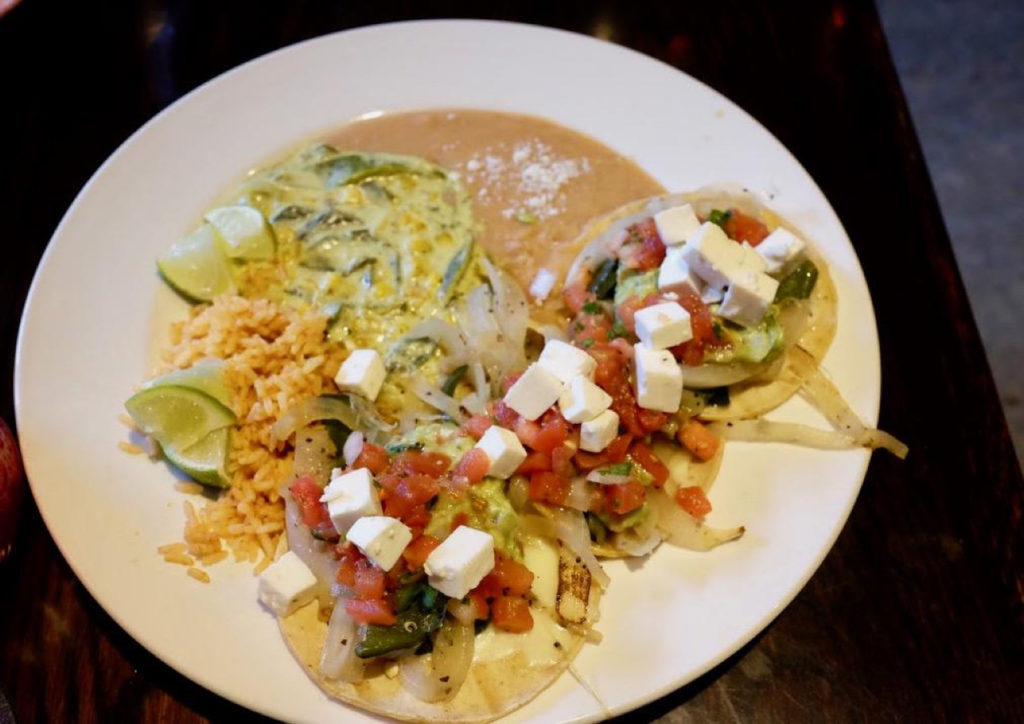 Cyril tried one of their giant one-pound burritos, stuffed with carnitas and made "wet" with green and red chile sauce on top.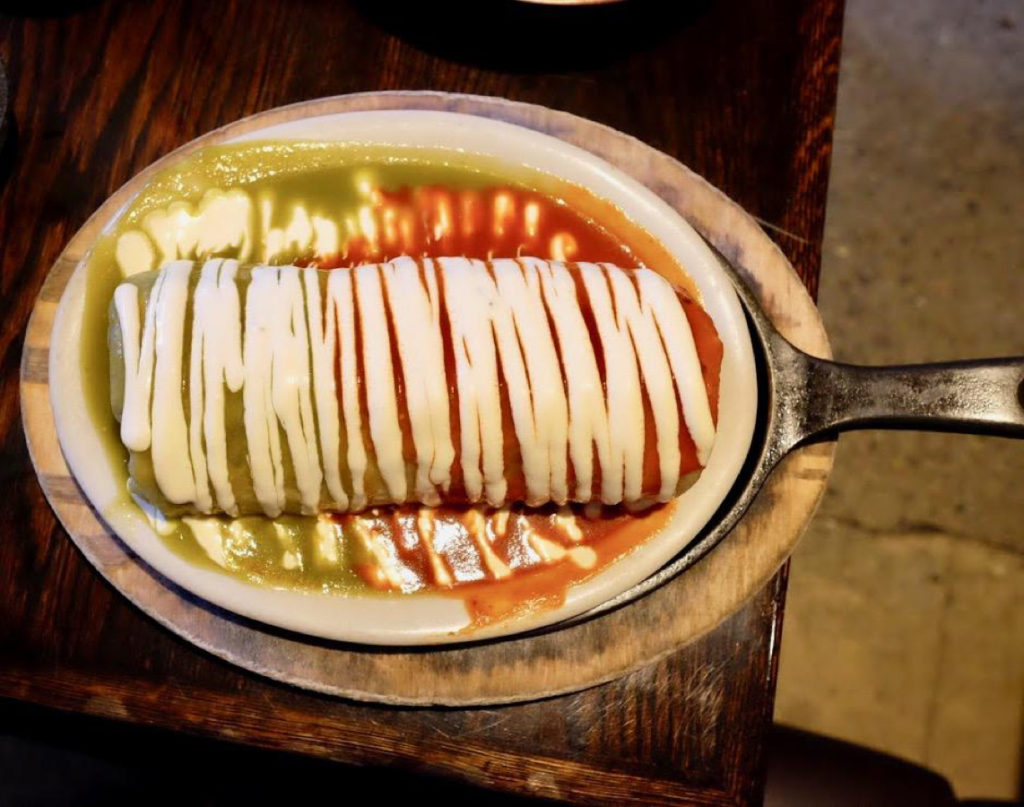 We also had several people recommend that we try Lolita's, which has six restaurants in the San Diego area.  After spending a morning in La Jolla, we went to the nearby Kearny Mesa location and both tried some burritos.  Here is Miriam's veggie version, with pinto beans, guacamole, lettuce, tomato, and cheese inside: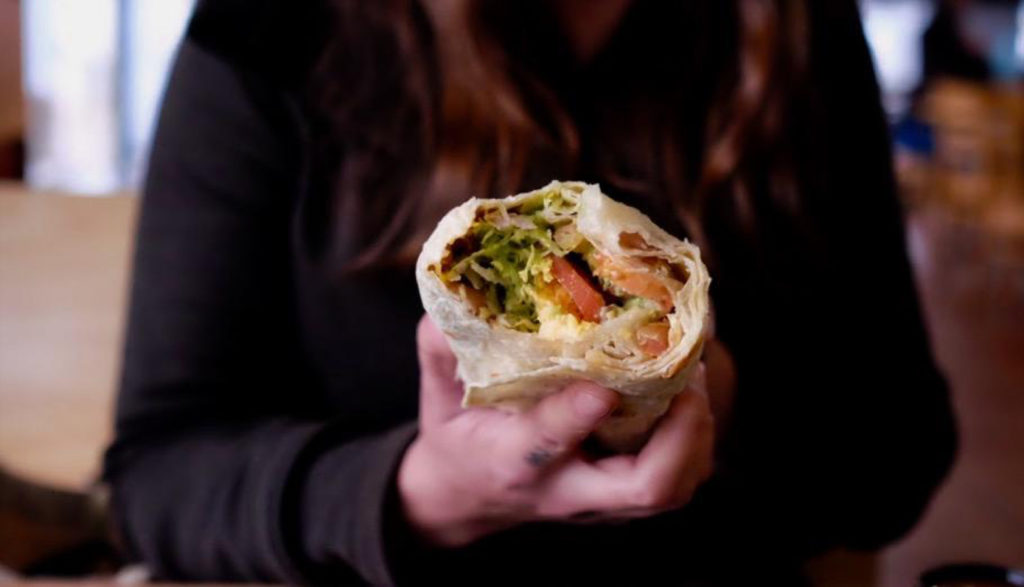 And here is Cyril with a California burrito, which means it's got fries in it plus beef and cheese.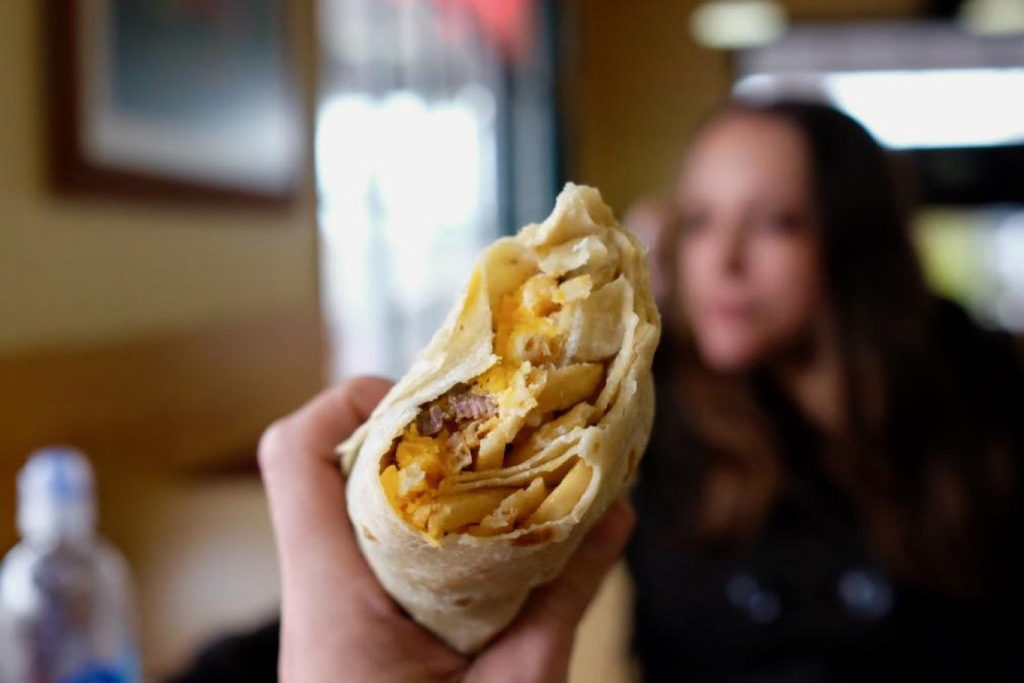 We also shared a plate of chips topped with cheddar and cotija cheeses …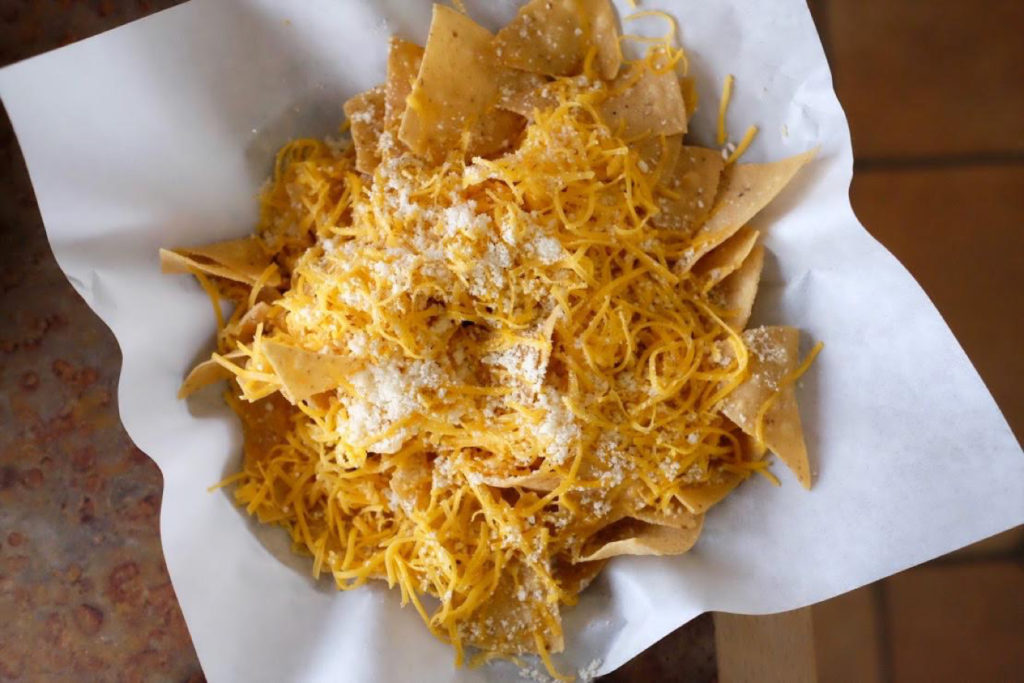 … and Cyril also had some carne asada fries, which are a local specialty that Lolita's supposedly invented.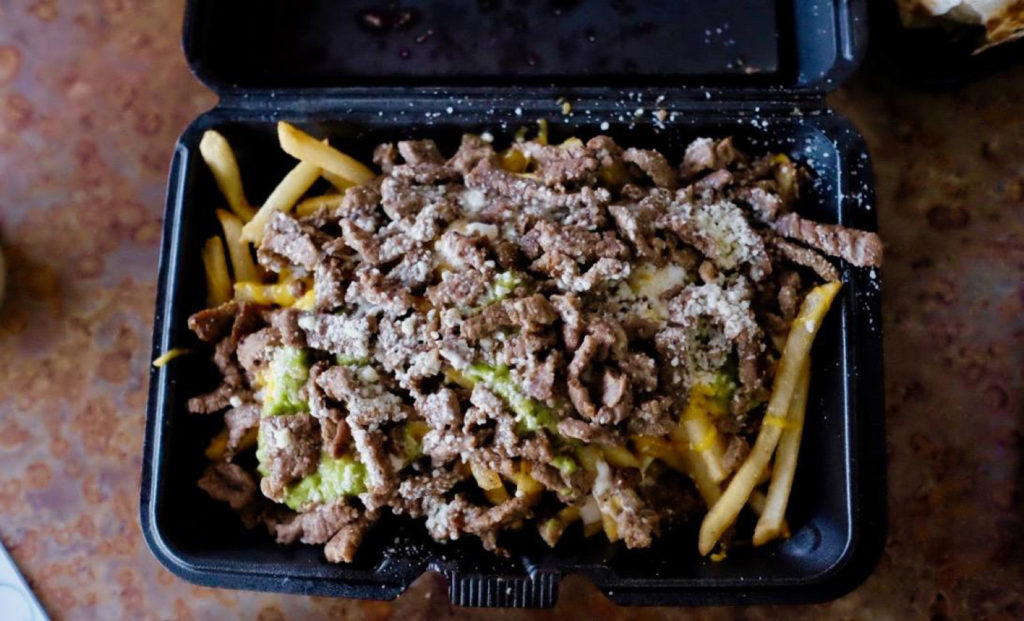 Next, we visited the North Park location of Lucha Libre Taco Shop, which does kind of a hipster take on Mexican-American food.  There Miriam got an order of rolled tacos with potatoes inside and lettuce, cheese, and pico de gallo on top.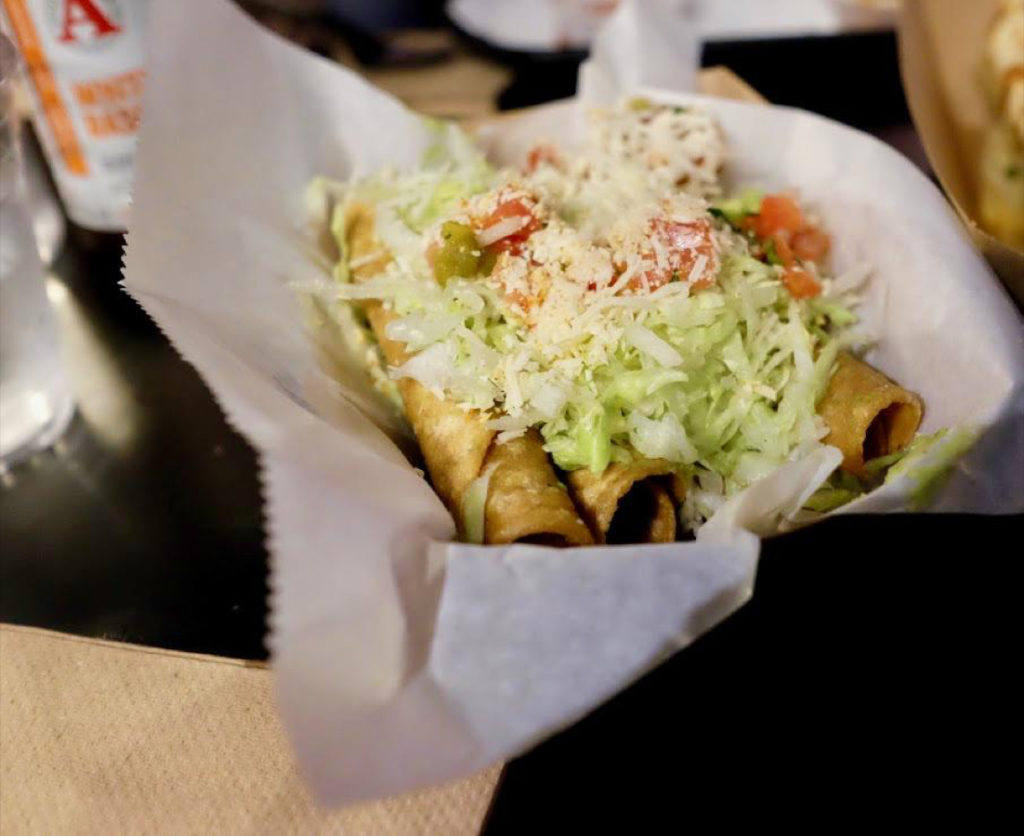 And Cyril had another Cali burrito, this one stuffed with cheese and red chile-marinated adobada pork.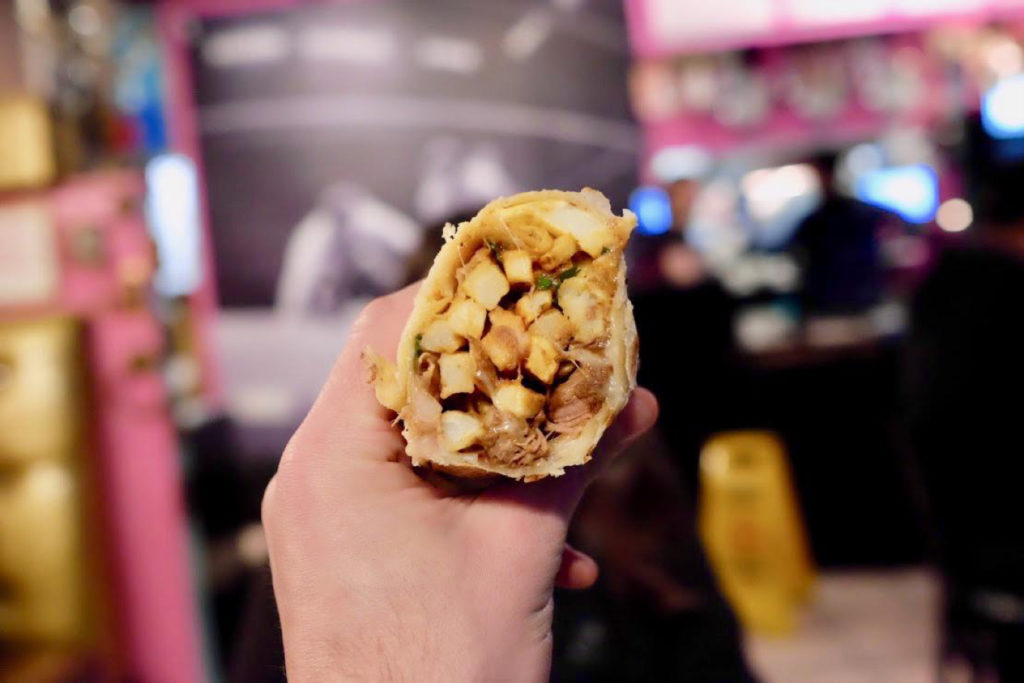 Last but not least, our favorite Mexican spot on the whole trip turned out to be El Indio, which was right around the corner from Lucha Libre.  This is a no-frills counter-service spot where you might have to compete for a table to sit at, but it was worth it because the food was absolutely delicious!  Here's the chile relleno platter that Miriam got, which comes with rice, beans, and some homemade chips.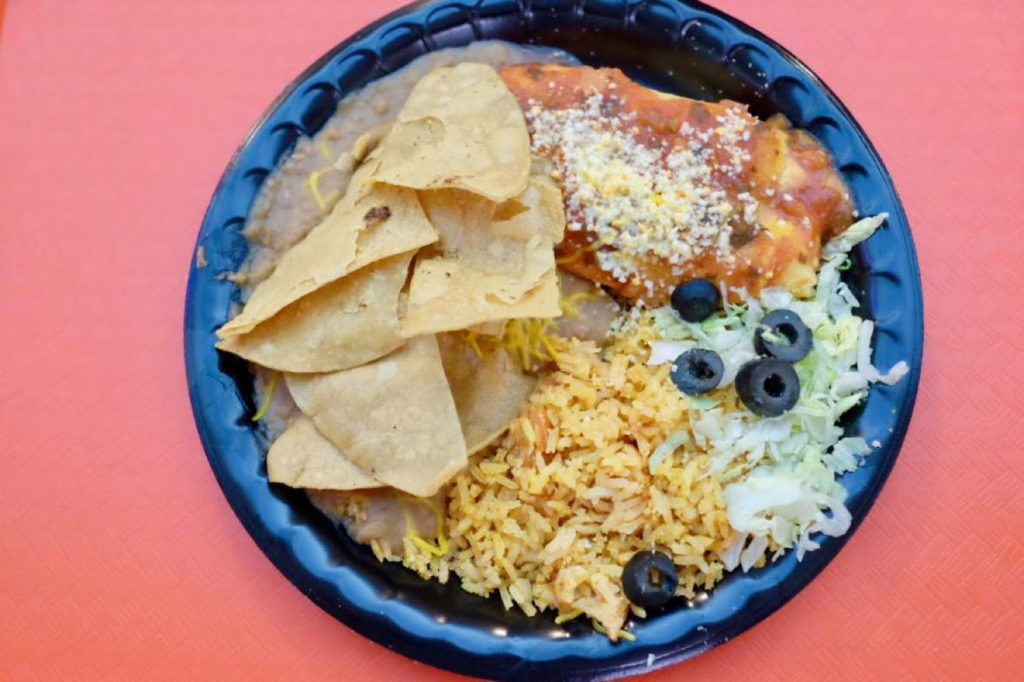 And here is another order of carne asada fries for Cyril.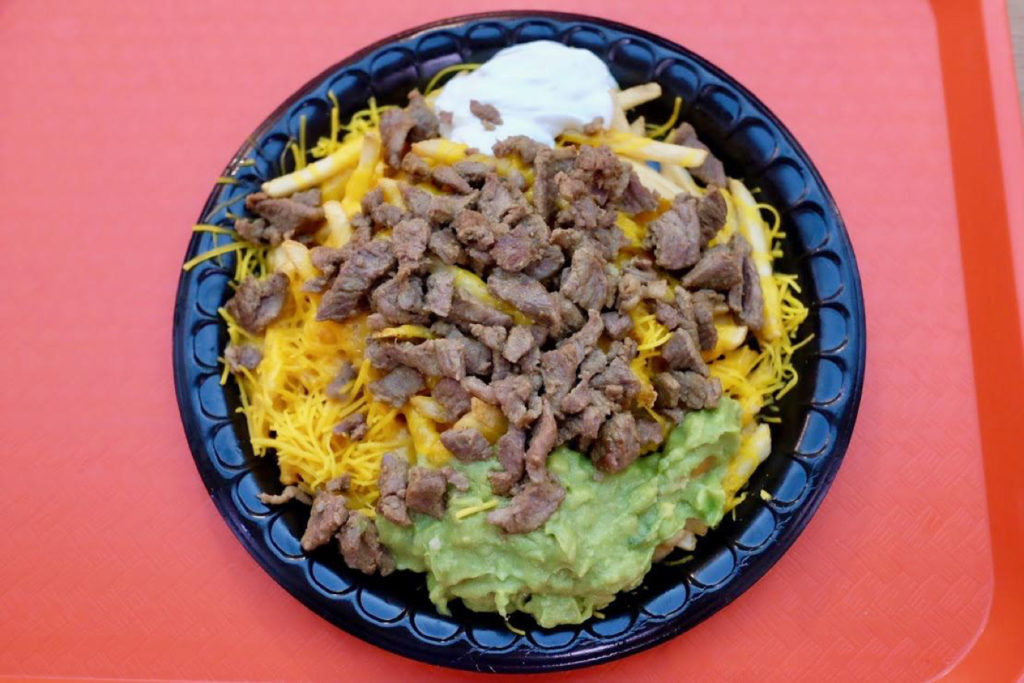 Just in case you're getting tired of looking at Mexican food, here's something entirely different:  donuts!  These came from Donut Bar, which makes their own enormous and unique creations.  There are now several Donut Bar locations around the western U.S., with plans to open many more spots, but they got started in San Diego so we decided to visit the original shop and try a bunch of different things.  Clockwise from top left, we got a Boston creme donut, a strawberry split stuffed donut, a cake batter donut, the classic Homer's Donut, and a maple bacon donut bar.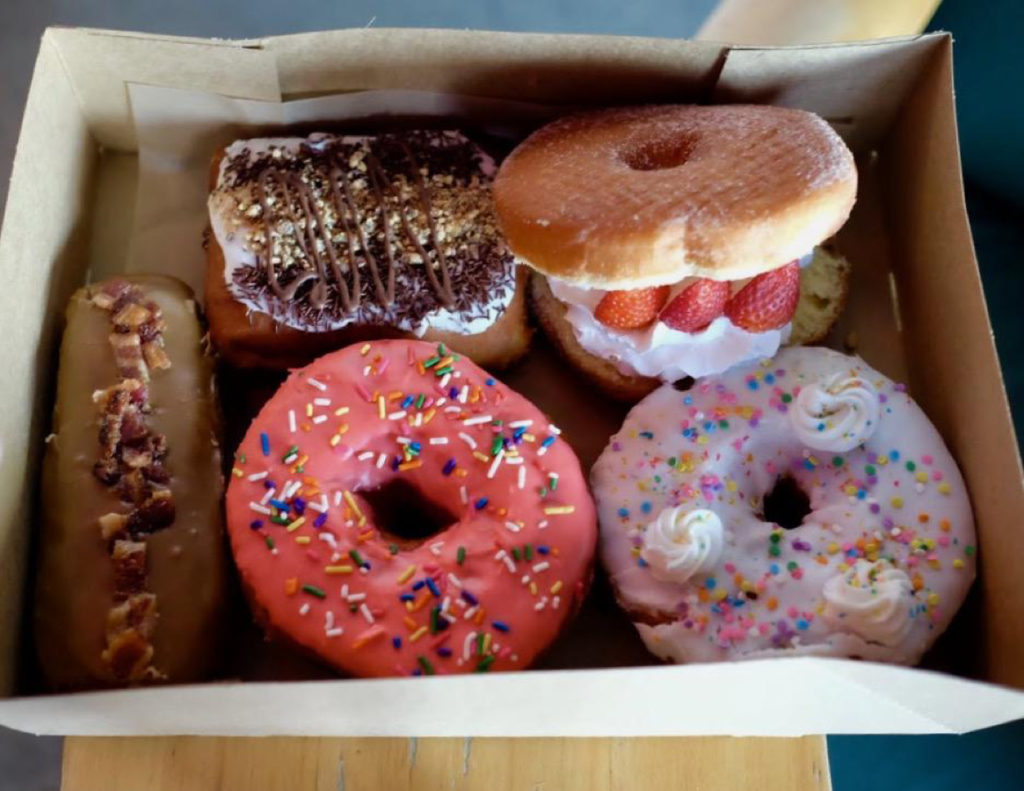 After filling up on all that Mexican food for an entire weekend (plus donuts), we reluctantly headed back to the East Coast and its lackluster Mexican fare.  Although we ate mostly the same cuisine everywhere we went, we were never tired of what we got because there was so much great variety to choose from.   Mexican food is also very vegetarian-accommodating, so it was never hard to find some meat-free selections.  There's tons of place to eat in San Diego and we know we barely scratched the surface, but we enjoyed all the places we went and if you happen to visit any of them, we're sure you will too.