Curries make for great vegan dishes:  they're rich, warm, packed with veggies, and have tons of flavor thanks to all the spices you add in.  We recently found this recipe from the New York Times for a cauliflower-based curry, and we thought it sounded good because it had so many different interesting ingredients in it.  We did a little bit of adapting to suit our tastes and cooked it up one chilly night, and here's our results – we think you'll like it!
To make this curry, you'll need:
Ginger
Garlic
2 jalapeños
2 onions
Tomato paste
Ground coriander
Ground cumin
Chile powder
A head of cauliflower
A 14-ounce can of coconut milk
Cashews
Frozen peas
Curry powder
Cilantro
A lemon
Rice
A cinnamon stick
Cumin seeds
Coriander seeds
You'll want to start by preparing your rice:  first measure out 1 1/2 cups of dry rice and place it in a bowl, then pour in enough water to soak the rice.  Let this sit for 20 minutes.
Then in a Dutch oven measure out 2 tablespoons of vegetable oil, a tablespoon of cumin seeds, and 2 teaspoons of coriander seeds.  Throw a cinnamon stick on top and warm everything over medium heat for about a minute.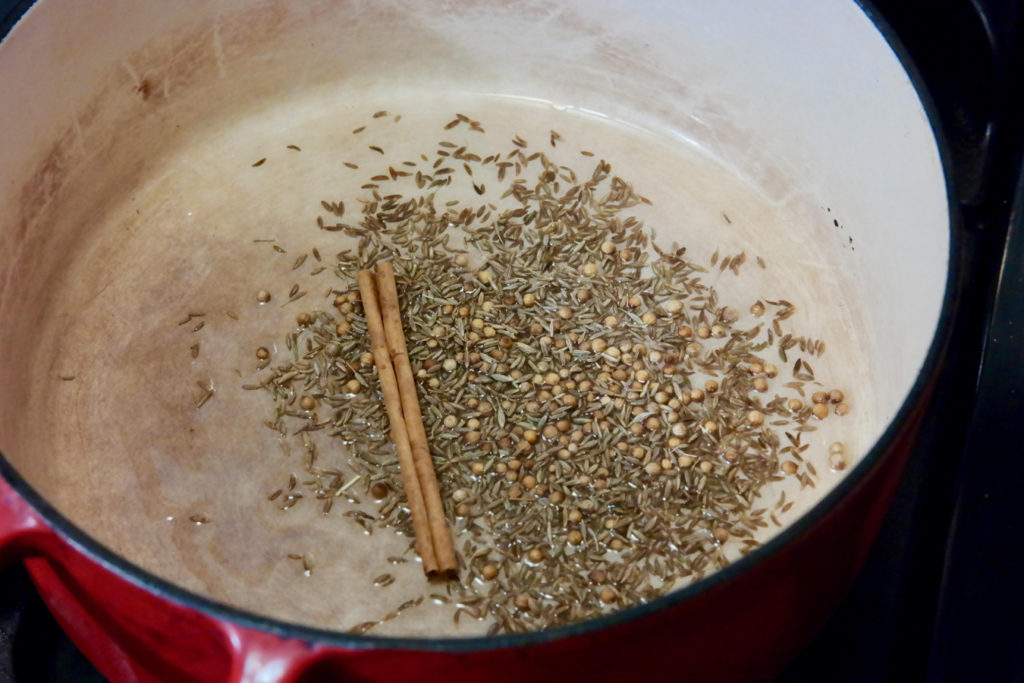 Take one of your onions and slice it up, then add it to the spices and mix everything together.
Cook the onion and spices for 10 minutes, until the onion browns …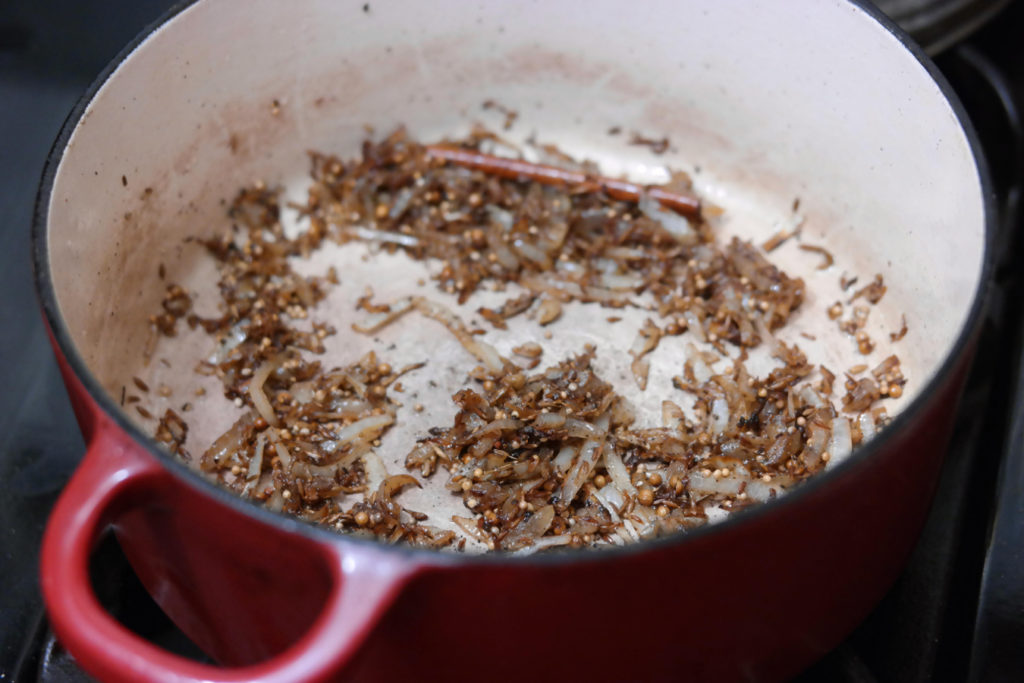 … then drain your rice in a sieve and add that to the pot.  Let it heat up for a few minutes until it becomes toasted.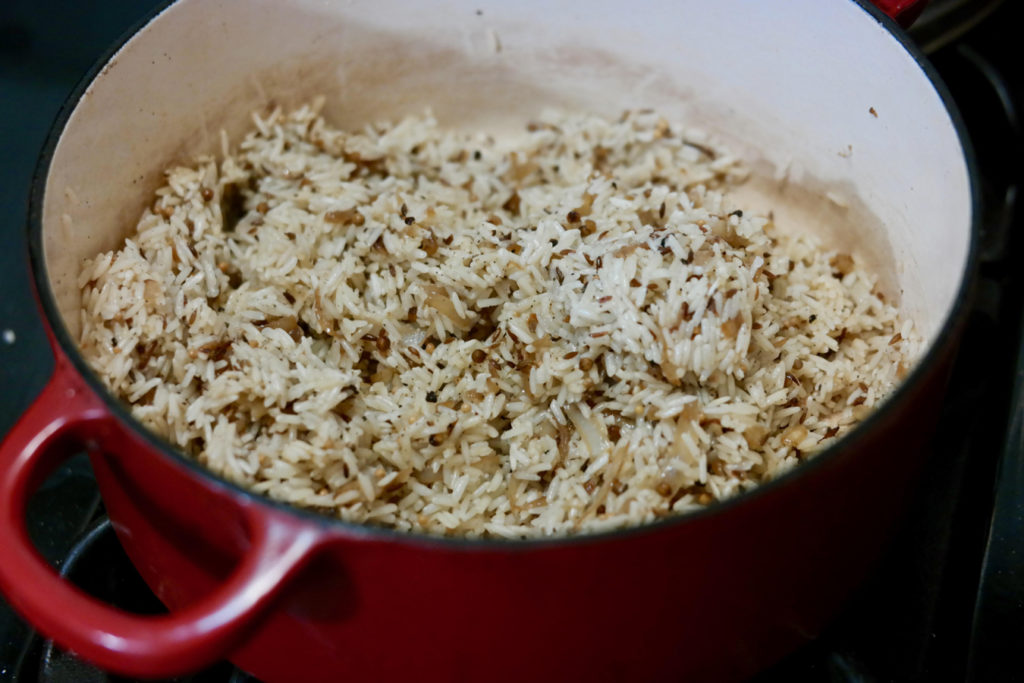 Pour 2 1/2 cups of water into the pot, cover it, and turn the heat to low.  Let the rice simmer for 15 minutes to cook.
Meanwhile, chop up your other onion and place it, along with with 3 tablespoons of oil, in a large pan with high sides.  Cook it for about 10 minutes, until it starts to turn brown.  Then peel and chop a small piece of ginger and also chop up your jalapeños and 4 garlic cloves.  Use the flat edge of a large knife to mash all these veggies into a paste.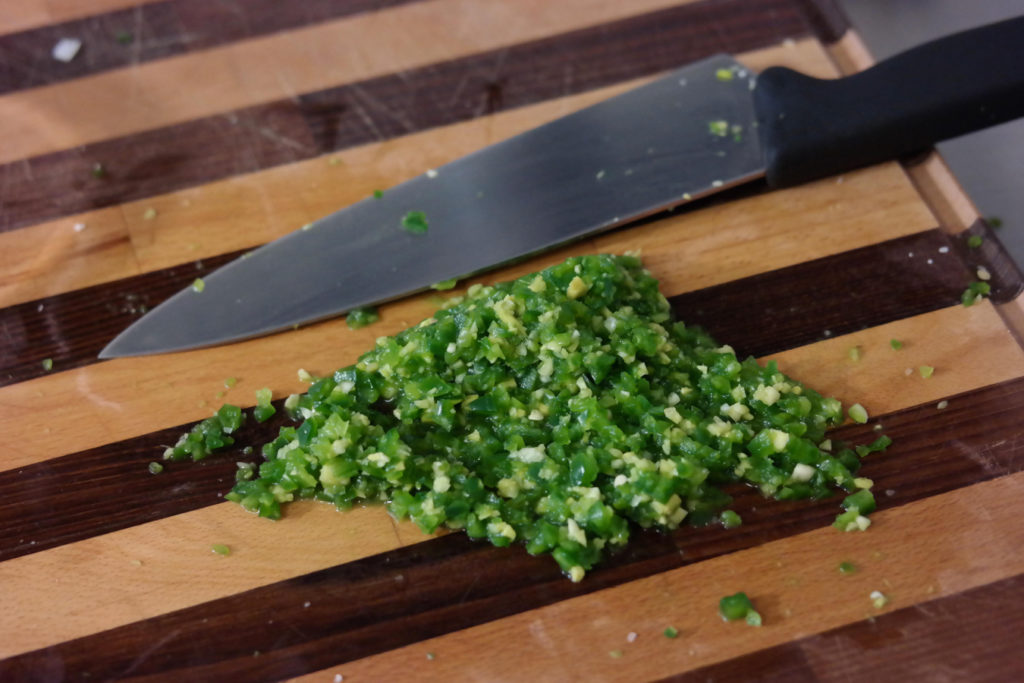 Add the paste to the onions and cook for another 3-4 minutes.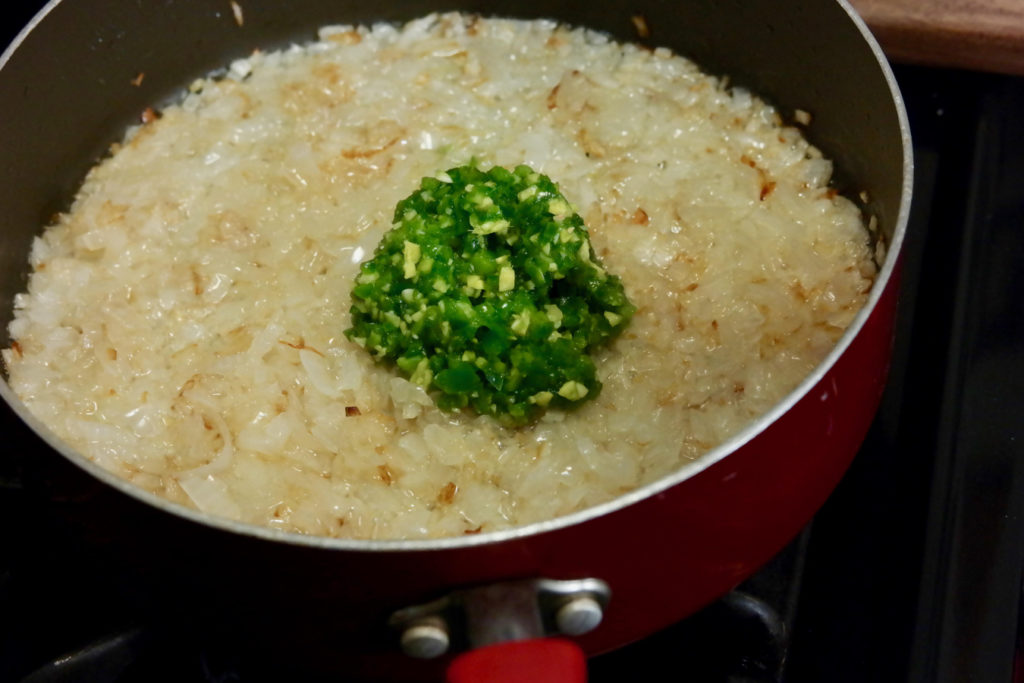 Next, stir in a tablespoon of tomato paste, 2 teaspoons of coriander, 1 1/4 teaspoon of ground cumin, and 1/2 teaspoon of chile powder.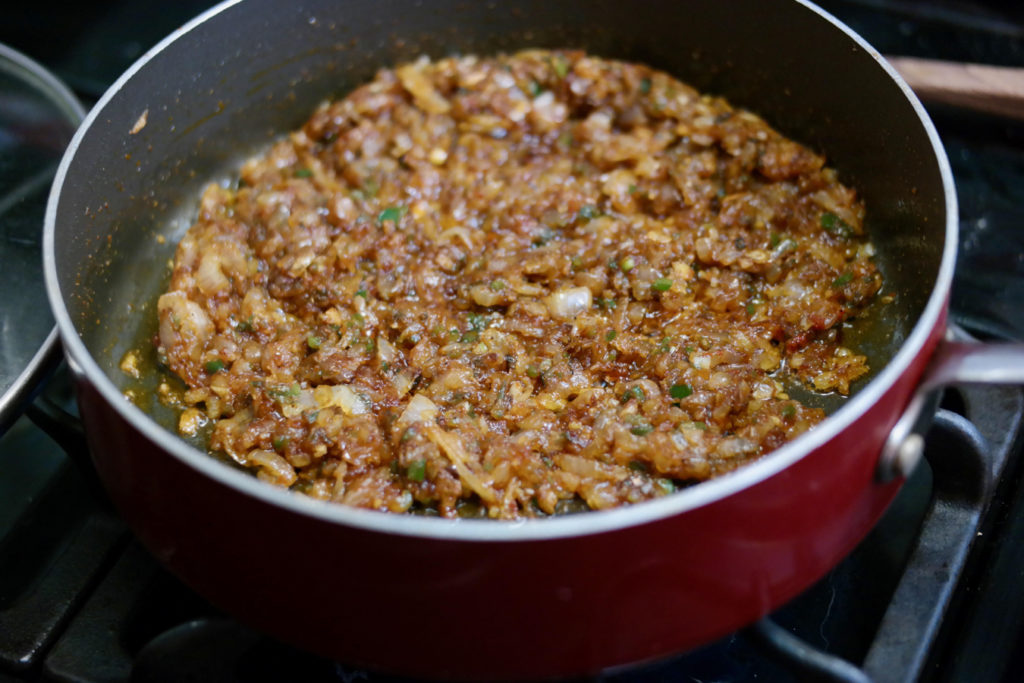 Chop your cauliflower into bite-sized florets and add those to the pan, then pour in your coconut milk.  Turn the heat to low and simmer until the cauliflower is tender, which should be at least 10 minutes.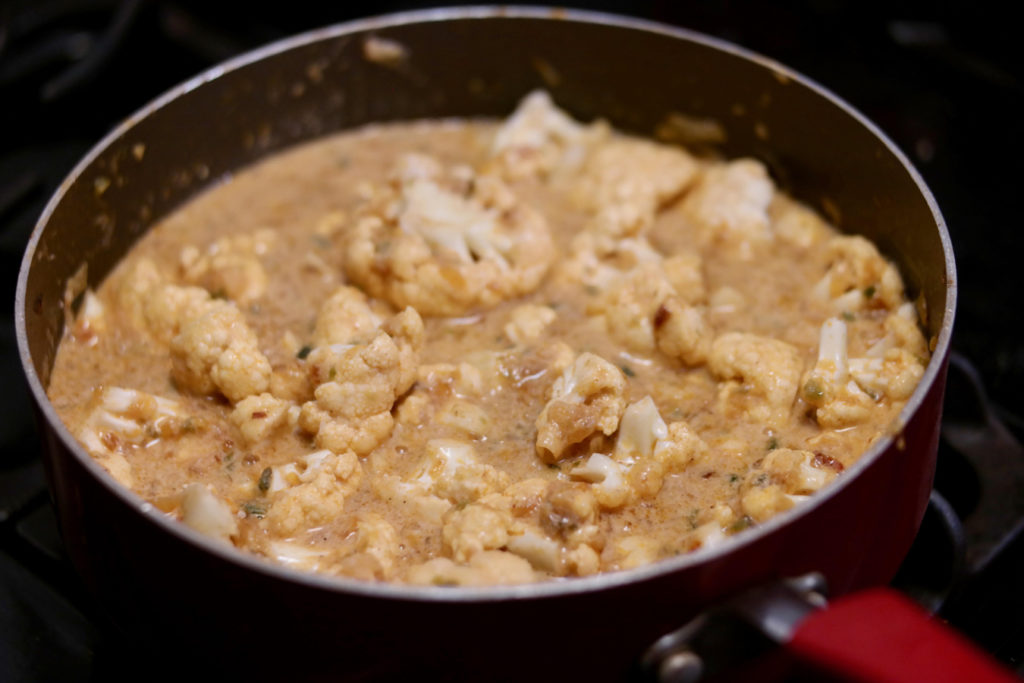 While you're waiting, measure 3/4 cup of cashews into a small skillet with a tablespoon of oil.  Cook these over medium heat for about 2 minutes, just until they begin to brown, and then set them aside to cool.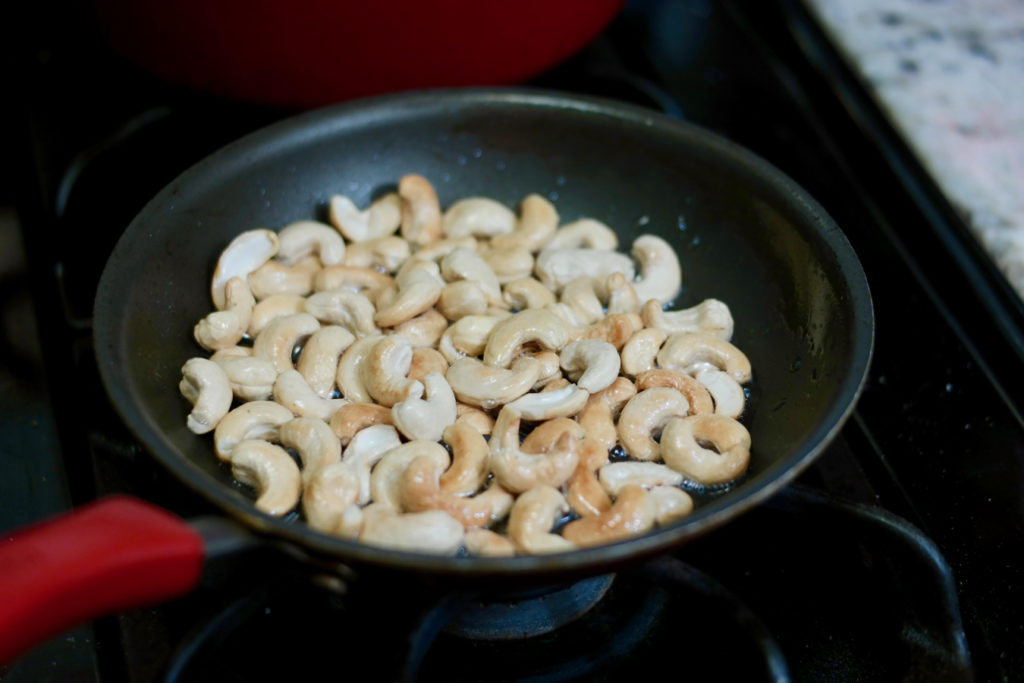 By now your rice should be nice and fluffy, like so (you can pull out the cinnamon stick):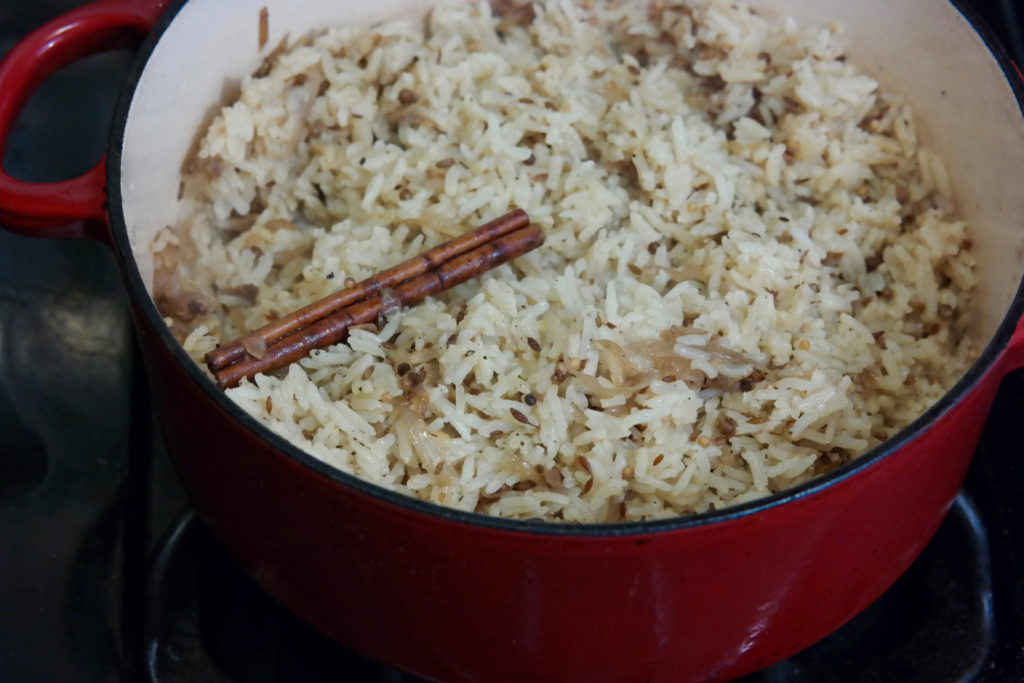 Finally, add 1/2 cup of peas and 1/2 teaspoon of curry powder to the cauliflower and cook for 5 more minutes.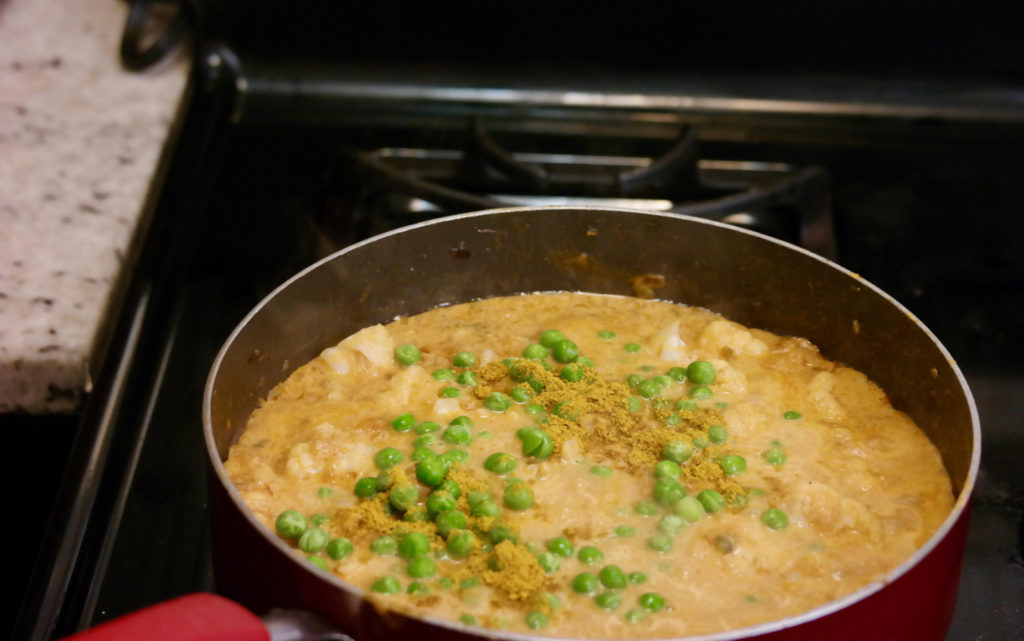 Once everything is ready, add the cashews to the curry and serve with rice, some cilantro leaves, and a lemon slice on the side.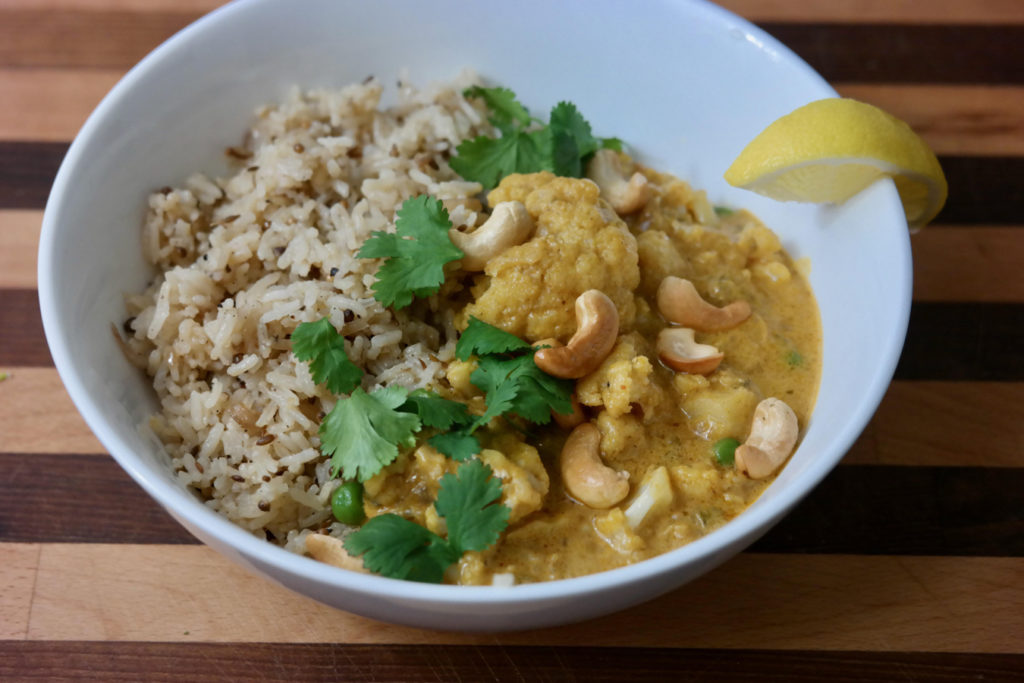 What you end up with here is a veggie-packed and very flavorful curry:  you've got several different spices, some creaminess from the coconut milk, a meaty richness from the pan-roasted cashews, and some cool herbs and lemon on top.  Plus, when you take the extra time to prepare this spiced rice you get a great accompaniment for the curry.  This is a warm meal that's hearty without relying on meat or dairy, so it's perfect to eat on these never-ending winter days.