Taking a break from our regularly scheduled recipe blogging, we wanted to show you some cool restaurants in New York we've recently got to try!  The two places we're writing about here aren't all that alike:  one has been around for a long time while the other is brand new, and they serve very difference cuisines.  But they're each just a few blocks from each other in NoHo, so we thought we'd showcase them together.  Be warned, though, that there is some meat pictured in this post.
First up, we were really excited to check out Violet, which opened this winter.  The chef behind Violet also owns Emily, which is famous for its classic round pizzas, and Emmy Squared, serving up square Detroit-style pizzas.  This new place focuses on Rhode Island pizzas, which are kind of blobby and irregularly-shaped – but still delicious!  Here is the Atwells, topped with havarti cheese and a pesto made from broccoli and pistachios: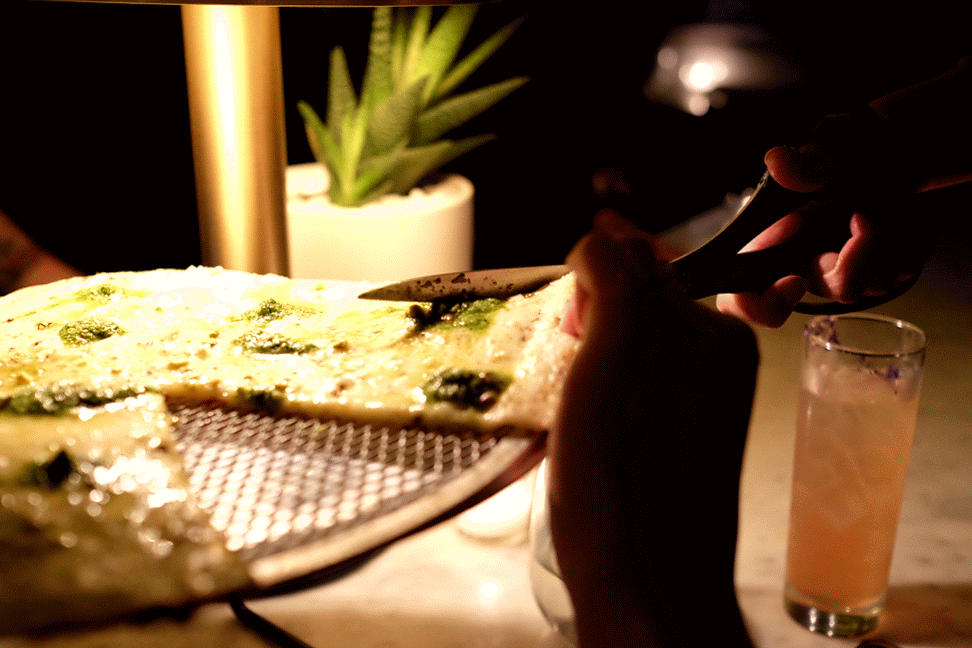 We also got a few other dishes at Violet, including bone marrow topped with caviar …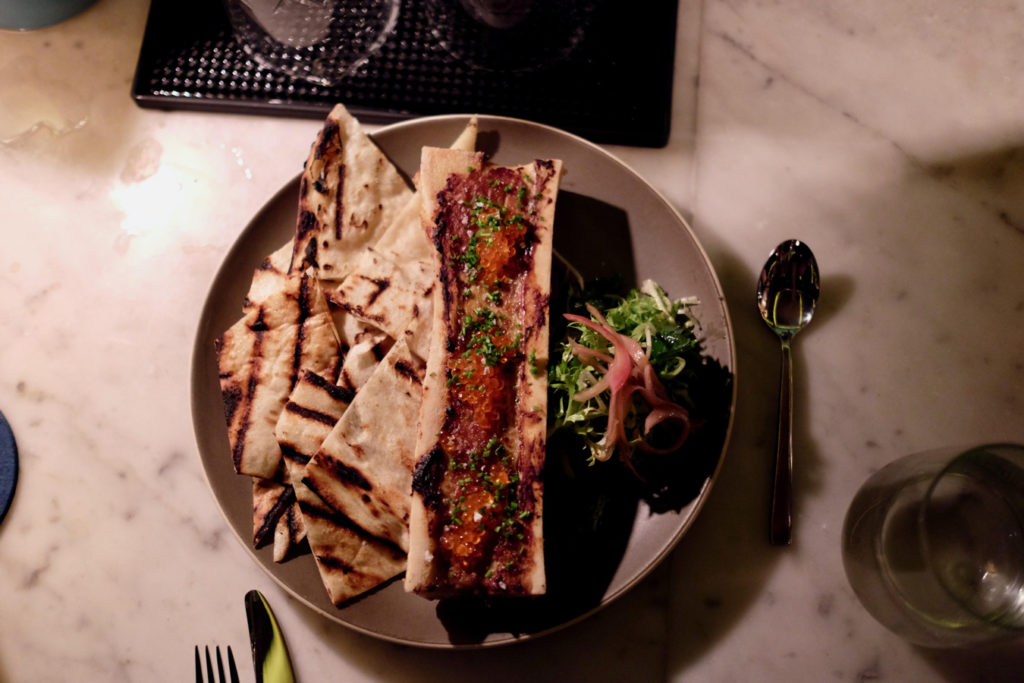 … and some gnudi (which are balls of ricotta, akin to ravioli without the pasta shell) served with smoked squash puree …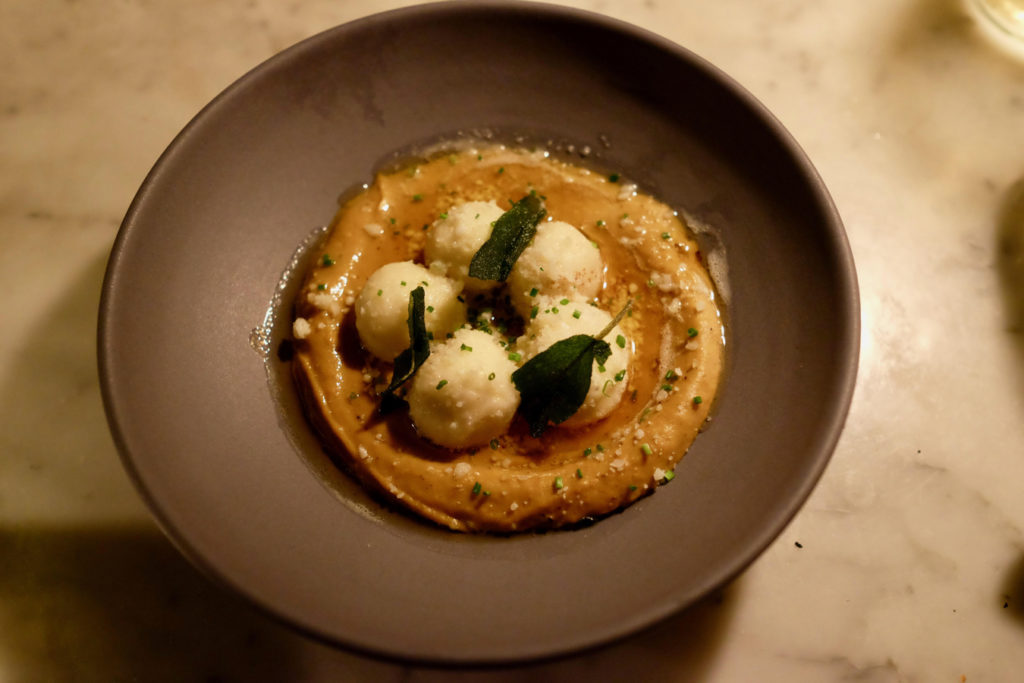 … and the baked pasta, with vodka sauce and ricotta.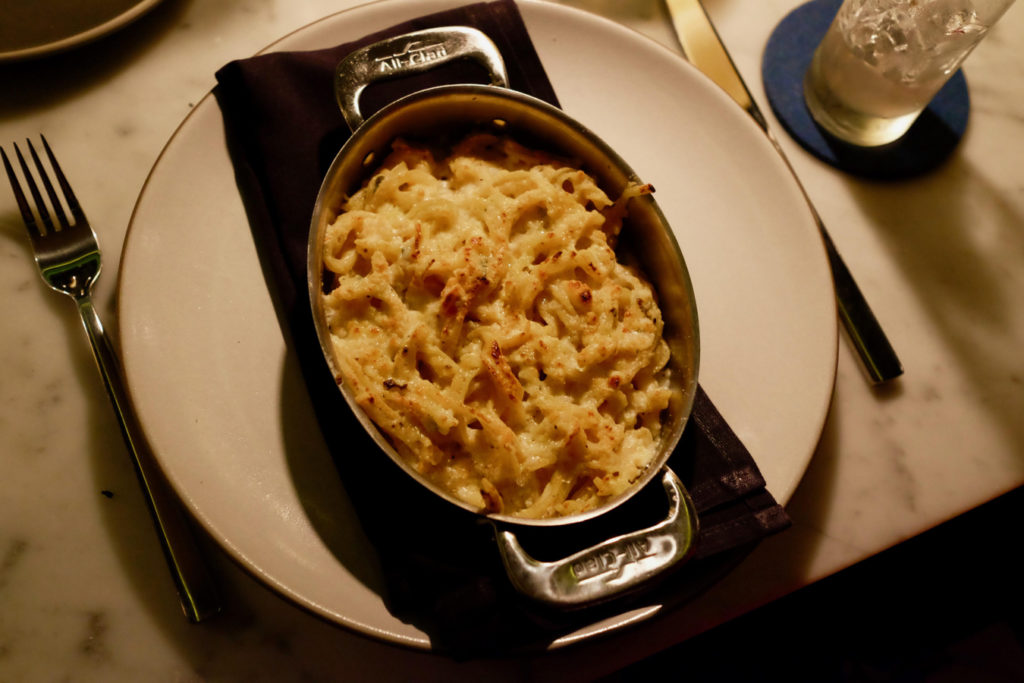 Next up was Veselka, a neighborhood institution that's been around since 1954 – they're famous enough that they were featured in last year's Ocean's Eight.  Their specialty is Ukranian food, so of course you can get a cup of borscht there.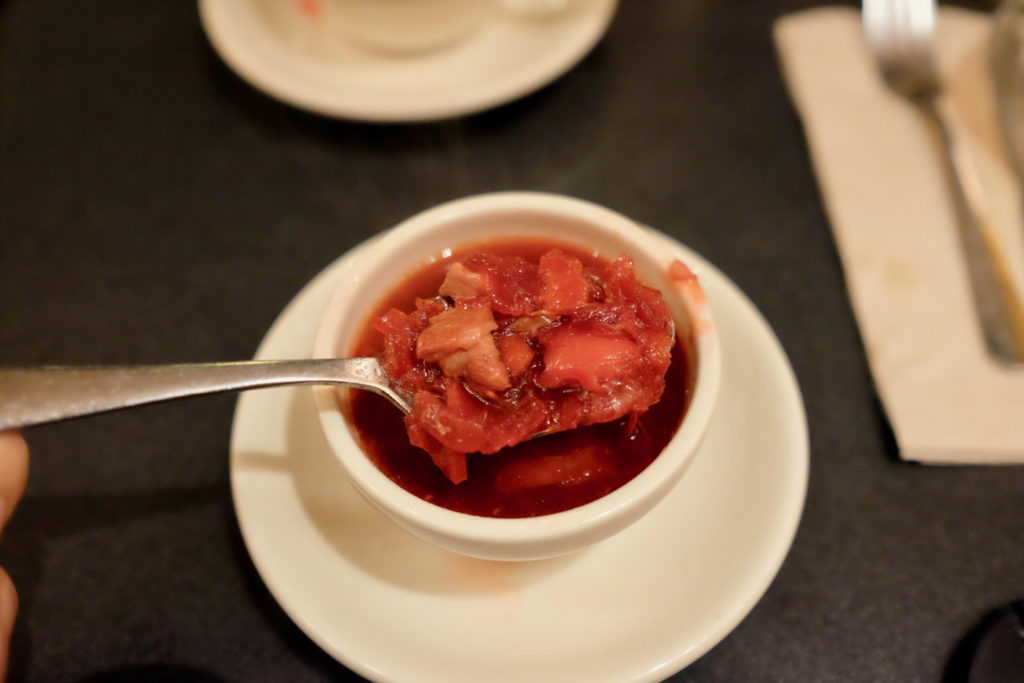 They also have a vegetarian borscht, which subs in ravioli for meat.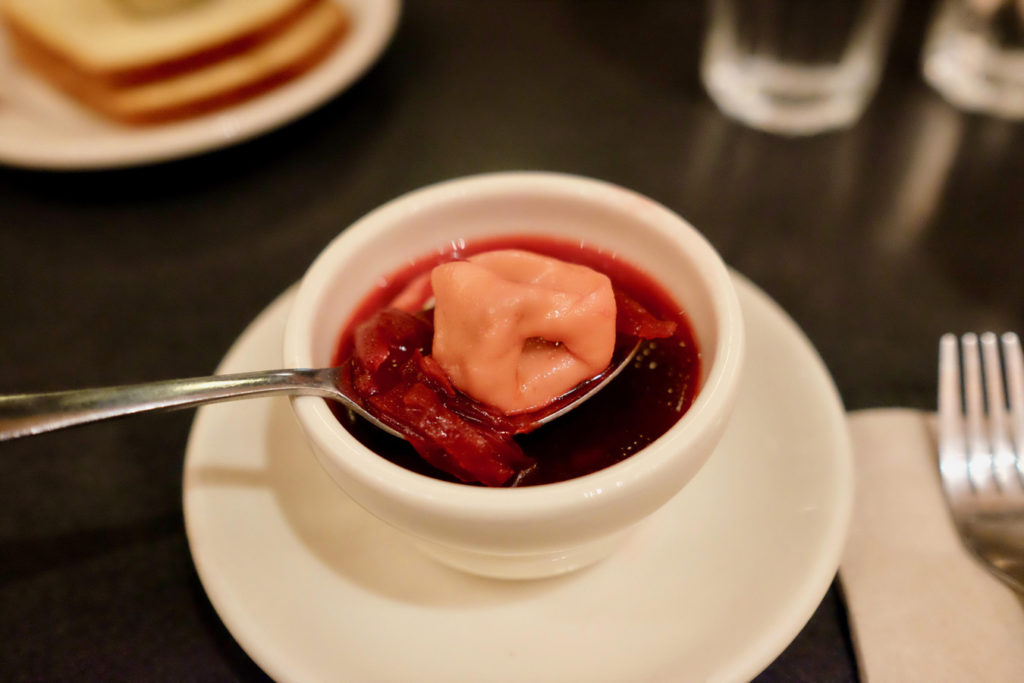 Miriam got a plate of the varenyky, which is Ukraine's answer to pierogis.  You can get a number of different vegetarian varieties (potato, sweet potato, cheese, truffle mushroom, sauerkraut and mushroom, and arugula and goat cheese) and you can have them either boiled or fried – we chose fried, since that's what our server recommended.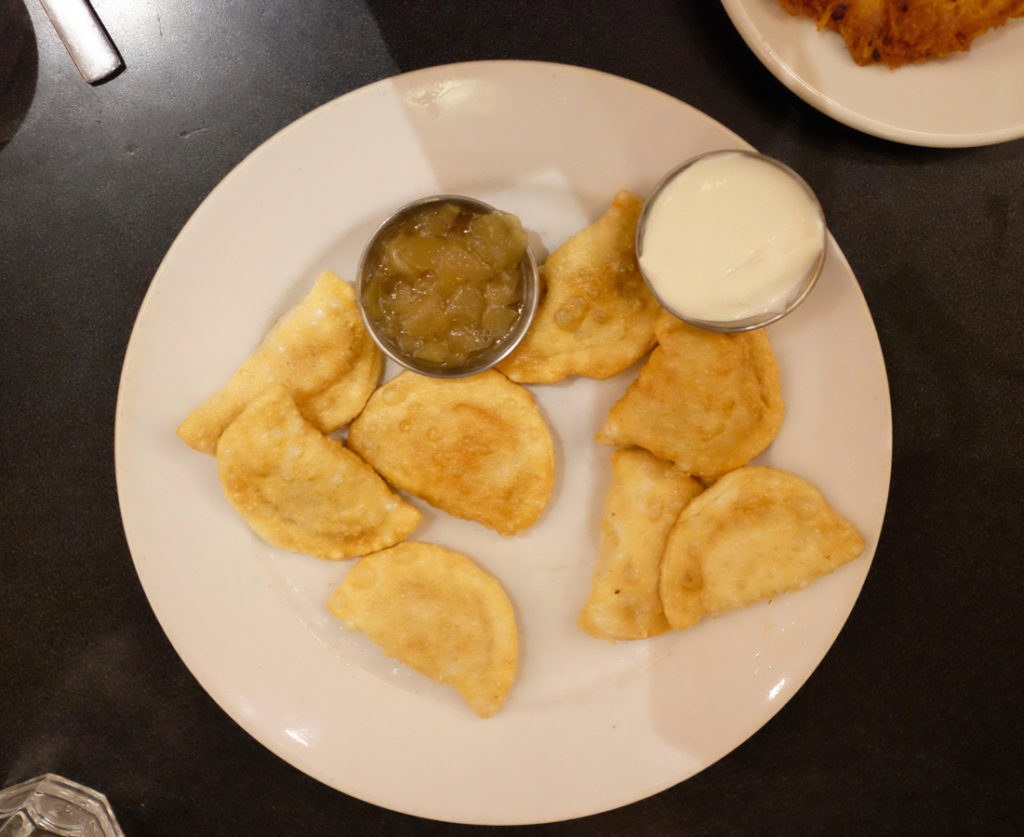 Cyril got himself an order of bigos, which is a stew of kielbasa, roast pork, onions, and sauerkraut, with mashed potatoes on the side.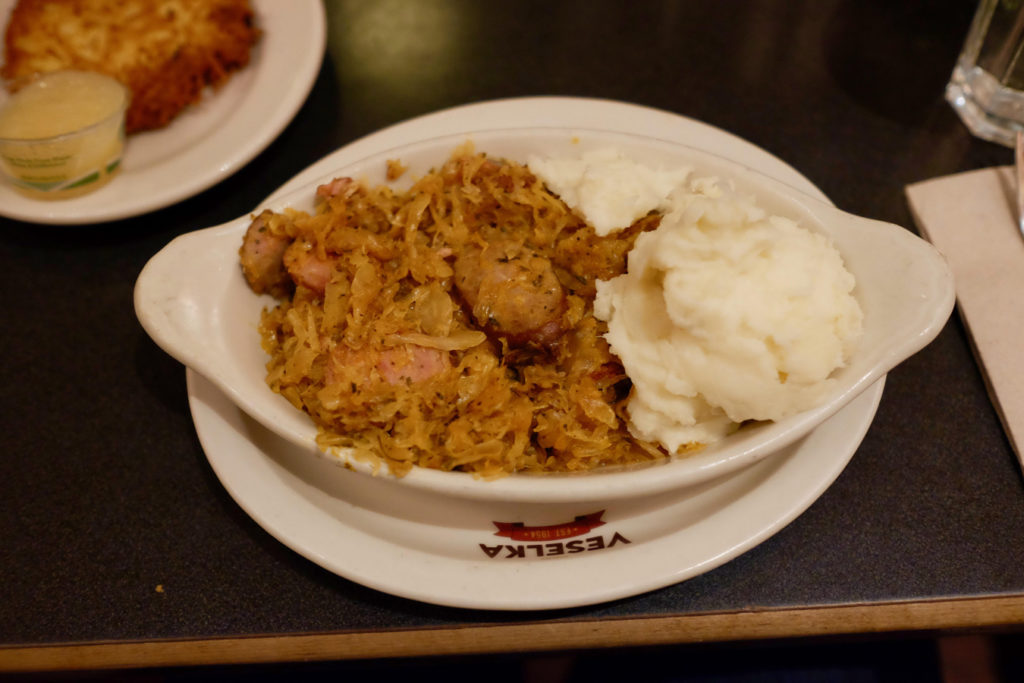 And we also some potato pancakes: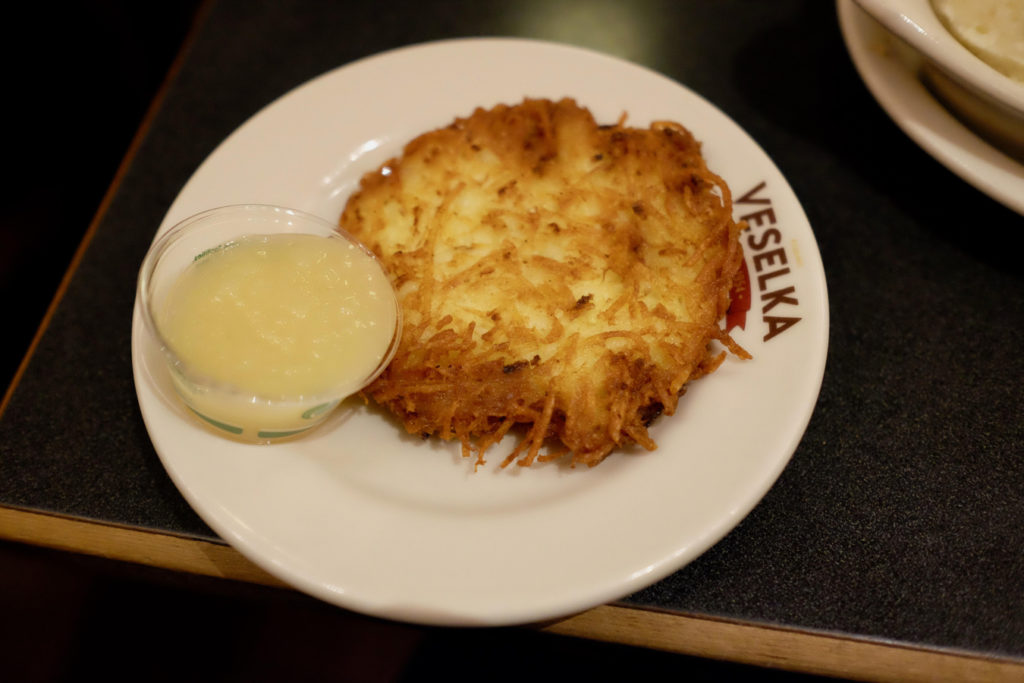 You can see that the food we got at Violet and Veselka was pretty different:  one placed featured pizza and pasta, while the other had some hearty Eastern European fare.  But each place was good in its own way – that pizza was incredibly delicious, and who doesn't love fried potato-filled dumplings?  Both restaurants were also packed, so that should tell you just how popular each one is.  If you ever find yourself in the NoHo area, we can definitely recommend both places to eat.