Stroganoff is a Russian dish, typically made with beef, that dates back to the 1800s.  In the motherland, the meat was originally braised with mustard and broth, but as Russians migrated across the world this dish adapted to local tastes and availabilities of ingredients.  As we know it today, a traditional beef stroganoff features sliced meat over noodles with an onion, mushroom, and sour cream sauce.  But you can also easily come up with a vegetarian version, subbing extra mushrooms in for the beef – and that's what we did here.  Let us walk you through how we made this delicious meat-free stroganoff.
You'll need:
2 pounds of mushrooms
An onion
Garlic
Rosemary
Butter
Dry sherry
Flour
Sour cream
A 12-ounce package of egg noodles
Parsley
Start by melting 2 tablespoons of butter in a large, deep pan over medium heat.  Slice up your onion and all your mushrooms and place the veggies in the pan, along with a few chopped garlic cloves.
Cook all of this for 7-10 minutes, until the mushrooms and onions are nicely browned, and add a few rosemary sprigs in.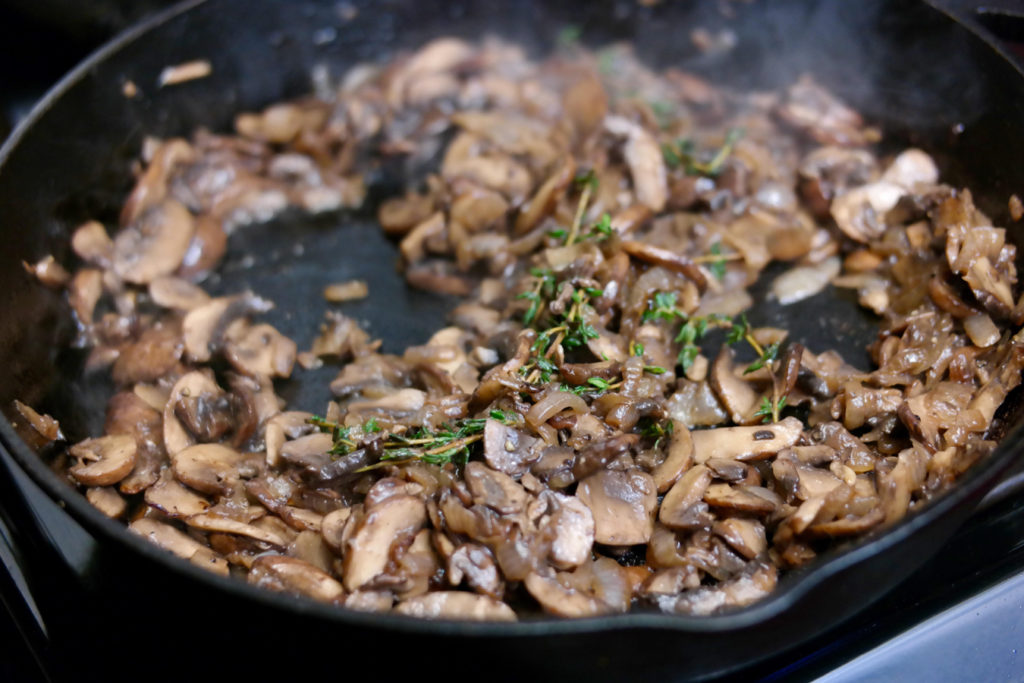 Dissolve your 2 bouillon cubes in boiling water, then slowly ladle that broth into the pan.  Add a generous pour of sherry as well and cook this mixture for 10-15 minutes, until most of the liquid has evaporated, then stir in 1/4 cup of flour to help thicken everything up.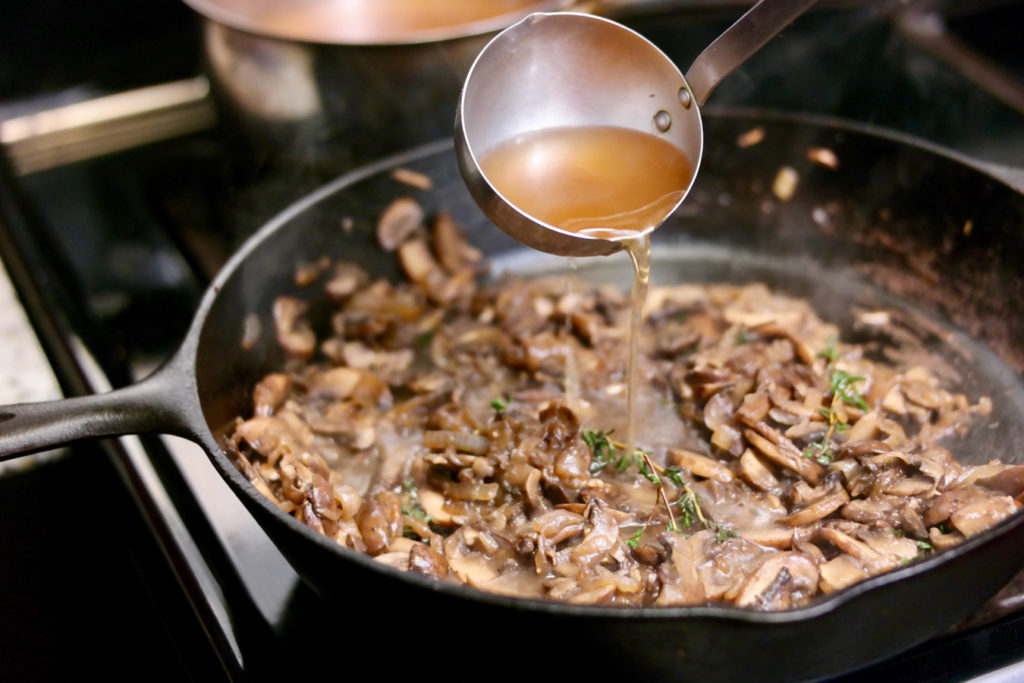 Then scrape the mushrooms and sauce into a bowl and refrigerate it for 10-15 minutes.  While you're waiting, cook up your noodles – and when the mushrooms have cooled down to room temperature, stir in 1/4 cup of sour cream.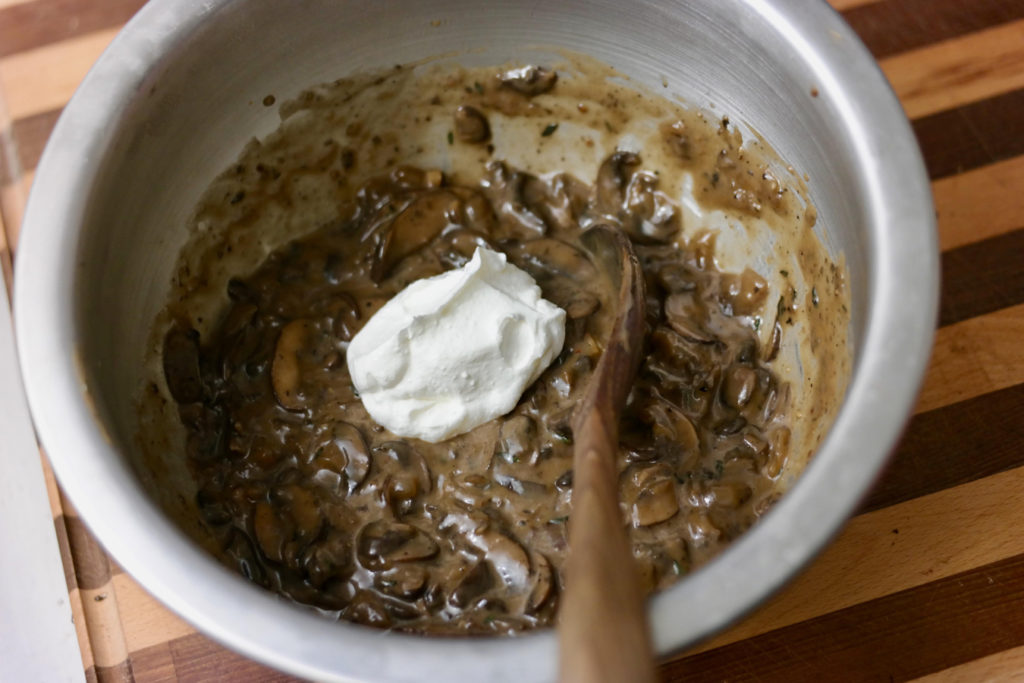 Mix 2 tablespoons of butter with the cooked noodles and then dish them into a bowl.  Add the mushroom sauce on top and some additional sour cream plus a few parsley leaves, and there you have some vegetarian stroganoff.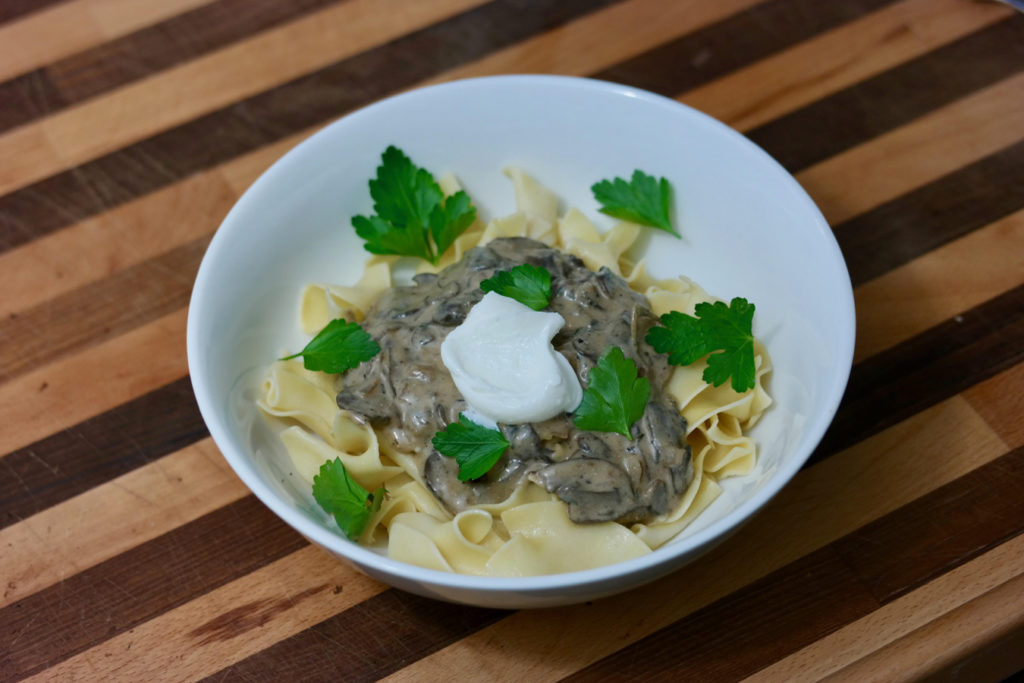 You might not think that sour cream goes well over noodles, but trust us on this one:  the mushrooms turn into a creamy gravy, which tastes pretty delicious over buttered egg pasta.  The heartiness of the sauce sits well on top of the light, thin noodles and creates a filling, rich dish flavored well by the herbs, broth, and sherry.  Maybe there's some babushka out there who'd be horrified to learn of a beef-less stroganoff, but we think this was an excellent vegetarian version that does very well on its own.