You can think of couscous as North Africa's answer to rice:  it's a staple grain – made from semolina – that can be cooked up and served in many delicious ways.  Miriam's grandmother used to make it all the time, from scratch, but luckily today you can buy instant couscous to easily prepare.  That's what's used in this recipe, which we adapted from the New York Times.  Putting together packaged couscous and broth makes this an easy casserole that turns into a tasty, rich, cheesy and veggie-filled meal.
To make it, you'll need:
A 1-pint package of grape or cherry tomatoes
Scallions
Olive oil
Balsamic vinegar
Garlic
Sage
Cilantro
Cumin
A lemon
A 10-ounce package of couscous
A 15-ounce can of chickpeas
Feta cheese
Parmesan cheese
Start by prepping the vegetables:  take all of your tomatoes and slice them in half, then mix them with 2 tablespoons of olive oil and a tablespoon of balsamic vinegar.  Add in 1/4 cup of thinly sliced scallions, 2 grated garlic cloves, and a handful of sage leaves and then pour this mixture into a large baking dish.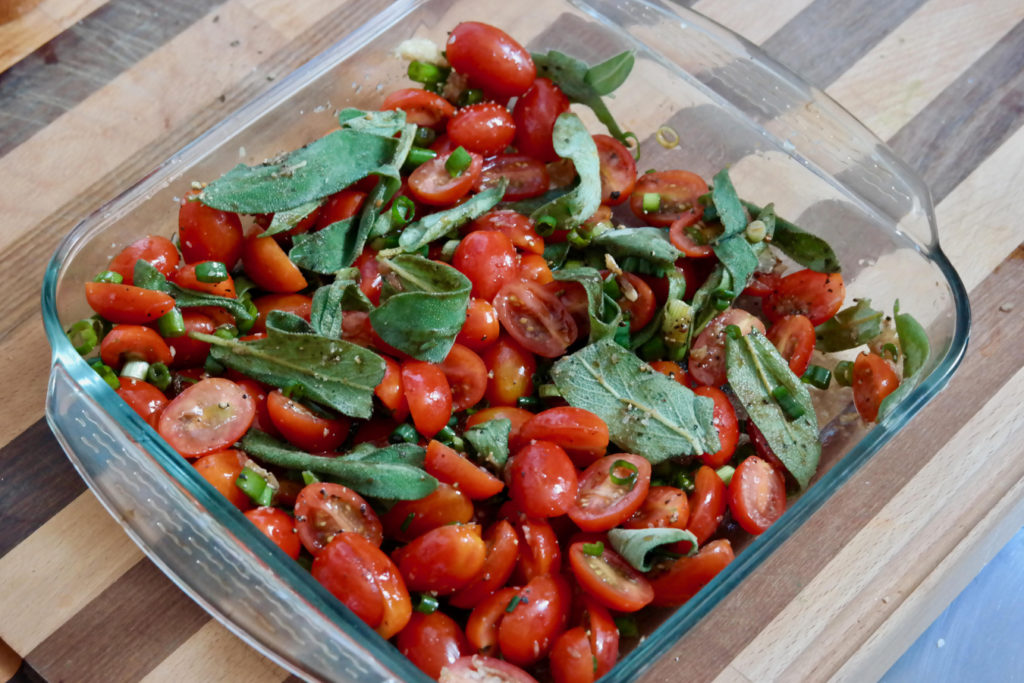 Roast these veggies at 450°F for 15 minutes.  While that's in the oven, bring 2 1/4 cups of water to a boil in a small pot and dissolve in the bouillon cubes, then add in a generous pinch of salt, 1/3 cup of cilantro leaves, 3/4 teaspoon cumin, and some lemon zest.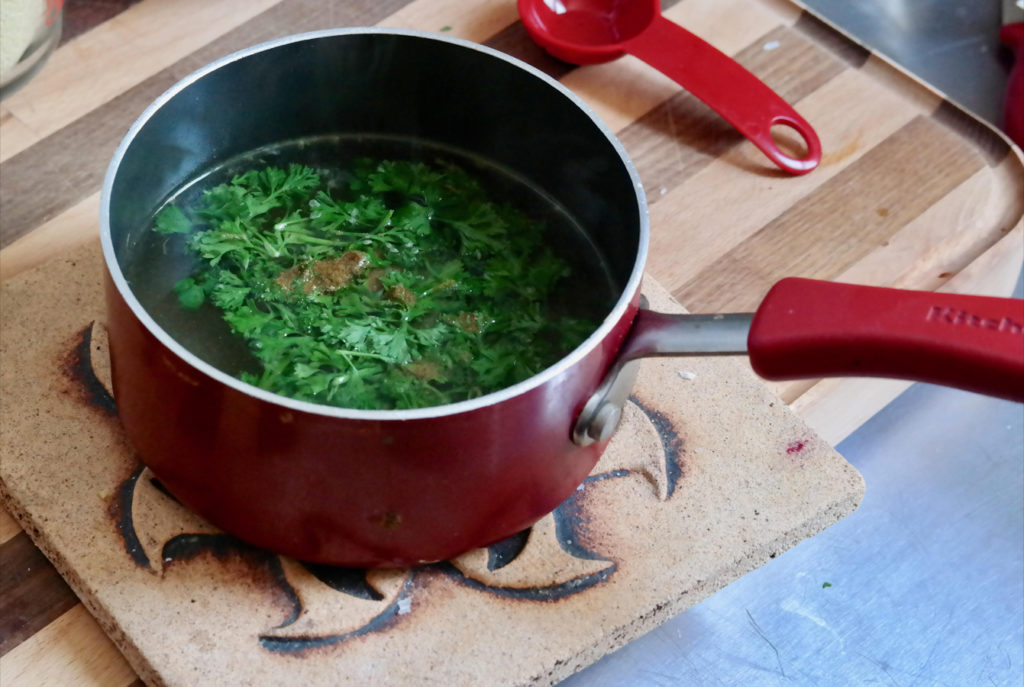 When the vegetables are ready to come out of the oven, pour the broth in …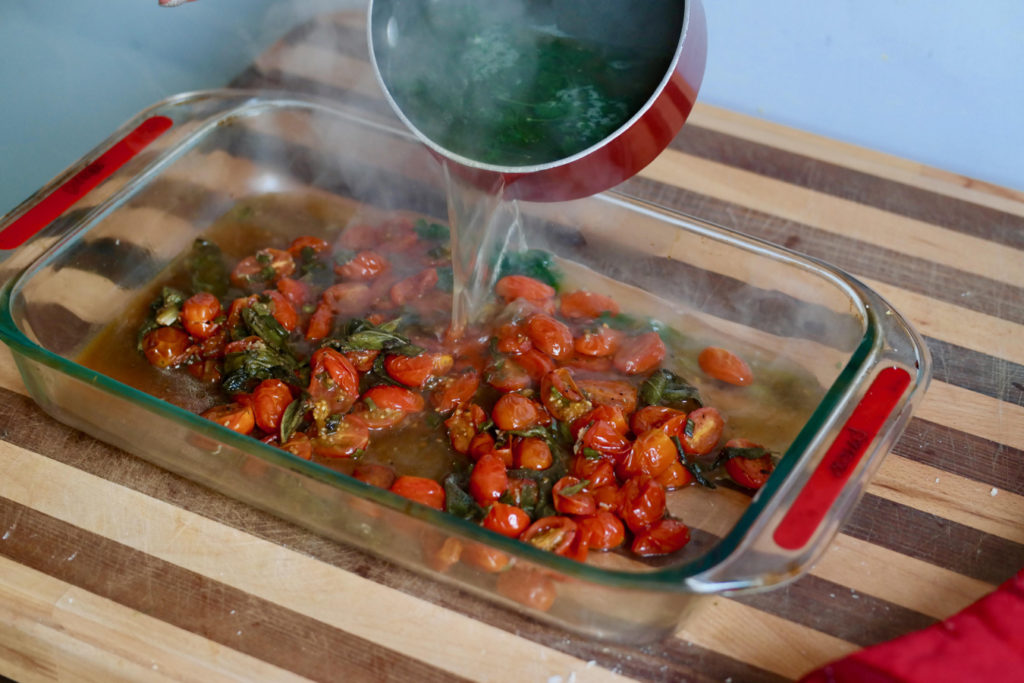 … then stir in the drained chickpeas and all of the couscous.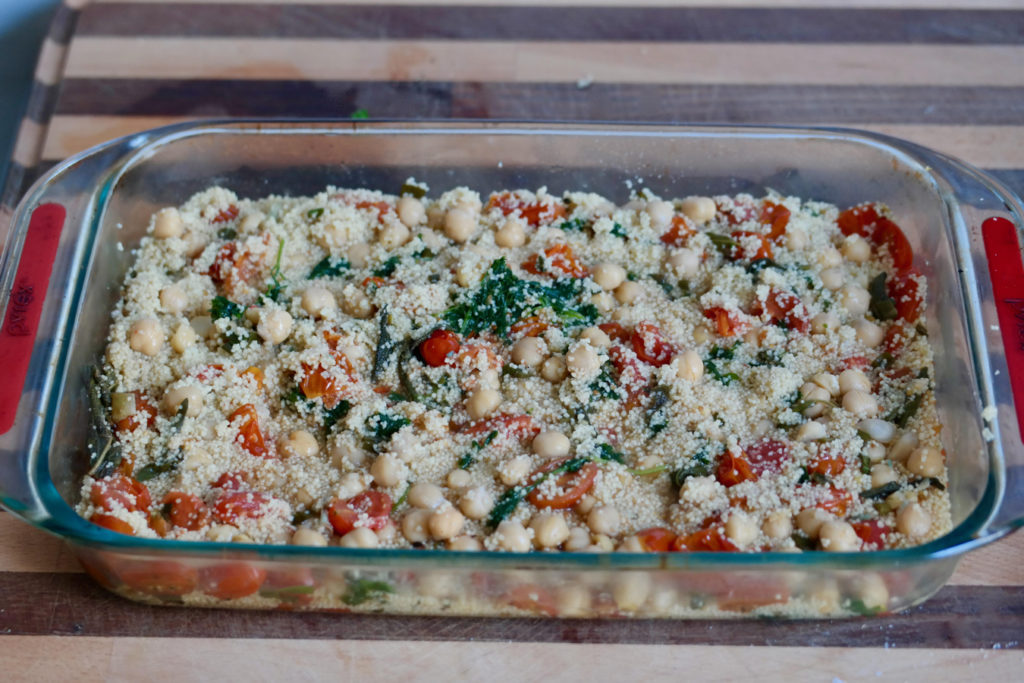 Cover the baking dish with foil and put it back in the oven for 20 minutes, then take it out, remove the foil and mix in 3/4 cup of crumbled feta and grate some Parmesan on top.  Bake for another 5 minutes.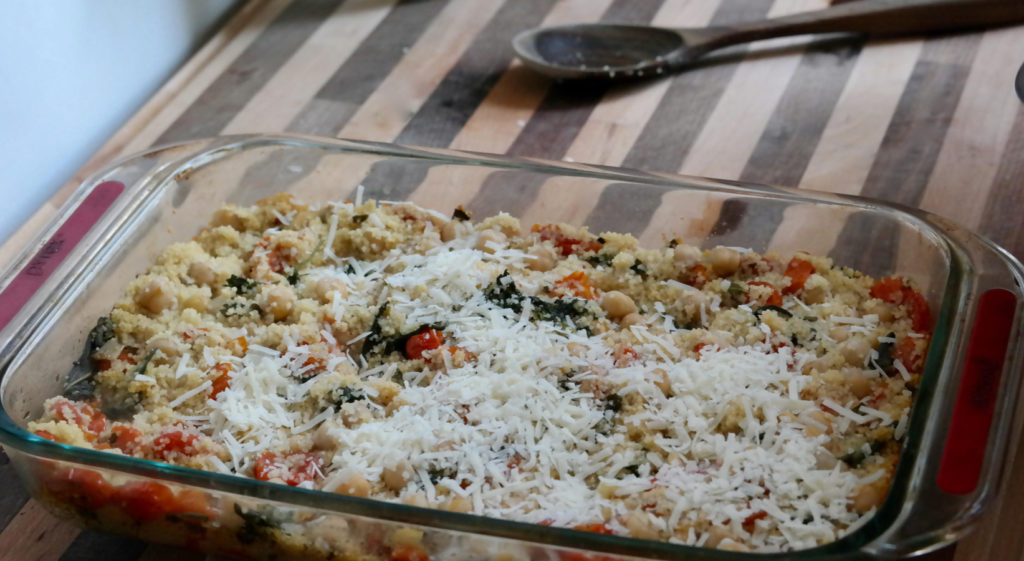 Let the couscous cool a little, then you can scoop it out and serve it with extra feta on top.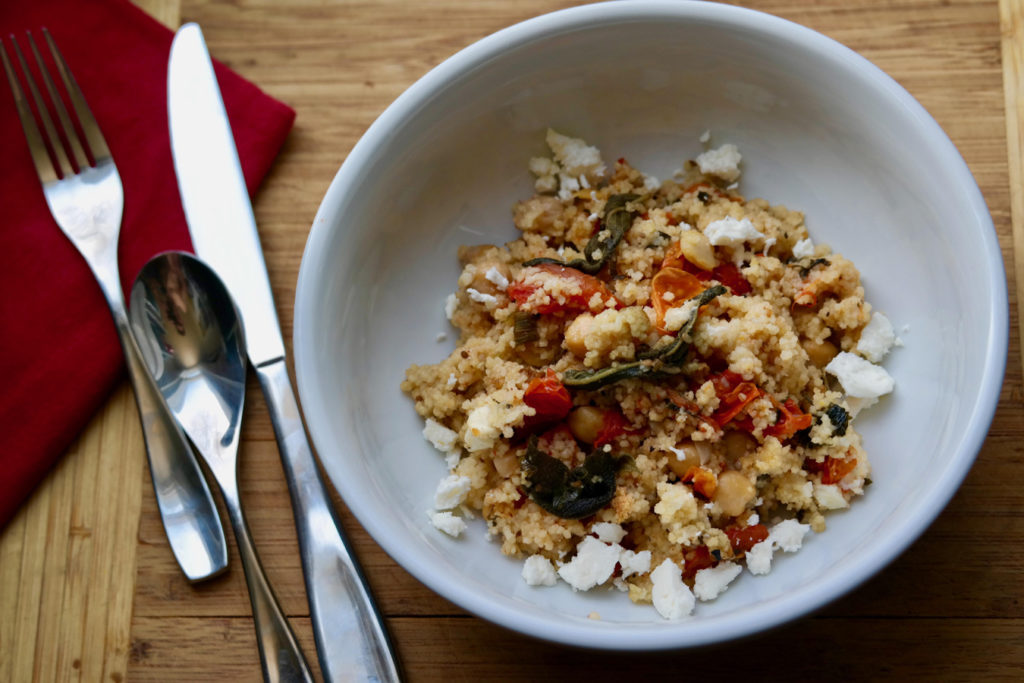 And there you go:  a dish that bakes in easy casserole form and comes out with some really interesting flavors.  The herbs and tomatoes pair well together, and adding in both feta and Parmesan gives you a unique cheesy flavor.  Bringing everything together is the couscous, which is a nice departure from your usual grain base.  It's super simple to prepare this couscous, and what comes out is a very filling vegetarian meal that brings together carbs, veggies, and cheese in a nice warm dish.