By the end of last month we were getting pretty sick of the long, cold winter here in New York so we decided to spend one of our weekends visiting somewhere warm.  We settled on Savannah, Georgia because it's a cute coastal town in the South that's rich with culture and history.  Of course we also wanted to check out some of the delicious Southern food that the city has to offer, and we found a lot of interesting places!  Here's where we went and what we got – just be warned that we do feature some meat in this post.
We wanted to start off our weekend with brunch and decided to visit the Collins Quarter, which was founded by an Australian and melds that country's brunch culture with the culinary traditions of the South.  These two cuisines paired well together in the Bubble 'N' Squeak that Miriam got:  it's a fried vegetable patty (known as a bubble and squeak in the British Commonwealth) on a base of creamed corn, topped with a grilled portabella mushroom cap, a poached egg, and tomato chimichurri.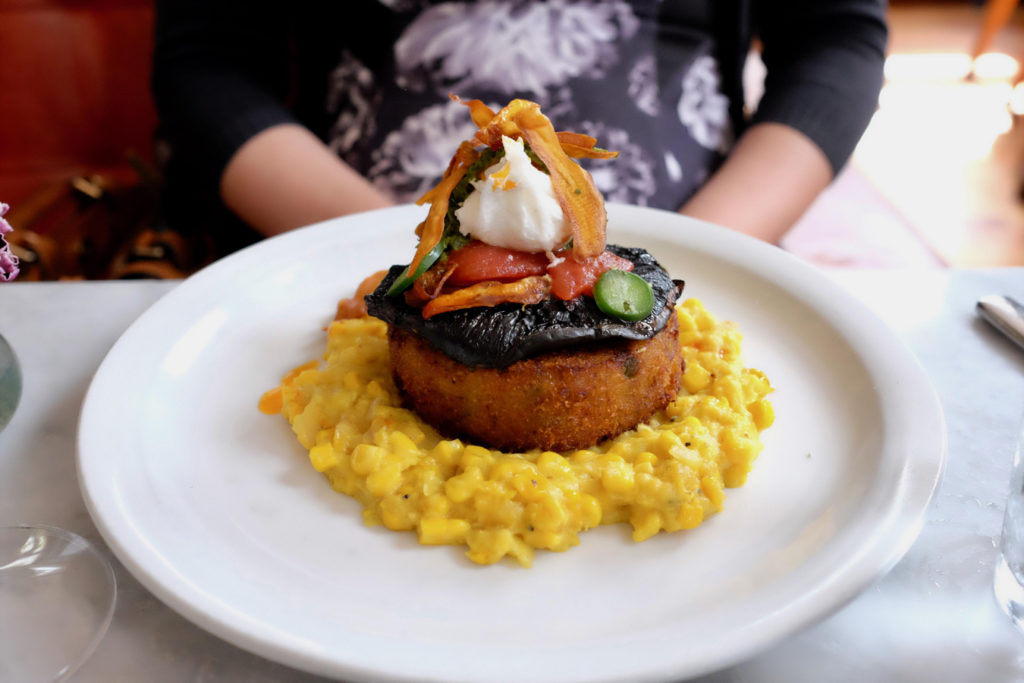 Cyril had the short rib hash, which is a braised short rib on a hash brown with an egg and avocado on top and veggies on the side.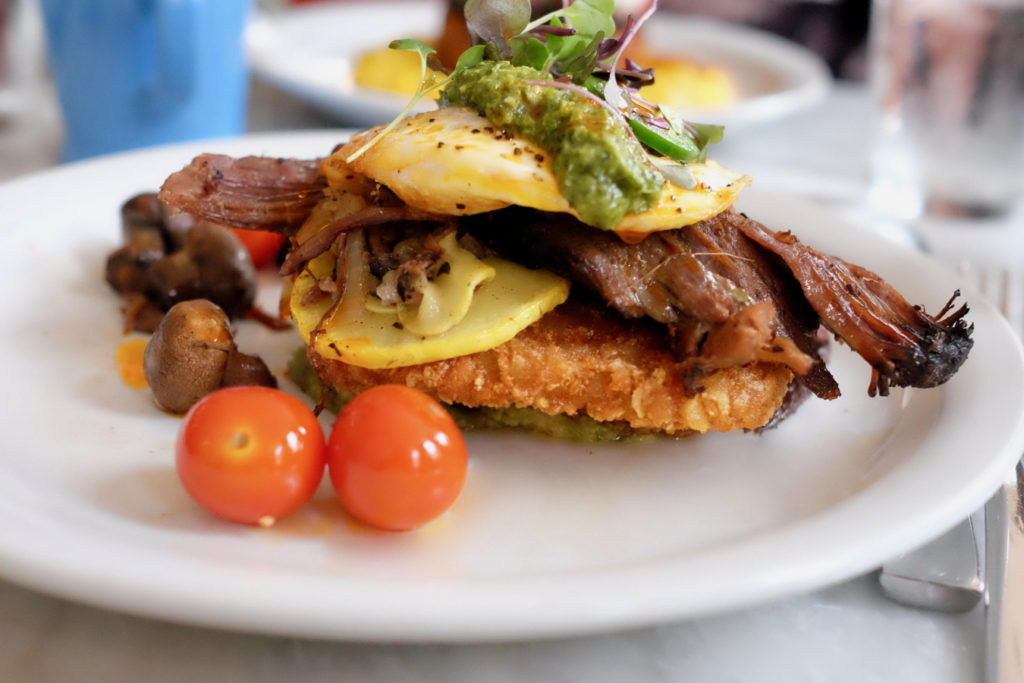 And to accompany our meal, some brunch drinks:  the house Bloody Mary and a mimosa made with vodka-soaked berries.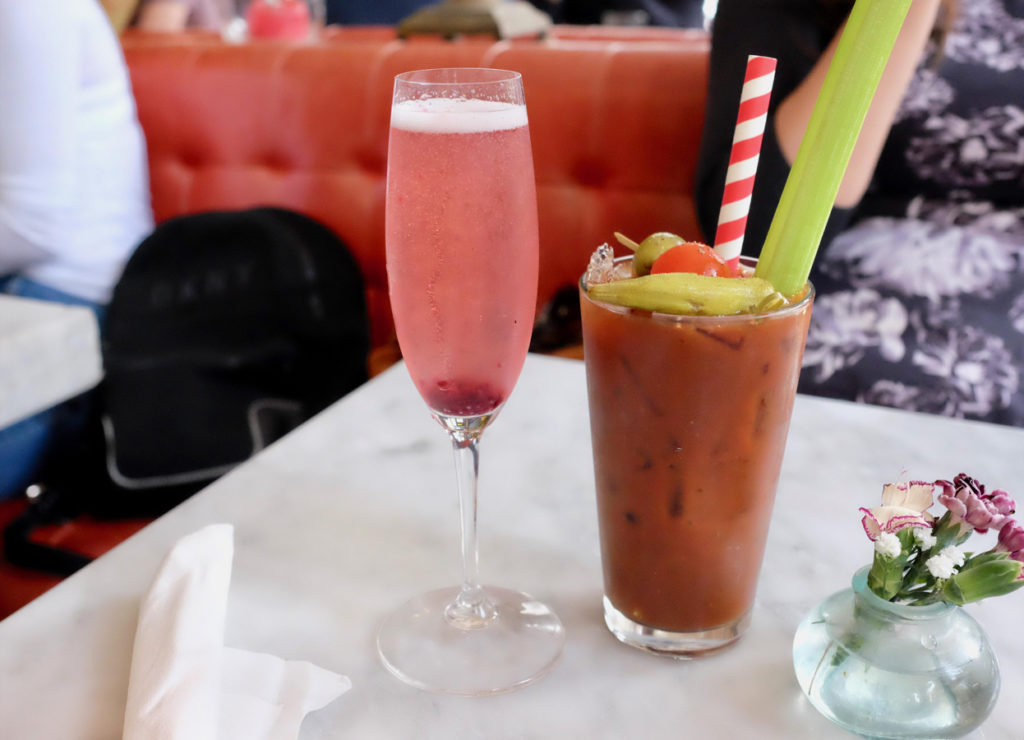 Later we decided to get a small meal at Vic's on the River, which has a great view of the Savannah waterfront.  We heard that their fried green tomatoes were good, so we got an order of those – they come topped with goat cheese, tomatoes, and a balsamic drizzle.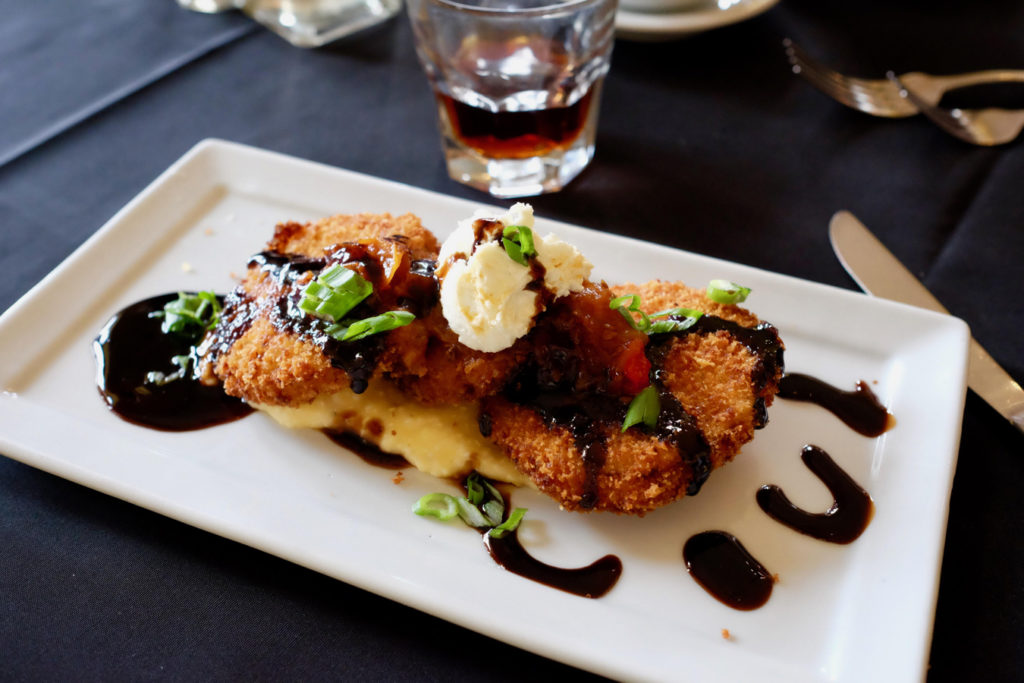 And, because it's the South, we also tried some smoked cheddar grits …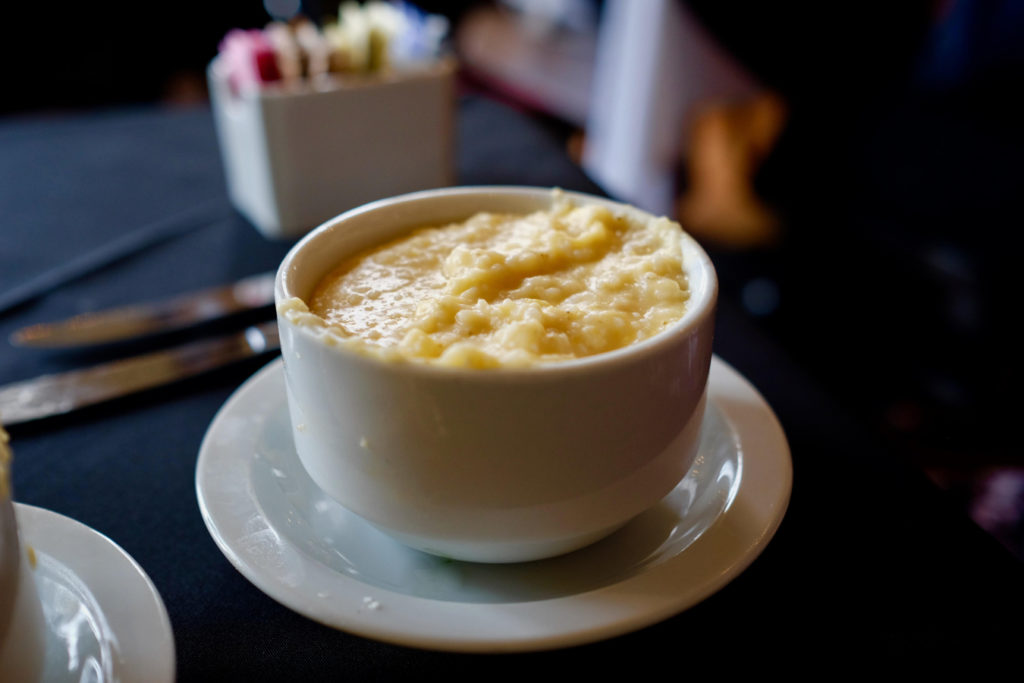 … and their delicious homemade biscuits.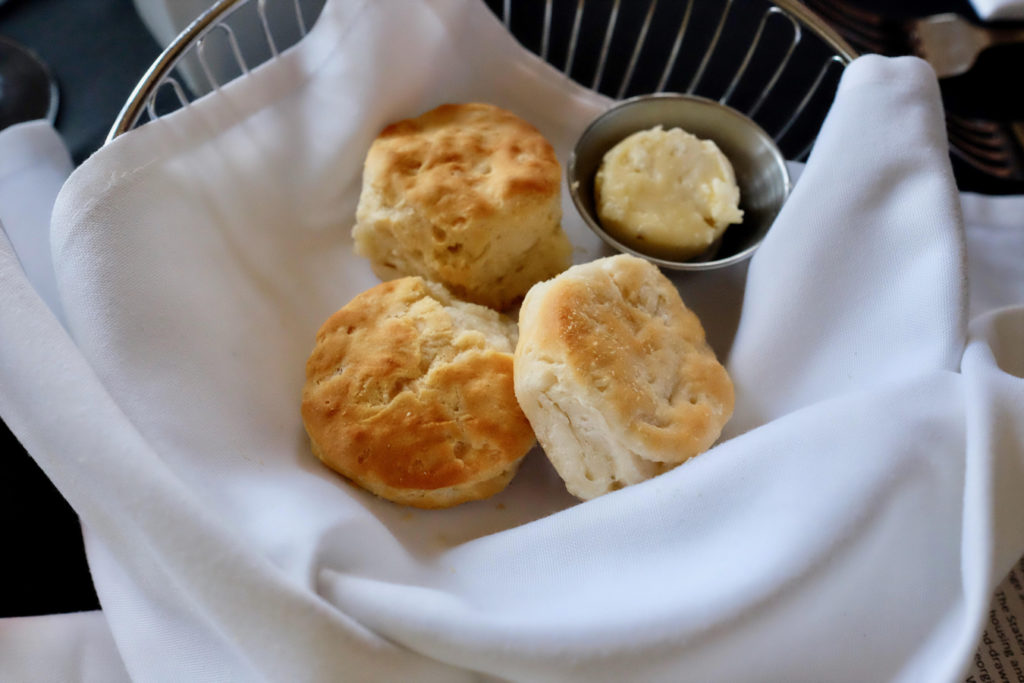 The coastal Southern states are also known for having excellent seafood boils, and Cyril really wanted to go somewhere that served up this specialty – so we headed to Savannah Seafood Shack.  There Cyril indulged himself in what the restaurant calls the Love Shack:  a huge dish of shrimp, crawfish, clams, mussels, and snow crab legs, on a bed of red potatoes and corn on the cob, all tossed with garlic butter and Cajun seasoning.  Miriam, meanwhile, made do with sides of the potatoes, corn, and some hush puppies.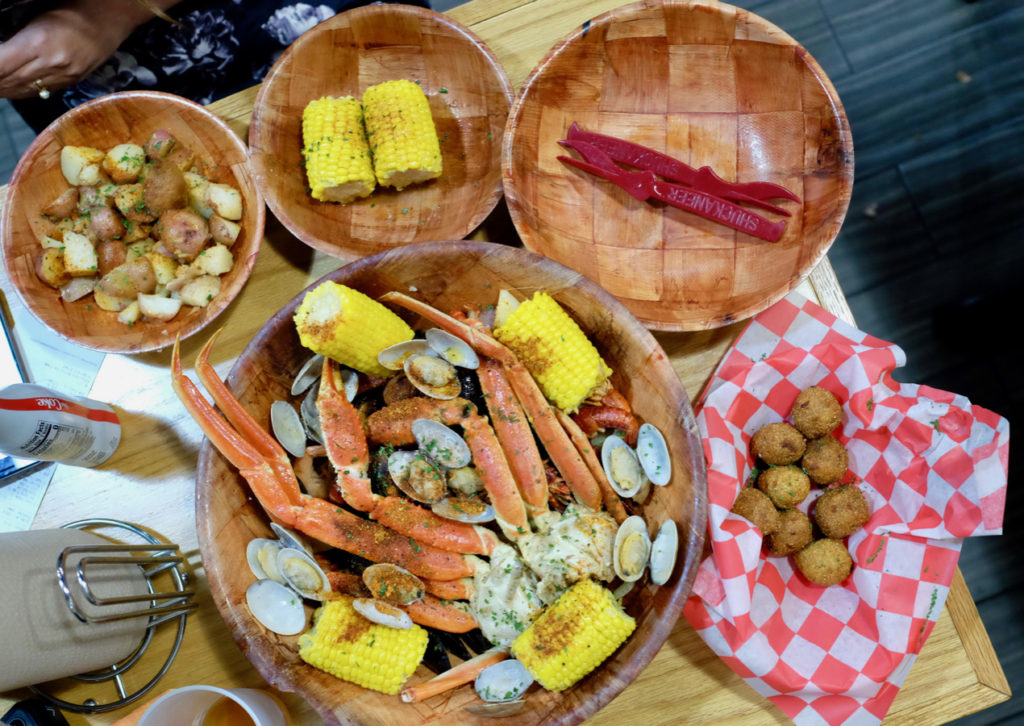 The next day we decided to get more brunch food, so we made our way to Back in the Day Bakery to sample some of the homemade treats they have to offer.  Cyril had a BLT on a biscuit, Miriam got a biscuit with Gruyere and hot sauce, and we also split a cinnamon roll.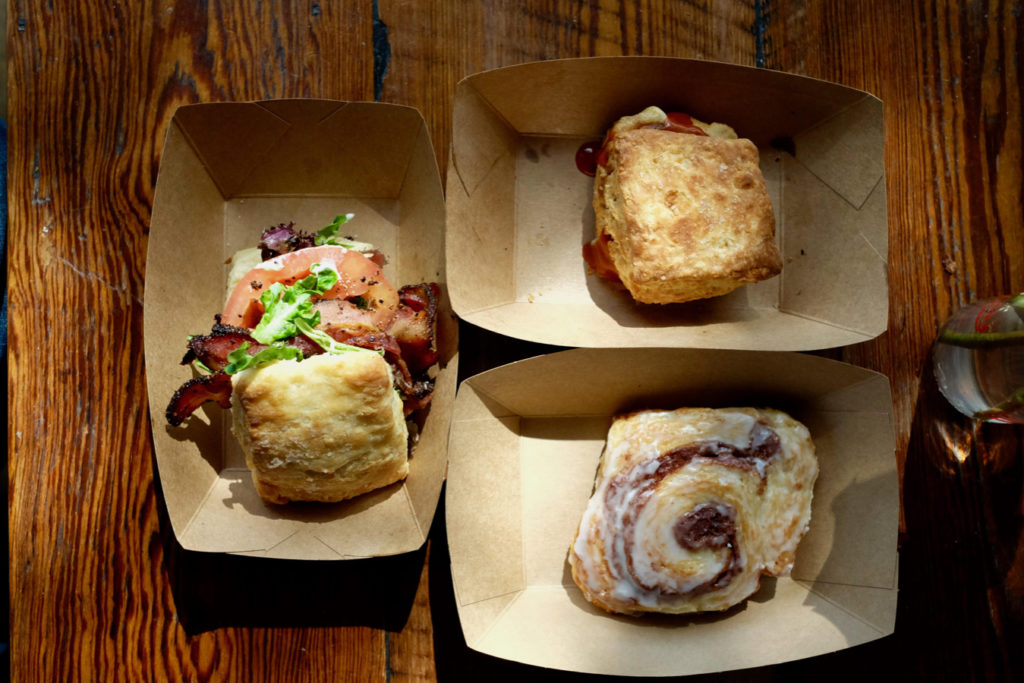 Later that day we headed to Crystal Beer Parlor, which was recommended to us by several people.  Despite the name, this place serves up much more than just beer – for example, here's the giant pretzel, with a cheese dip, that we had as an appetizer.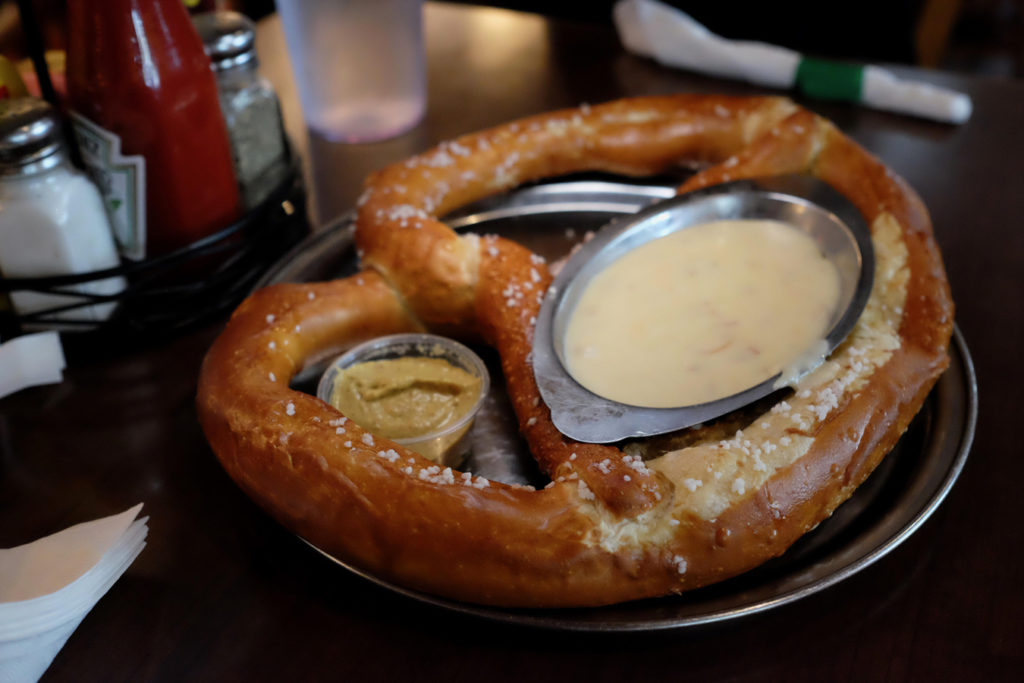 Cyril also decided to try the crab stew …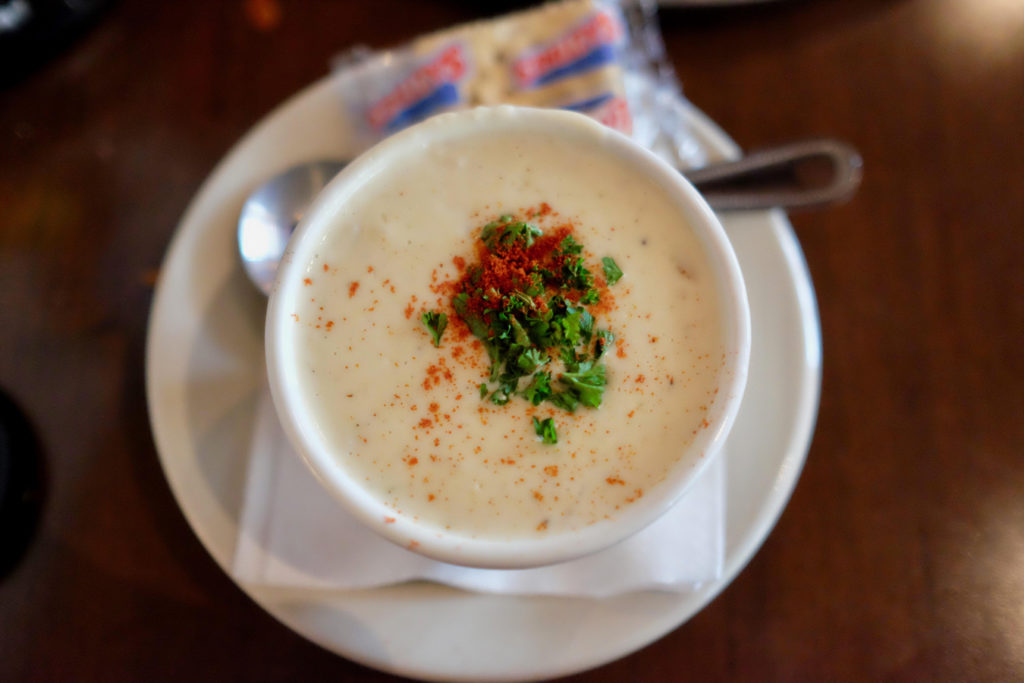 … and then got himself an order of shrimp and grits.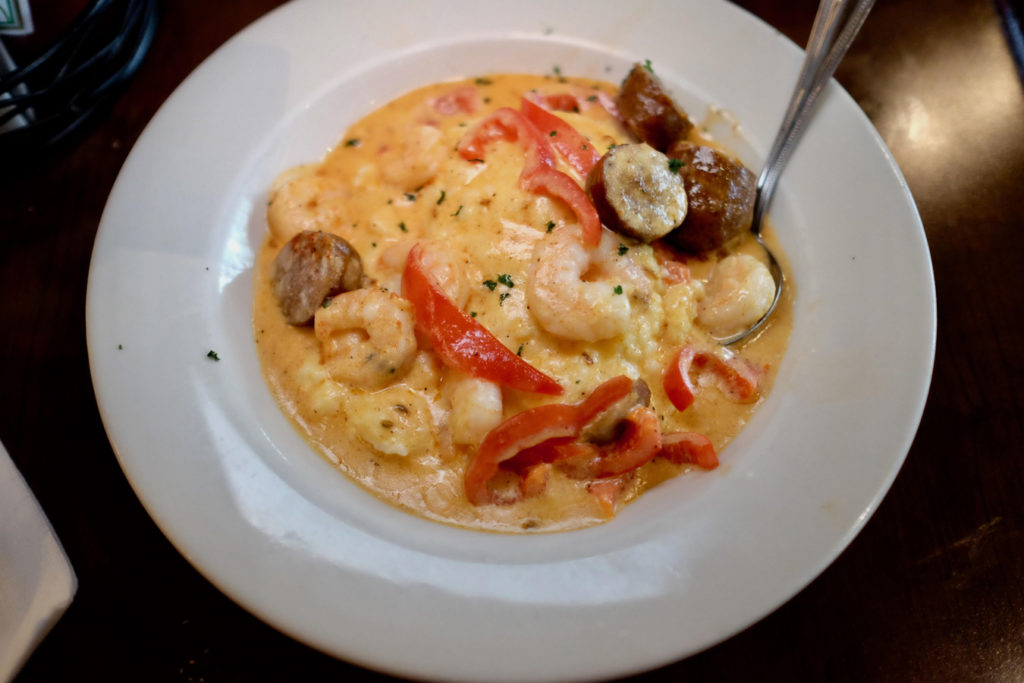 And Miriam went with one of their monthly specials, which was butternut squash mac and cheese topped with gingersnap crumbs.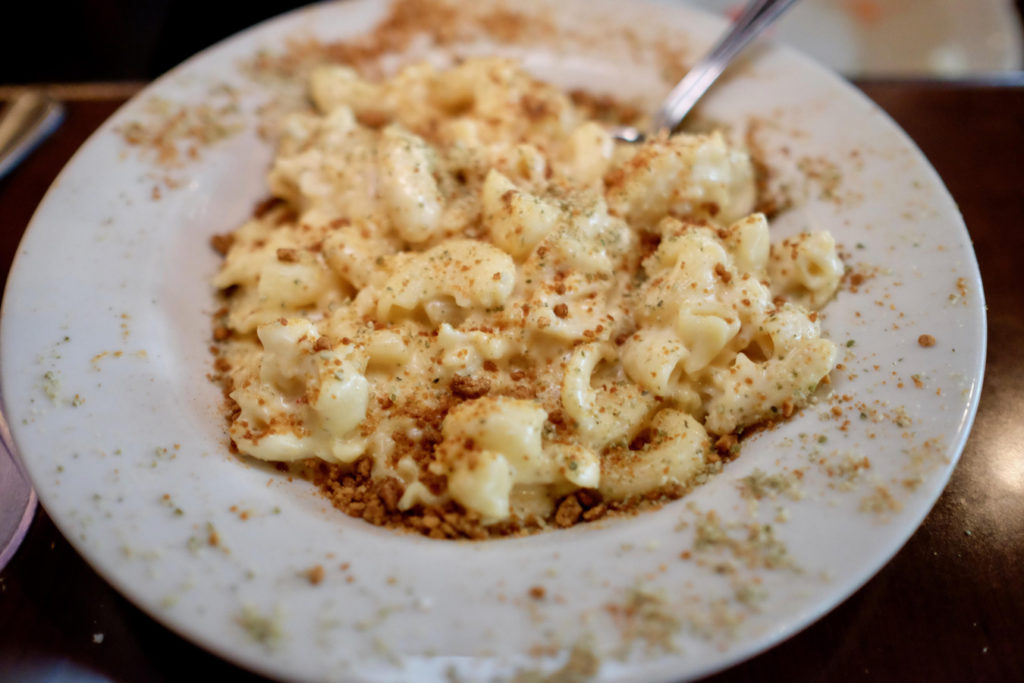 And we finished off our visit at Leopold's Ice Cream, which is celebrating its 100th year in Savannah.  There's several locations around the city and at the airport, but we went to the original one, where we got some make-your-own ice cream sandwiches.  Miriam chose some mint chocolate chip ice cream in between two fresh chocolate chip cookies, while Cyril made his with the honey almond and cream flavor.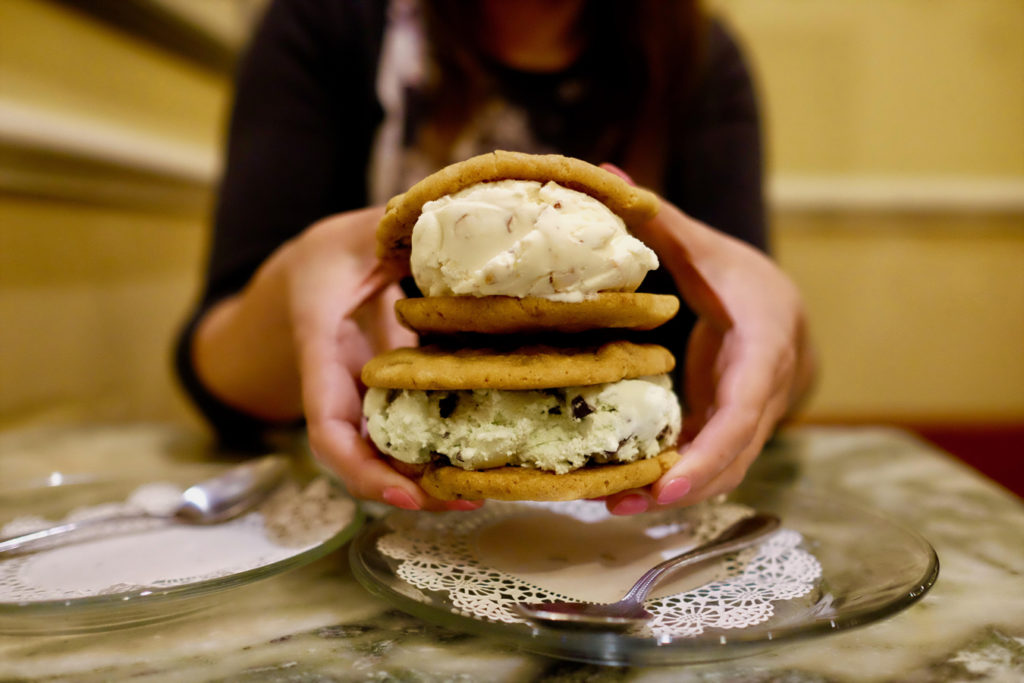 We had an awesome time in Savannah, and the food was no small part of our enjoyment!  We got to try all kinds of Southern cuisine – biscuits, seafood, grits, mac and cheese, fried green tomatoes – and everywhere we went put its own unique local spin on the food.  And while not every place had a huge amount of vegetarian options, Miriam was able to find some tasty food at each spot we went to.  All in all, we had a great weekend away and we can definitely recommend Savannah for a visit!