Saag paneer is a classic in Indian cuisine – saag is any dish made from a leafy plant, and paneer is an Indian farmer's cheese.  You can find this meal on the menu at almost any Indian restaurant around the world – and so we decided to try to make it for ourselves.  Luckily, a few weeks ago we were in the Flushing neighborhood of Queens, which has a community of people from South Asia as well as what may possibly be the first traditional Hindu temple in the United States.  We found an Indian grocery store there, so we were able to get our hands on some of the authentic ingredients we needed to try out this saag paneer – and now we'll show you how to make it.
You'll need:
Ghee
Coriander seeds
Cardamom
An onion
Garlic
Ginger
A pound of spinach
A lime
Hot chiles
6 ounces of paneer
Cumin seeds
Chili powder
Rice
Roti
Start by melting 1/4 cup of ghee over medium heat in a large pan, then adding in 2 tablespoons of coriander seeds and 1/4 teaspoon of cardamom and cooking these for 1-2 minutes.  Then chop up your onion, add that in, and cook for about 5 minutes until it's lightly browned.  Peel and mince a generous-sized piece of ginger and a few garlic cloves and place those in the pan to cook for just a minute or so.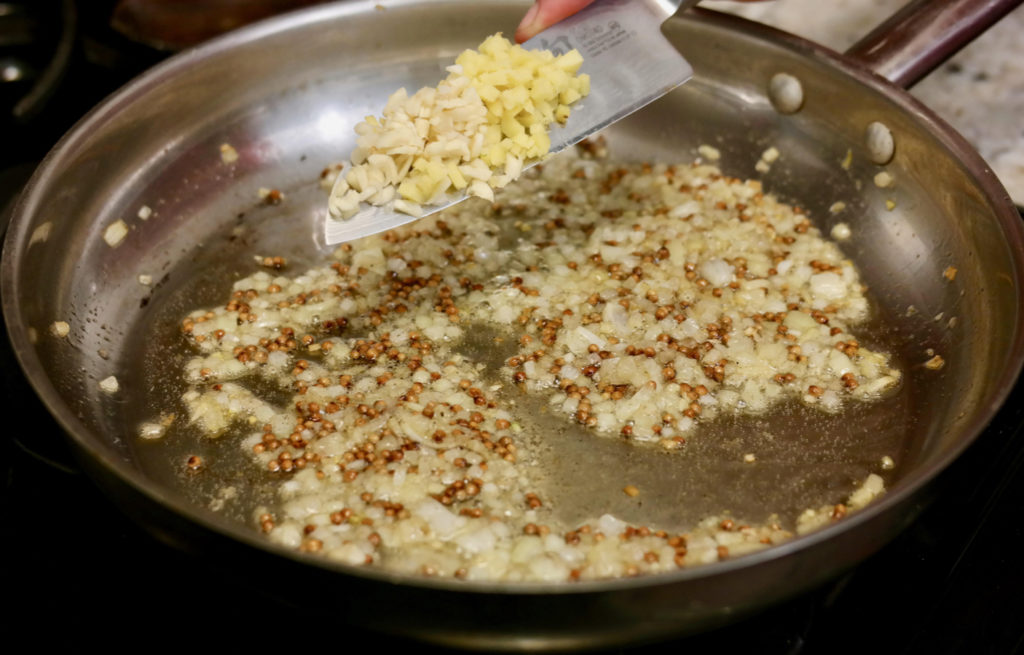 Then add in all your spinach a handful at a time, letting the leaves wilt down before you place more in.  Once the spinach is fully wilted, take the pan off the heat, squeeze some fresh lime juice over everything, and stir in some chopped chiles (you can use as many or as few as you'd like depending on how spicy you want your meal to be).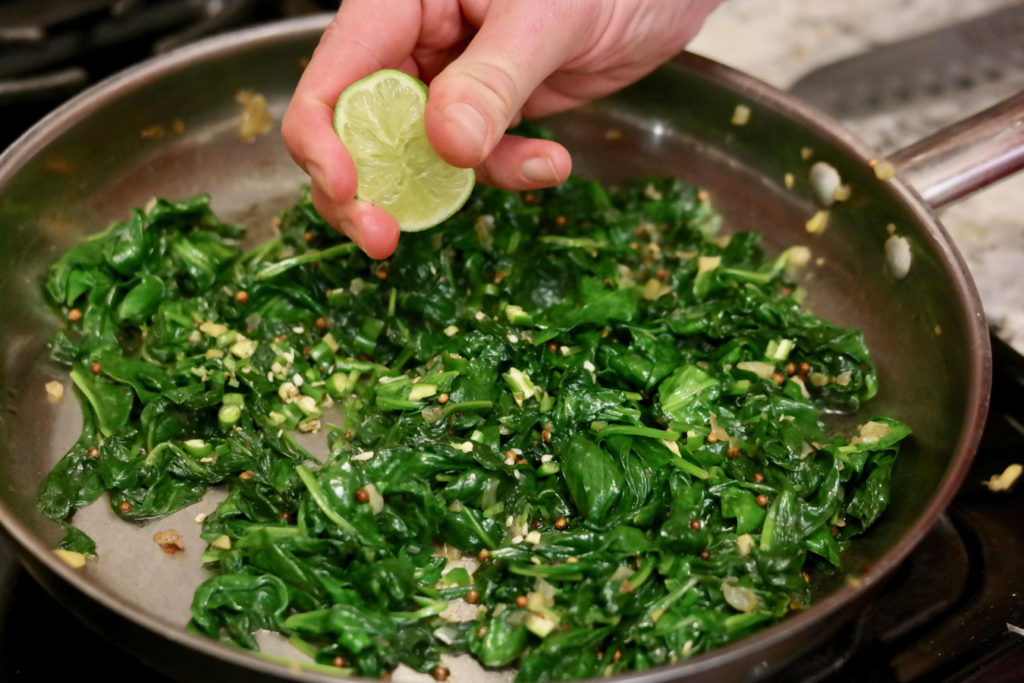 Put everything into a blender and blend until you've got an even but still roughly textured mixture.  Pour this back into the pan and begin to cook over low heat.  Cut your paneer into cubes and place these into the pan, along with 1/2 cup of water, and cook for 5-7 minutes.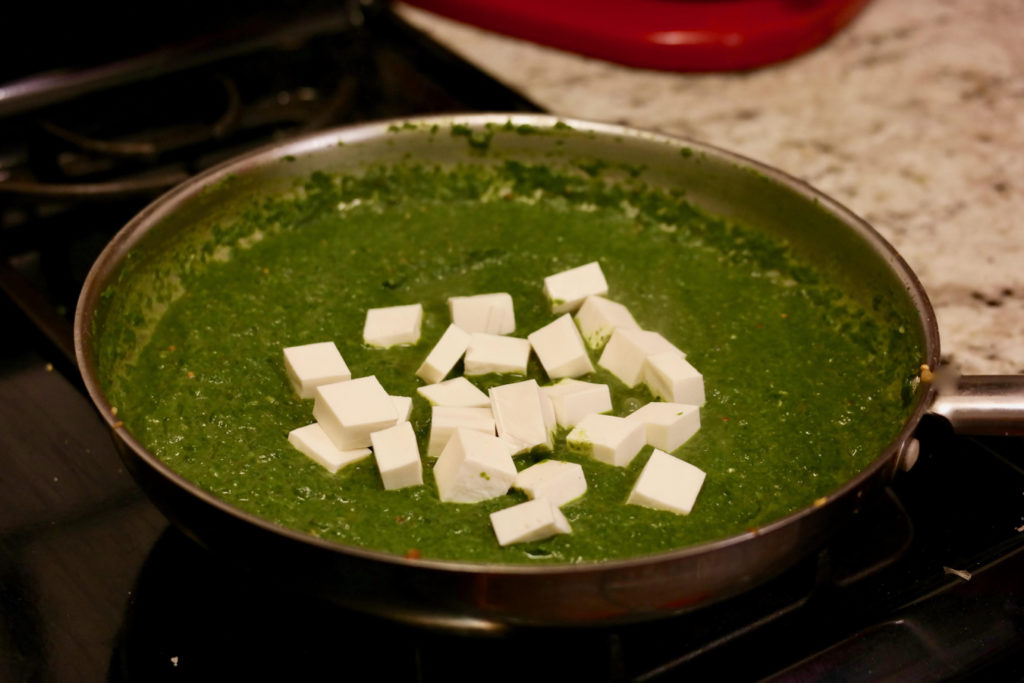 While the saag is on the stove, melt another 2 tablespoons of ghee in a small pan over medium-high heat and add in a teaspoon of cumin seeds.  Watch this pan carefully and right when the seeds start to brown, take the pan off the stove and stir in a little bit of chili powder, to taste.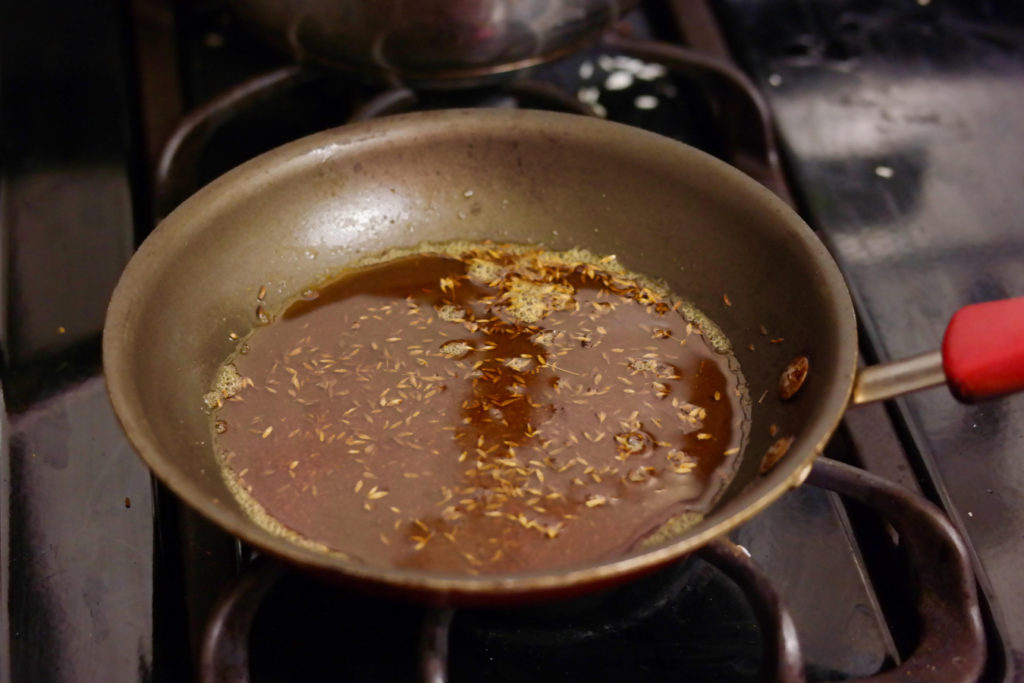 Serve up the saag paneer with the cumin and chili powder sauce poured on top, plus sides of rice and roti.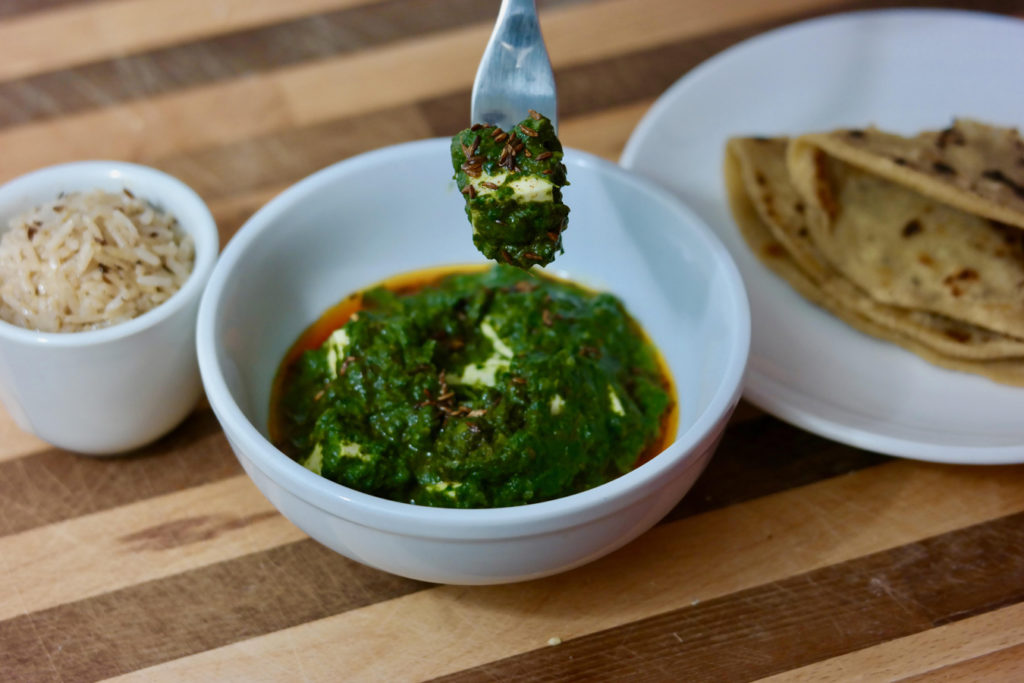 All in all, this was a pretty simple dish to make.  We did have to go specifically to an Indian grocery store to find the ghee and paneer and get our hands on some good spicy chiles and chili powder, and we also had to make our way to a small shop to buy some authentic roti.  But, after tracking down all our ingredients, we were able to whip this up in no time.  We liked that the spinach comes out rich and warm cooked with ghee, and the paneer's firm creaminess pairs well with the saag's texture.  And of course, bread and rice are delicious accompaniments.  All in all we'd consider this an entry-level Indian dish to make, and we're glad we got to use some of the resources and stores in our own backyard to create this amazing dinner.