Lest you think it's too late in the year for more soup recipes, just take a look at the weather here in New York:  it's been chilly and rainy for the past three days.  That's perfect for soup, so we decided to try out this recipe from the New York Times.  It's made with a bunch of different ingredients that all blend together well, and it's warm and hearty and spicy – perfect for warming you right up.  And best of all, it's vegan!  We put our own unique twist on this soup to make it our own, so here we're going to show you how we cooked it up.
You'll need:
A 32-ounce bag of frozen corn
An onion
Garlic
Ginger
Spicy peppers
Half a package of baby red potatoes
A 15-ounce can of coconut milk
A lime
Cilantro
Peanuts
Hot sauce
First, slice up your onion and place it in a Dutch oven with a little bit of olive oil.  Add in 3 chopped garlic cloves, a small piece of peeled, minced ginger, and several finely sliced peppers (you can use as many or as few as you want, depending on how spicy you'd like your soup to be).  Cook all this over medium heat for 3-5 minutes, until the vegetables soften.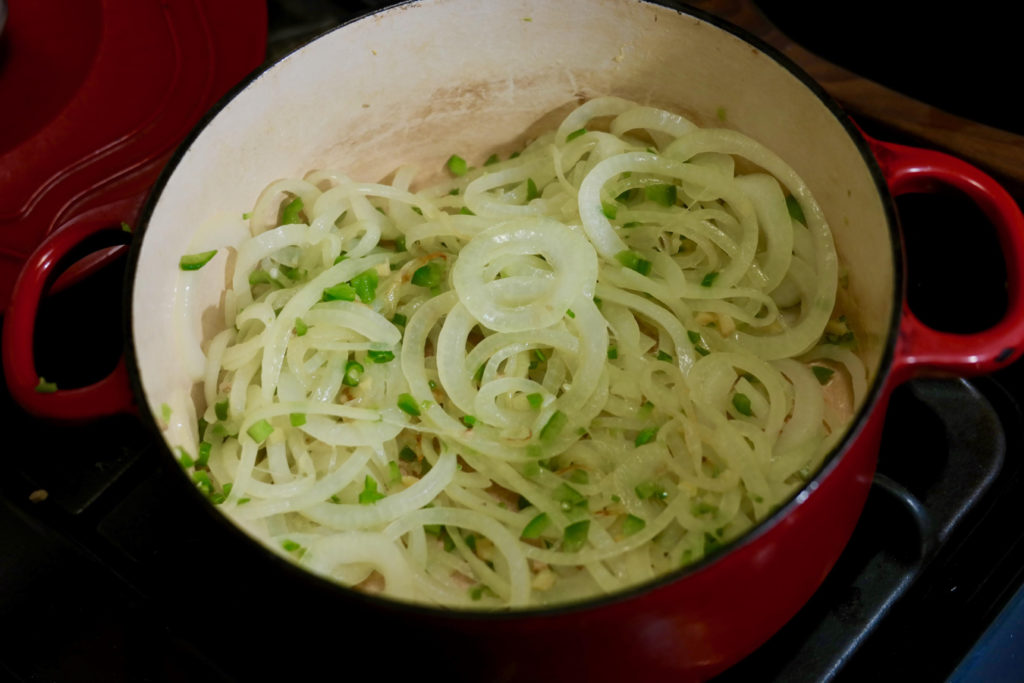 Now add in your corn and cook for another 3 minutes or so.  Cut your potatoes into quarters and mix those in as well.  Then bring 2 1/2 cups of water to a boil and dissolve in your 3 bouillon cubes, then pour this broth into your veggies.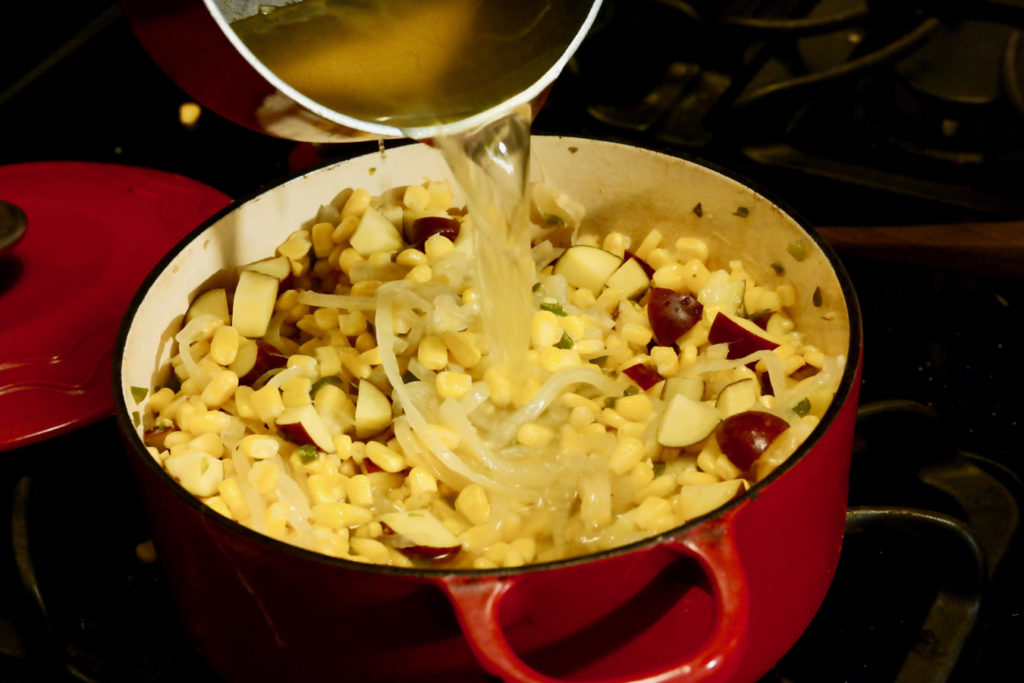 Add in the coconut milk and bring everything to a boil, then cover and turn the heat down to a simmer to cook your soup for about 10 minutes, until the potatoes become tender.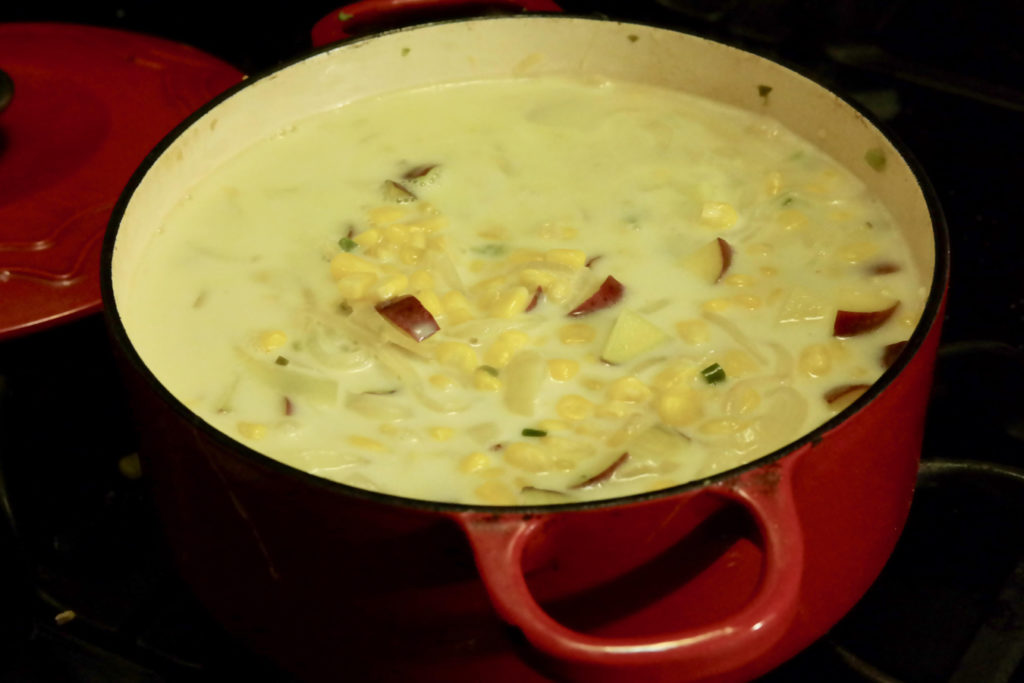 Take the Dutch oven off the heat and let everything cool for a little bit, then use an immersion blender to puree it into a chunky soup.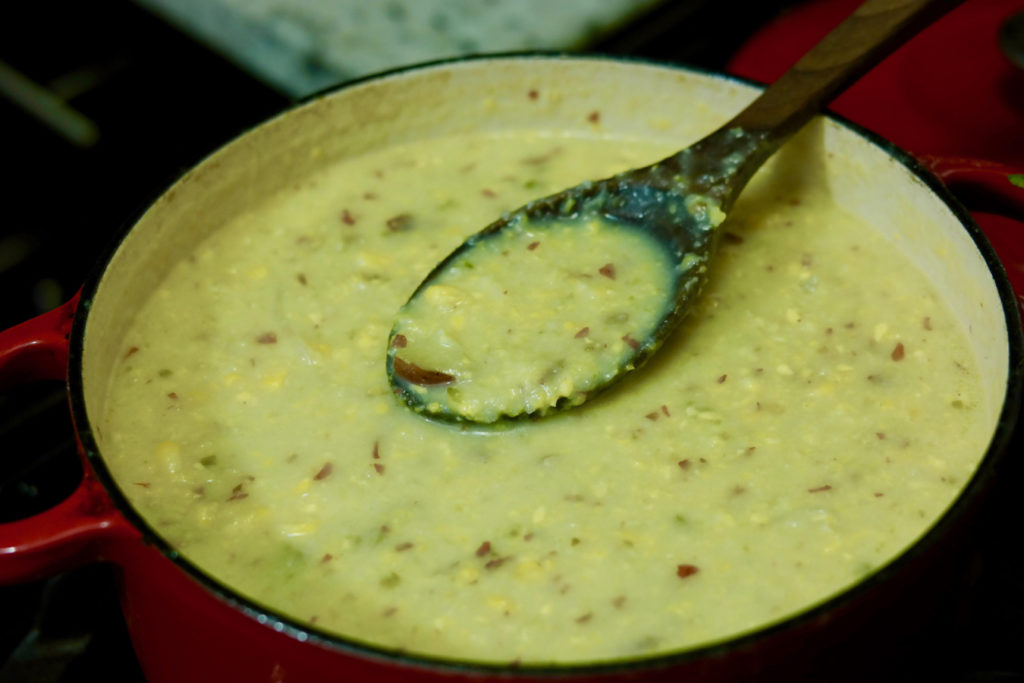 Dish up your soup and serve it topped with cilantro leaves, lime wedges, more sliced peppers, a dash of hot sauce, and some peanuts lightly crushed in a food processor.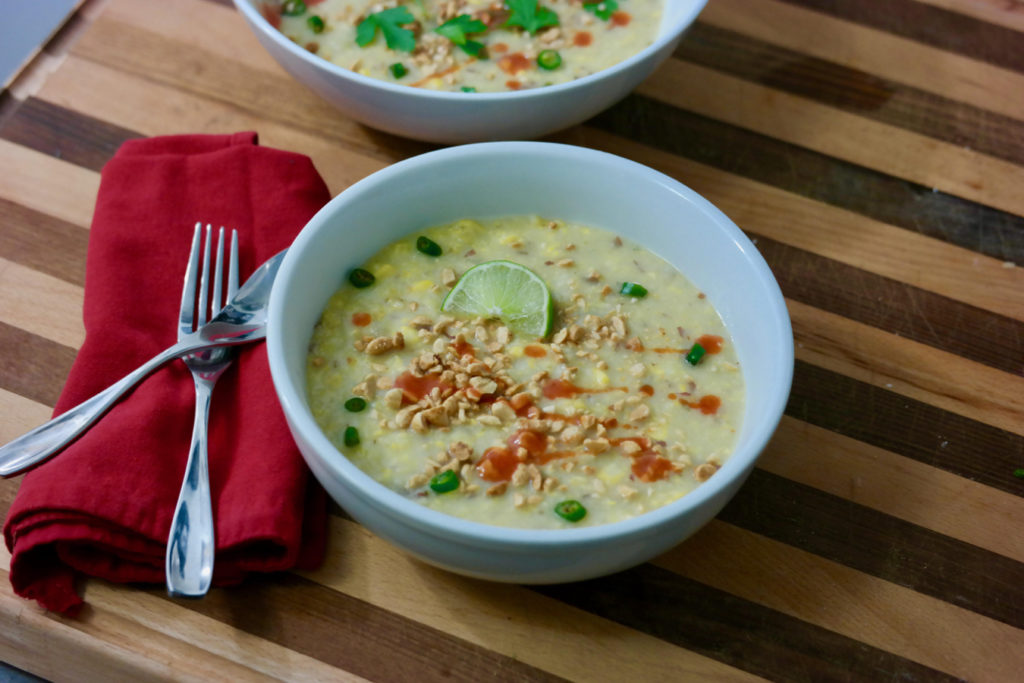 There's a lot of things going on in this soup, and they all work together excellently.  The potatoes pair well with the corn to make this a thick chowder, and the peppers and hot sauce add in a great spiciness.  The coconut milk makes everything creamy without relying on dairy, and the toppings bring in some nice extra flavors.  Plus, this soup is pretty simple to make:  there's only a little bit of vegetable prep you have to do, and the soup takes just a short while to cook.  This is a warm and filling meal you can easily cook up on a cold day when you can hardly bring yourself to get out from under your blankets – and trust us, it's definitely worth the effort.