If you're looking for something easy, cheesy, and delicious we'd like to recommend this recipe.  Sure, from the name alone it might seem a little strange:  isn't ricotta something you stuff into pasta or whip and serve with bread?  But trust us on this, because it turns out that ricotta bakes up nicely, especially if you pair it with some great vegetables that help mellow out all the cheese here.  Plus, this recipe is pretty quick and simple to make, and it comes from Loring Place, a restaurant we really liked.  We adapted this from the New York Times and we're happy to share it here with you!
To make this, you'll need:
4 stalks of asparagus
3-4 mushrooms
A 15-ounce container of ricotta cheese
Parmesan cheese
Mozzarella cheese
Oregano
2 eggs
Pesto sauce (either store-bought or you can make our own recipe)
A small package of frozen artichokes
Scallions
Mint
A good loaf of sourdough or country bread
Start by preparing your ricotta:  in a bowl mix all the ricotta with one whole egg, one egg yolk, 1/3 cup of shredded Parmesan, 1/4 cup of shredded mozzarella, a handful of oregano leaves, salt, and pepper.  Then take a medium-sized cast iron skillet, brush it with olive oil, and pour the ricotta into it.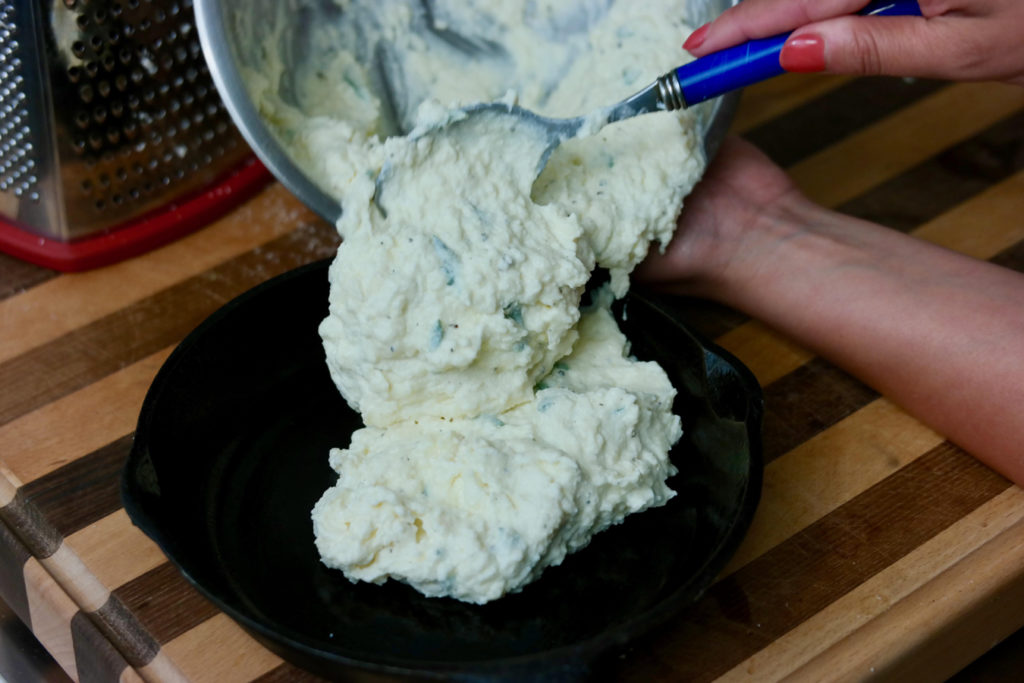 Measure out about 2 tablespoons of pesto and gently stir it into the ricotta, letting it stay on the surface instead of fully mixing it in.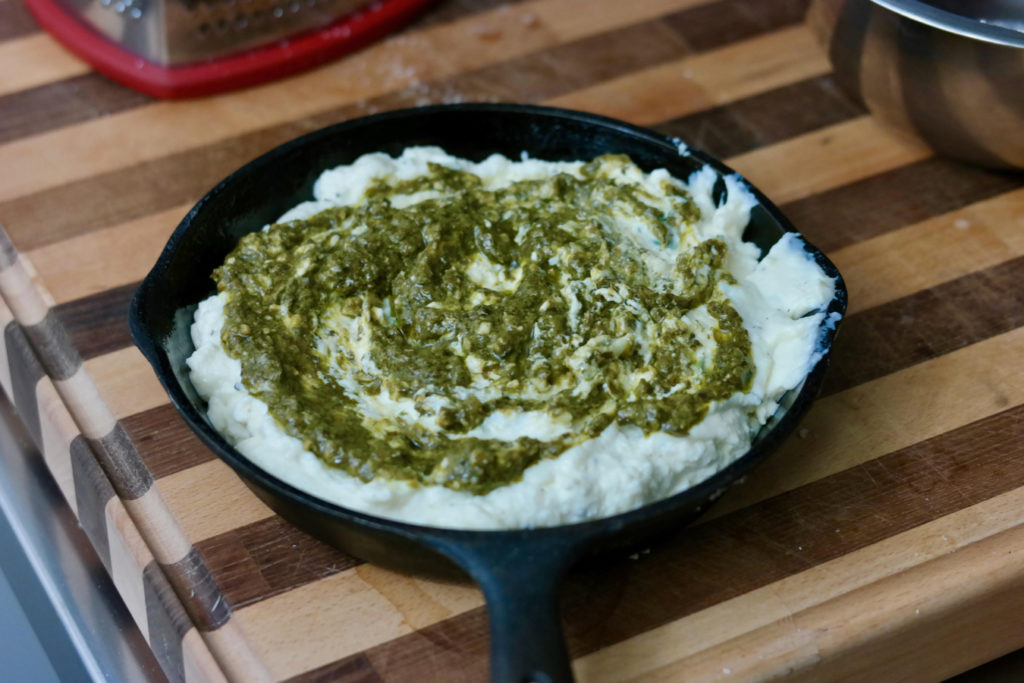 Place the skillet over low heat on your stovetop and cook it for around 10 min, until it starts to bubble and the edges just begin to brown.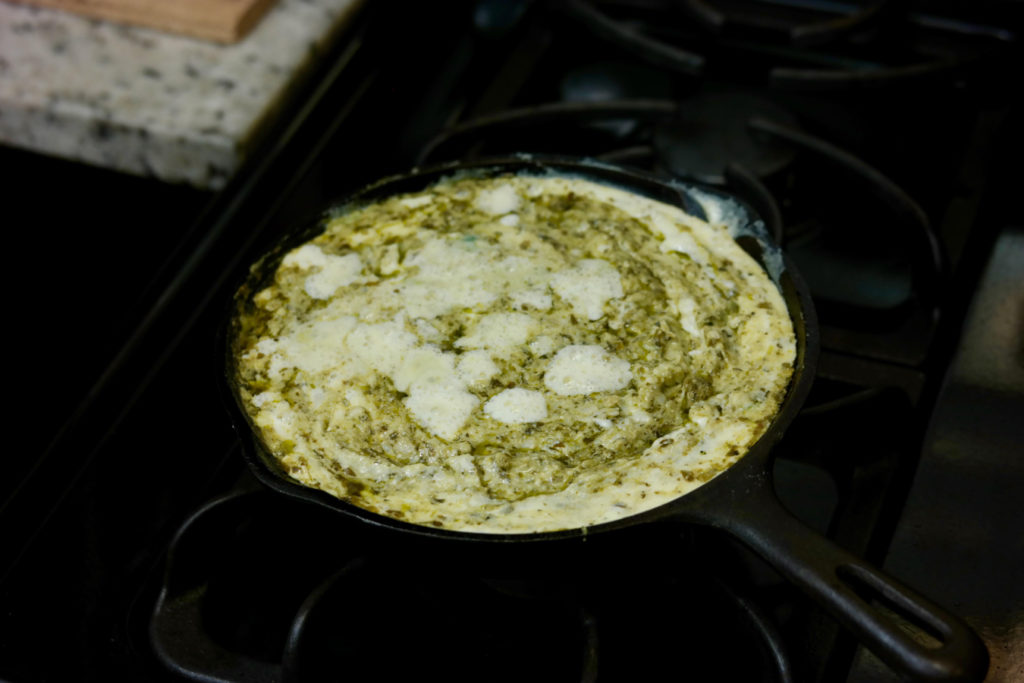 While you're waiting for the ricotta to cook, snap the ends off your asparagus and slice each stalk into 1-inch pieces, then boil them in a small pot of water for 5 minutes and drain them when they're finished.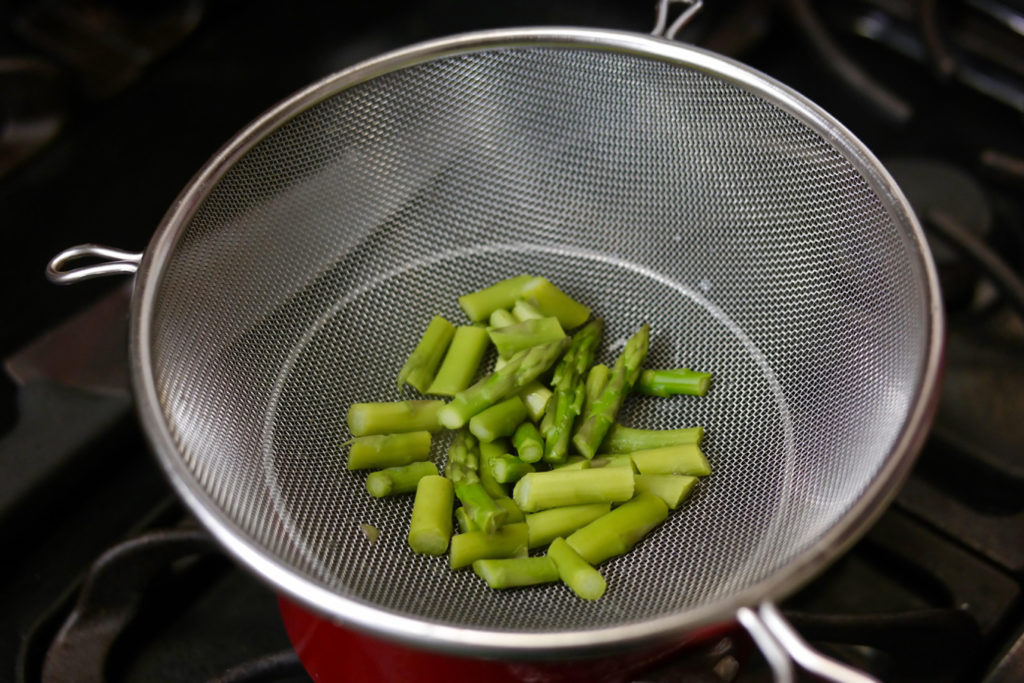 Also cut or tear your mushrooms into pieces and cook them with some olive oil in a small pan over medium heat, until they're softened and just a little brown.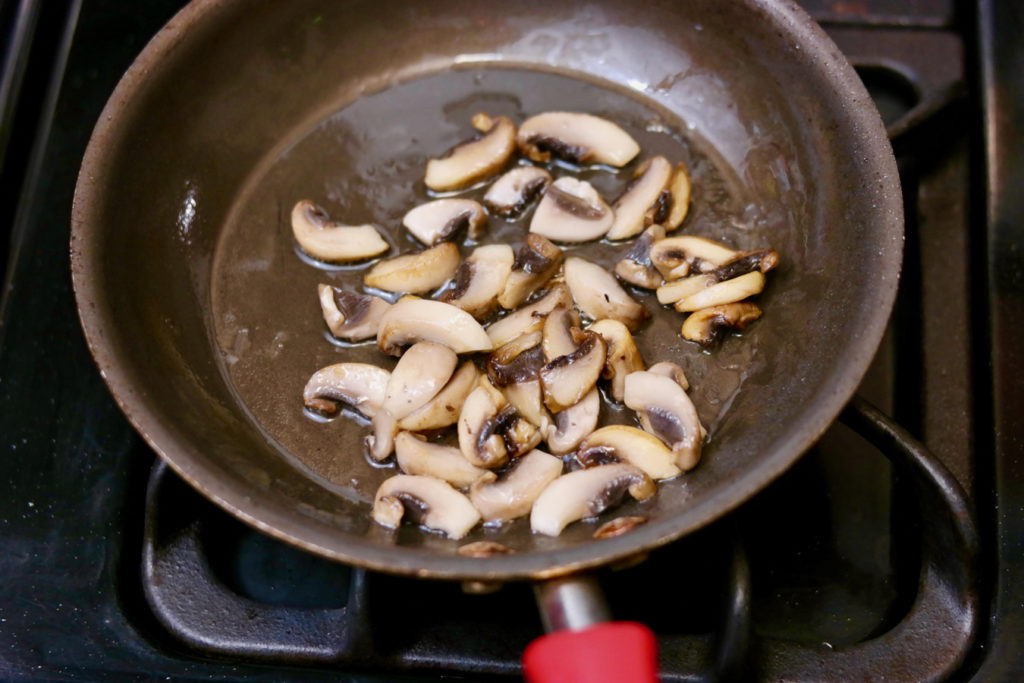 Also make sure you defrost your artichoke hearts in a microwave, and when all these veggies are ready, take the ricotta off the stove and arrange your vegetables over the surface.  Sprinkle chopped scallions and mint leaves over everything.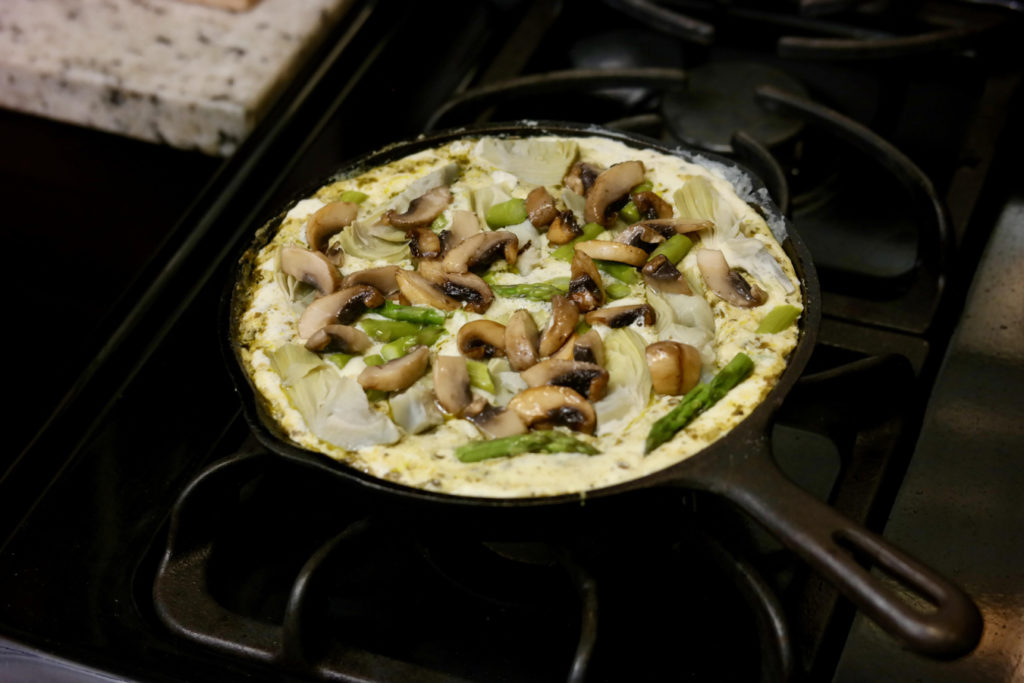 Place the skillet in your broiler turned up to medium or high heat, and cook for 6 minutes, watching carefully to make sure it doesn't burn.
Lastly, cut 5 or 6 thick slices from your loaf of bread, brush them with olive oil, and toast them on both sides in a large cast iron skillet.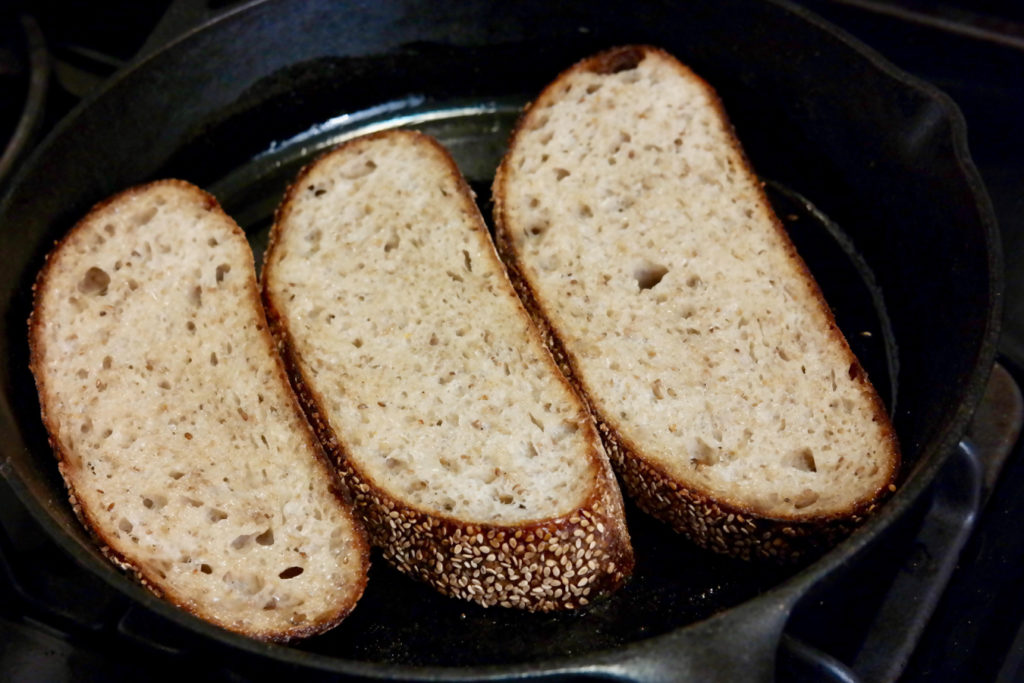 When the bread is crisp and the ricotta comes out of the broiler …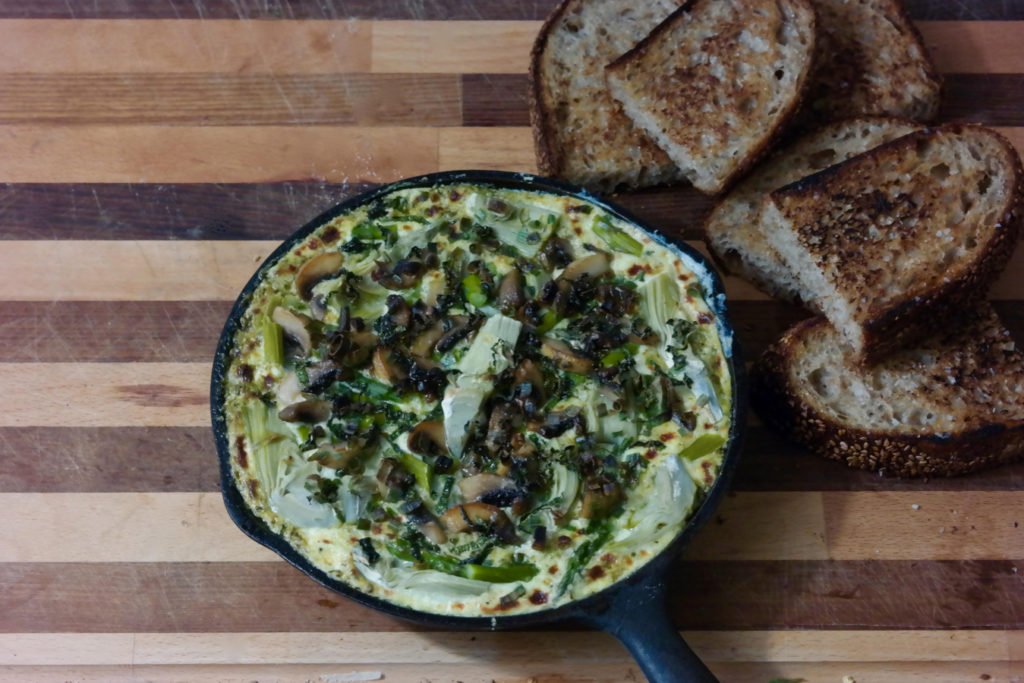 … you can spoon your cheesy mixture over the bread and serve!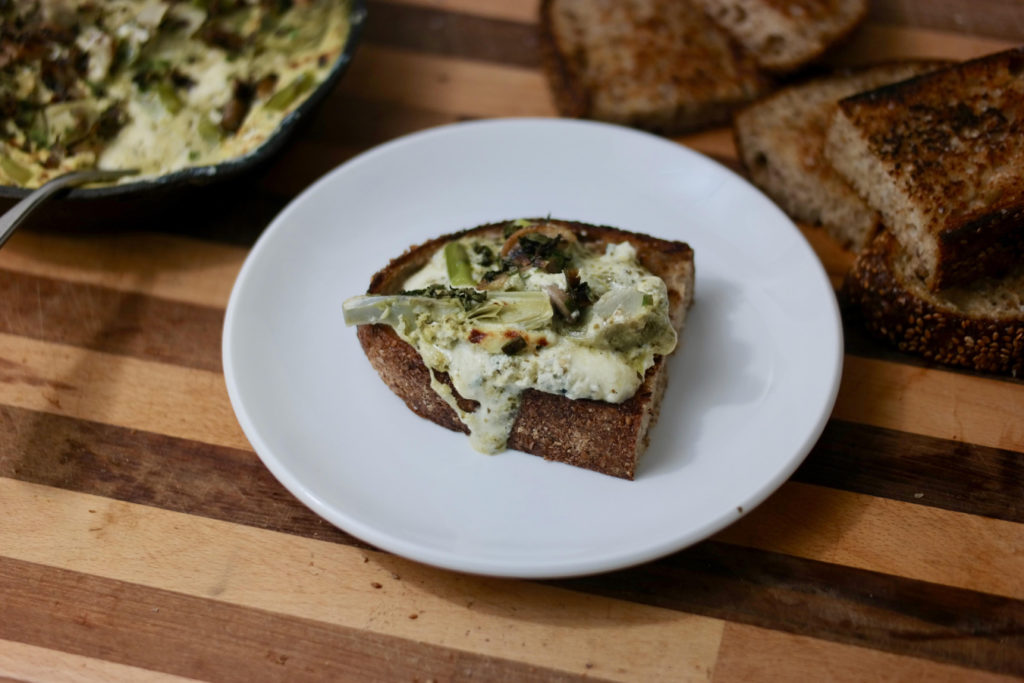 You can see that this is a deliciously warm, melt-y treat:  the ricotta, mixed with Parmesan and mozzarella, turns delightfully gooey when baked and browned.  The vegetables on top balance this rich creaminess (and also make you feel better about eating so much cheese) and everything goes well on top of some nice toasted bread.  You can serve this as an appetizer or snack, but honestly it's so tasty and hearty that you can also have it as a meal.  You might never have thought to serve ricotta like this, but trust us that baked and piled on top of bread is an excellent way to eat this cheese.