We've featured a recipe for polenta before (here it is) but this time we're going to show you another way to make this Italian dish.  Previously we showed you how to cook it up on a stovetop, but you can also bake it in a dish and it comes out just as delicious.  And like any good casserole, this polenta is stuffed with lots of other good ingredients and vegetables to make it creamy and hearty.  Plus, this one's pretty simple to make and you can whip it up in no time, so it's perfect for an easy gourmet dinner.  We based this on a recipe from the New York Times and we're sure that if you enjoy polenta – or "Italian grits" as we jokingly call it – you'll love this version.
You'll need:
Butter
Cornmeal
Olive oil
2 leeks
4 ounces of blue cheese
Parsley
To start preparing your polenta, bring 4 cups of water to a boil and dissolve in your bouillon cubes, then add 2 tablespoons of butter and a generous amount of salt.  Once the butter has melted, turn the heat down to medium and slowly pour in a cup of cornmeal, stirring constantly so it doesn't get lumpy.  Keep stirring the cornmeal for about 5 minutes, until this mixture has thickened, then take your pot off the stove.  Grease a square baking dish and pour the polenta into it, then cover the dish with foil and bake at 350°F for 40 minutes.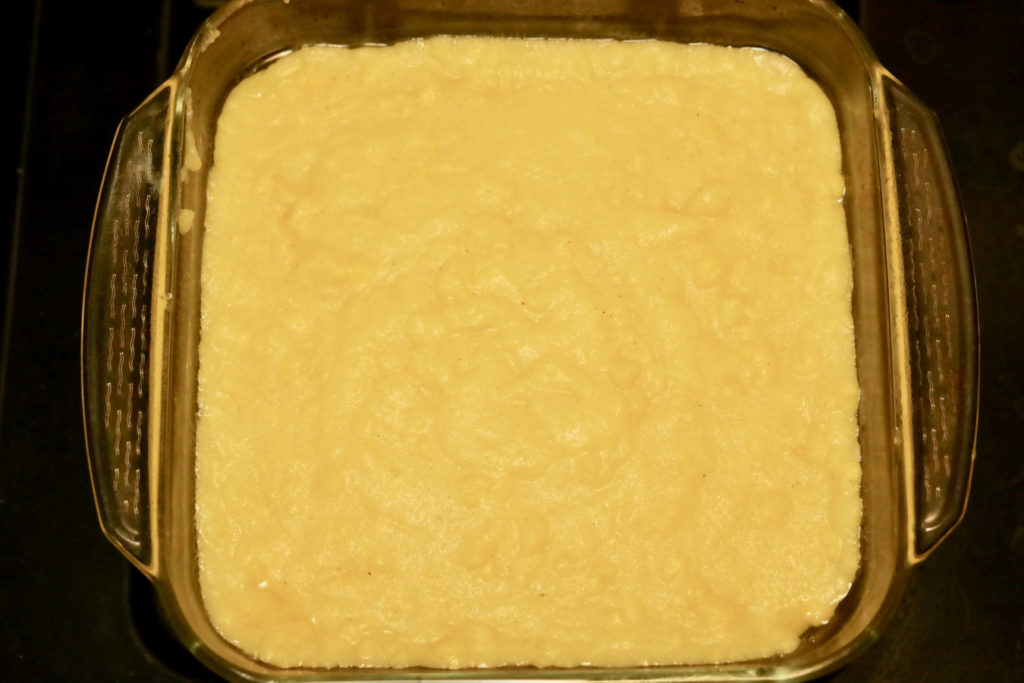 While your polenta is in the oven, prepare the topping by thinly slicing the white and light green parts of your leeks.  Melt another tablespoon of butter in a large skillet over medium heat with 3 tablespoons of olive oil, then add in the leeks and another large pinch of salt.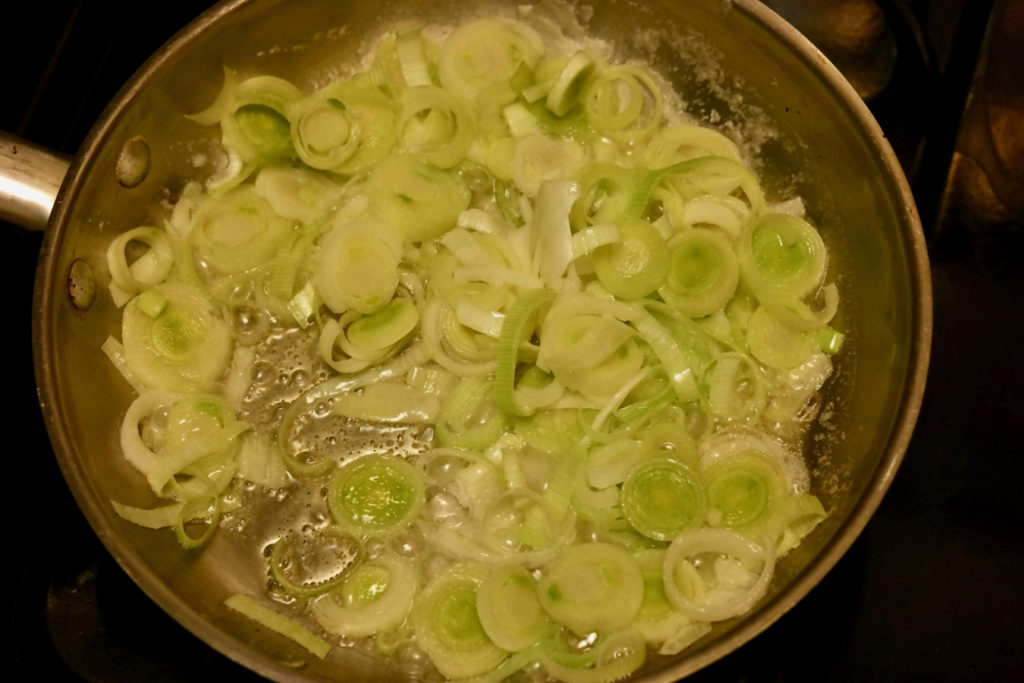 Keep the leeks moving around the pan for about 10 minutes, until they turn brown and crisp, then remove them from the heat and set them aside for now.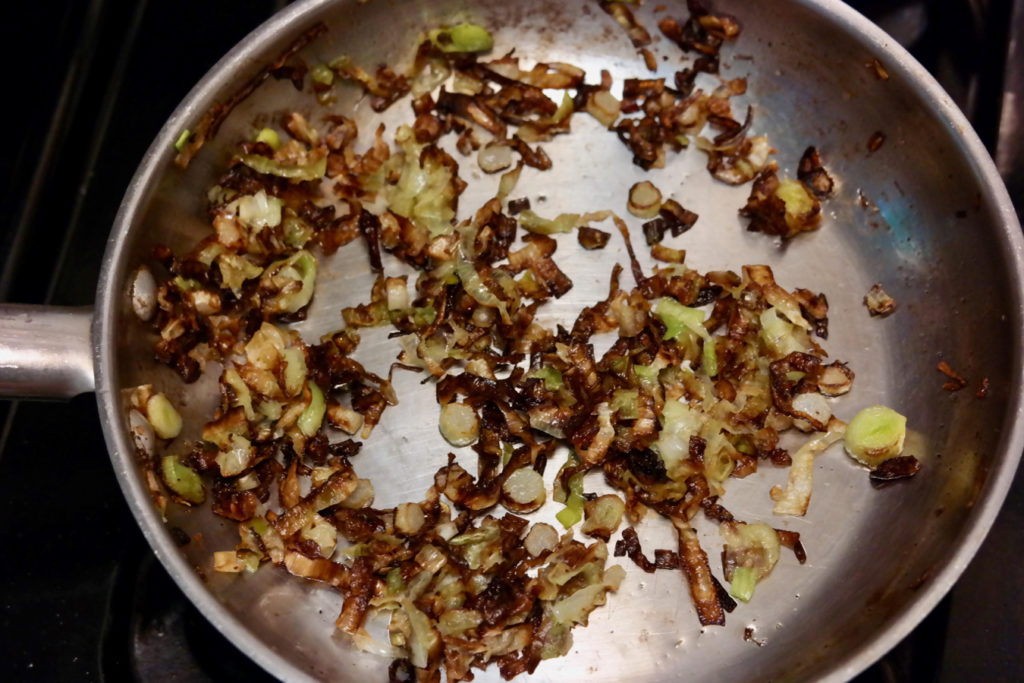 Once the polenta comes out of the oven, crumble half your blue cheese into the baking dish and smix it in, then cover everything with foil again and let it sit for 10 minutes so the cheese melts.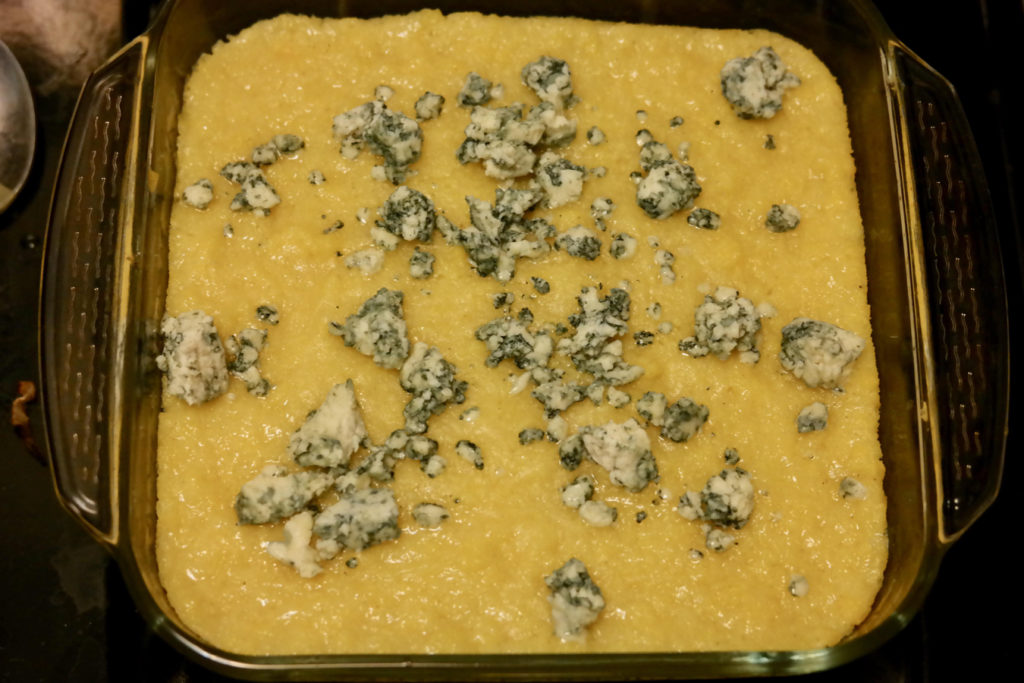 Then uncover your baking dish and scatter the surface of the polenta with the leeks, the rest of the blue cheese, and some parsley leaves.  Now you can serve your polenta!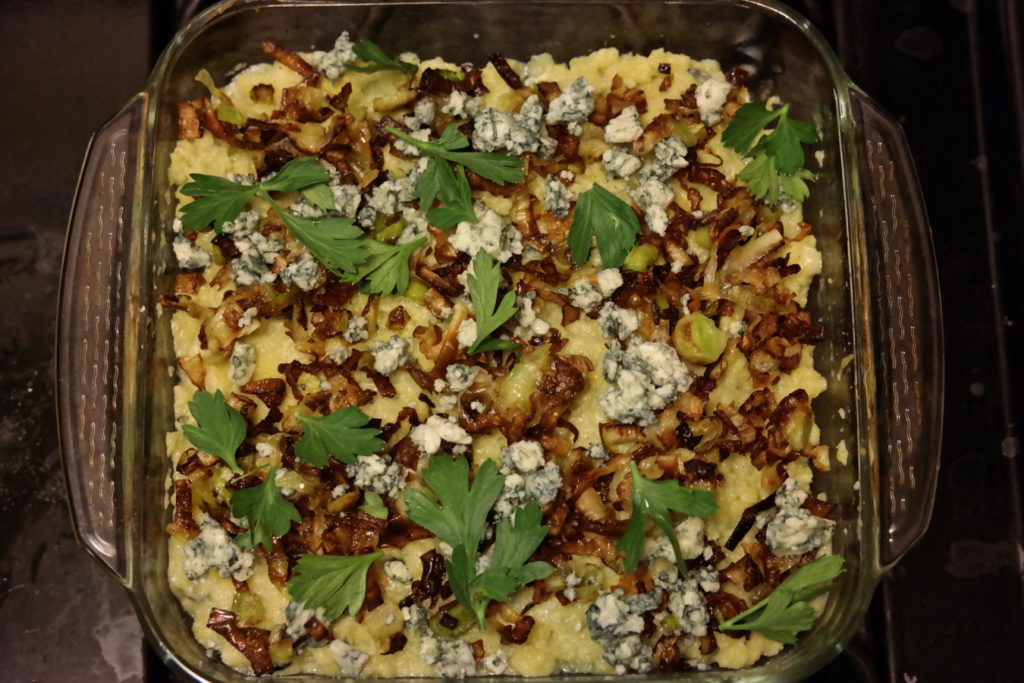 We really like this new and interesting way to make polenta, because baking it rather than having it fully cook in a pan is super easy, provided that you take care to make sure it doesn't get lumpy when preparing it on the stovetop.  The polenta's accompaniments are really delicious too:  the blue cheese adds a really interesting creamy taste, as opposed to the Parmesan that's typically used in polenta, and the leeks on top add a nice crisp bite.  Using quality ingredients and polenta as a base makes this quite unlike your usual casseroles, so you can impress your friends with this baked dish while putting in only a little bit of effort to make something fun and tasty.