If you're insanely curious about where we eat when we're not cooking at home, here's another edition of our restaurant recommendations!  Today we're focusing on two places that cook up interesting takes on East Asian food.  Both of these spots have become famous for their unique dishes, so much so that each has expanded into several locations across New York (and beyond).  We'll show you the vegetarian and not-so-vegetarian food we got at each place and what we suggest you try – but just know that we do feature some images of meat here.
First up is Ivan Ramen, which serves up a couple of different kinds of noodle soups as well as other Japanese-style dishes.  Ivan Ramen has expanded from its first location on the Lower East Side to a "slurp shop" at Gotham West Market in Midtown, but we decided to visit the original to try their food.  They have several different variations on ramen – for example, here's the vegetarian one on the menu, made with a soy sauce and vegetable broth plus tofu, tomato, and these unique enoki mushrooms: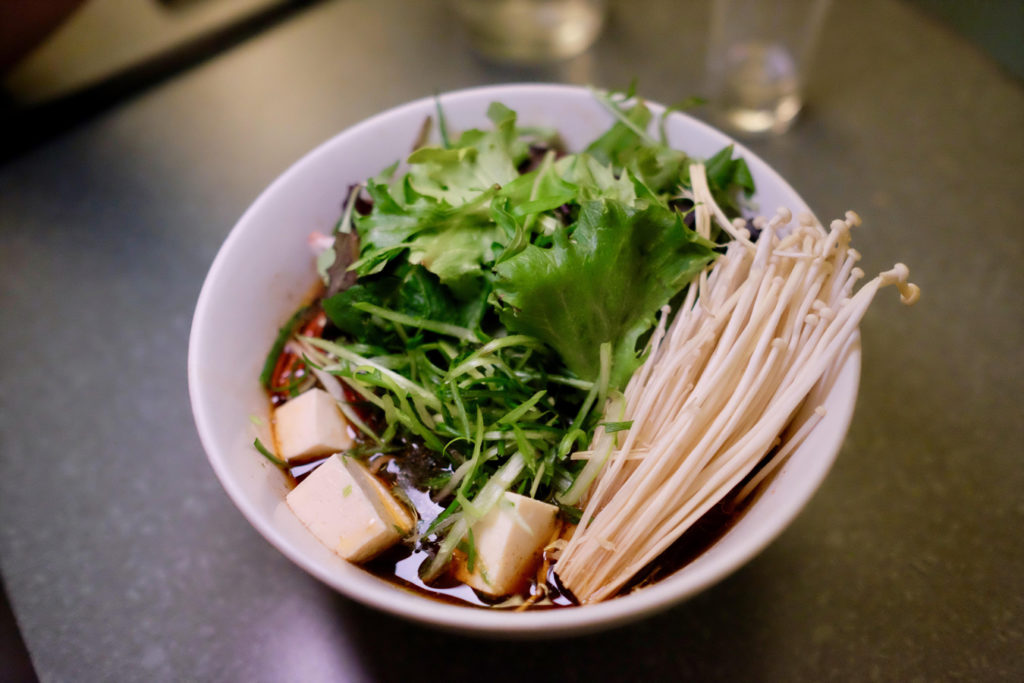 Cyril decided to try the Tokyo shoyu ramen, with pork belly and a soft boiled egg in a chicken and soy sauce broth.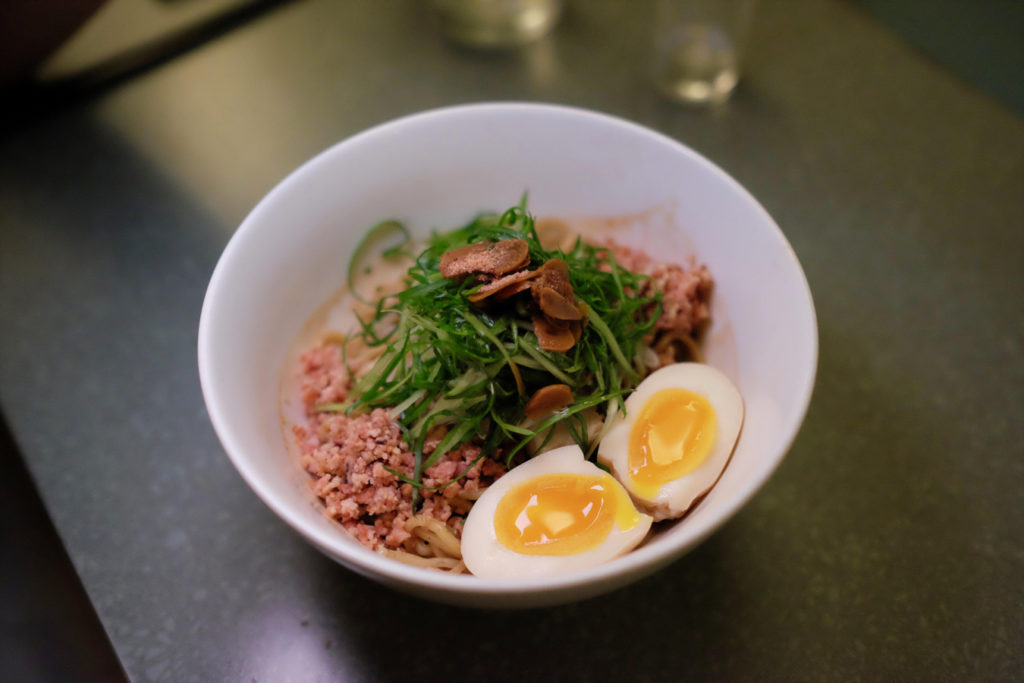 We also got a side of miso-roasted cauliflower topped with chilis and fermented butter …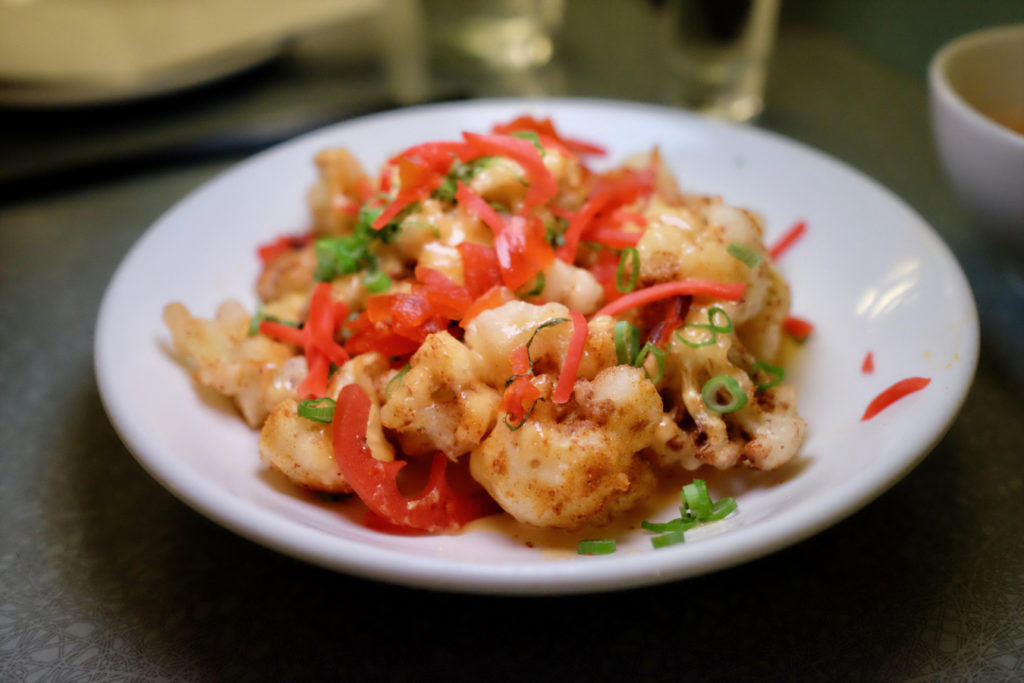 … and Cyril got the fried chicken, glazed with a caramelized garlic and chili pepper sauce.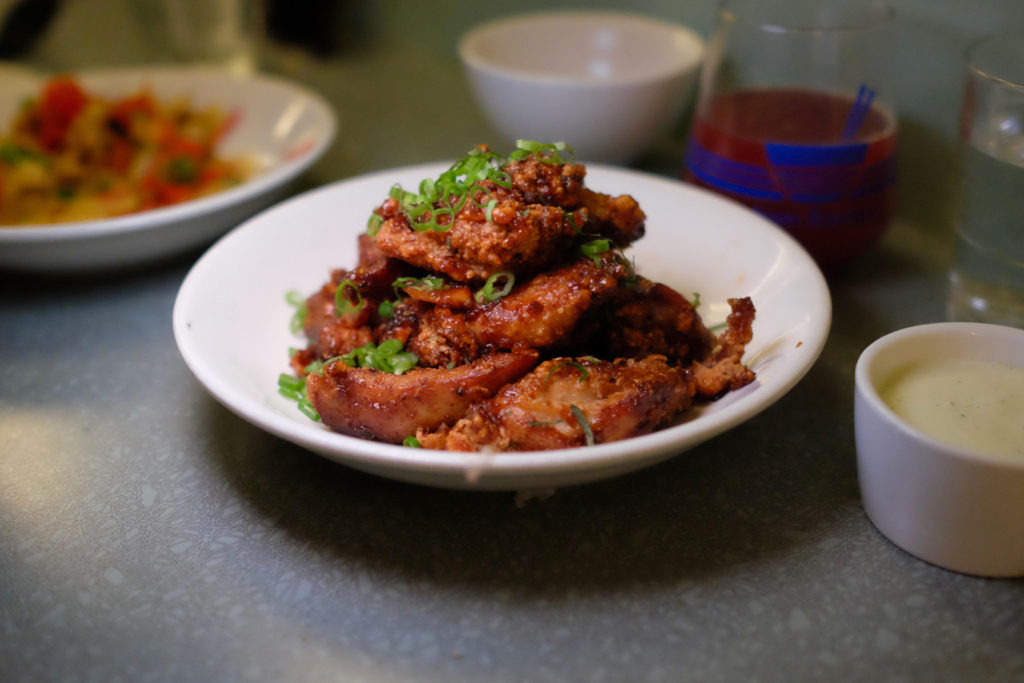 We've also finally got around to trying Mission Chinese because they recently opened an outpost in Bushwick, not too far from where we live.  Their first New York location is also on the Lower East Side, but Mission Chinese (as you might guess from the name) is originally from San Francisco, and in the nine years since it opened it's developed a cult following for its Asian fusion food.  Here, for example, is the fried rice made with smoked mushroom jerky and herbs and bean sprouts on top: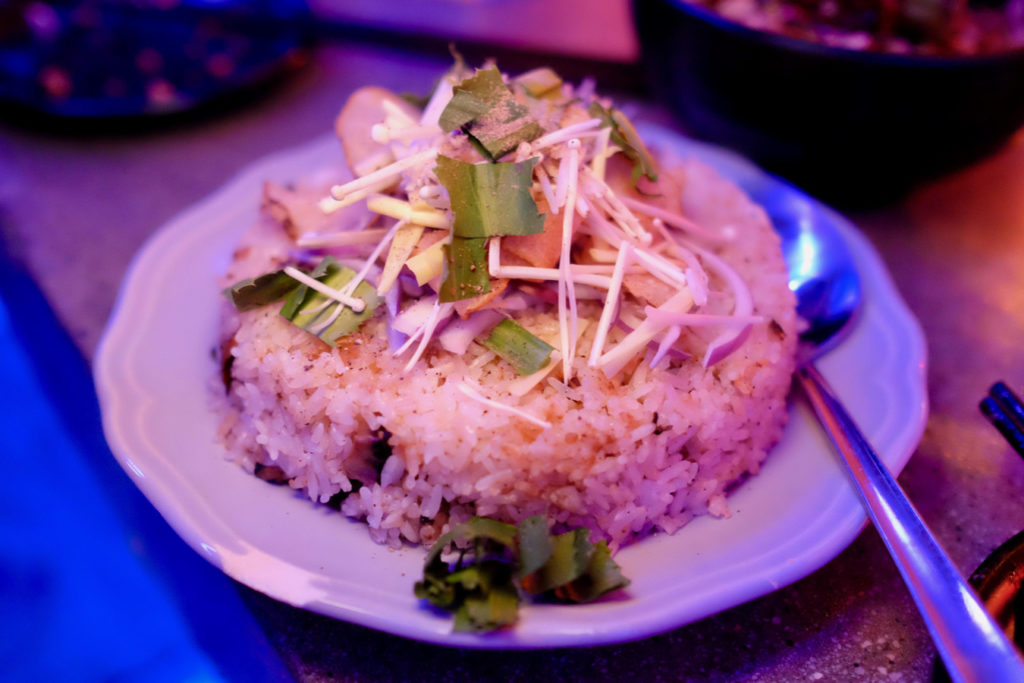 Miriam also tried the spicy peanut noodles …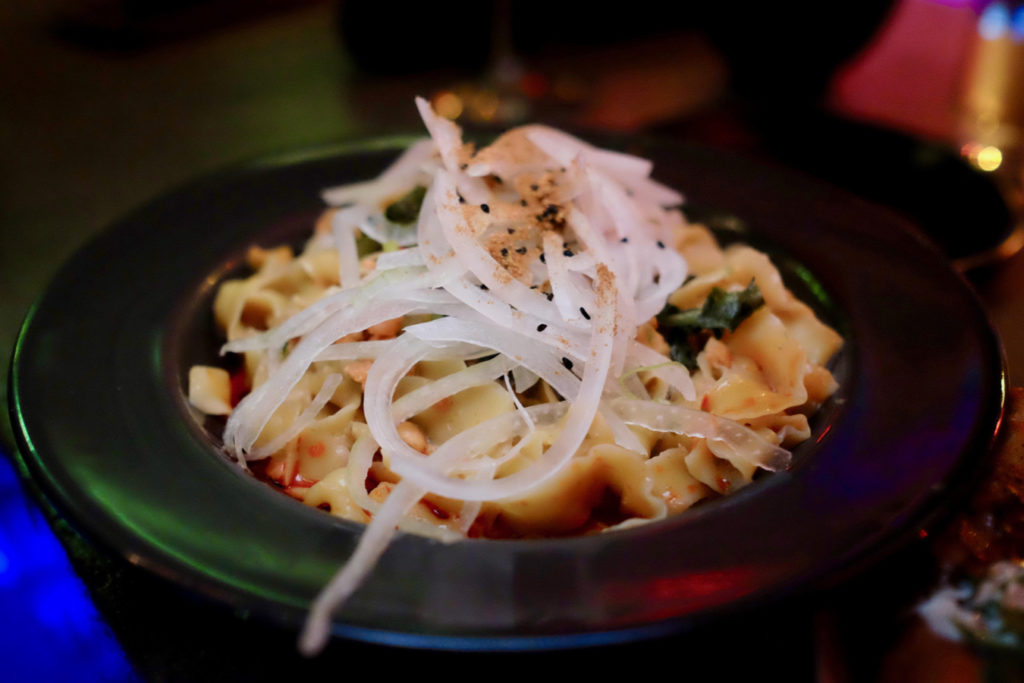 … while Cyril had their famous kung pao pastrami, made with chilis and peanuts sprinkled over everything: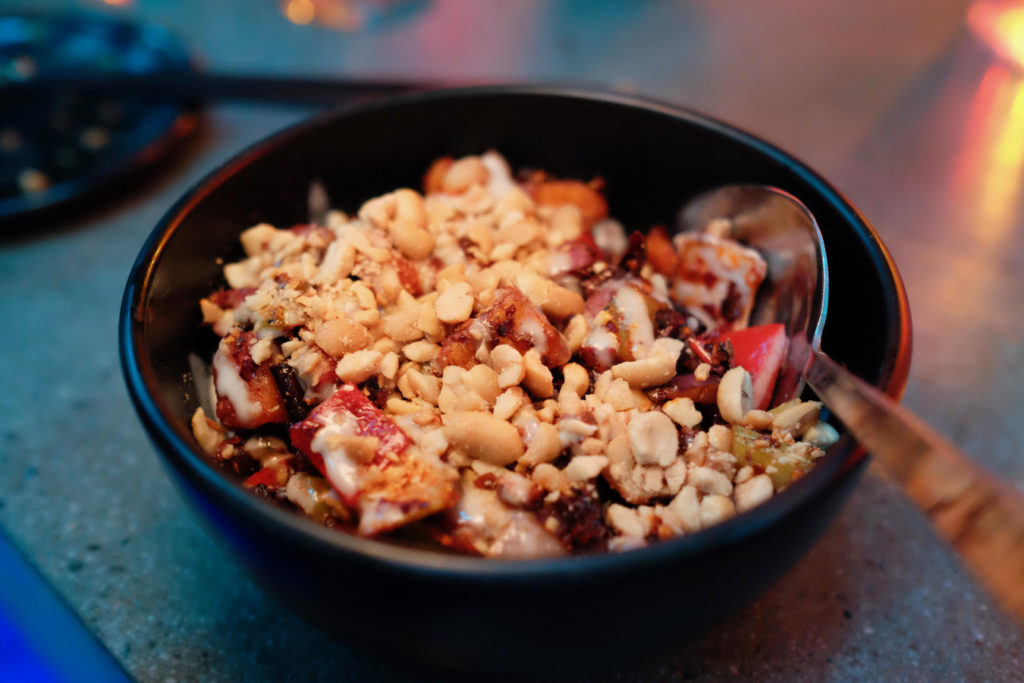 And we shared an order of charred sourdough naan, topped with whipped feta, honey butter, and herbs.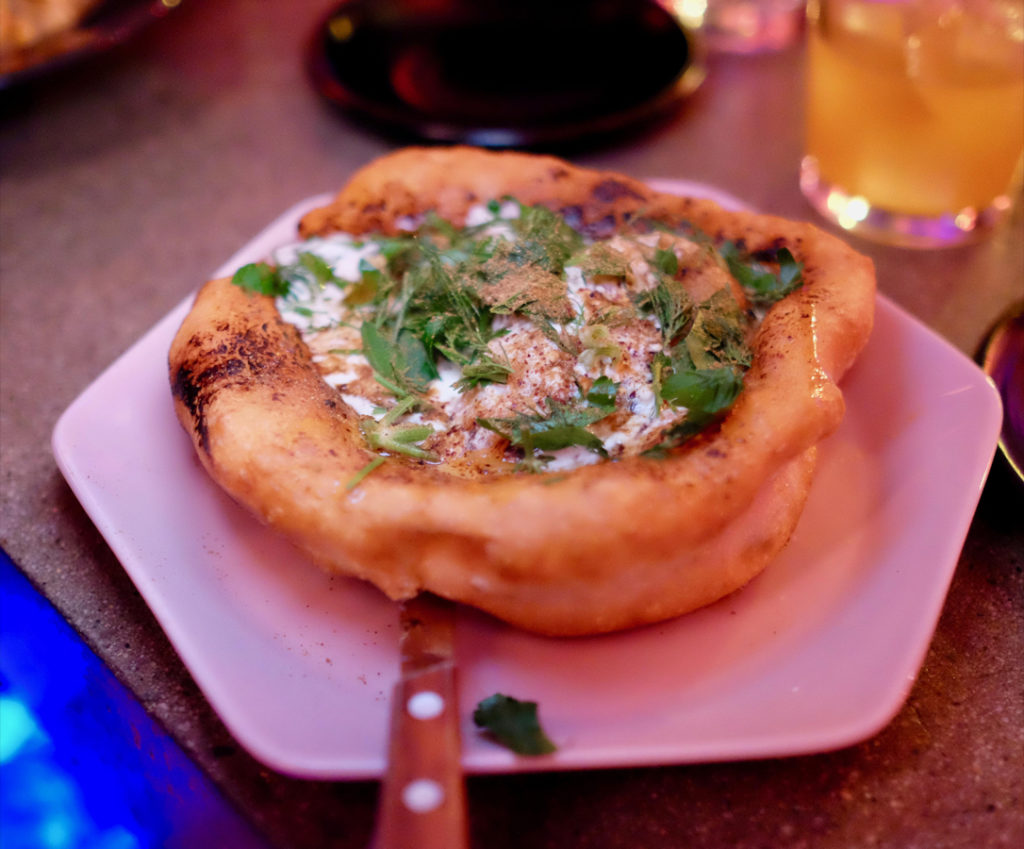 Both of these places are pretty unique in their own right – at Ivan Ramen you can sample some interesting takes on classic Japanese fare, while Mission Chinese serves up some really unusual and inventive food.  If you're willing to try these places, you can get to them both by traveling to the Lower East Side or by visiting their newer sister locations.  And we urge you to go check these two spots out, because while you can easily find ramen or Chinese food at many different places, both these restaurants offer you something more out of the ordinary.