Now that summer's warm weather has finally rolled in, you're probably looking for recipes that are hearty without being heavy and that you can cook up without having to turn on your oven.  Lucky for you, our recipe today meets both these criteria!  We recently came across this recipe in the New York Times and decided to adapt it for ourselves, and it turned out fantastic – there's so many different vegetables in it and they come out tasting great, pairing really nicely with the buttery couscous.  So if you'd like to make this mega-green grain dish for yourself, allow us to show you how.
You'll need:
2 5.8-ounce packages of couscous mix
Butter
A large bunch of cilantro
2 Serrano chiles (or any other spicy pepper)
Lime juice
Olive oil
Coriander seeds
Cumin seeds
An onion
A bunch of scallions
3 zucchini
A bunch of asparagus
A large handful of snow peas
1 1/2 cups of frozen peas
A 10-ounce package of spinach
First, pour your couscous into 2 1/2 cups of salted boiling water (if there are any spice packets that come with the couscous, discard them or save them for another recipe – you don't need them here).  When the water comes to a boil again bring the heat down and simmer the couscous, covered, for 5 minutes.  Then turn the heat completely off and let the couscous sit covered for another 10 minutes.  Scrape it all out onto a baking sheet and spread it around, using your hands or a fork to break up any clumps – this will help the couscous cool down evenly.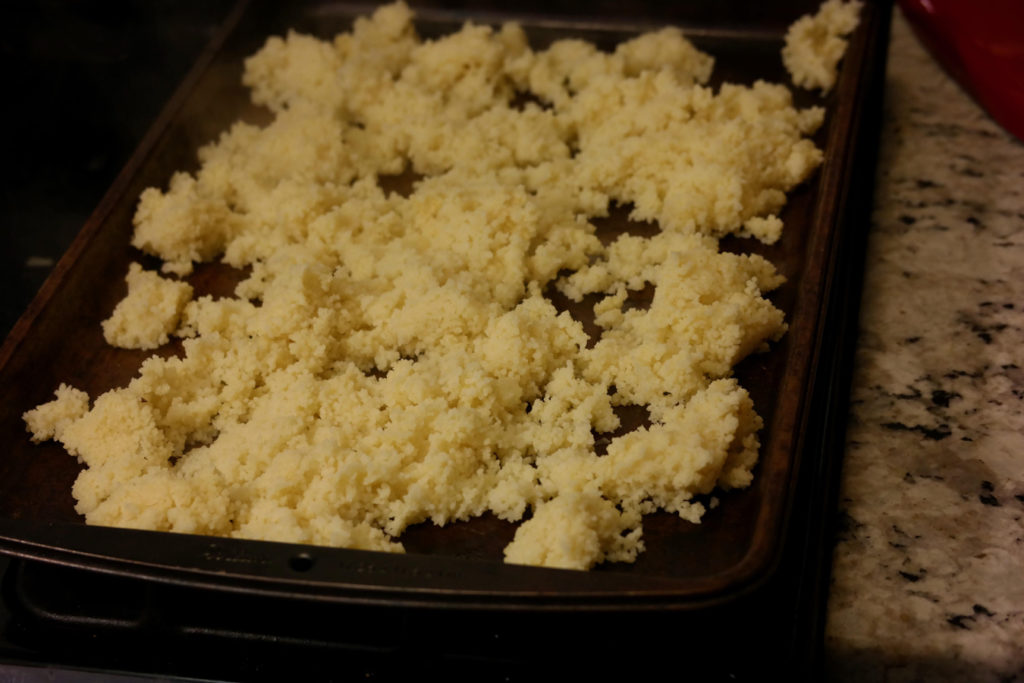 Now you can start preparing your vegetables:  place 2 tablespoons of olive oil in a large, deep pan or Dutch oven over medium-high heat and when the oil is hot measure out 1/2 teaspoon each of coriander and cumin seeds.  Dice up your onion and add that in, letting it cook for about 5 minutes until it softens. Then slice up the scallions and put those in, along with salt and pepper, and cook for another 5 minutes.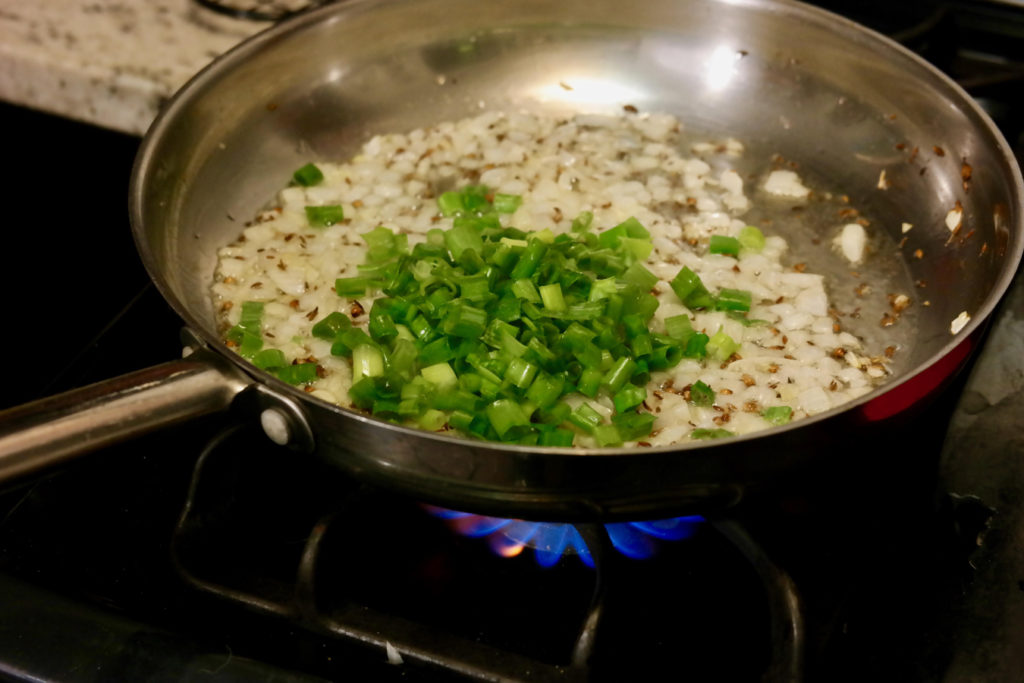 Next, cut your zucchinis into quarters and slice them up, then place them in the pan along with 3 cups of water.  Turn the heat up and let this all come to a boil, then cover and cook for 2 minutes.  Cut all the asparagus into 1-inch pieces and place those in the pan as well.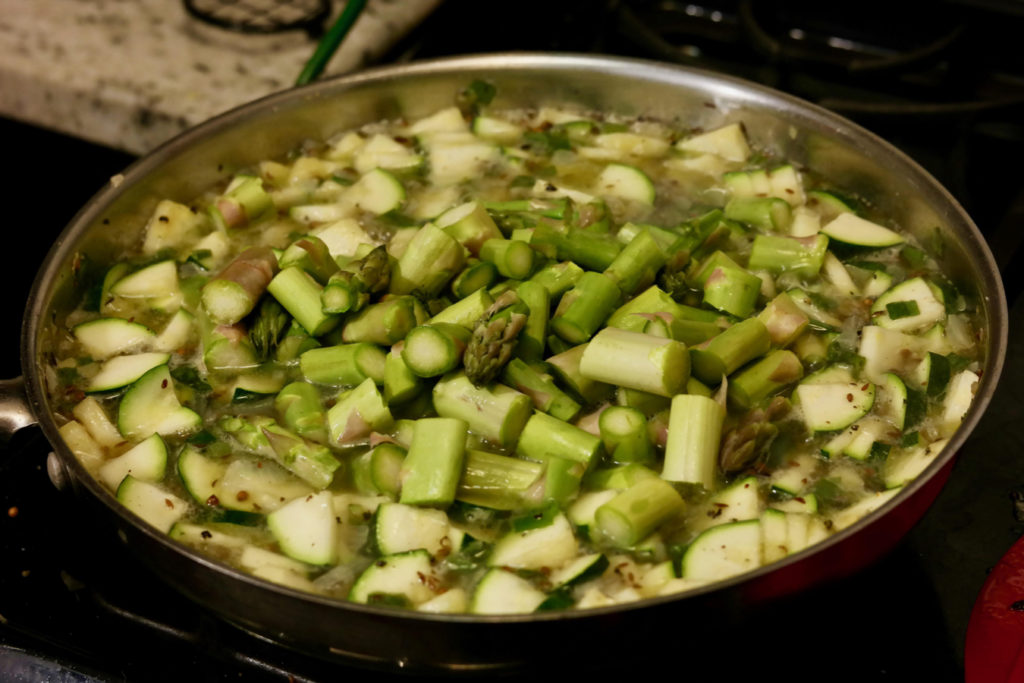 Now pour in your peas and cover the pan again, letting everything cook for a few more minutes.  Add the snow peas and cover and cook for just a little longer.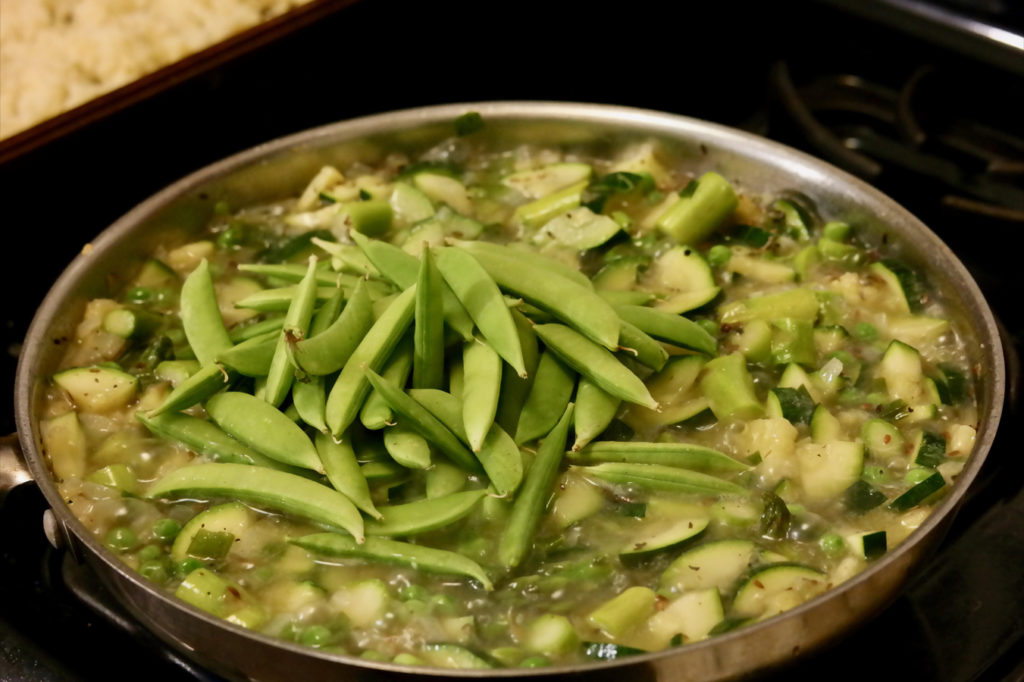 Finally, take the cover off the pan and add in the spinach a handful at a time, letting all the leaves wilt down before you put in any more.  Once all the spinach is in the pan, cover it up once more and let everything cook for one minute, then turn the heat off but leave the cover on and let the pan sit.
Now prepare the couscous by setting a large skillet over high heat. Cut 6 tablespoons of butter into small pieces, then add them to the pan.  Let the butter foam and start to turn brown, then quickly take the pan off the stove and add in the couscous, mixing it around so it's evenly coated with butter.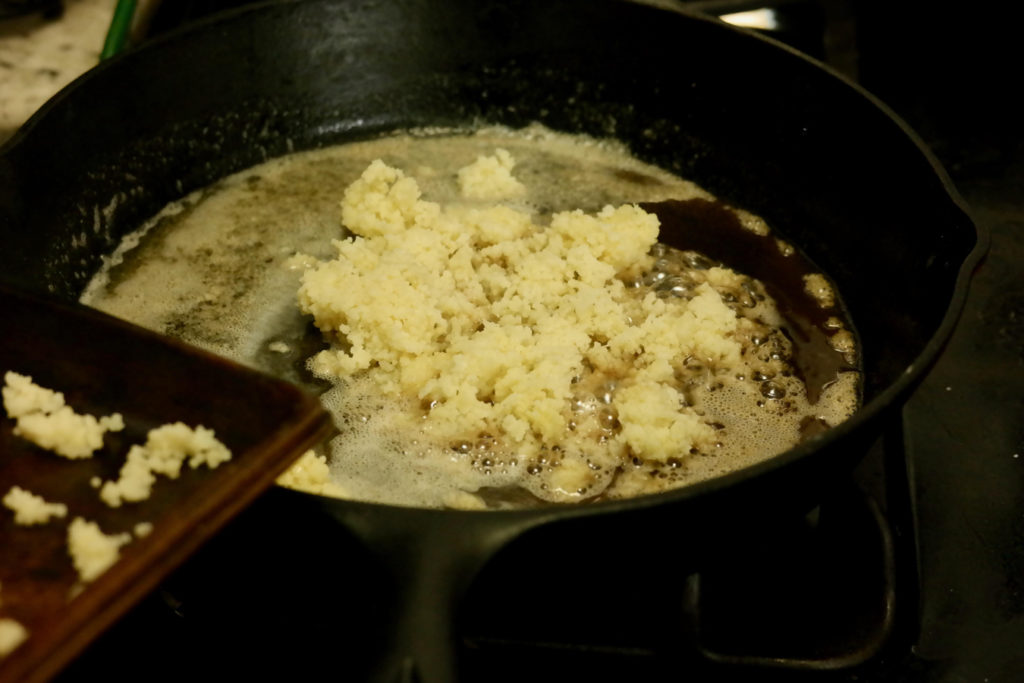 Your vegetables should look like this now – scoop them out of the pan and into a serving dish with a slotted spoon.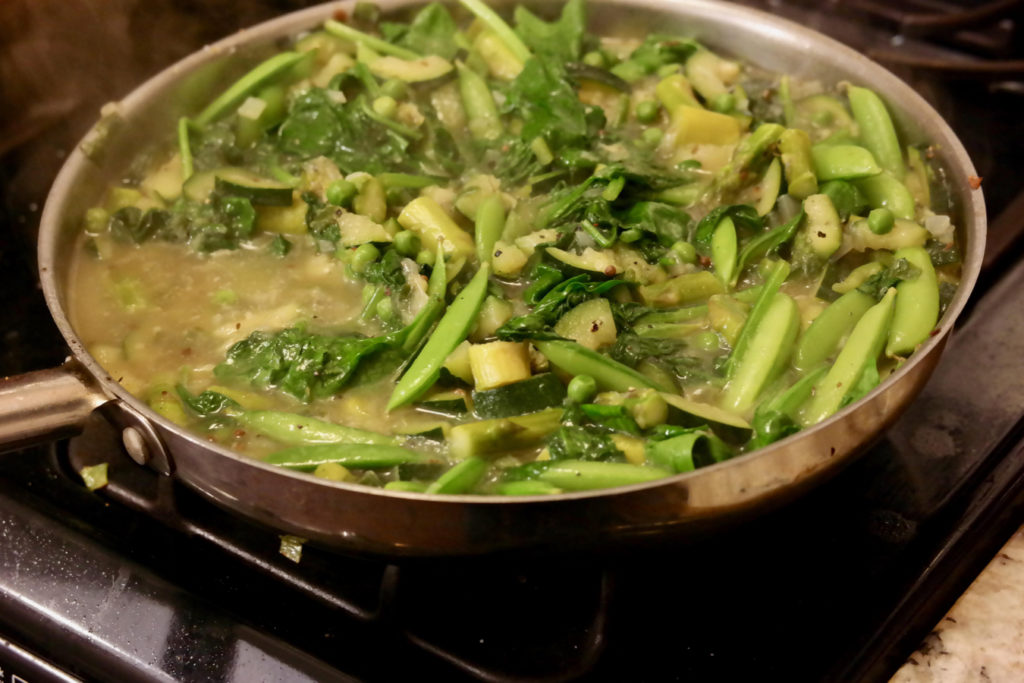 You can now make the sauce that goes over everything:  pluck all the leaves off your cilantro and place them in a food processor.  Slice up your chiles and add those in as well.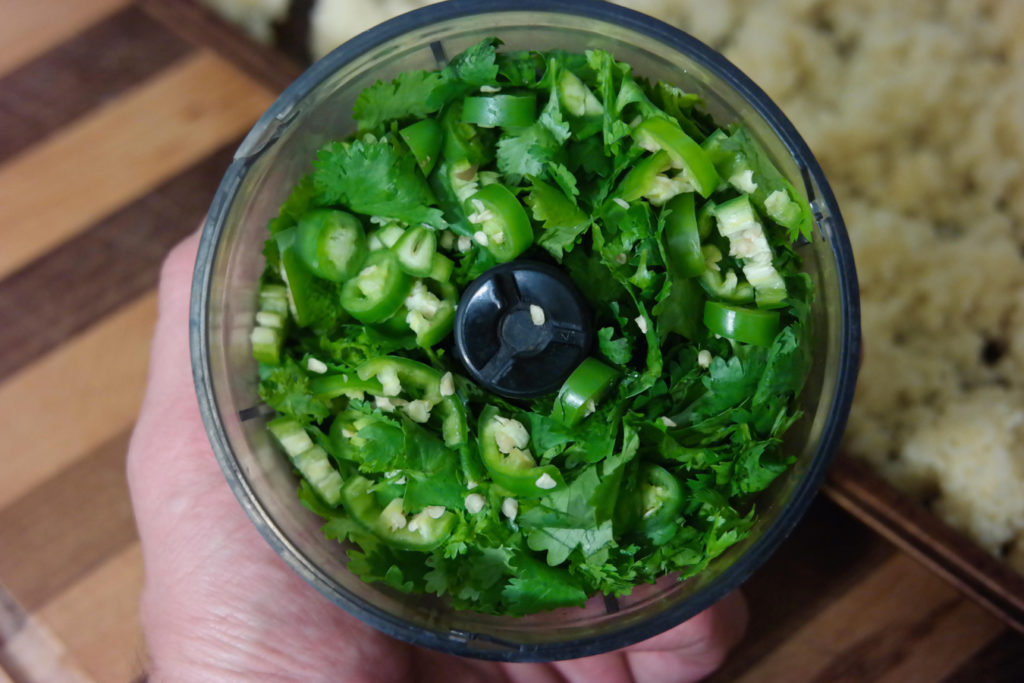 Pour in 1/4 cup of olive oil, 1/4 cup of water and some salt and puree everything together into a sauce.  Stir in 2 tablespoons of lime juice, then place the sauce into its own serving dish.  Now you should have all the elements of your meal:  the couscous, the vegetables, and the sauce.  Serve the vegetables over the couscous, with sauce on top of everything.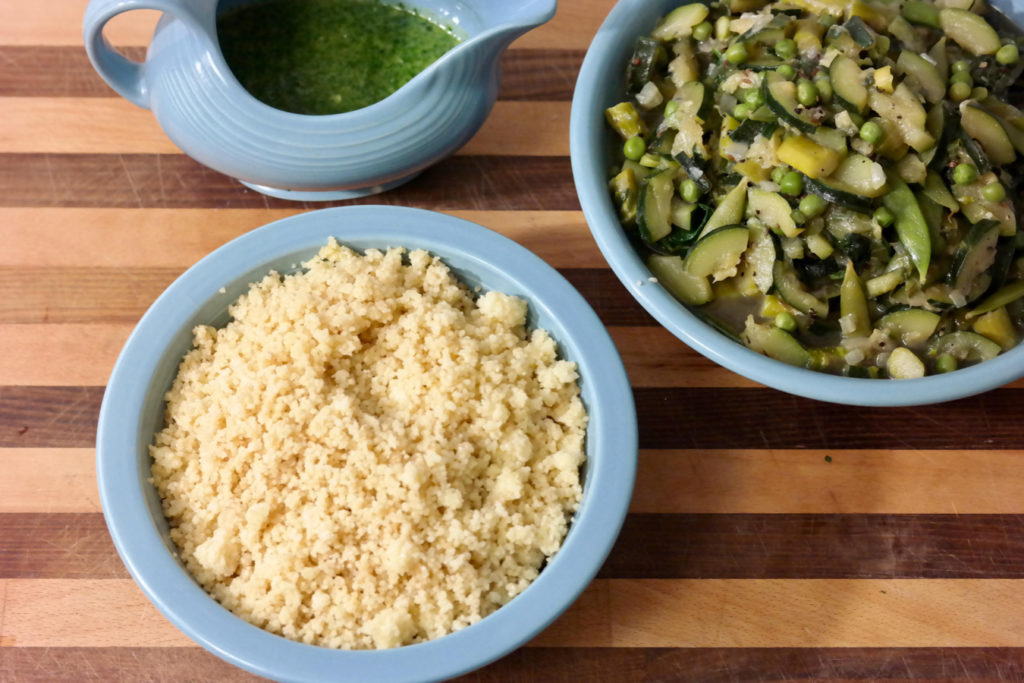 We're not going to lie – this was kind of a lot of work.  There's many different vegetables to chop and then cook up, plus you have to prepare the sauce and the couscous.  But we thought it was all worth it, because the vegetables came out incredibly tasty and go well with the buttery couscous and the slightly spicy green sauce.  Adding all these vegetables to a protein-rich grain makes this a really healthy and filling dish, and we were happy to have this as our entire meal.  So if you've got the time and you want something nourishing and satisfying, this is an awesome couscous recipe.