If you're in the mood for something light, healthy, and veggie-centric that's creamy but also very flavorful, this recipe is for you!  It's a nice refreshing meal for a hot day this summer, and it's pretty easy to make as well.  We were inspired to try this based on a recipe we had saved a while back from Bon Appétit, but we decided to make these vegetables our own way based on our tastes and preferences.  The result is a crisp, tender, and tasty dish that you can serve as a side or dole out into larger portions as its own meal.  We loved it, and we're sure you will too.
To make this, you'll need:
A 2-pound package of peeled, cubed butternut squash
An individual-sized container of plain Greek yogurt
Garlic
A lemon
Olive oil
A 15-ounce can of chickpeas
Curry powder
Parsley
To start, place all of the butternut squash in a bowl and mix it with 2 tablespoons of olive oil, plus some salt and pepper.  Spread the squash out on a baking sheet and roast it at 400°F for 30 minutes.
While the squash is in the oven, heat another 2 tablespoons of olive oil in a large skillet over medium-high heat.  Drain your can of chickpeas and place them in the pan, along with 4 chopped garlic cloves, and cook for about 5 minutes until the chickpeas begin to brown in places.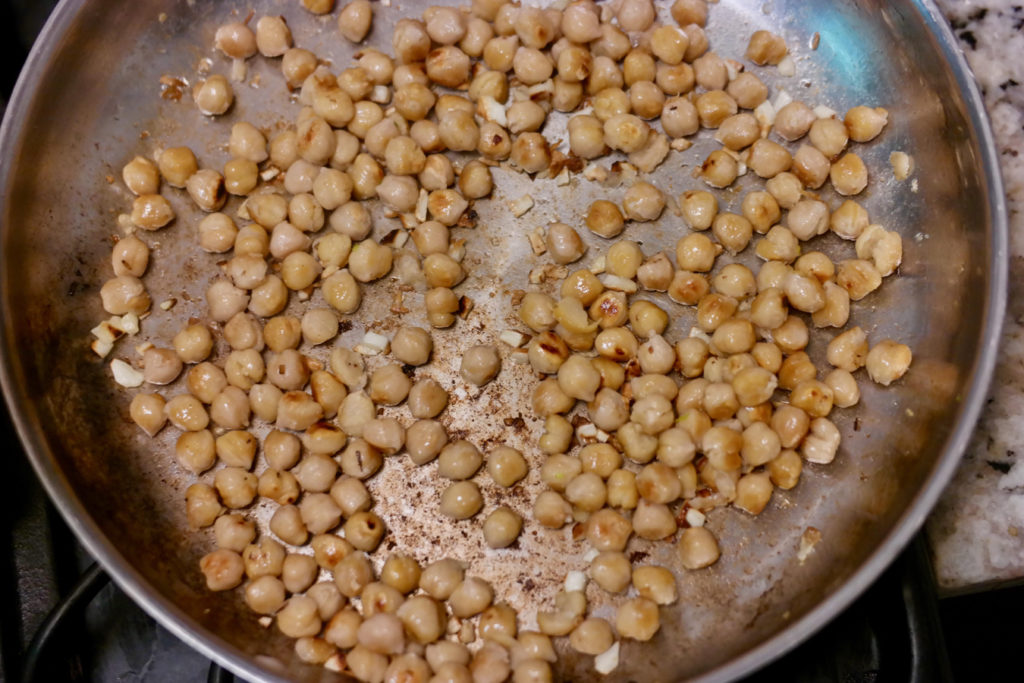 Add in 2 tablespoons of curry powder and stir it around until all the chickpeas are coated, then turn off the heat and pour the chickpeas into a bowl.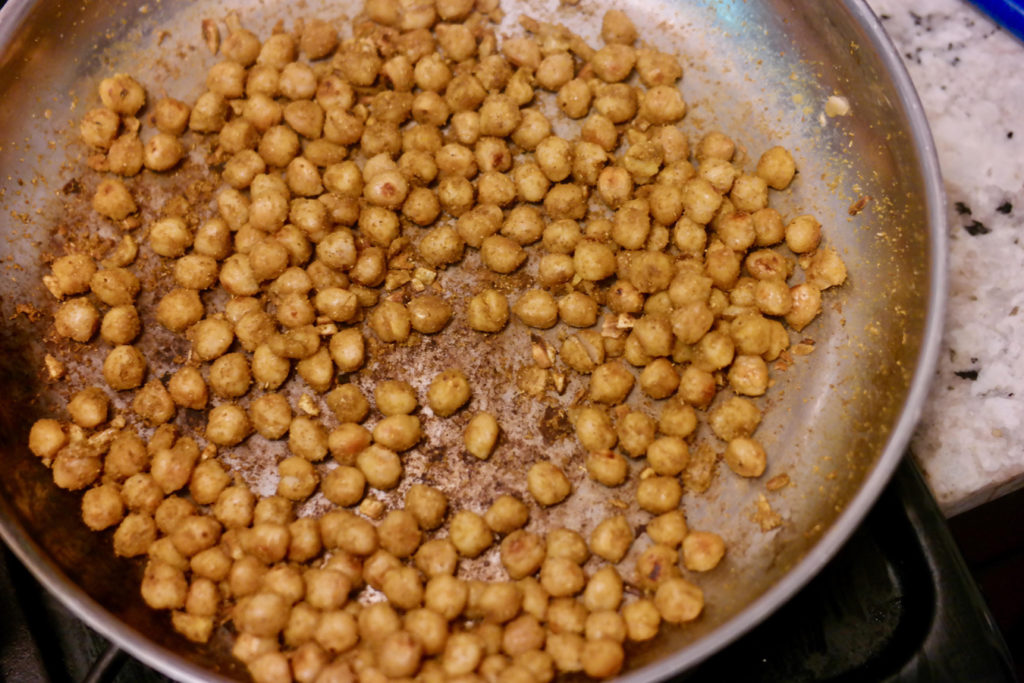 When the squash is done roasting, heat 2 more tablespoons of olive oil in the same skillet that the chickpeas cooked in.  Place the squash in and gently stir it around, letting the pieces pick up the extra curry powder in the pan.  Cook for 5 minutes or so until the squash browns, then season with salt and pepper.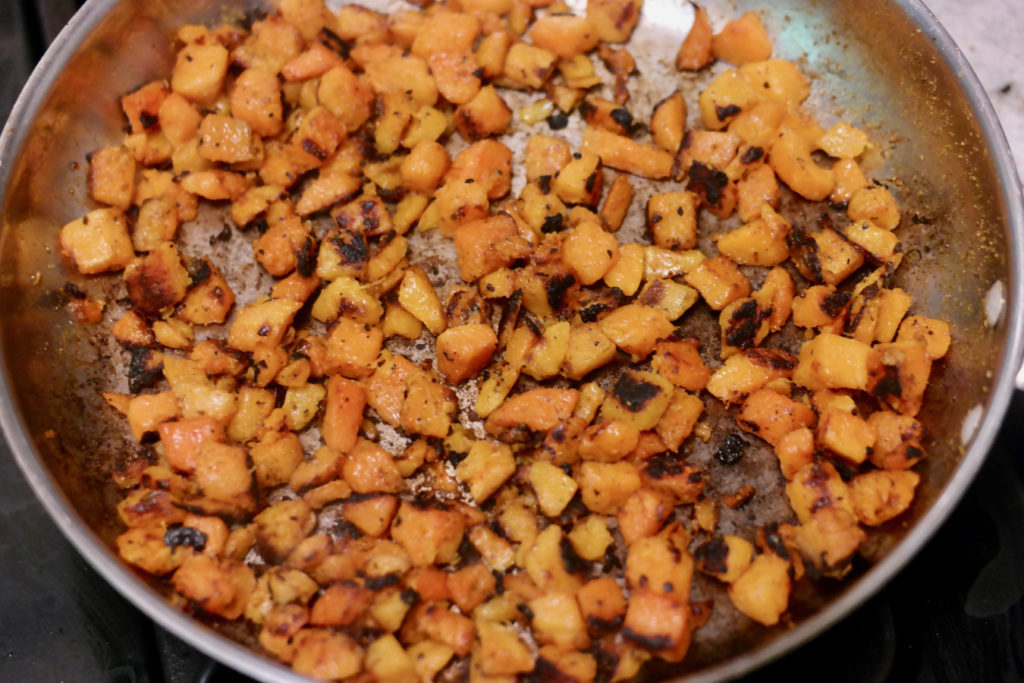 Mix the squash and chickpeas together and set them aside to cool a little.  To make a sauce, stir together the entire container of yogurt, a grated garlic clove, and the juice from half your lemon.  Then dish out your vegetables and top with yogurt sauce and sprigs of parsley.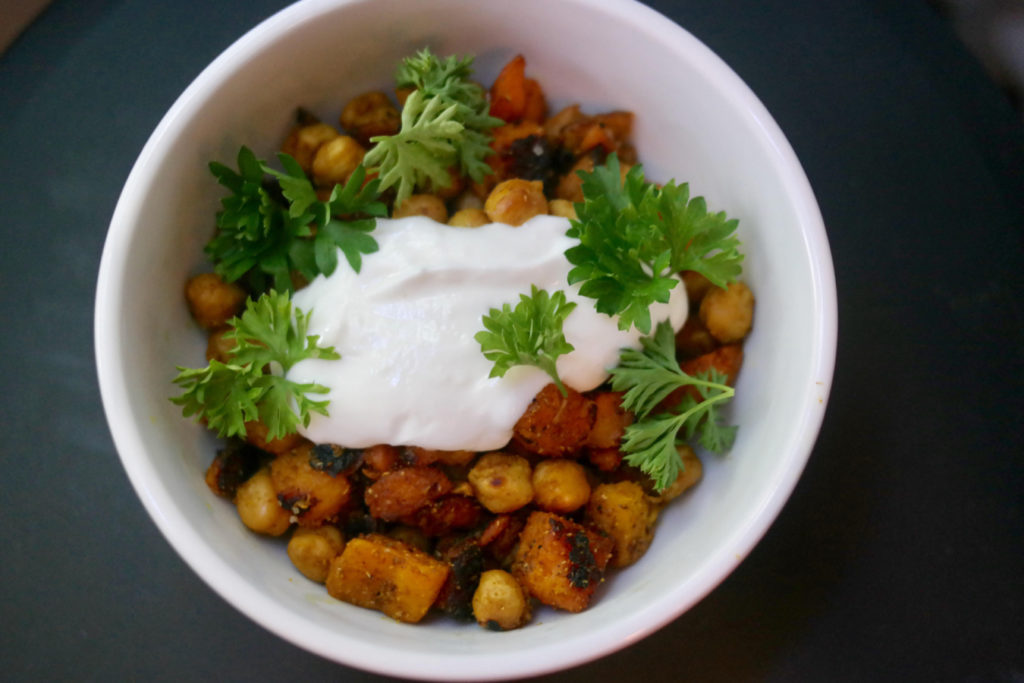 And there you have some tasty, hearty vegetables topped with a creamy sauce that you can serve as a complete and filling vegetarian meal or as an interesting side dish.  The cool sauce pairs well with the roasted, spiced vegetables, and both the squash and the chickpeas pick up the curry flavor well.  And while it does take some time for the butternut squash to roast, the actual work involved here is pretty simple thanks to the use of pre-peeled, pre-cut squash (because wrestling with a whole butternut squash can be difficult).  This dish is perfect if you want something vegetable-based that's also quick and unique, so try it out for yourself on a lazy summer day.