One of the best parts of summer, at least in terms of food, is getting to have fresh corn.  For most of the year corn comes in the form of frozen or canned kernels, but once the weather gets warm this vegetable is in season and grocery stores start selling fresh corn whole – and that means it's time for corn on the cob!  And sure, you can boil corn cobs and slather them with plain butter, but this week we decided to get creative and try all different kinds of flavors on corn.  We also found a way to grill corn indoors, on our stove.  Inspired by some different recipes we saw (in Bon Appétit and the New York Times), we grilled up several different versions of corn, and we'll show you how to make each one here.
First of all, here's how you can prepare grilled corn at home, using only your stove:  take the husks off of each ear of corn and wrap them tightly in foil, twisting the ends closed to completely seal each cob in.  Turn your stove's burners to medium-low heat and place two pieces of corn over each flame.  Cook for two minutes, then rotate each ear 1/4 of the way around and cook for another 2 minutes.  Do this twice more, turning each time, so that the corn is grilled all over for a total of 8 minutes.  Then remove the corn from the heat, let it cool for just a few minutes, and unwrap it.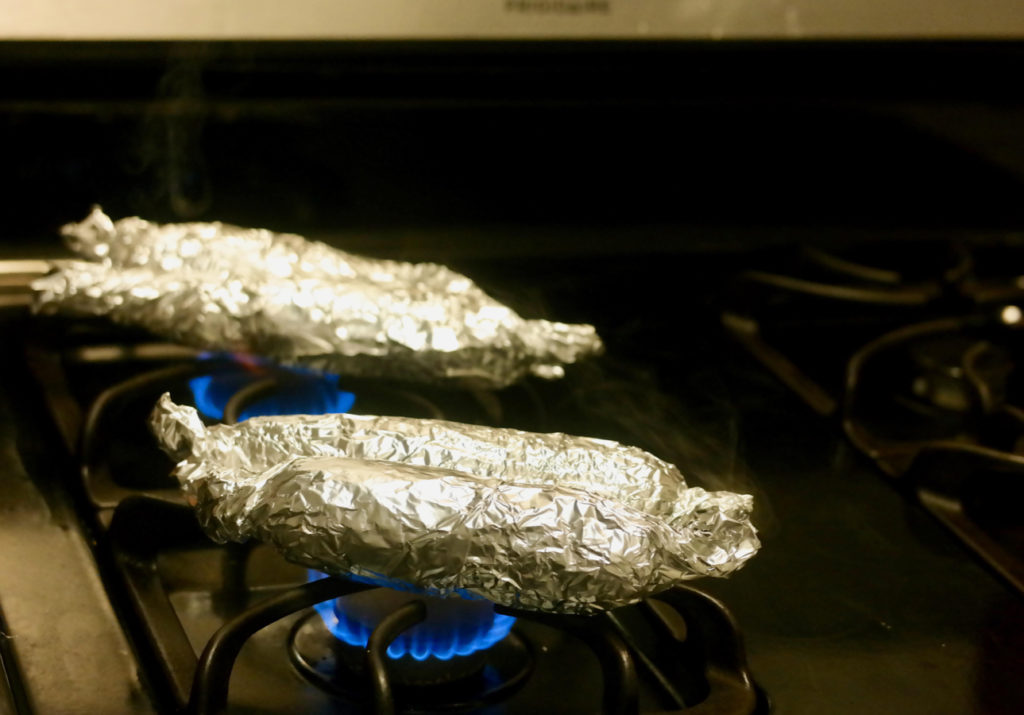 Now you can make different types of corn – for example elote, a very popular street snack from Mexico and Central America.  For this, first skewer the corn (we used a chopstick) and then brush some mayonnaise all over: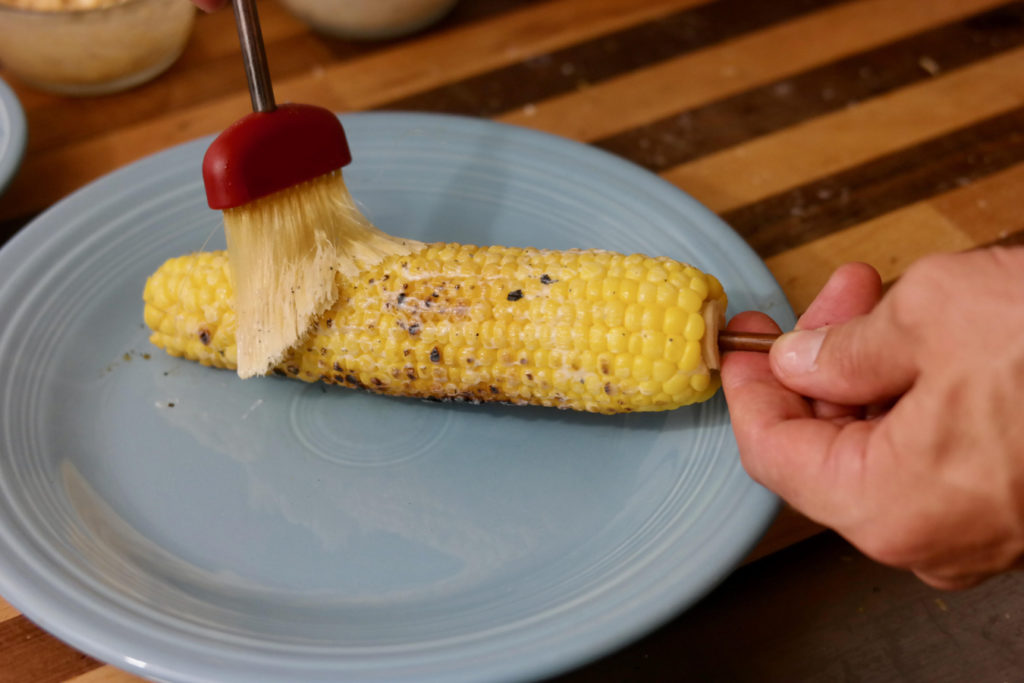 Next, roll the corn in cotija cheese and sprinkle on chili powder and cayenne.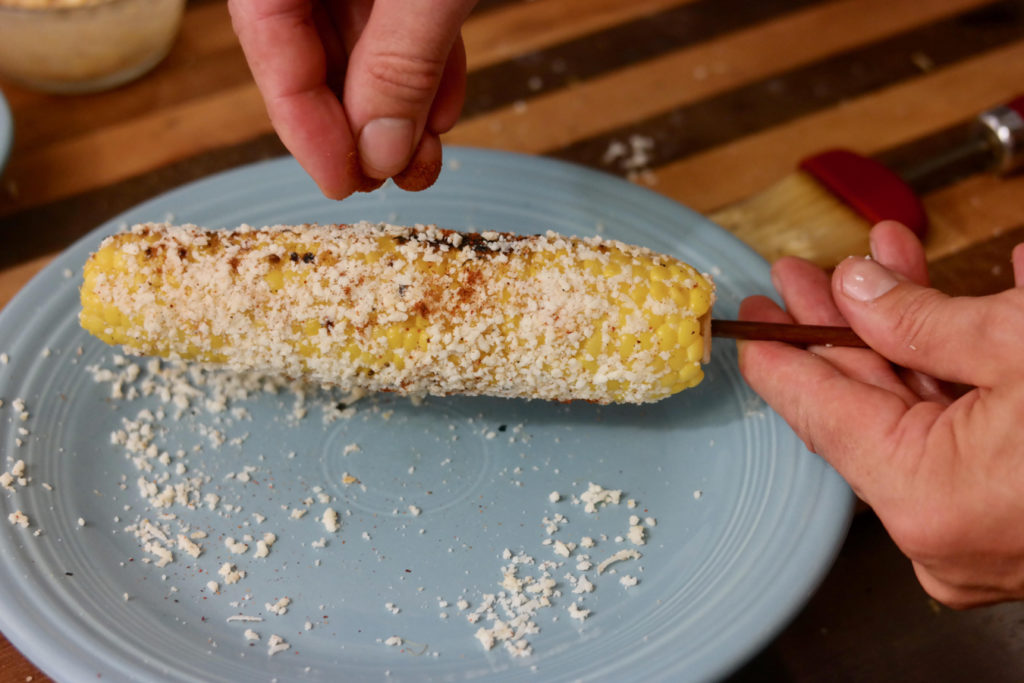 Finally, squeeze the juice of half a lime over everything.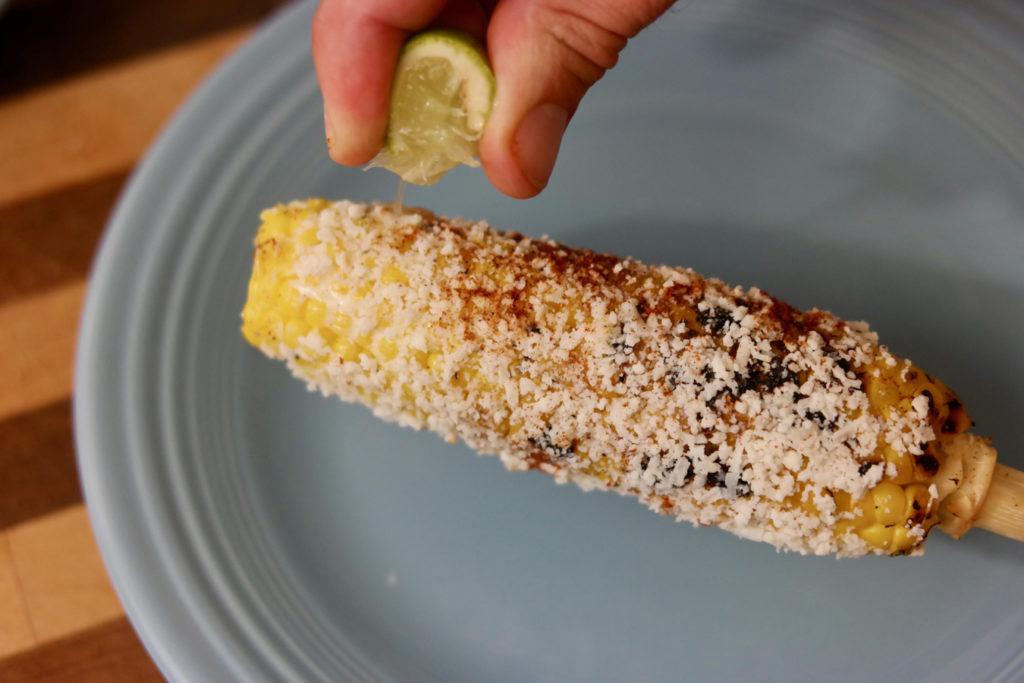 And enjoy!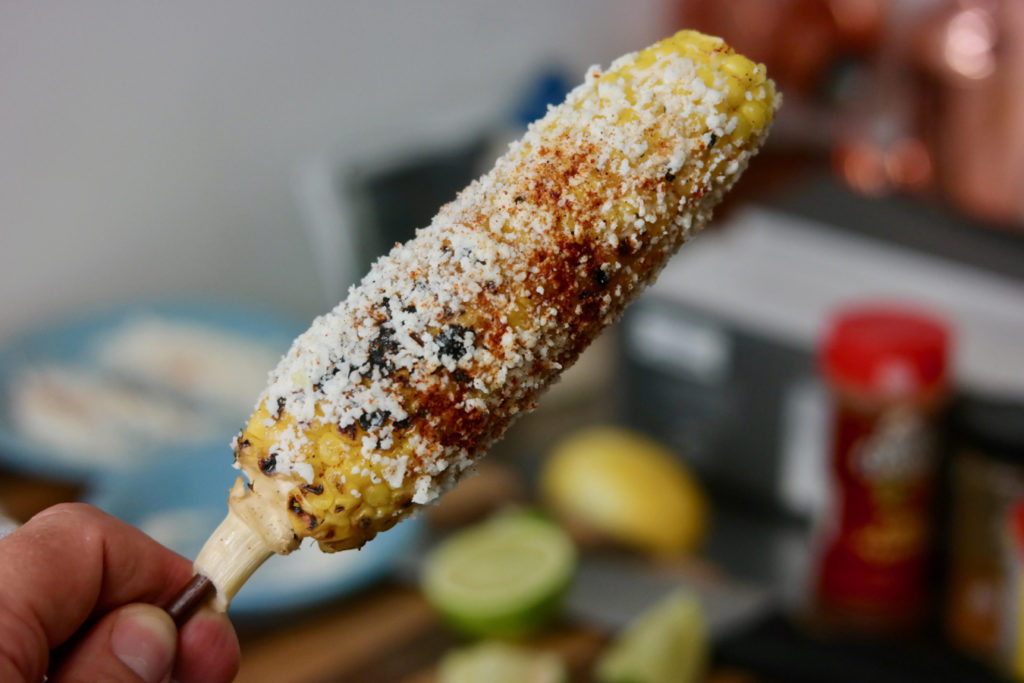 We also whipped up some flavored butters to melt over our grilled corn, which you can see below.  For each, start with half a stick of butter and soften it by letting it sit out at room temperature for about 20 minutes.  On the left the butter is mixed with about a tablespoon of chopped oregano, a tablespoon of thyme leaves, and the zest from half a lemon.  In the middle we stirred in 1/4 teaspoon of Old Bay and the zest from the other half of our lemon, then squeezed the lemon's juice over the buttered corn.  And on the right we combined 1.5 ounces of Parmesan cheese and a generous sprinkling of black pepper with the butter.  Whichever flavor you decide to use, spoon it over hot corn and eat to your heart's content.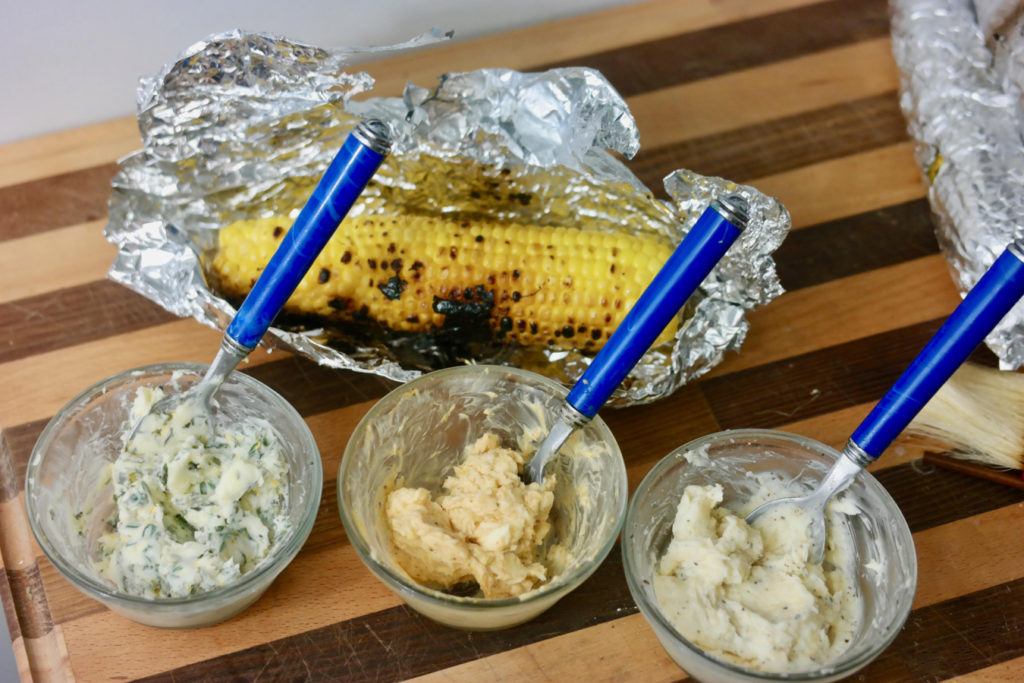 Each version of corn was a tasty treat:  elote is a nice spicy and cheesy snack, and corn with Old Bay butter brings in some great seasoning as well.  Herbs with lemon are also a good accompaniment to grilled corn, and the Parmesan and pepper butter makes for a kind of corn cacio e pepe.  We enjoyed learning how to grill corn indoors and then using just a few ingredients to jazz up regular old corn on the cob.  If you live somewhere that you can get fresh corn, try out some (or all!) of these corn recipes.