If you've ever been to an Italian restaurant, you've probably had focaccia:  it's a flat, chewy bread that usually has some interesting ingredient embedded throughout its surface.  You can get variations studded with sun-dried tomatoes, or different types of herbs, and Miriam's grandmother made her own the had little chunks of hard Romano cheese dotting the top.  But the most popular version is focaccia al rosmarino, which (you might be able to guess) has rosemary in the dough.  Since we love all manner of bread, we decided to try our hand at making this type of focaccia when we found this recipe in the New York Times.  After adapting it for ourselves, we came out with some excellent focaccia that was both crispy and soft and also happens to be vegan.  You can serve it as a great accompaniment to a meal or a snack on its own.
To make this focaccia, you'll need:
An envelope of yeast
Olive oil
Rosemary
Flour
Cornmeal
First, measure out 1 1/2 teaspoons of yeast and pour it in the bowl of a stand mixer. Add in 1 1/4 cup of warm water and mix just until the yeast dissolves, then stir in 3 tablespoons of olive oil and a large handful of rosemary leaves.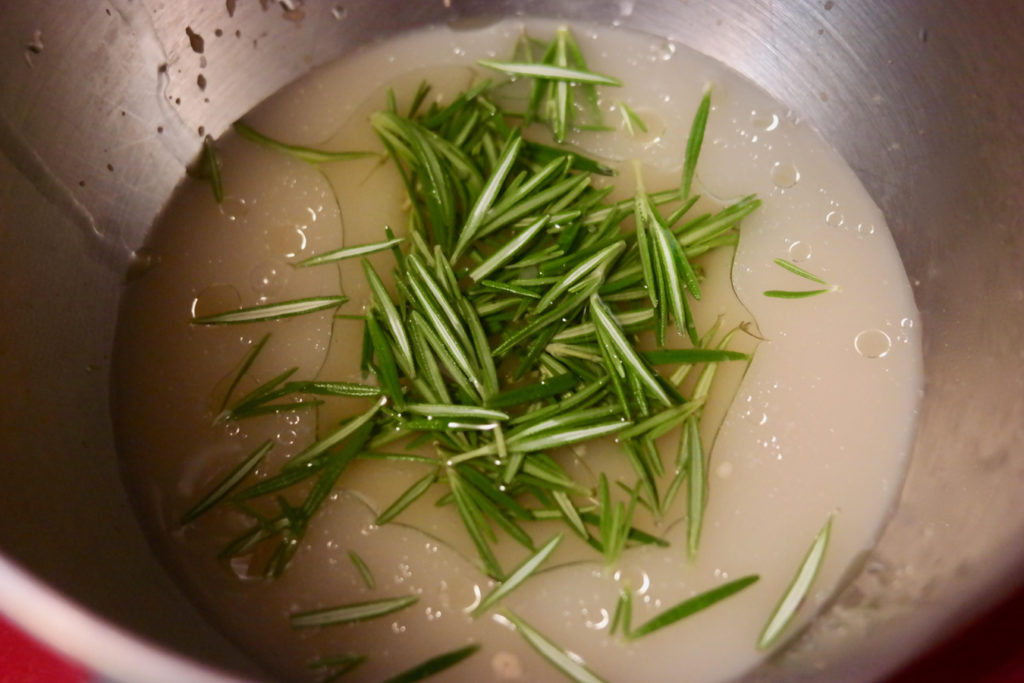 Add in 1 2/3 cups of flour, then fit a dough hook on your mixer and combine all these ingredients together.  Let this batter sit for 20 minutes or so – the yeast should eventually make it puff up and bubble.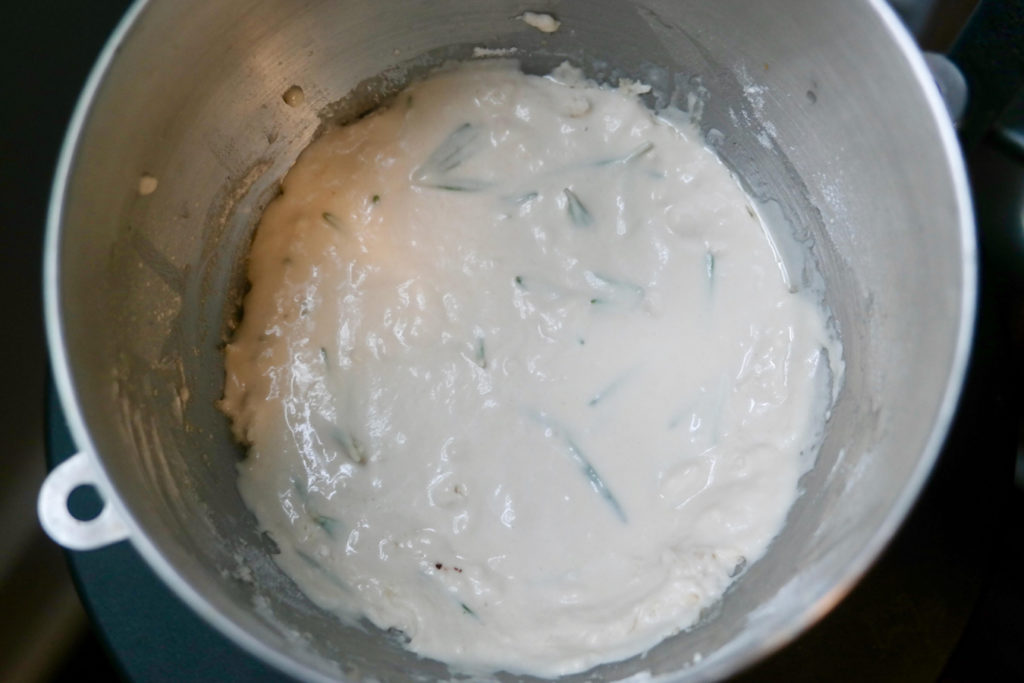 Now add in another 1 2/3 cup of flour and mix again for 10-12 minutes until you have a very smooth and even dough.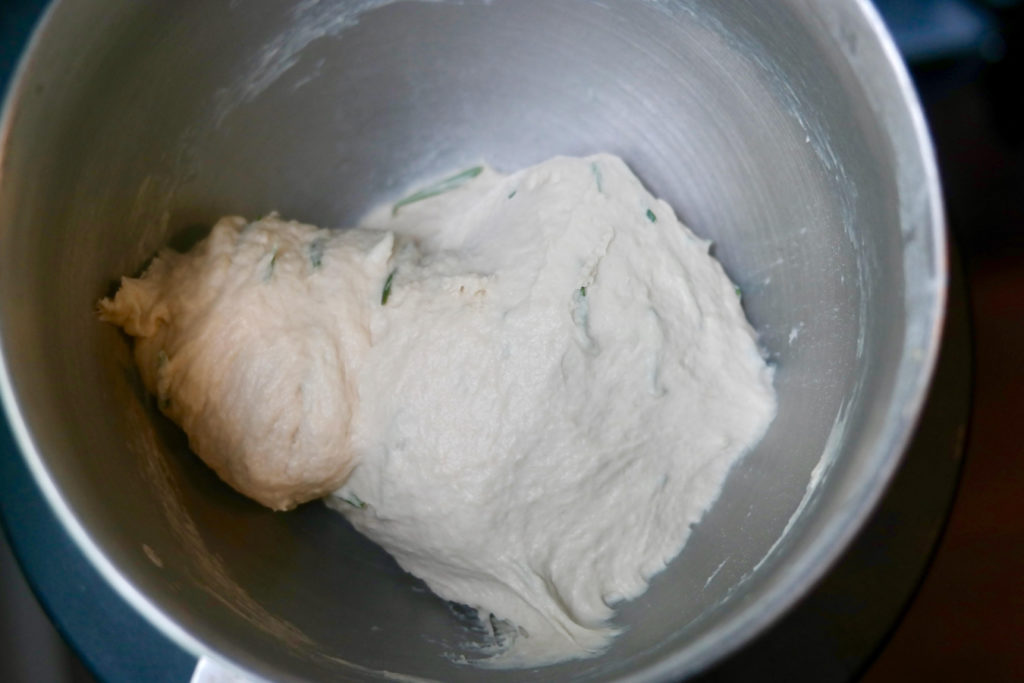 Cover your bowl in plastic wrap and set aside the dough for 40 minutes to let it rise, like so: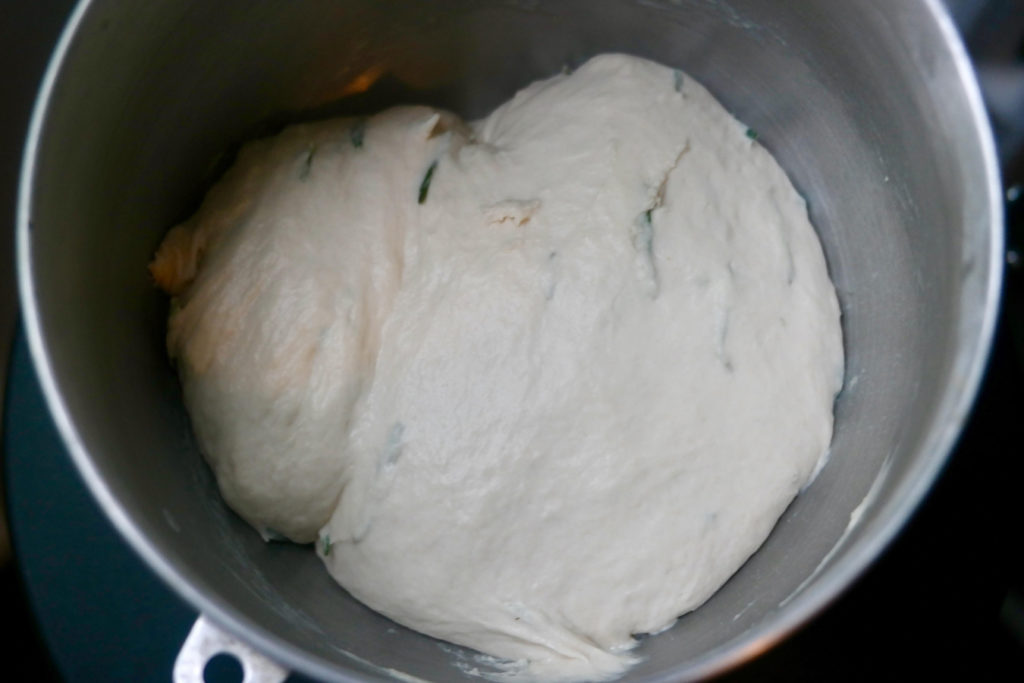 Then you can take it out and knead it a few times on a lightly floured surface.  Roll it out to around the size of a baking sheet, but make sure it's not too thin.  Cover it again with plastic wrap and let it sit for another 10 minutes, and while you're waiting brush a baking sheet with olive oil and then dust it with cornmeal.  Carefully transfer the dough to the baking sheet and gently stretch it to the edges.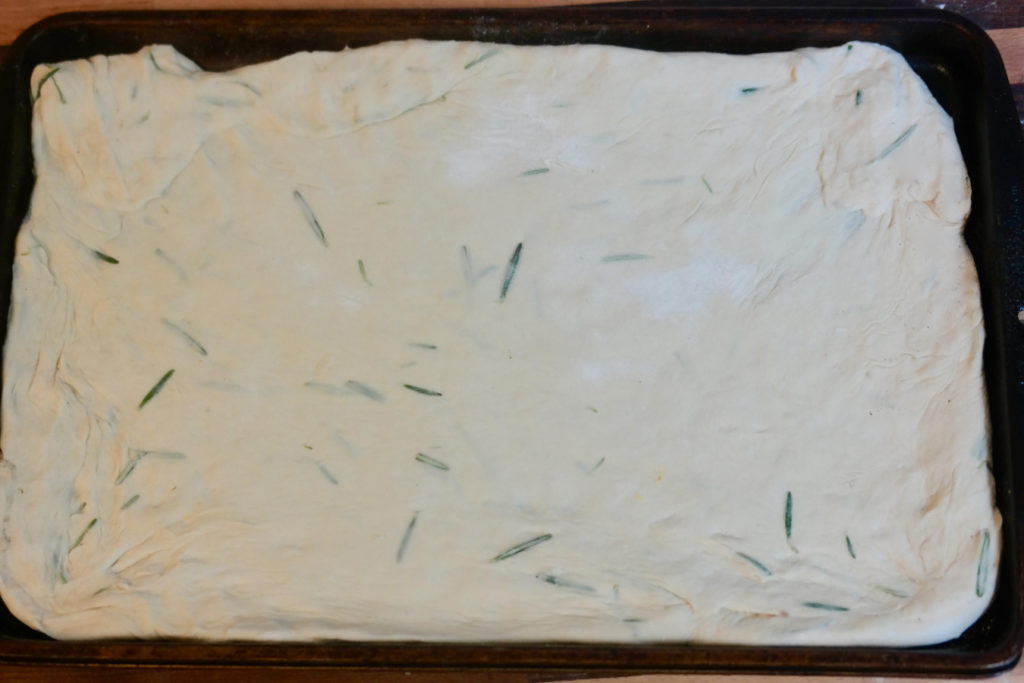 Place a damp towel or another upside-down baking sheet over your dough to let it rise once more for 40 more minutes.  Then heat your oven to 400°F, and when you're ready bake for 35-40 minutes until the edges are slightly browned.  Once it's out of the oven and cooled, you can cut the focaccia into slices to eat.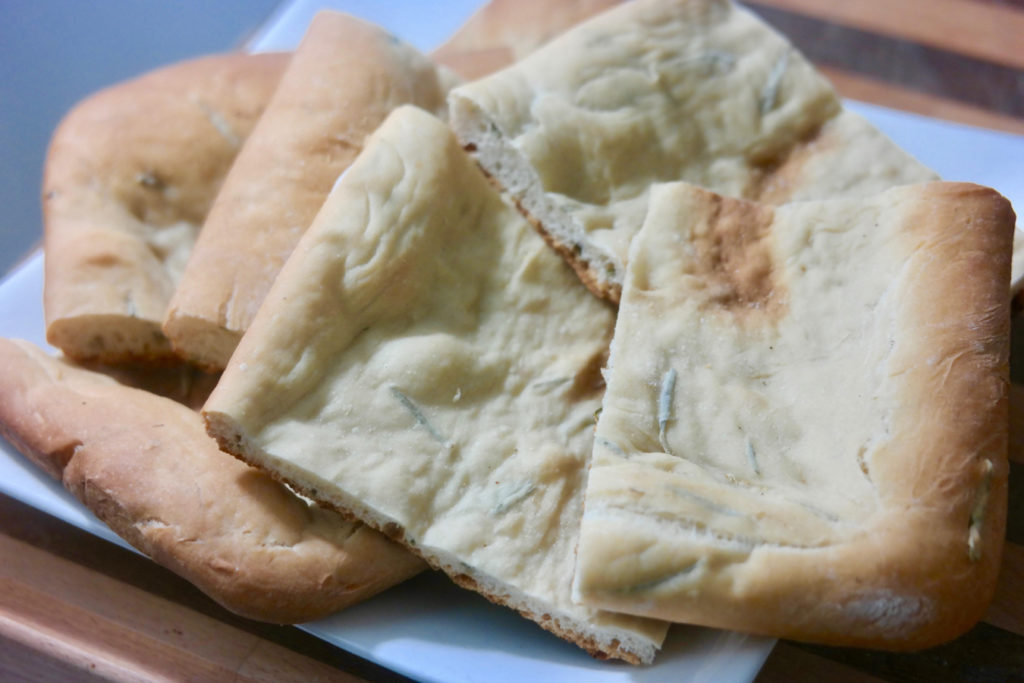 You might have been able to tell from reading this recipe that it kind of takes a long time:  there's a lot of rising that the dough needs to do, so you're going to have to set aside a few hours from start to finish.  But the actual work of making the focaccia is pretty simple – the only tricky part is rolling and stretching the dough – and you only need 5 ingredients, all of which are vegan.  The end result is a bread that's chewy in some place, crunchy in others, and nicely herb-flavored by all the rosemary.  If you've got the patience and you want a simple, diary-free, tasty Italian bread, we think this is an excellent choice.