This summer we've tried to be adventurous and go to new places, which is how we ended up on Shelter Island not too long ago.  If you're unfamiliar, Shelter Island, which sits at the end of Long Island between the North and South forks, is a quiet and quaint little beach community.  We hadn't ever been there before, but we discovered that it's fairly easy to get to even for us New Yorkers who don't have a car:  you take the Long Island Railroad as far along the North fork as it will go to the town of Greenport, then walk just a few steps from the train station to a ferry that takes you to the island.  We ended up spending an entire weekend there, which means we sampled all different kinds of food that we're going to share  with you today.  But just as a warning, there are some images of meat in this post.
The first place we went was actually in Greenport (so yes, the title of this post is not 100% accurate).  If you get off the train and stroll into town you'll see some pretty good attractions and restaurants, including the popular and buzzy breakfast and lunch spot Crazy Beans (which also has two other locations on Long Island).  We started off our meal these with two of their fun and creative cocktails:  an Irish iced coffee for Cyril and a frozen mudslide for Miriam.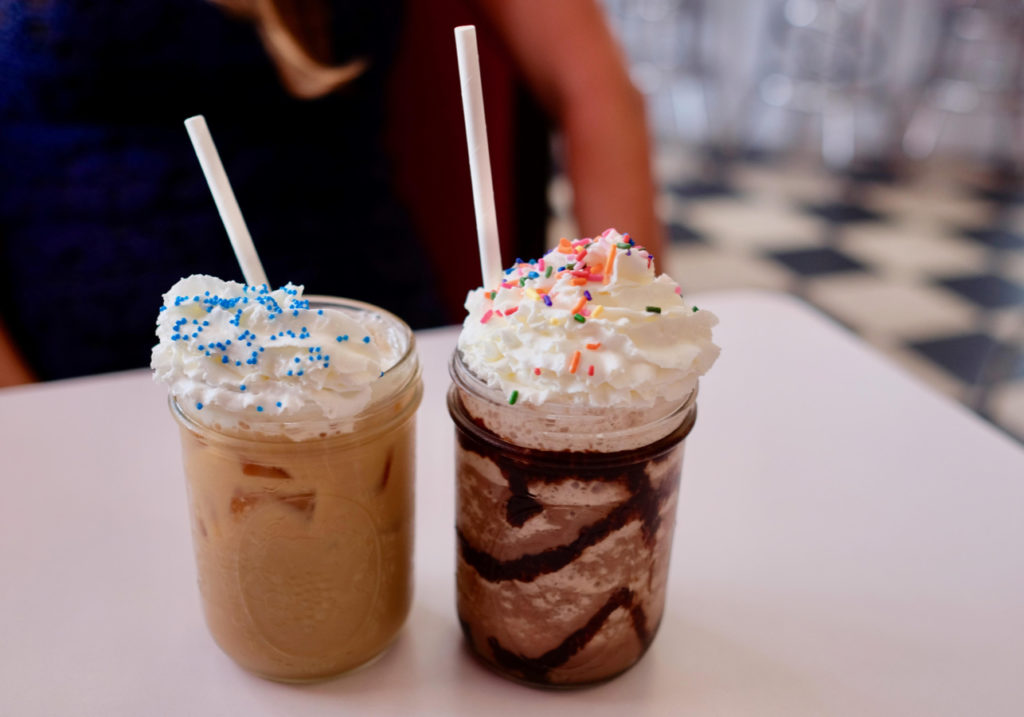 Then Miriam had an order of their cookie dough pancakes …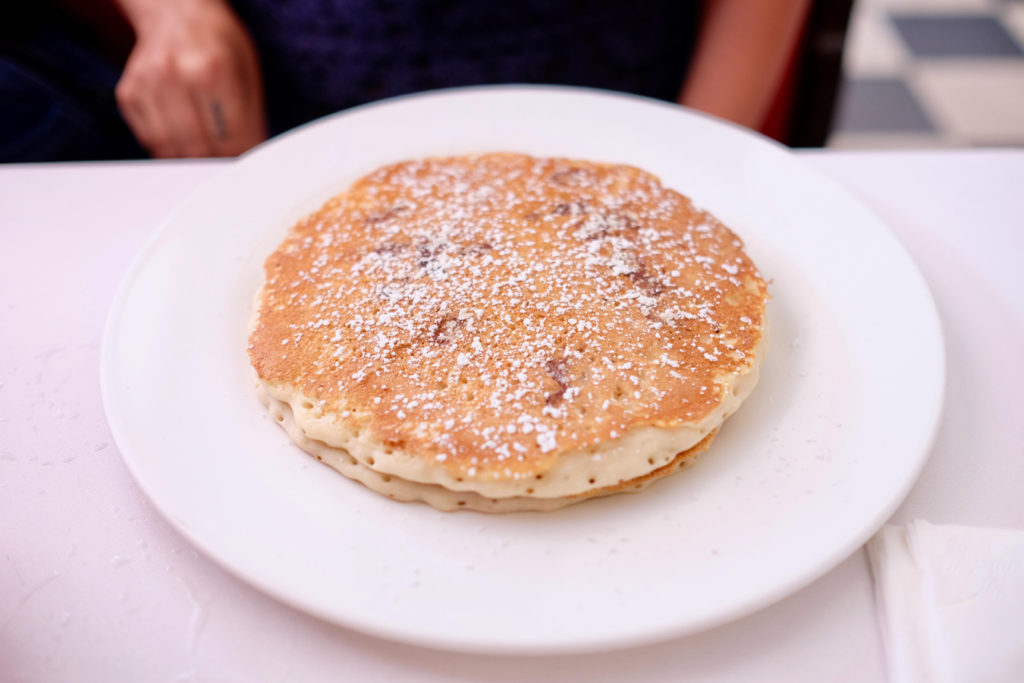 … plus some avocado fries.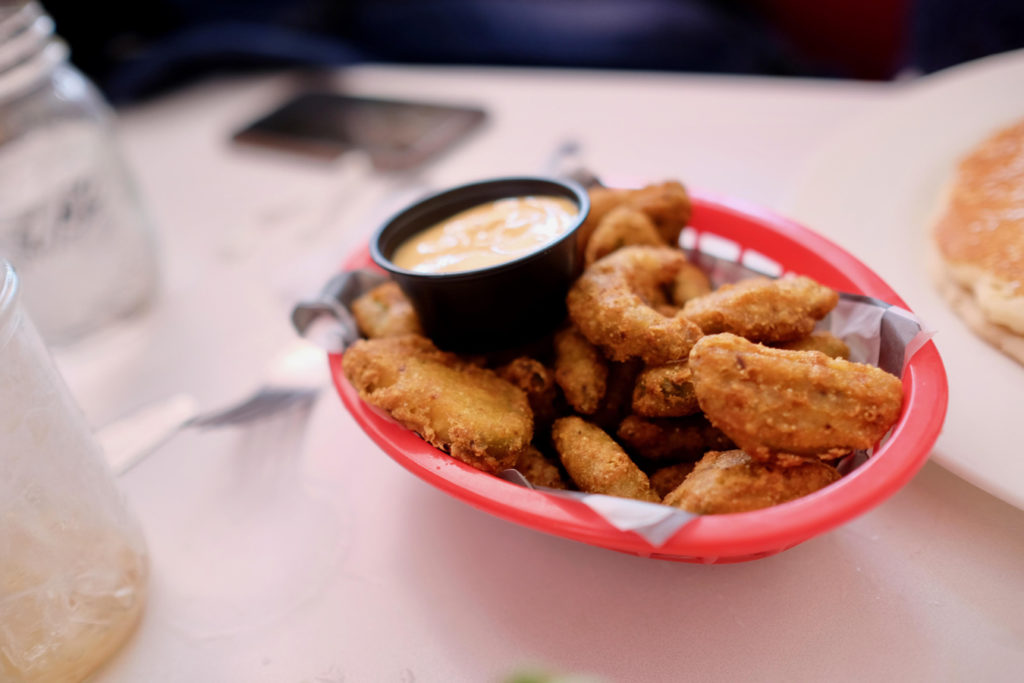 Meanwhile, Cyril decided to try an egg sandwich with some lobster hash added to it: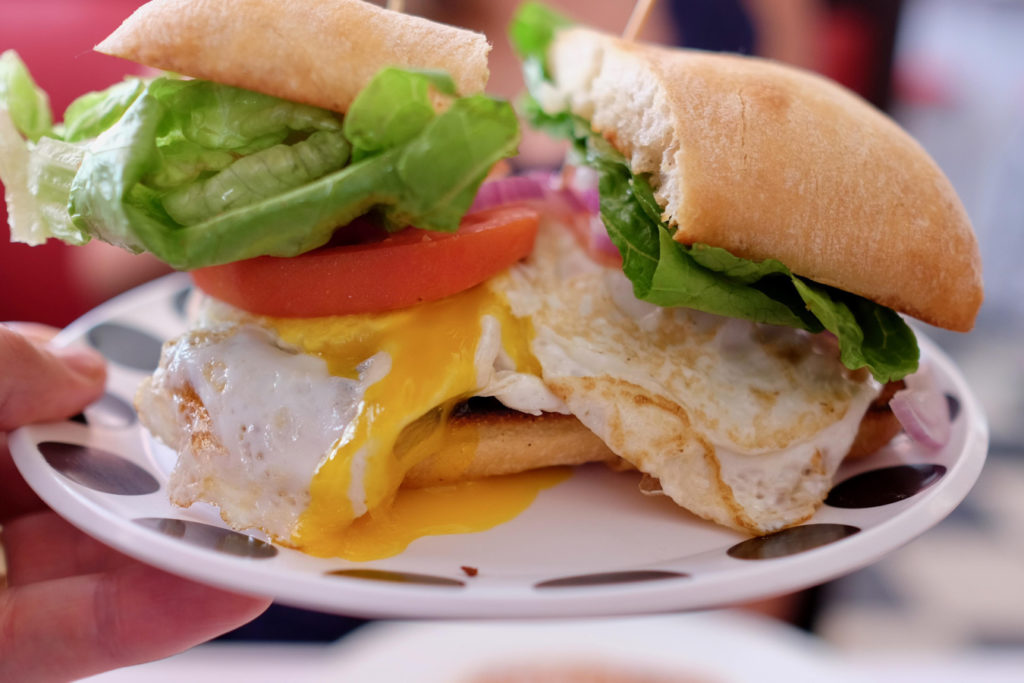 He also got some loaded home fries.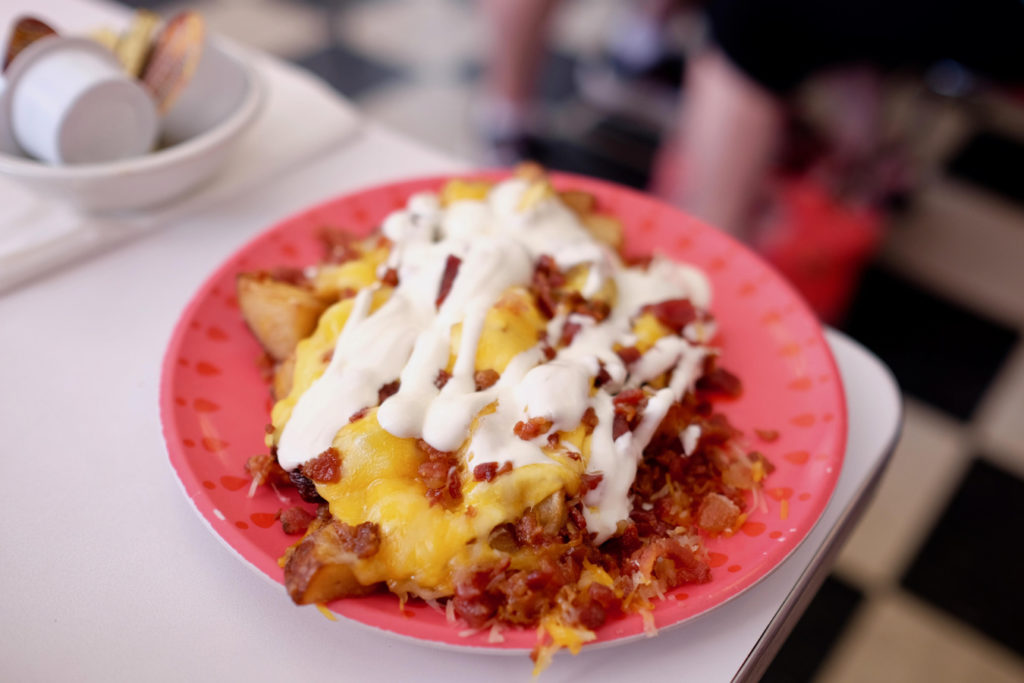 Once we made it to Shelter Island, Cyril desperately wanted to try some seafood, and since we heard that Commander Cody's was the best place around we decided to go there.  Cyril ordered a bunch of different things, starting with the fried combo platter, which comes with clam strips, shrimp, crab balls, calamari, fries, and a slice of cornbread.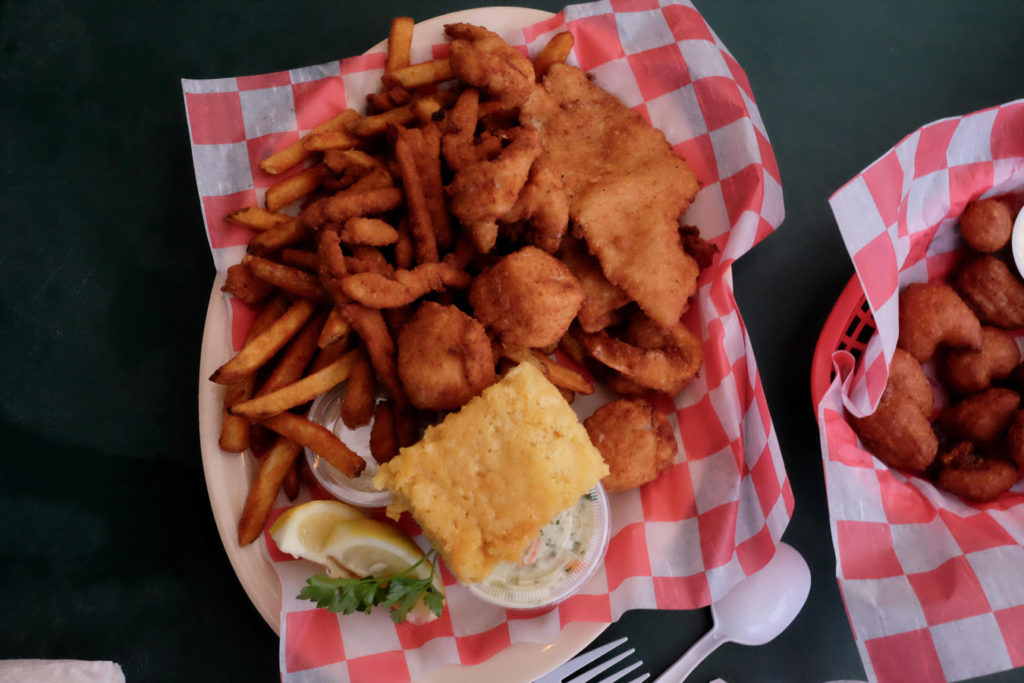 Then came an order of fried chicken, some steamed shrimp, and for Miriam sides of red potato salad and corn nuggets.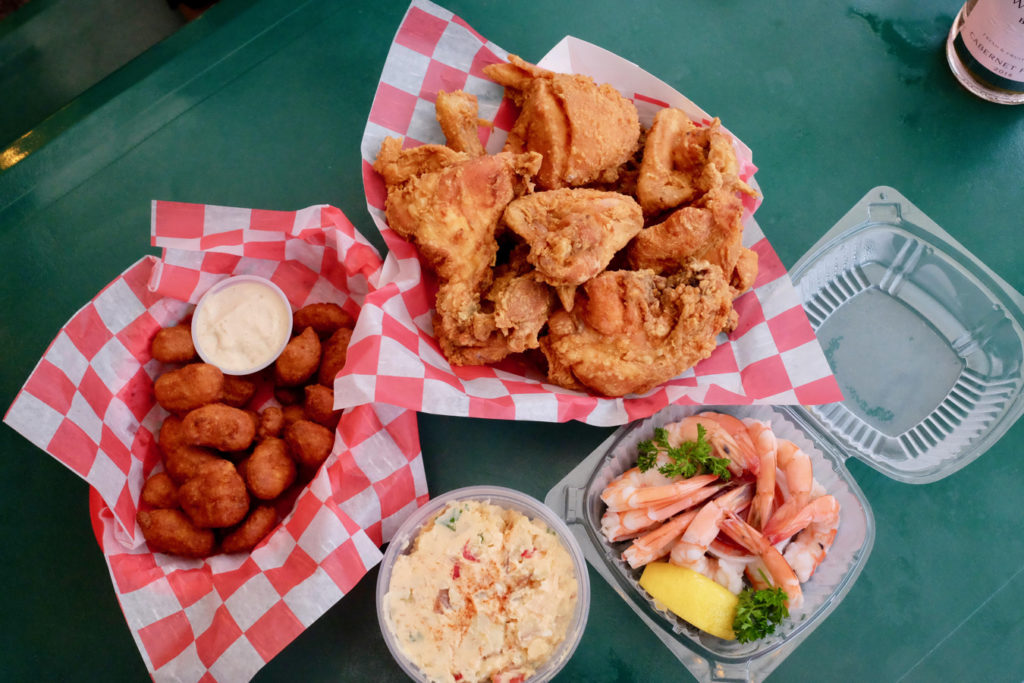 The next day for brunch we walked to Maria's Kitchen, which operates out of a small convenience store but has a sunny backyard area where you can sit and eat.  The menu is simple Mexican food, so for a breakfast bite Miriam got the chilaquiles:  homemade tortilla chips topped with queso fresco, sour cream, chopped onions, and spicy green salsa on the side.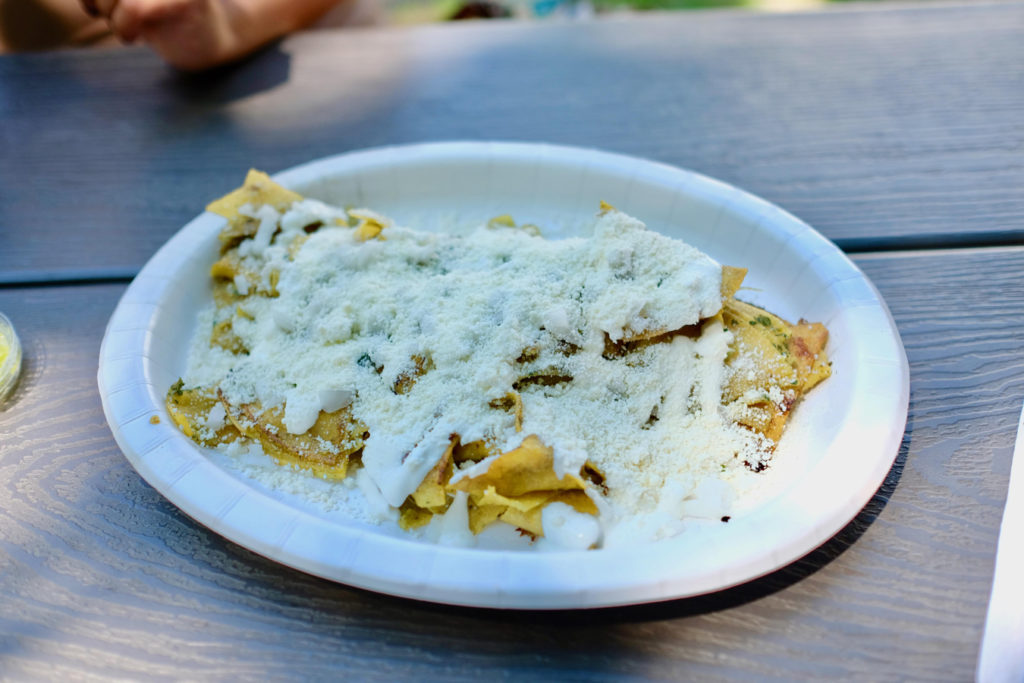 And Cyril had the huevos rancheros, which also comes with with chorizo, refried beans, avocado, plantains, a slice of queso fresco, and homemade tortillas.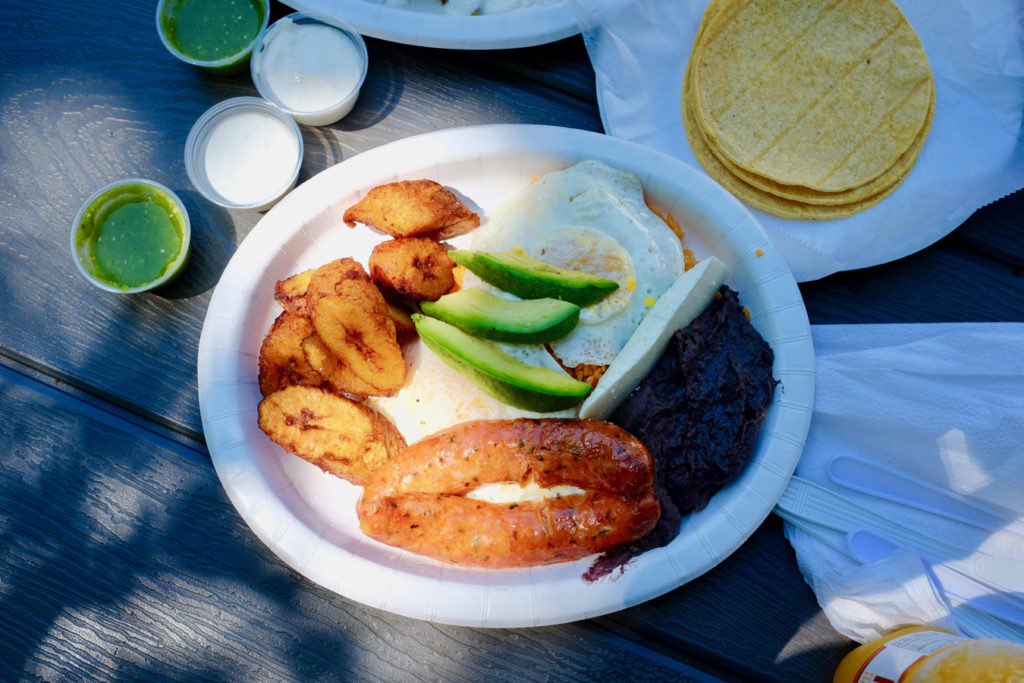 And finally, we heard rumors that a local pizza place called Piesano's made something called a "piezone".  Intrigued, we took ourselves down to this spot and discovered that while it's not officially on the menu, you can ask and they'll bake you up one of these creations, which is a calzone on one side and a pizza on the other (we got ours topped with eggplant) plus a row of garlic knots separating the two halves.  As you can see, it's pretty impressive: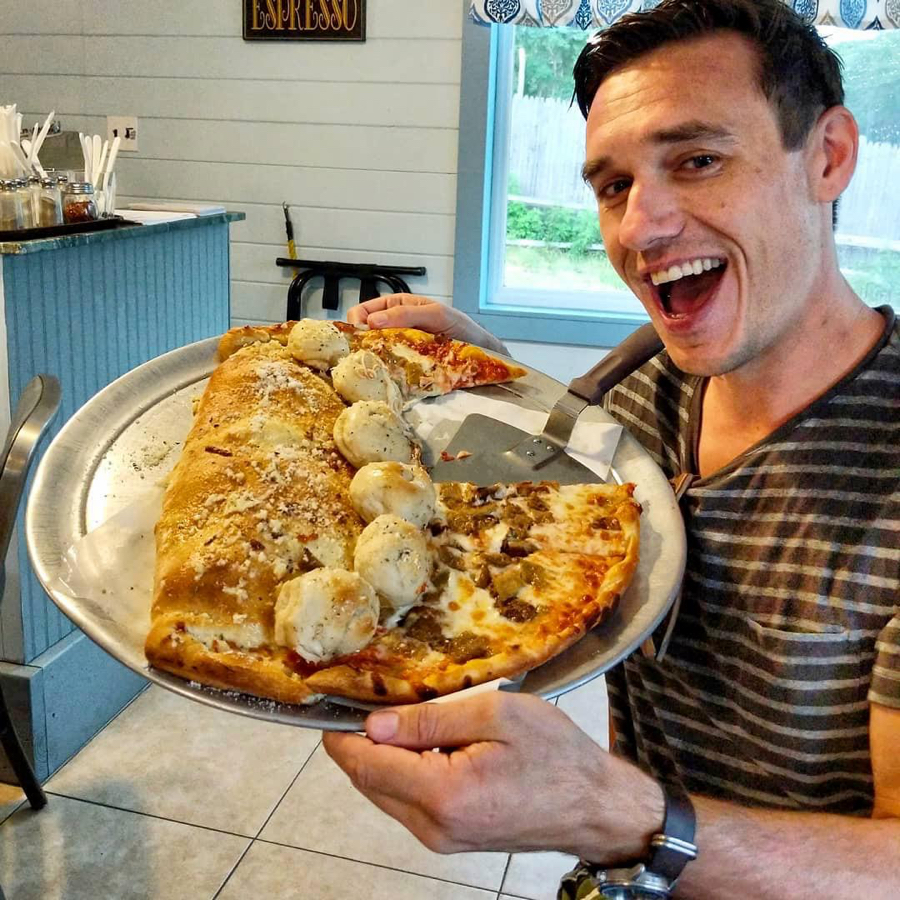 We were pleasantly surprised that this small, sleepy island had such diverse food:  a great seafood shack, but also some excellent Mexican food and a pizza place that makes it's own delicious Frankenstein of a pie.  And if you head into Greenport, you can also get some cool drinks and brunch eats at Crazy Beans.  We went to Shelter Island for the beach vibes and seaside setting but left having really enjoyed everything we got to sample.  So if you're looking for a cool summer getaway, Shelter Island is an excellent pick not just for it's surf and sand but also for its unique culinary scene.