We promise we're not trying to be morbid here – "funeral potatoes" is really what these are called!  This dish comes from the Midwest, where casseroles are a staple food, and legend says that this particular version was invented by Mormon housewives to be served at post-funeral community meals.  After all, a rich dish like this, combining potatoes with different kinds of creamy ingredients, is a perfect comfort food during hard times and easy enough to whip up and bring to a friend in mourning.  But don't worry, no one has to die in order for you to enjoy this dish.  We cooked this up based on a recipe in the New York Times, and we enjoyed that it was unapologetically fatty and delicious but also a bit more elevated than your typical casserole because it uses real ingredients instead of frozen potatoes and gloopy canned soups that you might usually find in hot dishes.
So here's how we made it – you'll need:
5 potatoes
An 8-ounce package of cream cheese
A stick of butter
Sour cream
Milk
Cheddar cheese
Parsley
First, scrub your potatoes and cut them into small pieces.  Place them in a pot with just enough water to cover them and bring them to a boil, then let them simmer for 10 minutes.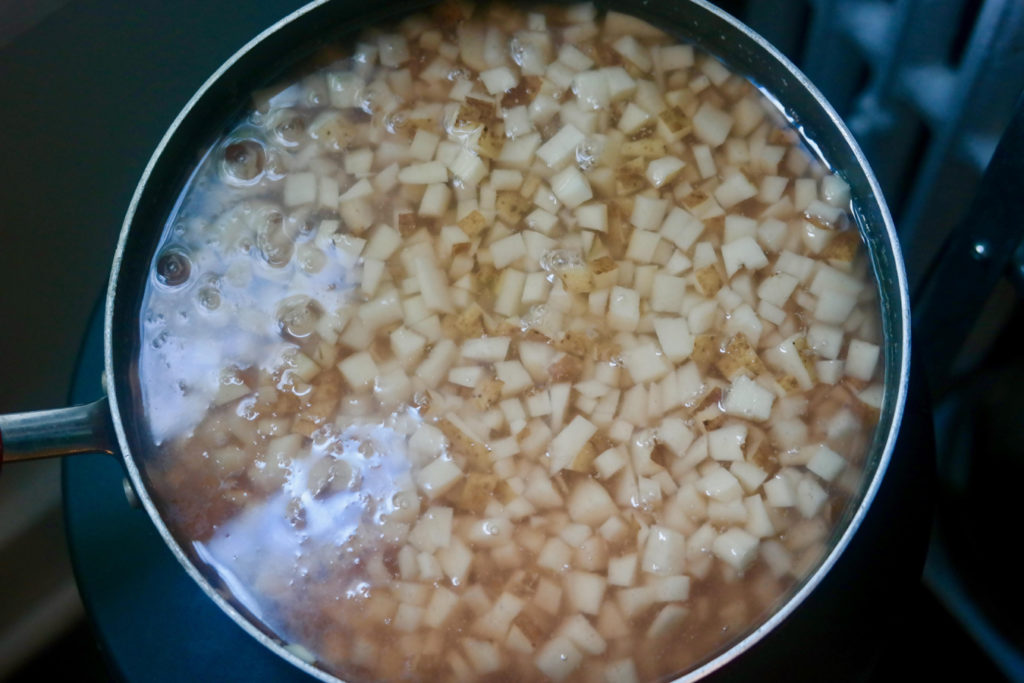 When the potatoes are done, drain them and let them cool slightly.  Melt your stick of butter and mix it in a large bowl along with all of your cream cheese, a cup of sour cream, and 1/4 cup of milk, then stir in the potatoes.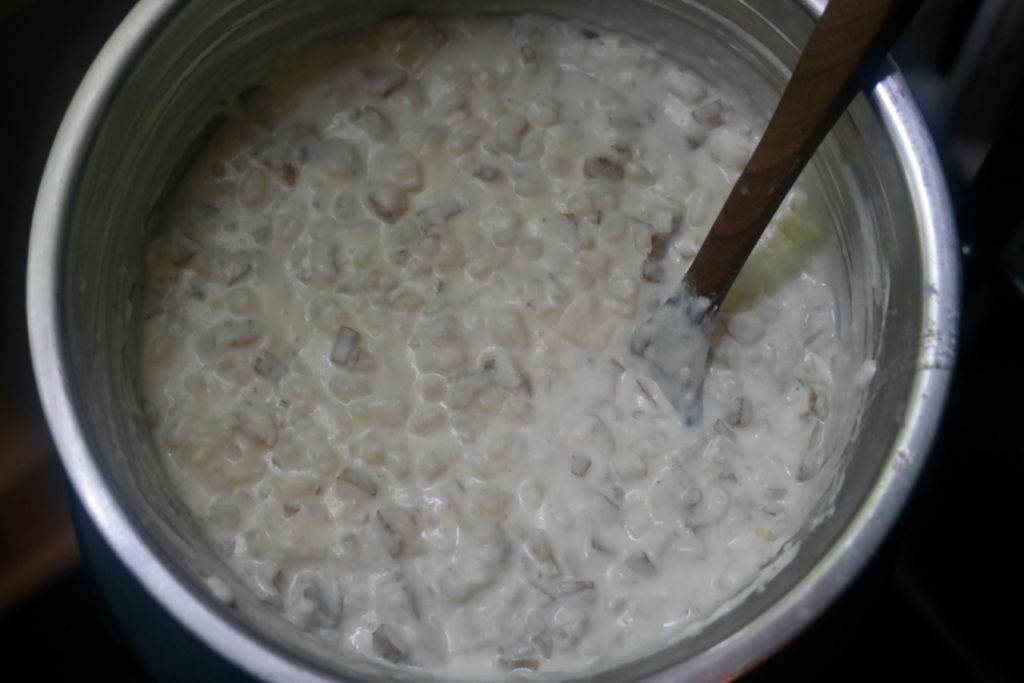 Pour half of the potatoes into a large, greased baking dish.  Grate 1 1/4 cup of cheddar cheese and sprinkle over the surface of the potatoes, then spread the remaining potatoes into the dish and then top with another 1 1/4 cup of cheddar cheese.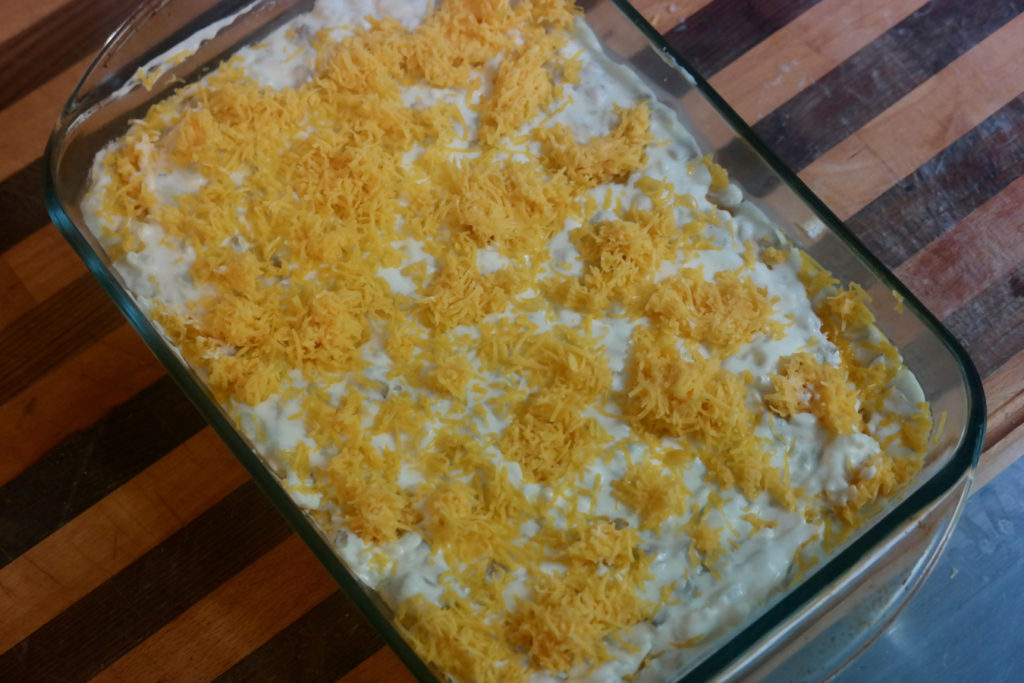 Bake your casserole at 325°F for 30-35 minutes, until the potatoes are bubbly: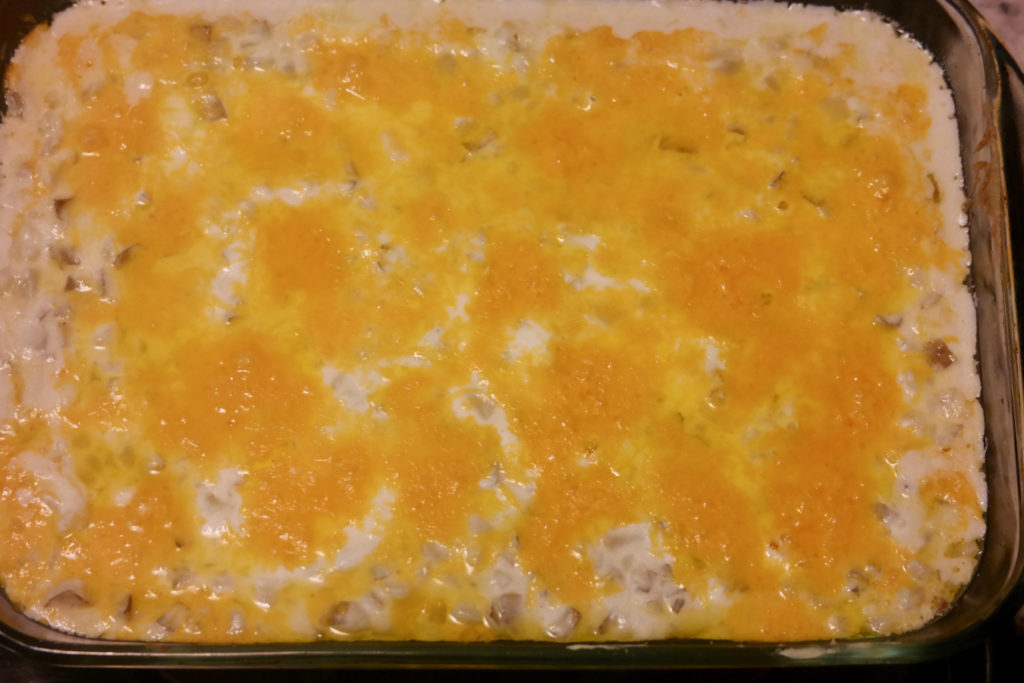 You can serve the potatoes warm, with sprigs of parsley on top like so – they'll come out rich but a little soupy.  We also really liked them at room temperature, because they still tasted really creamy but they held together a little better.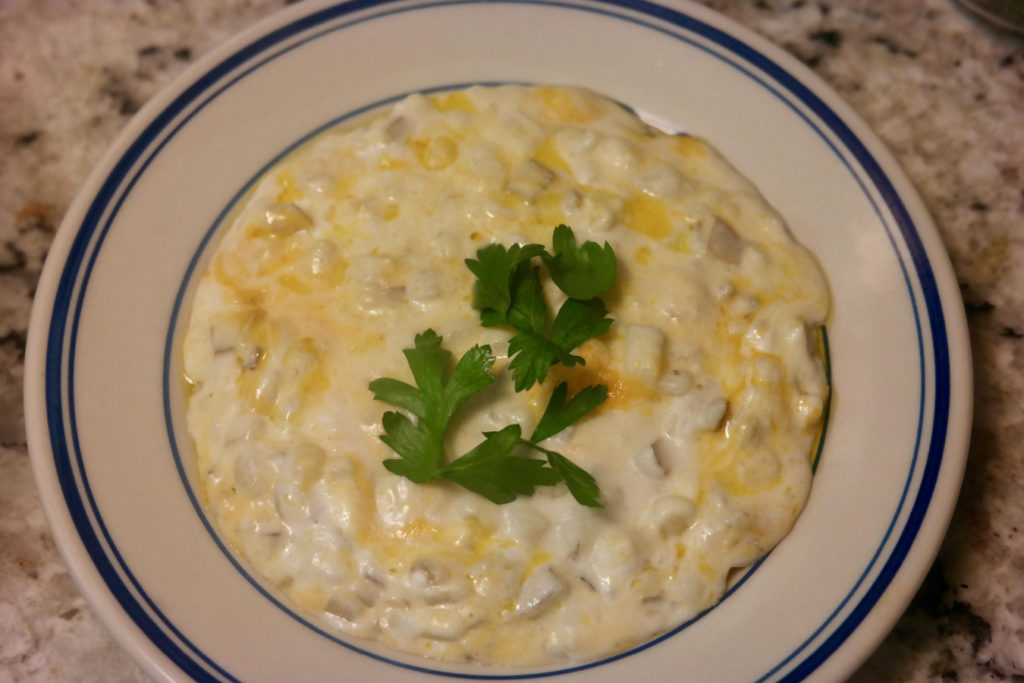 These potatoes are really a treat, meaning that they're pretty delicious but you'd probably have a heart attack if you ate them every day.  Combining small bites of potato with sour cream, milk, and two kinds of cheese in a baked dish is definitely tasty – and calorific.  While it does take some time and patience to cut up the potatoes, once that's done all you have to do is mix and bake and then you have a terrific casserole.  Remember that you don't need to have a funeral to enjoy this dish – it's perfect for any holiday or get-together where you want to indulge a little and just bask in the richness of a potato casserole.