Curries are a cornerstone of vegetarian cuisine because there are so many meatless varieties out there.  Indian curries (like these ones that we've made before) are always good bets, since food from that part of the world is often vegetarian.  But Thai curries – which, unlike those from India, are usually made with a chili paste – can be tricky sometimes because Thai food in general likes to sneak fish products in where you'd least expect them.  Luckily there are meat-free and even vegan recipes out there:  we've made this green curry previously, and now we're going to the opposite side of the color wheel to make a red curry.  We based this on a recipe we saw in Bon Appétit, but we adapted it to be totally veggie-centric because with eggplant and green beans and zucchini we thought it was perfect without needing to add in any kind of protein.  So here it is – a spicy, vegan Thai curry packed with vegetables.
To make this, you'll need:
Olive oil
A large onion
Red curry paste (we like this brand)
2 zucchini
1 large eggplant
A half-pound of green beans
A 13.5-ounce can of coconut milk
8 ounces of Thai rice noodles
Peanuts
A lime
Cilantro
Start by prepping your vegetables:  cut the eggplant into medium-sized pieces, roughly chop the onion, and cut the zucchinis into quarter slices.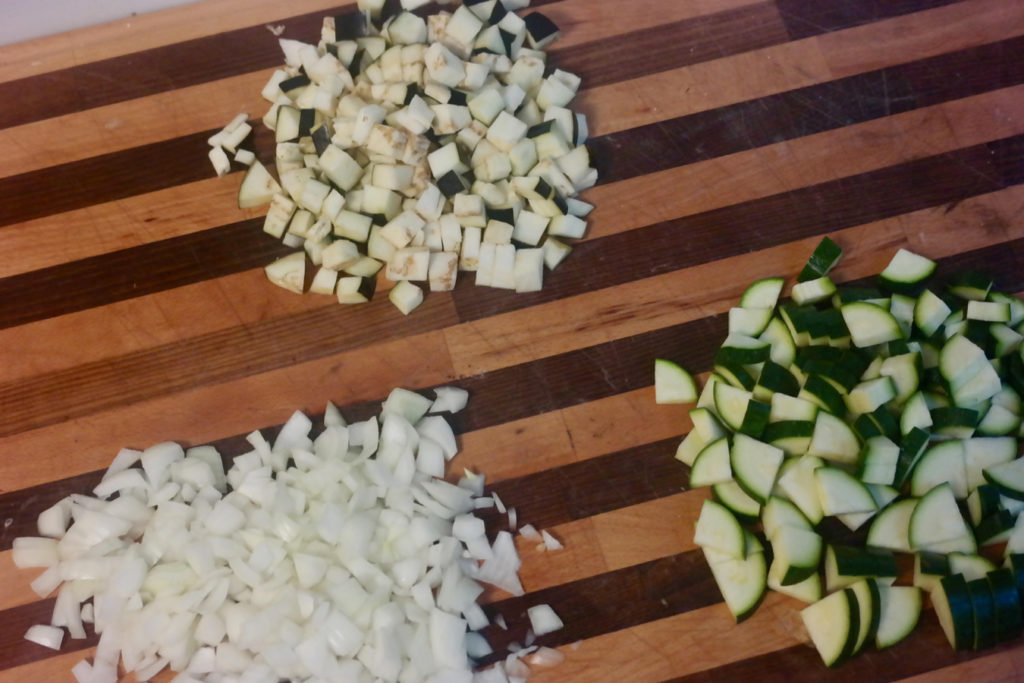 Then take a large skillet with high sides and place in 2 tablespoons of olive oil and the onion.  Cook over medium-high heat for 4 minutes or so, until the onion begins to soften, then add in 1/3 cup of the curry paste and cook for another 2 minutes until the paste darkens.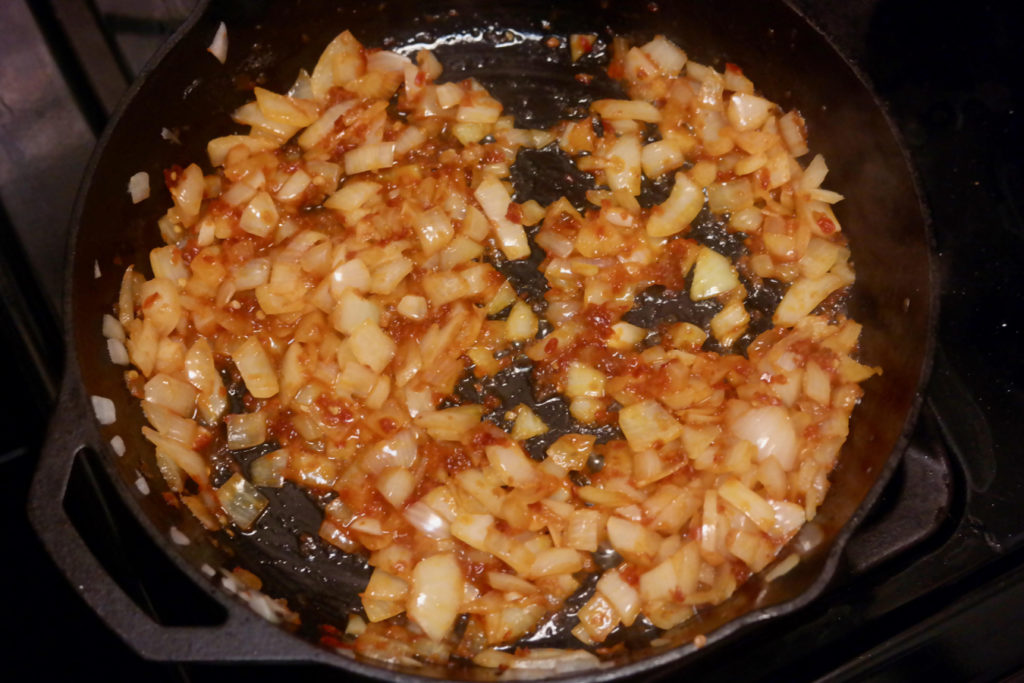 Now put the eggplant and zucchini in the skillet along with your green beans and cook all the vegetables for 5-7 minutes.
Pour in the coconut milk and 1/2 cup of water and let it all come to a boil, then simmer for about 10 minutes or until all the vegetables are tender.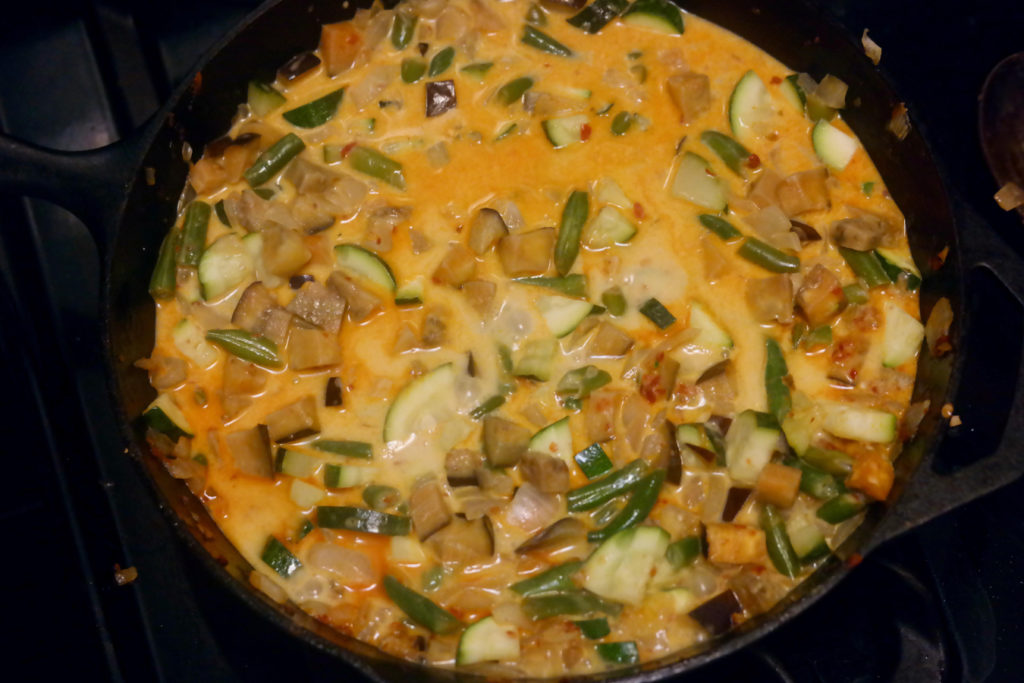 Meanwhile, bring a pot of water to a boil.  Place the rice noodles in a large bowl and pour the boiling water oven them.  Let the noodles steep in the water for 8 minutes, using tongs to move them around every 2 minutes, then drain them.
At this point you can also place your peanuts in a food processor and run it for just a few seconds to chop the nuts up.
When everything is ready, spoon the curry over individual servings of noodles and top everything with peanuts, lime wedges, and sprigs of cilantro.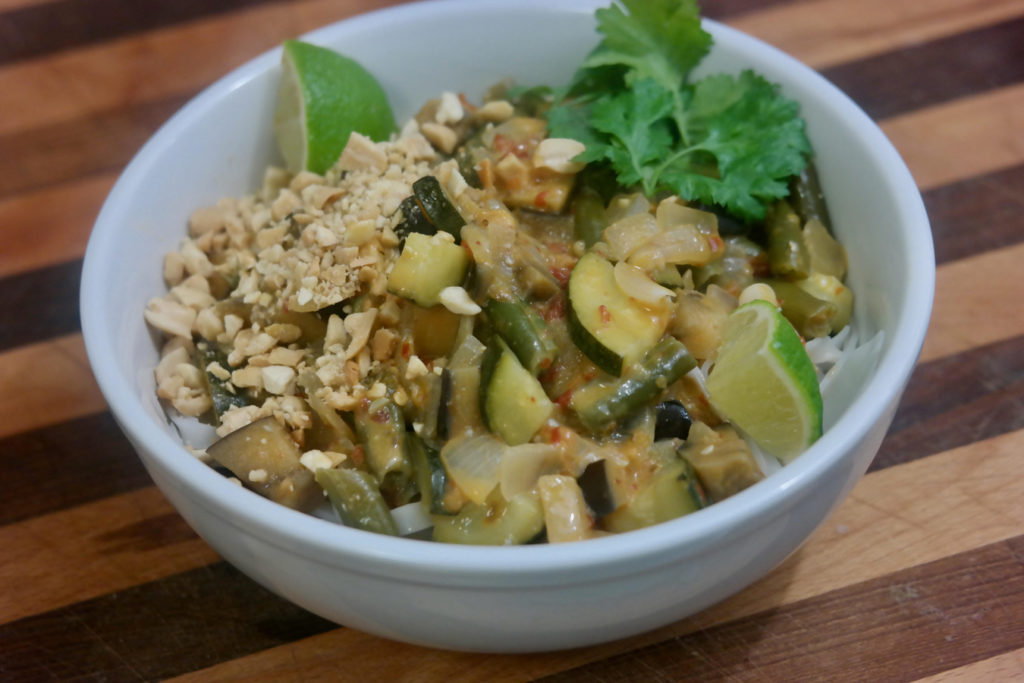 While you can see that this curry isn't as vividly colored as our green curry was, it's no less flavorful:  since you're using a full 1/3 cup of chili paste in this recipe, it's nice and spicy.  All the vegetables here soak up the curry really well, the toppings make for a nice cool, crunchy contrast, and the rice noodles are an excellent backdrop for all these different tastes.  We made an executive decision to forgo adding any protein to this recipe, and we think that the large volume of veggies here more than makes up for that.  All in all, this is a great vegan meal that brings the heat and packs a healthy, hearty punch while allowing you to experience Thai cooking right in your kitchen.