There's only a few days of summer left, so to capture the last of the warm weather we're going to show you some awesome food we ate on one of our beach trips this season.  Not too long ago we decided to visit Cape May, the town all the way at the bottom of New Jersey that also happens to be the oldest seaside vacation town in the country.  There's lots to do there:  go to the beaches, visit the lighthouse, and check out all the well-preserved Victorian houses, but of course we hunted down some good food, and we're happy to report that Cape May has a lot of awesome places to eat.  But that's not all – we also made a side trip to another nearby town that we've been to before to sample some more of what they offer.  So check it all out, but just know that we are going to show some images of meat here.
One of the first places we went in Cape May was Quincy's Original Lobster Rolls so that Cyril could get … a lobster roll, of course.  He also got a cup of lobster bisque, and Miriam had the mac and cheese.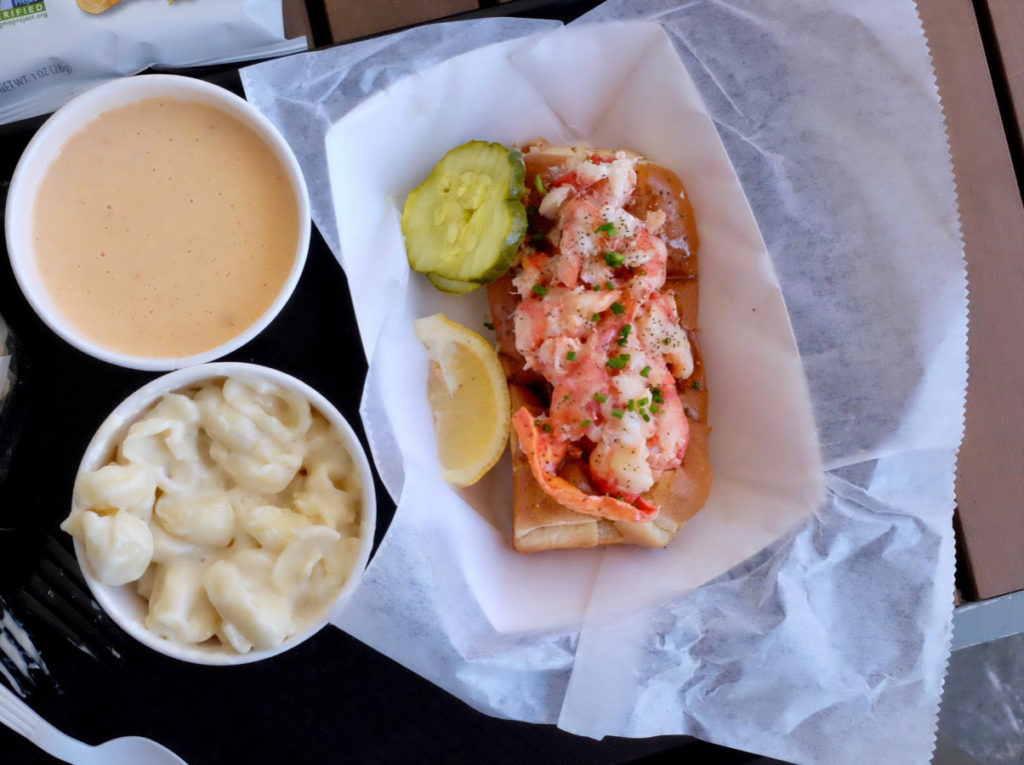 Later that day we decided to check out the Mad Batter, which is the restaurant half of a bed and breakfast located in the beautiful Carroll Villa house, which dates back to 1882.  The Mad Batter has a pub-like atmosphere but also offers up a good number of meatless entrees, like this vegan crab cake sandwich, made from hearts of palm and chickpeas with avocado added on top.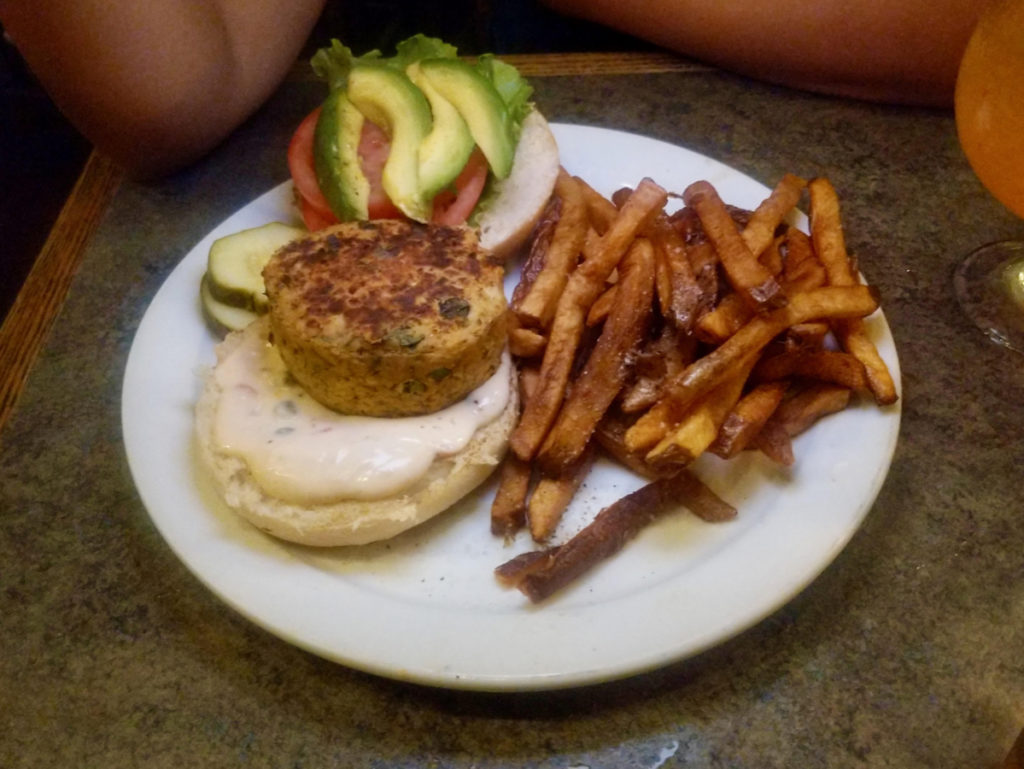 Cyril got their traditional crab cakes, served with remoulade sauce on top of mac and cheese and asparagus.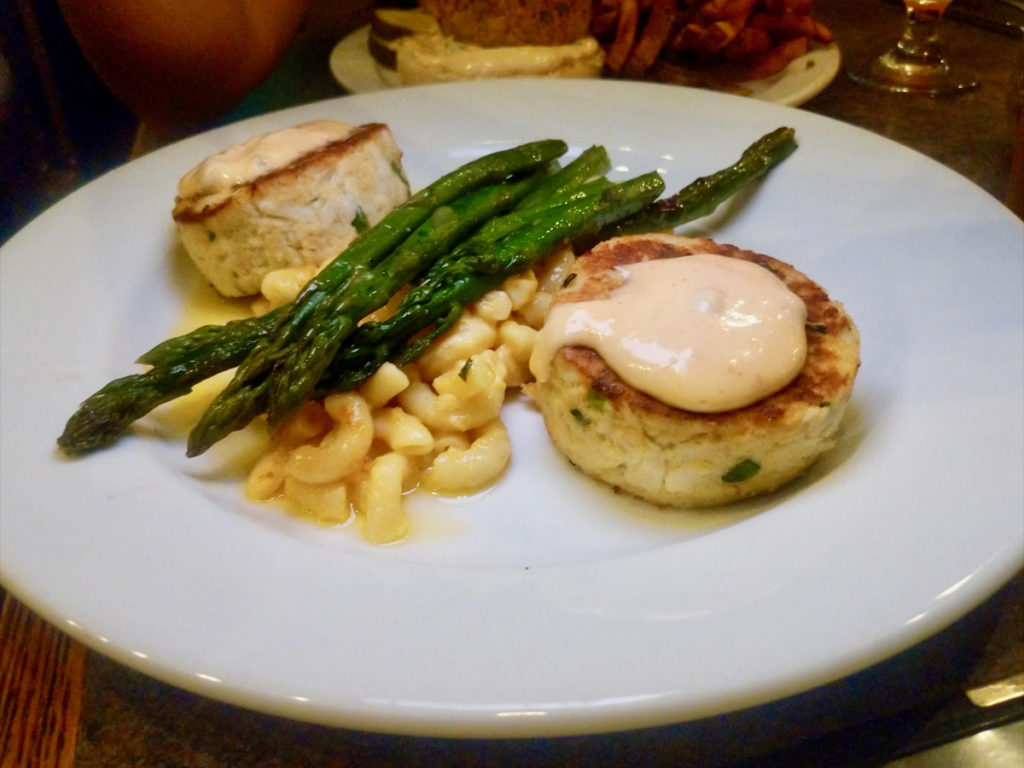 For brunch the next day we decided to check out George's Place, a popular local diner that serves Greek food alongside more typical breakfast fare.  Miriam tried their veggie pita, stuffed with hummus, lettuce, onions, and roasted red peppers, plus a Greek salad on the side.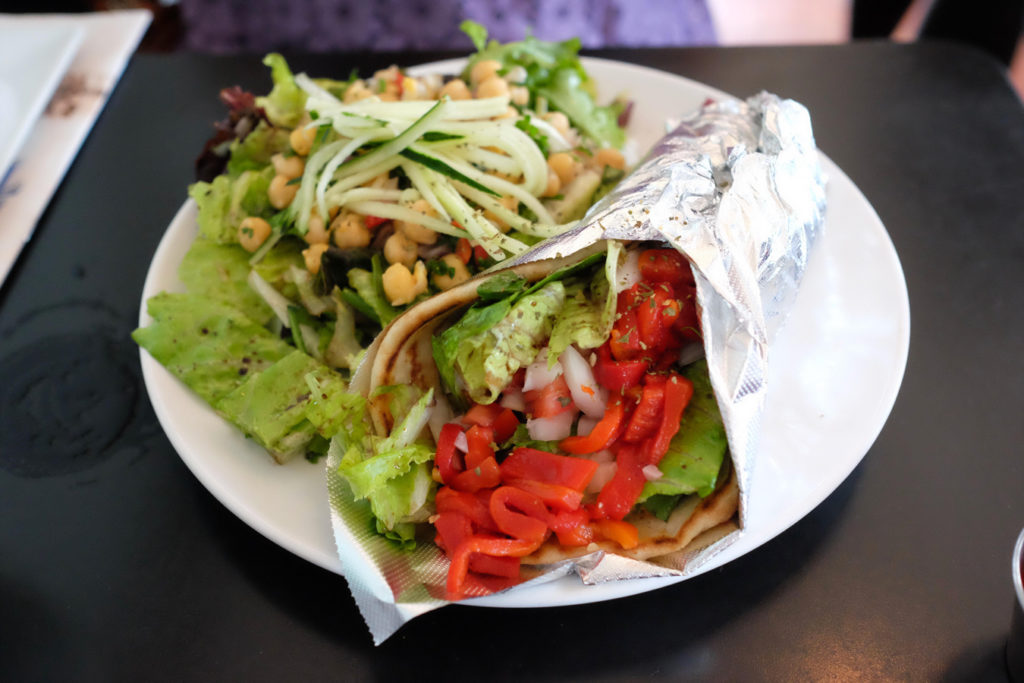 And Cyril got the gyro pita, smothered with tzatziki sauce, and some waffle fries.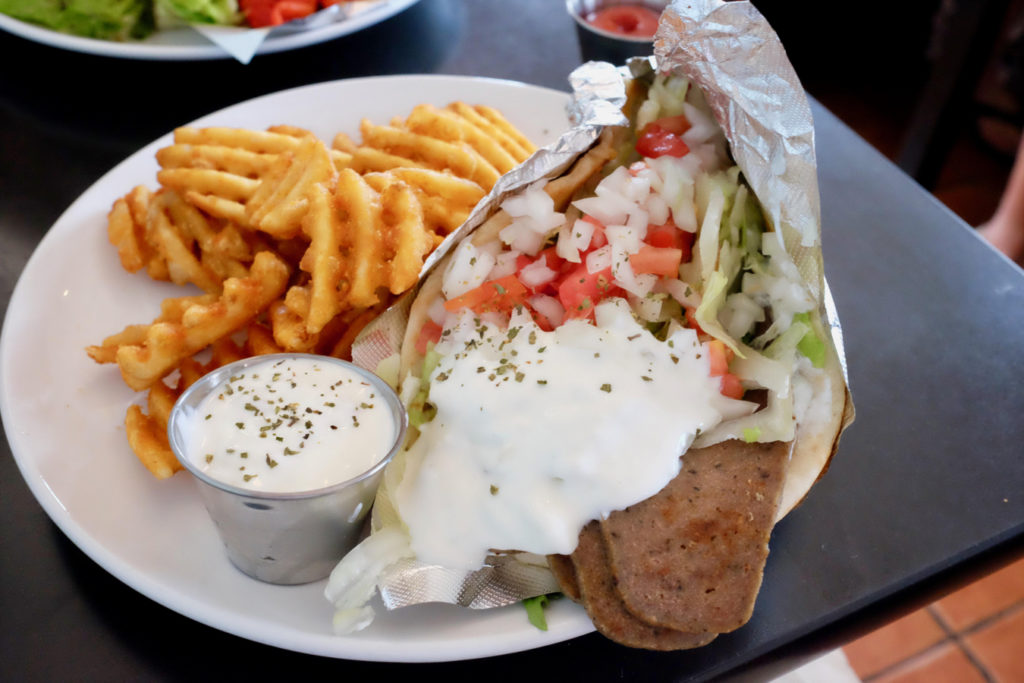 And to really get his seafood fix, Cyril insisted that we visit the Lobster House, which is part of a complex that also includes a casual bar, a take-out shop, and a floating cocktail lounge.  At the restaurant Cyril got both the Fisherman's Wharf platter, which is a combo of broiled lobster, crab, scallops, flounder fillet, and a stuffed shrimp …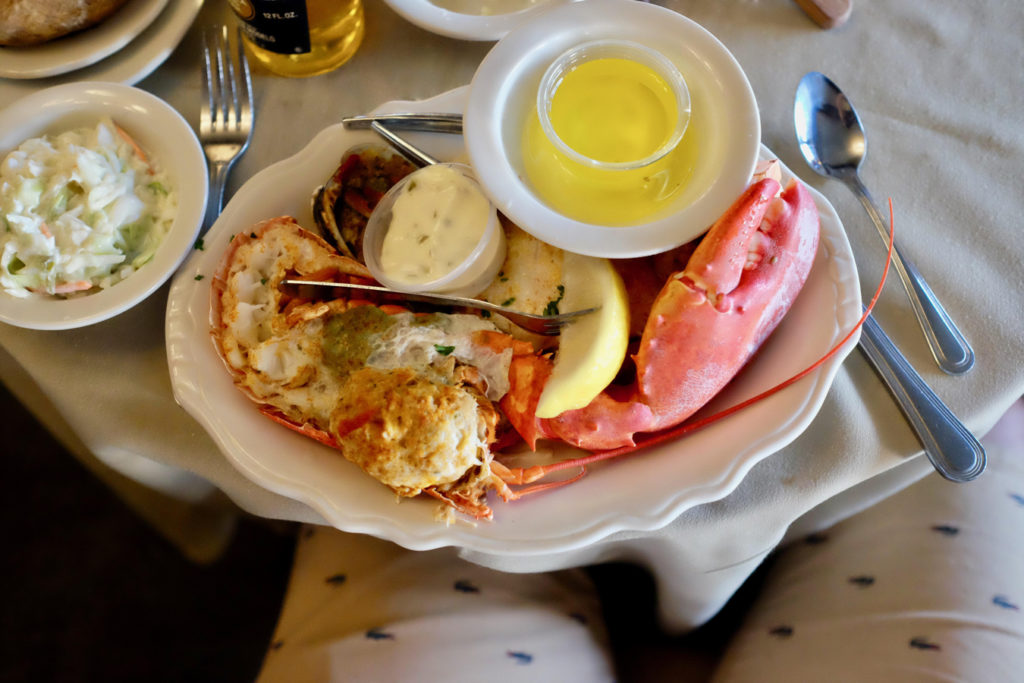 … and the stuffed flounder, with crab and scallops inside and a shrimp and mornay sauce over everything.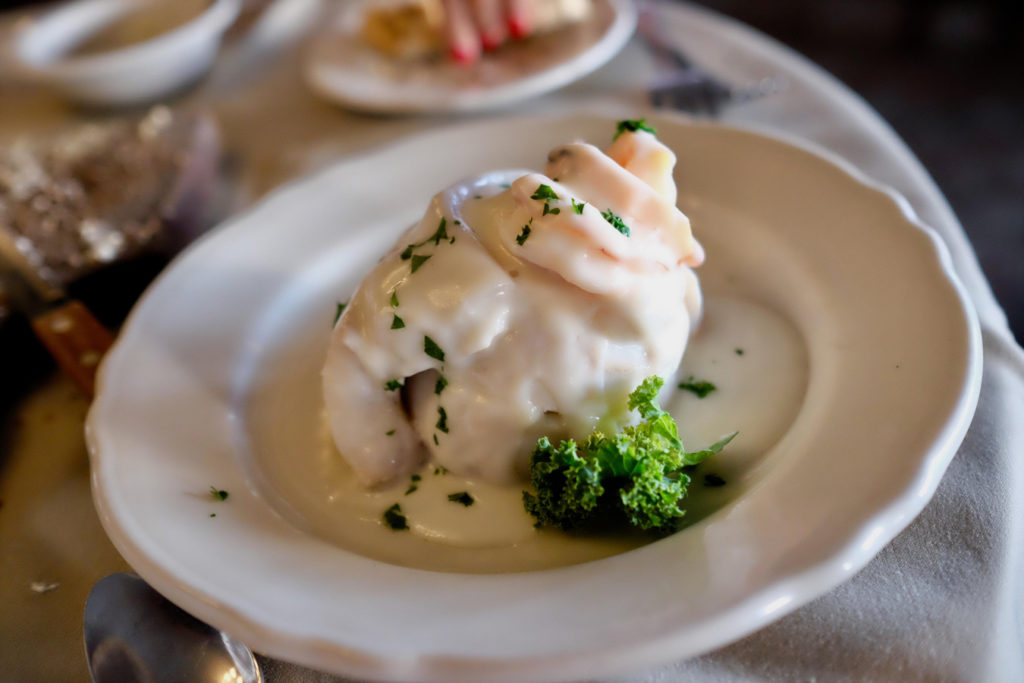 What did Miriam eat?  Besides the baked potatoes from Cyril's two dinners, she also noshed on the seeded house bread …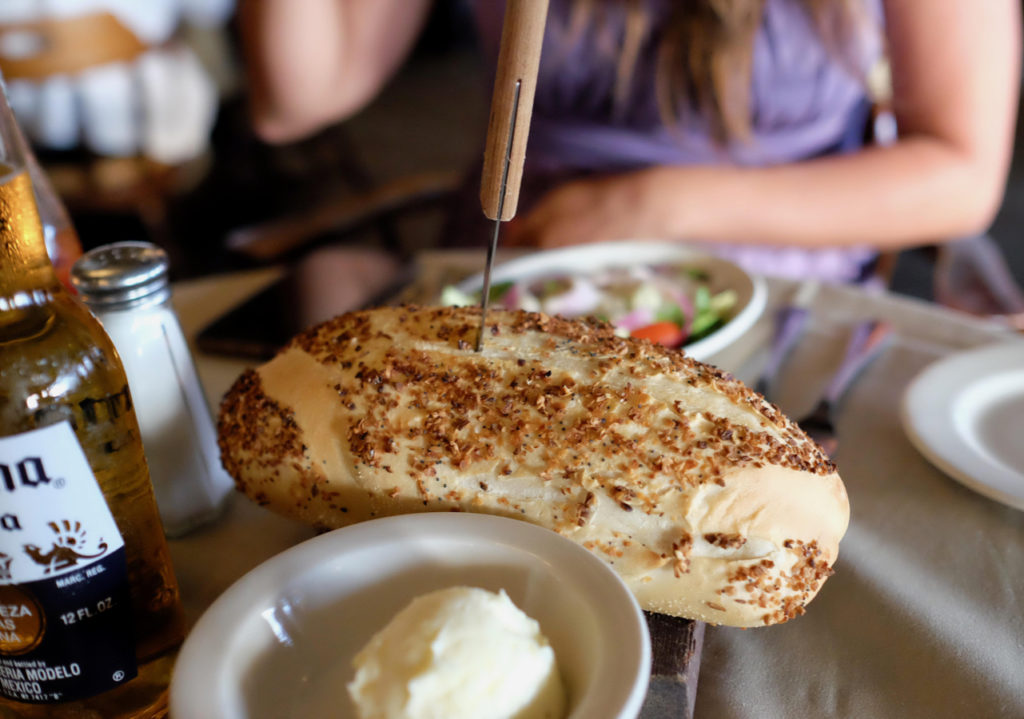 … and a slice of peanut butter pie.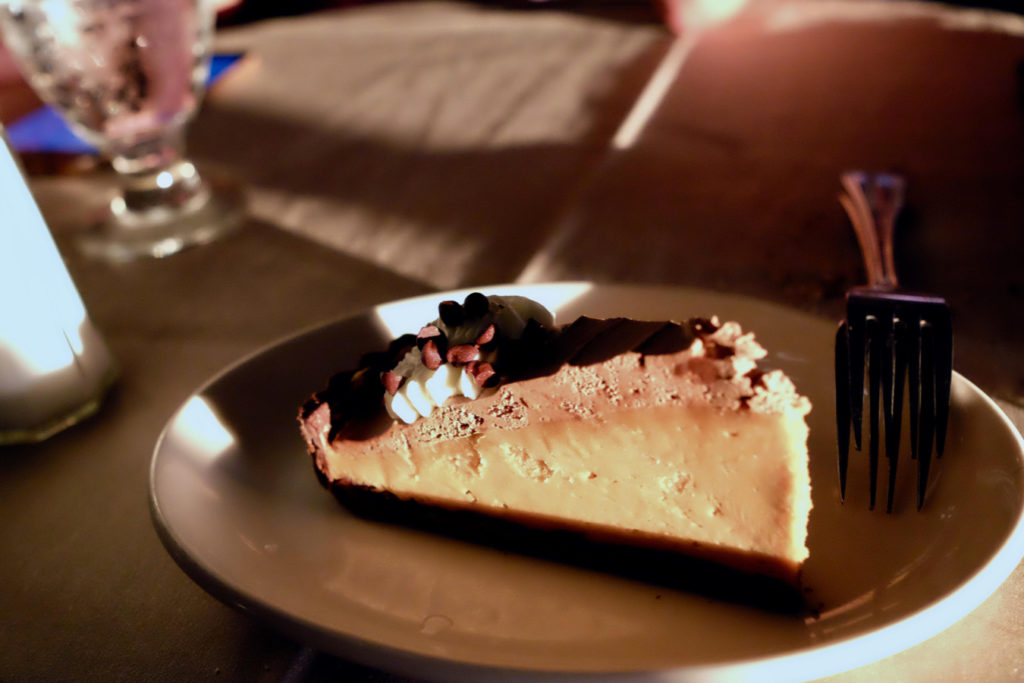 Cape May also has some great snack food, like these candies – homemade peanut butter smoothies, salted dark chocolate caramel squares, and pieces of mint soufflé – from the Original Fudge Kitchen.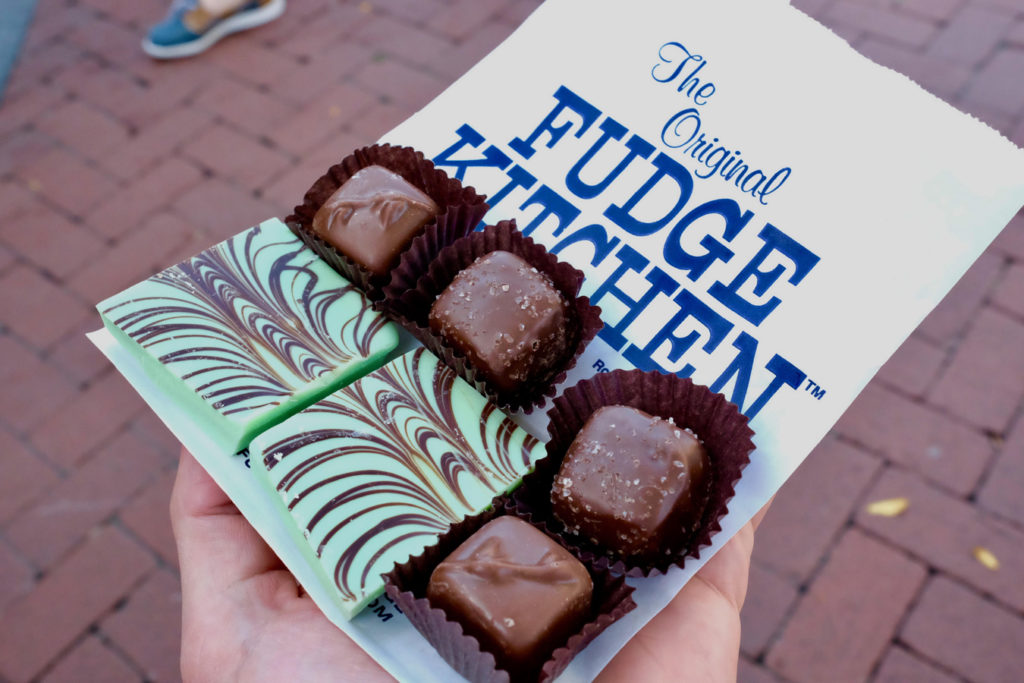 Plus this rosemary ghee popcorn from Cape May Market.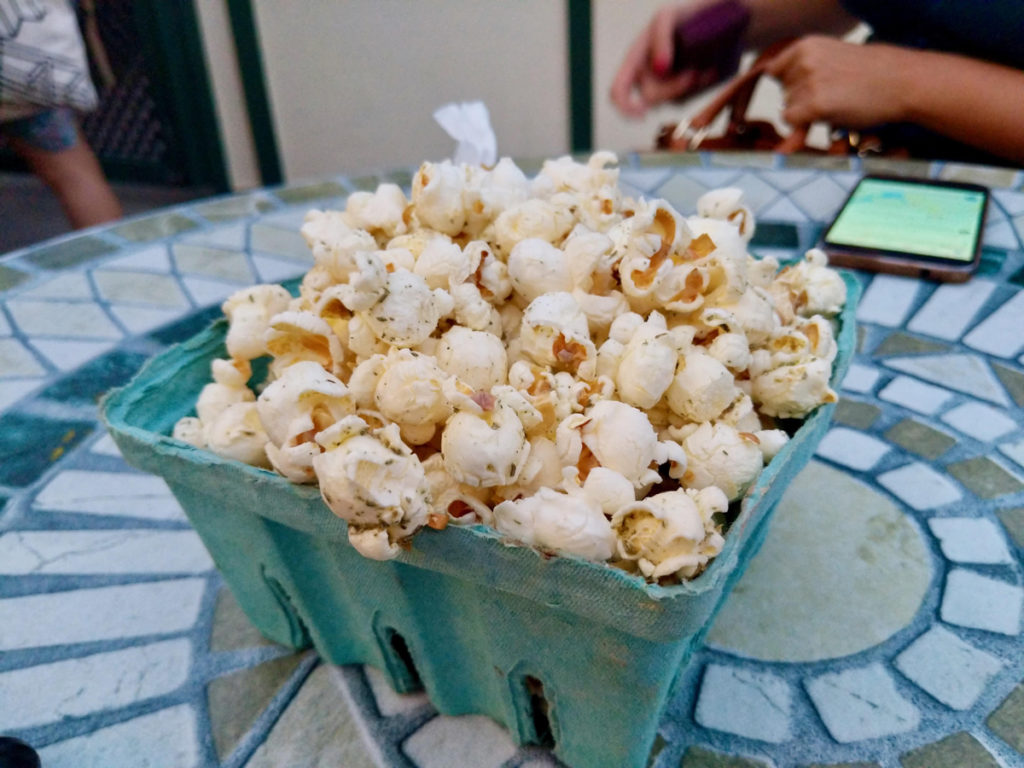 Plus the Wham! sundae – made with coconut, dark chocolate chips, and a salted caramel sauce on vanilla ice cream – from the awesome 80s-themed Fine Fellows Creamery.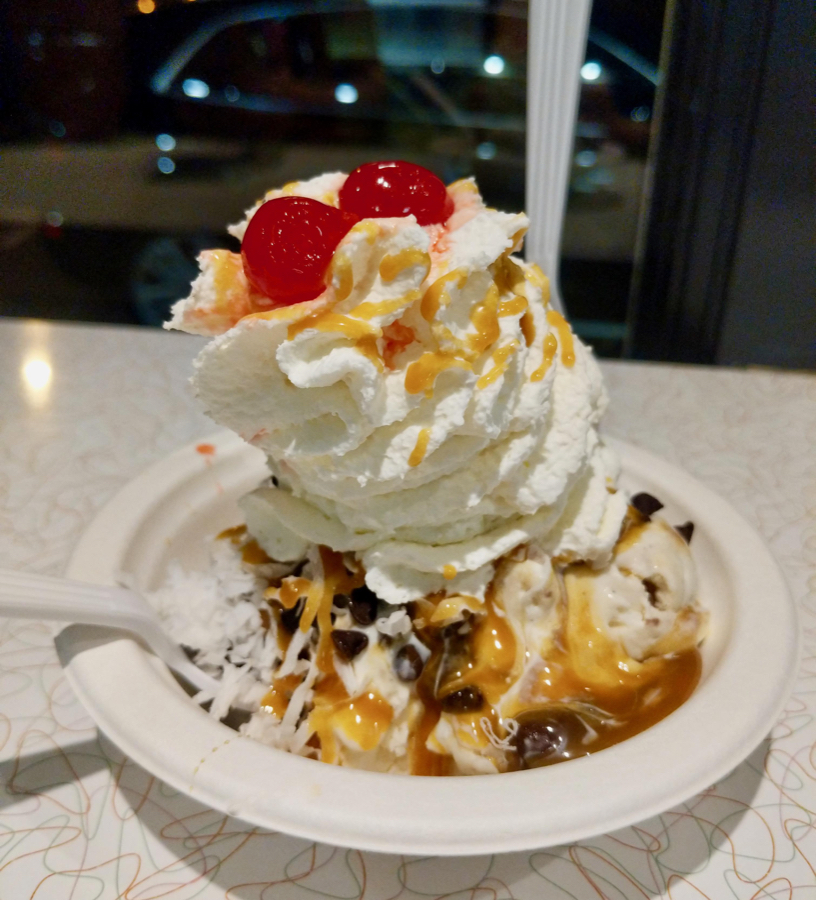 And from our favorite store in the whole town, Cape May Peanut Butter Company, we got a cannoli filled with a mousse made from their homemade honey roast peanut butter.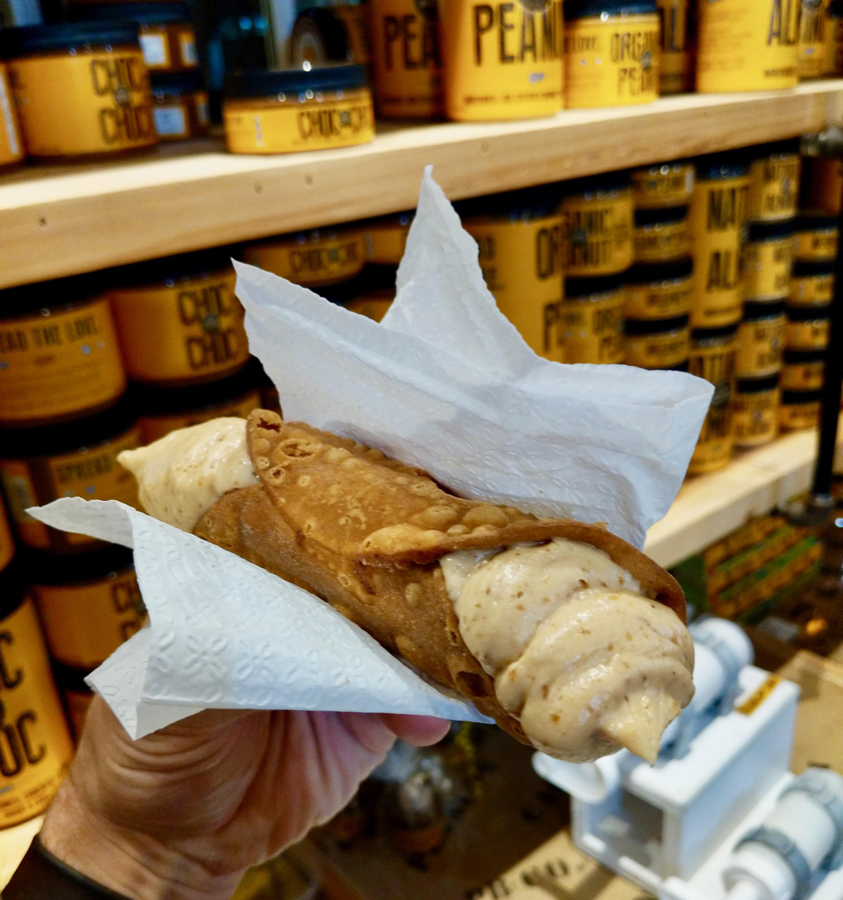 But wait, there's more!  While we were at the South Jersey shore we decided to also stop by Atlantic City, where we went last summer.  This time we visited specifically to go to Chef Vola's, a small and insanely popular old-school Italian restaurant right off the end of the boardwalk.  To give you an idea of just how in-demand this 98-year-old place is, they don't take walk-ins at all and we had to make a reservation two months in advance.  But it was definitely worth it because Chef Vola's is the epitome of a red sauce joint, and it was excellent.  To start out meal there, we got an appetizer of homemade provolone cheese and roasted red peppers.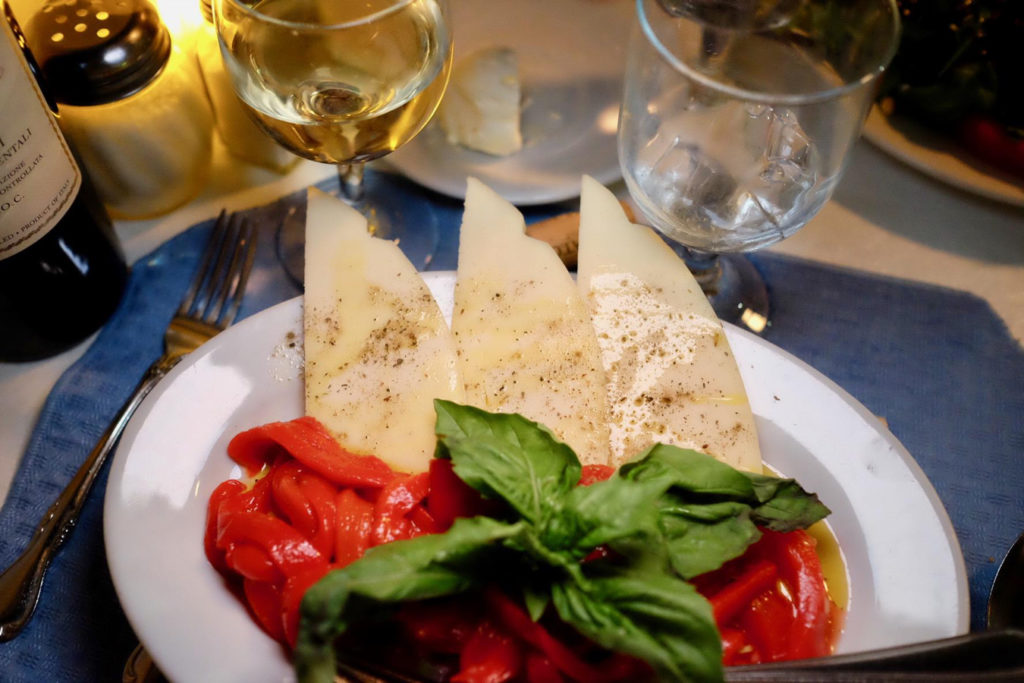 We also split the arugula salad, topped with blue cheese, pine nuts, figs, and a balsamic dressing.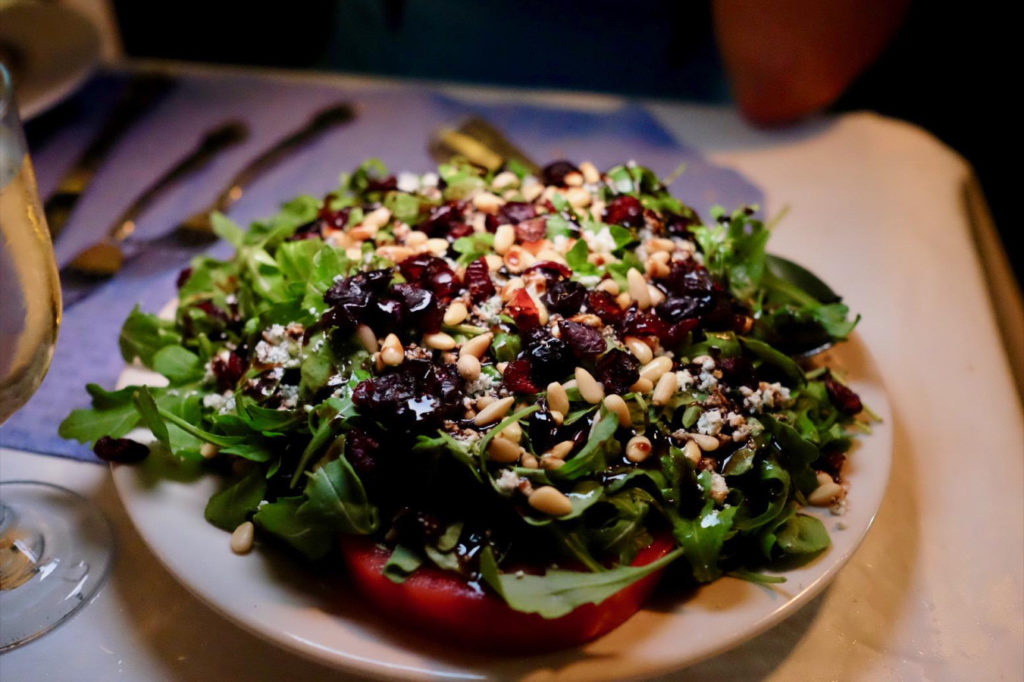 Then Miriam got the angel hair pasta with a blush sauce, made from a combination of tomato sauce and ricotta.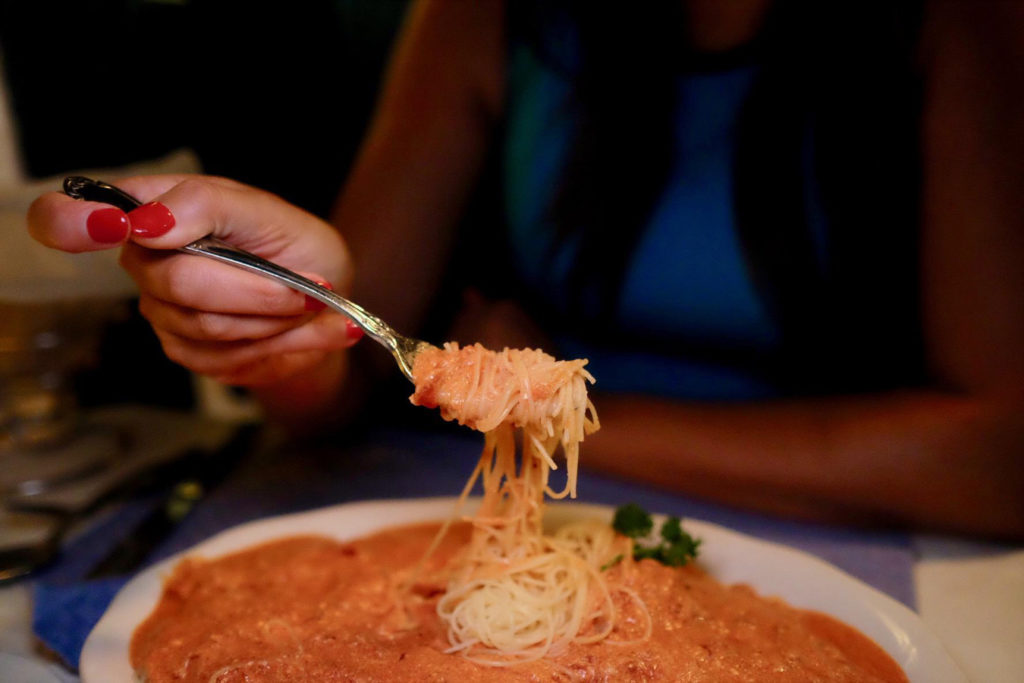 And Cyril had the veal and eggplant parmigiana …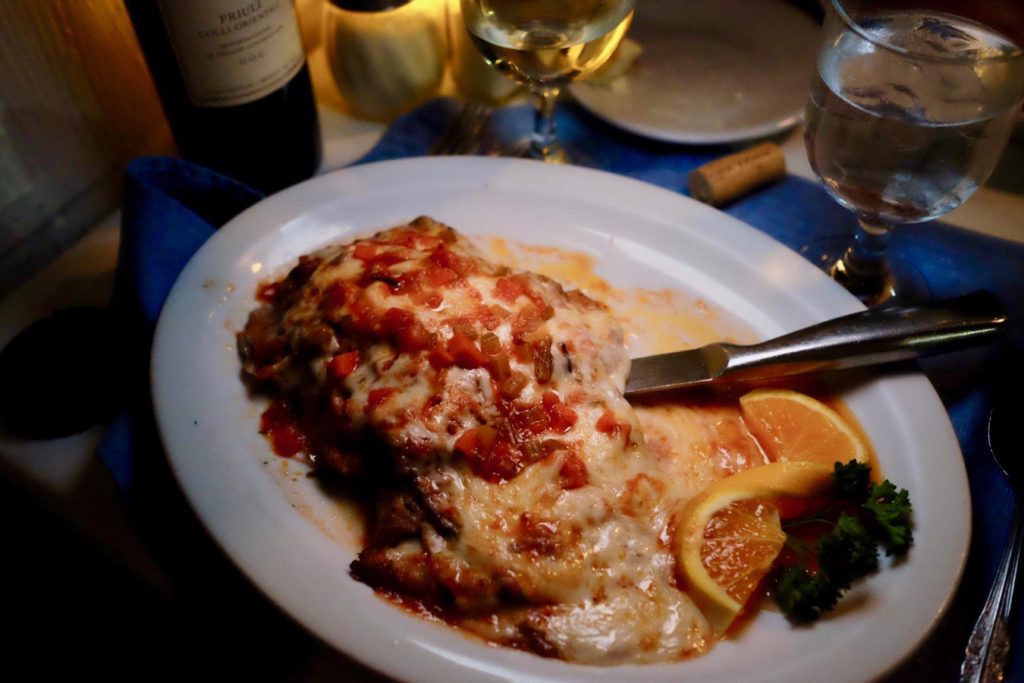 … and a side of spaghetti with a garlic, olive oil, and clam sauce.
Yes, that was a lot of food for one weekend – but we loved it all!  We got to eat Italian food and Greek food and cannoli and ice cream and snacks and crab cakes (both real and vegan) and plenty of seafood for Cyril.  We discovered last year how great the food in Atlantic City was, and we were glad to try even more of what's on offer there.  And while we knew that Cape May is an awesome shore town, we were pleasantly surprised to see how greatly varied and unique their food was.  It's no longer beach season, but next year if you're looking for some good places to go where you can sunbathe but also eat well, take these two recommendations.