We're here again showcasing some great places we've discovered recently around New York, and tooday we're going to feature two spots in northern Brooklyn – one in Williamsburg and one in Greenpoint.  Despite what you might think, the restaurant in Williamsburg is not some new hipster joint but a very old-school Italian restaurant that's been around for over a century.  Meanwhile, the place in Greenpoint is a colorful and casual bar and eatery with some fun indoor and outdoor spaces.  These two restaurants couldn't be more different, but they reflect both the past and present of these neighborhoods and they're each interesting and delicious in their own unique ways.  So here they are, but we want you to know that we will be featuring images of meat here.
First in Williamsburg is Bamonte's, which is a prime example of the traditional red sauce joint.  You really kind of have to get a big Italian meal while you're there, so to start off we had an order of long hot peppers sautéed in olive oil …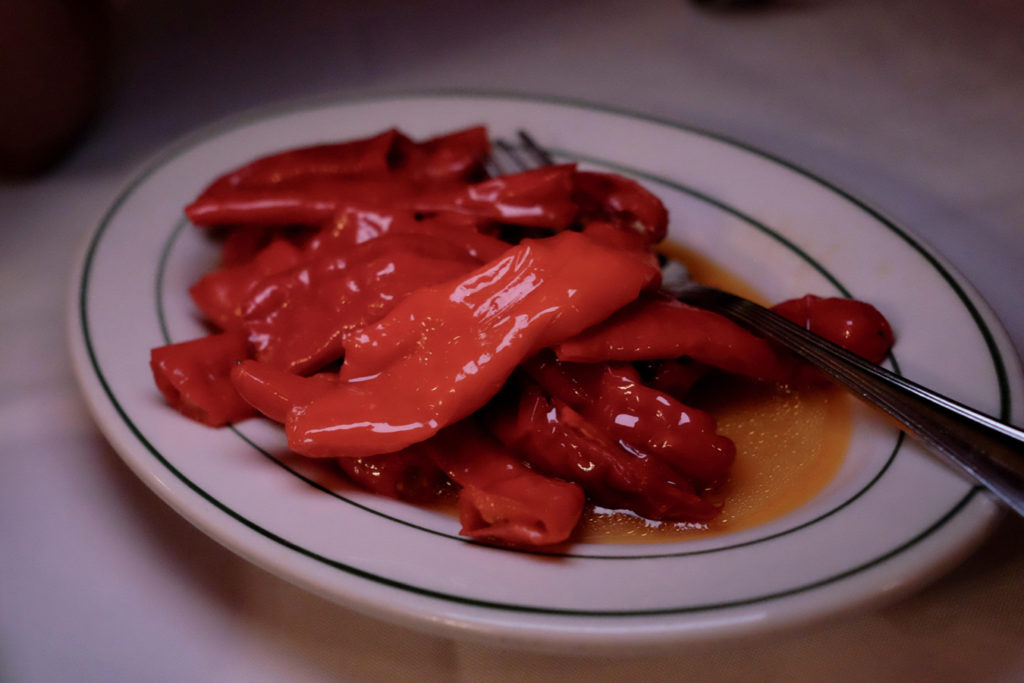 … plus the special salad, topped with goat cheese, beets, and sliced pears.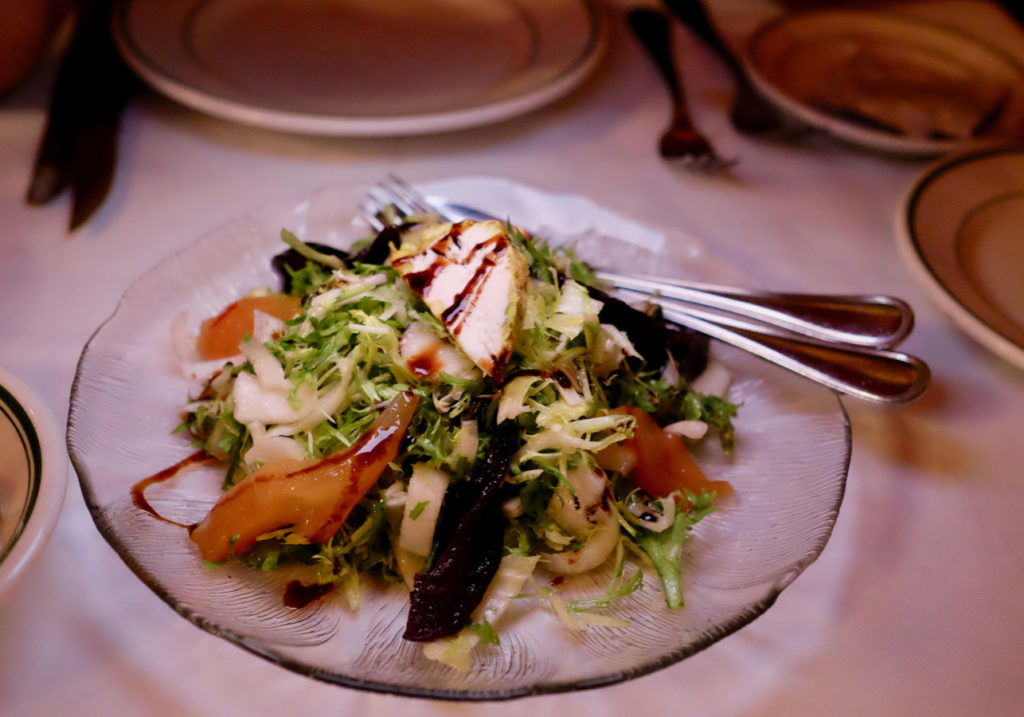 We also had an appetizer of fried zucchini.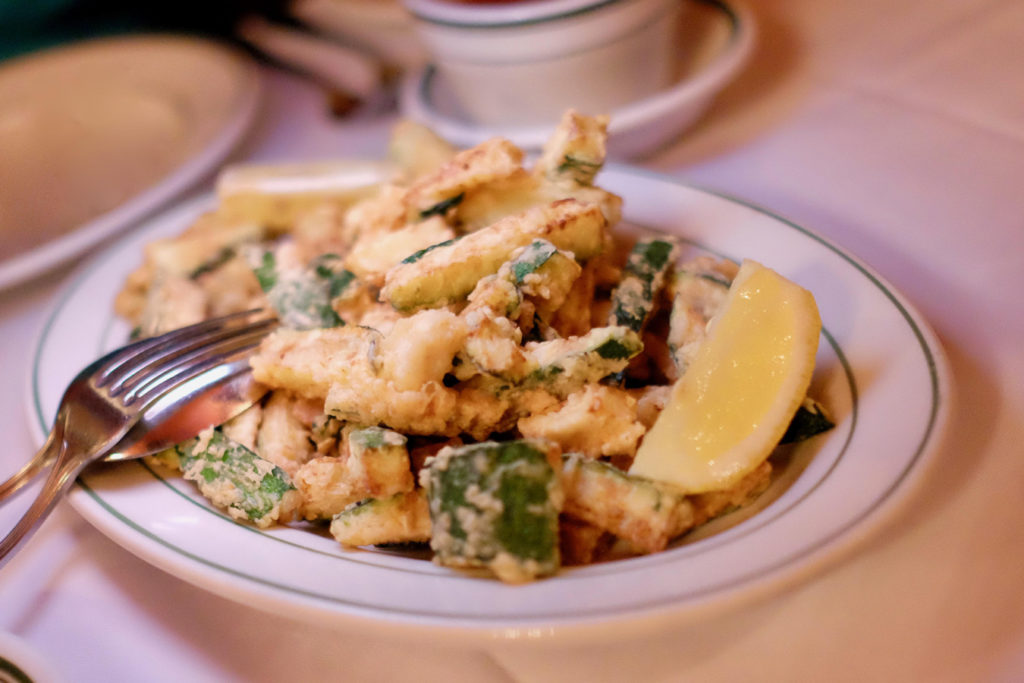 Then Miriam got the rigatoni vodka.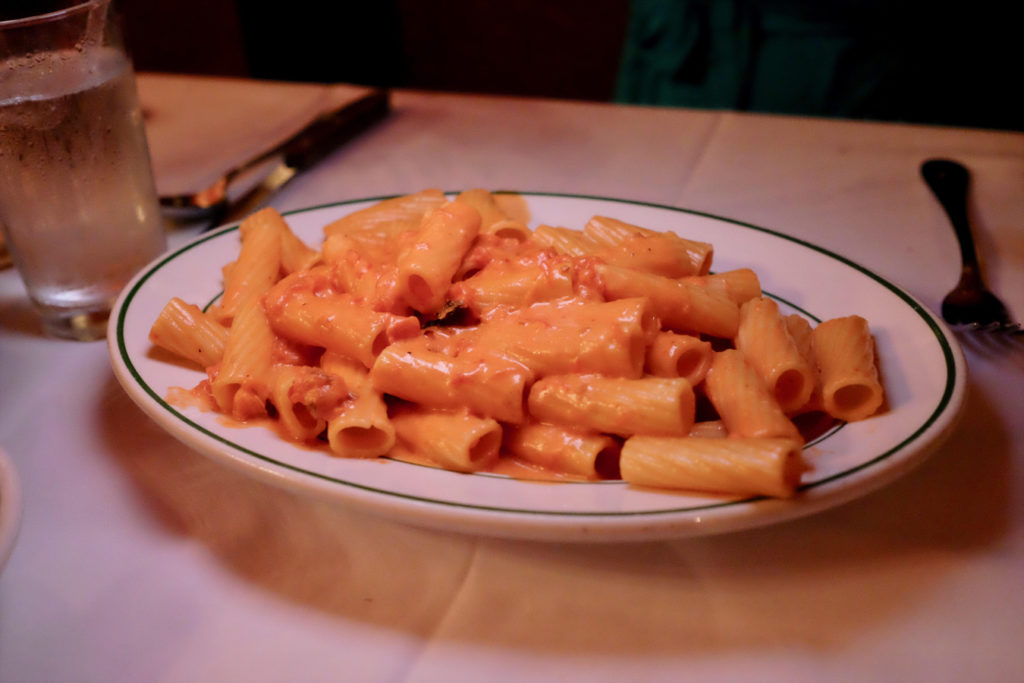 And Cyril had the veal scaloppine, with mushrooms in a marsala sauce.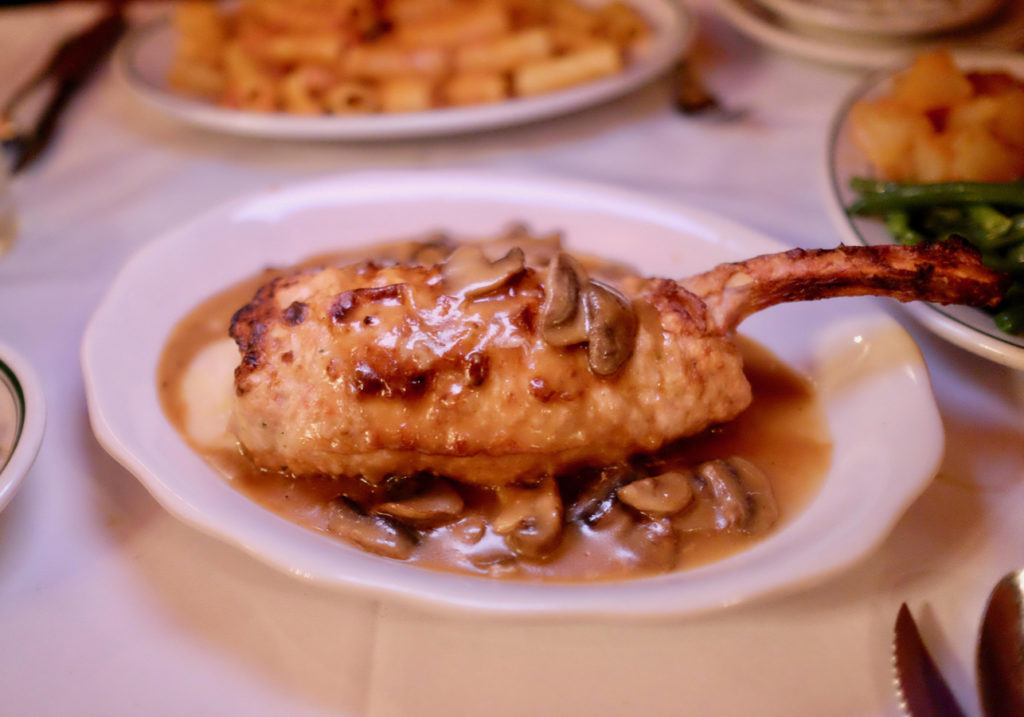 And now for something entirely different:  just a mile or so north of Bamonte's is The Springs in Greenpoint.  This very vibrant spot has a 50s-style dining room plus, in the summer, a huge outdoor patio featuring areas for lawn games and a pool where you can float your own mini inflatable flamingos.  You should start out your meal there with one of their drinks, which all match the tropical setting – like this boozy coke slushie: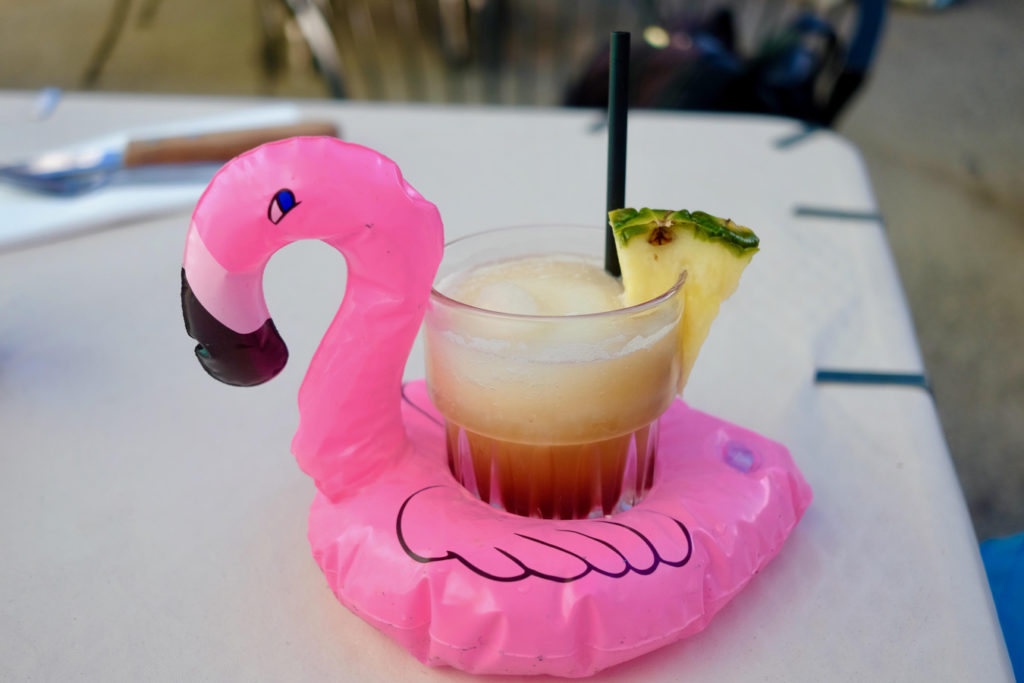 Then we got a sampling of their pub-style fare, which changes seasonally – for Miriam it was an order of mozzarella sticks with a side of ricotta-marinara sauce …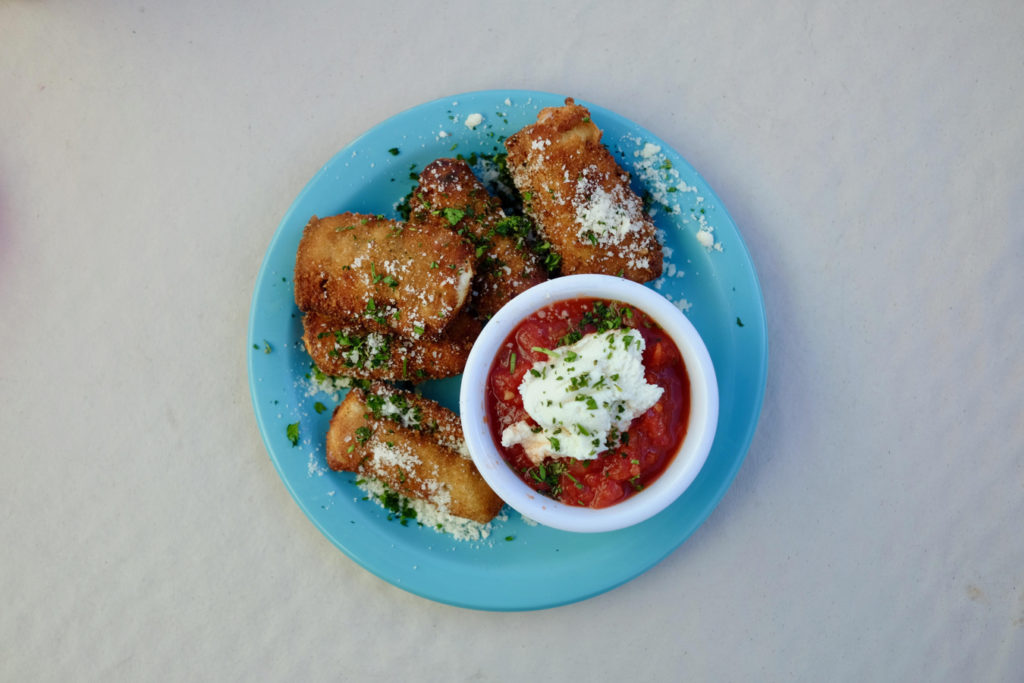 … plus a grilled cheese made with gruyere and cheddar.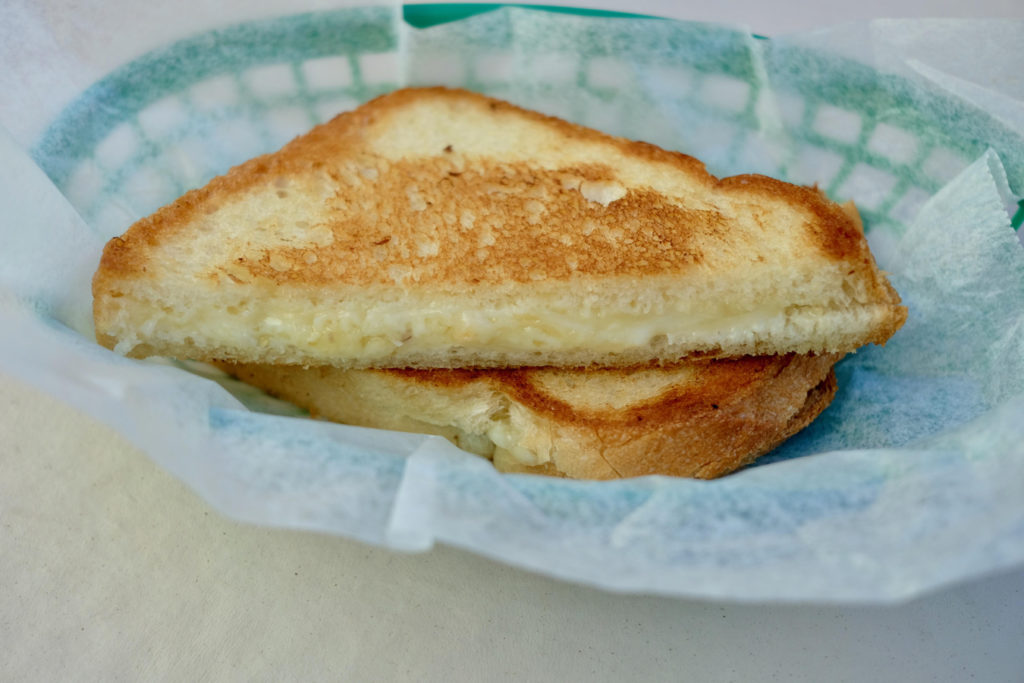 And Cyril got their house burger …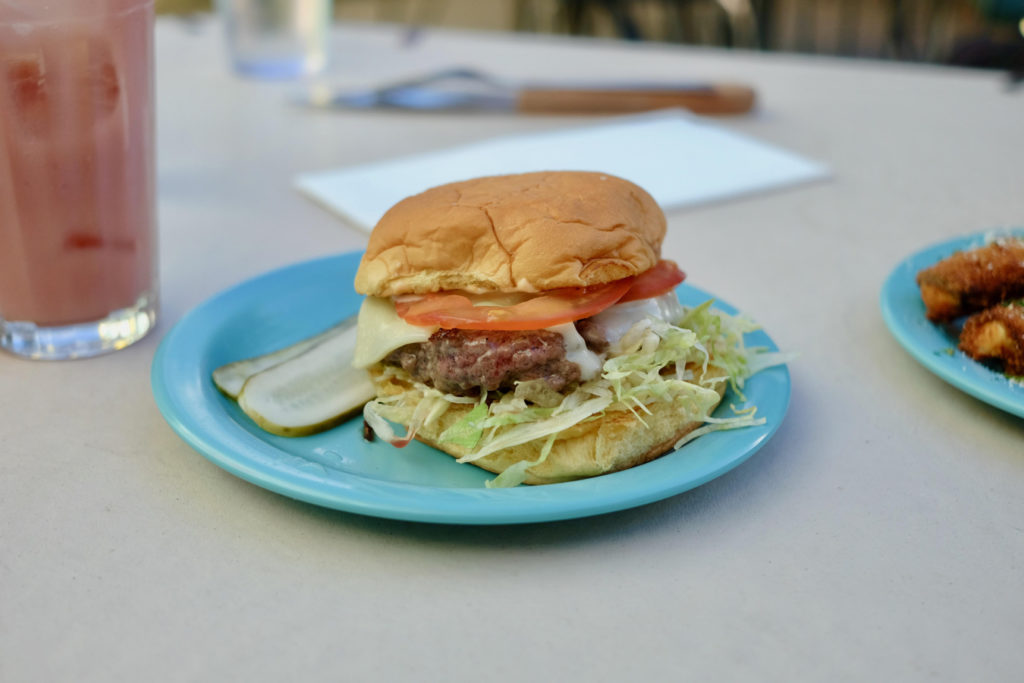 … and a side of loaded fries, topped with bacon, beer cheese sauce, and scallions.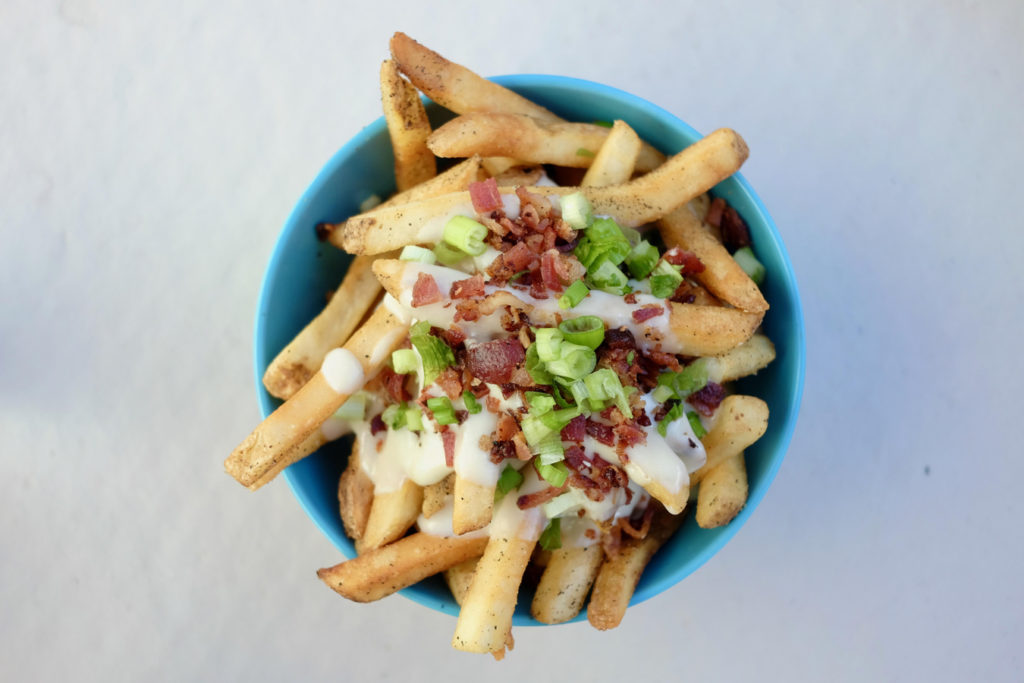 So you can see that these two restaurants are pretty diverse – The Springs is a very modern-Brooklyn place that cultivates a retro vibe, while Bamonte's actually is pretty old and has successfully kept up its traditional spirit into the 21st century.  These places showcase some of the different cuisines – Italian food and crafted bar bites paired with themed cocktails – that you can find in northern Brooklyn thanks to this area's long and rich history of immigration and neighborhood turnover.  So if you're looking for some cool and interesting food in Williamsburg or Greenpoint, we would recommend you check out both of these places for the interesting, unique food and drinks they have to offer.