If you couldn't tell from some of our previous recipes, we love risotto – so much so that we keep a giant container of arborio rice in our kitchen.  But why risotto? you may be asking.  Well, because it satisfies so many different cravings at once:  it's built upon a base of carbs, but they're cooked in a broth instead of just plain water and mixed with rich, creamy butter and cheese and then paired with savory vegetables.  At restaurants you usually see risotto with mushrooms, but we've previously made one with zucchini and a colorful green spinach version.  And now here's a third variation, this time with tomatoes, based on a recipe we saw in Bon Appétit.  It was pretty easy to whip up and it let us get one last taste of fresh tomatoes before they go out of season.  But since you can always find these vegetables in a grocery store, this risotto is great at any time of the year – and now here's the recipe!
To make this, you'll need:
Olive oil
Garlic
An onion
Tomato paste
A package of cherry tomatoes
Nutmeg
Arborio rice
Butter
Parmesan cheese
Before you begin, bring 5 cups of water to a boil and dissolve in all your bouillon cubes.  Let this broth warm over low heat while you work on the rice and vegetables.
Then finely dice up your onion and place it in a Dutch oven with 2 tablespoons of olive oil over medium heat.  Let the onion cook until it's fully softened, for about 10 minutes, then slice up 3 garlic cloves and add them in as well.  Scoop out a tablespoon of tomato paste and stir that in too and warm everything for another 3 minutes or so.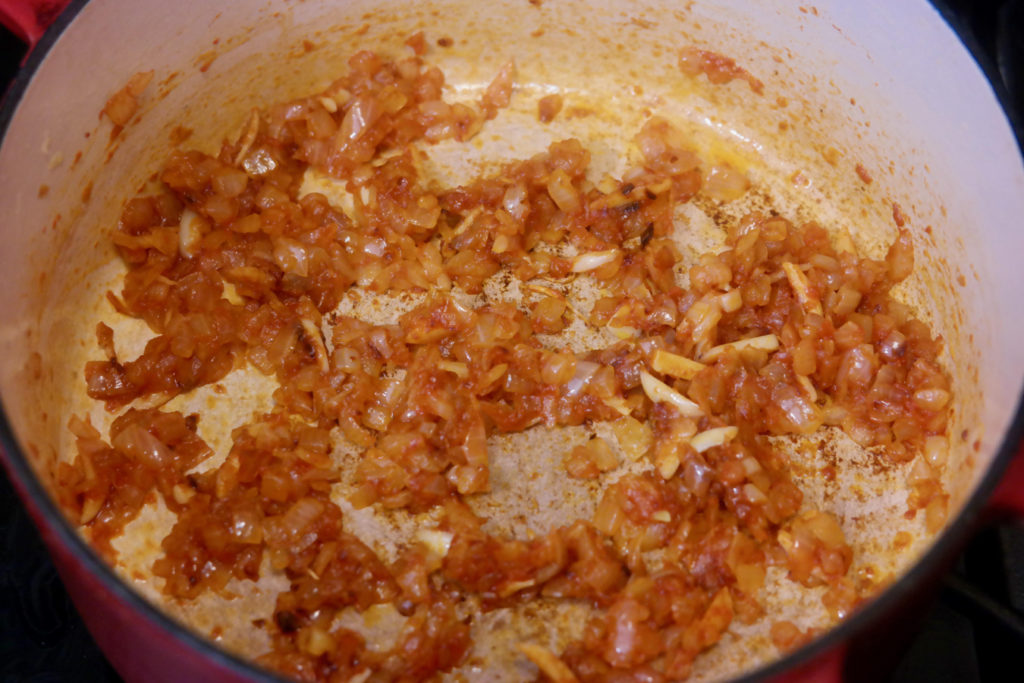 Add in a sprinkling of nutmeg and all your tomatoes and let them cook for just a few minutes until some of them begin to wilt.  Mix in a cup of arborio rice and salt to taste and turn the heat to medium-low to toast the rice for 3 minutes.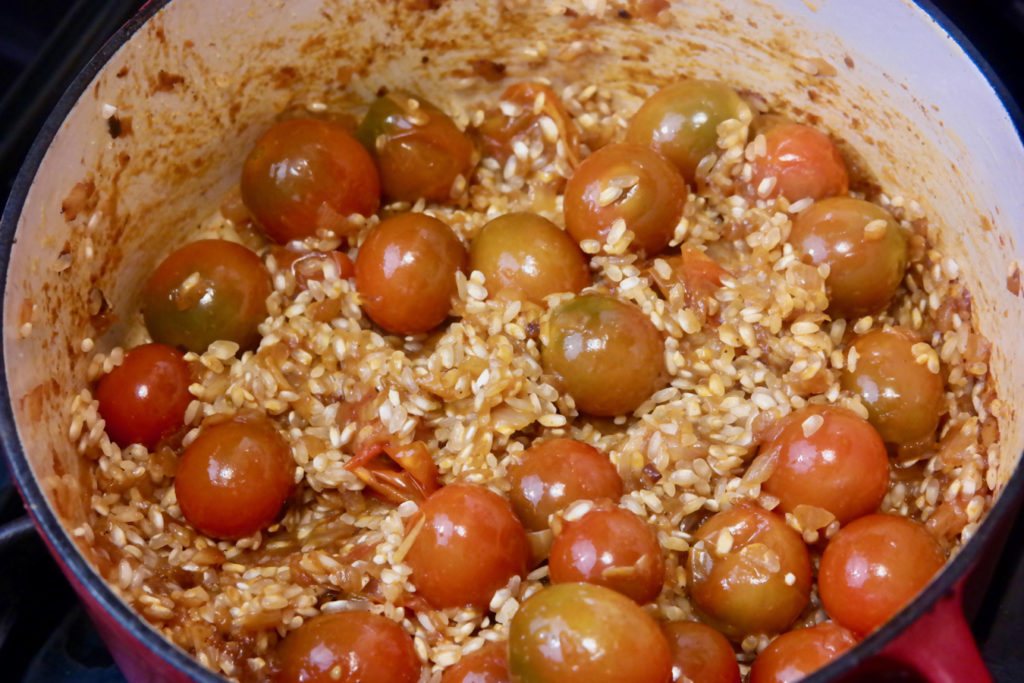 Now ladle in 2 cups of the broth and stir continuously until the liquid is mostly absorbed, which should take about 10 minutes.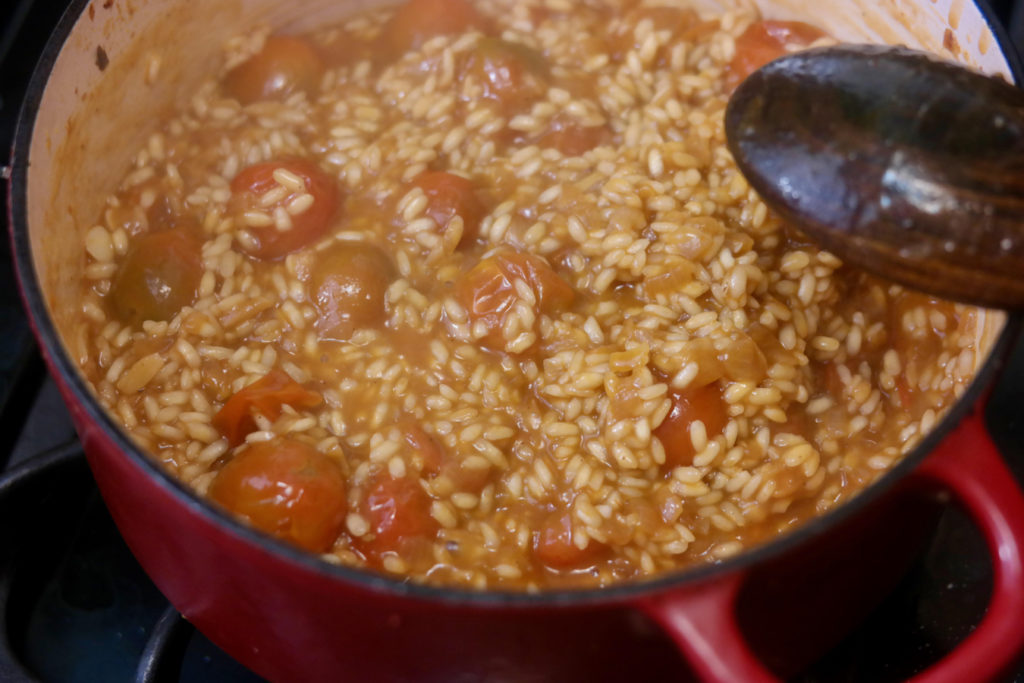 Pour in another 2 cups of broth and keep stirring for about 15 minutes, until the rice is plumped up.  Then add in the rest of the broth, 2 tablespoons of butter, and a cup of grated Parmesan.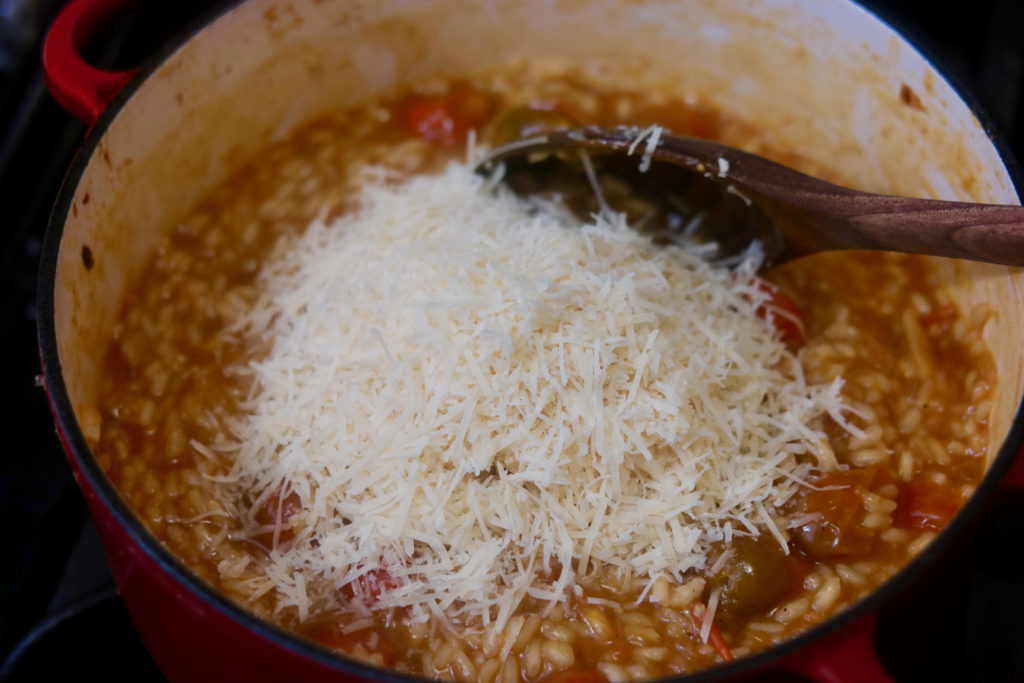 Mix everything together for around 4 minutes until you have a smooth and creamy consistency for your risotto.  Now you can dish it out and serve with extra Parmesan on top.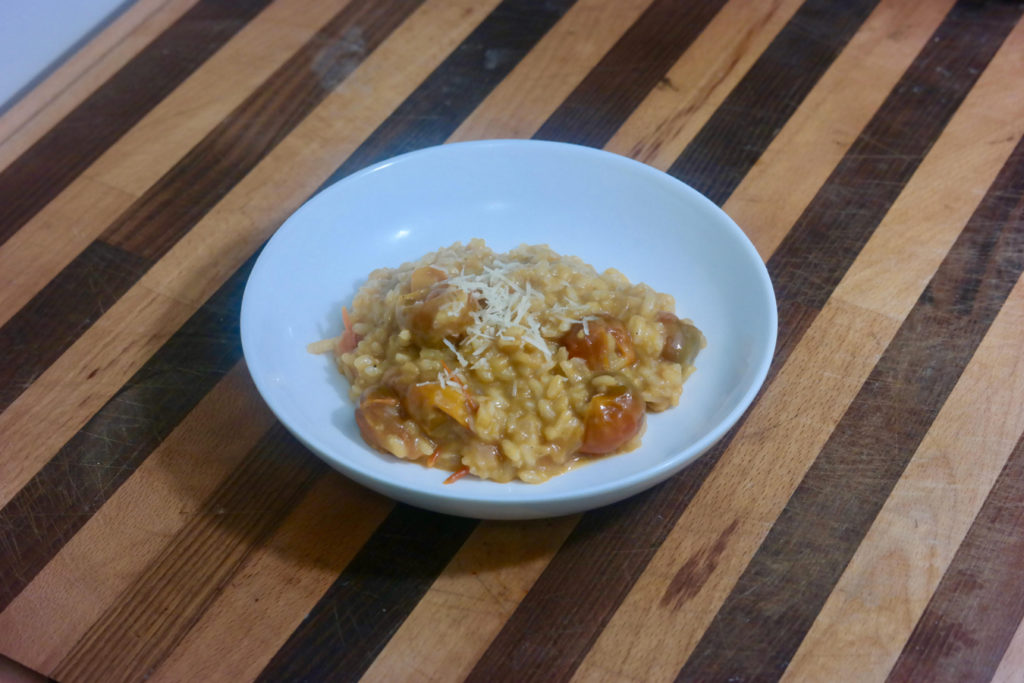 And so here's your rich, vibrant, creamy tomato risotto!  Like we said, it's pretty simple – there's very little prep work you need to do, and the only hard part is all the stirring.  Tomatoes add in a tangy and slightly acidic taste that pairs well with the creamy arborio rice and makes for a new and unique take on risotto.  You can throw this together quickly on a busy or lazy night and it's so delicious that no one will know just how easy it was to make.