It's October 1st so you know what that means – it's time for all things pumpkin!  We like to get festive and try pumpkin spice lattes and pumpkin muffins and pumpkin ravioli, and so on and so on, but this year we decided to expand beyond our usual repertoire of this seasonal gourd and try something new.  We found this recipe in the New York Times and decided to try it, because we honestly never thought before to put pumpkin in a curry – but it turned out great!  The curry was spicy, rich, hearty, and melded all kinds of interesting flavors together, and best of all it was completely vegan.  So if you want to try something new, and use flavors you might not otherwise consider for a curry, just follow us.
You'll need:
Vegetable oil
An onion
2 jalapeños
A bay leaf
Ginger
Garlic
Curry powder
Cumin
Turmeric
2 15-ounce cans of chickpeas
A 13.5-ounce can of coconut milk
A 15-ounce can of pumpkin purée
Cilantro
A lime
First, chop up your onion and thinly slice your jalapeños.  Place them in a Dutch oven with 3 tablespoons of oil and a bay leaf and cook over medium heat for about 8 minutes, until the onion and jalapeño begin to brown.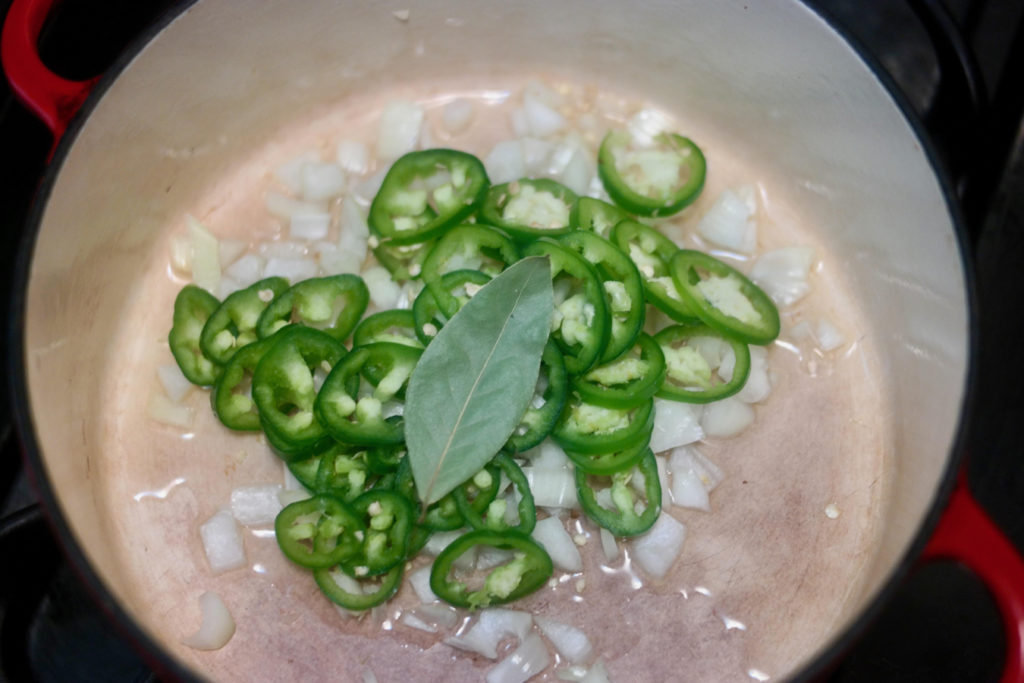 While these veggies are cooking, cut off a thumb-sized piece off ginger and peel and chop it.  Slice up 4 garlic cloves as well and add both of these ingredients in, cooking for 2 minutes.  Then sprinkle in a teaspoon of cumin, 1/2 teaspoon of turmeric, and 1 1/2 teaspoons of curry powder and mix everything together.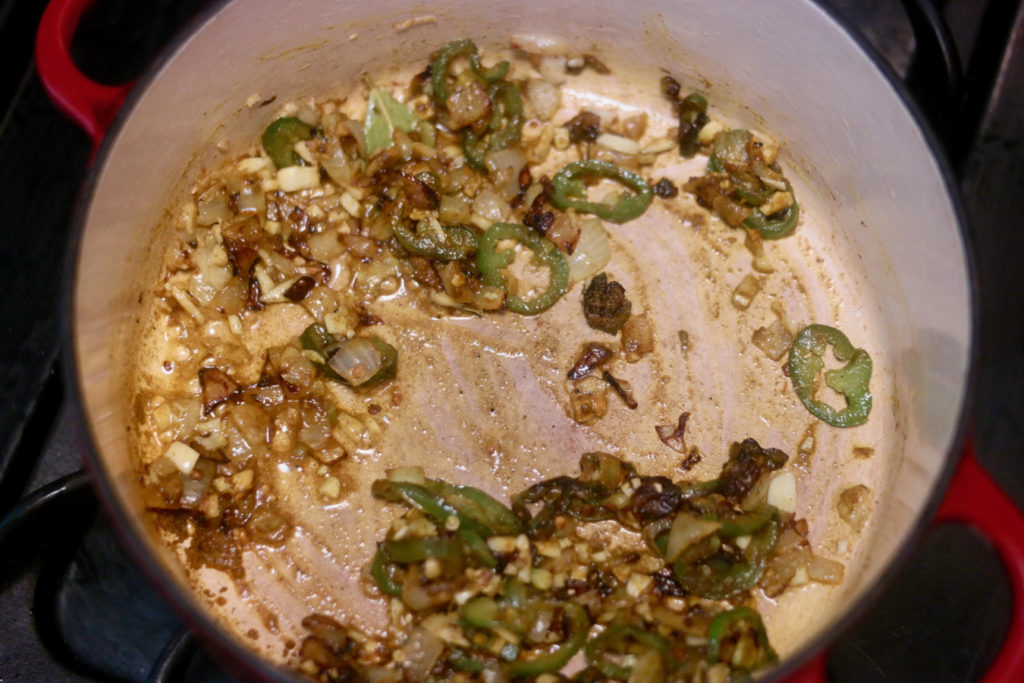 Drain the chickpeas and add those in, plus the coconut milk, the pumpkin, 1/2 cup of water, and a sprinkling of salt.  Let all this come to the simmer and cook for 10 minutes, making sure you stir the curry every so often so the chickpeas don't stick to the bottom.  Then chop up about 3/4 cup of cilantro and mix that in, plus squeeze in the juice from your lime.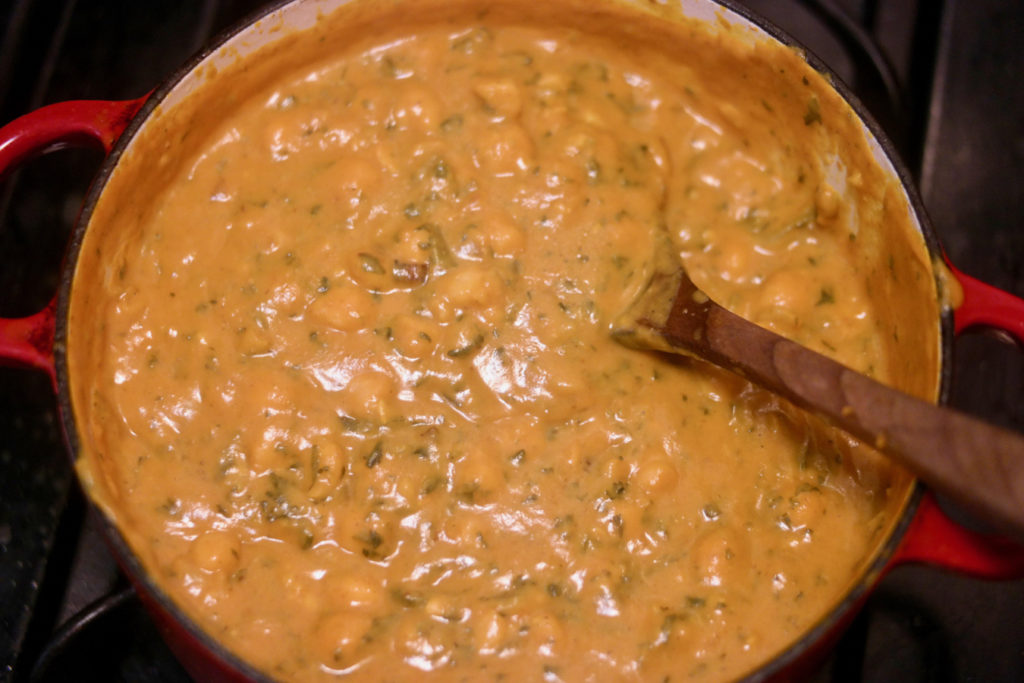 Now serve up the curry – you can accompany it with rice, but it also stands well on its own.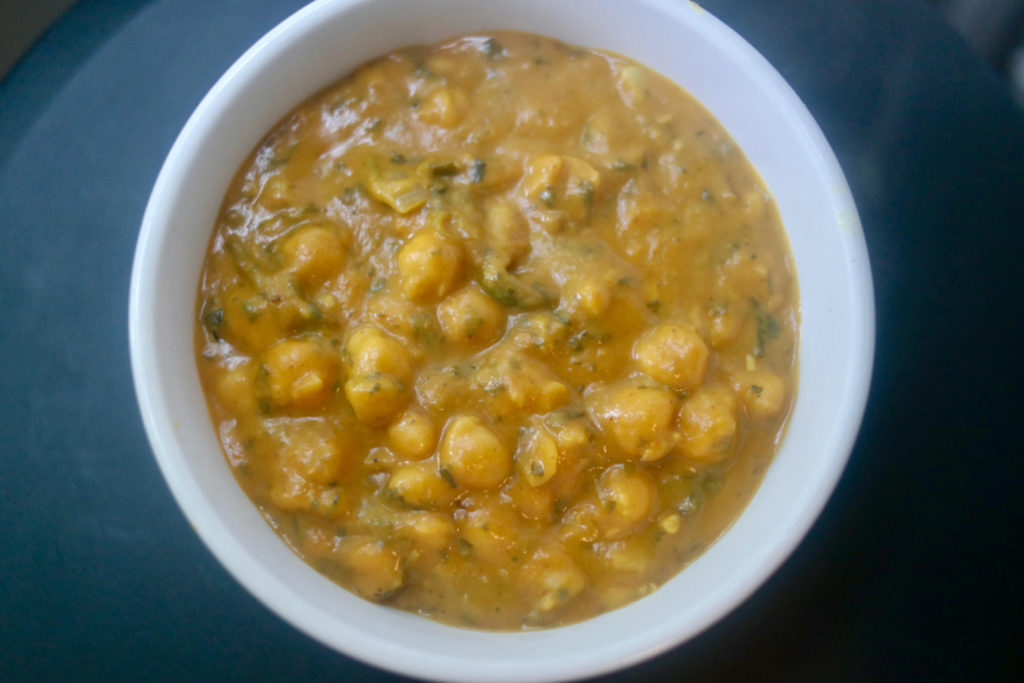 You can see – and smell, once the curry is done – how delightfully pumpkin-y this is.  The flavor pairs well with the chickpeas and herbs and the heat from the jalapeños, and the coconut milk blends in to make this a creamy yet dairy-free dish.  Overall this is a warm, thick, spicy curry that tastes like autumn and really fills you up.  So if you don't mind being a little bit basic, try out pumpkin curry as a way to celebrate the new season.