Despite what you might think, this is not a pizza.  It's a galette:  a type of flaky, flat French cake.  While some galettes are sweet – like the famous New Orleans king cake – they can also be made with savory fillings.  That's where our galette comes in, because it's crafted with cheese and tomatoes and some herbs.  And it's surprisingly easy to bake up as well, because the dough is pretty simple (although it does take some time to chill) and the assembly is a piece of, well, cake.  We based this on a recipe we found in Bon Appétit and we thought it was interesting because, in all honesty, it was a little like a new and unique take on pizza.  So let us show you how you too can make this at home.
You'll need:
Flour
1 1/2 sticks of butter
Vinegar
1 1/2 pounds of tomatoes
Garlic
White cheddar cheese
An egg
Chives
First, place 2 cups of flour and 1 1/4 teaspoons of salt in a food processor.  Cut your butter into small pieces, put them in the food processor as well, and blend everything together until you have a coarse but well-combined mixture.  Pour this into a bowl and add in a tablespoon of vinegar.  Prepare a glass of ice water and measure out 1/4 cup of this water into the bowl, then mix everything together with a fork, adding in more ice water by the tablespoon until a dough comes together.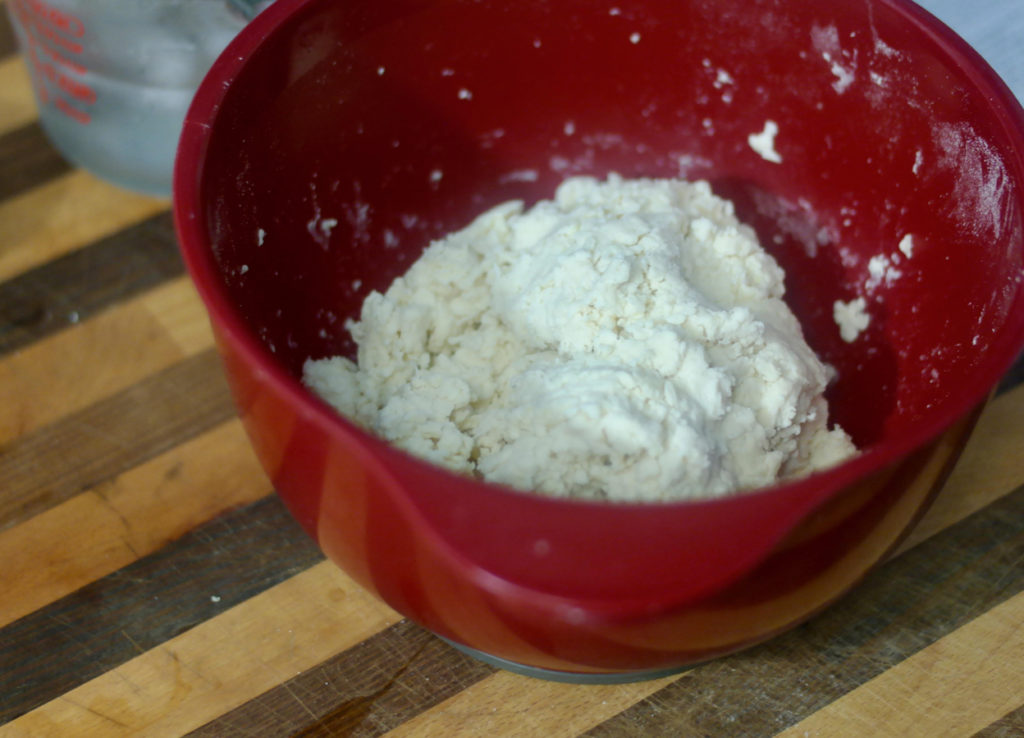 Knead this a few times with your hands, then shape the dough into a disk, cover it in plastic wrap, and chill in the fridge for two hours.
When the dough is almost ready to come out, slice up your tomatoes and your garlic and mix them in a bowl along with a teaspoon of salt.  After five minutes, drain the tomatoes and garlic in a strainer and then lay them out on paper towels so they release more of their water.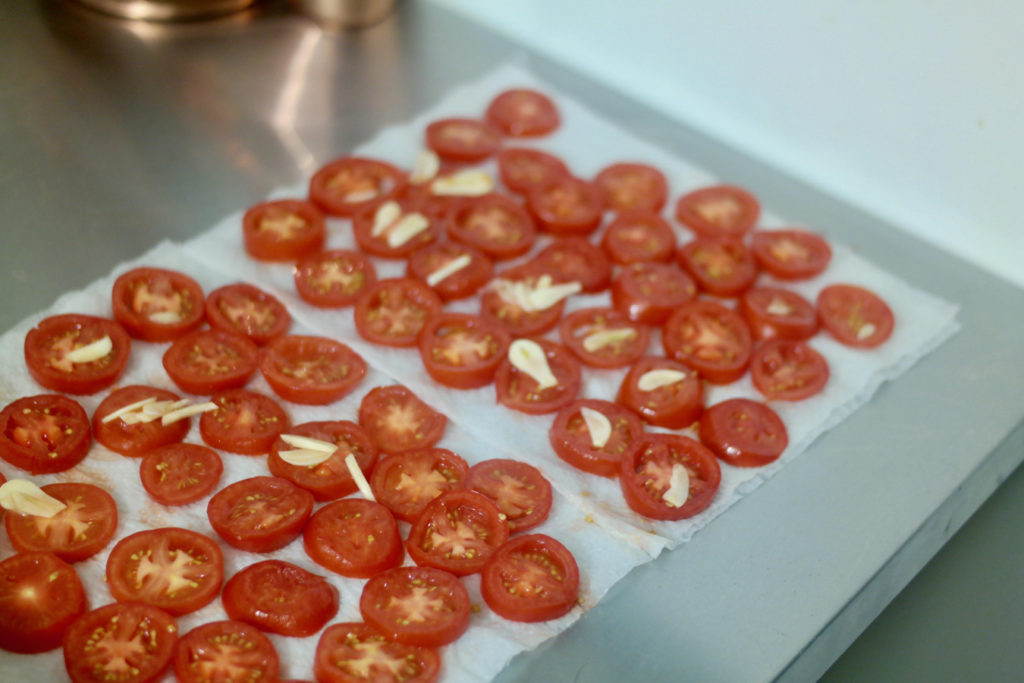 Take out the dough and place it on a large square of floured parchment paper.  Roll it out into a rough circle that's 14 inches across and 1/8-inch thickness.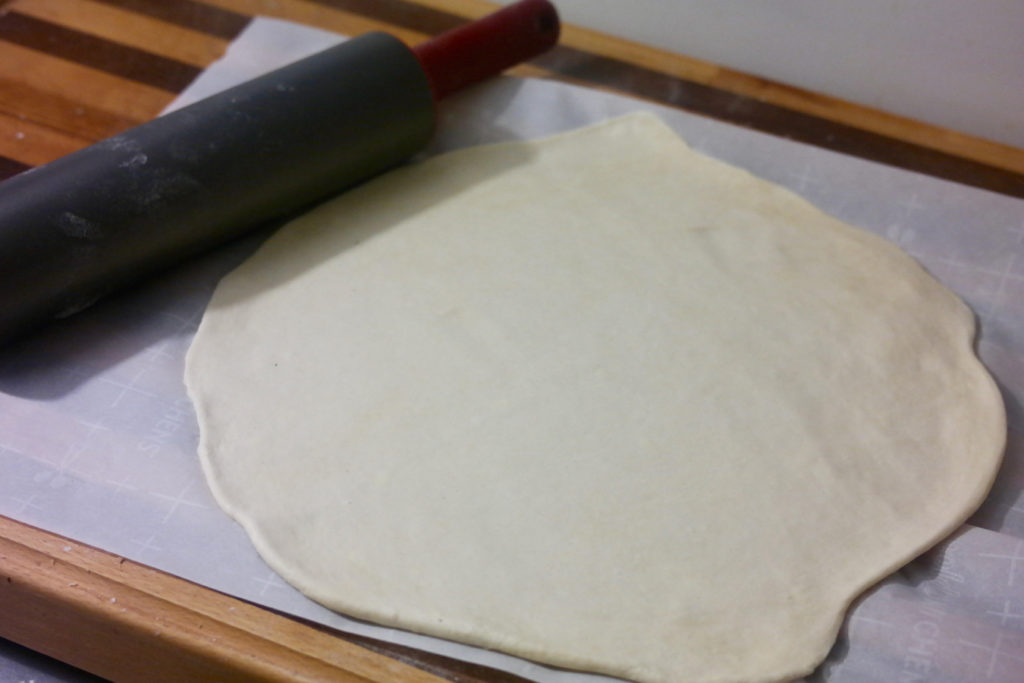 Pick up the parchment paper and place it on a baking sheet.  Grate 4 ounces of cheddar cheese and sprinkle it over the surface of the dough, but leave a 1 1/2 inch empty border around the edges.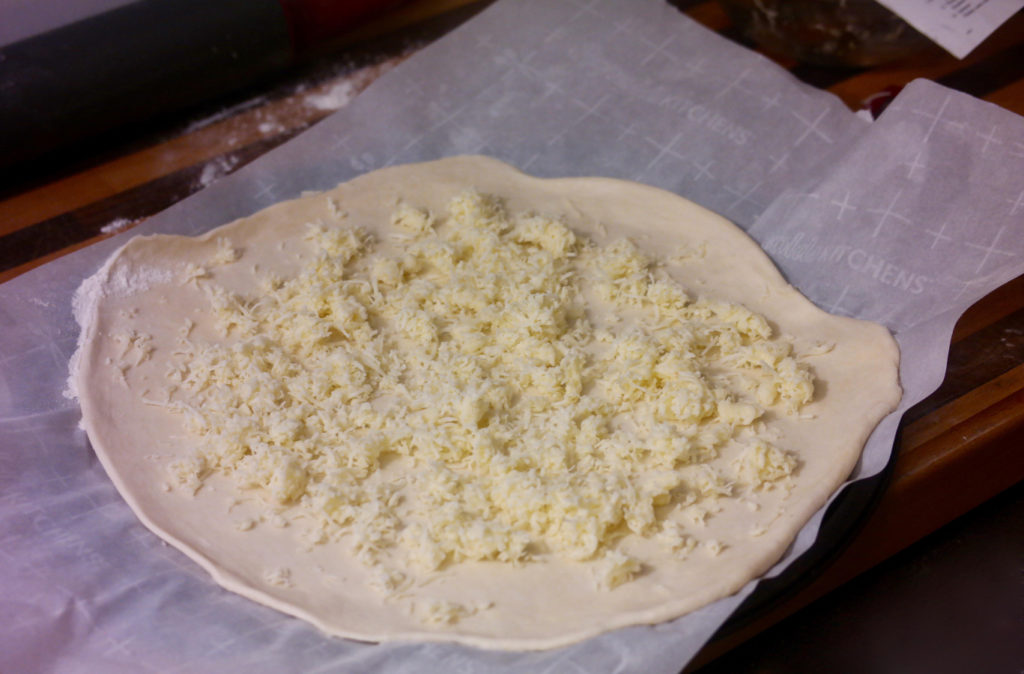 Then place the tomatoes and garlic over the cheese …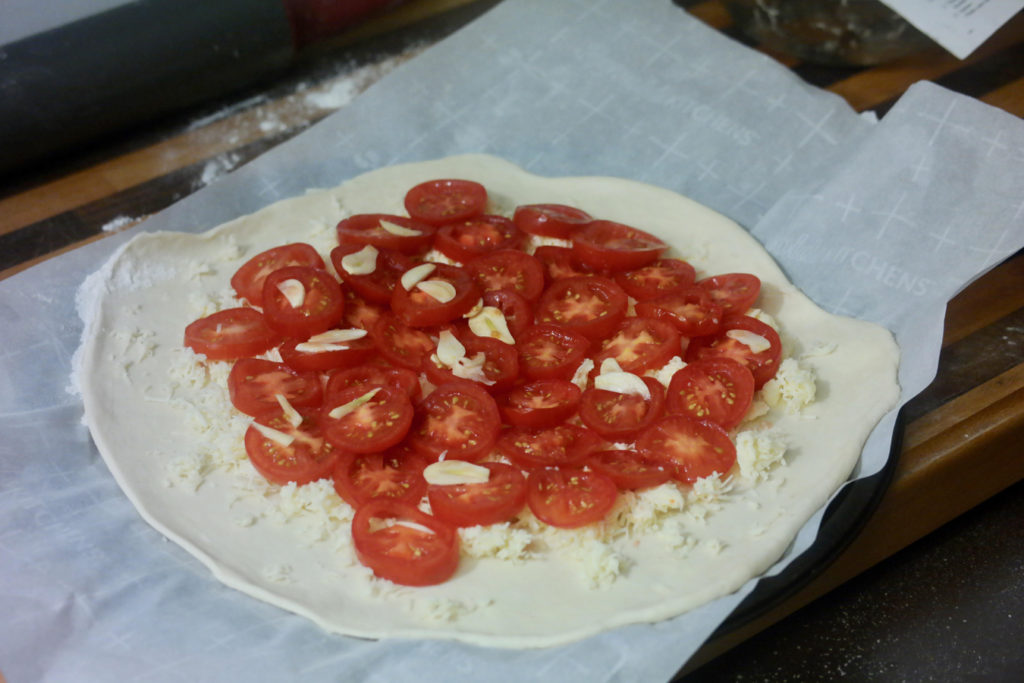 … and fold the edges of the dough just up over the tomatoes and cheese.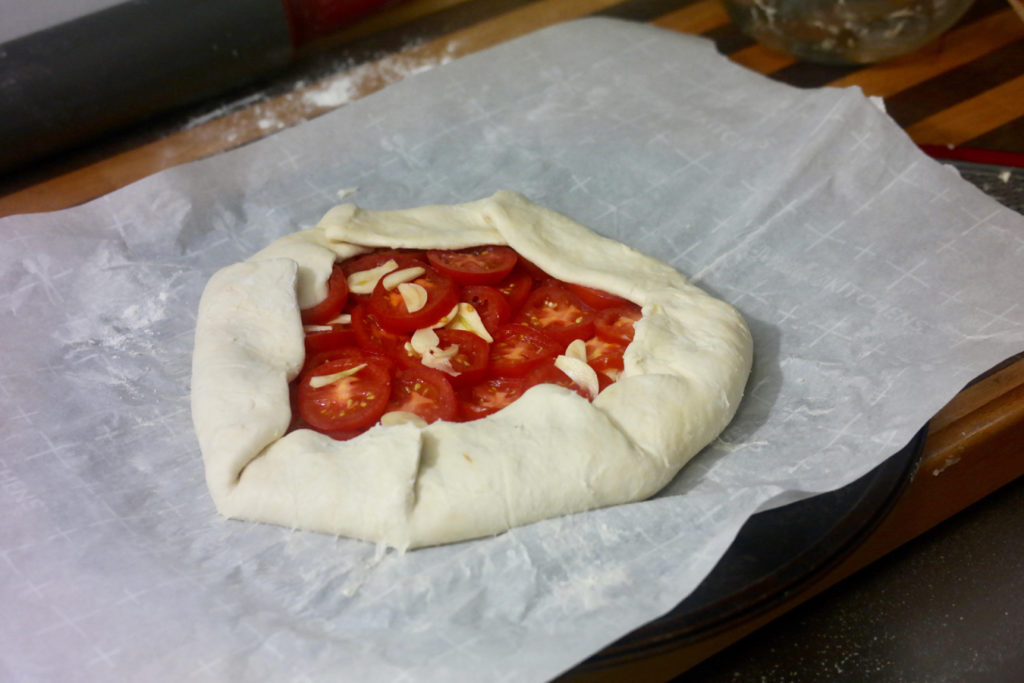 Beat an egg and brush it over the top of the dough, then bake the galette at 400°F for an hour.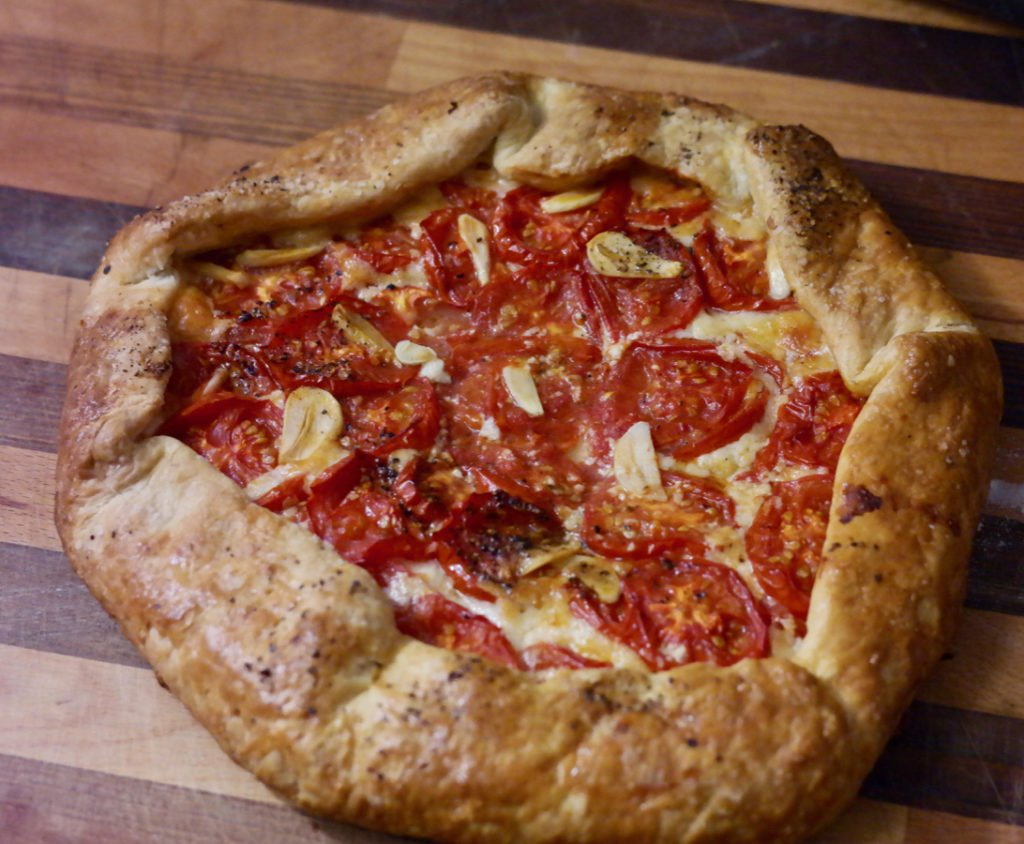 Once it's cool, you can sprinkle chopped chives on top and slice it up to serve.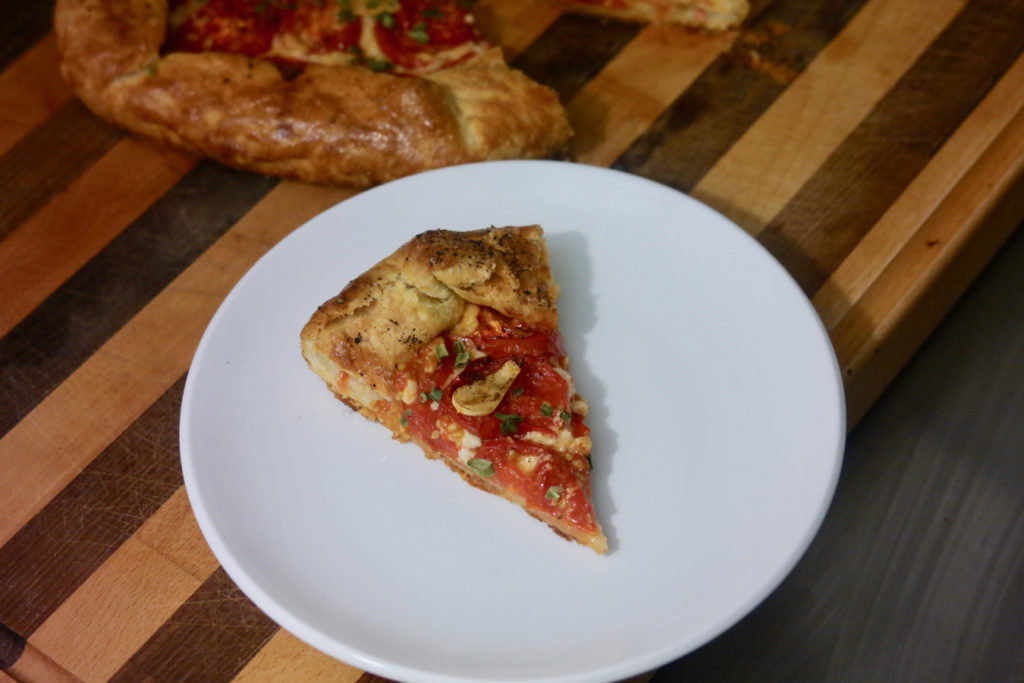 So it does kind of look like a pizza.  But it's not:  this galette has a really light and flaky base, thanks to all the butter in the dough, and it's made with cheddar and sliced tomatoes rather than mozzarella and red sauce.  Biting into the individual tomato slices, which bake up well with the garlic and cheese, makes this feel slightly elevated and fancy.  Best of all, it's easy to make:  the dough comes together quickly, with only a few ingredients, and it's takes only a few minutes and minimal prep to assemble everything.  You will have to wait several hours to chill the dough and then bake the galette, but as long as you plan ahead you can expect to have a great, savory pastry for a meal.